Boston High School:

Mackay Lowrie
April, 21, 2013
4/21/13
10:19
PM ET
Roxbury Latin tight end/defensive end Kevin Cohee has given a verbal commitment to Boston College, he tells ESPN Boston.

The 6-foot-3, 240-pounder is a resident of Chestnut Hill and becomes the third in-state recruit to join Steve Addazio's 2014 recruiting class.

"Once they gave me the offer, I was learning toward to committing," Cohee said in an interview Sunday night. "I didn't want to commit right away, and I wanted to be sure about it, but it's been a dream of mine. I grew up going to football games [at BC] and it's been like a second home to me."

Cohee is the second Foxes player to give his commitment to BC in as many years, joining signee quarterback Mackay Lowrie.

At the time of his commitment, Cohee also held offers from UMass and UConn.

"They were after Kevin after they saw his game tape, and they pursued him with heartfelt purpose," Roxbury Latin head coach Pat Ross said. "Coach [Addazio] really wants to build from the inside out, and to build a program that attracts the top Massachusetts kids, and make sure they are here to stay."

Aside from the chance to play within earshot of his home, Cohee cited BC's business curriculum and the Eagles' intent to play within a spread offense as influencing factors.

Though Cohee said he was open to playing on either side of the ball and could be used in multiple roles by the Eagles' coaching staff.

"[BC] was mostly recruiting from outside states, like New Jersey and Pennsylvania," Cohee said. "But we're starting to lay the foundation with the players we have coming in from in-state. I wanted to be a part of that."
February, 10, 2013
2/10/13
4:44
PM ET
Six student athletes were honored at the Roxbury Latin School Wednesday on National Letter of intent signing day, including BC-bound quarterback Mackay Lowrie.

Last season, Lowrie was ISL MVP, NEPSAC Division C Player of the Year, a member of the All-State 26 team, and a selection for the Mass Shriners All-Star game after passing for 2,311 yards and 35 touchdowns. Lowrie finished his career with 4,739 yards and 61 touchdown passes (both school and ISL records).

Myers, who will play at Bentley University, was an two-time All-ISL selection and was also selected to the Mass Shriners All-Star game. He finished the season with 50 receptions for 782 yards and 15 touchdown receptions.

Also signing his NLI was Foxes soccer standout Andrew Wheeler-Omiunu, who will play at Harvard. The Bellingham resident ended up with 13 goals and nine assists on the season. Wheeler-Omuinu has been a member of the Mass Olympic Development team and the US Soccer Federation Region 1 team for 4 years. He was First Team All-League and All-State last year (as a junior) and was also an All-New England selection by the NSCAA.

Roxbury Latin's committed collegiate athletes are:

Mackay Lowrie (Foxborough), Football – Boston College
Sean Myers (Foxborough), Football – Bentley
Patrick Barry (West Roxbury), Soccer – Washington & Lee
Andrew Wheeler-Omiunu (Bellingham), Soccer – Harvard
Brandon Bowman (Foxborough), Lacrosse – Air Force
Will O'Sullivan (Needham), Baseball – Wesleyan
December, 29, 2012
12/29/12
5:17
PM ET
By
Brendan Hall
| ESPNBoston.com
The Massachusetts High School Football Coaches Association (MHSFCA) released its "Super 26" All-State Team yesterday. Selections are below as follows:

OFFENSE

Quarterback
Zach Bartak, Greenfield, 6'1" 200
Mackay Lowrie, Roxbury Latin, 6'5" 210
Nick Peabody, Barnstable, 6'4" 225

Running Back
Vincent Burton, Blue Hills, 6'2" 200
Dylan Oxsen, Plymouth South, 5'9" 185
Quron Wright, Holy Name, 5'6" 165

Wide Receiver
Will Heikkinen, Andover, 6'1" 196
Brian O'Malley, St. Sebastian's, 6'3" 195

Offensive Line
Aaron Dyke, Auburn, 6'4" 305
John Foster, Scituate, 6'5" 260
Rob Kosharek, Duxbury, 6'6" 265
Jack McDonald, B.C. High, 6'5" 275
John Montelus, Everett, 6'5" 325

DEFENSE

Defensive Line
Matt Comerford, Reading, 6'5" 275
Terrel Correia, Nantucket, 6'7" 275
Joe Previte, Brockton, 6'2" 260
Maurice Hurst, Xaverian, 6'2" 290

Linebacker
Cam Hanley, Walpole, 5'11" 210
Sha'ki Holines, Springfield Commerce, 6'4" 240
Zack Hume , Nashoba, 6'2" 235
Bryan Vieira, Thayer Academy, 6'3" 190

Defensive Back
Brendan Flaherty, Beverly, 6'1" 185
Kiivone Howard, Foxborough, 6'1" 185
Dylan Mann, Masconomet, 5'10" 180
Alex Moore, St. John's Prep, 6'1" 195
Justin Mount, Westford Academy, 6'2" 205
November, 27, 2012
11/27/12
2:46
PM ET
By
Roger Brown
| ESPNBoston.com
Mackay Lowrie said he had already run the scenario through his mind, so he had little to think about when Boston College fired football coach Frank Spaziani on Sunday.

Lowrie, a 6-foot-4, 205-pound quarterback from Roxbury Latin School, said Monday night that he still plans to play college football at BC. He is currently the only Massachusetts player from the Class of 2014 who has committed to the Eagles.
"My first reaction was it's unfortunate, but I'd be lying if I told you I didn't think it might happen," Lowrie said. "I chose BC last spring knowing something like this might happen. That's college football.
"I'm staying with BC. I really can't wait to get there. I'm excited to see who will be the next head coach."
BC assistant coach Sean Devine had dinner at Lowrie's house in Foxborough on Monday night.
"It was a planned home visit," Lowrie said. "He's still a Boston College employee, and he told me he'll keep working until they tell him not to. It would be tough to see him go."
Lowrie, a two-star recruit, originally intended to play baseball in college, but focused on football after he had a strong junior season. He was a three-year starter at quarterback for Roxbury Latin after playing defensive back as a freshman.
Rutgers also offered Lowrie a scholarship. Duke and Virginia are the other schools that showed significant interest.
"Basically it came down to BC, UVA and Rutgers," he said. "Ultimately BC was the best fit. The location is huge -– it's less than 30 miles from my house. Academically you can't get a much better place in Division 1 football than BC. The fact that it's a Jesuit school was another huge factor."
Another QB Option:
Tim Boyle, a senior quarterback who plays for Xavier High School in Middletown, Conn., also said he will remain committed to BC, despite the coaching change.
"I am strongly committed," Boyle said via text message Monday night. "I have no different opinion on BC. I still can't wait!"
Like Lowrie, Boyle is a pro-style quarterback who has already taken his official visit to BC. He also had offers from Florida, Connecticut, Massachusetts, Syracuse and Pittsburgh.
Boyle, a three-star recruit, missed seven games with a separated shoulder last season, but has completed 93 of 163 passes for 1,612 yards and 15 touchdowns (six interceptions) this season.
Third-seeded Xavier (8-1) is scheduled to play sixth-seeded Greenwich (8-1) in the Class LL quarterfinals tonight. Xavier is seeking its third consecutive Class LL championship.
More Local Flavor:
Marquis Little, a linebacker from Manchester (Conn.) High School, is the only other senior from New England currently committed to BC.
Tight end Andrew Isaacs, Little's high school teammate, is one of three other New England players who decommitted from BC before Spaziani was fired. The others are Cheshire Academy linebacker Cory Jasudowich, and Sacred Heart (Waterbury, Conn.) wide receiver David Coggins.
Isaacs committed to Maryland, Jasudowich committed to Connecticut and Coggins is undecided. All three are three-star recruits
Recruiting information regarding high school or prep school players in New England can be sent to Roger Brown at rbrown@nhfootballreport.com.
October, 26, 2012
10/26/12
1:04
AM ET
NO. 23 CENTRAL CATHOLIC (6-1) AT LOWELL (6-1)
The Skinny: Both teams enter with a 1-0 MVC record, coming off their first league games last week. Lowell rolled over Billerica 56-34 while Central Catholic slipped past Chelmsford 28-21. Cam Latta has picked up where R.J. Noel left off at quarterback this year for Lowell at quarterback, throwing for 12 touchdowns and running for seven more. Central Catholic running back Santino Brancato leads the Raiders with eight touchdowns on the season, none bigger than his final score last week with 41 seconds remaining which was the game-winner over Chelmsford.

Scott Barboza: This will be high-scoring, but relatively tame by MVC standards. Central, 34-28.

Brendan Hall: Because Lowell can score in bunches, and because it's the MVC, take the over. Central Catholic, 38-31.

NO. 13 ANDOVER (7-0) AT CHELMSFORD (4-3)
The Skinny: After a hot start, Chelmsford is trying to snap a three-game losing streak and risk falling behind in the competitive Merrimack Valley Conference's large division. They'll have their hands full against one of the state's most prolific offenses, averaging nearly 400 yards and 39 points per game, between quarterback C.J. Scarpa and receivers Andrew Deloury, Will Heikkinen and Cam Farnham.

Barboza: I think the Lions will try to play ball control for a while, but that can only last so long against the high-octane Andover offense. Andover, 42-31.

Hall: Do you see a recurring theme with our MVC picks? Offense, offense, offense. Andover, 40-35.

LINCOLN-SUDBURY (6-1) AT WESTFORD (6-1)
The Skinny: Like several other key league matchups this weekend, this matchup can potentially put one team in the driver's seat for the Dual County Large title. It's no secret what L-S brings to the table, but workhorse Chris Giorgio is among the league's toughest running backs. Westford counters with jack-of-all-trades athlete Justin Mount, who fills multiple roles on both sides of the ball.

Barboza: Picked the Warriors to win the DCL Large in the preseason and I'm not about to step back now. But the Warriors get it done by a chin. L-S, 14-13.

Hall: Flip a coin in this one. I landed on the Ghosts. Westford, 24-17.

NO. 9 BROCKTON (4-3) AT NO. 14 LEOMINSTER (5-2)
The Skinny: Each of these teams received a boost in different ways last week. The Boxers saw the return of their starting quarterback and emotional leader Auggie Roberts in a drubbing of Big Three rival Durfee. Meanwhile, a Blue Devils offense that has had its troubles in recent weeks, shook off the rust to muster a gut-check, two-minute drive to pull out a last-second victory at Central Mass. rival St. John's of Shrewsbury, led by quarterback Garrett DelleChiaie. Now, both teams meet in a non-league, late-season measuring stick game to see just how far these offenses have come. Not to mention, both teams can really lay the lumber on defense.

Barboza: Blue Devils ride the wave of momentum. Leominster, 28-20.

Hall: It won't be a shutout, but it won't be as shocking an upset when the Blue Devils take two straight for the first time in...help, anyone? Leominster, 21-14.

HINGHAM (6-1) AT NO. 6 DUXBURY (7-0)
The Skinny: An eagerly awaited battle for the inside edge at the Patriot League Keenan division title, the competition should be as fierce at the tailgate as it will be on the field when the Dragons put their Eastern Mass. best 33-game winning streak on the line. A stout Duxbury defense, led by Mr. Football Award challenger Marshall McCarthy will have its hands full with the Harbormen's wing-T and backfield led by Ricky Sullivan.

Barboza: The Dragons run their streak to 34 games, but it won't be without difficulty. Duxbury, 13-7.

Hall: As usual, the Dragons will pull something together in the second half and do just enough to win. Duxbury, 20-17.

NEEDHAM (5-2) AT NO. 10 NATICK (7-0)
The Skinny: After a solid start to the season, Needham is now looking to avoid a two-game losing skid and dropping three of its last five. What better an opponent to try to snap the skid than against one of the state's prolific offenses, led by quarterback Troy Flutie (1,477 passing yards, 19 TD, 4 INT; 555 rushing yards, 7 TD) and receiver Brian Dunlap (41 catches, 784 yards, 11 TD). Needham is also coming off a 31-0 shutout loss to a Walpole squad that was missing its top running back to injury.

Barboza: No chance the Red Hawks aren't undefeated setting up a winner-take-all against Walpole. Can't wait. Natick, 31-17.

Hall: Every time we predict a high-scoring affair involving a Bay State team, it never goes as planned. So I'm going with something fairly pedestrian. Natick, 21-12.

NO. 19 MANSFIELD (5-2) AT NORTH ATTLEBOROUGH (4-3)
The Skinny: The Red Rocketeers will need a win to keep pace with Mansfield (2-0) in the Kelley-Rex division race. The X-factor will be the availability of senior running back and defensive back Alex Jette. While it's expected Jette will play, the extent to which he'll be able to contribute is very much up in the air. Still, North is readily able to move the ball on the ground thanks to a physical offensive line anchored by left tackle Eric Beckwith. Mansfield got off to a great start in last week's blowout of King Philip and the Red Rocketeers' secondary will have its hands full with playmakers Brendan Hill and Mike Hershman. The Hornets have seen junior linebacker Alexander Ruddy (team-leading 55 tackles, 8 TFL) embrace a larger role this year.

Barboza: In each of the team's last four meetings, the AWAY team has collected the victory. Not about to buck the recent trend. Mansfield, 26-21.

Hall: Per tradition, the away team wins this one with an epic possession in the final five minutes. Mansfield, 20-13.

NO. 22 KING PHILIP (6-1) AT ATTLEBORO (4-3)
The Skinny: King Philip was soundly delivered a rude awakening a week ago at Mansfield, in a 46-33 loss, and now looks to avoid falling behind in the Hockomock's Kelly-Rex division by extending Attleboro's losing streak. The skid currently stands at three games for the Bombardiers after a 4-0 start, and can't seem to get over the hump -- take, for instance, Malique Clark's nearly 300-yard rushing performance in a 44-41 loss to Franklin last week. An Attleboro win would surely create even more confusion at the top of the division.

Barboza: Warriors defense gets back on track, but it won't be easy against Clark. KP, 21-14.

Hall: I'm all for chaos when it comes to Hockomock bracketology. Get out your TI-83's, folks. Attleboro, 30-20.

WAKEFIELD (6-1) AT STONEHAM (7-0)
The Skinny: It's been a long time since Stoneham has had this good of a start, but the Spartans still face questions about a perceived weak schedule. This is their chance to prove doubters wrong, with defensively-sound Wakefield coming off a 33-0 shutout loss to Burlington.

Barboza: In a word, "SPARRRTAAAHHHHHH!" Stoneham, 20-16.

Hall: Because what the heck, I love rolling the dice, and I want to keep my boss and resident Stoneham-ite Dave Lefort happy. Stoneham, 17-13.

MILTON ACADEMY (3-2) AT BELMONT HILL (3-2)
The Skinny: The Mustangs and Hillies are looking to break free from a logjam of 3-2 teams in the middle of the ISL standings. Milton Academy is led by junior Drew Jacobs, who already has four multi-touchdown games this season. The Mustangs also have one of the biggest offensive weapons in the ISL on the foot of place kicker Justin Yoon.

Barboza: Yoon's foot provides the difference. Milton Academy, 13-10.

Hall: Let me preface this by saying Justin Yoon can kick for anyone any day of the week. Belmont Hill, 14-10.

ROXBURY LATIN (4-1) AT BB&N (3-2)
The Skinny: Its hopes of an undefeated season no more, Roxbury Latin looks to get back on the saddle and stay in contention for the ISL championship and a NEPSAC Bowl berth. A win here over the Knights, with its solid line and elite target in Wake Forest-bound tight end Brendan O'Neil, would bolster those odds. And the Foxes have the horses to do it, led by Boston College-bound quarterback MacKay Lowrie.

Barboza: Knights can take advantage of the matchup along the line of scrimmage. They'll win the point of attack battle. BB&N, 28-27.

Hall: I'll never count out a John Papas-coached team as long as the guy is in the business, but Latin can win track meets. Roxbury Latin, 35-30.
October, 16, 2012
10/16/12
11:37
AM ET
WEST ROXBURY, Mass. -- After throwing for nearly 500 yards and totaling seven touchdowns in a wild win over St. Paul's, Roxbury Latin quarterback Mackay Lowrie is our Massachusetts Army National Guard Player of the Week for Week 6.

The Boston College-bound signal-caller threw for 497 yards and six touchdowns, while adding another with his feet in Saturday's 54-37 victory.

Co-editor Scott Barboza caught up with Lowrie after Monday's practice for this interview:


October, 2, 2012
10/02/12
11:26
PM ET
By
Roger Brown
| ESPNBoston.com
St. Sebastian's Connor Strachan has a message for those eager to learn where he will be playing college football: Be prepared to wait.
"Yeah, right now recruiting isn't really the focus," Strachan said. "We have a chance for an undefeated season, so I think it's best to play the season out and then narrow it down."
Strachan, a 6-foot-1, 230-pound junior, has scholarship offers from four schools: Boston College, Connecticut, Virginia and Wake Forest. He received his offers after attending each school's camp last summer. Although he's being recruited primarily as an inside linebacker, he said Connecticut and Virginia have shown interest in his skills as a running back as well.
[+] Enlarge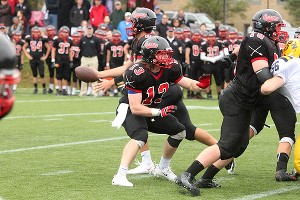 Ryan Kilian for ESPNBoston.com St. Sebastian's junior linebacker/running back Connor Strachan already claims offers from Boston College, Virginia, UConn and Wake Forest.
"I've been playing linebacker longer," Strachan said. "I feel I'm geared more toward defense."
Strachan, who lives in Wellesley, is the only New England player from the Class of 2014 in the ESPN 300 Watch List, which was released last week.
"Strachan may play at a small school, but he's a big-time talent on a national level," ESPN recruiting coordinator Billy Tucker said. "He was recently named to the 2014 ESPN 300 Watch List as we saw prototypical size and speed measurables for the inside linebacker position, as well as deceptive athleticism and run-stopping instincts to be very productive at the BCS level."
Strachan's uncle Steve played at Boston College and in the NFL for the Los Angeles Raiders, and his brother Brian is a sophomore wide receiver at Brown.
Maryland, North Carolina, Notre Dame and Penn State are among the other schools showing significant interest in Strachan.
"I really want to play at the highest level possible, but I'm definitely looking for a place with good academics," Strachan said. "After the season I'll try to do some visits and narrow it down to two or three schools. I'd like to have it done before next summer."
Back in action:
Former Everett High School quarterback Jonathan DiBiaso isn't the only Division I recruit in the Phillips Exeter Academy backfield this season.
Running backs Andreas Robinson (Dartmouth, Nova Scotia) and Devon Carrillo (Middletown, Conn.) will both have plenty of Division I options to choose from.
"They're like clones of each other," Phillips Exeter coach Bill Glennon said. "Carillo is a free safety, but we're real tough when he's in the [offensive backfield]. Carillo is tougher inside, Andreas is a kid who can get to the outside."
Robinson was the NEPSAC's leading rusher in 2010, but missed most of last season with an injury. He has taken visits to N.C. State, North Carolina and Stanford. Glennon said both Robinson and Carrillo are drawing heavy interest from FCS schools as well.
"Maine has already offered both, and UNH is gonna offer," Glennon said. "I think the [FBS] schools are more interested in Andreas as a defensive back, and then everyone else on the I-AA level is interested in him as a running back."
Conn. man
: Boston College landed one of the top athletes in Connecticut when Manchester High School quarterback/linebacker Marquis Little committed to the Eagles late last month. Little is expected to play outside linebacker in college.
Andrew Isaacs, Little's high school teammate, decommitted from BC to accept a scholarship offer from Maryland earlier this year.
Footnotes
: Brookfield (Conn.) High School's Boeing Brown, the No. 11 recruit from Connecticut in the Class of 2013, has been moved from quarterback to wide receiver this season. ESPN has Brown rated s two-star quarterback...Roxbury Latin quarterback Mackay Lowery completed 24 of 37 passes for 291 yards and five touchdowns in last weekend's 34-33 victory over Thayer Academy. Lowery has committed to Boston College.
Recruiting information regarding high school or prep school players in New England can be sent to Roger Brown at
rbrown@nhfootballreport.com
.
September, 30, 2012
9/30/12
12:22
AM ET
By
Ryan Kilian
| ESPNBoston.com


WEST ROXBURY, Mass. -– The much-anticipated offensive battle between Roxbury Latin and Thayer exceeded all expectations as Roxbury Latin scored the final touchdown to defeat Thayer 34-33 on Saturday afternoon.

In a see-saw game that saw six ties or lead changes, it was Roxbury Latin (2-0) that made the key plays at the end of the game to earn their second win of the season.

Latin senior quarterback Mackay Lowrie completed 24-of-37 passes for 291 yards and five touchdowns to lead the Latin attack. The dual-threat quarterback with the big arm also picked his spots on the ground, as he picked up numerous first downs to keep the chains moving all afternoon.

Trailing 33-28, the Boston College-bound Lowrie led Latin down the field and concluded the come-from-behind drive by tossing his fifth touchdown pass of the day to his sophomore wide receiver brother, Sean.

"It is symbolic of our team," Mackay Lowrie said regarding the final drive. "We are coming back and we are tough, all 45 guys. Everyone stepped up and everyone made a play. All eleven guys."

The final 11-yard scoring strike was the Lowrie brother's fourth touchdown connection of the day.

"This year he is stepping up big," Mackay Lowrie said of his brother Sean. "He had about 180 (yards) last week and obviously he had a huge game this week."

Trailing 34-33 with 3:52 remaining, Thayer junior quarterback Jack Becker led the Tigers down the field into Roxbury Latin territory.

Roxbury Latin defensive end Guy Green would then come up with the play of the game as the junior broke in from his left end position and sacked Becker. The sack also forced a fumble that defensive back Sean Frankenthaler would recover with 43 seconds remaining to seal the win.

Roxbury Latin head coach Pat Ross lauded Green after the game in the postgame huddle and presented him with the game ball for his efforts. Ross also stressed the importance of his team's successful offensive rhythm throughout the day.

"We do everything out of the no-huddle and with the wrist bands so tempo is very important for us," Ross said after the game.

It was another impressive offensive display by both teams on Saturday as Becker tossed two touchdowns for Thayer in defeat. He competed one to tight end Conor O'Brien in the first half on a beautiful 40-yard strike and another to star wide receiver Bryan Vieira in the second half for 12 yards. Vieira would also come up with a huge game-changing interception return for a touchdown in the final quarter, resulting in one of the six lead changes.

"We knew we were gong to have to score a lot of points," Mackay Lowrie said. "We heard all week about their offense but we knew if we kept them contained and kept Bryan Vieira, who is a heck of a player, in check, we could do some things."

Roxbury Latin got strong second half defensive efforts from defensive lineman Valentine Iwejuo and Mark Goldstein. Thayer received strong efforts from running back Mitchell Welsh (1 touchdown) and athlete Archi Jerome, who served at wideout, defensive back and kick returner.

Momentum Changer: Trailing 21-7 with 1:48 remaining in the first half Lowrie found his brother Sean for a 10-yard touchdown pass to cut the lead to 21-14.

On the following Thayer drive Roxbury Latin defensive back Sean Frankenthaler made an athletic interception on the sideline to set up another Lowrie to Lowrie touchdown connection. The touchdown tied the score at 21-21 at the half and gave Roxbury Latin the important momentum shift heading to the break.

Key injuries: Both teams lost key players during the game as Thayer senior running back Aaron Gilmer left in the second half with an injury after running for 85 yards and one touchdown in the first half.

Roxbury Latin also lost senior receiver Sean Myers with a leg injury after Myers started off the game strong with the opening touchdown reception.

ROXBURY LATIN 34, THAYER 33
RL (2-0) 7 – 14 – 7 -6 – 34
TA (0-2) 7 – 14 –6– 6 – 33

First Quarter
R – Sean Myers 8 pass from Mackay Lowrie (John Barron kick)
T – Conor O'Brien 40 pass from Jack Becker (Bryan Vieira kick)

Second Quarter
T – Aaron Gilmer 20 run (Vieira kick) T– Mitch Welsh 2 run (Harrison Balder kick)
R– Sean Lowrie 10 pass from Mackay Lowrie (Barron kick)
R– Sean Lowrie 34 pass from Mackay Lowrie (Barron kick)

Third Quarter
R– Sean Lowrie 8 pass from Mackay Lowrie (Barron kick)
T – Vieira 12 pass from Becker (kick failed)

Fourth Quarter
T – Viera 22 interception (pass failed)
R – Sean Lowrie 11 pass from Mackay Lowrie (rush failed)

May, 7, 2012
5/07/12
3:56
PM ET
Roxbury Latin quarterback Mackay Lowrie verbally committed to Boston College for the fall of 2013, Rivals.com reports.

At this time, his only scholarship offer is from the Eagles. However, Rivals reports that Maryland, N.C. State, UConn and Virginia were also recruiting the 6-foot-3, 200-pound prospect.

Boston College now has three verbals for 2013.