Boston High School:

Madison Memorial
June, 21, 2012
6/21/12
8:01
AM ET
In its 27th year of honoring the nation's best high school athletes, The Gatorade Company, in collaboration with ESPNHS, today announced Josh Lampron of Mansfield High School as its 2011-12 Gatorade Massachusetts Boys Track & Field Athlete of the Year.

The state's returning Gatorade Boys Track & Field Athlete of the Year, Lampron won the 800-meter run with a meet-record time of 1:51.99 and the mile in 4:07.88 at the All-State Meet this spring, leading the Hornets to the state championship as a team. The 5-foot-10, 150-pound senior middle-distance and distance runner also swept the 800 (meet-record 1:52.03) and mile (meet-record 4:09.59) at the EMass Division 2 championships. Lampron captured third place at this month's adidas Grand Prix Dream Mile in 4:02.98. He also won the mile at the 2011 New Balance Outdoor Nationals and placed third in the 1,500-meter run at the 2011 USA Track & Field Junior Outdoor Championships as a junior.

Lampron has maintained a 3.95 GPA in the classroom. A member of the National Honor Society and Spanish National Honor Society as well as his school's marching and concert band, he has donated his time as a peer tutor and volunteered more than 100 hundred hours of community service on behalf the Boy Scouts of America as an Eagle Scout.

"I have had the distinct privilege to coach Josh for the past four years," Mansfield head coach Julie Collins said. "He has been an outstanding team member. Josh was elected captain of our cross country team, winter track, and spring track and field teams by his fellow teammates. He is a team player, always leading by example. Josh encourages the younger athletes on our team and is willing to do whatever the coaches ask of him at practice and at meets. I think very highly of Josh and will miss him next year as he graduates to a bright future."

Lampron has signed a National Letter of Intent to compete on an athletic scholarship at Villanova University this fall.

Two-time winner Lampron joins recent Gatorade Massachusetts Boys Track & Field Athletes of the Year Sam Bombaugh (2009-10, Falmouth), Mark Vetere (2008-09, Andover), and Omar Aden (2007-08, Charlestown) among the state's list of former award winners.

CONNECTICUT: JAKE SCINTO, CHESHIRE
The 5-foot-8, 175-pound senior field athlete won three individual titles this spring and led the Rams to third place at the State Open Championships. The Field Athlete of the Year as named by the Connecticut High School Coaches Association, Scinto won the long jump with a leap of 22 feet, 11 inches as well as the triple jump, launching himself 45 feet, 4.25 inches. He also captured the high jump, clearing six feet, four inches. Scinto went on to take first place in the high jump (6-11) and the long jump (22-9) at the New England Outdoor Track & Field Championships. Scinto's high jump effort at the New England championships ranked as the nation's No. 13 performance among prep competitors in 2012 at the time of his selection.

Also a football standout, Scinto has maintained a 3.65 GPA in the classroom. A devoted member of his church community, he has volunteered locally on behalf of the American Cancer Society's Relay for Life and Cheshire's annual Vietnam Veterans Day services.

"He's a competitor, to say the least," said Ed McCarthy, head coach at rival West Haven High. "Whatever he's had to do, he's done it. He's a tremendous student. He's the whole package. I couldn't be more thankful to have seen him compete. Coaching against him certainly wasn't that much fun, but he's been a lot of fun to watch."

Scinto will attend Princeton University this fall, where he will continue his track and field career.

MAINE: MATT McCLINTOCK, MADISON MEMORIAL
The 5-foot-10 senior distance runner won the 1,600-meter run with a class-record time of 4:16.40 and the 3,200-meter run in a class-record 9:16.92 at the Class C state meet this spring. The state's 2011-12 Gatorade Boys Cross Country Runner of the Year, McClintock also placed second in the 800-meter run in 2:01.67. He went on to win the 3,200 in 9:06.24 at the New England Interscholastic Outdoor Track & Field Championships this past season. McClintock's 3,200 time at the New England championships ranked as the nation's No. 65 performance among prep competitors in 2012 at the time of his selection.

Also a cross country standout, McClintock has maintained an A average in the classroom and earned class valedictorian honors. A member of the National Honor Society, he has volunteered on behalf of the Athens Craft Fair, the Madison Food Pantry and his school's Thanksgiving dinner for senior citizens, in addition to donating his time as a youth athletic instructor.

"I saw him run at New Englands, where he won the two-mile," said Steve Virgilio, head coach at Cheverus High. "That's the fastest time I've seen in Maine high schools for awhile. He's pretty quick. He's got great times. He came within 10 seconds of setting the Maine and New England records, and he ran by himself, too. He's a tough kid. He finds his pace, and he stays on it. I'm looking forward to seeing what he can at the Division I level."

McClintock has signed a National Letter of Intent to compete on an athletic scholarship at Purdue University this fall.

NEW HAMPSHIRE: ROMARIO BAILEY, STEVENS
The 5-foot-9, 155-pound junior won four individual state championships this spring and led the Cardinals to a second-place finish as a team at the Division III state meet. Bailey won the 100-meter dash in 11.29 seconds, the 200-meter dash in 23.02, the 110-meter hurdles in 15.19 and the 300-meter hurdles in 39.82. He went on to win the 300 hurdles (39.80) at the state Meet of Champions, then placed third in the 200 (22.23) and fourth in the 300 hurdles (39.83) at the New England Outdoor Championships.

Bailey has maintained a 3.05 GPA in the classroom. He has volunteered locally at an area food bank and at middle school track meets, and he was selected to the National Technical Honor Society based on his work in Project Lead the Way, a pre-engineering technical course.

"Romario Bailey was one of the dominant track athletes in New Hampshire this spring," said Dyrace Maxfield, head coach of rival Bow High. "Despite being from a smaller division, I was impressed how Romario continued to race up to his high standards at every competition rather than just running fast enough to win."

Bailey will begin his senior year of high school this fall.

RHODE ISLAND: JOE VELEZ, CLASSICAL
The 6-foot-2, 185-pound senior won the hammer throw with a mark of 219 feet, 11 inches at the All-State Meet this spring, leading the Purple to a fifth-place finish as a team. Velez also placed second in the shot put (55-7) and the discus (151-7). He launched the hammer 207-3 to win the event at this month's New Balance Nationals Outdoor championships, while his season-best of 224-1 in the event ranked as the No. 2 performance by prep competitors in 2012 at the time of his selection.

Velez has maintained a B average in the classroom. A member of Classical High's student senate, he has volunteered locally as a peer tutor and youth basketball and track coach.

"I got to watch Joe in practice every day this season. He is a hard-worker and really dedicated to his craft," said Nick Palazzo, assistant coach at Hope High. "He is always working with the different weights to make himself a better thrower. And his numbers, including winning the national championship, just speak for themselves."

Velez has signed a National Letter of Intent to compete in track and field on scholarship at Ohio State University beginning this fall.

VERMONT: JACOB ELLIS, BRATTLEBORO
The 6-foot-1, 145-pound senior won the 1,500-meter run at the Division I state meet this spring with a state-record time of 3:57.33, which ranked No. 24 nationally among prep competitors in 2012 at the time of his selection. Ellis also won the 800-meter run in 1:59.05 and placed fifth in the 200-meter dash in 23.64, leading the Colonels to a fifth-place finish as a team. Also the state-record holder in the 800 (1:54.01), he concluded his prep track career with seven state titles.

Ellis has maintained an A average in the classroom. An accomplished trumpet player and singer, he has participated in numerous shows with the New England Youth Theater company and volunteered locally as a middle school track official.

"Jacob sets high standards and goals and works very hard to achieve them," said John Dimick, head coach of Brattleboro. "His season is even more remarkable considering that his leg was run over by a car midway through the fall cross country season."

Ellis will attend Bowdoin College in Brunswick, Maine, where he will compete with the track & field team.
April, 23, 2012
4/23/12
11:37
PM ET
By
Gary Hawkins
| ESPNBoston.com
Mt. Blue boys basketball coach Jim Bessey retired recently after 37 years with the Cougars. Bessey, who also coached at Madison Memorial High School, leaves with 479 wins. This year's team reached the Eastern Maine Class A championship game where it lost to Hampden 46-44.

Bessey, 68, led the Cougars to the Eastern Maine title in 1997. He answered some questions regarding his team and coaching philosophy.
Q: Who were your early influences in the game?
A: "My high school coach, Rod Shain. My whole life has been connected with sports. It was and always has been my niche. I played for a small high school and had the physical ability to excel and the internal desire to win. Coach brought this out in me."
Q: How did you first get into coaching?
A: "I started out as a JV coach at Farmington High School."
Q: When did you start to feel comfortable as a coach and why?
A: "I have always been comfortable as a coach and I knew in the sixth grade that it was I wanted to do. I think my comfort level has always been connected to my ability to relate to my players."
Q: How would you describe your coaching philosophy?
A: "It has always been to get players to work together as a team and to make them understand that everyone on the team can and must make a contribution for the team to be successful. Every player has the ability to make the team better. That little things are important. To convince them that playing and practicing hard are talents."
Q: Where did it come from?
A: "I developed it over time."
Q: Who were your coaching role models?
A: "At the high school level Dick Hunt (Cony), Bob Brown (Cheverus), Tom Maines (Morse, Scarborough). At the college level Dick Whitmore (Colby), Dick Meader (Farmington) , Ed Kohtala (Maine), Steve Clifford (Orlando Magic)."
Q: How has the game changed and how have you adapted to it?
A: "The inability to score the ball-which may be related to more aggressive defense. This demands better ballhandling skills and more time has to be spent on it. More drills."
Q: What do you believe is the key to a successful basketball program?
A: "The key is to get young people to commit to the time it takes to be good."
Q: What will you miss most?
A: "The contact with the players and the coaches and the relationships developed as a result."
Q: How do you hope to be remembered as a coach?
A: "As someone who gave his best and always came prepared. As a coach who made a difference in the big picture of his players, who used sport to teach life lessons."
January, 12, 2012
1/12/12
6:37
PM ET
By
Gary Hawkins
| ESPNBoston.com
Paul Vachon established himself as one of the top basketball coaches in Maine, winning seven girls Class A state championships in 23 years at Cony High School in Augusta. Prior to that he coached at Waterville and Messalonskee and won over 400 games in his career at Cony alone. He stepped down five years ago to take the athletic director's position at Cony and recently answered a few questions about his job.
Q: You were a basketball coach for nearly 30 years. What misconceptions did you have about an athletic director's job during that time?

A: "I didn't realize all the time and responsibility that came with this position. Being in charge of 23 varsity sports, 25 sub-varsity, 55 coaches, supervising events, and attending meetings, certainly puts a lot on your plate. I had tunnel vision when I was coaching. Basketball was all I saw. Wow, was I ever wrong."
Q: How many hours do you work during an average week during the school year? And what are those hours devoted to?
A: "I average between 50-70 hours a week. Bus scheduling, referee assignments, daily updates on events, committee meetings, cancellations, MPA information updates and paperwork, parent concerns, player concerns, student eligibility, drug and alcohol concerns, field and game preparations, special events, booster meetings, evaluations, and making sure there is enough pizza for tonight's game — just to name a few."
Q: What is the most important aspect of your job?
A: "The most important aspect of my job is to be a good listener. I may not agree with everything, but I must understand that everyone has their own opinion. I must listen, research, and evaluate all dilemmas. I then must come up with a solution that hopefully everyone will understand and agree upon."
Q: Augusta has a number of centrally located and well developed facilities which make it an attractive site for regional and state championship events. How much of an extra burden is this on your job?
A: "I don't know if I would call it a burden. This is what I envisioned the AD position would be like. I love watching athletics and I would do anything to promote events for our school and community. Yes, we are centrally located, but our administration, community and city have built some nice facilities that many people want to use. I feel it is one of my responsibilities that I help promote these outstanding facilities."
Q: How have athletes changed since you began coaching?
A: "School teams were always our No. 1 priority. I'm not sure that this is truly the case anymore. I've seen athletes miss practices and even games to attend other sporting events. Year round practices and games for elite groups are now being offered for all sports. Many athletes and parents have already chosen their career sport by middle school. Instead of developing athletes, it seems that we are focusing on a specific area and hoping for scholarships. The best teams I ever coached was when I had three sport athletes on our teams."
Q: What is the most difficult part of your job?
A: "The most difficult part of my job is my inability to have the time to spend with the student athlete. They need to know that we care about them and more than just being an athlete. It is a difficult world out there. Expectations for our student/ athletes is as pressurized as ever. We must remember that this is high school. Our job is to make sure that they feel good about who they are and that athletics is only one part of their high school education. We are teachers first and coaches second. Technology has made it very difficult to focus on certain areas."
Q: What is the most rewarding part of you job?
A: "The most rewarding part of my job is our support system. Our administration and school board have a great understanding that athletics play a huge role in a student's high school education. You must understand that Cony offers as many sports as any school in this state."
Q: Do you miss coaching and do you think you'll ever return?
A: "I do miss coaching. I still run camps and attend clinics. I am positive that I will be coaching again."
Q: Is the turnover of coaches greater today than is was 15 or 20 years ago? If so, why?
A: "The turnover is much greater. I think if you check the coaches who have longevity, I think that you will find out that they are involved in the school system as an employee. Mike McGee, Dianne Fornier, Al Veneziano, Paula Doughty, Moe McNally, Scott Graffam, Mt. Blue football coach etc."
Q: Being a teacher in the system gives you a greater understanding of the student athlete and vice versa. How do you walk the fine line between parental involvement and parental interference in high school athletics?
A: "We need parent volunteers. Our All Sports Boosters raise a huge part of our athletic budget and it is all because of their great dedication and love that our parents have for their children. Cony High School is very fortunate to have such caring parents. With that said, I must admit that we do have dilemmas with parents voicing their personal opinions. I must also admit that I have been on both sides of the fence. I must again go back to my original statement; I must become a great listener. I hope what I have learned as a parent, teacher, coach, and administrator has provided me with the wisdom that I can share that provides comfort for the parent's concern."
Q: Cony continues to offer a number of sports that many schools do not. With a declining enrollment and budget considerations, how long can this be sustained?
A: "The athletic budget is less than two percent of the entire school budget. I am in hopes that the school board and community believe that athletics plays at least two percent of a role in a high school student's education."
Q: What changes, if any, would you like to see in high school athletics in Maine?
A: "I would like to see students receive credits for playing sports. A lot of lessons are learned in participating in athletics. We give chorus credit and band credit. Why not athletics?"
Q: Is today's high school athlete as dedicated to their sport as he or she was 20 or 30 years ago?
A: "I believe that athletes are as dedicated today as they were 20-30 years ago. We just don't have as many. Kids have many more distractions today than they had 20 years ago."
November, 10, 2011
11/10/11
5:40
PM ET
By
Gary Hawkins
| ESPNBoston.com
Madison Memorial High School senior Matt McClintock recently won his third Class C cross country title while posting the fastest time in the state in any class. McClintock also won the mid-season Festival of Champions which featured over 600 runners from 60 schools in and out of state. Last spring, he won the 1,600 and 3,200 meter runs at the state track and field meet. He's competing this weekend in the New England meet in North Scituate, R.I. He recently answered questions about his season and running career.
Q: How did you get started running?

A: "I started running in 5th grade on the Madison Junior High XC team. I went to Athens Elementary so what would happen is Athens would practice on it's own and then we would just join the Madison team at meets. Fifth grade was the first year that I could compete in any "real" school sports, and I don't really know what drew me to it, but I decided to try it, and I guess my first race went well. I finished 13th. All my coaches were really happy with it and I guess I've been running ever since."
Q: Who have been your greatest influences?
A: "First and foremost would definitely be my coaches. Mrs. Moulton and Mr. Harper in junior high and Bob and Brandon Hagopian in high school. The person that really inspired me and drove me to get better was definitely coach Bob Hagopian. He's been with me since freshman year, through my wins and losses, and has always found a way to make me better."
Q: At what point did you feel you made a breakthrough in your high school career?
[+] Enlarge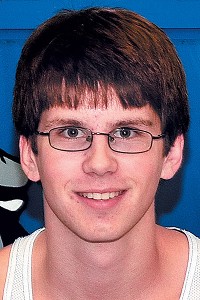 Gary Matt McClintock
A: "Without a doubt it was after I lost the conference championship last year. I got to cocky and that race showed me that I wasn't invincible, that I wasn't going to win just because my name was Matt McClintock, but because I wanted it more than the guy in front, beside, or behind me. That race made me
love
running, because I then had something to prove and something to work for. It re-instilled that love for competition in me. I will remember that race for the rest of my life, and I'm definitely a better runner because of it."
Q: What do you consider your greatest achievements in track and cross country?
A: "Wow, I guess in cross country it would be my three state championships. Since fifth grade my dream was to win a state championship in high school. To have three cross country titles and two titles on the track is just unbelievable to me. In track, my greatest achievement was definitely breaking the Madison High School records for 1,600 and 3,200 meters, probably more so the 3,200 because I was the first Madison kid in history to go under 10 minutes in that event."
Q: Which sport do you prefer?
A: "It really depends on the season. During cross country my favorite sport is cross country. During track it's track. I just love to run and race whether it's on the road, a track, or a trail."
Q: What goals did you set this season and did you reach them?
A: "My first goal for the season was to go undefeated in Maine and three-peat the Class C State Championship. I'm proud to say I met this goal. My next goal was to go under 15 minutes for the 5k I haven't met this goal yet as we've never really had a good day for a championship race, but Saturday at the New England Championships looks to be a good day, and it's a very fast course so we'll see what I can do there.
Q: What is your goal for this week's New England meet?
A: "My goal here is to win the title, and to go under 15 minutes for the 5K. As I said, before, it's a fast course, and there will be some incredibly strong competition to push me there."
Q: You won several races handily this season. Is it tough competing when you're not pushed?
A: "I guess that would depend on your definition of competing. A lot of people look at competing as winning. I prefer to look at it in the manner of Steve Prefontaine. If I'm going to win, I want to know that I've done my best. So yes, it's difficult to push myself to fast times, but I always just try to stay focused and not worry about the pain or where my competition is and just get to the finish line as fast as possible."
Q: What do you enjoy most about running?
A: "I love the people that we meet. The type of people you meet at cross country or track events is totally different then you will see in any other sport. At the state meet, I was getting encouraged to reach my sub 16 goal by the coaches and family and teammates of people that I was directly competing against. I'm confident to say that you will not find nicer and more supportive fans at any other high school sports competition."
Q: Do you have any running role models?
A: "I have several running idols, the most prominent would be Steve Prefontaine. I try to live up to the guts and determination that he always showed as a runner. His quote "To give anything less than your best is to sacrifice the gift" are the words I live by. Another two are Haile Gebrselassie, and Kenenisa Bekele. Both are Ethiopian runners. Gebrselassie is a two-time gold medalist and world record holder. Bekele is the two-time defending Olympic 10,000 meter champion and holds World Records now."
Q: Where will you attend college and why did you choose that particular school?
A: "I will be running for Lock Haven University of Pennsylvania next year. I felt very comfortable around the campus and really connected well with Coach Aaron Russell and the entire team at Lock Haven."
Q: What other sports or activities do you enjoy
?
A: "I enjoy all sports, but running is my one and only true passion."
Q: What is your training regimen in and out of the season?
A: "Sorry, but I don't like to discuss what my training is, at least not until after the outdoor track season."
Q: Where do you need to improve?
A: "I definitely need to improve on my kicking speed. In order to really be competitive in college I need to be able to win a race in the last 200 Meters if necessary. I feel that as my speed continues to develop in conjunction with my continued endurance training all of my events will improve drastically."
October, 26, 2011
10/26/11
4:04
PM ET
By
Gary Hawkins
| ESPNBoston.com
Madison Memorial High School senior Seth Sweet has established himself as the top high school golfer in the state.

Sweet recently won his second straight Class C state individudal title, shooting a 2-under par 70, the lowest in any class. Last summer he was one of two Maine golfers to qualify for the U.S. Junior Amateur. He also finished fourth in the Maine Amateur last year and, when he was 12, he was the youngest qualifier ever for that tournament. He recently answered questions about himself and the game he loves.
Q: How did you get started in golf?
A: "My dad introduced me into the game when I was 2 years old. He brought me out to a little par three course with a plastic set of Little Tikes golf clubs. I didn't play that often but he brought me to the golf course just enough so I could really get a liking for this game. After a while I knew there was something about this game that was special and I knew it would be able to take me places."
Q: When did you first get hooked on the game?

SWEET
A: "I first became serious around the age of 10. I played my first tournament when I was 7 but did not realize what it took to really become an elite golfer. I started playing several tournaments when I turned 10, and began to practice a lot harder. I tried to take my game to the next level and set different levels of goals that I needed to achieve."
Q: Who have been your greatest influences in the game?
A: "My dad has definitely been the biggest influence in my game. He taught me everything I needed to know to become who I am today. He made it so I could play in every tournament I wanted to play in, and would do everything for me. My mother has also been there supporting me and always telling me that if I want it I can get it. She is always there to watch me play tournaments, and I couldn't do it without them. My brother Zack also has been there to push me as he is a good golfer and always taught me how to act, as well as made me the best I could ever be. My swing coach has also been able to bring me to the tip top in my game and has taught me how to play this game like the pros.
Q: What do you consider your greatest accomplishment to date?
A: "I believe my greatest accomplishment has been making the U.S. Junior Amateur in Bremerton, Washington where I played two great days to make a playoff to make the cut for match play. Unfortunately, I missed the playoff, but was the proudest to place 55th best junior in the nation. I may not have met my goal, but was very pleased with how I played."
Q: How often do you play and practice?
A: "I play every day and practice every day. In order to be the best you have to have the club in your hand acting like it is your lifeline."
Q: What do you work on?
A: "Lately I work on the short game because I am able to hit the ball on the green, but where I am going to save strokes is making the putts for birdies. I will also work on hitting the ball in different shapes, I usually hit a draw but I understand that I need to be able to hit the cut to be one of the best as well. I believe that short game is where the pros make it look easy and win the tournaments."
Q: Where will you attend school next year?
A: "I have recently just verbally committed to Old Dominion University in Norfolk, Virginia."
Q: How did this come about?
A: "I had a friend from Rhode Island who is a freshman there and had told the coach about me. He must have put in a good word for me because the next week I got a call from the coach and it eventually led to an official visit offer. I visited the campus and fell in love with it and
fell in love with the golf facilities this school has to offer."
Q: What are your short and long-term goals in the game?
A: "My short term goal for golf is to really become a better player and win my state amateur, and qualify for the U.S. Junior Amateur again. My long term goals are to become a golf professional and play on the PGA tour, I do realize this will be a tough task but I am ready to make a run for it. I also want to be in a scoring spot all four years in college and be a key asset in our successful team.
Q: What are your strengths and weaknesses?
A: "My strengths are definitely being able to drive the ball, chip the ball and putt the ball. I hit the ball about 290 yards down the middle and my short game has grown incredibly and improved greatly. I also am able to keep a great state of mind while playing golf which is to my advantage. I believe my weakness is paying too much attention to other people, I shouldn't watch my competitors, but I do and get caught up in their game a little too much."
Q: Who is your favorite pro golfer and why?
A: "My favorite player used to be Tiger Woods because I idolized his work ethic, he won his tournaments by out-working his competitors and there was no question that he did every week. I also loved watching how he worked on the golf course he made himself expect the best of the competitors so he would not be surprised when they hit a good shot. My new favorite player is Bubba Watson, I enjoy how he hits the ball so long and is changing the game with his stride in great length. I also like how he has fun while he is playing and is very personable while he is playing. It is truly an awesome thing for him to be able to enjoy the game the way he does."
Q: What other activities or sports do you enjoy?

A: "I enjoy playing basketball with a passion; it is a very fun game for me and keeps me in shape during my long winter up in Maine. I enjoy running, and weight lifting as it keeps me in shape and I enjoy doing that every day."
Q: What are your plans for the summer before college?
A: "I plan on playing in 5-10 golf tournaments and practice my short game and the little details golf demands you to do. I am going to play in the big tournaments in the state and going to qualify for some USGA events. I just want to keep my competitive edge and make my game in fine tune for the fall college season."