Boston High School:

Malik Lee
January, 9, 2013
1/09/13
12:16
AM ET
By
John Botelho
| ESPNBoston.com
ROCKLAND, Mass. -– Not all games are created equal. Some of them, like when the Rockland boys basketball team hosted South Shore League rival Mashpee on Tuesday night, just feel bigger.

"This was our fourth statement game –- Scituate, Norwell, Abington and this game here," said Rockland coach Fred Damon. "We wanted to send statements. If we want people to take us for real, we need to win these types of games. We want to set ourselves as a team that can be a force in division three."

That message was sent loud and clear on Tuesday, as No. 21 Rockland rolled to an easy 78-51 over the formerly unbeaten Falcons (8-1) in front of a sellout and raucous crowd.

UMass-Lowell signee Tyler Gibson got Rockland (9-0) on the board with a pair of free throws on the first possession, but senior point guard Bryan Tavares was the driving force behind the Bulldogs (9-0) forging an early lead, finishing the first quarter up 15-11.

Tavares notched 21 of his 26 points before halftime on a ridiculous 8-for-9 shooting. Even more impressive was that he did it all while battling the flu, twice leaving the court to throw up.

"I honestly don't know how I did it," Tavares said. "I practiced a lot over the summer and I can feel the improvements now. It all kind of came together tonight."

Tavares knocked down three five 3-pointers in the second, sparking a 16-point quarter for him as the Bulldogs extended their lead to 44-28 at the half.

"Bryan's the floor general of the team, so he basically controls everything," said Gibson. "He gave us a boost scoring by hitting those 3-point shots early."

Added junior Matt Nicholson: "It's awesome to have a guy like. He's been pretty consistent for us too -– other than the Cohasset game, he's been like that every single game for us."

Still, even a 14-point lead at the break wasn't satisfactory for the Bulldogs.

"We like to keep teams around 20 (first half points)," Damon said. "We came into the locker room and I was not happy at halftime. I said they cannot stop us offensively, there's no doubt and we ran sets like crazy in the second half. We had to pick it up defensively and they got seven points in the third quarter. We went from up 14 to up 26 –- that's the game right there."

Nicholson made sure the offense kept pouring it on as he tallied 11 points in the third quarter before adding nine in the fourth en route to a game-high 28 points, to go with six rebounds, two blocks and four steals.

Considering how both took over the game, it's not clear which one was better against the Falcons.

"That was an absolute two-headed monster, so I really don't know," said Rockland coach Fred Damon. "I probably would have to say Tavares because he put us ahead and then extended the lead, and Nic kept us there. Bryan was just unconscious tonight. It was ridiculous. You cannot stop him when he's shooting like that."

Gibson finished with 13 points, five rebounds, three blocks and two steals and sophomore Liam Ball chipped in five rebounds, three points and two steals for Rockland.

Mashpee had a strong showing from Nakia Hendricks, who tallied 19 points, six rebounds, four blocks and three steals, as well as 12 points from Dean Feliciano and 10 points and seven rebounds from Malik Lee. But those individual showings weren't enough to overcome Rockland's impressive attack.

"What can I say, they just beat us," said Mashpee coach Rick Boulrisse. "They shot the ball real well –- I think they hit seven 3's in the first half. It's hard to overcome something like that. Rockland just outplayed us."
October, 19, 2012
10/19/12
1:28
AM ET
FRIDAY
NO. 23 NEEDHAM (5-1) AT NO. 6 WALPOLE (6-0)
The Skinny: The Rockets received some help in the Bay State Carey race from Natick last week when the Red Hawks came away with a win at Weymouth. However, Needham will need to capitalize on that break with a win over the Herget's other undefeated entrant. Rockets running back Mike Panepinto continues to be one of the great breakout stories on the year while the Rebels will need to shuffle the deck a little with the loss of Mike Rando, who'll be out several weeks with an ankle injury. Of course, the Rebels counter with one of the more consistent and underrated linebacker units in the state, led by Cam Hanley and Steve Thulin.

Scott Barboza: Even sans Rando, the Rebels still have enough horses in the barn. Walpole, 26-21.

Hall: Losing Mike Rando, for however long a period of time, hurts. But this Rebels defense is still talented enough to get the job done and slow down Team Panepinto. Walpole, 20-7.

NO. 11 KING PHILIP (6-0) AT MANSFIELD (4-2)
The Skinny: This much anticipated Kelley-Rex matchup features one of the state's premier defenses against a recharged Hornets offense. Brett McEvoy anchors the Warriors defense, which has surrendered just six points a game through the first six weeks, along with Joe Johnston. Kyle Wisnieski has held down the quarterback position admirably in his first year as starter, but hasn't stared into a defense quite like that of the Warriors. If he has time to throw, Mike Hershman and Brendan Hill provide big-time targets. Let's not forget that last year's installment of this battle was the coming out party of KP quarterback John Dillon, who nearly lifted the Warriors to victory in a second-half comeback bid.

Barboza: Defense wins in big games, right? It's been a while that the Warriors last had Mansfield's number, but this is the year. KP, 20-14.

Hall: Can't have any pudding if you don't eat your meat. Mansfield, 24-21.

Wakefield (6-0) at Burlington (5-1)
The Skinny: Depending on how Stoneham does this weekend, this one's for at least a share, possibly sole possession of the Middlesex League's Freedom Division (can we just call it Small to alleviate any confusion?). Burlington has had some injuries, but still boast the league's top rushing attack led by Marcus Odiah and Anthony Cruz. They'll meet a Wakefield defense that features a number of playmakers and hasn't allowed a point in 11 quarters. With Dan Cardillo (ankle) gone, there's no real superstar for Wakefield -- but sophomore receiver Bruce Brown will be one to watch, coming off a 124-yard performance last week in a shutout of Wilmington.

Barboza: I'm calling this a split decision. My fan section vote goes to the Red Sea. But the action on the field is dictated differently. Burlington, 8-6.

Hall: This one will be close, and the Warriors might not solve Burlington's rushing attack, but they'll make a big stop late. Wakefield, 17-10.

Mashpee (4-2) at No. 25 Abington (6-0)
The Skinny: This is a battle for sole possession of first place in the South Shore League, with both teams sitting tied atop the league standings at 3-0. The undefeated Green Wave have been getting some terrific defense all season, and feature one of the more unheralded versatile athletes in senior Babila Fonkem. Mashpee stumbled out of the gates, with losses to Nauset and Austin Prep in the first month, but has rebounded with a three-game win streak. Leading the attack have been running backs Malik Lee and Jared Taylor, as well as emerging quarterback Cody Bingham-Hendricks.

Barboza: Fonkem provides the highlight reel plays running and on special teams, but Brian Kilmain and Jack Malafronte give the Green Wave balance. They're the difference. Abington, 28-20.

Hall: For the first time in three years, I managed to get through our picks on video and our podcast without mentioning my parents are Abington High Class of '79 (self high-five, folks). Don't get it twisted, though, that has nothing to do with why I've soured on Mashpee since the preseason. Abington, 28-17.

NO. 2 EVERETT (5-1) AT BC HIGH (2-3)
The Skinny: The Eagles are finally starting to heal, with starting quarterback Brendan Craven seeing action last week against Marlborough and running back Brandon Owens getting back into the mix. While they're still missing a couple key cogs on defense, Owens will help bolster BC High's run defense against Everett's double-wing-based ground attack. The Crimson Tide also have been nursing some injuries in recent weeks, but Jalen Felix returned for last week's game at Xaverian and Jakarrie Washington ran for three scores. Gilly De Souza, the glue that holds Everett's secondary together, continues playing with an ankle injury and didn't see the offensive side of the ball last week, but he's remained rock steady (as he has since freshman year) in the kicking game.

Barboza: BC High is pumped and ready for this one, but De Souza provides the game-winning boot late. Everett, 17-14.

Hall: Won't be fooled again. Everett, 24-10.

SATURDAY
XAVERIAN (1-5) AT NO. 21 BRIDGEWATER-RAYNHAM (3-3)
The Skinny: This one has the potential to please fans of power football. The Hawks could go heavy in the backfield with Hunter Taute with Mike Brennan doubtful for this weekend's game after a late injury in last week's loss to Everett. Or, the Hawks could air it out behind Austin DeCarr whose hit on touchdown passes of 30-plus yards in each of the last two weeks. The Trojans will look to pound the ball behind breakout sophomore running back Brandon Gallagher and a physical offensive line anchored by Joe MacInnis. Senior quarterback Jordan Cohen also gives B-R the opportunity to strike downfield while rolling out of the pocket.

Barboza: I went with the Hawks last week and promptly was served some humble pie by Everett's offensive line postgame. I'm sticking with my gut this week. Trojans have controlled this matchup in the last two seasons. B-R, 21-17.

Hall: Historically when the game slows to a ground-and-pound stalemate, the odds favor the Trojans. B-R, 20-10.

No. 18 Leominster (4-2) at No. 20 St. John's of Shrewsbury (4-2)
The Skinny: Back at the start of the season, we pegged this as must-see action to circle on one's calendar. It's still one of the games of the year in Central Mass., and we could even see a rematch come playoff time, but let the facts stand. Leominster and St. John's quickly fell from the Top 10 in the last several weeks; Leominster looked shaky in an upset loss to Wachusett and win over Algonquin, while St. John's has surrendered 100 points total in the last two games.

Barboza: That Pioneers defense tightens some, but just not quite enough to stop the Blue Devils. Leominster, 34-28.

Hall: If there's anything we've learned in the last two weeks, it's that if you can run on St. John's, you can go all Barry Switzer and "hang half a hundred on 'em". Leominster, 40-35.
September, 5, 2012
9/05/12
3:48
PM ET
This season, we're trotting a new feature for football season that we started back in the spring. Each Wednesday, we'll pool the minds of our ESPN Boston staff and contributors to debate several hot button topics across the state in our Roundtable.

Without further ado, let's kick off the new season with these takes:

1. BC HIGH RECEIVED SOME BAD NEWS LAST WEEK WHEN RETURNING ESPN BOSTON ALL-STATE LINEBACKER LUKE CATARIUS SUFFERED A HAIRLINE FRACTURE ON HIS ANKLE. HOW WILL THE EAGLES COPE?

Brendan Hall, ESPN Boston High Schools Editor: Over the last decade, BC High has proven to be a program with enough sufficient depth to compensate when star players miss a significant time with injury. However, it's different when you lose the quarterback of your defense, especially when it's a player as special a talent as the Eagles' Luke Catarius.

In the scrimmage against Mansfield, after Catarius went out with the ankle injury, the Hornets went to the underneath game and exploited the flats for big gains. There was also one big miscommunication in the secondary that allowed Kevin Maki to wheel right through the middle of the deep field for a 45-yard completion. Not that this won't be shored up before Friday's big tilt with Brockton, but it is worth pointing out.

The good news, obviously, is that the Eagles' Catholic Conference season doesn't start until late October – but with Xaverian and St. John's Prep looking sharp, it will be obvious if this team isn't in proper shape. With that in mind, I expect Brandon Owens' role at outside linebacker to have an even bigger significance than before. The pressure will also be on the front four, led by Jaleel Johnson, to buy the back seven time.

Scott Barboza, ESPN Boston High Schools editor: In terms of talent, I think the Eagles can get along. My greatest concern for BC High's defense without Catarius relates to communication. The linebacker has been the leader of the defensive huddle, with messages from the sideline passed along to the inside linebacker. On field, Catarius was the quarterback of the defense as well, not only knowing his own responsibilities, but that of his teammates. That comes from knowledge of the system and cannot be replicated; it only comes through game-condition experience. The Eagles have a bevy of returning starters on the defensive line and secondary to shoulder the load but this one hurts. Will they rely on Brandon Owens to not only be the feature back, but take on more Catarius' two-way role? We saw what happened last year when Preston Cooper went down at running back and how Deontae Ramey-Doe filled those shoes. So perhaps this will be more of the same for a deep Eagles' squad. But a player of Catarius' ilk cannot simply be replaced.

Adam Kurkjian, ESPN Boston correspondent: Without question, losing one of the top two-way players in the state will have a negative impact on BC High. The Eagles will not be able to replace his production easily and there may be an extra loss or two that comes down their way early on because of it. That said, if he is back by the time Catholic Conference play rolls around, BC High will still be one of the favorites to make it back to the playoffs. But still his loss cannot be understated.

Bruce Lerch, ESPN Boston correspondent: Believe it or not, I think the Eagles will be fine defensively. Obviously, Catarius is a one-of-a-kind talent with the ability to singlehandedly change opposing offensive gameplans. BC High will simply lean more on the unit as a whole rather than an individual to bail them out, as Catarius often did with his read and react style of play. Linebackers Danny Collins and Brandon Owens are leaders, defensive linemen like Billy Breen and Jaleel Johnson will take up blockers and make a few plays on their own, and the secondary will have to be more active in supporting.

Oddly enough, I think it's on offense where the Eagles may miss Catarius the most. A bruising fullback, Catarius helped pave the way for Preston Cooper and Deontay Ramey-Doe to pile up yardage last season. New backs Owens and Skyler Evans, along with a mostly inexperienced line, would have benefitted greatly from having Catarius leading the charge.

John Botelho, Editor-in-Chief, South Shore Sports Journal: I'm not even sure this Luke Catarius injury will have any real impact on BC. And I don't mean that as a slight to Catarius - in fact, I think he's the best linebacker in the state. My point of view though is this is a non-issue for the Eagles for two reasons.

First of all, replacing Catarius obviously wouldn't be easy, but aren't teams in the Catholic Conference best suited to replace someone they lose to an injury? Those teams are so loaded and so deep that it seems they have significant depth at every position. Or at least it seemed that way when Preston Cooper - who was arguably the best running back in the state in the first half of last year - went down with a broken ankle. All BC did was go on to win the Super Bowl as Deontae Ramey-Doe stepped in and the Eagles never missed a beat.

Secondly, and most important, is that BC doesn't open up league play until October 26 when they host Malden Catholic. I think even without Catarius, it'd be considered an upset if the Eagles lost that match-up. If it really comes to it, they don't need Catarius back until November 4th, week eight of the season, when they travel to Xaverian. It's reasonable to think that a hairline fracture would be healed up and they'd have him back by then.

2. WHICH REGION OF THE STATE HAS THE BEST UP-AND-COMING TALENT?

Hall: The emergence of Springfield-area talent over the last few years is one of the best stories developing this fall. But in terms of pure talent, for me it's got to be the Cape & Islands region.

Every year, there seems to be a Cape player that seemingly washes ashore to earn a Division 1 scholarship. Two years ago, it was Randall Jette from Martha's Vineyard going to UMass. Last year, Nauset's Brendan Battles-Santos surprising everyone at UConn's prospect camp to earn a scholarship practically on the spot. This past summer, UMass dug back into the region to pluck 6-foot-7 tight end Terrel Correia out of Nantucket, with intentions of making him an offensive tackle.

We'll obviously be watching Correia closely this fall, but he isn't even the best player from the region. Barnstable quarterback Nick Peabody is among the state's best, with Ivy League interest. Mashpee has three athletes with Division 1 potential in tackle Nate Chrzanowski, running back Jared Taylor (he of the 300-yard epic last year at Gillette Stadium) and his new backfield mate Malik Lee, a Cape Cod Tech transfer with plenty of upside at 6-foot-2 and 235 pounds.

Also keep an eye on Dennis-Yarmouth's Joe Tyo, who still has to fill out but is projectable with a long 6-foot-5 frame and some active footwork. Falmouth sophomore Craig Green will be an intriguing prospect to monitor, after running a 10.6-second 100-meter dash last spring at the New England Track and Field Championships. And as good as Darien Fernandez was on the basketball court for Wareham last winter, some believe he's an even better running back.

Barboza: I'm looking no further than our statewide preseason Top 25 poll to find two Springfield squads (Central at No. 14 and Putnum at No. 23) and another (Springfield Commerce) knocking on the door. Central is retooled for another run at Longmeadow in Div. 1 West with some key returnees from last year's squad that made it to Gillette Stadium. Quarterback Cody Williams could be a breakout performer this year and Shawn Lockett is a legitimate force to deal with on the lines. Melquawn Pinkney might be gone, but the cupboard's not bare for Putnam with Wayne Lowery, shouldering more of the running load while playing lock-down corner. Sha'ki Holines (UConn) and Hassan Graham (not to be confused with the Patriots receiver of yesteryear) grade out at their positions against anybody across the state.

Kurkjian: This is a tough question because the season has not started yet, so it is hard to assess which region has the top players. As it stands now, though, the North Shore looks to have an overflow of top players if you consider Everett part of that region. Also, don't forget BC High's Brandon Owens hails from Salem.

Botelho: Last fall made it hard to argue with any region being more up-and-coming than the Cape. Four of the nine Eastern Mass. Super Bowl champs were from the Cape and Islands (Dennis-Yarmouth Div. 2A, Bourne Div. 3A, Mashpee Div. 4 and Nantucket Div. 5). Not only did those teams each win Super Bowls last season, but the Cape teams outscored opponents 120-29 in those games. Only Bourne had a competitive game, beating defending Super Bowl champ Hamilton-Wenham, 16-14.

3. WHICH RUNNING BACK WILL HAVE THE BIGGEST BREAKOUT?

Hall: There's a lot of directions you can go with this one. The addition of Malik Lee, and his soft hands, to Mashpee's already-dangerous backfield has to feel like a high school offensive coordinator's dream. Out west, Springfield folks are excited about two potential breakout candidates in Putnam's Wayne Lowery and Central's Aaron Owens. St. John's of Shrewsbury's Shadrach Abrokwah is bound for a breakout in John Andreoli's new Oregon-style "blur" offense.

However, I'm going with BC High's Brandon Owens. That he is already committed to a Division 1 FCS school (Bryant) despite only seeing part-time duty one way last season speaks to his upside. As a runner, there is no wangle to his makeup – he's a north-south, one-cut guy with a powerful frame that accelerates quickly to hit the hole at full speed.

Losing fullback Luke Catarius for the first six weeks of the season means the Eagles may have to get more creative with their offensive sets. But after seeing him take the corner on toss plays out of "Ace" formations, in the Mansfield scrimmage, I think he's up for any task the coaching staff throws at him.

Barboza: I think we're all hedging that Malik Lee of Mashpee will have a monster season in his first year with the Falcons, but I'm going to buck the trend here and go with another runner inside the South Shore League. Abington's Babila Fonkem tallied seven touchdowns (five of those came in one game against backyard rival Archbishop Williams) and ran for over 1,000 yards last season. I think the 5-foot-10, 180-pounder has the potential to more than double last year's tally as a feature back during Jim Kelleher's swan song as head coach.

Kurkjian: From the looks of it, Brandon Owens has had a spectacular preseason and he will be the feature back in what expects to be another punishing ground attack for BC High. It appears as if the Eagles have just reloaded there.

Lerch: Everett's Kenny Calaj is already something of a household name, having been an impact weapon in Everett's offense the past two seasons. The majority of that. however, came as a pass catcher. With a pair of untested quarterbacks still battling to replace record-setting Jonathan DiBiaso, not to mention a mammoth group of offensive linemen, it would only make sense for the Tide to return to the ground game and Calaj should benefit as the main ball-carrier. I'm not sure what the record for all-purpose yardage in Massachusetts history, but Calaj is in a position to do some historic things as a senior.

Botelho: Arcel Armstead is primed to have an elite year at running back for Bridgewater-Raynham this season. It's no secret that Dan Buron-coached teams run the ball as well as anyone, and with both Nick Schlatz and Brandon Morin gone, Armstead will be the featured back for the Trojans. His athleticism alone would be enough for him to have a big year in that system, but B-R returns their entire offensive line from a season ago, led by 6-foot-4, 260-pound Joey MacInnis, meaning the sky is the limit for Armstead.

Don't sleep on guys like Jon Hurvitz at Duxbury, who is the best athlete returning to the Dragons who will need to remake their identity a bit without Matt O'Keefe under center. Hurvitz runs hard and has a chance to be the first running back Duxbury has built their offense around in recent memory.

Also, the South Shore League seems littered with potential breakout candidates. Jared Taylor is probably the best well-known running back who was a back-up last season. He flashed his electric running ability in the Super Bowl to the tune of more than 300 yards. But he won't be the only guy terrorizing defense in the league.

Babila Fonkem returns to Abington for a senior year with added size from his 1,000-yard campaign a year ago. Brian Kilmain, a junior for the Green Wave, could give them the most dangerous two-headed backfield in the league.

Andrew Benson, who looks like he'll officially be a quarterback, is ready to break out at East Bridgewater. He could end up running for more yards than ESPN All-Stater Casey DeAndrade a year ago, for more than one reason. Last year, DeAndrade split carries with Tim O'Brien. While Benson will share the backfield duties with Kevin Lynch, he'll see a higher percentage of touches than DeAndrade last year. Also, E-B's offense was so explosive last year that DeAndrade (and O'Brien) had their numbers cut down because the Vikings had big enough leads that the starters weren't on the field a lot in the fourth quarter. Only when they played Abington and Mashpee did starters stay in the entire game. This year's team will rank among the best in the SSL, but I don't think they'll put teams away so quickly this time around.

4. TAKE A LOOK AT THE FIRST MONTH OF BROCKTON'S SCHEDULE, AND PREDICT A RECORD.

Hall: This is going to upset some of our readers in the City of Champions, but there's a realistic possibility of the Boxers coming out of the gate 0-4. Of those first four opponents – BC High, Reading, St. John's Prep, Xaverian – nobody's gotten worse from 2011, while I feel Brockton is still sitting in second gear after last year's disappointing end.

That said, it sounds like Bryant-bound running back/defensive back Micah Morel will be ready for Friday's opener against BC High after injuring his shoulder in the preseason, so that's a positive sign. As for record, I think the Boxers will steal a game, either against Prep or Reading, to start off 1-3.

Barboza: Well, let's go the tape … And hold me to this. I'm going:

Week 1, vs. BC High – Loss

Week 2, at Reading – Win

Week 3, vs. Xaverian – Loss

Week 4, vs. St. John's Prep – Loss

That would make the Boxers 1-3 rolling into October. Then I think they rebound with three straight wins and finish out the season at 6-5 and represent the Big Three in the Division 1 playoffs as a very dangerous team after enduring a trying first month.

Kurkjian: With so many question marks surrounding this offense, it is hard to project exactly how the Boxers will fare. That said, this is a brutal start to the season. The feeling here is that Brockton manages to steal one and get off to a 1-3 start.

Lerch: It's a very real possibility that Brockton goes 0-4, and I think best case scenario is that they salvage a 2-2 mark. Any better than that and I wonder if the Catholic Conference would have an issue with adding a "league game" between Brockton and Everett to play for its championship.

Botelho: Brockton has the best program in state history. Literally. Their 751 all-time wins ranks first in the state by a wide margin (no one else even has 600 wins). They've also captured 11 Super Bowl titles in 40 years. That said, the last few years haven't been what Boxer fans are used to. They missed the playoffs two years in a row, and last season slumped to a disappointing 5-6.

All those struggles did was ignite something in the Boxers, who look primed to return to the postseason this season. I'm going to say Brockton gets through that portion of the schedule (one Peter Colombo said might rank as the toughest in New England) with a winning record. I'm a believer in Brockton this year, and they'll knock off at least one Catholic Conference opponent, as well as take care of business with Reading and Fitchburg. My guess is the Boxers end up 3-2 in this stretch (including a loss to BC High week one, which they'll avenge in the Super Bowl in December).

5. WHAT GAME WILL BE THE MOST THRILLING OF WEEK 1?

Hall: On a state-wide level, Everett's trip to Leominster is certainly garnering the most interest, and deservedly so. The atmosphere there is going to be electric, with projections of anywhere up to 7-8,000 for expected attendance at Doyle Field. But, at the risk of being the wet blanket here, find me a pundit that doesn't expect Everett to win.

Putnam-Central will be an intriguing battle out west, but I'm going with an underrated Saturday afternoon showdown in Shrewsbury, where St. John's will host Holy Name in their customary season-opener. For all of Holy Name's success under Mike Pucko, the Naps have never beaten St. John's under John Andreoli. Last year's contest, a 22-21 St. John's thriller, was just epic on all fronts. And if there's any year for Holy Name to get that elusive win over the Pioneers, it's this one.

Barboza: This might not be the most high profile game on the docket, but I'm looking at the good ole fashioned brawl in the backyard between Dighton-Rehoboth and Somerset. The Falcons, coached by Somerset alum Dave Driscoll, are looking to rebound a bit in the South Coast Conference this season behind physical tackle Chuddy Nwachukwu and the Raiders could bounce back from a rebuilding year last year to finish atop the Eastern Athletic Conference this year. This has always been an underrated rivalry game in Southeastern Mass. and it's a great way to kick off the season for both squads.

Kurkjian: When in doubt, go with the No. 1 team opening up on the road against a program and community brimming with optimism over a Super Bowl win. No matter what happens, the atmosphere for Friday night's Everett at Leominster game will be electric.

Lerch: With apologies to several other high profile (BC High/Brockton) and not-so-high-profile (East Boston/Blue Hills will be a barnburner) matchups certainly deserving attention, the game at the top of my marquee is Duxbury at Bridgewater-Raynham (Saturday, 4 p.m.). Two programs very similar in the foundations programmed by a pair of tremendous head coaches, and both with an eye on getting a jump start on the "reload" process should be ready to go toe-to-toe for 44 minutes (or more).

Botelho: My favorite week one match-up is always Bridgewater-Raynham and Duxbury (especially this year, where these two teams grabbed the top two spots in our pre-season poll over at SportsJournal.co). Both perennial Super Bowl contenders, if either team doesn't bring their 'A' game from the get-go, they start the season with a loss. Dave Maimaron and Dan Buron always have their kids supremely prepared, so this one has a playoff atmosphere in September.
August, 21, 2012
8/21/12
9:55
AM ET
By
Brendan Hall
| ESPNBoston.com
MASHPEE –- Jared Taylor walked off the field following his final carry in last December's Division 4 Super Bowl romp over Cardinal Spellman, before a sparse crowd at Gillette Stadium, with his mind still lost in the fog of war.
The 6-foot, 215-pound tailback had just run for a record 308 yards, most ever by a high school player at Gillette, and naturally the shy, reserved kid was unaware. Hey, when you're having one of those nights, why bother with stat-checking?
"I just couldn't believe we actually won the game," Taylor reflected earlier this month. "We made it so far, and now the season was just over. It was just an amazing feeling you get. I didn't really know what I was running right then, I just kept running. I just wanted to win."
[+] Enlarge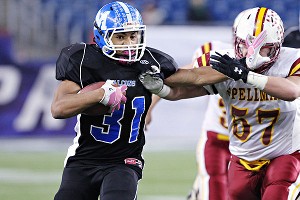 Eric Adler for ESPNBoston.com Mashpee senior running back Jared Taylor is hoping to repeat the magic of 2011, when he ran for 1,535 yards and 21 touchdowns as the Falcons won the D4 EMass Super Bowl.
Taylor led the Falcons to their first ever Super Bowl title in school history in 2011, splitting carries with bruiser Jordan Keli'inui but leading the way with 1,535 yards, 21 touchdowns and 9.5 yards per carry. The notion that he was the No. 2 back behind Keli'inui –- who did not play in the Super Bowl due to a high ankle sprain –- seemed to make Taylor's 300-yard night all the more dramatic.
But it was the perfect storm of opportunity and preparation.
Tales of his uncle, Andy Andrade, are legendary; he was taken by the Cowboys in the fourth round of the 1974 draft out of Northern Michigan, but never played a down. Through most of his time coming up through Falmouth, Taylor wore the number 44 in honor of his uncle.
Taylor is also related to Robert Pena, another Falmouth legend who played three seasons with the Cleveland Browns (1971-73) as a defensive tackle. In 2010, Taylor was a starting defensive tackle for Falmouth High when the Clippers delivered one of the biggest upsets of the season, downing BC High amidst torrential downpours at Guv Fuller Field.
All that, in turn, has led to dialogue of Taylor as one of the state's most dangerous threats out of the backfield. Blessed with a combination of speed, power, north-south acceleration and some lively hips, Taylor is a consistent threat to rip a big play wide open with a quick burst to the corner, or bull his way up the middle of the field shedding and spinning through contact.
And just how many tailbacks in the state double as a nose guard? Under Triveri, the Falcons have always looked to optimize speed at each position, sometimes sacrificing size, and Taylor serves as a classic speed-rush one-technique. In 2011, he recorded 66 tackles, seven sacks, and a pick-six off a batted pass.
"He's a difference maker as a one technique," Triveri said. "You just don't find guys like that. He is very tough to control without a double, and he makes plays. He's awkward for other offenses to gameplan against, because he's so fast off the ball and so powerful."
But while Taylor will be the lead back this season, he'll once again be splitting carries. Senior Malik Lee, a Mashpee native transferring in from Cape Cod Tech, is expected to make an immediate impact at both tailback and linebacker with his 6-foot-2, 235-pound frame. He is coming off back-to-back 1,000-yard seasons at Cape Tech, and has reportedly ran as fast as a sub-4.6 40-yard dash.
Be careful not to cast him as a between-the-tackles back, however. Lee demonstrated soft hands in 7-on-7 leagues this summer, along with some quality footwork and leaping ability honed during basketball season. Lee also ran some "Wildcat" packages last season, and could be given similar looks with the Falcons.
"When you run the I, it's not the way it used to be, unless you have a kid who's just not going to get hurt," Triveri said, while noting Taylor "should be the lead guy".
He continued, "To me, you can't have a kid get 35 carries a game. Our kids aren't going to get anything over 20 carries for the most part, especially when they're playing both ways. It's good to have them come in fresh – they push each other, they compete, the whole thing. That's what they're looking at, and there's nothing wrong with that."
The Taylor-Lee combination in the backfield could inspires some creative play-calling, but Triveri feels Lee is not yet a finished product.
"Jordan [Keli'inui] was a finisher, he'd finish people after contact, to the point where junior, senior year, guys didn't want to hit Jordan anymore," Triveri said. "Malik doesn't look like he finishes yet, but there's nothing to hit on him. He's just a big, huge kid with breakaway-type speed. And for that size, yeah he's a good-looking kid. There's some things that can be smoothed over, but we're going to get him in different positions.
"The best thing about Malik is, just like Jared he has great hands, so there's a lot of different things you can ask him to do – step out in the slot [for instance]. With a kid that size, I was surprised at how good his hips are. There's some technique-refining, but other than that he's something you can work with."
Elsewhere, 6-foot-4, 325-pound road grader Nate Chrzanowski will kick down to right tackle on offense, from guard, and is expected to an impact between the hash marks both ways.
"He should be a guy that shouldn't get moved," Triveri said. "He's a 320-pound kid, he's got to get himself in shape. He's a Division 1 body with Division 1 feet, but the question is if he can come into every play in shape. We expect him to dominate offensively, though. He began to dominate about halfway through the year last year, just wiped guys out."
MASHPEE AT A GLANCE
2011:
13-0 (Won Division 4 EMass Super Bowl)
Coach:
Matt Triveri (8th season, 60-16)
Key Returnees:
Jared Taylor, Sr. TB/NG, 6-0, 215 lbs.; John Bernard, Sr. FB/LB, 5-11, 200 lbs.; Nate Chrzanowski, Sr. OT/DL, 6-4, 325 lbs.; Kenny Roche, Jr. OL/DL, 5-9, 200 lbs.; Alex Clark, Sr. TE/DE, 6-3, 190 lbs.; Kevin Frye, Jr. WR, 5-9, 160 lbs.; Cody Bingham-Hendricks, Sr. QB/CB, 5-10, 165 lbs.
Strengths:
Skill positions, defensive line, cornerbacks.
Weaknesses:
Depth at offensive line, experience at linebacker.
Outlook:
After an explosive 300-yard performance in last year's D4 Super Bowl, Taylor is expected to take the reigns as the Falcons' lead back. He'll be joined in the backfield by Malik Lee, a 6-2, 235-pound senior transferring in from Cape Cod Tech, and will look to form a thunder-lightning combo similar to last year with Taylor and Jordan Keli'inui. "We had the same 1-2 punch last year, it wore on people," Triveri said. Chrzanowski will be the one to watch in the trenches, leading an offensive line that is solid in the starting spots but "paper-thin" beyond that, according to Triveri. Bingham-Hendricks has big shoes to fill in taking over for Zak Orcutt under center, but showed strides in 7-on-7 leagues over the summer. Overall, the Falcons return as much talent as anyone in Division 4 to make another run, but the operative theme will be staying healthy. Doesn't help matters that they're on the road for the first four games of the season.