Boston High School:

Manchester (Conn.)
January, 20, 2013
1/20/13
2:19
AM ET
By
Andy Smith
| ESPNBoston.com
SPRINGFIELD, Mass. -- Is Springfield Central finally turning the corner?

Is the defending Division 1 State Champion living up to the expectations put on it coming off last season, even after starting the season 2-2?

After systematically defeating Manchester (Conn.) 67-57 Saturday at the Hoophall Classic, it just might be.

"We were a bad team three weeks ago," said Central (8-2) coach Mike LaBrie. "I think we're pretty good right now. We have room to grow."

Central's offense slowly developed in the first quarter. In its first few possessions, it took its possessions down to the final seconds of the shot clock while the team tried to find a flow to its offense. That lethargy showed up on defense as well, which allowed Manchester (7-2) to get open looks at the basket and score effectively on transition.

As the quarter continued, Central started to get out and run itself, and was only down 13-12 by the end of the first frame.

In the second, Chris Baldwin (23 points, 18 rebounds, eight blocks) started to assert himself as a dominant force under the basket. Central's halfcourt offense almost always involved feeding the ball to him down low, and letting him work against Manchester's smaller post players.

Occasionally, he would even step out along the baseline and hit a short jumpshot. When a big man can work inside as well as Baldwin can, and then step out and hit a short jumper, it is a matchup nightmare for most teams.

"(Friday) we tried to get the ball in his hands, but then we were fading away from it a little bit," said Kamari Robinson (15 points, 8 rebounds). "This game, it was all towards him. This was his game to eat. I got MVP last night, and he got it tonight, so it was a good game on both our parts."

As a senior leader on the Central squad, Robinson told the sophomore big man that he was going to be a big part of the team's success, and did his best to get his teammate as focused as he could be.

"I knew they were scouting our game yesterday (against West Springfield) when I had 35 points, so I knew they were going to focus on me more and lay off him a little bit and play him one-on-one," he said. "I told him, 'They're probably going to be on me, so it's your time to shine. Once they come on me, you just do your thing. I really don't care, as long as we win."

They came away from the Hoophall Classic with their second win in as many days, showing the rest of the state that it is a different Springfield Central team from the one that won the state title last season, but it is still a team to take seriously in Division 1 basketball.

Scouting Manchester: For not being familiar with the Indians, Central was able to make effective defensive adjustments throughout the game to slow down its offense. Manchester started the game strong, finding its shooters clean looks from the outside and moving the ball well in transition.

Senior guard Christian Walker came into the game as a notorious long range sharpshooter, and he showed why early on. He was 4-of-7 from the field in the first half, but finished the game with 16 points and 7-of-22, including 2-of-7 from beyond the arc.

"We ended up chasing (Walker) a little bit, but we didn't leave him at all" said LaBrie. "They have so many shooters. They've got some weapons."

Central made the most of its other opportunities as well, going 20-of-31 at the free throw line, while Manchester was 8-of-13.

Height comes through: Coming into the game, Central felt it would be able to use its size to its advantage against the smaller Manchester team. It established the 6-foot-7 Baldwin early and often offensively in the post, and he made his mark defensively with eight blocked shots.

"I thought we had a size advantage, so we tried to get the ball inside," said LaBrie. "On the offensive boards (8, with 10 defensive rebounds), he was a monster. He had eight blocks. He alters the game. No one wants to drive on him.

"He was a factor last night (13 points, eight rebounds in Central's 76-67 win over West Springfield) even though he didn't play great offensively. On defense, I thought he did a great job because he was altering everybody's shot. He didn't score points like he normally does, but he was a factor."

Manchester had trouble going inside against Baldwin at all. It's tallest player, Baylen Eason, is listed at 6-foot-5, but he did not start and played only 15 minutes Saturday. He finished with 2 points and 5 rebounds. Courtney Deberry, Manchester's 6-foot-2 starting center, was matched up with Baldwin for the other part of the game. He had a quiet night, finishing with four points and five rebounds.

For Springfield Central to have the success it wants this season, it needs Baldwin to be the force it knows he can be. That player showed up in a big way Saturday on both ends of the floor, which was not always the case Friday night. Could his game be rounding into form at the right time, just like the rest of his team's?

"I felt like I was more aggressive tonight," he said. "I tried to establish myself inside."
November, 27, 2012
11/27/12
2:46
PM ET
By
Roger Brown
| ESPNBoston.com
Mackay Lowrie said he had already run the scenario through his mind, so he had little to think about when Boston College fired football coach Frank Spaziani on Sunday.

Lowrie, a 6-foot-4, 205-pound quarterback from Roxbury Latin School, said Monday night that he still plans to play college football at BC. He is currently the only Massachusetts player from the Class of 2014 who has committed to the Eagles.
"My first reaction was it's unfortunate, but I'd be lying if I told you I didn't think it might happen," Lowrie said. "I chose BC last spring knowing something like this might happen. That's college football.
"I'm staying with BC. I really can't wait to get there. I'm excited to see who will be the next head coach."
BC assistant coach Sean Devine had dinner at Lowrie's house in Foxborough on Monday night.
"It was a planned home visit," Lowrie said. "He's still a Boston College employee, and he told me he'll keep working until they tell him not to. It would be tough to see him go."
Lowrie, a two-star recruit, originally intended to play baseball in college, but focused on football after he had a strong junior season. He was a three-year starter at quarterback for Roxbury Latin after playing defensive back as a freshman.
Rutgers also offered Lowrie a scholarship. Duke and Virginia are the other schools that showed significant interest.
"Basically it came down to BC, UVA and Rutgers," he said. "Ultimately BC was the best fit. The location is huge -– it's less than 30 miles from my house. Academically you can't get a much better place in Division 1 football than BC. The fact that it's a Jesuit school was another huge factor."
Another QB Option:
Tim Boyle, a senior quarterback who plays for Xavier High School in Middletown, Conn., also said he will remain committed to BC, despite the coaching change.
"I am strongly committed," Boyle said via text message Monday night. "I have no different opinion on BC. I still can't wait!"
Like Lowrie, Boyle is a pro-style quarterback who has already taken his official visit to BC. He also had offers from Florida, Connecticut, Massachusetts, Syracuse and Pittsburgh.
Boyle, a three-star recruit, missed seven games with a separated shoulder last season, but has completed 93 of 163 passes for 1,612 yards and 15 touchdowns (six interceptions) this season.
Third-seeded Xavier (8-1) is scheduled to play sixth-seeded Greenwich (8-1) in the Class LL quarterfinals tonight. Xavier is seeking its third consecutive Class LL championship.
More Local Flavor:
Marquis Little, a linebacker from Manchester (Conn.) High School, is the only other senior from New England currently committed to BC.
Tight end Andrew Isaacs, Little's high school teammate, is one of three other New England players who decommitted from BC before Spaziani was fired. The others are Cheshire Academy linebacker Cory Jasudowich, and Sacred Heart (Waterbury, Conn.) wide receiver David Coggins.
Isaacs committed to Maryland, Jasudowich committed to Connecticut and Coggins is undecided. All three are three-star recruits
Recruiting information regarding high school or prep school players in New England can be sent to Roger Brown at rbrown@nhfootballreport.com.
October, 2, 2012
10/02/12
11:26
PM ET
By
Roger Brown
| ESPNBoston.com
St. Sebastian's Connor Strachan has a message for those eager to learn where he will be playing college football: Be prepared to wait.
"Yeah, right now recruiting isn't really the focus," Strachan said. "We have a chance for an undefeated season, so I think it's best to play the season out and then narrow it down."
Strachan, a 6-foot-1, 230-pound junior, has scholarship offers from four schools: Boston College, Connecticut, Virginia and Wake Forest. He received his offers after attending each school's camp last summer. Although he's being recruited primarily as an inside linebacker, he said Connecticut and Virginia have shown interest in his skills as a running back as well.
[+] Enlarge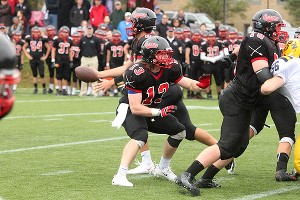 Ryan Kilian for ESPNBoston.com St. Sebastian's junior linebacker/running back Connor Strachan already claims offers from Boston College, Virginia, UConn and Wake Forest.
"I've been playing linebacker longer," Strachan said. "I feel I'm geared more toward defense."
Strachan, who lives in Wellesley, is the only New England player from the Class of 2014 in the ESPN 300 Watch List, which was released last week.
"Strachan may play at a small school, but he's a big-time talent on a national level," ESPN recruiting coordinator Billy Tucker said. "He was recently named to the 2014 ESPN 300 Watch List as we saw prototypical size and speed measurables for the inside linebacker position, as well as deceptive athleticism and run-stopping instincts to be very productive at the BCS level."
Strachan's uncle Steve played at Boston College and in the NFL for the Los Angeles Raiders, and his brother Brian is a sophomore wide receiver at Brown.
Maryland, North Carolina, Notre Dame and Penn State are among the other schools showing significant interest in Strachan.
"I really want to play at the highest level possible, but I'm definitely looking for a place with good academics," Strachan said. "After the season I'll try to do some visits and narrow it down to two or three schools. I'd like to have it done before next summer."
Back in action:
Former Everett High School quarterback Jonathan DiBiaso isn't the only Division I recruit in the Phillips Exeter Academy backfield this season.
Running backs Andreas Robinson (Dartmouth, Nova Scotia) and Devon Carrillo (Middletown, Conn.) will both have plenty of Division I options to choose from.
"They're like clones of each other," Phillips Exeter coach Bill Glennon said. "Carillo is a free safety, but we're real tough when he's in the [offensive backfield]. Carillo is tougher inside, Andreas is a kid who can get to the outside."
Robinson was the NEPSAC's leading rusher in 2010, but missed most of last season with an injury. He has taken visits to N.C. State, North Carolina and Stanford. Glennon said both Robinson and Carrillo are drawing heavy interest from FCS schools as well.
"Maine has already offered both, and UNH is gonna offer," Glennon said. "I think the [FBS] schools are more interested in Andreas as a defensive back, and then everyone else on the I-AA level is interested in him as a running back."
Conn. man
: Boston College landed one of the top athletes in Connecticut when Manchester High School quarterback/linebacker Marquis Little committed to the Eagles late last month. Little is expected to play outside linebacker in college.
Andrew Isaacs, Little's high school teammate, decommitted from BC to accept a scholarship offer from Maryland earlier this year.
Footnotes
: Brookfield (Conn.) High School's Boeing Brown, the No. 11 recruit from Connecticut in the Class of 2013, has been moved from quarterback to wide receiver this season. ESPN has Brown rated s two-star quarterback...Roxbury Latin quarterback Mackay Lowery completed 24 of 37 passes for 291 yards and five touchdowns in last weekend's 34-33 victory over Thayer Academy. Lowery has committed to Boston College.
Recruiting information regarding high school or prep school players in New England can be sent to Roger Brown at
rbrown@nhfootballreport.com
.
July, 21, 2012
7/21/12
10:29
PM ET
By
Ben Larsen
| ESPNBoston.com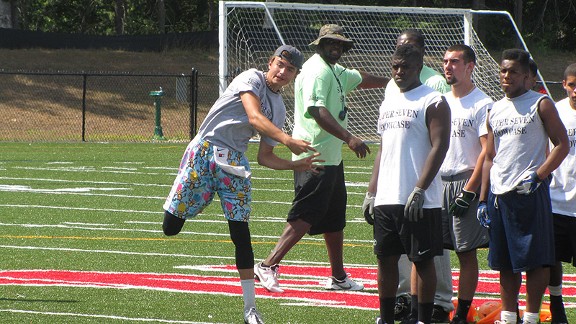 Ben Larsen for ESPNBoston.comSpringfield Central junior quarterback Cody Williams was named the top offensive player at the Super 7 Showcase in Wilbraham.
WILBRAHAM -- The knock on Western Massachusetts football is that, despite the number of athletes in and around Springfield, they typically don't get to experience the in-season matchups that warrant serious looks from NCAA Division I football programs.
That may change following the region's terrific showing at the Super 7 Showcase Saturday, held by Elite Athlete Development at Wilbraham & Monson Academy.
Featuring many top-level recruits from Connecticut and New York, the top players from the Springfield area had the opportunity to compete against competition that's on another level compared to what they'll see during the high school football season. A quick glimpse at the post-camp awards will prove that they certainly didn't waste the opportunity.
In fact, some of the names likely to make headlines this fall, dominated the camp and showed they can play with other top northeast recruits.
Springfiel Central's Aaron Owens took home the camp's Most Valuable Player Award. The incoming senior, who was used in various capacities for the Golden Eagles last season, showed an ability to stay with the camp's receiving corps, which included Manchester (Conn.) tight end Andrew Isaacs and Tottenville (NY) wide receiver Malique Belfort --- who combine to boast 12 Division I offers.
Owens was also in perfect timing with Central quarterback Cody Williams, who took home hardware as the showcase's Top Offensive Player.
All told in addition to Owens' and Williams' honors, Springfield players garnered four top positional awards. Central's Shawn Lockett won top offensive lineman while Sha'ki Holines of Commerce took home the top defensive lineman award. Commerce's Hasan Graham was the No. 1 linebacker and Rishawn Harris of Putnam won the event's top defensive back award.
HOLINES UNVEILS LATEST OFFER
Holines made news earlier this summer with a verbal commitment to UMass. Given his showings at camps similar to the Super 7 Showcase, he's bound to get even more interest and offers leading up to signing day.
UConn is the latest school to offer the 6-foot-3, 265-pound defensive lineman/linebacker.
He received the camp's top defensive lineman award for his ability to dominate the 1-on-1 positional drills.
Holines has also received attention from the University of Maine.
Holines was instrumental in the Red Raiders' turnaround and run to the Division II Western Mass. Super Bowl last season. He recorded 132 tackles with six sacks and four fumbles recovered.
CONNECTICUT YOUTH SHINES
Two of the more talked-about players from the Super 7 Showcase were from the Nutmeg State.
Arkeel Newsome, an incoming junior at Ansonia, took home the top running back award. Given his 2011 accomplishments, it's easy to see why.
The shifty back ran for an eye-popping 3,763 yards and scored 62 touchdowns as Ansonia went 14-0 en route to the Class M state title.
Newsome already has offers from UConn and UMass and that list is likely to grow.
Isaiah Wright, who'll be just a sophomore this fall at Holy Cross in Waterbury, made a number of great plays at the wide receiver position.
NEW YORK STATE OF MIND
Two players from Staten Island were as impressive as any duo at the Super 7 Showcase.
Belfort, the 6-foot-4, 170-pounder from Tottenville, took home the camp's top wide receiver honor. He was equally effective on deep balls as he was going across the middle. His unique combination of height and speed made it hard for defenders all day long.
Belfort is mulling offers from numerous BCS schools, including Arizona State, Boston College, UConn, Illinois, Ole Miss, Tennessee and Virginia.
Naby Sylla hails from nearby Port Richmond High School and was equally impressive on the defensive side of the ball. The 5-foot-8 cornerback earned the camp's top defensive player award and showed great speed and instincts in one-on-one drills and the 7-on-7 portion of the event.
Sylla has interest from UConn, West Virginia, Albany and Syracuse.
AWARD WINNERS
The camp awarded numerous honors following the camp. The complete list is as follows:
Camp MVP:
Aaron Owens RB/DB, Central (MA)
Top Offensive Player:
Cody Williams QB, Cental (MA)
Top Defensive Player:
Naby Sylla CB, Port Richmond (NY)
Offensive Line
2nd Place: Ismael Figueroa, Springfield Central (MA)
1st Place: Shawn Lockett, Springfield Central (MA)
Defensive Line
2nd Place: George Blake, East Longmeadow (MA)
1st Place: Sha'ki Holines, Commerce (MA)
Tight End
2nd Place: Raishawn Finney, Ansonia (CT)
1st Place: Andrew Isaacs, Manchester (CT)
Quarterback
3rd Place: Blake Rise, Stafford (CT)
2nd Place: Kayjuan Bynum, Putnam (MA)
1st Place: JaQuan McKnight, Ansonia (CT)
Wide Receiver
5th Place: Mecca Gonzalez, Putnam (MA)
4th Place: Isaiah Wright, Holy Cross (CT)
3rd Place: Tavis Frasier, Putnam (MA)
2nd Place: Sam Blake, East Longmeadow (CT)
1st Place: Malique Belfort, Tottenhill (NY)
Running back
2nd Place: Wayne Lowery, Putnam (MA)
1st Place: Arkeel Newsome, Ansonia (CT)
Linebacker
2nd Place: Kyle Soja, Chicopee Comp (MA)
1st Place: Hasan Graham, Commerce (MA)
Defensive Back
3rd Place: Devontae Sewell, Commerce (MA)
2nd Place: Terrell Huff, Windsor (CT)
1st Place: Rishawn Harris, Putnam (MA)
December, 1, 2011
12/01/11
4:06
PM ET
ESPN's Roger Brown is reporting that (Manchester) junior tight end
Andrew Issacs
has verbally committed to Boston College for the fall of 2013.
Isaacs, who will turn 17 in December, is the first commit for the Eagles' 2013 recruiting class. His only other offer was from in-state UConn.
"Me and my coach were talking about that [a possible coaching change], but anywhere you go a coaching change can happen," Isaacs told Brown. "It's the nature of the business. What I know is the coaches are there right now."
Brown has more on Isaacs' commitment, on
ESPN's East Recruiting blog
:
In addition to attending BC's camp last summer, Isaacs went to two BC games and two practices this year. He said he felt so comfortable with the school and the football program that there was no need to wait and see what other offers he might attract.

"I know they had a rough season, but I love the type of team they have," Isaacs said. "I like the intensity of practice, the intensity of coaching. It's a learning process and they're gonna get better."

Another thing that worked in BC's favor is the fact that Isaacs used to live in Dorchester, Mass., a Boston suburb, and still has close friends in that area.

"A lot of my teammates asked me why I did this so early," Isaacs said. "I just really like the school. I want to go there. I talked it over with my dad and he said, 'If it's for you, do it.'

"It's exciting and in a way kind of a relief. I'm hoping that when I'm there they'll be better, and that I can help make them better."
November, 2, 2011
11/02/11
10:25
AM ET
ESPN's Roger Brown
checks in today on Recruiting Nation's East blog
with two of New England's top prospects, Manchester (Conn.) junior tight end
Andrew Isaacs
and Everett quarterback
Jonathan DiBiaso
.
The 6-foot-4, 240-pound Isaacs received scholarship offers from both UConn and Boston College last year as a sophomore; the latter is still on Isaacs' radar despite an abysmal 2-6 campaign so far for the Eagles.
Brown writes:
Isaacs is scheduled to attend Thursday night's BC-Florida State game with Manchester coach Marco Pizzoferrato. He also attended the BC-Northwestern game earlier this season.

"The one good thing is he has time for all the Big East stuff to get settled with Connecticut," Pizzoferrato said. "I'm not sure what's going to happen with the coaching situation at BC. We'll be up there Thursday, so I'm gonna feel the water."

Connecticut offensive coordinator George DeLeone attended Manchester's game last Friday. Pizzoferrato said Arkansas, Maryland, Miami and Penn State are also showing strong interest.

"I've gotten film requests from everywhere, but those are the ones that are sending the hand-written letters and stuff," Pizzoferatto said. "Miami, by far, does the most checking in of all the schools, but we'll have to see what the penalties are gonna be down there.

"I've been told he'll have double-digit offers this summer. I've told everyone that he's not making a decision until after next football season. That's one thing he's sure about."
Meanwhile DiBiaso, who broke the state's all-time touchdown pass record last Friday, told Brown a number of Ivy League schools have expressed interest:
"Harvard offered me last Sunday and Dartmouth, Penn, Princeton, Holy Cross and Lehigh are also recruiting me still," DiBiaso said. "I'm still wide open. I want to wait and make sure I make the right decision. I'm still really excited about the Harvard offer though."
September, 14, 2011
9/14/11
2:30
PM ET
By
Roger Brown
| ESPNBoston.com
Xavier High School proved to be the wrecking ball in Connecticut high school football last season, when the Falcons went 13-0 en route to the Class LL championship.

Xavier may have an even better team this season.
The Connecticut Sportswriters Alliance picked the Falcons as the state's No. 1 team in its preseason poll. Xavier edged Masuk by one point.
"You have to worry about complacency," Xavier coach Sean Marinan said. "We haven't played a game yet. Pretty much everything they say at this point in the season is based on last year."
It's based on returning talent as well, and the Falcons have plenty of it. On offense Xavier has two Division I quarterbacks in junior Tim Boyle and senior Pat D'Amato. Boyle has scholarship offers from Boston College and Syracuse, and D'Amato recently committed to Stony Brook.
The QBs split time last season. D'Amato will play wide receiver when Boyle is the team's quarterback.
"Tim's got a very strong arm and he's 6-4," Marinan said. "He chose not to do too much this summer. If he had I'm sure he'd have more offers. He's what everybody's looking for in a quarterback.
"Pat's a faster kid, and a little more elusive. Basically we have two No. 1 quarterbacks."
The offense also returns senior running back Mike Mastroianni, who rushed for 1,889 yards last season. In addition, wide receiver Ryan Murphy is drawing interest from several FBS schools.
The defense must replace linebacker Graham Stewart, who was the state's Gatorade Player of the Year and is now playing for the University of Florida, but returns seven starters. Linebacker Jovan Santos is among the returnees. Santos has committed to the University of Massachusetts.
The Falcons also have three linemen – Ryan Jacobucci, Austin Wezenski and Sean Marinan Jr. (coach's son) – who are being recruited by FBS programs.
"I think our defense will be strong again," Marinan said. "I don't know if it will be as strong as it was the year before. Replacing Graham Stewart is virtually impossible. We do have some holes to fill and he's obviously one of them."
Xavier, which beat Trumbull to win last year's LL title, will open its season Friday against Notre Dame-West Haven.
September, 1, 2011
9/01/11
11:54
AM ET
By
Roger Brown
| ESPNBoston.com
Malik Golden didn't know it at the time, but when his Cheshire Academy team defeated New Hampton (N.H.) Prep, 49-20, in the New England Prep School Athletic Council's Dan Rourke Bowl last fall, a friendship was born that would end up shaping Golden's future.

Golden crossed paths with New Hampton quarterback/defensive back Jake Kiley that day, and their friendship grew when each attended a football camp at Penn State last spring.
Kiley committed to Penn State earlier this summer, and then did his best to persuade Golden to do the same.
"We're going to be roommates – at least that's the plan," Golden said last Wednesday, shortly after he committed to Penn State. "We got the best of him that day, but Jake's a great player.
"It's one of the toughest decisions I've every made in my life. To be honest I went with my gut feeling. Every person I talked to had nothing but good things to say about Penn State. I just confirmed that during my visit there [earlier this month]."
Kiley is expected to play defensive back at Penn State. Although most schools recruited Golden to play wide receiver, he may join Kiley in Penn State's defensive backfield.
"That's something I wanted to talk about during my visit," Golden said. "Wherever the team needs me. We'll see when I get on campus."
Golden, who is entering his senior year, made 48 receptions for 680 yards and five touchdowns in nine games last season. His best performance came against New Hampton. He rushed for 197 yards and caught nine passes for 105 yards that day.
Golden said he was also considering Boston College, Connecticut and Iowa.
"It's all done," Golden said. "It feels good."
June, 21, 2011
6/21/11
12:12
PM ET
ESPN's Roger Brown
checks in today on his recruiting blog
with Manchester (Conn.) tight end
Andrew Isaacs
, who received an offer from UConn this weekend at its football camp.
Last March, Boston College was the first to offer the 6-foot-2, 230-pound Isaacs, considered New England's top Class of 2013 prospect, and has kept in contact with him regularly. Iowa has also begun to show significant interest, while Maryland, Oregon, Penn State and Princeton have all extended camp invitations.
Right now, Isaacs told Brown he would give the Huskies a slim edge over BC because of his familiarity with the Storrs, Conn. campus. He has been to at least five football-related events at UConn, but has yet to visit BC.
"UConn is close to home and it would be easy for my family to come see me play," Isaacs told Brown. "I like their coaches and their facilities. I still have to look into the education at each school because right now I'm just going off what I know about the football programs. It doesn't matter right now anyway because I still have two more years, too."
For more recruiting updates on New England's top high school football talent, be sure to check out
Brown's blog
.
June, 1, 2011
6/01/11
2:00
PM ET
ESPN's Roger Brown
checks in on his recruiting blog
today with Manchester (Conn.) sophomore tight end
Andrew Isaacs
, the lone sophomore in Connecticut with a scholarship offer from a Division 1 FBS school.
Boston College offered the Class of 2013 prospect last March, and has kept in contact with him regularly. Not surprisingly, the Eagles are high on the 6-foot-3, 220-pound Isaacs' list, along with Rugers and UConn.
Brown writes:
Isaacs, who is a power forward/center on Manchester's varsity basketball team, said he will likely attend the third session of the Boston College football camp later this month.

Connecticut and Rutgers have also shown interest in Isaacs, who was among the standouts at the Nike Football Training Camp held at Rutgers earlier this month.

"He gets tons of letters like a lot of kids, but Rutgers, Connecticut and Boston College are the three big schools who have had a chance to meet him and expressed an interest in having him in their program," Manchester coach Marco Pizzoferrato said. "Maryland wanted to come by the school to see him, but we couldn't get together on a date."

Isaacs attended the Connecticut spring game, and plans to attend a one-day camp there on June 19. He said he would like to study communications, but would prefer to attend college out of Connecticut.

"I've been to UConn many times and I like them a lot," he said. "They have great coaches and great facilities.

"If [UConn] made an offer I wouldn't just say 'no.' I would be interested, I would consider it, but I would rather experience something out of state just because Connecticut is so small."
For more recruiting updates on New England's top high school football talent, be sure to check out Brown's
blog
.
May, 4, 2011
5/04/11
6:12
PM ET
By
Roger Brown
| ESPNBoston.com
It took Bob DeMayo 53 years to record 799 victories as North Haven High School's varsity baseball coach. The wait for victory No. 800 may have felt just as long.

After DeMayo collected his 799th victory when North Haven beat Wilbur Cross 14-0, DeMayo had to endure one-run losses to Branford (4-3) and Foran (4-3). Foran pulled out its victory by scoring three runs in the bottom of the seventh.
Then North Haven made DeMayo wait until the 12th inning of Monday's game against Xavier before it pulled out a 6-5 win and handed DeMayo victory No. 800.
"I know it's a milestone and I know I'm close to the end of my career probably, so it's certainly nice," DeMayo told the
Post-Chronicle
. "To see a lot of my former players this week and all the letters I've gotten, it's just been really nice. It does mean something. I'm just surprised it meant so much to other people. That's the nicest thing."
North Haven prevailed when Kevin Erbe walked with the bases loaded in the bottom of the 12th. Mike Acampora pitched five innings to collect his first varsity victory in the milestone win.
The game was played on North Haven's home field, which was named in DeMayo's honor in 2009.
DeMayo began coaching at North Haven in 1959. His teams have won four state championships.
According to the National High School Sports Record Book, Gene Schultz of Kee High School in Lansing, Iowa, has collected more wins than any other high school baseball coach. Schultz began the 2011 season with 1,636 victories.
TARPEY SELECTS WILLIAM & MARY

Fairfield Prep's Terry Tarpey, a 6-foot-5 guard/forward, gave a verbal commitment to play basketball at William & Mary on Tuesday.
Tarpey, a junior, averaged 17 points per game last season, when Fairfield Prep finished with a 21-7 record following a loss to St. Joseph in the Class LL championship game.
William & Mary competes in the Colonial Athletic Association.
STAPLES GETS SECOND CHANCE

The Westhill softball team defeated Staples 5-3 on April 18, but Staples protested the game and had the protest upheld by the Fairfield County Interscholastic Athletic Conference.
The game will be replayed from the point of contention May 15.
The controversy occurred with no outs in the first inning and Westhill's Allie Souza on third base. Staples pitcher Sam Saccomano dropped the ball during her windup and was called for making an illegal pitch.
Souza was allowed to score on the play, which caused Staples coach Mark Giordano to protest the game. He claimed the pitch should have been ruled a ball, and the runner should not have been allowed to advance.
The FCIAC ruled that Giordano's interpretation of the rule was correct.
PASQUALONI WILL SPEAK AT FOOTBALL DINNER

Connecticut's northern chapter of the National Football Foundation and College Football Hall of Fame will hold its scholar-athlete award dinner May 15 (1 p.m.) at the Aqua Turf in Southington.
University of Connecticut coach Paul Pasqualoni will be the event's featured speaker, and Kent's Todd Marble will be honored as the Coach of the Year. The following players will also be recognized: Jason Barnes (Kent), Marcus Biggins (Farmington), Kyle Decker (Simsbury), Joe Dellaquila (Berlin), Nicholas DeNardo (Rocky Hill), Seth DeValve (Manchester), Henry Downes (East Catholic), Jonathan Esposito (Conard), Reid Gustafson (Conard), Josh Helmkamp (Simsbury), Thomas Higgins (Rockville), Steven Hild (Kingswood-Oxford), Alex Kaczmarek (South Windsor), Zachary Lombard (Manchester), Colin Pavano (Avon), Greg Pendergast (South Windsor), Ryan Peloquin (St. Paul), Cody Pudzinski (Torrington), Nick Quattro (Canton), Franco Serrao (Wethersfield) and David Shainess (Glastonbury).
CROSS COUNTRY COACH ON THE MOVE

Xavier cross country coach Dave Kraszewski will leave his current coaching position at the end of the 2011 school year to coach the men's and women's cross country teams at Salve Regina, a Division III school in Newport, R.I.
Kraszewski left Portland and began coaching at Xavier in 2009. Xavier won the Class LL and State Open championships that year. Xavier finished fourth in the State Open meet last season.
The Portland girls won 52 consecutive dual meets and three consecutive Class S championships during Kraszewski's tenure there.
ST. JOSEPH STAYS PERFECT

The St. Joseph baseball team trailed by three runs entering the bottom of the seventh inning, but rallied for a 6-5 victory Tuesday.
Tyler Matakevich scored the game-winning run on an error with one out in the inning. The Cadets raised their record to 12-0 overall and 10-0 in the FCIAC.
DARIEN MAINTAINS POLL POSITION

The Darien boys' lacrosse team, which improved its record to 9-2 by beating Fairfield-Ludlowe 17-4 Tuesday, is ranked No. 14 in the latest LaxPower national rankings.
Roger Brown has covered high school sports in New England since 1992. He currently covers high school and college football in the Northeast for ESPN/Scouts Inc.
April, 6, 2011
4/06/11
2:55
PM ET
By
Roger Brown
| ESPNBoston.com
Although the school has not extended a verbal scholarship offer, it appears that the University of Connecticut may be a likely landing spot for Masuk quarterback Casey Cochran.

Cochran, a 6-foot, 210-pound junior, took his second unofficial visit to Connecticut on Saturday, when he attended spring practice. He also attended a junior day in February.
"I wanted to get a look at the new offense," Cochran said. "It was up-tempo, and a lot of pro-style, which fits me.
"I don't think I'll get an offer until they see me in person at one of their summer camps. It would be an honor to play for my home state."
Cochran, the state's Gatorade Player of the Year last season, has an offer from Boston College and said he will attend BC practice this weekend. He made an unofficial visit to Vanderbilt in March, and is scheduled to visit Rutgers, Harvard, Virginia, Duke, Penn State and Notre Dame this month.
Cochran is on pace to graduate in January. He led Masuk to a 13-0 record and the Class L state championship last season, when he completed 200 of 295 pass attempts for 3,345 yards and 40 touchdowns. He led New London to the Class SS championship during his freshman season, and then transferred to Masuk.
Cochran said Vanderbilt, Connecticut, Rutgers and Boston College are the schools he hears from most frequently.
"Hopefully I'll get more offers in the spring," Cochran said. "I'm in no rush, but I'd like to have it done before my senior season to get the distractions out of the way. If it takes longer, it takes longer."