Boston High School:

Marco Banegas
April, 23, 2011
4/23/11
7:25
PM ET
ESPNU is reporting that Brimmer & May postgraduate guard Marco Banegas has verbally committed to Northeastern University.
The former O'Bryant standout, who spent a post-graduate season on the Chestnut Hill campus after a standout career with Tigers, was considering offers from St. Bonaventure, Towson and TCU at the time of his commitment.
Scouts Inc's current evaluation on Banegas reads as follows:

Strengths:
A playmaking guard who is at his best in the open floor, Banegas is the prototypical creator who has a knack for getting to the rim and making plays for himself and his others. While he is definitely at his best in an up and down system, Banegas has the quickness and ball skills to get to the rim in the courter court as well. He changes speed and direction very effectively and has good dexterity attacking off the dribble and finishing at the rim. Banegas has good size for the point, is an excellent rebounder at his position, a good passer off the dribble, and capable of making perimeter jumpers in rhythm.

Weaknesses:
Banegas is used to playing with a great deal of freedom and so it remains to be seen how he will adapt to playing in a half-court system where he will have to pick his spots more carefully. He has a release point behind his head on his jumper, is an only average shooter, and needs to be more of a playmaking presence in the mid-range area. Above all else, Banegas needs consistency as he will shine in spurts but disappear for stretches at a time as well. He also needs to develop his frame and add muscle.

Bottom Line:
A vertical point guard who is at his best going north to south, Banegas had a great spring and early summer to help push his recruiting stock. He would be at his best in a running/trapping system at the next level where he is given the freedom to make plays in the open floor.
January, 22, 2011
1/22/11
8:14
PM ET
By
Andy Smith
| ESPNBoston.com
CHESTNUT HILL, Mass. -- Sometimes when watching the Tilton School basketball team, it is hard to divert attention from the imposing 6-foot-10 figure of
Nerlens Noel
in the middle. But when
Georges Niang
has a game like he did Saturday in a 88-64 victory against Brimmer and May, one could almost forget Noel is even on the court.
Niang, a 6-foot-7 junior, put up 28 points and five rebounds against the home team, and was a perfect 7-of-7 from the free throw line.
[+] Enlarge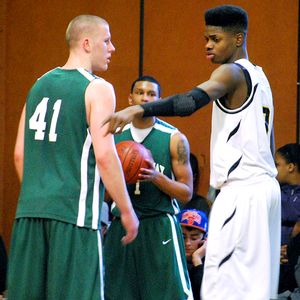 Lucas Shapiro for ESPNBoston.comTilton's Nerlens Noel (right) battled Brimmer's Ryan Canty and came up with 16 points, seven rebounds and seven blocks.
He overshadowed what was a prolific game for Noel, who had 16 points, seven rebounds, and seven blocked shots. He exhibited much of the characteristics that make him the No. 3 recruit in the class of 2013, according to ESPN. When he needed to, he utilized a jump hook, a drop-step move, and thunderous dunks to score on his former Tilton teammate
Ryan Canty
, a Fordham commit.
Defensively, when he wasn't blocking shots, Noel was altering Brimmer players' approach, making life more difficult for them in the paint.
"When you have Nerlens, who blocks everything, and
Goodluck (Okonoboh)
, who are such good rebounders and have such good knacks for the ball, sometimes I can run past a three-point shooter and start heading the other way (on offense)," said Niang. "I hate to do it, but sometimes you're allowed to."
Tilton (13-2) played most of the game in a full-court press, which stymied the Gators (4-10) and forced them to turn the ball over, giving the prep juggernaut layup opportunities that were more often than not turned into points.
"We thought if we just kind of sat back, they are pretty good in the half-court," Tilton head coach Marcus O'Neil said. "They knocked down three-point shots, they're good with their pick-and-roll, pick-and-pop stuff, so we didn't want to just sit back and let them pick us apart. We tried to create turnovers. I wasn't sure if we were going to be able to do it but we did."
His team jumped out to a 10-0 run to start the game and it never looked back. The pressure defense supplied by the likes of
Dominique Bull
, Aaron Law, and
Wayne Selden
wreaked havoc on the Gators' offense, allowing
Marco Banegas
(20 points) and company to get over half-court only three times in the first four minutes of the game.
"We knew they couldn't stay with us if we kept the game moving," said Niang. "We knew they could shoot the ball real well so we tried to push them off the arch. We felt that if we pressed them and made them go up against Nerlens, who blocks everything, that would help."
Tilton even extended their lead to 23-2 with 11 minutes left in the first half, and had a 48-26 lead headed into the break. Brimmer was not the only team to face difficulty against these guys, however. Twelve of the Rams' thirteen wins have been double-digit wins.
With that in mind, it can be hard for some to believe a 13-2 team has to improve on much as the season progresses, but O'Neil knows that to avoid complacency, his team has to keep working to get better, regardless of the record.
"Every day brings new challenges, sometimes those are successes and sometimes they are failures," said O'Neil. "We try to take each day by itself and try to get better. If you don't, you're going to get beat."
December, 22, 2010
12/22/10
2:23
PM ET
Holiday time is always an important time of year on the recruiting front, and for a couple of different reasons. First, there are numerous holiday tournaments and events going on right now that provide college coaches with the opportunity to see numerous teams in one day under the same roof. Second, with the first semester of the college calendar coming to a close there is a slight lull in the college basketball schedule because of final exams, meaning that coaches have a little more flexibility in their schedule.
Here is a look back at some of the more notable events that have taken place in the last two weeks:
Scholar Roundball Classic
-– This first time event run by Hoop Mountain and the New England Recruiting Report kicked off the holiday schedule last weekend at Babson College. Not so much a tournament as it was a showcase, the event featured many of the top academic schools in the northeast including Phillips Academy of Andover, Phillips Exeter Academy, Choate Rosemary Hall, Milton Academy, St. Mark's, Northfield Mount Hermon, Hill School, and many others. Over 50 college coaches were in the stands throughout the weekend including 30 on Sunday. Some of the players to help their stock the most included:
Demitry Coronell
,
Evan Cummins
,
Rene Castro
, and
Stefon Williams
.
Bob Southall Tournament
-– Held every year at Loomis Chaffee School in Connecticut, the Southall tournament annually attracts a wide range of on-looking college basketball coaches. The Salisbury School ultimately prevailed, defeating a tough Wilbraham & Monson team in the final. Salisbury features Quinnipiac signee
Zaid Hearst
in the backcourt along with junior point guard
Ryan Frazier
, who already owns an offer from Bucknell (head coach Dave Paulsen was in the house to watch Frazier on Wednesday night). Post-graduate swingman Jon Seltzer drew a large following from the Northeast-10 throughout the weekend, while Salisbury's underclassmen tandem of big men has coaches from the highest levels intrigued. Six-foot-eight freshman
Chris McCullough
has the length, athleticism, and mobility to be a prospect for the highest level while six-foot-six sophomore
Samuel Dingba
only recently arrived from Cameroon and has a tremendous upside of his own.
Mercer Invitational
-– The New Hampton School made the trip to Pennsylvania for the annual Mercer Invitational held by the Hill School and came away with their second consecutive championship as close to 30 college coaches from the greater Philadelphia area looked on. New Hampton defeated the Berkshire School in the open round, blew out the host Hill in the semis, and then knocked off the Landon School to take home the championships. UMass signee
Jordan Laguerre
continued to show why he could be an impact recruit in the Atlantic 10, earning MVP honors after averaging just under 20 points per game throughout the field. Also standing out was unsigned post-graduate
Travis Souza
, who is a six-foot-five swingman with a terrific skill set, high basketball I.Q., and the academic resume for the highest levels of admission standards.
Paul "Frosty" Francis Invitational
-– Trinity-Pawling came from New York to defeat the host school, Kingswood-Oxford (Conn.), in a dramatic final. T-P's Morgan Lee hit a driving lay-up with four seconds left to give his team a 64-63 win in the tournament final. Lee scored 23 points in the game and came away with MVP honors while teammates Blair Roberts and Pape Konteye were named to the All-Tournament Team. K-O was led by their backcourt tandem of Tylon Smith Jr. and Mike Deffley who both averaged well over 20 points per game. The third place game was no less dramatic as six-foot-seven big man Daryl Best Jr. scored with 12 seconds left to give Hamden Hall an 80-79 win over St. Luke's, while Darren Payen finished with 27 points, 13 rebounds, and 7 blocked shots to earn All-Tournament Team recognition.
St. Andrew's Holiday Classic
-– St. Andrew's School hosted some of the top AA prep schools in all of New England for their recent holiday showcase. Joining the Saints were powerhouse programs like Tilton, St. Mark's, Brimmer & May, Cushing Academy, Winchendon, Marianapolis, Lawrence Academy, Vermont Academy, Boston Trinity, and others. With all participating teams playing one game on Friday and another on Saturday no official champion was crowned, but a steady stream of college coaches came out to see the action. Among the players that impressed the most were:
Martin Dixon-Green
,
Marco Banegas
,
Zach Chionuma
,
Alex Murphy
,
Kaleb Tarczewski
,
Nerlens Noel
,
Wayne Selden
,
James Kennedy
,
Michael Carter-Williams
, and
Xavier Pollard
.
St. Sebastian's Holiday Basketball Tournament
-– St. Sebastian's put together one of their strongest fields in recent years for their 20th annual holiday basketball tournament. Milton Academy came away with the title after knocking off the Kent School in the final, 71-49, behind Boston College-bound big man
Dennis Clifford
, who came away with MVP honors. But it was far from a one-man show as Travis Sheldon scored a career high 23 points while Jesse Pagliuca added 21.
Huckins Rouse Invitational
-– Brooks came away with the championship at this eight school tournament hosted by the Middlesex School, defeating Thayer Academy 53-45 in the championship game. Anthony Barry took home MVP honors after scoring 22 points in the final. Barry began the tournament with 17 points in an opening round victory over Nobles 57-30 and then followed that up with 16 points in a 58-37 win over King.
Adam Finkelstein is the founder and editor of the New England Recruiting Report and also covers recruiting in the northeast for ESPN's Scouts Inc. Adam has the rare distinction of having coached or scouted at the high school, NCAA, and NBA levels, having worked as a Division I assistant at the University of Hartford and spent three years under the NBA's director of scouting Marty Blake.