Boston High School:

Marcus Collins
July, 8, 2014
Jul 8
11:52
AM ET
Don't look now, but the first day of MIAA football practices is just 40 days away. Per our tradition every summer, ESPN Boston High Schools editors Brendan C. Hall and Scott Barboza whet your appetite for the gridiron with some players on the rise, surprise teams to watch, top teams and some food for thought.
Brendan Hall
ESPN Boston High Schools Editor
FIVE PLAYERS ON THE RISE
Drew Jean-Guillaume, Sr. QB/DB, Shepherd Hill
With a powerful frame and impressive speed honed during track and field season, Jean-Guillaume is a throwback-type option quarterback, a converted running back who's as adept at powering through defenders as he is at evading or blowing by them. The Rams will be heavy favorites in Division 4, and Jean-Guillaume will have plenty of room to work behind a reportedly heavy line led by Boston College commit Chris Lindstrom.
Mekhi Henderson, Soph. DB, Xaverian
In a defense full of household names, Henderson is one of the Hawks' brightest young stars. Often last season, he was left on an island against an opponent's top target, and often he held his own. With his coverage skills and raw ability, the coaching staff has a luxury to get creative in the secondary.
Shane Combs, Sr. ATH, St. John's (Shrewsbury)
It's assumed that Combs, a Notre Dame baseball commit and ESPN Boston All-State selection during the spring, will take the reins at quarterback from last year's Mr. Football finalist Drew Smiley. The Missouri transplant was one of the state's most productive rushers during the playoffs, going over the century mark in all five postseason contests as the Pioneers reached the Division 2 state final.
Mike Maggipinto, Jr. RB, East Longmeadow
Somewhat quietly, the 5-foot-5 scatback eclipsed the 2,000-yard mark last year for the Spartans, running behind a great blocking scheme that continued to find unique ways to get him in space. Between Maggipinto and Plymouth North's Christian Carr, this could be the year of the pint-sized running back.
Jahkari Carpenter, Sr. RB, Doherty
Among the area's most elusive, Carpenter was a weekly highlight reel during the Highlanders' run to the Division 4 state title, with runs like
THIS
, or
THIS
, or
THIS
. Junior Tavian Vassar is expected to have a bigger role in the backfield this year, which could make for an imposing thunder-and-lightning combination.
FIVE TEAMS THAT WILL SURPRISE
Billerica
The Indians hit a home run this offseason with the hiring of Duane Sigsbury as their new head coach, though they are considered a year or two away. Still, Sigsbury is one of the area's brightest offensive minds, with a track record of making programs relevant in a hurry (see: Boston Cathedral). Similar to his other stops, there are already some terrific talents coming up the pipe.
Boston English
The Blue and Blue made history last fall to end Brian Vaughn's first season at the helm, beating Boston Latin for the first time since 1997. Now, with dynamic dual threat Emmanuel Almonte leading the offense, they'll look to continue last year's momentum.
Cambridge
Long considered a powder keg for skill talent, head coach Ryan Saulnier has tapped into it, and found a lot of success running his brand of spread offense in his first season last fall. With Marcus Collins returning under center, and a new home in the Dual County League, the Falcons ought to be one of the most entertaining teams to watch in Division 2 North.
Leominster
Blue Devils graduated one of their most talented classes ever, but this is a program built to reload, not rebuild, under a great offensive mind in Dave Palazzi. Defensive coordinator Charlie Raff left to take over at Oakmont, but in his place comes former North Middlesex coach John Margarita. It's too early – not to mention, lofty – to make any Neil O'Connor comparisons yet, but keep an eye on sophomore Noah Gray this fall.
Springfield Central
Similar to Leominster, the Golden Eagles have many holes to fill on the heels of its most successful season in school history. But they should have a solid defense again, led by lineman Kaleb Hunter-Sams, and the coaching staff should get a boost from the addition of former Putnam head coach Bill Watson.
Hall's Preseason Top 10:
[+] Enlarge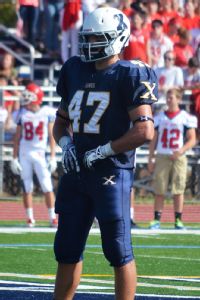 Brendan Hall/ESPNESPN Boston's reigning Defensive Player of the Year, Northwestern commit Joe Gaziano, leads a stacked Xaverian defense.
1. Xaverian
Little drama here as to who's the top dog. With a star-studded defense that includes the likes of Northwestern commit Joe Gaziano, ESPN Boston's Defensive Player of the Year in 2013; linebackers Noah Sorrento, Kenny Kern and D'Aundre Holmes; and defensive backs Damion Wood and Mekhi Henderson; as well as a potent running game behind UMass-bound tackle Joe Parsons, and an innovative playmaker in quarterback Jake Farrell; the Hawks figure to start the year No. 1 in many polls.
2. Everett
Crimson Tide are licking their chops after a disappointing end to 2013 season, and as usual they reload with some of the most gifted skill players in the area. The interesting question is how they'll fit Boston College-bound cornerback Lukas Denis into the offense; originally slotted as the successor to Jonathan DiBiaso at quarterback before injuries derailed his sophomore season in 2012, Denis showed flashes of brilliance in a multitude of positions last year.
3. Central Catholic
The Raiders' featured one of the state's best defenses a year ago in their D1 state title run, and they'll be held in high regard again thanks to linebacker Markus Edmunds and safety Mike Balsamo, who is fielding multiple Division 1 FCS offers at the moment. Also keep an eye on Matt Milano, who was statistically one of the state's most productive quarterbacks in the playoffs last year.
4. Mansfield
The Hornets dramatically altered their offense on the fly late in the season following a season-ending injury to wideout Brendan Hill, and it worked out as they took the D2 state title. A fully healthy Hill and another year of running back Miguel Villar-Perez, one of last fall's most pleasant revelations, should make the Hornets the favorite in a tough D2 South.
5. Bridgewater-Raynham
Trojans always get the benefit of the doubt for their powerful running game and their "anyone, anywhere, anytime" approach to scheduling, and they'll be a force again with Brandon Gallagher returning at tailback. But the question is whether the Trojans can sustain momentum and avoid last year's fate, when they reached No. 1 in our statewide poll early, only to sputter in the second half.
6. Shepherd Hill
In short, Boston College-bound offensive lineman Chris Lindstrom Jr. is a force. But the fact that he is the Rams' most dominant, yet possibly their lightest, should tell you something about what to expect in 2014. They're arguably Central Mass.'s most talented team this fall, and while there's a couple other heavy hitters contending in D4 – Holliston, Dennis-Yarmouth and Wahconah, for starters – these guys are my odds-on favorite. Look for them to put up a ton of rushing yards in head coach Chris Lindstrom Sr.'s double wing scheme.
7. Lowell
The Red Raiders made one of the biggest statements of the playoffs last fall in blanking St. John's Prep 41-0 in the first round of the D1 North tournament. Syracuse commit Shyheim Cullen was exceptional at interior gap blitzes, baiting and confusing potential blockers to create chaos up the middle, and he'll lead a talented defense that includes linebacker Nicolau Coury and defensive back Theo Bryant.
8. St. John's (Shrewsbury)
Boston College-bound free safety Davon Jones is one of several early candidates for Defensive Player of the Year after recording 125 tackles and eight picks a year ago. Offensive coordinator Chris Moriarty is as creative as they come, and how he utilizes Jones and athlete Shane Combs in the offense will be one of the more interesting storylines of the season's earlygoings.
9. Brockton
We're still in wait-and-see mode after another season of unrealized expectations in Brockton, but it's hard to deny the talent the Boxers have coming back. Keep an eye on Boston College-bound lineman Aaron Monteiro, who has some raw potential and a powerful frame at 6-foot-6 and nearly 300 pounds.
10. Dennis-Yarmouth
Division 1 recruit Michael Dunn lined up at nearly every offensive position last year for the Dolphins in their run to the D4 state final, and he may very well do it again. Defensively, this kid is a treat, regarded as one of the state's premier shutdown corners. As usual, Paul Funk's frenetic read option scheme will be a tall task to keep up with.
Others to Watch:
Attleboro, Barnstable, BC High, Doherty, Holliston, Marblehead, Oliver Ames, Plymouth North, Pope John Paul II, St. John's Prep, St. Peter-Marian, Tewksbury, Wahconah, Walpole
FOOD FOR THOUGHT:
1.
Spread offense has been the growing trend in Massachusetts over the last decade, and we're now seeing its influence at all levels of the game. But at the other end of the spectrum, we're seeing more and more teams dip into playbooks from decades and decades ago for some wild success in the running game. We've romanticized Nauset's Single Wing offense for years. At Holy Name, Mike Pucko dug into Dutch Meyer's World War II-era playbook and installed a fullback-less "Triple Wing" offense for the Naps' Thanksgiving contest with Milford, a game they won 35-14. Last year's D5 West Final featured a Pistol Flex Bone (Hoosac Valley) versus a Wishbone (Easthampton). Tewksbury, last year's D3 state champ, calls running plays out of an encyclopedia of formations from every family of offense. Factor in all of the traditional Double Wing success stories like Shepherd Hill, Holy Name and Somerset-Berkley, too. Running offense continues to diversify in this corner of the country, and if you're an X's and O's junkie like me, you are having a blast watching it.
2.
LSU took some negative backlash last fall when they received a verbal commitment from a freshman early in his season after an apparently intense summer of recruitment from a number of SEC schools, but this doesn't appear to be a trend going away any time soon. Early offers are still fairly uncommon for football prospects in this part of the country, though it's worth noting St. Sebastian's incoming sophomore Blake Gallagher received an offer from Nebraska last month. Beyond the concerns about pressure and bloated expectations, the biggest question I have is this: What if the recruit stops growing, or has just peaked earlier than his peers? I'm interested to see if Maryland head coach Randy Edsall's proposals for recruiting reform gain any traction. Among other things, his plan stipulates schools can't make a written offer until a player's senior year, and that the offer must come with permission from the school's admissions department.
3.
I'm on record as saying I hope the true state championship format the MIAA rolled out last year is here to stay, but I'm also in favor of giving it some tweaks. First and foremost, get rid of the second automatic qualifier for leagues. Weak leagues were rewarded at the expense of teams like Medway and Pope John Paul II, teams who finished with winning records in qualification period but were pushed all the way out of the eight-team field in their respective divisions to satisfy undeserved automatic berths. Leagues should be restricted to one automatic qualifier, or two if it is a two-tier league. I also question whether a seven-game regular season is enough of a window to properly gauge a team's strength. Expanding to an eight-game season and starting it on Labor Day Weekend could satisfy that, and could be a good gate opportunity for many schools as well.
***
Scott Barboza
ESPN Boston High Schools Editor
FIVE PLAYERS ON THE RISE
Michael Balsalmo, Sr. RB/FS, Central Catholic
A standout on the Raiders' Division 1 championship season a year ago, the 6-foot-2, 200-pounder holds a couple of offers (Bryant, Wofford) entering the season. Here's better there will be more to follow.
Christian Carr, Sr. RB, Plymouth North
For what Carr might lack in stature, he makes up for in elusiveness. A consistent 100-yard-per-game rusher in his junior season, he broke out with a 351-yard performance in the Eagles' playoff win against Dighton-Rehoboth.
Jake Gibb, Jr. QB, Stoughton
In his first season under center, Gibb led the Knights to the Division 3 South final before falling to Plymouth South. Gibb will have them contending for the Davenport division title again.
Kyle Murphy, Jr. OL/DL, Attleboro
The two-way lineman was a driving force behind the Blue Bombardiers' breakout season last year. It's only a matter of time before the 6-foot-4, 240-pounder starts getting colleges' attention.
James Sullivan, Sr. RB/S, Tewksbury
Sullivan announced himself to a statewide audience on the biggest stage last year, racking up 125 yards and three touchdowns in the Redmen's win over Plymouth South in the Division 3 state title game. With graduations, Sullivan will take on an even bigger role this year.
FIVE TEAMS THAT WILL SURPRISE
Braintree
The Bay State Carey should again be one of the more interesting races to watch across the state this year, and the Wamps might be primed to take a big step forward after last year's 4-7 mark. One to watch is inside linebacker Derek Anson, who's only added to his 6-foot-2, 225-pound frame.
Doherty
The Highlanders were historically good in 2013, capturing their first state title while beating Dennis-Yarmouth for the Division 4 championship. Although several key contributors have graduated, they can still make a run
Natick
It might not be the aerial display we've seen in recent years with Troy Flutie at quarterback, but the Redhawks will be one worth watching as Brian Dunlap returns from a season missed due to injury (Lisfranc fracture) last year.
Quincy
After a 7-4 campaign last season, are the Presidents ready to challenge for the Patriot Keenan title? With promising running back Jhave Handsom-Fields (8 TD as a sophomore) and quarterback James Lam returning, the time could be now.
Somerset-Berkley
The Raiders return a big class of juniors, including feature back Chip Wood back in the fold and Jacob Cabana rushing off the edge. Another EAC title could be in the cards.
Barboza's Preseason Top 10:
1. Xaverian
The Hawks will have some questions to answer on offense, but deserve the top spot on defense alone, with Defensive Player of the Year Joe Gaziano returning along with the state's best secondary group.
2. Central Catholic
The Raiders peaked at precisely the right time last year, capturing the first true statewide Division 1 title. Some of their biggest playmakers have graduated, but Michael Balsamo's primed for a breakout year.
3. Everett
The Crimson Tide are undoubtedly still smarting over last year's home playoff loss to Central Catholic. We all know what that means.
4. Bridgewater-Raynham
Here's betting tight end/defensive end Connor Reagan is one of next year's breakout performers.
5. St. John's (S)
You never know what you're getting from the Pioneers' offense game to game, and it'll be intriguing to see how the group develops this season. But you have to like any group with athletes of ilk of Shane Combs and Davon Jones.
6. Lowell
I'll take my chances with the linebacking corps the Red Raiders have returning, anchored by Shyheim Cullen and Nicolau Coury.
7. Brockton
The Boxers will not be pushed around inside the tackle box, with perhaps the biggest returning offensive line in the state, including Aaron Monteiro (6-6, 300) and Uzziah Hilliard (6-0, 280)
8. Mansfield
Mike Redding will come up with creative schemes to avoid Brendan Hill being double-teamed on both sides of the ball. Connor Finerty will also look to expand on a promising sophomore season.
9. Dennis-Yarmouth
The Dolphins fell just shy of the Div. 4 state title in a riveting matchup with Doherty. They might not be denied this year.
10. Tewksbury
The Redmen might not match the size and physicality of last year's state championship squad, but having James Sullivan in the backfield is still enough to win.
Others to watch:
Arlington, Attleboro, Billerica, BC High, Holliston, Leominster, Oliver Ames, Shepherd Hill, Stoughton, Wahconah, Walpole.
FOOD FOR THOUGHT:
1.
The football playoff system is here to stay – well, at the very least for two more years. While there are still pockets of dissent, the sentiment across the state is that the first year determining true state champions across six divisions was a success. It even drew over some who'd been opposed to the playoff proposal originally and voted against the measure. The build up and drama of the first seven weeks leading up the start of the tournament brought a different dimension of intrigue to the season. Still, detractors remain and, as Brendan ruminated earlier in this feature, there's still room for improvement regarding the means of automatic qualifiers and the discrepancies that exist between the respective athletic conferences' rubrics – including, most importantly, the weight of league games. But with one year in the books, I declare the system to be a success. Now, let's start tweaking the framework.
2.
Which brings me to my next point: get rid of Thanksgiving. This is going to be a highly unpopular opinion in some neck of the woods, but it's simply a reality of what's put in front of us. At the end of last season, I talked to many athletic directors who complained about a diminished gate return from their Thanksgiving Day games. That's a natural feedback of the playoff system – which in some place requires teams to "double up" with their Thankgiving rivals. In change, that has deemphasized the pomp and circumstance surrounding Turkey Day. As a result, that left some Thanksgiving Day matchups to resemble more of an exhibition game in tone – althought don't tell that to St. John's Prep and Xaverian, or Foxborough and Mansfield. The result is a hodgepodge of situations that follow teams into what used to be the biggest day of the regular-season football calendar: ie a non-playoff team vs. a team that's bound for a championship game, or two teams who are playing out the string on a season that's already ended. I counter those scenario's are really no different than what existed in the year B.P. (Before Playoffs), but the current arrangement has only emphasized was already apparent – Thanksgiving is an exhibition. Minus the Catholic Conference or Merrimack Valley Conference duels which resulted in playoff berths in previous years, Thanksgiving largely was such. Only now have the detractors used the playoff system to highlight the faults in Thanksgiving Day that already existed. What Thanksgiving Day has always been about is the rivalry. I ventured to North Attleborough last year when the Red Rocketeers (already eliminated from the playoffs) hosted Attleboro (who were just eliminated the previous week in the sectional final). The scene was what you'd become accustomed to – with an overflow crowd at Community Field. They were all there to watch an exhibition game. Why not make that game mean something more again? Why not play the game before the first frost?
November, 12, 2013
11/12/13
3:16
PM ET
By
Brendan Hall
| ESPNBoston.com
Here is our latest "Mr. Football Watch", following the second weekend of MIAA State Championship Playoffs. As always, coaches and/or statisticians are encouraged to send statistics to editors Brendan Hall (bhall@espnboston.com) and/or Scott Barboza (sbarboza@espnboston.com)

THE CONTENDERS

Zach Elkinson, Jr. ATH, Holliston
In two playoff games, Elkinson is averaging 16.9 yards per touch. That includes nine carries for 91 yards and four touchdowns, and nine catches for 221 yards and four more scores.

Troy Flutie, Sr. QB, Natick
Threw his 102nd career touchdown pass in Friday night's loss to Barnstable. He needs one more TD pass to tie the state's all-time mark, and he has two more chances, starting this Friday against Needham.

Brendan Hill, Jr. TE, Mansfield
Caught seven passes for 152 yards and three touchdowns in the Hornets' win over Needham.

Hayden Murphy, Sr. RB, Barnstable
Recorded 21 carries for 158 yards and three touchdowns, four catches for 36 yards, 10 tackles and 1.5 sacks in the Red Raiders' 27-13 win over Natick.

Neil O'Connor, Sr. QB, Leominster
In two playoff games, he has amassed 487 yards of offense, including 11.2 yards per rush, with seven touchdowns.

Dylan Oxsen, Sr. RB, Plymouth South
Ran for 227 yards and three touchdowns in the Panthers' 21-7 win over Dartmouth, punching their ticket to the D3 Southeast Final.

Mike Panepinto, Sr. RB, Needham
Carried 23 times for 182 yards and two scores in the Rockets' loss to Mansfield

Andrew Smiley, Sr. QB, St. John's (Shrewsbury)
Completed 13 of 16 passes for 193 yards and three scores, and added five carries for 73 yards and two more scores, in the Pioneers' throttling of Marlborough in D2 Central.

Cody Williams, Sr. QB, Springfield Central
Totaled 134 yards of offense and two touchdowns in the Golden Eagles' 35-12 win over Longmeadow

Kyle Wisnieski, Sr. QB, Mansfield
Completed 14 of 18 passes for 228 yards and four touchdowns, in the Hornets' 42-35 win over Needham.

FIVE ON THE RISE

Christian Carr, Jr. RB, Plymouth North
Ran for 351 yards and three touchdowns in the Blue Eagles' win over Dighton-Rehoboth, setting up a much-anticipated battle with cross-town rival Plymouth South for the D3 Southeast Championship this Friday.

Mike Elcock, Sr. WR, Needham
Caught six passes for 148 yards and a score in the Rockets' loss to Mansfield. He leads D2 Eastern Mass with 13 touchdown receptions.

Lubern Figaro, Sr. DB, Everett
The Wisconsin commit came up with two crucial interceptions, and some tremendous defense on top receiver Jack Galvin, in the Crimson Tide's 21-0 shutout of Lowell.

Malik Garrett, Sr. QB, Melrose
Through two playoff games, the dual threat signal-caller has accumulated nearly 550 yards of offense. He has 364 yards rushing and five TDs on just 29 carries, while he is 12-for-20 through the air for 185 yards and two more scores.

Tim Walsh, Attleboro
Led the Blue Bombardiers in rushing with 122 yards on 11 carries, while completing 7 of 11 pass attempts for 146 yards and 3 TD in their Div. 1 South semi-final win over Bridgewater-Raynham.

PLAYOFF LEADERS

Passing
Matthew Jeye, Sr., Holliston – 528 yards, 5 TD
Troy Flutie, Sr., Natick – 504 yards, 6 TD
Kyle Wisnieski, Sr., Mansfield – 405 yards, 5 TD
Mike Milano, Jr., Central Catholic – 371 yards, 3 TD
Ryan Charter, Sr., Needham – 361 yards, 4 TD
Luke Brennan, Sr., Doherty – 359 yards, 7 TD
Marcus Collins, Jr., Cambridge – 355 yards, 4 TD
Andrew Smiley, Sr., St. John's (Shrewsbury) – 338 yards, 7 TD
Dana Parello, Sr., Waltham – 312 yards, 4 TD
Neil O'Connor, Sr., Leominster - 286 yards, 3 TD

Rushing
Dylan Oxsen, Sr., Plymouth South – 577 yards, 7 TD
Christian Carr, Jr., Plymouth North – 551 yards, 7 TD
Alex Givins-Perry, Sr., Bartlett – 477 yards, 3 TD
Mike Panepinto, Sr., Needham – 418 yards, 6 TD
Brooks Tyrrell, Jr., Marblehead – 383 yards, 5 TD
Malik Garrett, Sr., Melrose – 364 yards, 5 TD
Hayden Murphy, Sr., Barnstable – 353 yards, 6 TD
Chris Dumont, Sr., Manchester-Essex - 321 yards, 5 TD
D.J. Engelke, Sr., Pentucket – 299 yards, 3 TD
Kevin Rosado, Jr., Northeast – 284 yards, 6 TD

Receiving
Alex Hilger, Sr., Natick – 278 yards, 4 TD
Mike Elcock, Sr., Needham – 258 yards, 3 TD
Brendan Hill, Jr., Mansfield – 228 yards, 3 TD
Elijah Booker, Sr., Cambridge – 225 yards, 2 TD
Zach Elkinson, Jr., Holliston – 221 yards, 4 TD
November, 5, 2013
11/05/13
1:31
AM ET
LOWELL, Mass. -- Lowell's Keagan Latta accomplished a trifecta of sorts in the Red Raiders' emphatic 41-0 rout of St. John's Prep in a Division 1 North first-round playoff game.
The senior wide receiver and safety tallied three touchdowns -- all by different methods. Latta had a pick-six, a fumble return for a touchdown, as well as a touchdown reception. The No. 3 was a charm, too, as Latta pocketed three interceptions, as the Red Raiders shut out the Eagles.
For his efforts, Latta was named our ESPN Boston Player of the Week.
Editor Brendan Hall caught up with Latta on Monday, as the Red Raiders prepare for their sectional semifinal duel with Everett:
Along with Latta, here are our Top 5 performers for the weekend's playoff games:
Keagan Latta, Sr. WR/S, Lowell - Went for the trifecta in the Red Raiders' 41-0 blowout of St. John's Prep. He caught two passes for 51 yards and a score; recorded three interceptions, including one returned for a second score; and registered a third score on a scoop-and-score fumble return.
Tyis Boykin, Sr. ATH, St. Peter-Marian - Had himself a field day in the Guardians' 50-20 win over Tantasqua in D4 Central. Carried 19 times for 196 yards and four touchdowns; was 4-of-5 passing for 96 yards and a touchdown; and added a 65-yard punt return for a sixth score. He also had 3.5 tackles and two pass break-ups on defense.
Marcus Collins, Jr. QB, Cambridge - In the Falcons' 29-28 heartbreaking loss to Reading in D2 North, totaled 355 yards and four touchdowns.
Alex Givins-Perry, Sr. RB, Bartlett - Ran for 364 yards and three touchdowns in the Indians' 42-21 win over Auburn in D5 Central action.
Alex Hilger, Sr. WR, Natick - Caught eight passes for 215 yards and three touchdowns in the Redhawks' 39-26 win over King Philip in D2 South.
November, 2, 2013
11/02/13
12:55
AM ET
By
Mike Abelson
| ESPNBoston.com
READING, Mass. -– The ending seemed like fiction, but for Cambridge senior Shaquille Anderson the pain was visceral. In the final 90 seconds, 23 points had been scored, and when the dust settled Reading had escaped with a 29-28 win.

As the handshake line dispersed Anderson turned left, helmet still on, towards the scoreboard. He just stared, seemingly trying to get the eight and the nine to flip places. Nothing.

He lifted his helmet onto his forehead, turned and walked towards his team's post-game huddle. His pads on; his mouthpiece still in. At the 40-yard line he took his helmet off and 30 yards later he slid out of his pads, his electric green compression vest illuminated under the stadium lights. His mouthpiece was still in.

The postgame stretch came and went followed by the talk from coach Ryan Saulnier. A huddle, a chant, and then it was over. Anderson still had his mouthpiece in.

THE END
Both teams had a taste of victory before Reading was able to fully enjoy it.

Senior quarterback Drew Belcher, after accounting for only 75 all-purpose yards in the first 38-plus minutes, put the Rockets on his back. Down 20-14, he accounted for all 69 of Reading's yards (two passing, 67 rushing) and capped the drive with a brilliant bootleg run on fourth down to put Reading up 21-20 with 1:29 to play.

Cambridge answered two plays later when Marcus Collins found Elijah Booker crossing over the middle and the junior scampered the rest of the way for a 76-yard score. Collins connected with Bryan Douyon on a two-point conversion to put the Falcons ahead 28-21.

On Reading's next offensive play, Belcher hit Rob DiLoreto down the Rockets' sideline for a 60-yard score. The madcap insanity reached its zenith when Reading coach John Fiore elected to go for two after showing a point after try before calling a timeout.

"We were going to fake it, but they almost blocked [one earlier] and they had a whole bunch of people where we were going to fake it to so we took the timeout," Fiore said.

The Rockets went for two and Belcher threw the ball over a swarming wall of Falcons to Liam Kenneally, who went in for the win.

READING'S ENGINE
The Rockets ground out yards with the three-headed monster of Belcher, Kenneally, and D'Aundray Burcy. The trio combined for 315 yards over 42 touches and each scored a touchdown.

Kenneally led the way with 159 yards and four runs of 20 yards or more. Most of his yards came between the tackles in the teeth of the Cambridge defense.

"It's not about how hard you hit," Kenneally said. "It's about how hard you can get hit and keep on moving."

Belcher, by his own admission, had a weak first half but played up to the moment in the second half, especially in the final 11 minutes. He finished with 107 yards on the ground and 94 through the air.

"Coach made some great calls at the end of the game, and I had to come out and make a big play for my team," Belcher said. "We always preach to play 44 minutes and we played 44 minutes tonight. We got a great win over a great team."

Burcy had 49 yards and Reading's first touchdown.

CAMBRIDGE'S WINGS
Reading owned the ground, but Cambridge owned the sky. Collins utilized the cupboard full of receivers at his disposal to the tune of 355 passing yards and four touchdowns.

His top targets were Booker and Muna Anosike. Anosike caught three balls, including two touchdowns, for 99 yards. He said that the skill is result of work in the midweek.

"All of that was preparation," Anosike said. "That's just hard work and this is where it shows."

The elusive Booker reeled in five balls for 224 yards and touchdowns of 74 and 76 yards.

"You look at [Booker] and he's skinny as a rail, but he has such a work ethic," Cambridge coach Ryan Saulnier said. "He's very much out of the Wes Welker mode, and once he catches the ball good luck tackling him. He's like a tap dancer."

Anosike said that he wants the underclassmen to appreciate wearing the black & white as much as he did.

"These guys are my best friends; my brothers," Anosike said. "Fifty years from now we're still going to be best friends; we're still going to be brothers. It was an amazing experience. I just hope that all the juniors and underclassmen can learn and do what they got to do to have that experience, because I had an amazing time."

HARD-HITTING FALCONS
The Falcon defense cramped Reading's style all night. The Dillon twins, John and Sean, had a lot to do with that. The brothers Dillon seemed to be involved in any play that made it into Cambridge's secondary.

Saulnier said that players like the Dillons set the tone for his team defensively.

"One of the things I think that gets lost among all the speed and skill position [players] are the tough, hard-nosed guys like the Dillon brothers," Saulnier said. "They've set the edge for us in the 3-4 all year. When we first put them out there I was a bit concerned about their size, but they are so aggressive and play with such fierce competitiveness. They get to ball, play with leverage, and get their nose dirty."

May, 2, 2013
5/02/13
10:16
PM ET
By
Brendan Hall
| ESPNBoston.com
There is fame, and then there are those folks, some say, who are better than famous -- they are beloved.
To be a fly on the wall at the memorial services this week for Walt Dubzinski, Sr., the former Gardner High coach and grand patriarch of the legendary Dubzinski coaching family, was to be part of a spectacle. The eldest Dubzinski passed away peacefully last Friday at the age of 93, but left behind generations of decorated lineage.
At the time of his death, Dubzinski was the last living member of Boston College's 1941 squad that won the Sugar Bowl and captured a national championship. He went on to play two years in the NFL, most notably the New York Giants in 1943, before enlisting in the Navy for World War II. Upon his return home, he had one-year coaching stints at Fitchburg and Rockland before assuming the Gardner job from 1946-65, where the Wildcats were among the state's most dominant with an unorthodox "Single Wing" offense.
A member of the Massachusetts High School Coaches Hall of Fame and Boston College Varsity Club Athletic Hall of Fame, Dubzinski gave way to one of the First Families of high school football in Massachusetts. One son, Walt Jr., has roamed the Gardner sidelines for the last 27 seasons, winning a Super Bowl in 1997; prior to that, he won three Super Bowls in the late 70's and early 80's with Lunenburg High.
Another son, John, coached Leominster High from 1985-2010, leaving the Blue Devils with five Super Bowls and 215 career victories (nearly two-thirds of the games he coached). He currently serves as defensive coordinator for his son, John Jr., who is entering his third season as head coach at Arlington High. Another grandson, Mike, is currently the head coach at Wachusett Regional, having previously served in the same capacity at Natick High. Still another grandson, Steve, serves as an assistant with his father Walt Jr. at Gardner.
Close to 1,200 people showed up for Tuesday night's wake, waiting nearly 2.5 hours in line to give their condolences. They showed up from near and far, from all walks of life, folks like BC legend Barry Gallup mixed in with local lifers from this working-class city.
"My father had a wonderful career here, he enjoyed his work and I never saw a guy who didn't want to play for him," said Walt Jr., who read the eulogy at Wednesday's funeral. "He enjoyed this community, he enjoyed Gardner High School. He had a love affair with this community, and was proud of everything that happened here."
That included the busybodies employed by the many assembly lines throughout Gardner, nicknamed the "Chair City" for its many furniture factories in the 20th Century.
"One of the things he said too, he was really proud of places like Heywood-Wakefield, Nichols & Stone [furniture factories], and particularly Simplex [securities firm]," Walt Jr. said. "He was proud that they were worldwide leaders in their field, and they were Gardner people. He was the son of immigrants, who grew up in the height of the depression, and he understood hard work.
"He never differentiated between the owner of the factory and the factory worker, they were all the same. There were no big people and small people. There were no people who were important and people who were unimportant -- they were all important. He was blind to social status, financial status, he liked who you were and what you did. He liked the people in the factories and what they did."
So how would he have received all the outpouring of support this week?
"He would have been embarrassed," Walt Jr. said. "He never saw himself in that kind of light."
THOMAS TAKING IT EASY
The recruitment of St. John's Prep running back Johnathan took another upward turn late last week, when Arkansas running backs coach Joel Thomas visited the Danvers campus early Friday morning to watch the sought-after prospect work out, eventually following up with a scholarship offer.
Thomas, a 5-foot-11, 205-pound Salem resident, is one of New England's top prospects for the Class of 2014. He has seen increased attention since impressing scouts last January with a 4.47 40-yard dash time at the Under Armour All-American Combine. Last fall, he was named to ESPN Boston's All-State Team and was the lone junior among the five finalists for its annual "Mr. Football" award, rushing for 1,794 yards and 15 touchdowns as the Eagles captured the MIAA Division 1 Eastern Mass. Super Bowl.
UMass was the first Division 1 FBS school to offer Thomas last fall, and since then Boston College, UConn and Maryland have all offered, with the latter hosting him for their spring game last month.
As the attention continues to climb, Thomas will be laying low. He says he does not plan on attending any camps, instead focusing on team-based activities the rest of the offseason.
"I'm most likely going to be a captain next year, so you have to lead by example," Thomas said. "You have to do everything that you can to show them. You have to be a role model for the young guys. So if you're not showing up, they're not going to show up."
The attention itself can be overwhelming at times, he said. In particular BC, which he has visited several times, has been "very aggressive" in trying to secure a commitment.
"Sometimes it can be overwhelming, because they really pressure you to commit right away," Thomas said. "And if you're not ready to commit..it's still early, I do want to commit before the season, but if I'm not positive about something, I don't want to commit because once you commit at the Prep, it's a done deal. There's no de-committing."
That may come as a departure from others' recruitments in recent years. Back in March 2010, Brockton High safety Albert Louis-Jean committed to the University of Miami, nearly 11 months before signing day for the 2011 class, only to renege and switch his commitment to BC after Miami head coach Randy Shannon was fired.
In April 2012, Everett High's highly-sought after offensive tackle John Montelus committed to Notre Dame, and later admitted on signing day last February that he probably committed "too early", in part because the pursuit from colleges didn't cease.
"I got a call from [Ohio State linebackers coach Mike] Vrabel a month ago, saying 'Are you sure you want to go to Notre Dame? Are you sure you don't want to take a last trip to Ohio State?'," Montelus
said at the time
. "And I was like yeah, I'm all set, but if I change my mind I'll give him a call. I knew Notre Dame was the right place though."
Under new head coach Steve Addazio, who has been relentless thus far on the recruiting trail, BC has already locked up three in-state commitments for the 2014 class. The first pledge came from Doherty High wideout/defensive back Isaac Yiadom on March 29, and that was followed by commitments on April 20 from Millis offensive lineman Jon Baker and Roxbury Latin linebacker Kevin Cohee.
SAULNIER SEEKING ASSISTANCE
Former Walpole assistant and Trinity College standout Ryan Saulnier was named the head coach at Cambridge two months ago, replacing John Shea, who stepped down in January. Saulnier, a math teacher at Cambridge, was defensive coordinator the last four seasons for Walpole, making three playoff appearances over that time; he also played for legendary coach John Lee at Walpole, graduating in 1992 having won two MIAA Super Bowls.
The Falcons are coming off a 7-4 season in which they turned heads for a few weeks after pushing juggernaut Everett to the brink for three quarters, but many questions lie ahead.
One of those questions regards the naming of coordinators. Saulnier still has not laid out his plans, and it still seeking applications. Word of the opening made its way to a post on FootballScoop.com, a popular website for coaching position postings nationwide, and before long he had resumes coming in from Illinois, Rhode Island, Florida and North Carolina.
In the meantime, though, his players are anxious to get started.
"The biggest concern is my players want their playbook," he laughed. "I keep telling them 'Relax, we'll get it'. I keep reminding them the MIAA doesn't let us start until August 19.
"I think this is gonna be a year of transition and building, but we owe it to those seniors to put all of our effort into it. I'm up every night late all around, I've put together a bunch of ideas."
Among the biggest holes to fill figure to be at quarterback. Junior David Maaghul led the Falcons last fall with a record-breaking campaign, setting the school's single-season passing touchdown mark. But he is expected to transfer to Salisbury (Conn.) Prep for the fall and re-classify to the 2015 class, which should give way to a quarterback battle between two kids he beat out initially for the job. One should be Cameron McMillan, a pocket presence who started at defensive back last year; the other figures to be Marcus Collins, a tall and athletic passer in more of the dual threat mold.
Elsewhere, Shaquille Anderson figures to be back as starting tailback, serviceable for his breakaway abilities and good hands receiving passes out of the backfield. Joey Kozlowski, the defense's heart and soul, will be back as well as three-year starter Chris Thomas at center.
At wide receiver, the Falcons must find a way to replace All-State wideout Elijah Scott, who will continue his career at Division 3 Centre (Ky.) College in the fall.
But here's the dirty little secret about the Greater Boston League, perceived in most years to be a wasteland outside of the Everett juggernaut. Even when you exclude Everett, there are diamonds in the rough to be found, for a number of reasons, demographics and sheer population chief among them.
Consider the fact that three active NFL veterans are alumni of the GBL, yet not one of them played their football at Everett -- Colts tackle Gosder Cherilus (Somerville '02), Seahawks tackle Breno Giacomini (Malden '04) and Cowboys guard Mackenzy Bernadeau (Waltham '04).
"When John Lee found out I was teaching in Cambridge, he practically ran over to my house to make sure I would go for the job once it was available," Saulnier said.
Speaking to the talent in Cambridge, he continued, "I know the reputation around Cambridge is they have tough athletes. Their track program is exemplary, they just won the [4x200] relay and three of the four kids are returning football kids -- they have top line speed.
"I know the issue historically in Cambridge is finding linemen, and one of my jobs is going to be to make sure I'm in the hallways at Cambridge. Certainly we're looking to build a community, and it's important to have good player turnout. There are big kids walking the halls at Cambridge, and the school has proven over the years to produce Division 1 talent."