Boston High School:

Mark Cornelius
March, 25, 2011
3/25/11
5:09
PM ET
STARTING FIVE

Guard – Samir McDaniels, Sr., New Mission
The 6-foot-3 McDaniels was the steady hand that rocked the Titans' Division 2 state championship season. He averaged 18.8 points, 12.7 rebounds and 3.1 steals as the Titans became the first team in MIAA history to win the Division 4 and Division 2 titles in back to back seasons. McDaniels recently committed to the University of New Haven for next fall.

Guard – Pat Connaughton, Sr., St. John's Prep
The Notre Dame-bound Connaughton, currently ranked No. 96 in the ESPNU 100, once again saved his best performances for the postseason as the Eagles won the Division 1 state championship for the first time in school history. Connaughton averaged 21.8 points, 17 rebounds and 6.5 assists and took home the Massachusetts Gatorade Player of the Year award. Connaughton, who will play both baseball and basketball for the Fighting Irish next year, is ranked No. 77 in Baseball America's list of Top 100 high school prospects.

Forward – Richard Rodgers, Sr., St. John's (Shrewsbury)
Considered one of the best athletes to come out of Central Mass in the last two decades, the 6-foot-5, 235-pound Rodgers was a monster in all facets of the game as the Pioneers made their fourth straight appearance in the Division 1 state final. The senior, who will continue his football career next fall at Cal as a tight end, averaged 17.8 points, 10.8 rebounds, 4.5 blocks, 4.1 steals and 3.4 assists in his final season in Shrewsbury. He is also the son of Holy Cross defensive coordinator and former Cal great Richard Rodgers, and the cousin of Buffalo Bills cornerback Jairus Byrd.

Forward – Jake Layman, Jr., King Philip
The 6-foot-7 Layman lived up to his potential high-major billing in his junior season with the Warriors, helping them end a 15-year postseason drought and set a school single-season record for wins (17) before bowing out in the Division 2 South finals. Layman averaged 24.6 points, 13.6 rebounds, 4.6 blocks, 3.1 steals and 2.3 assists; he also took home Hockomock League MVP honors. Layman's 1,196 points at KP are the most by any boy in school history. He currently holds offers from UMass, Providence, Boston College, Notre Dame, Texas A&M and Brigham Young.

Center – Jimmy Zenevitch, Sr., Central Catholic
A force in the middle the last three seasons for the Raiders, the 6-foot-7 Zenevitch lived up to the hype headed into his senior season. He closed out his career with a strong finish, averaging 19 points, 11 rebounds, four assists and two blocks, and stretched many a defense with his ability to post up and shoot from long distance. He earned Merrimack Valley Conference All-Star nods, and his Raiders went 39-1 in MVC play the last two seasons. Zenevitch, whose older sister Kate is a freshman forward for Boston College, will continue his career next fall at Division 2 Assumption College.
BEST OF THE REST

Jaylen Alicea, Sr., Lawrence
Few had as explosive a postseason as the 5-foot-8 Alicea, who averaged 30.4 points in five playoff games as the Lancers became the first No. 15 seed since 1998 to advance to the Division 1 North final. The run included a 35-point effort in a shocking first round upset of No. 2 seed Cambridge, followed up the next game with 38 on Westford. For the season, Alicea averaged 19.3 points, four assists and three steals and earned a Merrimack Valley Conference All-Star nod.

Travonne Berry-Rogers, Sr., Lynn English
The 6-foot-1 Berry-Rogers made a name for himself as one of the North Shore's best finishers in his senior campaign, which ended in a D1 North semifinal loss to Lawrence but with some Northeastern Conference recognition. The senior, who was also an NEC All-Star in football, averaged 23.5 points, five assists and five rebounds to lead the 21-3 Bulldogs. He plans on pursuing basketball at the next level, and is considering several Division 2 and Division 3 colleges.

Joe Bramanti, Sr., Andover
The 6-foot-2 Bramanti was the Golden Warriors' prized horse in 2010-11, and they rode him to a 15-5 record and an appearance in the Division 1 North tournament. Bramanti averaged 22.3 points, six rebounds and four assists in his senior season, in which he took the Merrimack Valley Conference's MVP honors by an almost unanimous decision. Bramanti is currently looking into pursuing a post-graduate season at a prep school.
Grant Cooper, Sr., Northampton
Cooper, a 6-foot-3 forward, played an instrumental role in the Blue Devils' Division 1 Western Mass championship season, and established himself as one of the premier forwards in the western part of the state. He finished his career at Hamp on a high note, averaging 11 points, 12 rebounds, 4.5 assists this season while also posting a field goal percentage of .550.

Marco Coppola, Sr., Watertown
The 6-foot-1 Coppola was instrumental to the Raiders' run to their third Division 3 state title game in six seasons, and also pitched in tremendously on the defensive end -- before losing to Whitinsville Christian in the state championship, they held their previous four opponents in the 30's. Coppola was Eastern Mass' leading scorer, averaging 25.1 points per game, and finishes fourth all-time on the school's scoring list, behind his older brother Anthony, Max Kerman and Kyle Stockmal. Coppola is currently undecided on college plans, but is leaning heavily towards Worcester Polytechnic Institute.

Mark Cornelius, Sr., Westford
The 6-foot-2 Cornelius was a scoring machine this season for the Grey Ghosts, winning the Dual County League scoring title with an average of 21.1 points per game, and was co-MVP of the league. He saved arguably his best performance for last, getting 33 points and 23 rebounds in a loss to Lawrence in a Division 1 North quarterfinal. Also a standout wide receiver for the football team, Cornelius is undecided on college plans.

Alex Gartska, Sr., Westfield
One of the state's sharpest shooters, the 6-foot-1 guard averaged 19.7 points, three rebounds and two assists per game as the Bombers marched to a 20-3 record and an appearance in the Division 1 Western Mass final against Northampton. Gartska, who was recently named the MassLive/Basketball Hall of Fame's inaugural Western Mass Player of the Year, finished his career at Westfield with 1,172 career points. He is currently undecided on college plans.

Steve Haladyna, Jr., St. John's Prep
The 6-foot-3 junior was the Pippen to Pat Connaughton's Jordan on this year's squad, but that proved to be a pivotal role in the Eagles' first basketball state championship season. In 2010-11, he averaged 19.7 points and seven rebounds as the Eagles battled through the toughest Division 1 North bracket in recent memory.

John Henault, Sr., St. Bernard's
The Bernardians ended their season on a sour note with a shocking upset by Oxford in the Division 2 Central tournament, but the 6-foot-2 Henault ends his career on Harvard Street on a positively high one. He leaves St. B's as the school's all-time leading scorer (1,682 points) and led the state in scoring average (27.8 points) this season. He also racked up over 600 rebounds, 200 assists and 170 steals in his four-year career with the Bernardians. Henault is currently considering several Division 2 and 3 colleges.
Mike Lofton, Sr., Mansfield
With such a unique skill set, the 6-foot-4 senior played anywhere from point guard to power forward this year for the Hockomock League champions, and excelled in every role. Lofton averaged 13.5 points, 11 rebounds. 4.5 assists and 2.7 steals this season for the 24-3 Hornets, who won a wide-open Division 1 South before falling to eventual state champ St. John's Prep on the TD Garden floor. Lofton is currently considering several Division 2 and 3 schools.

Akosa Maduegbunam, Jr., Charlestown
In 25 games this season for the Townies, the 6-foot-4 slasher averaged 22 points, eight rebounds, three assists and two steals as they captured their first Boston City title since 2006. in his two seasons at Charlestown, he has averaged 20.5 points, seven rebounds and three assists. A two-time City all-star, Maduegbunam was also named the City tournament's Most Valuable Player.

Hans Miersma, Sr., Whitinsville Christian
Few teams in the state could match up with the Crusaders' size this season, and none was more pivotal than the 6-foot-9 Miersma. He averaged 14.3 points, 8.9 rebounds and 3.7 blocks as the Crusaders captured their first Division 3 state title since 2005. The first team All-Dual Valley Conference center will continue his playing career next fall at Gordon College.

Joe Mussachia, Sr., Manchester-Essex
The 6-foot-6, Amherst College-bound forward excelled in a multitude of roles for the Hornets, who won the Cape Ann League and advanced all the way to the Division 4 North semifinals. Mussachia averaged 25.2 points, 17 rebounds, five assists, four steals and three blocks, and finishes as the school's all-time leading scorer (1,714 points). For his career at M-E, he averaged 20.9 points, 11 rebounds, four assists and three blocks.

Jarrod Neumann, Jr., Northampton
The 6-foot-3 guard/forward helped to form Western Mass's most intimidating, swarming defenses, as the Blue Devils marched all the way to a 21-3 record and the Division 1 Central/West Final, where they lost to state runner-up St. John's of Shrewsbury. For the season, Neumann averaged 15 points and 10 rebounds. Barring the unexpected, Neumann should return next fall as one of the MIAA's top 2012 prospects.

Kachi Nzerem, Sr., New Mission
As one part of the Titans' three-headed monster of a backcourt, the 6-foot-5 Nzerem was a physical force around the rim. He averaged 17.1 points and 6.1 rebounds as the Titans became the first MIAA squad in history to win the Division 4 and Division 2 titles in back to back seasons. Nzerem is considering pursuing a post-graduate season at several prep schools.

Keandre Stanton, Jr., Lynn English
It was quite the breakout season for the 6-foot-6 Stanton, a Northeastern Conference All-Star who turned in a monster junior campaign to establish himself as one of the state's best pure athletes on the blocks. He averaged 19.5 points, 12 rebounds, six blocks and achieved 10 triple-doubles on the season for the 21-3 Bulldogs, who advanced all the way to the D1 North semifinals before bowing out to Lawrence.

Jacquil Taylor, Soph., Cambridge
At 6-foot-8, the sophomore was one of the state's most imposing forces in the paint. He has started every game in his two years on the Falcons' varsity, and has only blossomed under head coach Lance Dottin; after averaging nearly a double-double as a freshman (nine points, 10 rebounds), he turned in an even more impressive sophomore season, with 13.5 points, 11.4 rebounds and 4.8 blocks as the Falcons won the Greater Boston League outright for the second year in a row. He has already amassed 166 blocks in his young career (including over 100 this year), and is a two-time GBL All-Star.

Noah Vonleh, Soph., Haverhill
Ranked the No. 23 overall player nationally in the Class of 2013 by ESPN, the 6-foot-7 Vonleh came into the season with a load of hype, and lived up to it in spite of the Hillies' struggles to a 7-13 record this season. Vonleh averaged 18.4 points, 17 rebounds, seven assists and five blocks and earned Merrimack Valley Conference All-Star recognition. Kansas, Pitt and Boston College are among the early offers for Vonleh, but expect that list to get quite lengthy over the next six months.

COACH OF THE YEAR: SEAN CONNOLLY, ST. JOHN'S PREP
Yes, one of the North Shore's all-time schoolboy greats has had one of New England's top senior talents to work with the last three seasons. But this season, which culminated in the program's first state championship, was all about the role players. And between Steve Haladyna, Freddy Shove, Isaiah Robinson, Mike Carbone and Owen Marchetti, this season was about a different player stepping up every night to ease the load off superstar Pat Connaughton. For that, and to survive one of the most loaded Division 1 North brackets in recent history, Connolly deserves some credit.
RUNNERS-UP:
1. Paul Neal, Lawrence
2. Cory McCarthy, New Mission
FINALISTS:
Bill Daley, Westfield
Paul DiGeronimo, Fitchburg
Rey Harp, Northampton
Rick Kilpatrick, Acton-Boxborough
Sean McInnis, King Philip
Duane Sigsbury, Manchester-Essex
Malcolm Smith, East Boston
ALL-DEFENSIVE
G – Joe Bramanti, Sr., Andover
G – Luis Puello, Jr., Central Catholic
G – Akosa Maduegbunam, Jr., Charlestown
F/C – Jacquil Taylor, Soph., Cambridge
C – John Swords, Sr., Lincoln-Sudbury
ALL-SHOOTERS
Pat Connaughton, Sr., St. John's Prep
Marco Coppola, Sr., Watertown
Alex Gartska, Sr., Westfield
John Henault, Sr., St. Bernard's
Jake Laga, Sr., Northampton
ALL-FRESHMAN
G – Jonathan Joseph, Brockton
G – Tyler Nelson, Central Catholic
G – Damion Smith, West Roxbury
F – Drew Shea, Medfield
F – Aaron Falzon, Newton North
BEST FANS
1. Northampton
2. St. John's (Shrewsbury)
3. Newton North
4. Central Catholic
5. St. John's Prep
(NOTE: Some headshots were provided by ESPN's Adam Finkelstein, courtesy of his New England Recruiting Report)
February, 12, 2011
2/12/11
1:21
AM ET
By
Joe Jasinski
| ESPNBoston.com



WESTFORD, Mass. -- The tempo exceeded full-throttle at times. Shot after shot found nylon, like heavyweights exchanging blows. One player scored his team's first 14 points while another sank a three-point bucket to beat the halftime buzzer.

No one backed down. Just as one expected.

Friday night's showdown between Dual County League title contenders Acton-Boxborough and Westford -- the teams' third meeting of the season -- had almost everything. And similarly, the Colonials' diversified offensive attack proved to be the difference, as A-B silenced the raucous Grey Ghost gym en route to a 74-66 win. The victory puts A-B (15-2, 8-1) alone atop the Dual County League's Large division standings, a game ahead of the Grey Ghosts (14-2, 7-2).

Offensively, the Colonials' distribution was textbook. Four players scored in double figures, led by versatile junior combo guard Joey Flannery, who posted a team-high 21 points to go along with five rebounds.

Facing everything from a conventional half-court man-to-man defense to a full-court zone trap, A-B received consistent production as well from senior guards Wes Schroll (18 points) and Sam Longwell (17 points), as well as junior center Kevin LaFrancis (12 points, seven rebounds), who proved instrumental in gobbling up rebounds on both the offense and defensive ends, as well as containing the Grey Ghosts' dribble penetration in and around the paint.

"I thought [LaFrancis] was terrific," A-B head coach Rick Kilpatrick said. "I thought this was as well as he's played all year.

"He just had a presence about him tonight, wherever he was. He was a big part of the win, there's no doubt."

From the opening tip, the exceedingly high levels of intensity shown by both squads were hard to ignore. The first quarter featured 15 combined field goals, with Westford's overtly talented forward Mark Cornelius (28 points, six rebounds) taking center stage. The senior offensive wizard opened the game on a tear, taking and making his team's first six shots, including two from beyond the arc.

"He can do so many things," Kilpatrick said of the Grey Ghosts' offensive catalyst. "We can put a big guy on him, and he goes and hits some threes in the first quarter. Then I put a guard on him, and he's going inside and scoring. And he gets rebounds. And he's so quick off the ground...He's just a great player. He's a matchup nightmare."

As the first eight minutes came to completion, with A-B ahead, 21-16, all those in attendance gave a thunderous ovation for the offensive display.

The second quarter, however, proved far less explosive, with neither team establishing much rhythm.

Yet after a three-point attempt clanked off the back rim with about five seconds to go in the half, A-B's Longwell gathered his own rebounds while almost simultaneous launching another shot from downtown, this time finding the twine as the buzzer sounded.

A-B ended the half on a 9-1 run, up 32-23 after the first 16 minutes.

The final two quarters were defined by two themes: Westford's persistence and the Colonials resiliency. Despite never leading after losing the lead with 1:17 to go in the first quarter and trailing by double digits on five separate instances in the second half, the Grey Ghosts continued applying the pressure.

With less than six minutes to go in the fourth quarter, Westford narrowed the deficit to two points, still behind 55-53.

"I just feel that we're so even as two teams," Kilpatrick said, "and we know each other so well, that even when one team goes up … you kind of know the other team's going to get back."

However, after picking up his fourth foul on a charge call while elevating for a five-foot leaner, Cornelius subsequently fouled LaFrancis on the Colonials ensuing possession, exiting the contest with about five minutes to play.

Going 13-for-15 from the charity stripe in the closing period, A-B (24-for-28 from the foul line altogether) was able to hold off a couple late threats from the Ghosts, including its full-court trap defense and six fourth-quarter points from junior guard Ryan Jann (14 points).

Being able to continually fight off the Ghosts' attacks showed something about the Colonial team, Longwell said.

"Before every game, we talk about trust," he said. "And we come together and we pick each other up.

"We all go out there together. If we're all out there as individuals, it's really hard to stay calm. As a team, we do it together."

And earning a victory against an opponent as familiar as Westford?

"It's amazing how every single time we play them, it's a one-point game," reflected LaFrancis. "I'm so proud of our team for showing confidence today. I mean, they came back and we just closed it out."


October, 9, 2010
10/09/10
11:26
PM ET
By
Neil Carroll
| ESPNBoston.com
WESTFORD, Mass. -- The mettle of the Westford Academy Grey Ghosts was tested in the fourth quarter but the team responded accordingly and held off the visiting Marshfield Rams, on their way to a 27-13 victory on Saturday night.

Marshfield pulled to within seven points of No. 20 Westford after head coach Lou Silva dialed up a 44-yard touchdown on a double-pass from Charles LaPaglia to Jonathan Fraser early in the fourth quarter. But after that score the Grey Ghosts showed their grit.

On its next offensive possession, Westford's drive came to a third and 14 in Marshfield territory when quarterback Patrick Dugan tossed up a 34-yard touchdown to Mark Cornelius. The touchdown stretched the lead back to 14 and put an end to any chances Marshfield had at a comeback.

"Toward the end we knew we needed a score going down the field to ice the game," Dugan said about the final touchdown. "After a blown coverage on my behalf…[Mark Cornelius] and I knew we needed to step up, make a play and get the job done."

The game marked the return of a healthy Cornelius to the Grey Ghosts' lineup after he was limited in the last two games due to injury.

The receiver helped spread the field for the Westford offense and finished with two catches for 78 yards and one touchdown. He also added an interception on the last play of the first half.

"We knew it was cover zero coming in, so we knew they were going to play us man-to-man and took it a little personally," Dugan said about the connection between he and Cornelius.

Dugan completed 6 of 10 passes for 141 yards and three touchdown passes to three different receivers as the offense had an all-around solid night.

The Grey Ghosts defense was no slouch either.

The Rams struggled to get past the front-seven of Westford's 3-4 defense. On the defensive line Mike Mizzoni, Joe Donnelly and Scott Herald stuffed the gaps and linebackers Zach Ingalls, Ethan Stokes, Mark Hennessy and Cam Martin made the stops.

"We tried to play hard-nosed defense and smash them as much as we can," said Mizzoni. "Its just a lot of reacting from what they do."

Marshfield ended the game without a player running for more than 30 yards on the night.

"Our front seven has done a great job all year," Westford head coach Rich McKenna said of his defense. "Last year, our run defense was a little suspect so all the kids took offense to it and are really trying to prove everyone wrong."

Ingalls played big at outside linebacker for Westford but was also a dependable running option on offense. The senior captain played multiple positions on offense for the Grey Ghosts and finished the game with 13 carries for 58 yards and a 25-yard touchdown catch. He also had an 85-yard kickoff return touchdown on the opening kickoff.

"Zach Ingalls is an awesome football player and we are blessed to have him," McKenna said. "The kid just has a non-stop motor."

Both teams struggled on special teams. Westford blocked a punt and a point after touchdown attempt and Marshfield blocked a punt as well.

M - 6 0 0 7 - 13
W - 7 7 6 7 - 27

First quarter
W - Ingalls 87 kickoff return touchdown (Justin Mount kick)
M - Bryan Mey 7 run (kick blocked)

Second quarter
W - Ingalls 25 pass from Dugan (Mount kick)

Third quarter
W - Mount 31 pass from Dugan (kick failed)

Fourth quarter
M - Fraser 44 pass from LaPaglia (Brendan Doherty kick)
W - Cornelius 34 pass from Dugan (Mount kick)
September, 5, 2010
9/05/10
8:44
PM ET
By
Neil Carroll
| ESPNBoston.com
WESTFORD, Mass. -- The pieces are fitting together.
Whether it is the no-huddle offense, his team's skill set or just the right equation of players, Westford Academy head coach Rich McKenna is achieving great success to start off his tenure with the Grey Ghosts.
[+] Enlarge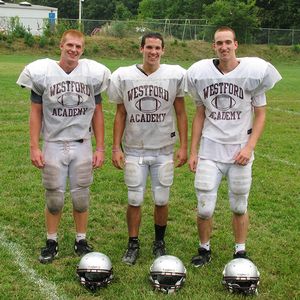 Neil Carroll for ESPNBoston.comWith Zack Ingalls, Patrick Dugan and Mark Cornelius in the backfield, Westford is a favorite to capture its second straight Dual County League title.
Last year, McKenna took over the team after the departure of long-time coach Mike Parent and led the Grey Ghosts to an 8-4 season and a playoff berth. Although Westford lost to Gloucester in the first round of the Division 1A playoffs, the team's statistics were impressive.
Before the season, McKenna evaluated the personnel he had at Westford, and decided that running an audible-based offense would benefit his players.
"I looked at the other sports here, and how successful the skill-sports were," McKenna said of the switch. "...I knew we had a lot of skill, so I thought we could play an up-tempo style of football here."
Quarterback Patrick Dugan had 25 passing touchdowns to go along with 12 rushing touchdowns last season. Dugan mastered the art of the no-huddle and was exactly what McKenna needed in a quarterback.
"Basically the quarterback makes sure everybody is on the same page," McKenna said of Dugan. "It all stems off of him, and he's pretty much the straw that stirs the drink."
Dugan has a variety of weapons to choose from at Westford. Whether it is his favorite target Mark Cornelius at wide receiver, or returning running backs John Hennessy or Mark Ingalls out of the backfield, Dugan spreads the ball well.
"I love [the no-huddle offense]," Dugan said of the playbook. "It gives us a chance to tire our opponents out, score fast and put up a lot of points per game."
While it does not appear that he has the speed to be a top wide receiver, Cornelius is still very quick, and at 6-foot-3 has phenomenal hands. Last year, he and Dugan two hooked up for 17 touchdowns through the air; and with all the hype and excitement since, week one can't come soon enough.
"We have our set plays that we can go to, but I can always look out to [Cornelius] and give him a variety of different options," Dugan said of the chemistry he has with his wide receiver. "We can always tell what the defense is in so he knows what I'm going to call and we're always clicking."
Said Cornelius, "We have a pretty good chemistry. He knows when I'm open to throw me the ball, and he yells at me, I yell at him, but we're good."
WESTFORD AT A GLANCE
2009 record:
8-4 (lost to Gloucester in the first round of playoffs)
Coach:
Rich McKenna (Second year, 8-4)
Players to watch:
Patrick Dugan, Sr., QB, 6-0, 200 lbs., (25 passing TDs, 12 rushing TDs) ; Zack Ingalls, Sr., WR/RB/LB, 5-11, 210 lbs. (23 all-purpose TDs); Mark Cornelius, Sr., WR, 6-3, 190 lbs. (17 TDs); Mark Hennessy, Sr., RB/LB, 6-0, 200 lbs.; Joe Donnelly, Jr., NT, 5-7, 210 lbs.; Mike Doran, Jr., S, 5-10, 165 lbs.; Mike Mizzoni, Sr., OG/DT, 6-0, 240 lbs.; Ralph Barisano, Sr., LB, 6-3, 200 lbs.
Strengths:
Up-tempo offense, skill positions.
Weaknesses:
Size, physicality.
Outlook:
This year the Grey Ghosts have a lot of positions to fill at the offensive line. While the lineman they have now fit McKenna's system, they are definitely inexperienced. However that may go unnoticed if Dugan can keep up the chemistry with his offensive options. The quarterback is one of the best in the DCL, and has a lot of talent around him. On defense, Westford is again lacking in lineman but experienced at linebacker and in the secondary.