Boston High School:

Mark Dente
July, 1, 2013
7/01/13
5:53
PM ET
FIRST TEAM
G – Nick Marrocco, Jr., Duxbury
In his first season starting between the pipes for the Dragons, Marrocco was named an Eastern Mass. All-American while averaging 13 saves per game. Also a standout hockey player during the winter season, Marrocco is committed to Georgetown and was named Most Valuable Player of the bostonlax.net All-American game.

D – Rob Breed, Sr., Xaverian
One of the galvanizing forces behind the Hawks' run to the program's first state lacrosse title, the Eastern Mass. All-American was tasked with shutting down the opponent's top attacks.

D – Ben Cox, Sr., Medfield
Named the Tri-Valley League's Defensive Most Valuable player, Cox was a four-year member of the lacrosse team and part of back-to-back MIAA Division 2 state championship lacrosse teams. During the winter, Cox finished second on the Warriors hockey team in scoring, posting 12 goals for 38 points in 21 games. He will continue his lacrosse career at the University of Vermont.

D – John Sexton, Jr., Lincoln-Sudbury
The Notre Dame commit was a jack of all trades for the Warriors this season, taking faceoffs, playing on man-up situations and providing lockdown defense. Sexton was named an Eastern Mass. All-American and is a three-time Dual County League All-Star.

LSM – Nick Brozowski, Soph., Concord-Carlisle
A ground ball machine, the Maryland commit was named an Eastern Mass. All-American in addition to Dual County League All-Star honors.

M – Dan Delaney, Sr., Lincoln-Sudbury
The Eastern Mass. All-American tallied 38 goals and 20 assists while leading the Warriors to a Division 1 final appearance. Delaney will continue his lacrosse career at Fairfield University next year.

M – Keegan Dudeck, Sr., Longmeadow
The Lancers captain closed out his career on a high with a five-goal outburst in their Division 2 state championship win over Medfield. Dudeck tallied 38 goals and 17 assists for his senior season.

M – Jack Wheeler, Jr., Xaverian
Turning in a dazzling offensive display at Harvard Stadium, Wheeler was a key component to the Hawks' first-ever lacrosse championship. The Boston University commit and Eastern Mass. All-American tallied 42 goals with 15 assists this year.

A – Jay Drapeau, Jr., Westford Academy
Among the state scoring leaders in each of the last two seasons, Drapeau ripped off 71 goals in 2013. The Loyola commit was an ESPN Boston MIAA Lacrosse All-State second-teamer last year and also was a Hockey All-State Honorable Mention during the winter season.

A – Andrew Melvin, Sr., Medfield
The Eastern Mass. All-American helped lead the Warriors back to the Division 2 state championship game. Melvin will continue his lacrosse career at Bates College.

A – Nico Panepinto, Sr., Needham
Named ESPN Boston's third annual "Mr. Lacrosse" winner last week, the Fairfield University signee finished his high school career with 179 goals and 159 assists. Panepinto, also a standout on the football field for the Rockets, was a two-time Eastern Mass. All-American and ESPN Boston All-State selection.

Specialist – Derek Osbahr, Sr., St. John's Prep
Osbahr was an offensive weapon for the Eagles at the faceoff X as the best draw-winner in Eastern Mass. Also a member of Prep's Super 8 hockey squad, the Eastern Mass. All-American will continue his lacrosse career at Bentley University.

SECOND TEAM
G – Ryan Goodall, Sr., Dover-Sherborn
D – Jack Ullrich, Jr., Hingham
D – Jay Walsh, Sr., Duxbury
D – Ian Yanulis, Sr, BC High
M – Caleb Brodie, Jr., Hingham
M – Brendan Flaherty, Sr., Beverly
M – Mike Panepinto, Jr., Needham
M – Roby Williams, Jr., Wayland
A – Hunter Burdick, Sr., St. John's (Shrewsbury)
A – Nick Pino, Sr., North Andover
A – Tyler Reilly, Sr., Grafton
Specialist – Drew Kelleher, Jr., Longmeadow

Honorable Mention
Dom Abate, Sr. M, Beverly
Tommy Bannan, Sr. G, Hingham
Kevin Bletzer, Jr. M, Catholic Memorial
Rogers Boylan, Sr. D, Dover-Sherborn
Evan Boynton, Sr. D, Concord-Carlisle
Mike Carbone, Sr. A, Marshfield
Tucker Ciessau, Sr. A, Scituate
Matt Comerford, Sr. G, Reading
Pat Cronin, Jr. A, BC High
Matt Crowell, Jr. M, Medfield
Mark Dente, Sr. A, Reading
Kevin Farrell, Sr. FOGO, Billerica
Chris Frye, Sr. A, Walpole
Andrew Gallahue, Jr. A, St. John's Prep
Henry Guild, Sr. M, Lincoln-Sudbury
Carson Hart, Sr. M, Wayland
Keifer Heckman, Sr. A, Peabody
Eamon Hunter, Soph. LSM, Lincoln-Sudbury
Joe Igoe, Sr. M, Framingham
Reid Leveillee, Jr. D, Longmeadow
Giles Ober, Sr. G, Algonquin
Kieran Presley, Sr. M, Amherst
Brian Rotatori, Sr. M, Grafton
Drew Smiley, Jr. A, St. John's (Shrewsbury)
D.J. Smith, Sr. G, Billerica
Robert Treiber, Jr. G, Medfield
Luc Valenza, Sr. D, Foxborough
Tyler Weeks, Sr. D, Andover
Sam Wheaton, Sr. G, Minnechaug

Coach of the Year -- Ryan Liebel, Longmeadow
June, 14, 2013
6/14/13
2:49
PM ET
The Eastern Mass Lacrosse Coaches Association announced its boys' lacrosse 2013 All-Americans.

Here is the list:

FIRST TEAM
ATTACK
Jay Drapeau, Jr., Westford Academy
Nico Panepinto, Sr., Needham
Andrew Melvin, Sr., Medfield
Nick Pino, Sr., North Andover

MIDFIELD
Mike Panepinto, Jr., Needham
Dan Delaney, Sr., Lincoln-Sudbury
Jack Wheeler, Jr., Xaverian
Caleb Brodie, Jr., Hingham
Brendan Flaherty, Sr., Beverly

DEFENSE
John Sexton, Jr., Lincoln-Sudbury
Ben Cox, Sr., Medfield
Rob Breed, Sr., Xaverian
Jack Ullrich, Jr., Hingham
Jay Walsh, Sr., Duxbury

SPECIALIST
Nick Brozowski, Jr., Concord-Carlisle

GOALIE
Nick Marrocco, Jr., Duxbury
D.J. Smith, Sr., Billerica

SECOND TEAM
ATTACK
Tucker Ciessau, Sr., Scituate
Andrew Gallahue, Jr., St. John's Prep
Mark Dente, Sr., Reading
Henry Guild, Sr., Lincoln-Sudbury

MIDFIELD
Dom Abate, Sr., Beverly
Roby Williams, Jr., Wayland
Matt Crowell, Jr., Medfield
Eric O'Brien, Sr., Reading
Joe Igoe, Sr., Framingham

DEFENSE
Luc Valenza, Jr., Foxborough
Tyler Weeks, Sr., Andover
Rogers Boylan, Sr., Dover-Sherborn
Evan Boynton, Sr., Concord-Carlisle

SPECIALIST
Kevin Farrell, Sr., Billerica
Derek Osbahr, Sr., St. John's Prep

GOALIE
Ryan Goodall, Sr., Dover-Sherborn
Tommy Bannan, Sr., Hingham
May, 23, 2013
5/23/13
12:52
AM ET
By
Ryan Kilian
| ESPNBoston.com
READING, Mass. – No. 8 Concord-Carlisle lacrosse stormed out to a 5-0 lead after one quarter and never looked back as they defeated No. 16 Reading, 9-7, behind an intelligent and disciplined defensive effort.
Despite a furious second-half comeback, Reading (16-2) cou;d not overcome a six-goal second half deficit on Wednesday in both team's final tune-up before post-season play begins next week.
[+] Enlarge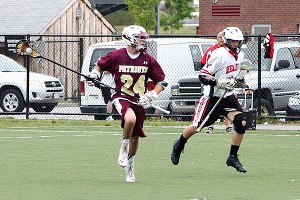 Ryan Kilian for ESPNConcord-Carlisle long-stick midfielder Nick Brozowski collected eight ground balls in the Patriots' 9-7 win over Reading.
The Patriots would maintain their 5-0 lead through the second quarter and in to the half as their senior defensive unit of Evan Boynton, Sam Barrett and Javier Flores did an excellent job of containing the explosive Reading attack unit.
"This is the best we have played defensively," Concord-Carlisle head coach Tom Dalicandro said after the game. "I was really worried about the match-up because the have three really good attackmen. Sam Barrett had his best game of the year for us today and Evan [Boynton] and Javy [Flores] also played well. They are three all-league kids on defense and I think they rose to the occasion today."
Don't look now but the defending Division 2 state champion Patriots (12-5) have won four games in a row and seven of their last eight, including wins over Lincoln-Sudbury and now Reading, as they head into tournament play with plenty of momentum.
"We feel really good about ourselves," Dalicandro said. "I think we can compete with anyone but we need to do the three key things we talk about. We need to value and share the ball, play great team defense and get saves from our goalie."
Concord-Carlisle completely dominated the start of the game and led 6-0 until 2:58 on the clock in the third quarter when Greg Connery would score the Rockets' first goal of the game.
Reading goalie Matt Comerford (10 saves) would then come up with a big save as the clock ticked down in the third quarter and Conor Frazier would take a deep outlet and find Charlie Colvin (2 Goals) for a goal with point-one seconds remaining on the clock.
Trailing 6-2 heading into the final quarter of play, Reading would come to life and begin to get out in the open field as they would cut the Concord-Carlisle lead to 8-4 with 6:36 to play.
"We want to play our style of lacrosse," Reading head coach Charlie Hardy said. "We are a little more run and gun and we want to get out in transition."
After Reading (16-2) started to seize momentum, Concord-Carlisle attack Tim Badgley (2G, 1A) would score and important ninth goal with 5:40 on the clock to give Concord-Carlisle a 9-4 lead.
Reading would not let down, however, as Charlie Colvin, Mark Dente and Eric O'Brien all netted goals to cut the C-C lead to 9-7 with one minute remaining in the game.
"I think the kids put a lot of spirit into the comeback," Hardy said. "The team you saw at the end is the team that we have."
C-C middie Will Blumenberg would help the Patriots secure a key late possession in the final minute of play to seal the win.
Blumenberg led C-C with three goals on the day while middie Peter Anastos (1G, 1A) also played well offensively for C-C.
"You can't spot a team like that goals," Hardy said. "They are too sophisticated and they are too well coached."
Concord-Carlisle and Reading will now both await the seeding selection for Division 2 on Friday to see whom they will face next week.
"We love playing them as it is a character game," Hardy said of the annual end-of-year game with C-C. "We want to play them at the end of the regular season so now we get to see what we need to work on."
Concord-Carlisle also received a strong game from long stick middie Nick Brozowski, who had his usual strong game on groundballs, scooping up eight, and using his quick stick to force multiple turnovers.
Andrew Kielar also played well in net for C-C as the sophomore came up with five of his nine saves in the first half.
March, 7, 2013
3/07/13
12:41
AM ET
By
Mike McMahon
| ESPNBoston.com


STONEHAM, Mass. -- Austin Prep goaltender Elijah Harris, though small in stature, played like a giant on Wednesday night, leading the Cougars to a 1-0 win over town rival Reading, ending the Rockets' season and catapulting Austin Prep into the Super 8 semifinals with a 2-0 series win.

Harris, a sophomore who stands maybe 5-foot-7, made a whopping 39 saves for the Cougars.

"I'm proud of our boys," Austin Prep head coach Louis Finocchiaro said. "Elijah [Harris] played sensational. People will say he won the game for us, and absolutely, and that's why he's on our team. He's on our team and it's a team game. They outshot us, they had 20 quality shots, and he made some big time saves."

The Cougars scored the game's lone goal with 1:43 remaining in the first period. Frankie Candelino put the initial shot on Reading goaltender Evan Morelli but Cam Russo was able to jam home the rebound.

Reading's best chance of the night came with 6:35 to play in the third period. Mark Dente raced down the right-wing side and fired a shot that Harris was able to deflect with his blocker and sent the puck sailing into the netting above the glass.

"Game like these if I put out a pad it will just hit it," Harris said. "If I put our my glove it just goes in clean. I don't know when it's going to happen, you can't predict that tonight will be the night, but you just get in the zone."

Reading was relentless all night, piling bodies in front of Harris. But, the goaltender was able to stay square to the puck and find openings for a line of sight.

"With my size I can kind of look through their legs," Harris said with a chuckle. "I was just seeing the puck and seeing the release. When you have nights like tonight, I can read that stuff, and even make a second reaction if it gets tipped."

The Rockets pulled their goaltender and just eight seconds later, were given a power play for the final 1:16 of the game. But up 6-on-4, they still weren't able to find an opening past Harris.

"We generated good chances," Reading head coach Mark Doherty said. "Obviously we have some set plays we we try to setup and I'm not sure we fully got it implemented the way we wanted, but again, we got pucks rotated up high and we got shots and we got at some rebounds. But that's the game of hockey, if one kid gets hot -- and Evan [Morelli] has won a lot of games for us -- that can happen."

SEASON OVER FOR READING, 17 SENIORS
Reading's roster was loaded with upperclassmen. A total of 17 seniors were on last night's roster, playing in what amounted to their final high school game.

"The locker room is great," Doherty said. "It's emotional, but we had a great effort. It's hard to keep your head up but they represented Reading incredibly well, and that's the message I gave them."


March, 2, 2013
3/02/13
4:52
PM ET
There are less than 24 hours remaining before the puck drops on the Super 8 tournament Sunday at UMass-Lowell's Tsongas Center.

So we're taking this opportunity to break down the final eight. As the tournament takes on a best-of-three format for its first-round matchups this year, we're taking a look at the head-to-head breakdowns for each series, along with predictions:

Series: No. 1 St. John's Prep (17-2-1) vs. No. 8 Central Catholic (14-5-3)

Players to watch: Prep – F Brian Pinho, F Tyler Bird, F Andrew Brandano, F Jack McCarthy, F Cam Shaheen, D Brent Murray, G Billy Price; Central – F Lloyd Hayes, F Corey Webber; D Nick Gorski, D Alex Lester, G Colin Soucy.

Previous meeting: Central 2, Prep 1 on Dec. 26.

The skinny: Central fought its way into the eight-team field with an improbable comeback against Hingham in Monday's play-in game. But they'll have to be ready to go out of the gate against the top-seeded Eagles. Prep is deepest team in the field — from its forwards to its defensemen — and the Raiders will have to weather the Eagles' ability to wear teams down by consistently rolling four lines (Claude Julien surely would love this Prep team). The goaltenders will also be under the spotlight in this series with both Price and Soucy making their debuts in taking over for tournament stalwarts David Letarte and Kyle Williams, respectively. The play of both goaltenders has been a strength for their teams this year.

X-factor: Can the Raiders parlay some momentum gained from their dramatic play-in game overtime victory into a Game 1 win against the Eagles? Also, what kind of a factor will Central winger Mike Kelleher be?

Prediction: Prep in two.

Series: No. 2 Springfield Cathedral (16-1-4) vs. No. 7 Malden Catholic (12-6-3)

Previous meeting: MC 2, Cathedral 1 on Feb. 21.

Players to watch: Cathedral – F Peter Crinella, F Dominic Blad, F D.J. Petruzelli, F Johnny Leonard, D Matt Foley, D Jack Williams, G John Liqouri; MC – F Mike Iovanna, F Ara Nazarian, F Tyler Sifferlen, F Pat Wrenn, D Casey Fitzgerald, D Nick Rolli.

The skinny: While the Panthers enjoyed some down time this week, MC set about making a statement in its 9-1 dismantling of Archbishop Williams in Monday's play-in game. Perhaps no team in the state has been hotter than the two-time defending Super 8 champion Lancers and they'd like to prove that, once again, this is their time of the year. There will be plenty of top-tier talent on the ice when the team's top forward units face off with Cathedral's line of Crinella-Artie Potter-Blad opposed by MC's Iovanna-Nazarian-Sifferlen troika. The key to this series, however, will be which team's second and third lines come to play.

X-factor: Cathedral goaltender John Liquori. As we saw in the Panthers' game against St. John's Prep in the final week of the regular season, he's capable of stealing points and games for them. He'll need to be at his best to curb the Lancers' attack.

Prediction: Malden Catholic in three.

Series: No. 3 BC High (14-3-3) vs. No. 6 Catholic Memorial (12-6-2)

Previous meetings: BC High 5, CM 1 on Jan. 16; BC High 4, CM 3 on Feb. 2.

Players to watch: BC High – F Tom Besinger, F Pat Kramer, F Steve DeForge, F Chris LaLiberte, D Sam Topham, D Ryan Shea, G Peter Cronin; CM – F Liam Coughlin, F Jack O'Hear, F Kevin Hock, F Aaron Clancy, D Dennis Medeiros, D Sean Heelan, G Brandon Collett.

The skinny: Can't get much better than this, right? Right up there with Bruins-Canadiens. The teams will add another chapter to their storied history in the 50th-anniversary year of their hockey rivalry. While the Eagles claimed both meetings against their Catholic Conference counterparts during the regular season, the play was largely even (minus one second-period outburst in BC High's 5-1 win in January). So expect more of the same in this series.

X-factor: Liam Coughlin. The Eagles had success neutralizing the rangy center during their regular season appearance, both in the offensive zone and in the face-off circle. But we've seen Coughlin (25-16-41) take control at times this season, and he'll have to do so for the Knights to advance.

Prediction: BC High in three.

Series: No. 4 Austin Prep (13-1-6) vs. No. 5 Reading (16-1-5)

Previous meeting: N/A.

Players to watch: AP – F Nolan Vesey, F Bobby Carpenter, F Jake McKenelley, F Eric MacAdams, F George Sennott, D Andrew Cross, D J.J. Layton; Reading – F Rob Devaney, F Mike Thomson, F Jake Barbera, F Mark Dente, G Evan Morelli.

The skinny: The Battle of Reading is just one subplot to a group of first-round series rife with context. The high-flying Cougars attack will have to break through a sticky Reading forecheck that can give opponents fits. AP does enter tournament having played some of its best hockey of the year in the final week of the season, wrapping up a Cape Cod Classic championship. The Rockets, meanwhile, will gain the fan bases of the rest of the state as the lone remaining public school entrant in this year's field.

X-factor: Nolan Vesey. Has the potential to be the best player in the tournament. For a young squad such as AP, however, Vesey's leadership will be vital for their long-term Super 8 chances. He needs to set the tone.

Prediction: Austin Prep in three.
February, 5, 2013
2/05/13
2:43
AM ET


READING, Mass. -- No. 5 Reading nearly skated Middlesex League rival Burlington out of the barn after one period of hockey Monday night. The Rockets opened up a shooting gallery in the Red Devils' zone and, had it not been for the efforts of Burlington goaltender Derek DeCastro, things easily could have gotten out of hand fast.

Even though Reading went on to outshoot the Red Devils by a combined 35-17 margin, the action was a lot closer.

In the words of Rockets head coach Mark Doherty, "It was a Reading, Burlington hockey game."

Reading prevailed, escaping with a 3-2 win over the No. 24 Red Devils, thanks to a two-goal game from junior forward Jake Barbera. But it wasn't as easy as it looked and, as the Burlington power play opportunities racked up, it came down to a diligent group of penalty killers who made the difference for the Rockets (13-1-4, 9-0-3).

Although Reading seemed to be waltzing away with two points, holding a 3-1 lead late in the second period, the Red Devils (6-4-5, 5-3-5) got back into it with their potent power play.

Senior captain C.J. Grinnell made a tape-to-tape across the width of the ice surface to set up Joe Berardi's half-slap, one-timer for a goal on the man-advantage with 4:22 remaining in the third.

Burlington had two sterling opportunities to notch the equalizer in the third, with two additional power plays, but the Rockets were game. Reading limited the Red Devils' man-up unit to just one shot on goal in their final two power play chances, playing a stifling brand of defense in front of goaltender Evan Morelli.

"We have some good penalty killers," Doherty said. "You talk about [Mark] Dente, [Rob] Devaney, [Mike] Thomson, they all know what they have to do. They know that they just have to rise to the situation."

The Rockets claimed a 2-1 lead at the first break, after peppering DeCastro (32 saves) with a barrage of 15 shots on goal.

Reading drew first blood when Dente collected a nifty saucer pass from Alex Guarnotta and slipped behind the Burlington defense for a partial breakaway. Dente finished on the backhand for a 1-0 lead at 6:06.

Red Devils defenseman evened the score at 11:09 of the first, stepping up from the blue line, snatching a clearing attempt and firing off a wrister on an unassisted goal.

The Rockets went to the room with a one-goal lead after Barbera tallied his first of the game, putting back a rebound off a shot from Devaney. Barbera followed with his second of the game just 14 seconds into the second period.

Again, the rangy winger's net-front presence paid dividends.

"We know that we have guys who can get it to the net," Barbera said. "We have skill guys who can have a presence on the wall, they can definitely move the puck well. I know when they're coming down the boards, we're just getting it to the net … Robby [Devaney] and Mike [Thomson] were able to get it to the net."

Barbera deposited the rebound from a Thomson slapper to provide the Rockets with a two-goal cushion.

However, Burlington again cut the deficit with Berardi's power-play blast.

"They're a bigger, a stronger, an older team, I think you could see that all night," Burlington head coach Bob Conceison said. "But I liked the way our kids battled. I was real happy with our third period and we had some power plays in the third period that they killed and they made some good plays."


December, 30, 2012
12/30/12
1:37
PM ET
By
Josh Perry
| ESPNBoston.com
BOSTON -- Two goals in the opening period turned out to be enough for BC High in its Top 5 showdown against Reading on Saturday afternoon at UMass-Boston. The No. 2 Eagles held on for a 2-0 victory (their third shutout of the season), but rode their luck against a spirited No. 5 Rockets squad that had two apparent goals disallowed.

Reading (4-1-1) had plenty of chances to get the goals it needed, but the Rockets went 0-7 on the power play including two, 2-man advantages that each lasted longer than a minute.

BC High head coach John Flaherty credited his team's penalty kill and senior goalie Peter Cronin for pulling out the win.

"The defense battled, but as they always say, your best penalty kill is your goalie," Flaherty said. "We killed some 5-on-3's down the end and we were running around and he made some very big saves there to keep it where it was."

Flaherty added about his star netminder, "He's focused, you know, he's seeing the puck very well right now. He's in the zone. It is little movements but they're important ones."

Reading head coach Mark Doherty also pointed to his team's struggles on the power play as a deciding factor in the team not getting the result against the Eagles.

"Truthfully, I don't think we've dedicated, obviously, enough time to it in practice, which is on me," he explained.

BC High (5-0) took the lead at 2:54 of the first period with a power play goal by Pat Kramer. The sophomore forward redirected a shot from the point by captain Tom Besinger. Sam Topham was also credited with an assist.

With just under eight minutes remaining in the period, the Eagles struck again.

Steve DeForge sent the puck around the boards behind the net to Tim Larocque, who fired a great pass through the crease to the back post where Connor Noonan was on-hand to tap into the open net.

Reading had a great chance to get on the board within five minutes of the start of the second period, but a brilliant 3-on-2 move ended with a shot off the post. Mark Dente and Mike Thomson combined to create an open net opportunity, but Robert Devaney could not apply the finish.

Reading showed the ability to skate with the Eagles and created a number of scoring chances through the team's speed but Cronin was always there to stymie the Rockets.

After the game, Cronin spoke about his team's focus on getting off to a good start in a tough game.

"The past couple of games, we've had pretty bad first periods, so we wanted to come out here and set the tone early on," Cronin said. "We were treading water for a little bit there, but we pulled it out and that's what good teams do."

TAKE-AWAYS
Despite the score line, Doherty was impressed by his team's effort in its third game in four nights and the way that the Rockets competed against one of the top teams in the state.

"I'm proud of my kids' effort for the second and third period," he said. "I thought we fought hard for two periods against a very good hockey team."

The third period was stop-start because a number of penalties on both sides. The best chance down the stretch fell to the Eagles Michael Brooks on a breakaway after Reading defenseman Mike Seibold broke his stick. Brooks flew into the zone but his shot sailed wide of goalie Evan Morelli (18 saves).

Flaherty admitted after the game that his team had to bear down and grind out a result to stay unbeaten ahead of Wednesday's showdown with No. 1 Malden Catholic.

He said, "Reading's historically a very good team and I would say that this as good a team as they've had. They compete and they're fighting for one last shot to make it to the Garden."
March, 2, 2012
3/02/12
1:51
AM ET


READING, Mass. -- Calling 12th-seeded Acton-Boxborough's 3-1 win over No. 5 Reading in their first-round Division 1 North playoff game an upset would be a misnomer.

While the host Rockets — a team that generated some Super 8 consideration — earned their higher seed as the champions of the Middlesex League large division, the Colonials (11-8-2) battled their way into the postseason down the stretch. After suffering a slow start, A-B needed just about every point during a 6-1-1 stretch to close the regular season.

The Colonials continued their theme of coming on late with senior captain Tyler McKelvie breaking a 1-1 tie and providing the game-winning goal at 3:13 of the third period Thursday night at Burbank Ice Arena.

"They know they wouldn't be playing now if they didn't play good hockey," A-B head coach Bob Lavin said.

The teams played to a scoreless first period, before A-B junior forward Joey Peduto had the Colonials to a 1-0 lead. Providing some net-front presence, Peduto directed in a point shot from senior captain Peter Sikalis on the power play at 1:33 of the second.

Reading (12-6-6) answered before the period was out with defenseman Mark Dente pinching high in the neutral zone. Dente forced a turnover through mid-ice, collected the puck along the right wing boards and let off a wrist shot from inside the right-hand circle.

That's the only shot which beat Colonials sophomore goaltender Erik Wurman, who turned aside nine Rockets' shots in the final period for the win.

McKelvie netted his 11th of the season for the game-winner. As the Colonials were often successful to do against the Rockets, A-B forwards Travis Scott-Hamilton and Luke O'Brien were able to generate a scoring chance off sustained pressure down low. Scott-Hamilton pushed the puck back into the slot, allowing McKelvie to pot the go-ahead.

A-B senior forward Michael Berkley capped scoring with the empty-netter in the final minute of play.

The Colonials will face the winner of Saturday's first-round matchup between Woburn and St. Peter-Marian in a quarterfinal game on Monday at Woburn's O'Brien Rink.

MARATHON MAN
Pay attention to A-B's blue line and there will hardly ever be a time No. 16 isn't on the ice.

Sikalis pulls loads of ice time for the Colonials, in all situations.

It's easy to see why.

"He's steady for us defensively, but he also moves the puck very well," Lavin said, "so he lets our forwards out of the zone and creates opportunities."

The four-year varsity player has a hard and heavy shot, with good accuracy and speed — as evidenced on Peduto's goal. He has good size with about a 6-foot-2 frame and, like many of the best, he seems to make his movements look easy, with long strides.

The economy of motion allows Sikalis to remain a fixture on the ice, particularly in crunch time.

Sikalis, along with top pairing partner, senior Kurt Tugal, were on-ice for nearly all of the final three minutes of the game.

"It's really fun actually," he said of his high minute total. "It can be pretty tiring in the third period, but it's about sucking it up and gutting it out."

HOME ICE ADVANTAGE?
It must have been hard for Burbank general manager Ed Peduto to contain his excitement before the home crowd during the second period.

Peduto served as the P.A. announcer for Thursday night's game. And, as the rink's allegiance is to the hometown Rockets, Peduto's voice didn't waver when announcing his nephew, Joey, as a goal-scorer. It was Joey's third goal of the season.

There was another way in which Peduto showed his solidarity with A-B, however. There was a royal blue No. 24 painted below the ice next to one of the Colonials' bench doors.

A number that just so happens to belong to a certain family member.
February, 17, 2012
2/17/12
4:31
AM ET
By
Bruce Lerch
| ESPNBoston.com
READING, Mass. -- Whether they needed it or not, the Reading boys' hockey team made a rather loud statement Thursday night.

The 13th-ranked Rockets got two goals from Derek Galante, 21 saves from Evan Morelli and went a perfect 5-for-5 killing penalties to claim a 4-2 victory over No. 7 BC High at Burbank Arena.

Reading's top line of Galante, Andrew Narahara and Pat Manzi produced a terrific effort with Naraha and Manzi each collecting a pair of assists and the trio leading all four Rockets lines in an aggressive forechecking style that disrupted any offensive flow the Eagles tried to maintain, especially in the first and third periods.

"Derek just drives to the net," Reading head coach Mark Doherty said. "He's a junior and his productivity will get better and better but he's got some of the best hands on our team. If he's around the net, chances are he can capitalize as well. Narahara's just a dog. He works hard, always kills himself and is just a stable, hard-nosed kid. Manzi played with a lot of energy. He can be a little high and low but he had a lot of energy tonight. He's so important for us if he and Derek are playing north-south, its a huge asset for us."

Galante notched his first as the rebound of a Manzi shot landed right on his stick for an easy laser into an open net just 4:10 into the game. Narahara also set up the second Rockets tally, springing Mike Thomson loose at center ice seconds after Reading (12-3-5) killed off its third straight penalty. Thomson beat one defenseman and walked in for a wrist shot that gave his team a 2-0 lead.

BC High (9-5-3) came storming back in the second, matching their opponents intensity and being rewarded with goals from P.J. Johnson and Tom Besinger.

Rather than wilt under pressure, the young Rockets responded as Narahara fed Galante from behind the net for a perfect one-timer in the slot to regain the lead with 1:20 left in the second. Mike Thomson added the clincher with 5:50 to go in the game, taking a long pass off the side wall from Connor Frazier and zipping a wrist shot inside the far post.

"We usually work together really hard and when we dump it down low, we get two guys on them and always keep a third guy high and just crash the net," Galante said of his line. "That's how we get goals, we get rebounds. Both the other kids like shoot the puck and I just go to the net and get the rebounds."

PENALTY KILLING EXCELLENCE
The Rockets were nothing short of spectacular when it came to the task of killing penalties. Five penalties in all, two of which were strung together for a two-man down situation in the first period, all went by the boards as Reading limited to the Eagles to five total shots on net with the extra man.

All told, eight penalty killers did the dirty work for the Rockets. The quartet of Mark Dente, Robert Devaney, Matt Hagan and Andrew Lawrence handled the entire 5-on-3, while the work of Ryan Thomson, Peter Nugent, Narahara and Connor Frazier not only killed off the third but also led directly to Thomson's first-period goal.

"(The penalty kill) was successful tonight. We've been working on it a lot," Doherty said. "We've got a real good goalie as well. When he's on he's tough to beat. They all have pretty good hockey instincts and they're all gritty."

SUPER 8 IMPLICATIONS
Thursday night was something of a no-lose situation for Reading. The tilt with the Eagles was listed as an exclusion game, meaning a loss wouldn't count against their record when it comes time for postseason play.

The fact that the Rockets got the win is an even bigger positive, because while it won't count toward their record, it will be in the minds of the Super 8 selection committee and will undoubtedly become a point of discussion in the Rockets favor should the need arise.

One other point Reading already had in its pocket - a Middlesex League large division championship. That is supposed to mean something, given the historic success the league's members have had in postseason play, including Reading's Super 8 championship in 2007-08.

When asked if his team merited inclusion in the prestigious tournament, Doherty felt the Rockets resume should be enough to get them in while noting that there are still plenty of games remaining that could impact a number of teams, his included.

"I hope it is (enough). I think we came back after a tough game with Arlington and we played very well. Yeah, I think it should give us some credence," he said.

"If anyone was at the Hingham game, in my eyes, it was an equal game and we missed two or three breakaways," he continued, referring to a 2-1 loss to the Harbormen on Jan. 16. "I just tell my guys to keep playing. I don't really like getting into these discussions this early. I'd rather wait because there's still games left to be played. But, we'll see what they want to do in another week."