Boston High School:

Mark McGuire
February, 7, 2013
2/07/13
1:24
AM ET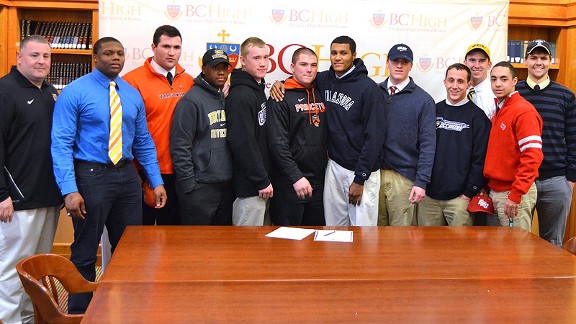 Scott Barboza/ESPNBoston.comEleven college-bound seniors from BC High football's team gathered for a ceremony Wednesday at the school on National Letter of Intent Signing Day.
BOSTON -- Luke Catarius' senior season didn't go as planned. Coming off a Division 1 Eastern Mass. Super Bowl championship season with his BC High teammates as a junior, the Eagles linebacker and fullback held high expectations for 2012.
Yet, his final campaign got off a rough start when he suffered an ankle fracture during a preseason scrimmage against Mansfield. It forced Catarius to miss the Eagles' first seven games of the season.
"It was tough because every year since freshman year everyone's like senior year is when everyone's going to come together," Catarius said Wednesday at the school's Morrissey Blvd. campus, "and obviously we had big shoes to fill from [the 2011] team. We wanted to repeat. I got hurt, a couple other guys got banged up, too, and it all went down hill from there."
BC High had a revolving door of injuries through the first half of the season and they struggled to gain momentum, finishing with a 4-6 record.
But Wednesday was National Letter of Intent signing day and Catarius joined 10 of his football teammates who are going on to play football at the college level for a ceremony held for the families and friends of the Eagles athletes.
While 2012 might have been a season of unrealized potential, the Eagles seniors will leave nothing behind.
"Going to BC High, you understand that an education is what gets you far in life," said wide receiver Lincoln Collins, who signed to FCS power Villanova. "In looking for colleges, we did the same thing. We're all setting ourselves up for life outside of football."
Looking on during the gathering was Eagles head coach Joe Gaff, a longtime Eagles assistant coach who assumed the program's reigns for the first time in the fall. Gaff held Catarius up as an example to younger athletes. It would've been easy for the injured player to pack it for the rest of the season. Instead, Catarius stuck to his strict rehabilitation regiment and made his return to the field while putting in some extra work in the library to work his way into Princeton.
"He took his frustration and turned it into action," Gaff said of Catarius, who originally committed to Bryant University before switching to Princeton in January. "He knew what he had to do to get into the Ivys. He needed a certain test score, so he went in and studied every day and he got himself mentally prepared.
"He did a tremendous job. It shows what kind of competitor he is."
On a day that marks a milestone for many families across the nation, Gaff's class headed the notion that Wednesday was but a transitional day.
Eagles offensive tackle Jack McDonald signed his Letter to Virginia before a large group of family members – most of whom were donning the Cavaliers' navy blue and orange colors.
"Football's going to end sometime, whether that's two years, four years from now, or even if you're lucky enough to make it to the NFL," the Eagles captain said. "It's going to happen sometime. You need that education for when it does end. I think that's what all of us have found."
Those BC High seniors pursuing collegiate football careers are:
Jackson Bockhorst - Tufts
Luke Catarius – Princeton
Lincoln Collins – Villanova
Skyler Evans – Mass Maritime Academy
Jaleel Johnson – Merrimack
Tim Johnson – Sacred Heart
Jack McDonald - Virginia
Mark McGuire – Holy Cross
Pat O'Hearne – John Carroll
Brandon Owens – Byrant
Mike Roberts - Colby
January, 30, 2013
1/30/13
1:55
PM ET
By
Brendan Hall
| ESPNBoston.com
Boston College High two-way lineman Mark McGuire has verbally committed to Holy Cross, his head coach Joe Gaff told ESPNBoston.com this afternoon.

The 6-foot-3, 205-pound McGuire started nine games at both tight end and defensive line for the Eagles, who finished 3-8 in an injury-riddled 2012 campaign. He also captained this year's squad, and started both ways in the Eagles' 2011 campaign that ended in a Division 1 Eastern Mass. Super Bowl championship.

McGuire had offers as a preferred walk-on at several other Patriot League schools, but Gaff said Holy Cross was McGuire's first choice academically. McGuire will head into training camp competing for time at defensive end.

"He's hoping to get some time on the field," Gaff said. "We're just so excited, because he's worked so hard in the classroom to get himself in this position academically at Holy Cross and play football. We're excited for him and his family."
September, 27, 2012
9/27/12
12:42
AM ET
Another big inter-state matchup is on tap this weekend, as No. 22 Boston College High heads to the Garden State to take on Jersey City, N.J. powerhouse St. Peter's Prep, at Rutgers Stadium, as part of the 2012 Great American Rivalry Series.
St. Peter's won last year's contest in Dorchester, at Viola Stadium, 35-19. For a refresher of that game,
CLICK HERE
.
To break down the two matchups, we've collaborated with MSG Varsity senior editor Brian Fitzsimmons to get New Jersey's perspective on this matchup. ESPN Boston High Schools editor Brendan Hall provides the skinny on what to look for from BC High.
WHEN BC HIGH HAS THE BALL
Brendan Hall, ESPN Boston High Schools Editor:
Under Jon Bartlett the previous four seasons, the Eagles experienced one of their greatest periods of success, winning Division 1 Eastern Mass. Super Bowls in 2008 and 2011. But a lot has changed since last season, when the Eagles showed some late mettle in an otherwise forgettable 35-19 loss to St. Peter's and used it to kick-start a run to the D1 Super Bowl title.
For starters, Bartlett stepped down as coach last April, but remains on as the school's Athletic Director. Defensive coordinator Joe Gaff was swiftly promoted to head coach status. At quarterback they graduated Bartley Regan (Stonehill), and at running back they graduated one of their best ever in Preston Cooper (cousin of veteran Chargers linebacker Stephen Cooper), who is currently enrolled at Dean Junior College down the road in Franklin, Mass.
And with it, the Eagles have apparently lost some firepower. Most of us were pretty high on BC High heading into the season, starting at No. 2 in ESPN Boston's statewide MIAA Top 25 poll, largely on the hype of its Division 1 talent in offensive lineman Jack McDonald (Virginia), wideout Lincoln Collins (Villanova), and linebackers Brandon Owens (Bryant) and Luke Catarius. The craziest story might be senior quarterback Brendan Craven, who received an offer from Valparaiso University before he even took a snap of varsity football.
But things went south quickly for the Eagles, who were shut out on opening night by Brockton (21-0), then outgained in yardage 445-96 in a 27-7 loss to North Attleborough the following week, to tumble 20 spots in our poll. In the first two games the usually sure-handed Collins, a big target at 6-foot-4, was also held without a catch.
Worst of all, the injury bug hit hard, with seven starters missing in that North Attleborough loss. Craven took a nasty shot to the knee at the end of the Brockton loss, though he's expected back soon, and Catarius -- a returning ESPN Boston All-Stater -- suffered a hairline fracture on his ankle in the preseason and isn't expected back until mid-October.
The Eagles appeared to break out of their funk last Friday, however, with a nice 31-0 win over upstart Dartmouth. McDonald moved from guard to right tackle, a new Collins (Andrew) did enough at quarterback to get the job done, and Lincoln Collins broke through with a monster night -- five catches for 181 yards, including one electrifying play in which he turned a five-yard out into an 85-yard touchdown scamper. Once again, however, the injury bug hit, taking Owens, who is also the feature running back.
Lincoln Collins had a nice day last year against St. Peter's, for those who recall (6 catches, 84 yards). If BC High is to have a chance in this -- and by the sounds of it, it's a puncher's chance -- then they're going to have to find a way to get Collins open. That will likely incorporate a good share of screens, and if there is one positive so far, it's that they have executed those well for big gains in spurts.
Brian Fitzsimmons, MSG Varsity Senior Editor:
BC High's offense will need to be in its finest form if the squad plans on trading punches with its latest opponent – and it starts with Villanova-bound wide receiver Lincoln Collins.
If Collins can explode for at least one or two home runs and catch the Marauders off guard, perhaps the score will be even closer than last season's matchup.
St. Peter's defense isn't one to doubt, though. Senior linebacker Shane Huber leads the team with seven solo tackles and two sacks, while Tre Bell and Brian Githens are quick, agile corners.
BC High is no stranger to the intense pressure of facing talented teams from New Jersey; the Eagles had DePaul Catholic (Wayne, N.J.) on the ropes in a 49-35 loss in Week 2 before falling to St. Peter's in Week 4.
This past weekend, BC High coach Joe Gaff reflected on what last year's 35-19 setback to St. Peter's meant to their Super Bowl season.
"We went down there and we competed against two really good teams with great speed," Gaff told ESPNBoston.com. "When we came back, we solved things. As a defense, I know it really clicked for us because we saw faster players. So that's what we're hoping for."
An upset victory wouldn't be so bad, either.
WHEN ST. PETER'S PREP HAS THE BALL
Hall
: St. Peter's quarterback and current West Virginia athlete Brandon Napoleon had a field day against BC High in last year's meeting, racking up 145 yards from scrimmage and making some electric returns in the kicking game. By the sounds of it, if this St. Peter's squad is anything like the St. Joseph Regional squad that pasted Xaverian 62-0 in Week 2, then the Eagles are going to have their hands full once again.
And worst of all, they are missing their quarterback of the defense, Catarius. At middle linebacker he is among the state's elite in run support, and makes the calls that orchestrate Gaff's defense. Without him, there have been communication errors and some holes that were exposed often in the first two weeks of the season.
After pitching a shutout last Friday, the Eagles appear to have solved a few of those issues. But with Owens' status unknown, there will be some added pressure on the front four, led by McDonald, Billy Breen, Mark McGuire and Jaleel Johnson. By Massachusetts' standards, they certainly have the size and strength to hold their own, dominating up front on Friday, never letting the Dartmouth running game stretch the field and get out of first gear. How that translates against elite New Jersey parochial talent remains to be seen.
In the secondary, the player to watch is senior Tim Johnson, another one of seemingly a handful of FCS prospects. He first gained recognition for his back-breaking interception in the D1 Super Bowl last December, and has since followed up with some nice performances early on this season. But like every other area, he will be tested thoroughly.
Fitzsimmons
: BC High covets a grueling test filled with speed, and there's no doubt the Eagles will get their wish when taking on St. Peter's Prep (N.J.) on Saturday.
The Marauders, ranked fifth among all New Jersey/New York/Connecticut teams in the latest MSG Varsity Tri-State Top 25 poll, are off to a rousing start thanks to their formidable offensive unit.
They won by forfeit over Kearny this past weekend, so coach Rich Hansen and his team will look to recapture the explosiveness displayed in the opening weeks of the season. St. Peter's opened the campaign with a 31-6 victory over McDonogh (Md.) in Annapolis and then cruised past Memorial by a whopping, 77-7 margin.
Jonathan Hilliman, Trejon Dinkins and Minkah Fitzpatrick anchor the ground game, combining for nearly 600 yards in two contests. Hilliman, a junior who has attracted offers from nearly every big-time Division I program, is the group's workhorse with 293 yards and four touchdowns.
Quarterback Mike Rabasca is a solid game manager, and he gained valuable experience last season, when starter Brandon Napoleon – now at West Virginia – went down with injury for several weeks. Don't be surprised to see heralded freshman Brandon Wimbush under center more often as the weeks go by.
As potent as the running backs are, the Marauders' biggest threat is wide receiver Charlie Callinan. The 6-foot-4, 200-pounder is long, athletic and possesses great hands – all sparkling attributes that make the Boston College-bound senior a true game-changer.
Under the guidance of Hansen, the Marauders have established themselves as the measuring stick for all Hudson County programs. They haven't lost to a Hudson County opponent since 1999, but joining fellow North Jersey parochial powerhouses Don Bosco Prep, Bergen Catholic and St. Joseph Regional remains the ultimate goal year in and year out.
St. Peter's Prep hasn't won a Non-Public Group 4 state championship since 2005, thanks to the remarkable run authored by Don Bosco, which has clinched six straight state titles and two of the last three national crowns.
So naturally, this weekend isn't so much about defeating an out-of-state foe; this is about excelling during another tune-up for a championship run against the Goliaths of the Garden State.
September, 2, 2012
9/02/12
10:41
PM ET
By
Bruce Lerch
| ESPNBoston.com
With a new head coach patrolling the sidelines, some preseason injury concerns and a cast of new faces stepping into crucial roles on the field, an element of change has certainly been in the air around the BC High football program.

Joe Gaff, a 26-year veteran of the Everett police department, was tabbed to replace Jon Bartlett this summer. Gaff served as the Eagles defensive coordinator the last four years and has previous head coaching experience with Chelsea, Matignon, and Malden Catholic.

The Eagles quest to defend the Division 1 Super Bowl title has gotten off to something of an auspicious beginning, most notably because of the loss of All-State linebacker Luke Catarius. Catarius suffered a slight fracture to his right ankle earlier this week in a scrimmage with Mansfield, and will miss five to six weeks according to Gaff.

Standouts Jack McDonald, Billy Breen and Jaleel Johnson all sat out Friday's scrimmage against Lawrence with what Gaff called "nagging injuries", but all three are expected to be ready to go for Friday's season opener in Brockton.

On the field, the Eagles strength looks like it will be on defense, even with Catarius sidelined. Mark McGuire and Johnson are the anchors at defensive tackle while Tim Johnson and Mike McAuley (who had two interceptions in the Lawrence scrimmage) are standout cornerbacks.

At the linebacker spots, replacing Catarius will be difficult but the Eagles will lean on returnees Danny Collins and Brandon Owens. Brian Robinson has had a terrific preseason, Brian Landry is back after taking two years off from football, and Steve Dicienzo will also contribute.

When asked who would be looked to step up to fill the void left by Catarius, Gaff pointed at the group and talked about some changes the defense will have to make.

"I don't think I can pinpoint one guy. It's more of a unit," Gaff explained. "We've been playing a lot of base defense and letting Luke just read and go so we're going to have move our defense a lot more. We're going to have to be a bit more aggressive and make things happen instead of letting Luke clean things up. We have to set the tempo now and move our guys around a lot more than we have in the past."

The kicking game will also be stellar. BC High boasts one of the state's elite kickers in Jackson Bockhorst, who can hit from 50 yards out, and a strong punter in Pat Ahearn.

Offensively, the Eagles are extremely talented but very inexperienced. Virginia commit McDonald (6-5, 270 lbs.) and Breen (6-4, 240 lbs) will anchor the line from the tackle spots, although the versatile McDonald can play all five positions if needed. BC High adds three new starters to the unit, but the expectation is that they will be able to continue a fine tradition of line play at the school.

"We'll be a pretty quick offensive line this year," said Gaff. "We don't have the huge size all the way across but we'll be very athletic up front. We're looking to keep the tradition of solid offensive line play, keep the running game going, and they know that's what we want."

Senior Brendan Craven steps in at quarterback after spending the last couple of years watching former starter Bartley Regan, although Gaff hinted that Danny Collins may be used in spots as a change of pace, running QB in certain situations. Craven's main target should be 6-foot-4 Lincoln Collins, who committed to Villanova over the summer. Tim Johnson and Mike McAuley step into the lineup alongside him.

Brandon Owens will be the main tailback, joined by Skyler Evans. Catarius also served a crucial role as the team's fullback, so look for DiCienzo and Mitch LaFerriere to pick up the slack.

"I think we need some experience in the passing game," Gaff admitted. "We have talent but its been a lack of playing time for those guys. (Craven) is a first year quarterback and we have inexperience at WR. Even with Lincoln as great as he is, our two and three guys haven't got too much experience as receivers. And we have a new running back too, and losing Luke from that means we will have to do some different things."

BC HIGH AT A GLANCE
2011: 10-3, Division 1 Super Bowl champion
Coach: Joe Gaff (1st season)
Key Returnees: Billy Breen, Sr., OT/DL, 6-4, 240 lbs; Jack McDonald, Sr., OT/DT, 6-5, 275 lbs; Jaleel Johnson, Sr., DT, 6-2, 240 lbs, Mark McGuire, Sr. DL, 6-2, 200 lbs.; Tim Johnson, Sr. DB/WR, 5-10, 175 lbs.; Danny Collins, Sr. MLB/QB, 6-2, 185 lbs.; Lincoln Collins, Sr., WR, 6-4, 180 lbs; Brandon Owens, Sr. LB/RB, 6-0, 200 lbs.; Mike McAuley, Sr. DB/WR, 5-11, 170 lbs.; Brendan Craven, Sr. QB, 6-3, 180 lbs.; Skyler Evans, Sr. RB, 5-9, 180 lbs.
Strengths: Defense, kicking game, senior leadership.
Weaknesses: Inexperience on offense, key injuries.
Outlook: The defending Super Bowl champions have a different look and feel from the team that won the title, not just because those seniors are gone but also because those seniors were able to get playing time as juniors and sophomores, something much of this year's senior class hasn't had. "I think this is a different group," Gaff said. "That senior class last year was so good that we have a lot of guys that are seniors now and are stepping on the field for the first time. Last year we had a lot of guys that had played as juniors and I think that's the big difference. This years group is good, just not game experienced." Gaff and his charges will be put to the test early as the Eagles open with games against Brockton, North Attleboro, Dartmouth, St. Peters Prep (N.J.), Marlboro and Everett before finishing with its Catholic Conference slate. A strong defense should give the inexperienced offense time to get its feet wet and allow its talent to shine through. Bockhurst is a weapon that few other teams with his ability to boom field goals from as deep as 50 yards, something that may come into play early and often.
August, 28, 2012
8/28/12
11:23
PM ET
By
Brendan Hall
| ESPNBoston.com
DORCHESTER, Mass. -– Thoughts and observations from tonight's scrimmage between No. 2 BC High and No. 19 Mansfield, in which Mansfield's varsity score three times to just one from the Eagles:
Matinee screening:
Mansfield struggled on its opening drive, thanks to pressure applied in interior defensive line from an assorted combination of Jack McDonald, Jaleel Johnson, Mark McGuire and Billy Breen. That prompted the Hornets to go to their screen game in their next three varsity offensive series, yielding favorable results.
[+] Enlarge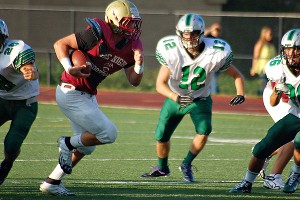 Brendan Hall/ESPNBoston.comBrandon Owens is expected to take over at tailback at BC High, and he showed some positive signs in Tuesday's scrimmage with Mansfield.
When the scrimmage went to "situational" play in the third and fourth varsity series (i.e., chain markers were brought in), seniors Roger Rapoza and Kevin Makie had big gains out of the backfield off screen passes to the flats from Kyle Wisniewski.
Makie was particularly efficient. In the third series, he took a screen in the left flat, shot up a seam and went untouched 32 yards down the sideline for a score. Makie also had a nice 45-yard reception in stride off a play-action pass, running a wheel through zone coverage up the right sideline to set up a touchdown plunge from three yards out.
"They came at us hard, and we had a little trouble protecting," Mansfield head coach Mike Redding said. "They did a good job pounding us. But what I like is how we got some spunk and got things going when the chains got up and we got to some down and distance. We at least walked out of here with some confidence."
BC High head coach Joe Gaff's explanation for how the defense got exploited on those screens was simple – poor execution.
"No idea, that's all we talk about around here is screens," he said. "We just didn't do a good job on screens. It was just clear as that. We didn't read where they were coming from, our D-linemen went upfield too much, and we just didn't hug the backs like we're supposed to."
Key injuries:
Another Preseason ESPN Boston All-Stater took to the trainer's table this evening, when BC High senior middle linebacker Luke Catarius left the field in the first defensive series with an injury to his right ankle, and did not return. Catarius, a Sandwich resident, made ESPN Boston's All-State Team a year ago and is a likely candidate for both our Mr. Football and Defensive Player of the Year awards.
It's worth wondering if Catarius' absence helped contribute to the Eagles' breakdown in pass defense, as the 6-foot, 215-pounder is the face (and quarterback) of the defense.
An early prognosis was not available.
"I think it's just a little sprain, that's all I'm hoping for," Gaff said. "He's a beast."
Owens poised for breakout?
Last weekend, we wrote about Xaverian junior defensive end Elijah Jolly
as a potential breakout player in the Catholic Conference this fall
. BC High's Brandon Owens is my pick for the conference's breakout player, and I would have said that two weeks ago. But the way he ran tonight made me feel safe about my conviction.
Though Owens only platooned part-time at linebacker last season, he still garnered enough attention from Division 1 FCS schools to make a verbal commitment to Bryant University last month, as a safety. This season, the 6-foot, 190-pounder figures to be the feature back in Gaff's pro-style offense, and looks capable of taking 20 to 25 carries a game.
On BC High's first offensive play of the night, Owens followed Catarius up the gut into the second level, bursting off for a 35-yard gain. Several times he took toss sweeps out of one and two-back formations, and turned the corner for gains of 8 to 12 yards. He can also bring some pop – on his final carry of the night, a dive, he lowered his shoulders and easily trucked a 250-pound Mansfield lineman and fell forward.
Owens also had the Eagles' lone varsity score, a short plunge in the second series.
There is little twist in Owens' arsenal. He is a one-cut, north-south runner with good first-step explosion that allows him to burst through the line of scrimmage at full speed. As an outside linebacker, he demonstrated good hands, shedding would-be blockers in run support.
"He runs hard," Gaff said. "He'll lose a few more pounds and get in better game shape. It's hard to knock him down for a loss, he goes forward. I thought he did a real nice job tonight."
Craven proving sufficient:
Brendan Craven enters his senior year at BC High having never started a varsity game at quarterback, yet he holds various Division 1 interest and even a scholarship offer, from FCS school Valparaiso University. How did this happen?
For starters, Craven was a fixture at camps, keeping his name afloat on the recruiting radar as he waited patiently the last two seasons behind current Stonehill College freshman Bartley Regan. The 6-foot-2 Craven has proven himself as a good rhythm passer over the summer, to go with sharp footwork and scrambling ability.
Physically, he's done all he can. The mental part will have to wait until the Eagles strap it up for real at Brockton on September 7, so for now we're left with glimpses of what could become.
And there were some good glimpses. Craven and Villanova-bound wideout Lincoln Collins, a preseason ESPN Boston All-State selection, looked like they were on the same page for most of the night. In the second series, Craven hit the 6-foot-4 Collins on a bubble screen for 15 yards, then three plays later connected for a 30-yard strike after faking a counter handoff up the middle.
There's still work to be done. Craven threw a pick-six in the third series saw repeated pressure from Hornets senior linemen Ollie Erickson, Jon Lawlor, Jamie Comer and Antonio Medeiros as the game wore on. But as he was repeatedly flushed out of the pocket by pressure in those third and fourth series, he demonstrated his pocket presence, to buy himself an extra second in the pocket with his footwork or breaking off for a run.
"He's done everything except game time, which is why situations like this are good," Gaff said. "It's good to have situations like this, with getting pressure, getting pressure. We'll clean this offensive line up, there's no question about it. That's our priority tomorrow, cleaning it up."
May, 17, 2012
5/17/12
12:12
AM ET
By
Brendan Hall
| ESPNBoston.com
We caught up tonight with new BC High head football coach Joe Gaff, who was officially elevated from Defensive Coordinator and named successor to Jon Bartlett this afternoon. Over our half-hour conversation, Gaff discussed his new responsibilities, as well as the gameplan going forward and the talent coming up through the program's ranks.

Gaff, a member of the Everett Police Department by day, has served the last four years as Bartlett's defensive coordinator. The two teamed up for Division 1 Super Bowl titles in 2008 and 2011. Prior to that, he had a two-year stint as the head coach at Catholic Conference rival Malden Catholic.

His reaction to being named the new head coach: "I am just humbled. There are so many great people over there, so many great guys already there on the staff that have really pulled a lot of hard work. And to take over one of the elite programs in the state not just on the field, but off the field -- these are such quality kids outside of football -- it's a remarkable feeling."

On the element of continuity with this hire: "It's huge, and I think that's what they saw throughout this whole process. Jon has done such a wonderful job putting together such a great staff together, and we've had hardly any turnover in my four years here. I want to keep that going. It's not just about wins and losses, it's about getting kids into the right schools and playing the right way, that's really what BC High is all about. The whole message we try to preach over there is it's more than just wins and losses at BC High. It's about life."

What working under Bartlett has meant to him, and how those roles will change going forward: "I just think that it's just a friendship that we've bonded these last four short years. We're best friends, and we talk all of the time. Even in the offseason, we spend time together in the offseason. The friendship we've developed is amazing. It's a nice thing that he'll still be in the corner office. It's nice to know I have a friend there, and that the door's always going to be open."

Lessons learned from his last head coaching stint in the Catholic Conference, at Malden Catholic: "I think it's just that kids, no matter where you are, are great kids, and while some situations are different, all kids everywhere I've been at just want you to give them the best chance to win. I think that's going to be the philosophy at BC High. I'll still be coaching varsity swimming at Malden Catholic. I've got great swimmers -- we're not the best program in the world, but we started off with 15 kids and now we've got 43. And it's worked out, I'm going to be able stay in that position over there as well, so I'm ecstatic about that. It's hard going between two schools, but we're all in this business to teach kids right and wrong, and try to give them the right direction in life. I don't care what sport, what school, that will always be my mission."

His coaching style, and the philosophy going forward: "When Jon and I talked four years ago, that's what the whole idea was, our coaching styles were the same, and that's why it's worked so well. His idea of a pro-style offense with multiple formations is what I like. You have to adapt to different players, and we have to go with what best suits us every year, and for that I like the system Jon has put in. You don't want to be one-dimensional. Some years you'll have a great stable of running backs, other years its the wide receivers and quarterback, and I think it helps us to be a multiple-formation team.

"Defensively, we're going to stay very physical and very aggressive. The other thing is you really have to make sure the kids are very disciplined on the field, and these kids do such a good job with being disciplined off the field. They know why they're there -- academics, spiritual life and sports. We did mostly a four-man front, and I think we're going to stay with that. With the manpower we have, we're going to play with some things in the secondary and with the linebackers. We've got a great linebacker in Luke Catarius coming back, he is a heck of a player. We'll be mostly a four-man front though, but with the way teams can be pass-happy now, we'll have a little bit of three-man front. But we'll stay mostly in a four-man front, and adapt to what we need to."

On the coordinators situation: "I'll stay at defensive coordinator. Offense, I'm just getting the job today, we've got some quality guys on the staff, but it's something that I really haven't had a chance to talk about yet. We just have some great guys and friendships on the staff, and that's leads over to the kids' comfort zone. Offensive coordinator is going to be a big thing. Jon was head coach and offensive coordinator, and they averaged quite a few points in his career. It's going to be tough to match that."

On replacing the Class of 2012 talent, and the talent coming up: "We've got a good core of players coming back between Lincoln Collins, [Jack McDonald], Lucas [Catarius], Billy Breen. [Brendan] Craven hopefully will fill in for Bartley Regan at quarterback. It's going to be tough to replace Preston Cooper and Deontae [Ramey-Doe] at running back. Deontae did a tremendous job for Preston after he went down. We're going to have to find a tailback, but I think we've got a few guys that can fill the spot nicely.

"McDonald, he's got a bunch of offers. We haven't gotten into that yet though, we're meeting next week to set up a lot of that stuff. We've got Mark McGuire [senior tight end/defensive end] coming back, he's going to be great. Tim Johnson [senior defensive back], he had a great interception in the Super Bowl [last December], he's back. We do have some good kids coming up. Brandon Owens is another one coming back, we'll use him at outside linebacker some with his speed, and he'll play a little tailback for us too."

The most important thing to take care of between now and August: "Getting everyone comfortable with everything, try to get everyone on the same page. The offensive and defensive terminology might change a little, but as long as we continue to put in hard work in the weight room we'll be OK."

How he will handle college recruiting inquiries: "That's something me and Jon haven't yet worked out. Unfortunately I'm out of the building because I'm a police officer, but it's something we're working on. Jon will help me out with that. They already have a system over there, but we'll try to continue that. We've sent a player to Harvard four years in a row -- that's not too bad. Jon will be a big part, guidance will be a big part, and I think we'll all work together to get these kids into college."
December, 3, 2011
12/03/11
10:36
PM ET
By
Marc Thaler
| ESPNBoston.com


FOXBOROUGH, Mass. – On the strength of Bartley Regan's right arm, BC High earned its berth in the Eastern Mass. Division 1 Super Bowl at Gillette Stadium.

But the passing game was option No. 2 in Saturday's final, thanks largely to an offensive line that fueled a first-rate running game against no-quit underdog Needham.

Deontae Ramey-Doe ran for 200 yards on 24 carries in BC High's 21-7 title-clinching win. But, just as quickly as Ramey-Doe hit the holes, he lauded the unheralded stars up front for ripping open those running lanes.

"They got real nasty," said the 6-foot 1-inch, 180-pound senior, whose three touchdown runs included a highlight-reel 91-yard breakaway to the end zone, snapping a 7-all tie in the second quarter.

Who were the guys who enabled Ramey-Doe to gash the Rockets?

Left to right, across the line: Left tackle Justin Roberts, left guard Mike Prendeville, center Jake Durkin, right guard Jack McDonald and right tackle Bill Breen. Ends Jameson McShea, a Temple recruit, and Mark McGuire added to BC High's toughness in the trenches.

Make no mistake. Running the football requires attitude. BC High (10-3) certainly had it.

The Eagles averaged a whopping 7.7 yards per carry. Ramey-Doe, Luke Catarius (10 carries for 87 yards), James Moynahan and Regan combined for 39 rushes.

BC High's quartet tallied 300 of the offense's 360 total yards.

"Our game plan coming in was to mix it up (with the run and pass)," said BC High head coach Jon Bartlett, whose team led at halftime, 14-7. "We felt in the second half, we could establish the run more, so that's what we went to."

Helping the head coach make that decision was the fact BC High lacked rhythm in the passing game.

So, Bartlett sent this message as the Eagles started the second half: Keep pounding the ball on the ground.

Those are words every offensive lineman loves to hear.

"It's the best feeling, just knowing that your running back can hit that hole and has open field in front of him," said McDonald, a towering 6-foot-4, 270-pound junior. "There's nothing better than that."

Case in point: Ramey-Doe's dagger 91-yard run.

Backed up at their 9-yard line after Andrew Murowchick's punt temporarily altered field position, the Eagles ran a shotgun draw. Ramey-Doe cut to McDonald's side of the line, where a gaping hole opened.

BC High's burner accelerated through it and raced down the right sideline. Ronnie Rosser nearly made a shoestring tackle 4 yards from the end zone. But Ramey-Doe fell forward across the goal line.

The offensive line continued to help kill clock in the third quarter. The Eagles orchestrated a 13-play drive over a span of six minutes, 40 seconds.

"We were all disappointed last year, not going to the playoffs," said Breen, a 6-foot-2, 215-pound junior. "I know our whole team spent a lot of time in the weight room."

It paid off.

Needham (9-4) routinely shifted along the defensive line. Yet, when the ball was snapped, the Eagles were routinely in position to provide a massive push.

"It's all attitude," Breen said. "You have to want it."
September, 9, 2011
9/09/11
11:43
PM ET
By
Adam Kurkjian
| ESPNBoston.com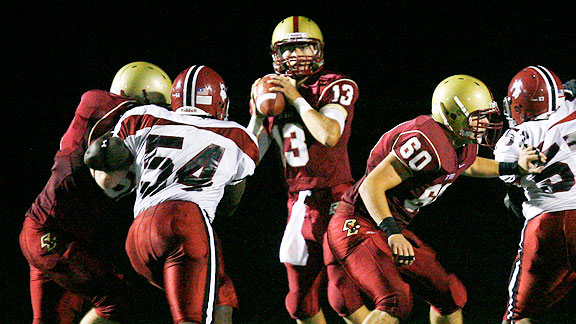 Jon Mahoney for ESPNBoston.comBC High quarterback Bartley Regan drops back to pass during the Eagles' 42-0 win over Brockton at Viola Stadium on Friday.
DORCHESTER, Mass. -- The last time BC High beat Brockton, it was at Gillette Stadium in the 2008 Division 1 Super Bowl.
After Friday night's 42-0 pummeling of the Boxers at Viola Stadium's James Cotter Field, the No. 3 Eagles have the look of a squad that can get back there.
The Eagles dominated every aspect. The offensive and defensive lines pushed the Boxers around and the skill positions were superior. BC High could not have scripted a better beginning to a 2011 season that had high expectations to begin with. Other than some dropped snaps and a bevy of penalties, there were very little blemishes.
"It was lovely," said BC High running back Preston Cooper, who finished with 98 yards and three touchdowns on 11 carries. "My sophomore year we got blown out actually (against Brockton, 27-3). I fumbled three times I think. So I mean it's all revenge actually right now. And the team, we came out, played well, so it feels good. It feels real good."
Quarterback Bartley Regan completed 5-of-10 passes for 140 yards and a 42-yard touchdown pass to Gordon McLeod to start the third quarter. McLeod caught two passes for 52 yards and a touchdown while junior Lincoln Collins made a pair of grabs for 70 yards, including a 50-yard bomb over the middle to set up Cooper's 41-yard dash in the second quarter to make it 21-0. Cooper added an 18-yard sweep around right end that made it 28-0 by the break and the rout was on.
The BC High defense forced three turnovers and allowed just 75 yards. The Brockton offense only crossed the 50-yard line once in the first three quarters, and that was as a result of a 45-yard kickoff return by Jesse Monteiro. Quarterback Paul Mroz was hassled into a 2-of-15 night for 10 yards and an interception.
It got ugly fast and stayed that way.
"We just really practiced the coverages and where they set up," said junior middle linebacker Luke Catarius, who had a whale of a game with 15 tackles, three for loss, 1.5 sacks and two quarterback hurries. "I just read my keys well and made the plays."
Everyone on BC High did and it showed.
Some more thoughts:
-- BC High is superb up front on both sides of the ball. The offensive line of senior Mike Prendeville (6-0, 210) and junior Bill Breen (6-3, 210) at guard, senior Jonathan Mantovani (6-0, 250) and junior Jack McDonald (6-4, 260) at tackle, senior center Jake Durkin (6-0, 200) and senior tight end Jameson McShea (6-4, 240-pound Temple verbal commit) physically manhandled a good Brockton defensive line. The defensive line of senior Adam Richard (6-3, 210) and junior Mark McGuire (6-2, 195) at end and McShea and junior Jaleel Johnson (6-1, 210) at tackle was equally impressive. Both units are quick and physical. There was nothing Brockton could do on the ground offensively and very little the Boxers could do in the way of slowing BC High's rushing attack. Too much muscle for the Eagles.
-- Catarius is an absolute animal. Those stats are unofficial and he may have had more tackles for loss and/or sacks. We'll have to look at the film to know for sure. But throw the numbers out of the window. This kid is worth the price of admission. He's listed at 6-1, 220. Not sure what his forty time is. But as former Northwestern University defensive coordinator Ron Vanderlinden said of then-Wildcat linebacker Pat Fitzgerald, who is now the program's head coach, "He runs a 4.5 in his brain." Out of all the plays the relentless native of Sandwich made, the best may have been when he snuffed out a screen to Josh Brewster for a 7-yard loss in the first quarter. Catarius knows where the ball is going to be before it gets there then buries the player unfortunate enough to receive it. If you want to see the middle linebacker position played the way it's supposed to be played, buy a ticket to a BC High game and enjoy the $5 clinic.
-- People may have expected BC High's lines to be better, but not their skill positions. But the Eagles were better there, too. Regan was accurate and composed. Cooper and Deontae Ramey-Doe were the two best running backs on the field. McLeod and Collins, a 6-4, 180-pounder, were the two best receivers on the field. The BC High back seven on defense was also superior to Brockton's. Now keep in mind, these Brockton skill players are very, very good, too. It's just that BC High's loaded. This was more of a case of the Eagles being that good than the Boxers being that bad.
-- For Brockton, nothing went right, but this is a team that will still win a lot of games. Let's look back to 2008. BC High pummeled Brockton after Dracut took a win on opening night at Marciano Stadium. The Boxers started 1-3 that year after a similar beatdown at Xaverian. But the Boxers rallied to win the rest of their games up until that loss at Gillette. Brockton coach Peter Colombo had no panic on his face after the game, even cracking a smile. There is still faith in Boxer-land in this group's character. That, if nothing else, is what Colombo and the rest of his coaching staff has to bank on.
Brockton (0-1) 0 0 0 0 - 0
BC High (1-0) 7 21 7 7 - 42
First Quarter
BC - Preston Cooper 4 run (Jackson Bockhurst kick)
Second Quarter
BC - Zach West 25 fumble return (Bockhurst kick)
BC - Cooper 41 run (Bockhurst kick)
BC - Cooper 18 run (Bockhurst kick)
Third Quarter
BC - Gordon McLeod 42 pass from Bartley Regan (Bockhurst kick)
Fourth Quarter
BC - Skyler Evans 14 run (Bockhurst kick)