Boston High School:

Mark Nickerson
February, 16, 2014
2/16/14
11:07
PM ET
By
John Botelho
| ESPNBoston.com
WELLESLEY, Mass. -– Once Lauren Petit caught fire for the Medfield girls basketball team in the opening round of the IAABO Board 27/Comcast tournament at Babson College on Sunday, it was clear that Archbishop Williams didn't know how to douse the flames as she lead the Warriors to a dominant 66-46 win and a spot in Monday's final against No. 1 Braintree.

Medfield trailed 13-9 after one quarter but the senior point guard erupted for 16 of her game-high 28 points in the second, sending the Warriors into the locker room at halftime with a 29-16 lead.

"It was huge for us because we were struggling to score," said Medfield coach Mark Nickerson. "We weren't getting too much going offensively, and she came up and hit a few 3's early to keep us in the game really when it looked like they might run away quickly. It kind of sparked the team. We were able to settle down and run some things, and were able to find some gaps when they had to come out and cover her."

Coming out of the break, Medfield continued its surge and by the end of third they had extended their lead to an impressive 53-29 over the recently-hot Bishops.

During the third, Petit tossed one of her six assists to classmate Kristin Fechtelkotter slashing toward the hoop. The senior forward finished in easy fashion, joining Petit with over 1,000 career points.

"Those two girls have spent a good portion of a lot of our games on the bench in the second half, because we've been up on teams," said Nickerson. "Those two girls are really special talents, and I don't think they always get the credit they deserve because they're numbers aren't crazy, off the wall, but they're putting up those numbers in 17, 18 minutes a game a lot of times."

Added Petit: "I'm so excited that she got to 1,000. We've been teammates forever -– growing up, playing AAU and playing, I was just happy and proud for her to get it."

Fechtelkotter was the only other Warrior in double figures, finishing with 11 points. Payton Ouimette chipped in eight points and Kate Thomas added six in the win.

While Petit made sure the offense never cooled, the Warriors (20-1) were just as impressive on the defensive end. Only Leah Spencer (10 points) reached double figures. Victoria Dean added nine points, but Williams was never able to mount any significant momentum against Medfield's defense.

Braintree blocks Westford's best shot: In the early going of the other first round game, Westford came out firing and looked like they were going to give the No. 1 Wamps a run for their money. Braintree's significant height advantage became too much though as the Ghosts just couldn't get comfortable on the offensive end and fell 57-29.

By the end of the game the Wamps had blocked 12 shots, and won the rebounding battle 41-16. Their length inside also clogged up passing lanes all night, leading to an impressive 16 steals in the win.

"With our length, we can of collapse our defense into the middle and that makes us pretty tough at times," said Braintree coach Kristen McDonnell. "We say every game that if we win the rebounding battle, we win the game, and so far that's been true."

The staunch defense held the Ghosts at bay, and the Wamps offense used a balance attack to run away with this one. Three different Braintree players reached double figures, led by Molly Reagan's game-high 12 points.

The Herilhy sisters, Bridget and Brianna, both added 10 points apiece. Braintree got nine points from point guard Ashley Russell and both Keelah Dixon and Maura Russell chipped in with five points.

Russell also paced rebounding, grabbing a dozen boards while providing a high energy effort that included four assists, three steals and two blocks.

"She's our leading rebounder coming from the point guard position," said McDonnell. "Most of those come on the offensive end; she's just incredible. She's like the energizer bunny, you pull the string and she just goes and goes. Ashley sets the tone right away for us every single game. Not only does she have the work ethic, but she has a real knack for knowing where the ball is going to fall."

Westford used a 5-0 run midway through the second to pull within seven, but Braintree erupted for 11 unanswered points in the final three minutes of the quarter to take a 31-15.

They never slowed from there, and by the time the Ghosts scored again –- on a free throw midway through the third, Braintree had made it a 17-0 run. When Westford netted their first field goal of the second half -– with under two minutes to go, the Wamps had opened up a 42-20 lead.

Samantha Hyslip was the most effective weapon for Westford, tallying nine points and grabbing five rebounds for the Ghosts, who will take on Archbishop Williams in the consolation game of the tournament tomorrow afternoon.
February, 12, 2014
2/12/14
11:18
PM ET
By
Ryan Hannable
| ESPNBoston.com
LYNN, Mass. -– As a coach, there are good wins and then there are special wins.

Wednesday night was one of those special wins for No. 9 St. Mary's coach Jeff Newhall and the Spartans program as they topped undefeated and No. 2 ranked Medfield 64-56. It was Medfield's first loss in 24 games, a streak that started Feb. 19, 2013.

"It's a great opponent, they are a great team, a championship team," Newhall said. "They haven't lost a game in a year. I think tonight is more about the St. Mary's basketball program and what we've built here over the number of years our players have been here. To be able to have a team like Medfield want to travel and come here and play us non-league and then be able to beat them.

"I think we are a very good basketball team, we've only lost four times in the last two years. We're coming off a loss Friday night, and we played with a real sense of urgency tonight that we didn't have Friday."

It was that sense of urgency that carried the Spartans to a 13-4 run midway through the third quarter to open up what was a three-point game at the break. Medfield did close the gap at the end of the third, but St. Mary's built a 46-37 lead entering the fourth quarter.

"We said at the half we should have been ahead by more than three," Newhall said. "We thought we missed a lot of easy shots. We allowed them to get a lot of second chance points so at the half we said this is a matter of finishing our shots and not allowing second chance points. We basically said this quarter is a three-point game, they are either going to tie you or take the lead, or you guys are going to get it to ten and we got it to ten."

As expected, Medfield didn't go down without a fight. Trailing 56-43 with just under four minutes remaining, they went on a 11-2 run to cut the deficit to four, 58-54 with less than a minute remaining. But a clutch runner in the lane from senior Brianna Rudolph, with the shot clock winding down, gave the home team a six-point lead with 30 seconds left, sealing the win.

Rudolph led the Spartans with a game-high 26 points, followed by senior Sharell Sanders who had 16, while senior Jennie Mucciarone added nine.

"I know [Rudolph] had 26 points, but we were more concerned with [Mucciarone] coming in and they both are outstanding players. Their point guard is very good too," Medfield coach Mark Nickerson said.

Medfield was led by junior forward Payton Ouimette who also posted 26 points, while senior forward Kristin Fechtelkotter and senior guard Lauren Petit added 14 and 13 points respectively.

Even though the Warriors suffered their first loss in just about a year, it is a game they can learn from and potentially turn into a positive come tournament time.

"It's good experience for us because we need to compete with teams like this, but I was proud of the way we battled back in the fourth quarter and made a game of it," Nickerson said. "To their credit, very well coached and very well prepared."

St. Mary's will now look to wrap up the league crown with a win over Austin Prep later this week.

Playing short-handed: St. Mary's was forced to only play seven players and dress only eight because of an injury to sophomore forward Gianna Moschella, but the Spartans showed no signs of being a tired team, especially with three senior guards playing the entire game.

"We didn't go very deep tonight," Newhall said. "You have three senior guards (Sanders, Rudolph and Mucciarone) and they have a history of winning. You use your timeouts sparingly and in a game like this they want to be on the floor and we need them on the floor. Quite frankly there is no reason for me to take them out."
December, 27, 2013
12/27/13
1:05
PM ET
By
Josh Perry
| ESPNBoston.com
MEDFORD, Mass. -– On Friday morning, in the opening game of the Shooting Touch Shootout at Tufts University, defending Division 2 champion Medfield used its high-pressure defense to cruise 71-35 over Canberra Academy of Australia.
Right from the opening tip, Medfield's trapping, pressure defense caused the Flames problems and Canberra struggled to get into its offense. A layup by Ashleigh Evans gave the visitors a 4-3 lead, but the Warriors then went on a 20-2 run to close out the first quarter.
[+] Enlarge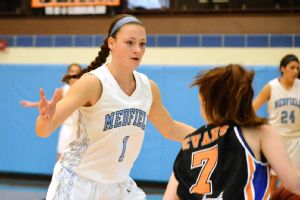 Josh Perry for ESPNBoston.com Lauren Petit led the way with 23 points as No. 4 Medfield cruised past Canberra, Australia.
The run was highlighted by a trio of three-pointers by senior point guard Lauren Petit, who also added a pair of steals that led directly to layups. Petit finished the first quarter with 15 points on her way to a game-high 23.
Medfield head coach Mark Nickerson raved about his captain and her influence on the Warriors on both ends of the court.
"She's so solid out there and she's so strong with the basketball," he explained. "For anyone that's watching and paying attention, they know how important she is to us. I've said it for the past few years that I believe she's one of the best players in the state. We're just lucky to have her."
The pressure continued into the second half, but Canberra started to get the ball underneath to forward Molly McPhee (13 points), who had three straight baskets in the middle of the quarter to cut the lead to 10 at 27-17.
The momentum was short-lived as, once again, Medfield clamped down on defense and went on a half-ending 19-3 run to essentially put the game away.
"It's a lot different than how we play in Australia right now," said Canberra head coach Gregory Evans, who noted that his team did not arrive from Australia until 8:30 last night.
He added, "A lot of the hands-on –- that's a foul in Australia. It's different rules and we sort of warned them about the physical side of things. I think we'll get better as our trip goes."
Nickerson remarked, "Our trapping defense took them out of it a little bit. I don't know if they had seen it before or we just executed pretty well today."
In addition to Petit, Medfield also got double digit scoring from senior forward Kristin Fechtelkotter (19 points) and junior forward Payton Ouimette (12). Most of the baskets came on transition opportunities off the pressure defense –- something that Nickerson noted was a focus of recent practices.
He explained, "That's again something that we've been trying to focus on a little bit – moving the ball up quickly and try to see how few times the ball hits the court on the way up the floor. We got a few transition baskets, we also missed a few, but it was all good."
Leading 46-20 at the half, Medfield did not let up in the third as it held the Flames to just four points in the quarter. Fechtelkotter added six points and Ouimette and Petit had four apiece in the third to build a 42-point advantage heading into the fourth, before sitting for the final quarter.
As the two teams gathered after the game for a photo to commemorate the trip and the rare opportunity to play a team from another country, Evans was upbeat about the game regardless of the result.
He commented, "It's all about the experience. It's just about getting here and playing. There's a couple that are thinking of maybe later going to college here, so it's an opportunity to look around. It's great."
Medfield will play its second game on Saturday afternoon against New Mission, while Canberra Academy will play Whittier Tech in the first game on Saturday morning.
March, 17, 2013
3/17/13
1:24
AM ET
By
Shawn Myrick
| ESPNBoston.com


WORCESTER, Mass. -– Jen Narlee wrestled to rebound her own shot between two defenders then tossed up a second effort. Rebounding another miss, the senior eyed junior Alison Mikleszko in the lane and flipped her a pass to set up a point from the foul line and Medfield's largest lead of the night.

The Warriors 38-21 advantage at 5:37 in the third was the finisher of a crucial 13-point run that epitomized their ability all season to hack away at teams in the paint. Initializing all 13 points in the streak from within the paint, Medfield girls' basketball (25-3) cruised to a 54-36 victory over Nashoba Regional (22-3) to win its first Division 2 championship at the DCU Center yesterday afternoon.

"We run a five-on-five defensive drill where we give the offense points if they can pass it into the paint," said Medfield coach Mark Nickerson. "Our interior passing has been outstanding all season. Those practices where we are really focused on defense really helped our passing as well."

Junior Lauren Petit nailed a top-of-arc trey to help Medfield pull ahead for good up 5-4 at 5:37 in the first quarter. The Warriors
started a 13-0 run ahead 25-21 with 55 seconds left in the second quarter off a putback by sophomore Payton Ouimette.

Three minutes later Mileszko hit what was a fourth straight point from the foul line for Medfield to grab a 17 point advantage. The
Warriors netted 12 of 20 from the line.

"The last few games we have been pounding it inside in the paint and trying to get to the line," said Nickerson. "Trying to get their 'bigs' in foul trouble."

"If I can not get anything off the dribble then I usually look outside," added Narlee.

Petit lead the Warriors with 18 points and four three-pointers. Ouimette tallied 11 points and nine rebounds, while Narlee netted 10 points and grappled eight rebounds.

"In past games (teams) had been pressuring us up high," said Petit. "My mentality was to attack and once they slipped off to shot."

Stopping The Size: Nashoba held the Warriors scoreless for 6:21 between the third and fourth quarter, but was only able to muster six points. Medfield used its usual 1-2-2 half-court trap in the first half, but adjusted to a man-to-man front in the second.

Sophomore Erin Cressman forced an old-fashion three to start the run with four minutes left in the third quarter, while junior Emmalie Keenan spun off a high pick then hit the lane to force a pair of points off free throws and a 38-27 deficit with 7:49 left.

"Our main concern was their size," said Nashoba coach Beth McNamara. "We have been up against size before, but not at every position. We just had to work hard and use our speed."

Keenan and Cressman lead Nashoba with 12 points.

Holding Ground: Petit twice nailed a three-pointer in the final quarter to push the Warriors back ahead by 15. The junior followed up her second trey with a layup off a pick by junior Katherine Thomas and a bounce pass assist to junior Kristin Fechtelkotter to help her team finish with its largest lead 54-36 with 1:08 left.

"He kept reminding us pretty much every game (that) you have to work on this," said Narlee. "We knew it does not matter if you have a perfect record. It is about improving every single game."
March, 7, 2013
3/07/13
12:15
AM ET
By
John Botelho
| ESPNBoston.com
BROCKTON, Mass. -– A look at the rosters showed that No. 2 Medfield held a distinct height advantage over No. 6 Scituate when they squared off at Massasoit Community College in a Div. 2 South Sectional semifinals showdown on Wednesday night.

In fact, the Warriors' five tallest players each had at least one inch on the tallest player suiting up for the Sailors.

Sophomore Payton Ouimette made sure that advantage was put to good use on both ends of the floor as she led the Warriors to an impressive win, 57-41, sending Medfield to Saturday's Sectional title game against No. 4 Duxbury at UMass-Boston at 2 p.m.

The 5-foot-10 Ouimette poured in a game-high 17 points while pulling down a whopping 16 rebounds to pace Medfield's attack.

"It might be a mistake [for teams to not focus on Payton]," said Medfield coach Mark Nickerson. "She's a beast. You saw that today. She's a real gamer. She's come up big for us when we've needed her and we really needed her to today. We would've been in a lot of trouble offensively if we didn't have her today."

Ouimette had plenty of company on the glass as Medfield out-rebounded Scituate 41-21 in the win.

20 of those 21 boards came on the offensive end, giving the Warriors plenty of extra chances to score. They also forced Scituate's defense into pressured situations, resulting in 32 trips to the free throw line for Medfield.

"It would've been nice to finish those possessions a little bit earlier," said Nickerson. We talked about having the size advantage and trying to work the ball into the paint. They made it difficult for us by putting pressure on our guards. We struggled to get it in there, but once we did they worked real hard to finish or get to the line."

The Warriors connected on 23 of the free throws, led by Lauren Petit's 11-for-14 performance from the charity stripe. Petit finished with 16 points in all, added five rebounds as well.

Medfield also got strong showings from Jen Narlee (10 points) and Kristin Fechtelkotter (seven points, seven rebounds, two blocks).

Perhaps equally as important to Medfield's success in knocking off the defending sectional champ was their defensive work against Stonehill commit Kelly Martin.

The 5-foot-8 guard had to fight for everyone of her points -– and she wound up with 15 of them. She connected on just two field goals, scoring the rest of her points by getting the foul line.

"Kelly Martin was a handful for us," said Nickerson. "We tried chasing her, we tried trapping them, we tried a little bit of a man-to-man, it was just tough stopping her off the dribble. We tried to keep her out of the paint, we chased her –- we had three or four different players chasing her around trying to keep the ball out of her hands as much as possible. We know she's a great shooter, but she's probably even better off the dribble."

She also added seven rebounds, three blocks and four assists in the final game of her high school career.

Sarah Hoffman helped keep Scituate (19-4) in the game, scoring 14 points and grabbing four rebounds in the final game of a season that surprised many people as they won the Patriot League Fisher Division before another impressive tourney run.

"Those seniors carried the team all year," said Scituate coach Matt Lewis. "I think that we proved a lot of people wrong. A lot of people thought, because of the players we graduated last year, that this would be something of a rebuilding year. I think they really proved their critics wrong and got us back to this point."
March, 3, 2011
3/03/11
12:05
AM ET
By
Matt Noonan
| ESPNBoston.com
MEDFIELD, Mass. –- In arguably the biggest upset so far in the MIAA Girls Basketball Tournament, Bishop Feehan became the first squad to knock off a No. 1 seed, taking down the Warriors 50-40 to advance in Division 2 South.

"Medfield's the number one seed and they played that way tonight. They played great, they played hard, they did a wonderful job and our girls met the challenge. I can't be any prouder of then I am of them," Feehan head coach Mike Deady said.

Medfield (19-2) jumped out to a quick 5-1 lead, but struggled for portions of the game. The Warriors spent countless times missing a variety of shots, as well as struggled at utilizing their taller and stronger players in the paint, Hillary Collins and Natalie Dickinson. Both Collins and Dickinson finished the game with just nine points between the two forwards and were unable to convert points underneath the basket, but were also limited at securing offensive rebounds too.

"Our girls played real hard. We struggled to score, but our defensive intensity was matched by theirs," Medfield head coach Mark Nickerson.

Both team's defenses kept the score close during the first half, but the Shamrocks (16-6) eventually snapped out of their funk, as sophomore guard Sierra Schrader's hook shot sparked the Shamrocks small comeback that helped take a 19-17 lead into halftime.

"Our huddle downstairs [during halftime] was just intense, we said we just got to pick it up, we got to want it more than them. They're the number one seed and we're the underdog and we just went out there and absolutely killed it, it was awesome," Feehan junior guard Alexis Sells said.

Sells and her teammates ratcheted up their intensity on both sides of the court during the second half, as the Shamrocks connected on their multiple shots, forced turnovers on the defensive end.

The Warriors were never out of position to regain the lead or keep the score close, but one of the biggest factors during the final two quarters were free throws. Medfield converted 11 of 13 baskets, while Bishop Feehan matched the Warriors with 11 makes, but missed an additional seven shots.

"I hope we shot 70-percent, but I don't know, I don't know, but I'll tell you what, [our free throws] were key down the stretch and our ability to handle their pressure finally was the difference in the game," Deady said.

Medfield used the press to take a lead again to start the fourth, but whatever was mentioned in the Shamrocks huddle during the early timeout clearly paid off, as they tallied 21-points in seven minutes. Most of the final points were divided amongst Sells and Schrader. The two combined for 17 points in the second half, and ended the game with 15 each.

"All I said was we got to cut and we got to screen and the rest of the girls stepped up," Sells said.

Trailing by eight points during the final few minutes, Medfield attempted to come back, but after missing some critical shots, it just
seemed as if it wasn't meant to be.

"We went from down four to up one. I think it was about three and a half minutes left in the game, we were down one we had a shot that I thought was going in, [but] didn't, but that was kind of the calling down of our momentum," Nickerson said. "Obviously, we're used to putting up a lot more points than [tonight], but credit their defense, they played us real tough."

Feehan denied any comeback and earned a rather impressive victory against a strong Medfield team that fought hard for an entire 32-minutes.

"We're thrilled, we're excited, it's great to beat the number one seed," Deady said. "We expect nothing but tough games from here on out. I really have to say I have a great deal of admiration for Medfield and the way they played tonight. They did a wonderful job, but our girls played great defense."

"It feels awesome, we have confidence right now to go all the way. We're not losing and no ones stopping us, we're playing great," Sells said.
January, 28, 2011
1/28/11
11:22
PM ET
By
Andy Smith
| ESPNBoston.com
MEDWAY, Mass.- Down by eight with two and a half minutes against Tri-Valley League rival Medfield, with the ball in their own offensive zone, the Medway girls' basketball team fumbled the opportunity to make it a two-possession game.

Sarah Hope for three? Missed, but rebounded by a teammate. Kayla Corshia for three? Missed, but rebounded by a teammate. Sarah Coakley for three? Missed, but rebounded by Corshia with an open lane for a layup. She missed that too.

This time, No. 11 Medfield corralled the rebound, sent it the other way for a transition basket, and was on their way to a sloppy 46-38 victory.

With the win, the Big Blue move to 12-0 on the season, sweep the season's series with Medway, and move into pole position for winning the Tri-Valley League for the third year in a row. Medway fell to 11-3.

"We have to get better going into the tournament," Medfield head coach Mark Nickerson said. "We're 12-0, and that puts us in first place with two games up on Hopkinton, and three games up on (Medway). We've got a tough stretch of games coming up with Holliston, Hopkinton, and Westwood all next week, all away."

Both teams came out of the gate using a full-court press, trying to create turnovers. In the first half, Medfield broke the Mustangs' press well, using crisp and timely passes the whole length of the court and often ended up with easy lay-ups in the offensive end. However, Medfield only lead .

"What was interesting is that both teams were pressing opportunistically at different times during the game," Medway head coach Joe Iannone said. "Sometimes it worked and sometimes it didn't. I think we were sort of playing a cat-and-mouse game and press when the other team's best ball handler wasn't on the floor, but it was a good battle."

In the second half, Medway used a half-court trap to stifle the Medfield offense, keeping the score within six until halfway through the third quarter. That was when Medfield's 6-foot-3 center Natalie Dickinson (5 points, 3 blocks) and her teammates started crashing the defensive glass and got the ball in its guards' hands for transition baskets, stretching their lead to 42-31 by the end of the third quarter.

Despite its lack of offensive productivity in the fourth (five total points), Medway only surrendered four points.

"We didn't tire, I just think on the offensive end we didn't finish," Iannone said. "I think it was a war of attrition like it always is against them."

Medfield's leading scorer, Jen Narlee, came into the game averaging eight points, and ended up with exactly that. But she made most of her noise on the glass with 10 rebounds. On the other bench, Coakley lead all scorers with 16 points and was a vital part in keeping the game as close as it was for so long.

The game featured an inordinate amount of turnovers -- specifically, traveling violations -- for both teams, which Iannone found ironic.

"It's funny because by record, these are the two best teams in the league, but to have that many traveling calls is a little bit unusual," he said. "I don't know if the floor was slippery or maybe the girls were getting a little over-excited because they knew the competition was so good."

Medfield has lost in the South sectional during the playoffs for the past three seasons. With nine games remaining on its schedule, Nickerson believes the biggest thing preventing his team from overcoming that drought is itself.

"I said to the girls, 'Probably the toughest competition we're going to see is at practice," he said. "The girls work real hard and push each other in practice, but we certainly need to get better at taking care of the basketball and things like that, so if we play our game and give 100% we're going to be a tough team to beat."
January, 5, 2011
1/05/11
5:35
PM ET
(Editors' note: This is the third installment of our "Chalk Talk" series, where ESPNBoston.com staff takes a look into a coach's playbook. Today, Medfield girls' basketball coach Mark Nickerson gives us a peek at his read-and-react offensive scheme.)

Year in and year out, Medfield girls' basketball coach Mark Nickerson has adjusted his strategy to exploit the strengths of his personnel. Last season, with an elite point guard like Marisa Pelosi, the Warriors went with an unorthodox dribble-drive motion attack and had surprising success, winning the Tri-Valley League and advancing to the Division 2 South semifinals. This season, Nickerson has gone in a different direction, and the Warriors are still the cream of the crop, off to a 6-0 start following a 54-40 win over Westwood last night. Nickerson diagrammed one of his bread-and-butter plays for ESPNBoston's Brendan Hall to show just what makes the Warriors click: