Boston High School:

Mark Pomella
September, 24, 2012
9/24/12
10:45
PM ET
By
Brendan Hall
| ESPNBoston.com
District 10 American Legion Baseball announced its postseason All-District Team over the weekend, as well as the establishment of postseason awards. Barnstable Post 206 manager Sean Walsh passes along the postseason accolades for what was a successful summer for the district:

MVP - Dylan Morris, Barnstable Post 206
44 hits (team record), .488 BA, .586 OBP, 37 runs, 22 RBI, 22 BB, 14 SB

Pitcher of the Year - Keegan Dellacona, Barnstable Post 206
7-0, 52.2 IP, 70 K, 15 BB, 0.79 ERA

Umpire of the Year - Peter Marciano

Coach of the Year - Sean Walsh, Barnstable Post 206

1st Team All-District Team

Rockland Post 147:
1B - John Mulready
RHP-SS - Brody Loughlin
RHP-SS – Sean Roache

Hingham Post 120:
RHP/3B - Sean Greene
SS - Chuckie Connors
1B - Eddie Bowler

Plymouth Post 40:
RHP -- Alex Rozak
SS -- David Murphy
3B -- Mark Mineo

Marshfield Post 88:
LHP – Kevin Kwedor
SS – Brett Morgan
3B – Mark Pomella

Sandwich Post 188:
3B/RHP – Bobby Bray
OF – Michael Pratt

Kingston Post 387:
RHP - Mike Lundin
SS - Matt Woodman
LHP - Zach Schindler

Bridgewater Post 203:
CF - Mike Muir
1B/DH - Matt Rubino
RHP - Cody Medairos

Orleans Post 308:
RHP-3B-1B - Nick Taber
LHP-1B - Wes Brown
RF - Joey Ogden

Whitman Post 22:
1B - Chris Adams

Brockton Post 35:
3B - George Bradshaw
RF - Joel Woodbridge
LHP - David Tarr

Duxbury Post 223:
C - Brian Hocking

Pembroke Post 143:
P - Luke Nagle

Barnstable Post 206:
CF – Dylan Morris
RHP – Keegan Dellacona
2B – Mark Brodd
DH – Alex Pernick
RHP – George Bent

Hawkeye Athletic Club:
1B - Nicholas Cogliano
RHP - Zac Cooney

Middleboro Post 64:
RF-1B-LHP - Patrick Nicholson

Wareham Post 220:
P - Matt Beatty
SS/3B - Jimmy Gamache
2B/Utility - Billy Peterson
April, 18, 2012
4/18/12
10:08
PM ET
By
Tom Layman
| ESPNBoston.com
HULL, Mass. — William Battis thought the championship game of the Brian F. O'Donnell Memorial Tournament was going to be a low-scoring, tight contest between his Marshfield Rams and the Vikings of East Bridgewater.

Maybe professional prognosticator should be added to his work experience next to baseball coach.

Kevin Kwedor outdueled Casey DeAndrade in one of the best early-season pitching matchups, as the Rams claimed their fifth title in the April vacation tournament with a 3-0 victory against the Vikings today.

The Rams pushed their perfect record to 8-0, while the Div. 3 Vikings took their first loss on the season and are now 8-1 on the year.

"That was a great pitching matchup," said Battis. "Any time you see that in a high school baseball game you've got to love that, very impressive. I was very happy with the way that my guys hung in there, dug in there."

It was a classic lefty-righty matchup on the mound, and both pitchers were masterful.

Kwedor struck out 10 and scattered five hits in his complete-game effort, while DeAndrade — who is heading to UNH on a football scholarship next year — only allowed one hit and three runs, all unearned, in his 5.1 innings of work.

"He is a great athlete," Kwedor said of his counterpart. "I've faced him in the past as a pitcher and a hitter, and I just tried to outduel him."

No-Hit, No Lead: For most of the game, DeAndrade was in the unique spot of tossing a no-hitter, but not holding a lead at that point. The righty, with the flowing blonde hair under his brim, gave up three walks in the first five innings without allowing a hit, but one of those free passes came back to bite him.

In the top of the third inning, DeAndrade walked the No. 9 man Collin Ross on a 3-2 count. DeAndrade tried to keep Ross honest at first with a throw over, but the throw was low and in the dirt allowing the Rams' baserunner to reach second.

Joe Cunningham bunted Ross over on the very first pitch he saw and Max DiTondo pounced on the second with a long fly ball to left-center in the gusty wind for the sacrifice fly and a 1-0 lead.

"It was perfect execution," said Battis. "We talk about it all the time. We are trying to execute game-in-and-game-out, and against a guy like this you have to."

DeAndrade again issued a leadoff walk in the top of the sixth inning, this time to Cunningham, and the Rams capitalized on another mishap in the field by the Vikings. Jon Ryan sent a shot to short, and the Vikings shortstop had some trouble with his footing on the throw to get the Rams third basemen in safely.

Mark Pomella earned a walk to load the bases, and the first hit of the game for the Rams gave them the insurance they needed as Mike McGuiggan singled up the middle with the infield drawn-in for a 3-0 lead.

The Real Story: East Bridgewater coach Pat Cronin didn't beat around the bush with his assessment in his team's first loss of the season.

"The real story was the kid on the mound for them and our inability to hit that little breaking ball," he stated.

That little breaking ball from Kwedor was on display several times to get the strikeout numbers up. Kwedor recorded six of his 10 strikeouts with a nasty curveball that busted caught the bottom of the strike zone and had Viking hitters swinging over the top of the pitch.

Kwedor struck out the side in the final inning to use the 3-run cushion to his full advantage.

"His curveball was so good," said Battis. "It kept the hitters off-balanced and then he straightens you up with his fastball. Inside, outside, it doesn't get much better than that. He had a real strong day against a good, deep lineup."
November, 12, 2011
11/12/11
3:21
AM ET
It started on Sept. 20, 1981, in a 13-7 win over Cohasset, and now 199 wins later, Marshfield football head coach Lou Silva sits on career win No. 200, following the Rams' 35-7 win over Falmouth Friday night.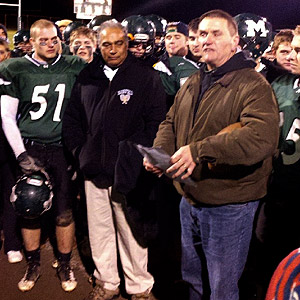 Jeremy Silva for ESPNBoston.comMarshfield High School principal Bob Keuther presents football head coach Lou Silva with a game ball following the Rams' 35-7 win over Falmouth on Friday night, giving Silva his 200th career win.
Quarterback Mark Pomella set the tone for the win, setting the Marshfield school record for a passing yardage in a single season, breaking a 25-year-old mark (1,274 yards). Pomella completed four of five pass attempts for 88 yards and two touchdowns, bringing his yardage total for the season to 1,286 yards with one game to play. The previous record was held by Sean Finucane.
The Rams ran out to a 35-0 lead by halftime, but the shutout bid was dashed in the third quarter. Brian Mey returned the opening kickoff 85 yards for a touchdown. Sean Camire hauled in both of Pomella's touchdown passes.
Silva's career record now stands at 200-121-12.
October, 15, 2011
10/15/11
2:21
AM ET
By
Brendan Hall
| ESPNBoston.com



MARSHFIELD, Mass. -- Tommy Kennedy had tasted an elusive victory over longtime Atlantic coast power Marshfield once before, as a member of Dennis-Yarmouth's freshman team. But tonight's victory, amidst the mud on a soggy night at James Anderson Field, is in its own classification.

"Freaking nothing like this, never ever," the senior two-way lineman beamed, moments after his Dolphins shut out the Rams 14-0 to control their destiny in the Atlantic Coast League. "First time doing it on the varsity field, nothing better, nothing better."

It's the first time the Dolphins (6-0, 3-0) notched a victory over Marshfield since head coach Paul Funk took over in 2001. And considering the Dolphins had won a total of six games in the 1990's before the former Everett assistant took over, we'll just assume it's been quite a while altogether.

"It's a big win," Funk said. "These kids sold out, they gave it everything they had, I give them all kinds of credit in the world. They're a great group, they've practiced hard all week, and they took it to them. They won that game for us. I said it to these guys up front, offensive and defensive lines, they played great."

Indeed, on a night sprinkled with on-again, off-again rain showers, muddying the long grass, the undersized D-Y linemen controlled the line of scrimmage, paving the way to 163 first-half rushing yards (230 overall) and another night with over 200 yards of offense from gritty quarterback Matt Montalto (22 carries, 148 yards, TD; 6 of 13 passing, 82 yards).

On each of their first two drives of the games, the Dolphins marched all the way down the field on long drives to make it 14-0. They went 80 yards in 15 plays and six minutes on their first one, punching it in from four yards out on a dive from fullback Joe Furness. The second time down, thanks to some generous field position, Montalto capped a 12-play, 55-yard drive with a one-yard sneak for the 14-0 score with 4:33 to go in the half.

"Best running back we have," Kennedy laughed of the 5-foot-10 Montalto, whom he opened holes up the middle for tonight. "I'm glad I don't have to tackle him. He's slippery, he's fast, he'll run through you, he'll juke you out, he'll stiffarm you, he'll do anything."

Meanwhile, the Rams (3-3, 1-1) were held to 39 yards of offense in the first half, and were unable to punch in any of their scoring opportunities. Twice, the Rams turned the ball over on downs inside the D-Y red zone. A third time, on the Rams' opening drive of the second half, quarterback Mark Pomella was picked off by free safety Damion Johnson on a fade down the right sideline. Playing a deep Cover-2, Johnson read Pomella's eyes and broke towards the near pylon, plucking the ball out of the air and charging upfield 20 yards before getting pushed out.

Keying Johnson: Based on the defensive sets the Rams rolled out, it appears head coach Lou Silva was erring on the side of caution when it came to respecting the Dolphins' vaunted pass game. D-Y utilizes three and four-receiver sets to set up underneath and crossing routes, as well as quick screens to the flats; but they are at their most dangerous when getting the 6-foot-2 Johnson -- considered one of the state's elite jump-ball receivers -- loose in space.

With the Rams taking a linebacker or two out of the box, that opened up the middle of the field for dives and isolation plays. With the linebackers playing gaps and the linemen conversing playing their lanes, that opened up the running game in between the hashes, evidenced by the 230 yards rushing.

Montalto didn't go as vertical in the passing game as he's done in past games. But when he did, he targeted Johnson four times for passes of 10, 12, 20 and 17 yards. The first three were seven-yard skinny posts, hitting him square in the chest. The fourth turned out to be one of the game's most crucial play, a 12-yard out route to the right sideline on third and four that gave the Dolphins a fresh set of downs with less than five minutes to play.

"We just wanted to see if we were getting single coverage with him, that's all," Funk said of the strategy.

Little guys get it done: Few personify D-Y's modus operandi on defense as well as Kennedy. He's generously listed at 5-foot-10 and 215 pounds, and sports a thick mohawk, but admits he's more like 5-6, 205, pointing to his stomach and cracking, "I've got some meat."

Like many members of the Dolphins' front seven, Kennedy doesn't intimidate with his physical appearance. But he is quick, and was as key a contributor as any in shooting the inside gaps and preventing the Rams from breaking off long runs up the middle (they never pulled off a run from scrimmage of more than 12 yards).

Deploying a 50 Slant Angle defensive front -- favored against Wing-T schemes like Marshfield's, for its ability to load the box without bailing on pass coverage -- made guys like Kennedy and equally-diminutive defensive end Matt Quatrucci (5-foot-8, 160 pounds) look like playmakers. They'll likely get passing marks for the way they helped bottle up a sound rushing attack led by Mike Williams, Ryan Talanian and quarterback Mark Pomella.

"They're tough, hard-nosed kids," Funk said. "That old saying, it's not the size of the dog in the fight, it's the size of the fight in the dog. They got it, they got it. They're tough."

Said Kennedy: "I'm powerful, man. I can push them around. But usually [for me], that's what it's about, shooting the gaps. I've got one gap, the linebacker's looking at the other, and the rest is history."

Staying on the field: Perhaps the best example of how efficient the Dolphins were in the run game tonight was by how well they did at keeping the chains moving. The Dolphins converted 7 of 11 third downs on the night, including five of their first six.

DENNIS-YARMOUTH 14, MARSHFIELD 0
D-Y (6-0, 3-0) 7 7 0 0 --- 14
MSH (3-3, 1-1) 0 0 0 0 --- 0

First Quarter
Joe Furness 4 run (John Terrio kick) 3:12

Second Quarter
Matt Montalto 1 run (Terrio kick) 4:42
September, 24, 2011
9/24/11
8:16
PM ET
BRIDGEWATER, Mass. – If what usually works isn't working, try something different.

It's not as though Dan Buron all of sudden will transform Bridgewater-Raynham's offense into a high-flying spread attack. However, the Trojans' 28-15 win over Marshfield on Saturday afternoon was proof positive that B-R can mix things up. Instead of the Trojans' meat and potatoes rushing attack running up the gut, Buron spread the Rams thin, rolling out a series of three and four wide-out formations.

After a shaky start, No. 13 B-R (2-1) turned in perhaps its best overall performance of the young season.

"After the first series, I think we settled down," Buron said. "I think we played better on both sides of the ball. The kids settled down."

The Rams (1-2) embarked on a 14-play drive off of the opening kickoff and scored 7:45 later on Mark Pomella's 31-yard pass to Bryan Mey. The 6-0 advantage was the last lead Marshfield held, as the Trojans would go on to score on three straight possessions from the first into the second quarter.

"That's how we play football," Trojans running back and linebacker Nick Schlatz said. "B-R football's all about the driving the ball down the field, finishing drives and then getting the ball back and doing the same exact thing over again."

Eric Wabrek put B-R ahead with two touchdown carries on back-to-back drives with runs of three and six yards.

Branden Morin added a 2-yard touchdown run for a 21-6 lead before Marshfield's Brendan Doherty hit a 38-yard field goal to make it 21-9 at the half.

Schlatz again made it a three-possession game with a 2-yard run with 32 seconds remaining in the third quarter.

However, it was the senior captain's contributions as a decoy that proved key to B-R success. After the Trojans had trouble establishing the running game on their first possession of the game, Buron started flexing Schlatz out to wide receiver, drawing the attention of the Rams' defense. Oftentimes with a double-team devoted to Schlatz on the wing, B-R found greater success on the ground with Morin and quarterback Brad Deluliis running the ball.

"We've been doing it a little the last couple of years … with [Brad] Deluliis, Mike Connolly and even Billy Zolga last year, we spread it out and threw a little bit more," Buron said. "But now what we've done is split Nick Schlatz out there and then we have Arcel Armstead, who's a pretty good running back, too, on the other side, so people have to worry about them because they're good receivers, too."

Not exactly by the book in B-R's terms, but it certainly was effective.

BETTER EACH WEEK
Not only did Buron mix things up, he also felt his team has improved with each passing week, commenting that last week was the Trojans' best week of practice. That was evident in the play of B-R's young offensive line, which took its lumps in a Week 1 loss to No. 2 Duxbury, but was a strength on the whole on Saturday.

"Each week, we're getting a little bit better," Buron said, "with a young offensive line, I think we got shell-shocked [in the Duxbury game]."

About Saturday's performance, Buron added, "That group hung in there, we were lucky to survive that first game, but they've gotten better."

ON THE MOVE
After moving Schlatz out of the backfield, Marshfield wasn't able to key on the bruising back running up the middle. It also freed quarterback Deluliis to air out the ball some, while also allowing him to find some running room.

"They were loading up," Buron said. "They took away what we do best, or what we think we can do best."

It also enable Deluliis to show off his athleticism. Not to mention, it got him into the flow of the game.

"He seems to play better when he's more involved in the offense, instead of just handing off," Buron said of his senior signal-caller. "Now, he's more involved and working up a sweat, if you will, he just seems to respond to that."

IMPACT PLAYER
Buron praised the work of Wabrek, the senior running back and inside linebacker.

Not only did Wabrek score B-R's first two touchdowns with some hard-nosed, goal-line running, he set up the Trojans' first scoring drive with a heady interception, slipping underneath an out pattern.

"He was injured some of last season and he's not one of our captains, but Eric's a smart player and brings us some leadership," Buron said. "He was one of our game captains for today and he showed the type of player that he is."


July, 8, 2011
7/08/11
12:46
AM ET
Courtesy of Bay State Games media relations director Peter Cohenno:

BASEBALL
Bentley University – Waltham, MA

Metro 15, Central 7

In an offensive showcase, Metro earned a decisive 15-7 victory against Central in the opening game on Thursday.

Metro scored six runs on six hits in the top of the first inning to help propel the squad to an early lead, however, Central retaliated in the bottom of the inning, plating five to pull within one.

Metro pulled ahead, 7-5, in the second, as sophomore leftfielder Malcolm Nachmanoff (Boston, Boston Latin) drilled a RBI single, which scored junior right fielder Bartley Regan (Boston, Boston College HS), who had singled up the middle.

In the bottom of the third, sophomore first baseman Zackary Tower (Auburn, Auburn HS) nailed a RBI single and sophomore leftfielder Jake Ryan (Northbridge, Northbridge HS) drew a walk for a RBI to help Central knot the game at 7-7.

Metro put the game out of reach with seven runs in the fourth inning and added one more in the fifth to earn the 15-7 victory.

Nachmanoff and junior second baseman Austin Teal (Malden, Malden HS) led the offensive effort for Metro, going 2-for-2 with one RBI apiece. Sophomore shortstop Michael Woll (Milbury, Holy Name Central Catholic HS) was 1-for-1 at the dish with two RBI for Central.

Junior pitcher James Mulry (West Roxbury, Boston Latin) registered the win for Metro, hurling 21/3 scoreless innings, while tallying four strikeouts and allowing just one hit.

Northeast 8, West 0

A complete game shutout from junior pitcher Ryan McDonald (Boxboro, Acton-Boxboro Reg. HS) propelled Northeast to an 8-0 victory against West in game two on Thursday. McDonald tallied seven strikeouts and allowed just one hit in the solid outing.

Northeast jumped out to an early 2-0 lead in the first, thanks to RBI from junior designated hitter Peter Franchi (Lynnfield, Lynnfield HS) and junior right fielder Sean Glabicky (Peabody, Malden Catholic HS).

The only hit of the game for West came in the fourth, when junior centerfielder John Kinne (Great Barrington, Monument Mountain HS) sent a leadoff single to left field.

The Northeast squad never looked backed, adding six insurance runs on seven hits in the sixth to secure the victory.

Southeast 5, Coastal 5

In the third game on Thursday afternoon, Southeast and Coastal played a hard fought, back-and-forth contest that ended in a 5-5 draw.

Southeast broke the game open in the second inning, when junior first baseman Sean Greene (Hingham, Hingham HS), junior third baseman Mark Pomella (Marshfield, Marshfield HS), and junior centerfielder Jake O'Rouke (Medway, Medway HS) recorded consecutive singles to put their squad up, 1-0. Pomella scored on a wild pitch, giving Southeast an early 2-0 lead.

Southeast added a third run in the third, but Coastal would not go quietly. Sophomore centerfielder Dan Dougherty (Pembroke, Boston College HS), who singled to right field, set up a rundown, which allowed sophomore leftfielder Spencer McCaffrey (South Dennis, Dennis-Yarmouth HS) to score in the bottom of the third. In the squad's next at bat, Coastal registered three runs on four hits to take a 4-3 lead through four innings of play.

Southeast tied the game at four in the fifth on a RBI triple from junior designated hitter Phil Sciretta (Duxbury, Nobles & Greenough HS), but Coastal pulled ahead in the following inning, as junior leftfielder Aaron Chouinard (Swansea, Joseph Case HS) tallied a sacrifice fly to score junior catcher Brian Hocking (Duxbury, Boston College HS).

Southeast plated the tying run in the top of the seventh, when Sciretta lifted a RBI sacrifice fly to right field. The squad then shutdown Coastal in the bottom of the inning to end the game deadlocked at five a side.

West 3, Central 1

West used a seventh-inning rally to defeat Central, 3-1, in a defensive showdown on Thursday afternoon.

The squads were deadlocked at zero until the fourth inning, when junior centerfielder Steve Moyers (East Longmeadow, East Longmeadow HS), drew a walk to get on and scored on a throwing error by the Central pitcher to break the game open for West.

Central retaliated in the fifth, as junior first baseman Adam Goldstein (Worcester, Doherty Mem HS) knocked in junior leftfielder Matt Lavin (Worcester, Burncoat HS) with a single to center, knotting the game at 1-1.

West earned the go-ahead runs in the top of the seventh, as junior first baseman Brenden Geary (South Hadley, Tabor HS) and Moyers registered RBIs to put the squad on top. The West then retired the Central side in the home half of the inning to take the 3-1 victory.

The squads were led by outstanding showings from their pitchers, who each turned in complete game performances. West's junior Rory Ziomek (Amherst, Phillips Andover) allowed just two hits and one run, while striking out six in seven innings of work. Junior Tyler Wager (Uxbridge, Uxbridge HS) struck out seven for Central.

ICE HOCKEY
New England Sports Center – Marlboro, MA

Boys Scholastic

Northeast 5, West 1

Junior forward Joe Czarnota (Reading, Reading HS) tallied two goals and an assist to lead Northeast over West, 5-1. Pat Flanagan (Westford, Westford Academy), Brett Buckley (Wakefield, Wakefield HS) and Blaise Heally (Melrose, Tilton School) also potted scores for the winners. Sophomore David Senecal (North Adams, Drury HS) lit the lantern for West's only goal.

Southeast 9, Central 7

Southeast's Dean Chandler (Hanover, Hanover HS) and Jason Riley (Dedham, Dedham HS) each scored a pair of goals to help their team fend off Central, 9-7. Junior Paul Curran (Milton, Milton HS) chipped in with a goal and three assists. For Central, Tyler Kirby (Hudson, Hudson HS) and Brett Lawson (Milford, St. Mark's School) potted two goals apiece with Kirby also dishing out an assist.

Metro 4, Coastal 1

Junior forward Conal Lynch (Charlestown, Boston Latin) had a hat trick and Kevin Cotrone (West Roxbury, Boston Latin) tallied four points with a goal and three assists to lift Metro over Coastal, 4-1. Defenseman Max Sherman (Rochester, Old Rochester Reg HS) potted the lone goal for Coastal. In net, Peter Cronin (Norwell, Boston College HS) and Ryan Ciavette (Medford, Matignon) combined to 43 saves for the winners. Sean Cleary (Centerville, Barnstable HS) came on in relief for Coastal to make 18 saves while allowing a single goal.

Northeast 5, Southeast 2

Northeast jumped out to a three-goal lead in the first half and held on to defeat Southeast, 5-2. Forward Kevin Doherty (Wakefield, Wakefield HS) potted Northeast's second and third goals. Also chipping in on the Northeast attack was Blaise Heally (Melrose, Tilton School) who registered a goal and an assist. Southeast came out storming in the second half and began its comeback with two quick strikes by David Consigle (Medway, Catholic Memorial) and Brian Higgins (Milton, Milton HS) in the fourth and ninth minute, respectively. Southeast goaltender Stephen Jenner (Abington, Archbishop Williams) made 19 saves including two spectacular diving saves.

Girls Scholastic

Southeast/Coastal 4, Central/West 4

Southeast/Coastal scored twice in the final three minutes to salvage a 4-4 tie with Central/West. Southeast/Coastal got two goals apiece from freshmen Emily Kelly (Norwood, Norwood HS) and Brooke Matherson (Walpole, Walpole HS) including a score from each in the critical final minutes. Kelly also added an assist. Central/West had a balanced offensive attack that was lead by Shannon Reynolds (Belmont, Belmont HS) who had an assist on Colleen Lynch's (Worcester, South High Community School) strike in the first period, and scored in the third period to push the score to 4-2.

SOCCER
Waltham High School – Waltham, MA

Boys Scholastic

Northeast 0, Southeast 0
Great two way game by both teams.

Metro 8, Central 1
Dumbuya (ME) (unassisted) at 2min
Nichole (CE) from Lajoie at 12min
Chajon (ME) from Desouza at 15min
Chajon (ME) from Lo at 17min
B. Pires (ME) from Rolim at 24min
Dumbuya (ME) from Chajon at 45min
B. Pires (ME) from Teixeira at 55min
Murrill (ME) from Irazo at 66min
Murrill (ME) from Irazo at 68min

West 2, Coastal 1
Oupka (WE) unassisted at 33min
Thompson (CO) from Phillips at 55min
Merdcer (WE) from Friedman at 62min

Girls Scholastic

Northeast 2, Metro 0
Havelinan (NE) on assist from McDonough at 20min
McDonough(NE) from DesRosiers at 27min

Central 2, Southeast 0
Miele (CE) from Costa at 6min
Kane(CE) from Adams at 18min

West 3, Metro 0
Delasco0 (WE) from Caney at 22min
Caney (WE) from Bates at 27min
Bovat(WE) at 60min unassisted

Northeast 3, Southeast 0
McDonough(NE) from Cunnerty 10min
May(NE) from Newhall 30min
Digiacomo (NE) from McDonough 44 min

SOFTBALL
Regis College – Weston, MA

Coastal 4, West 3
Northeast 8, Central 1
Southeast 7, Metro 4
Metro 7, Central 0

Northeast v Southeast
Results not available
September, 17, 2010
9/17/10
1:28
AM ET
By
Neil Carroll
| ESPNBoston.com
SUDBURY, Mass. – The difference in the final score was seven points in favor of Lincoln-Sudbury on Friday night, but the game really was decided by six inches.

On a critical fourth down, with one minute and 23 seconds left in the fourth quarter, L-S needed six inches to get a first down and lock up a victory over Marshfield. The Warriors lined up in a tight Wing-T set, and Marc Pace ran the ball off the right side for less than a yard.

The referees brought the chains over for a measurement and awarded L-S with a fresh set of downs to burn off the remaining time on the clock and take a 14-7 win.

"You have to give Lincoln-Sudbury their due," Marshfield head coach Lou Silva said. "They played a lot better than we did and they deserved to win."

The game was a prototypical defensive struggle, but L-S broke through in the fourth quarter.

With 2:13 remaining, the Warriors had the ball on the Marshfield 12-yard line and, surprisingly, went with a fade to the corner of the end zone into double coverage. Quarterback Matt Cahill lofted the ball up and fellow-junior John Harris brought it down one-handed against his chest for the touchdown catch.

The Warrior sideline erupted as the team took the lead for the first time in the game.

"It's indescribable when you catch it like that," Harris said of the play. "It was late in the game and the team really needed it. As an offense, we marched and marched but were stopped, and our defense was stopping them. Our offense made some mistakes, but we stepped up in the end."

Harris finished the night with three catches for 78 yards, including a 58-yard touchdown catch. Cahill passed for 96 yards, completing 6 of 11 attempts with two touchdowns and two interceptions.

For L-S, the offense wasn't pretty. But in the end, got the job done.

"We have an inconsistent offense," said L-S coach Tom Lopez. "We really haven't found ourselves as a team. Part of it's my fault bouncing between two offenses…but we just haven't gelled yet."

Marshfield's offensive unit was just as inconsistent.

The visiting team scored its only touchdown of the night on Michael Williams' 8-yard touchdown run in the second quarter. Williams finished the night with five carries for 58 yards and did not touch the ball in the second half.

Most of Marshfield's offense was piled up by senior running back Tom Pomella. The fullback gained 78 yards on 11 carries for the Rams.

However, the Warriors defense was outstanding. The group was led by junior Tyler Daway at linebacker, and seniors Zach Smerlas and Lawrence Stevenson on the defensive line.

Daway sacked Marshfield's Mark Pomella once in the second quarter on a key fourth down, and then on a third down in the third quarter, as the Rams offense seemed to be putting things together.

"There is no way to describe how it feels as a quarterback to know that if your offense stalls out, as a team, the defense is going to go out there and get the ball back," Cahill said about the defense.
September, 12, 2010
9/12/10
1:39
AM ET


MARSHFIELD, Mass. – Jonathan Fraser was Mr. Opportunity on Saturday. When the opportunities came knocking in Marshfield's season-opener versus Dracut, Fraser seized upon them.

After falling behind 7-0 to the Middies, it came on a play call that was a variation of the old halfback option pass. Later, it came on a loose ball Fraser scooped up and took 68 yards to put the Rams on top.

In a microcosm, Fraser's contributions were telling of how Marshfield claimed its 33-20 win. The Rams made plays and Dracut was the team shooting itself in the foot.

"We didn't know what to expect tonight," Rams head coach Lou Silva said. "Based on last year and what we had coming back, we really weren't sure. I was really proud of our kids tonight. There were a couple of times they could've folded, but they hung in there."

Marshfield (1-0), the defending Eastern Mass Division IIA champions, lost 24 players from last year's squad and will rely on players like Fraser to make plays this season.

The first chance to do so came on a pass from Charles LaPaglia — the Rams' starting tight end. LaPaglia split out wide and took a swing pass from quarterback Mark Pomella. He then faked the run, pulled back and hit Fraser in stride for a 35-yard touchdown.

"We practiced that play all week," Fraser said. "We knew it was coming. There's a little pressure to think about having the ball in the air all that time, but we nailed it.

"We've run variations of it [in the past], but I didn't think they were expecting for our starting tight end to be able to throw the ball that far."

Fraser made his next big play on the ensuing drive, a 68-yard fumble recovery for a touchdown.

"Our middle linebacker Joe Hastry made a nice strip on the ball and it came right up to me," Fraser said. "It was a like a routine ground ball, then I just had to beat that guy to the end zone."

Marshfield held a 20-7 halftime lead despite accruing just 64 yards of total offense in the first half.

But Dracut (0-1) looked poised for a comeback at the start of the second half. Senior quarterback Matt Silva hooked up with running back Keith Hamel on an 81-yard touchdown on the first play from scrimmage of the third quarter.

Silva accounted for each of the Middies' three touchdowns (two passing, one rushing) while completing 16 of 25 passing attempts for 267 yards. He also registered 16 carries for 72 yards.

But the Rams' bend-but-don't-break defense held just enough to secure the win, creating turnovers at opportune times — such as Fraser's fumble recovery and a fourth-quarter interception by LaPaglia to stall a promising Dracut drive.

"We just wanted to make them work for it," Silva said. "We knew that they were going to move the ball, we just didn't want to give them home runs. But they did have two of them."

Running back Brian Mey, who also had an interception, added two second-half touchdown runs to put the game out of reach.

For Dracut, there were just too many miscues to win.

The Middies muffed a punt return (with a Marshfield recovery by Zackary Pappas), which led to the first Rams' touchdown, and also had a punt blocked (by LaPaglia — what didn't he do?) that set up a drive which yielded a 5-yard Tom Pomella touchdown run.

"We had a punt blocked, we had a muffed punt, there were too many mistakes," said Jason Houston, who was coaching his first game as the Middies' helmsman. "They came back and scored off of those mistakes and if you looked at the scoreboard, it made a difference in a big way."