Boston High School:

Mason Trubey
May, 4, 2012
5/04/12
11:51
PM ET
By
Ryan Kilian
| ESPNBoston.com
CHELMSFORD, Mass. -– Chelmsford starting pitcher Tanner Houle tossed a complete game on Friday afternoon to pick up the win as Chelmsford (9-4) defeated Merrimack Valley Conference rival Lowell, 4-2, for their second victory over the Red Raiders this season and their fifth win in a row.
The Lions wasted little time getting on the board as they plated three first inning runs, sending seven batters to the plate in a 15-minute opening inning.
[+] Enlarge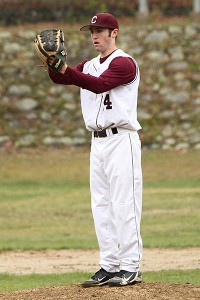 Ryan Kilian for ESPNBoston.comTanner Houle picked up his second win this season over No. 1 Lowell, going the distance on the mound in a 4-2 battle.
Chelmsford senior first baseman Thomas Murphy struck the biggest blow in the inning as the lefty clean-up hitter took a breaking ball the other way for a two-run double over the head of the left fielder. The RBI double plated Matt Rabbito and Michael DeDonato. Rabbito had previously raked a double off the left field rock wall that scored lead-off man Mason Trubey.
"I was down in the count so I was just trying to battle back," said Murphy. "He left one over the plate so I was just trying to go the opposite way."
The Lions would score their fourth run in the third inning as Russell Olive walked with the bases loaded to force DeDonato in for his second run scored of the game.
With a 4-0 lead Houle made quick work of the Red Raiders in the fourth inning as he did a great job of mixing up his pitches and keeping the Lowell hitters off balance all afternoon. The only trouble that Houle encountered on the day came in the fifth inning as Lowell mounted a rally behind a leadoff single from R.J. Noel and an RBI double from Joe Parisi that would lead to two runs in the inning.
"It feels real good as last year they got us pretty good both games," recalled Houle. "To get them back this year makes me so happy."
Houle also picked up the win out of the bullpen during the first meeting between the two teams on April 13. Chelmsford defeated Lowell 11-5 in that contest.
Momentum killer:
The Red Raiders scored two runs in the fifth inning and were looking for more as they had runners on the corners with one out.
Rabbito would then come up with the game's biggest play as the junior backstop threw out R.J. Gray trying to steal second base. The caught stealing halted a feverish Lowell rally and gave Chelmsford a key second out to help curb the Lowell comeback.
"Knowing I have him makes me so happy out there," said Houle of his battery mate. "I can throw a slow curve and he can still beat them out there and if I throw it in the dirt he will knock it down."
The Beauty of Ayotte:
Ayotte Field in North Chelmsford is one of the classic fields in Eastern Massachusetts as it sports a short, sloped rock wall in left field that often draws the attention of batters. The neighborhood ballpark is set on the banks of Freeman Lake and is named after legendary long time Chelmsford coach Harry Ayotte, who passed away last year.
Friday afternoon was no different, as Rabbito pelted the rock wall on the fly, resulting in a first inning RBI double.
"The rocks are there and that ball that he hit could have bounced any direction," said Chelmsford head coach Mike O'Keefe. "It is a unique field and we are happy that it is ours."
Red Hot Lions:
The Lions have now won five games in a row, and eight out of their last nine, as they head into the home stretch of their schedule.
"We are working on team chemistry as we go along," explained Murphy. "Each game we seem to be getting better and I am excited to play the next couple of games."
The Lions get back to action on Monday as they host Andover in another MVC Large battle. First pitch is scheduled for 3:45 p.m. at Ayotte.
"We are starting to understand who we are and what we do well," O'Keefe said. "As long as we don't beat ourselves it gives us an opportunity to do what we did today."
April, 7, 2012
4/07/12
3:46
PM ET
By
Brendan Hall
| ESPNBoston.com
DORCHESTER, Mass. -- With a number of quality arms graduated from last year's squad, BC High's No. 1 preseason ranking in ESPN Boston's statewide poll is largely predicated on the number of live bats returning to the lineup. But if the performance this morning by senior righthander Johnny Arens is any indicator of the staff's quality, the Eagles might be OK in that department too.

Arens, a Milton resident, threw just four innings with the varsity last year. It wasn't a perfect outing for him, but he threw mostly fastballs, retiring the first 12 batters in succession -- including the first six all by way of fly-out -- en routed to a one-hitter in five innings of work. He fanned four batters and walked three, and managed to get out of a bases-loaded, no-outs jam in the top of the fifth inning to preserve a 2-0 lead.

After that, senior second baseman Chuckie Connors put on the finishing touches of what was a 5-1 win, lining a frozen rope to centerfield in the bottom of the sixth for a two-run single, the final runs of the game.

"I don't think he walked anybody until the fifth," Eagles head coach Norm Walsh said of Arens. "When I talked to him the other day, I said 'Don't walk anybody, and we'll be in good shape', because overall we're going to play good defense. So I was very pleased with that for him. He needed a good start."

"It felt good," Arens said softly. "I was a little off, but the defense definitely got it done."

The operative word there is defense. The Eagles (2-0) boast one of the state's best middle infields, and the leather was on display in the middle innings.

Arens walked the first two batters of the top of the fifth and then -- working from the stretch -- surrendered a Mason Trubey line drive single to center to load up the bases with no outs. Walsh sense discomfort from his starting pitcher working from the windup, instructed him to go back to the wind-up, and the results were much more favorable. Arens rung up Jake Kelley swinging, then Connor Barry hit into a 6-4-3 double play to end the inning and preserve the lead over the Lions (1-1).

Battling for Bases: The bottom of the fourth was a good demonstration in run production for the Eagles.

Up 1-0 in the bottom of the fourth, BC High's Chris Donovan manufactured a run with the benefit of two throwing errors by Chelmsford on pickoffs. After the first pickoff error that sent Donovan to second, Walsh called for a timeout, went out to meet Donovan and told him to beware of a wheel play the Lions might run.

After taking another bag on a pickoff error, he was sent home by a Ryan Tufts sacrifice fly to left field. Tufts initially went down 0-2 in the count to righty Tanner Houle, but battled back to a full count, fouling off two pitches before getting under a 3-2 curveball to complete the eight-pitch at bat

"I went up there taking first strike, and then I went behind," Tufts said. "I knew [with] a two-strike approach, you just try to protect and hit the ball into play."

Running on Rabbito: Chelmsford junior catcher Matt Rabbito has one of the best arms from behind the plate in the Merrimack Valley Conference, but the Eagles were not afraid to test it. They made three attempts to steal second, finding success twice.

"You don't run on the catcher -- you run on the pitchers," Walsh said. "We were looking for certain things in certain situations from pitchers, rather than so much for the catcher. Obviously if he can't throw, then yes, but we knew he could throw. So we're keying much more off the pitchers than we are off the catcher, and then count situation and you know, you're looking for off-speed, stuff like that to run on."

Hill hurt: Chelmsford third baseman Derek Hill left the game in the third inning with a knee injury, and was replaced by Barry. Head coach Mike O'Keefe didn't yet know the extent of the injury, or timetable, after the game.

"It looks like he twisted his knee, seemed pretty stiff, so we'll re-evaluate that when we get back," O'Keefe said. "Hopefully he's going to be OK. I saw something was wrong. I should have called a timeout and let the guy know I wasn't realy going to see my pitcher, I knew something was wrong with him. But hopefully he'll be fine."
April, 5, 2012
4/05/12
10:47
PM ET
By
Tom Layman
| ESPNBoston.com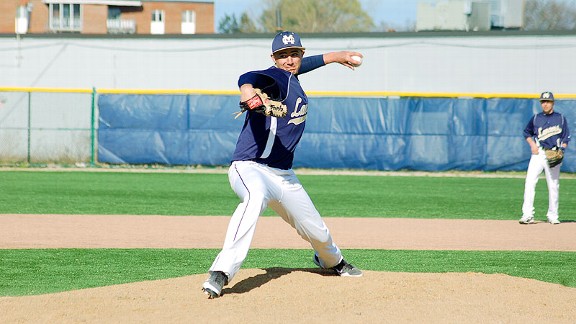 Brendan Hall/ESPNBoston.comJunior lefty Joe Velozo (8 K's) looked promising despite picking up the loss for Malden Catholic.
MALDEN, Mass. — Mike O'Keefe knows that nothing is going to come easy for his Chelmsford baseball team this season, and he got a real good sense of his team's resolve in the very first outing of the year.
The Lions watched a 2-run lead dissipate with one swing of the bat in the seventh inning, but rallied back with three runs in the top of the eighth without recording a hit to snare a 6-3 extra-inning affair over host Malden Catholic (0-1) yesterday.
"I was really proud of our guys," said O'Keefe. "We didn't put our head down and we sort of clawed back right away. That's the type of team that we are going to have to be. Those are the types of games that we are going to be in all the time. We aren't the type of team that is going to pound people and score 10 or 15 runs."
Jake Kelley was maneuvering his way through the Lancers lineup through 6.2 innings, but hit a bit of a thud on the way to the complete game victory. Lucas Lott worked a two-out, pinch-hit walk and the next batter, Steven Passatempo, made everyone's afternoon a little longer with an opposite field home run to right to tie things at 3.
The Lions wasted little time to help pick up their starting pitcher.
David DeDonato worked a leadoff walk and Mike DeDonato had an interesting time trying to get the former into scoring position. Mike DeDonato fouled off his first two bunt attempts and fought off a couple pitches before the Lancers' catcher had a tough time handling a high pitch from Paul Campbell. David DeDonato moved to second base and Mike DeDonato finally worked a walk after a nine-pitch at-bat.
Matt Rabbito got the intentional pass to set up the force at any base, and Tom Murphy put the go-ahead run back on the board with a sacrifice fly to right.
"I saw fastball right down the middle and saw the infield in, so I had to get a sac-fly to get the runner home," said Murphy, who went 1-for-3 with two RBI. "That was the most effective way to do it."
Mason Trubey stung a grounder to shortstop, but the throw to first was high and mishandled by the first basemen to allow two more runs to come home for a 3-run lead and silence the Lancers bench after the tying home run seemed to energize the home dugout.
"When you grab momentum like that you have to finish it off," said Malden Catholic head coach Steve Frecker.
Joe St. Hilaire closed things out with a 1-2-3 inning for the victory. Kelley was charged with three earned runs on five hits with four strikeouts and three walks in seven innings of work.
Lancers' Lefty Sharp Early:
For three-plus innings it looked like the Lions wouldn't be able to touch Joe Velozo.
The Lancers lengthy junior lefty was hitting both corners with his fastball and challenging right-handed hitters inside to burn through the first 10 hitters of the game. He struck out six in the process — including back-to-back on six pitches to start things.
The second look for the Lions' heart of the lineup was a little bit different. The Lions stung three straight hits in the top of the fourth to grab a run, and Mike Rosa tacked on another run with a sac-fly to right for a 2-1 lead.
"We were just looking to stay back on his ball," said Murphy. "He's a good pitcher."
"He was dominating," added O'Keefe. "The first time around we tried to muscle up a little bit and swing harder instead of staying within ourselves and try to shoot the ball the other way."
Velozo was tagged for three runs on four hits in 6.1 innings with eight strikeouts.