Boston High School:

Matt Barker
May, 8, 2014
May 8
1:14
AM ET
DUXBURY, Mass. – As Lincoln-Sudbury boys' lacrosse team kneeled around the crease for a postgame breakdown, with their head coach Brian Vona in goal, they were reminded on what they'd just accomplished. The Warriors' win Wednesday at No. 1 Duxbury was more than just a victory over the perceived best team in the state this year.
This one was for all that had come before.
[+] Enlarge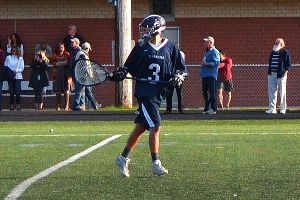 Scott Barboza/ESPNBoston.comLincoln-Sudbury senior goaltender Jack McCready made 11 saves en route to a 9-7 win over rival Duxbury.
They were reminded of all the previous great L-S teams who – despite their best efforts – could never do one thing – beat the Dragons. The Warriors did just that, 9-7, but not reflected in the sizeable crowd that gathered for Massachusetts' premiere public school rivalry was all who were with them in thought.
"There were hundreds of alumni, sending us texts, emails, reminding us about how important this game is," said senior long-stick midfielder John Sexton, a four-year letterman, "how many careers have ended on this field, right here."
The regular-season meeting between L-S and Duxbury last year was a quadruple-overtime classic, with the Dragons extending their all-time winning streak over the Warriors and Tyler Powers providing the game-winner in an 8-7 decision.
This year's duel took on the same intensity from the opening faceoff with a frenetic first quarter when L-S (10-3) took a 5-4 lead with one second remaining on a goal by Eric Holden. The Warriors and Dragons (10-3) went tit-for-tat in the second, with L-S taking a 7-6 lead into the half.
Despite holding the lead, L-S was frustrated by Dragons goaltender Nick Marrocco, who made four of his eight saves during the second quarter.
"He's an awesome goaltender, and I'll tell you, he broke our spirit a couple times with some of those saves," Vona said.
Sloppy play held back Duxbury in the second half, as the Dragons committed nine giveaways in the final two quarters. Yet, the Warriors' stifling defense also had a significant while holding Duxbury off the scoreboard in the third quarter.
"They were doing great in transition, so we were trying to limit their opportunities in transition," Sexton said. "We were feeling very confident with Jack [McCready] in net behind us and our defense was really working hard for each other out there."
Sexton scored the lone goal of the third to give L-S an 8-6 lead.
The Warriors amassed their biggest lead of the game with 5:08 remaining in the fourth, when junior attack Mike O'Connell netted his fourth goal of the game off a feed from Nick Brindisi (1 G, 2 A).
Duxbury countered with a goal by Trevor O'Brien at 4:40, assisted by his brother, Shayne (2 G, 2 A), but turnovers again came back to haunt the Dragons in their final two possessions.
"I think we really came together over the last couple weeks," said Sexton, reflecting on the Warriors' upset loss to North Andover at the Coaches Challenge Cup. "We have more confidence, we started getting better in practice, working harder."
'Third-string' no more:
Vona knew he had a robust defense in place entering the season, with trusted returning starters Matt Barker, Eamon Hunter and Sexton, among others. But the question was in goal where the job was left to senior Jack McCready. A third-string goalie for the Warriors last year, to say McCready was untested would be an understatement.
Following McCready's 11-save performance against the Dragons, L-S knows exactly what it has.
"He made saves today that I've never seen him make," Barker, a senior close defender, said of McCready. "When people would get beat, I'd turn around and boom – save. I was just mind-blown."
That has, in turn, instilled an added sense of security for what was already perhaps the state's best defensive units this season – a scary proposition in the final month of the regular season.
"We love having him behind us because we can play so much more freely," Sexton said.
Notable quotables:
When talking about his teammates' effort in the midfield, eliminating the Dragons' transition game in the second half, it was difficult for Sexton to contain his excitement
"Our midfielders were tracking their …," he said, then inserting a phrase which will be omitted to protect the innocent.
"Pardon me. They were getting back and … working hard."
Sexton's salty sentiment underscored a key component to the Warriors' victory, which had helped Duxbury to a 2-0 lead out of the chute on goals by Shayne O'Brien and Brendan Burke. L-S ground down the pace of the Dragons' transition play throughout the second half, as Duxbury continued to victimize itself with errant passes.
While the Dragons undoubtedly will come away from the matchup of perennial Division 1 championship contenders feeling as though they left some goals off the board, credit is also due to the Warriors' confidence in their own half of the field.
"Six-on-six, we had them today," Barker said.
May, 1, 2014
May 1
1:48
AM ET
SUDBURY, Mass. – Even as Lincoln-Sudbury lacrosse found a sliver of daylight in the third quarter of its Dual County League game against Concord-Carlisle, Warriors head coach Brian Vona had anxiety.

"We didn't feel as though the game was over at that point," Vona said of the two-goal lead L-S opened up in the third.

But the sixth-ranked Warriors would not relinquish that lead as they again threw the hammer down on defense. L-S hardly allowed the No. 15 Patriots past midfield in the second half, holding them to one goal in the final 24 minutes while cruising to a 9-5 win.

It was one of the state's most robust defensive units finishing the job once again as the fearsome trio of Matt Barker, Eamon Hunter and John Sexton made scoring chances hard to come by for C-C, while senior goaltender Jack McCready made nine saves.

"Last year, it was our offense that we relied on; this year, it's our defense," Vona said. "I love the defense, they're playing great. I love the intensity they play with. They've worked a lot together as a group, so they rely on each other. Jack [McCready] talks a lot directing the defense and that's the most important thing."

L-S (9-2) held a slim 5-4 advantage at the half, but watched the Patriots (4-6) draw even early in the third on Tommy Standish's second goal of the game, assisted by Steven Armanetti (1 G, 2 A).

Eric Holden (2 G, 1 A) provided what stood up to be the game-winning goal with 3:37 remaining in the third before Austin Barta netted his third goal of the game with 1:43 to go. The Warriors added insurance goals in the fourth from Michael Yenke and Harlan Smart (1 G, 1 A).

Meanwhile, defensive midfielder Ryan Koenig stepped in to win some key faceoffs down the stretch, winning three of the game's final four draws to salt the clock away.

"Concord plays tight-game lacrosse," Vona said of his opponent, which happens to be coached by former high school teammate Tom Dalicandro. "They're well-coached, the possess the ball. At that point in the game, we still had a lead, 7-5, but we still needed to win faceoffs."

Shuffling the deck: While the Warriors' defense appears in midseason form, they've yet to play with a full complement of players on the offensive half of the field.

L-S has lost Denver-bound attack Colby Hall during the season and has been without promising sophomore midfielder Connor McCarthy, who continue his rehab from offseason surgery.

The Warriors only recently saw one of their offensive stalwarts from seasons' past return, with senior captain Greg Roder returning to the rotation.

"He settles us down," Vona said of Roder – a four-year letter-winner. "He's a guy that we know can move the ball and be in control. He's a great athlete and he plays both ways. He got stuck on defense four times today, and he made great plays."
April, 4, 2014
Apr 4
1:31
AM ET
SUDBURY, Mass. – In recent memory, both Lincoln-Sudbury and Wellesley lacrosse have been staples in making deep runs in their respective divisions.

However, as Wellesley steps up to Division 1 from the D2 ranks this season, the Raiders got a sample of what they'll encounter if they want to make another postseason drive in Thursday's matchup with the Warriors.

Although Wellesley tried its best to draw even with a third-quarter comeback, L-S held on for a 5-3 win.

The defending Division 1 state finalists never trailed in the contest and ran out to a 2-0 lead at the end of the first on goals by Austin Barta and Chris Brindisi. Mike O'Connell added a third goal before the Raiders' Tucker Dietrick broke up the shutout with less than three minutes to play in the half.

Wellesley (1-1) made its run in the third, winning the ground ball battle in the frame, 6-2. After Nick Brindisi's goal gave L-S (2-0) its largest lead of the day at 4-1, the Raiders drew within a goal again on tallies from John Caraviello and Kerry Lyne.

Yet, the Warriors responded with a nice cutting goal from Colby Hall with Eric Holden hitting the University of Denver commit midstride on the feed.

Despite a couple of hit posts from both sides, the fourth quarter closed

"I think L-S is a little more toward mid-season and we're a little more toward preseason," Wellesley head coach Rocky Batty said. "I think there was a bunch to learn from today."

X-factor: Wellesley's third-quarter run came via a recommitment to winning ground balls in the midfield, accompanied by a slight variation in offensive attack.

"One of the places we had trouble with ground balls was at the faceoff X," Batty said. "Tucker [Dietrick] did a good job of winning the draws, but John Sexton was just so tough in saying, 'I lost the draw, but I'm going to win the ball.'

Both of the Raiders' third-quarter goals came off of defensive ground ball wins. Then, in the offensive half of the field, they were able to get clean looks at the cage.

"We won the ground balls and we changed our strategy to go after their poles," Batty said. "We just went for three, four straight possessions and we had some success."

Closing stride: With several of its offensive mainstays out due to injury and facing a Wellesley side which was coming off an impressive 18-goal performance against Billerica, L-S looked to its defensive stalwarts to shut down a potent Raiders' attack.

Enter Notre Dame-bound long-stick midfielder John Sexton.

"He played great," Warriors head coach Brian Vona said of Sexton, "and he played against a great player in [attack Matt] Dziama – he's the real deal."

While Sexton turned in a multifaceted performance, slowing down one of Wellesley's chief offensive threats and stepping in on face-off duty, it was put upon Matt Barker in close defense to mitigate the impact of Caraviello, who put in seven goals against Billerica previously. In a matchup of future Trinity College teammates, Barker disrupted the flow of the Raiders' offense throughout, particularly in the fourth quarter, with the Warriors buckling down to close out the victory.
May, 10, 2013
5/10/13
2:21
AM ET


SUDBURY, Mass. – Tyler Powers had just scored the game-winning goal in an epic quadruple overtime game between the Nos. 1 and 2 ranked lacrosse teams in Massachusetts.

So how did he plan to celebrate?

"I've got a lot of homework to do," Powers said. "Other than that, I don't know."

After a rain-delayed start, the struggle between No. 1 Duxbury and No. 2 Lincoln-Sudbury spanned about three-hours' time and nearly the full span of four, complete overtime periods. And yet, after all the expended time and energy, it remained apparent that the difference between Thursday's competitors was a futile exercise akin to splitting hairs. The highly anticipated matchup between the long-standing MIAA Division 1 powers was worth every minute, and every raindrop, which — at times — fell in torrents.

But it was Powers, a junior attackman, who finally broke the defensive stalemate as a fifth extra session loomed. Just 17 seconds remained in the fourth overtime, when fellow junior Brendan Burke found the cutting Powers for the game-winner. After more than 63 minutes of elapsed play, Duxbury emerged with an 8-7 victory.

"C.J. [LoConte] set a pick for Brendan [Burke], Brendan then found me, hit me in stride," Powers said. "I got by my defenseman and put it by the goalie like our coaches told us."

Not much did pass between the goaltenders – Duxbury's Nick Marrocco and the Warriors' Dario Morando – who were brilliant. The standout saves were too numerous to tally, with both parties seemingly one-upping the other on each stop.

L-S head coach Brian Vona, a goaltender in his own day, called Marrocco "the player of the game" — a tall compliment paid in a game rife with superb defense.

"Nick's about as tough as they get mentally, physically," Duxbury head coach Chris Sweet said. "He's fearless and it showed tonight. He was spectacular along with our three defenders Marshall [McCarthy], [Jon] Hurvitz and George Ward."

For the scant offense that was available to either side, both teams received contributions beyond their usual cast of starters. Sweet called Burke's three-goal effort the junior's "game of his career."

Meanwhile for the Warriors, who suffered their first defeat of the season and were playing without top offensive threats Dan Delaney and Henry Guild due to injury, junior Greg Roder helped fill the void with a two-goal game. Chris Giorgio was also a factor, scoring a goal and adding two assists.

Giorgio's greatest thrill was for not, however. L-S started the third overtime period with a man-up advantage. After cycling the ball around, Giorgio had Marrocco beat with a quick rip to the left-hand post. Giorgio's shot kicked up the slack on the side of net – for a moment, drawing the Warriors' faithful into a frenzy. The shot landed wide of the post, however, and Marrocco coolly collected the ball and cleared to end the threat.

IN AND OUT
Both teams have dealt with recent injury woes. And while L-S (11-1) was without a couple of its top offensive options Thursday, Duxbury (12-4) is on the mend.

The Dragons rotation was bolstered by Trevor O'Brien and Jack and Shayne Sullivan returning to the mix. And although Sweet has had to mix and match his attack during the last couple weeks, it's also been a trial by fire for his group.

"We've had our share of injuries, but what it's done is that it's built a lot of depth for us," Sweet said. "That can be a good thing. We saw a lot of kids step up today who you probably haven't heard much from."

Now, the task is building chemistry among the replenished ranks.

"Our team has a lot of depth," Powers said. "We have a bunch of middies. They've been working hard. The kids that took their place have been playing great, doing what they can to help the team."

DEFENSE RULES THE DAY
Aside from the goaltending, the true stars of the duel were the poles. And, at times, they weren't limited to the defensive half.

Hardly a play went into the L-S half field without Notre Dame-bound long-stick John Sexton throwing his height around. In addition, the rangy junior also chipped in on the Warriors' man-up situations. Also, in close defense, Matt Barker was a revelation for the Warriors, with his crafty stick-check during a key Duxbury possession in the third overtime as a highlight.

Likewise, the Dragons' vaunted defense came to play.

Highly-touted, Fairfield-bound pole Jay Walsh was a ground ball hound, including a couple pick-ups on faceoffs during the overtime periods.

Marshall McCarthy was a force, scooping up key ground balls in the defensive half, while also stepping into the breakout with an assist. It was a pivotal performance from a player who (can you believe this?) didn't play in his sophomore season and is in his first year as a defender.

"I think he could play Division 1 lacrosse right now," Marrocco laughed about McCarthy, who was also ESPN Boston's MIAA football Defensive Player of the Year.