Boston High School:

Matt Cieboter
March, 2, 2014
Mar 2
7:13
PM ET
By
Jeff Cox
| ESPNBoston.com


BOSTON – Springfield Cathedral has had trouble getting over the hump in the first game the past few Super 8 tournaments, but the Panthers had no such problem this year.

The Panthers defeated Duxbury, 4-1, in the first game of the best-of-three series on Sunday afternoon at the TD Garden. It was a closer game than the final score would indicate with two late goals skewing the appearance.

"There are always so many nerves in game one of this tournament," said Cathedral head coach Brian Foley. "We got a game one win and that's something we've been searching for the last couple years. We're happy with the result."

"We played a great game as a team. We came out hard in the beginning," said junior forward Zac Prattson.

Brotherly connection: Springfield Cathedral has three pairs of brothers on its team and one of those pairs came up with the first two Panthers goals.

Zac Prattson, the older of the two Prattson brothers, scored the game's first goal on a shorthanded bid at the 2:36 mark of the opening period. Holy Cross commit Peter Crinella broke up a pass in the neutral zone and led Prattson who took a step inside the blue line before taking a slap shot on goal that found the five-hole.

"I was busting down the side and saw a shot opportunity. I just threw it on net and slipped it five-hole," said Zac Prattson.

After Duxbury had tied the score in the second period, younger brother Riley helped Cathedral regain the lead for good. Just after a power play had expired, Riley Prattson found himself alone on the right side. UMass recruit John Leonard sauced the puck over a Duxbury defender's stick to Prattson who took a step in before raising the puck past Duxbury goaltender Tucker Kelly.

"[Riley] always steps up to the challenge. He played really well today," Zac Prattson said of his brother's play.

"They're great," Foley said. "Zac got the first goal for us, which was huge. He's a captain and a leader. He's more of a lunch pale, blue-collar type guy where his brother Riley is more of a skill guy. I was happy to see them both score."

The other two sets of brothers are Bryce and Cam Peritz and D.J. and Keith Petruzzelli.

Goaltending controversy: Springfield Cathedral has the luxury of having two very good goaltenders. Freshman and Quinnipiac commit Keith Petruzzelli got the nod in goal Sunday. He made several very nice stops, including a flurry in the second period where he stuck his toe out for a nice kick save.

"Keith was 5-0 as a starter coming into today," said Foley of his freshman. "He's now 6-0 on his young career. He stepped up today and played really well for us."

"Game two is up in the air. I can't tell you that one yet," said Foley when asked who his game two starter would be. "[Senior] John Liquori is a great goalie and they both had a great week of practice. You talk about competition. To see how they competed this week was really good."

"I wouldn't be surprised if Johnny [Liquori] takes game two," added Foley.

Power forward: Crinella, a junior captain, might not be the fastest player on the ice, but his physical presence along with his heavy shot make him one of the most dangerous players with the puck in high school hockey.

His third period tally put the game out of reach when he once again used his body to fend off a Duxbury defender after having received a home run pass from defenseman Matt Cieboter.

He shot the puck high and wide on a power play attempt in the second period after he was left alone in the slot, but it was the type of play that shows his ability to make space and create havoc for the opposition.

Youth is served: Springfield Cathedral is without a doubt the youngest team in the tournament. Foley's team dresses just one senior and he doesn't play when Petruzzelli occupies the crease.

The starting lineup consisted of four freshmen and two juniors, and many more young players, including eighth grader Devon Tongue, see significant ice time.

"You never know how your kids are going to come out," Foley said. "I thought we played a little nervous early on, but as the game moved along we had some good moments.

"We talked about being here before and not accomplishing our goal. That was a big thing before the game. We just wanted to play a solid hockey game and block out where we are."

Dragons see some positives: Despite losing 4-1, Duxbury head coach John Blake felt there were several positives to take away from Sunday's Super 8 opener.

"I think our guys have a sense of confidence that we can play with these guys going into Thursday now," Blake said. "We were in the game late, but we'll need to get it going right away."

The Dragons might have needed a period to get their legs under them and let the magnitude of the game sink in, but a whole different team took the ice for the second stanza.

"I thought the first period, whether it was nerves a little bit, we were off as a team," said Duxbury head coach John Blake.

Dragons senior forward Matt Saia scored his ninth goal of the season just 48 seconds into the second period on a nice individual effort. He stole the puck away from a Cathedral defender and beat him off the boards before roofing a shot over Petruzzelli's blocker.

Duxbury will need to be focused right from the get-go and concentrate on some of the minor details of the game in order to be more successful in game two.

"I think it's got to be a full 45-minute effort on Thursday. We've got to play mistake free hockey in order to beat Springfield. We made a few mistakes and they made us pay," said Duxbury head coach John Blake.

The two teams will meet again in the second game of the best-of-three series on Thursday night at 6 p.m. at the Tsongas Center on the campus of UMass-Lowell.
December, 29, 2013
12/29/13
12:37
AM ET
By
Phil Garceau
| ESPNBoston.com
HYANNIS, Mass. – The Panthers may be a young team, but the message they sent this weekend should have any team that crosses their path a little worried.
Barnstable coach Scott Nickerson might have summed up Saturday night's game against No. 8 Springfield Cathedral the best.
"We were outmanned, they just did everything well. They've got some of the best players I've seen in the last 10 years."
The Panthers followed up Friday night's six-goal game by hanging nine goals on their second ranked opponent in as many games to capture the Cape Cod Freeze Out championship.
[+] Enlarge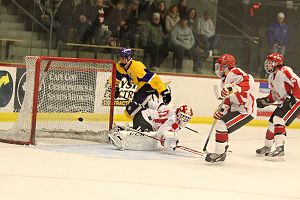 Phil Garceau for ESPNBoston.comSpringfield Cathedral winger Peter Crinella was one of three Panthers with multigoal games in a rout of No. 19 Barnstable at the Cape Cod Freeze Out.
Sophomore Johnny Leonard paced the offense with a hat trick and D.J. Petruzzelli chipped in with two goals and a pair of assists in the win. Both players were named to the all-tournament team.
Leonard scored two of his goals in the first period as the Panthers took a 3-0 lead into the first intermission. Leonard scored his first of the night was he got behind the Red Raiders blue liners and was fed a perfectly timed pass Matt Cieboter. All alone on the breakaway, Leonard made a quick move to beat Kevin Huska and gave Cathedral the lead just 69 seconds into the game.
Freshman Riley Prattson added a goal midway through the first and Leonard was set up for a power play goal from Perruzzelli in the closing minutes of the period to put the finishing touch on an all-Panther first period.
"Always when you can score early and get a lead you're always better off. It's a tough game and playing from behind is hard," said Cathedral coach Brian Foley.
Barnstable was at risk of being run out of their own building, but 20 seconds into the second period Cam Curtin got a hold of the puck and took it up the left side and rifled a shot past John Liquori.
Peter Crinella and Pertuzzelli scored a minute and a part from each other to give the Panthers a 5-1 lead and Crinella goal with 25 seconds put the visitors up 6-2, but the pesky Red Raiders refused to go away. Cody Pasic got two goals in the final five minutes, including one with seven seconds on the clock giving the Red Raiders a shred of hope to cling onto as they skated back to their locker room for the second break.
"We played a better second period, tying them 3-3 in the period and we go into the locker room trailing, 6-3," said Nickerson. "If we don't give up the goal at the end it's 5-3, and I think it's a different story."
But Springfield Cathedral put an end to any thought of a Barnstable comeback, scoring two quick goals to open the third. Leonard scored his hat trick goal with 3:05 on the clock to end the high scoring affair.
"At the end of the second they took the momentum away so it was important to come out in the third and score the three goals to win the game," said Foley. "I thought the next goal in the third was going to be huge. If they made it 6-4 we are on our heels."
No inexperience here:
Cathedral is skating one of the youngest teams in the state. The only senior on their team is their goaltender, John Liquori. The Panthers have five juniors in first-liners Crinella and Petruzzelli, second line right winger Zach Prattson and their second defensive pairing of Cieboter and Bryce Peritz.
That leaves 15 skaters and two goalies between eighth grade and sophomores. But don't let that fool you. They need be considered amongst the most explosive teams in the state. Six goals against No. 22 Braintree and nine goals against No. 19 Barnstable with Kevin Huska in net.
"We are really young so obviously its work in process," said Foley of his team so far. "Its nice we're scoring a lot more goals than we have in the past, but we are allowing more goals than we had in the past so we need to work on team defense but we are making strides and improving."
With such a young team, the hot question on everyone's mind is how they will react come tournament time in February. While the season is still young, Foley isn't worried about that quiet yet, "Its very strange but credit to those kids. They are a talented group of kids and as long as they keep working and improving, age won't be an issue as the season goes on."
A learning experience:
Nickerson didn't sugar coat his loss after the game and gave credit where credit was due.
"We reacted slow. At this point in the season I don't think we could beat them one out of 20 times but down the road, who knows. It's a good learning experience."
Barnstable had gotten off to a solid start this season, but Saturday's game should be a wake up call to the Red Raiders. If they want to be the best they have to beat the best and Cathedral reminded them just how far they are.
But the season is still early on and there are things that the Raiders did well that can be built upon. How they reacted when they were down after the first period is a good starting point.
"We attempted to make a game out of it but at this point in the season we aren't ready for that type of competition," said Nickerson. "Its good for us, it shows us where we stand and where we need to be but also a reminder that we aren't a super eight team."
Power-play dominance:
The Red Raiders were sent to the penalty box four times and the Panthers did their best to make them pay for every mistake that made.
Four penalties translated into three power play goals for the Panthers.
Barnstable needed to play a perfect game when they were at ever strength to win the game, never mind when they were outmanned on the ice.