Boston High School:

Matt Clifford
December, 2, 2013
12/02/13
11:31
PM ET
With Monday marking the beginning of MIAA hockey practices across the state, it's as good a time as any to take an initial stab at projecting this year's Super 8 tournament field. So here goes nothing, kicking off the #RoadToTheGarden:

(By the way, look for our full preseason boys' and girls' Top 25 polls, along with All-State teams, starting next Monday.)

1. Austin Prep

Last year's record: 16-2-6

Last year's final ranking: 3

Key returners: F Bobo Carpenter, D Andrew Cross, G Elijah Harris, D J.J. Layton, F Eric MacAdams.

Why they're here: Feeling was that the Cougars were about a year away from contending heading into last season and, low and behold, AP was just a goal or two away from capturing last year's Super 8 title at the Garden. A young and talented nucleus returns largely intact this season, so the expectation is even higher. The goal will be to interrupt Malden Catholic's designs on a four-peat.

2. Malden Catholic

Last year's record: 16-6-3

Last year's final ranking: 1

Key returners: F Matt Filipe, F Austin Goldstein, D John McLean, F Ara Nazarian, D Nick Rolli, F Tyler Sifferlen, F Jake Witkowski.

Why they're here: As a three-time defending champion, it's again the Lancers' derby to lose. There are questions entering this season, as they'll again be breaking in a new goaltender and Casey Fitzgerald moved on to the United State National Team Development Program. However, with returning ESPN Boston Mr. Hockey award winner Ara Nazarian (a UNH commit) returning, anything's possible with this group.

3. Springfield Cathedral

Last year's record: 16-3-4

Last year's final ranking: 7

Key returners: F Peter Crinella, G John Liquori, F Johnny Leonard, F D.J. Petruzzelli.

Why they're here: The Panthers might have the best forward depth of any returning squad, but there are some serious voids to be filled on the blue line, with All-Staters Matt Foley and Jack Williams lost to graduation. However, for whatever Cathedral might lack in experience on defense, three-year starting netminder John Liquori should mask.

4. Central Catholic

Last year's record: 15-7-3

Last year's final ranking: 6

Key returners: F Zack Cote, F Lloyd Hayes, D Alex Lester, G Colin Soucy.

Why they're here: Arguably, there was no bigger breakout star in last year's Super 8 tournament than Colin Soucy. The then-junior goaltender backboned the Raiders in a hard-fought, three-game series against St. John's Prep, nearly earning the upset against the top-seeded Eagles. Head coach Mike Jankowski's teams are always defensively responsible and well-organized through the neutral zone, thus they are perennial staple to the tournament.

5. BC High

Last year's record: 15-5-3

Last year's final ranking: 5

Key returners: F Steve DeForge, F Pat Kramer, F Tim Larocque, F Jake Lemanski, D Ryan Shea, D Sam Topham.

Why they're here: Of course, there's the question of how will take Peter Cronin's place in between the pipes, but the Eagles are deep on returning talent. Sophomore defenseman Ryan Shea has generated a good amount of Division 1 college interest in just one year at Morrissey Blvd. Meanwhile, junior Pat Kramer was among the Eagles' top scorers last year. If the transition in net is smooth, they're likely the second Catholic Conference team in.

6. Winchester

Last year's record: 16-6-3

Last year's final ranking: 11

Key returners: F Brendan Greene, G James Offner, F Nolan Redler.

Why they're here: The Sachems were a couple bounces and a shootout away from a Division 1 state title appearance last season, going down in a narrow defeat to eventual champion and Middlesex League rival Burlington. This year, Winchester could assume the poll position in the state's premiere public school division. The aforementioned Red Devils and last year's Super 8 entrant, Reading, both graduated significant portions of last year's roster, so the time is now for the Sachems to make their run.

7. Archbishop Williams

Last year's record: 13-6-4

Last year's final ranking: 15

Key returners: D Matt Clifford, F Ryan Dunn, F Mike Jessman, F Nick Menzel, F Mike Sorrenti

Why they're here: After an albeit brief appearance at last year's Super 8 tournament – getting trounced by MC in a play-in game – the Bishops should remain a top team in the Catholic Central, which is often a two-bid league at the Super 8 table, with 13 seniors on the roster. They could be the team to push AP in league play, and if everything holds true, they'll be in the picture come tournament time.

8. St. John's (Shrewsbury)

Last year's record: 7-11-4

Last year's final ranking: N/A

Key returners: D Bryan Nelson, G Mario Pizzeri.

Why they're here: Hey, what would a preseason picks segment be without a dark horse? Last year was a bumpy season at best for the Pioneers, but after a one-year absence from the Super 8 (and tournament play for that matter), St. John's could be dangerous behind first-year head coach Mike Mead. The Pioneers are built from the net out, with Mario Pizzeri in goal – a holdover and standout in St. John's Super 8 appearance two years ago.
March, 3, 2013
3/03/13
7:33
PM ET
BOURNE, Mass. -- For the past couple of weeks, the Archbishop Williams boys' ice hockey team has been in a funk, one they hope that they broke out of with a 2-1 victory over Natick yesterday afternoon at Gallo Ice Arena. The Bishops did not play up to their standards at the Cape Cod Classic to close the regular season, and then were embarrassed in a Super-8 play-in game against Malden Catholic.

"I'm going to be straight forward, we haven't been playing very good hockey down the stretch coming into this tournament, we just had to get the monkey off of our back," Bishops head coach Derackk Curtis said. "We needed to find a way to win, dirty, scrappy, I didn't care … Sometimes you just have to exorcise those demons, get the winning feeling, get that monkey off of your back."

The Bishops scored two first period goals and then hung on for dear life, thanks in large part to the play of goalie Joe Vinay, who stopped 29 of the 30 shots that he saw in the game.

The day's offense for the Bishops came within a short stretch in the first. In less than three minutes, the Bishops bolted ahead by a pair and then had to make that stand up the rest of the way.

Michael Sorrenti enjoyed his personal home ice advantage. The Archies forward, who hails from Bourne, grew up playing on the Gallo Ice Arena sheet and he was the first one to put a puck in the net for the Bishops. Sorrenti scored on a shot that Natick goalie Griffin Bailey wished he could have had back, as he didn't cover up the near side pipe and Sorrenti sneaked a wrister inside of it to give his team a 1-0 lead at 8:21.

Shortly later, at 10:48, the Bishops doubled the lead. Colin Boyle snapped a wrister from the high slot that found its way behind Bailey, who was lifted in favor of Mike White for the latter two periods. White was excellent down the stretch, stopping all 14 shots that he saw, including a couple of breakaways.

Penalties were a bugaboo for the Bishops the rest of the way as Natick enjoyed six power plays in the game, and cashed in one. The Red Hawks would have loved to have had more, but Vinay and forward Ryan Dunn led a PK unit that got the job done effectively.

Matt Clifford's second minor penalty of the second period led to Natick's lone score. Just 19 seconds after the infraction, Natick junior captain Derek Butler planted himself in front of the cage and tipped in a feed from behind the cage by Max Plasker to cut the lead in half at 5:34, making it 2-1.

With Natick losing its best offensive weapon, Matt Kustra, in the first period with an ankle injury, head coach Karl Infanger said that his team's power play unit lacked its usual cohesion. The Red Hawks had five power plays over the final two periods, including a four-minute advantage midway through the third, but were never able to find the equalizer, despite outshooting the Bishops, 21-14, over the final 30 minutes.
October, 27, 2012
10/27/12
7:42
PM ET
By
Brendan Hall
| ESPNBoston.com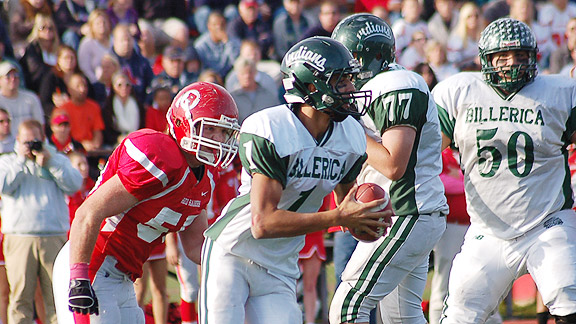 Brendan Hall/ESPNBoston.comBillerica quarterback Jordan Balarinho gave No. 1 Barnstable all it could handle in a near-upset, accumulating 394 yards of offense and 5 passing touchdowns.
HYANNIS, Mass. -– Between the bye-week rust, looming Homecoming festitivies and a monster matchup with league rival Bridgewater-Raynham for the Old Colony League's lone playoff berth on Nov. 2, this was an ideal formula for a trap game.
And until the final few minutes, it looked like the No. 1 team in all of Massachusetts was about to take one on the chin from upstart Billerica. The Indians (2-6) took a brief lead over Barnstable (7-0) in the fourth quarter, but the Raiders answered with two rushing scores and a stingy defensive stop to put down the clamps and escape with a 46-33 win.
"We survived. We showed some toughness at the end, no quit," head coach Chris Whidden said. "But hopefully, this proves that we can't just turn it on and off. Hopefully that 'on' switch stays on going forward."
Billerica took its first and only lead of the afternoon with 8:38 to play in the game, on a 61-yard strike from quarterback Jordan Balarinho (23 of 35, 322 yards, 5 TD; 9 carries, 72 yards) to receiver Matt Clifford (10 catches, 156 yards, 3 TD). Clifford ran a seven-yard hitch down the left sideline and easily slipped off a high arm-tackle, then outran safety Hayden Murphy's pursuit from the opposite side of the field en route to paydirt.
After sputtering in spurts all afternoon, the Red Raiders came to life in the final eight minutes of play. Quarterback Nick Peabody completed a nine-play, 75-yard drive by calling his own number on zone read, then weaving through traffic up the middle of the field and stretching over the goal line. He called his own number again on the two-point rush to make it 40-33.
On the ensuing Indians drive, the Raiders front seven made two crucial stuffs for a turnover on downs, after giving up nine yards on the first play of the drive. On third down, Ellis met Balarinho right at the line of scrimmage as the quarterback was looking for a dive up the middle. The next play, running back Brad Dewek was stopped cold in his tracks by Ellis immediately in the backfield.
With new field position at the Indians' 40-yard line with 3:36 to go, the Raiders put the game out of reach with a two-play scoring drive, first a 27-yard speed sweep by receiver Tedaro France (5 catches, 127 yards, 2 TD) then a 16-yard zone play by Murphy (145 all-purpose yards, 2 TD) for the score and, following a missed point-after kick, a 46-33 advantage with 3:17 to go.
Coverage concerns:
While Peabody finished with another solid day at the office (13-of-23, 270 yards, 3 TD; 9 carries, 88 yards, TD), the same cannot be said about the play on the other side of the ball. Whidden characterized the performance as "as poor as we've played all year", and within that, the most glaring deficiency was the pass coverage.
The Raiders' secondary seemed to align against the deep ball for most of the game, and the Indians took advantage, moving the ball swiftly up and down the field behind a short passing gameplan that utilized hitches and shallow crosses. Only four of Balarinho's 23 completions went for more than 15 yards.
"People didn't play their assignments," Whidden said. "Our flat defenders weren't necessarily getting to the spots they were supposed to be getting to early, and those seven-yard hitches were open. They found that, and they did a good job coaching-wise to exploit it."
Ending on a positive:
The pass rush was a bright spot for the Raiders' defense, tallying three of their five sacks in the fourth quarter. Alternating between three and four-man fronts, the Raiders were led by Jason Freih, Bryan Hardy, Ryan Litchman, D.J. Goncalves and Ellis (two interceptions).
However, it wasn't a flawless performance. While the Indians got minimal production from their tailbacks, Balarinho was consistently able to run free for first downs after getting flushed out of the pocket.
"We were getting pressure, but a lot of times we'd get beyond the quarterback, and then all of a sudden the rush lanes would get created," Whidden said. "So we need to...you get to the quarterback, you stop and redirect, and then you get rid of those running lanes for them.
"They adjusted a little bit. We were there. It wasn't like they were doing anything we haven't seen all year, it was just when it got tough, it got a little Helter Skelter and took a little while for us to adjust, for whatever reason."
Ellis doubles up:
Ellis switched his jersey number from 7 to 77 this week to accommodate an offensive line group thinned by injury. Ellis will now periodically see time at guard in addition to his duties quarterbacking the defense at middle linebacker.
Ellis has also seen time at fullback in the Raiders' offense, which could create an interesting predicament going forward.
"The rule used to be you could check in, but now you can't," Whidden said. "Now if he's wearing 77 he can't play fullback, so we might have to just put a couple of jerseys on the sideline."
BARNSTABLE 46, BILLERICA 33

BILL (2-6) 6 12 8 7 --- 33
BARN (7-0) 13 7 6 19 --- 46
First Quarter
Barn – Hayden Murphy 1 run (Jason Freih kick) 8:50
Barn – Dylan Morris 19 pass from Nick Peabody (kick failed) 6:41
Bill – Michael Casey 8 pass from Jordan Balarinho (rush failed) 0:00
Second Quarter
Barn – Tedaro France 70 pass from Peabody (Freih kick) 10:36
Bill – Matt Clifford 4 pass from Balarinho (kick blocked) 6:47
Bill – Clifford 7 pass from Balarinho (pass failed) 4:08
Third Quarter
Barn – Murphy 16 run (kick failed) 6:07
Bill – Mark Duncan 46 pass from Balarinho (Alec Mattar pass from Balarinho) 5:08
Fourth Quarter
Barn – France 8 pass from Peabody (kick failed) 9:52
Bill – Clifford 61 pass from Balarinho (Justin Beck kick) 8:48
Barn – Peabody 16 run (Peabody run) 5:20
Barn – Murphy 13 run (kick failed) 3:17
November, 5, 2011
11/05/11
1:20
AM ET
By
Andy Smith
| ESPNBoston.com
ANDOVER, Mass. -- It has been a season of ups and downs for the Andover Golden Warriors.

Come into the season ranked on the ESPN Boston Top 25, then lose to Tewksbury in the third game of the season. Win two after that, then lose to Chelmsford by 20 points. Get a 39-point victory over Methuen, then lose to Dracut by 16 points after giving up six turnovers.

They were able to send things back in a positive direction Friday with a 44-28 victory over No. 20 Billerica.

Andover did not actually come out of the gate well. The defense gave up a 31-yard Nick LaSpada touchdown pass to Matt Clifford on Billerica's opening drive. On the ensuing offensive possession, Andy Coke lost a fumble at midfield, giving the Indians the ball back with great field possession.

After forcing a 3-and-out, the Golden Warriors (6-3) drove 72 yards down the field for the first of Andy Coke's two rushing touchdowns of the night to tie the game at 7. He finished with 24 carries for 115 yards and 2 touchdowns.

On the second play of the second quarter, Freddie Scribner intercepted LaSpada and took it back 35 yards to put his team ahead. Billerica (7-2) answered on its next possession when LaSpada connected with Clifford for his second touchdown pass of the game.

C.J. Scarpa made his presence felt in the middle of the second when he finally came in to play quarterback. On 4th-and-8 from the Billerica 46, he dropped back to pass and looked right, but no receivers were open. Under pressure, he rolled back to the left, still searching for an open receiver. He saw Ken Miyachi was behind a defensive back and made a hand motion for Miyachi to take off towards the endzone. Scarpa hit him in stride for a 46-yard touchdown pass.

LaSpada had an interesting play of his own in the third quarter when he hit Mark Duncan on a short curl route next to the right sideline. After making the catch, Duncan kept his legs moving and eventually broke away from the defensive back and sprinted down the right sideline. He got into the endzone for a 92-yard touchdown reception, which kept it a one-score game.

It would not be enough however, as Andover broke away in the second half for the decisive victory.

-- Andover was able to get consistent pressure on LaSpada and slow down the Billerica rushing attack as a whole. LaSpada finished with just eight carries for 19 yards while running back Byron Ramirez had 11 carries for 42 yards and a touchdown. This was about three-quarters the production the two had the previous week in Billerica's victory over Lowell. In that game, Lowell chose to put an extra defender in the box to take away the run. Friday, Andover chose to play its base defense with two safeties high, but send a varying package of linebackers so that even though LaSpada couldn't run, he still would not have a lot of time to throw. "We match up well against them," Coke said. "We have a really good secondary and our linebackers are more athletic, coverage-type guys, so I think we matched up well against them. They were able to run the ball well at first but, then our big boys stepped up." LaSpada was 14-of-21 for 306 yards, but was forced into throwing 3 costly interceptions.

-- While it is not at all surprising to see Andy Coke get a majority of the carries in a game for the Golden Warriors, it is surprising to see him under center for a whole quarter. That is how Andover started the game Friday. Quarterback C.J. Scarpa spent the whole first quarter on the sidelines trying to stay loose in the bitter cold while Coke had 11 carris for 83 yards and a touchdown in the opening frame. "They threw down the stakes last year when they said it was going to be LaSpada vs. Coke," Andover head coach E.J. Perry said. "Andy showed the cream always rises to the top and he just did a phenomenal job. It was his overall play, he connected on passes, played defense and got an interception."

It was part of the gameplan to get Coke that integrated into the game that early. "I think our offense runs a little smoother if we score quickly with me at QB and then let CJ get his confidence up and get going and let him do what he does best and that's torch a D."

-- Andover was like many of the other schools in the state whose practice week was cut short due to school cancellations from the power outages from the weekend storm. However, it did not seem to effect the Golden Warriors on either side of the ball. In fact, Coke credited the team's familiarity with Billerica and the confidence the team gained from its victory over the Indians last year for his team's success Friday. "We had a lot of confidence coming into this game," he said. "Last year we had a real convincing win over them that was one of our building blocks to winning the MVC title. I think football is a sport where its whoever comes out harder on Fridays. A good Monday through Thursday definitely helps but if you can just get two days in and get everything down and come out mentally ready, and come out ready to hit, I think that's the most important part of this game."

ANDOVER 44, NO. 20 BILLERICA 28
ANDOVER (6-3, 1-1) - 7 15 7 15 -- 44
BILLERICA (7-2, 1-1) - 7 7 14 0 -- 28

1st quarter
B - Matt Clifford 31-yard pass from Nick LaSpada (Steve Trask kick good)
A - Andy Coke 12-yard run (Mark Zavrl kick good)

2nd quarter
A - Freddie Scribner 35-yard interception return (Zavrl kick good)
B - Clifford 21-yard pass from LaSpada (Trask kick good)
A - Ken Miyachi 45-yard pass from CJ Scarpa (2-point conversion good)

3rd quarter
B - Mark Duncan 92-yard pass from LaSpada (2-point conversion failed)
B - Byron Ramirez 2-yard run (2-point conversion good)
A - Cam Farnham 80-yard kickoff return (Zavrl kick good)

4th quarter
A - Coke 6-yard run (Zavrl kick good)
A - Will Heikkinen 25-yard pass from Scarpa (2-point conversion good)
October, 10, 2011
10/10/11
12:24
PM ET
HOW THE CONTENDERS FARED

George Craan, Sr. RB, Concord-Carlisle - Easy week for him in the Patriots' 35-7 rout of Boston Latin. He had just five carries for 135 yards and two scores.
D.J. Crook, Sr. QB, Barnstable - Looks he won't be appearing on this list for a few weeks. He fractured the thumb on his throwing hand in the second half of a 31-17 loss to New Bedford last Friday, meaning he'll be sitting at 74 career touchdown passes for a while. He did managed to throw for 135 yards on 13 of 19 passing.
Casey DeAndrade, Sr. RB, East Bridgewater - The UNH commit ran for two touchdowns in the Vikings' 36-12 win over Cohasset, bringing season season total to 12.
Jonathan DiBiaso, Sr. QB, Everett - Threw five touchdown passes in the No. 1 Crimson Tide's 41-8 rout of Taunton, bringing his career total to 79. It's a very real possibility he'll break Tom Colombo's state record of 85 sometime over the next two weeks.
Nick LaSpada, Sr. QB, Billerica - Threw for 209 yards and two scores in the Indians' 20-14 win over Tewksbury.
Sacoy Malone, Sr. RB, Springfield Central - Carried 16 times for 141 yards in the Golden Eagles' 36-15 win over East Longmeadow.
Matt Montalto, Sr. QB, Dennis-Yarmouth - In the Dolphins' 27-18 win over Plymouth North, he completed 7 of 13 passes for 236 yards and added 71 yards on seven carries on the ground, totaling three scores.
T.J. Norris, Sr. RB, Longmeadow - Carried 14 times for 101 yards and two scores in the Lancers' 34-7 win over Holyoke.
Matt O'Keefe, Sr. QB, Duxbury - Another brilliant performance for the Johns Hopkins lacrosse commit, in a big 31-14 win over Xaverian. He was 16 of 22 passing for 230 yards and two scores, and added 76 yards on the ground on 14 carries.
Melquawn Pinkney, Sr. RB, Putnam - Carried 23 times for 352 yards and six scores in the Cybercats' 54-22 win over Chicopee Comp. In the last three weeks, he's carried 68 times for 1,035 yards and 16 touchdowns. That's an average of 15.2 yards per carry.
Armani Reeves, Sr. RB, Catholic Memorial - The Penn State commit had rushing touchdowns in the first and fourth quarters to seal the Knights' 35-14 win over Hingham.
Michael Walsh. Sr. QB, Swampscott - Threw for three touchdowns in the Big Blue's 24-23 comeback win over Triton.

ON THE RISE

Chris Bettano, Sr. RB, Tewksbury - Ran for 122 yards on 15 carries in the 20-14 loss to Billerica.
Matt Clifford, Jr. WR/KR, Billerica - Amassed nearly 300 all-purpose yards in the Indians' 20-14 win over Tewksbury, hauling in both of Nick LaSpada's touchdown passes and returning a kickoff 91 yards for the game-winning score.
Alex Eaton, Sr. RB, Westford - In the Grey Ghosts' 48-14 stomping of Newton South, carried 16 times for 139 yards and two scores, and added a 90-yard kickoff return for a third score.
Geeavontie Griffith, Sr. RB, Boston Cathedral - Carried 10 times for 180 yards and all four of the Panthers' scores in a 32-0 win over Charlestown. On the year, he has 917 rushing yards on 62 carries, for 11 touchdowns.
Myles Medeiros, Sr. QB, New Bedford - In the 31-17 win over Barnstable, was 17 of 26 passing for 227 yards and a touchdown. He also carried six times for 53 yards.
Reilly Naton, Sr. WR/DB, Duxbury - The Yale lacrosse commit asserted himself at the most crucial point of the Dragons' 31-14 comeback win over Xaverian. He had back to back receiving touchdowns to give them the lead for good, and sealed the game late with an interception.
R.J. Noel, Sr. QB, Lowell - In the Raiders' 35-20 win over Dracut, he ran for 127 yards and a score on the ground, and added 96 yards and two scores through the air.
Ian Riley, Jr. RB, Needham - Ran for 162 yards and three scores in the Rockets' 34-0 shutout of Weymouth, giving him six rushing touchdowns in the last two weeks.
October, 7, 2011
10/07/11
11:05
PM ET
By
Adam Kurkjian
| ESPNBoston.com
BILLERICA, Mass. -- At some point, opposing teams and players are going to have to figure out how to keep Billerica junior Matt Clifford from hurting them.

Add Tewksbury to the list of teams he's torched.

For the second week in a row, the wide receiver/defensive back had a huge night on offense, defense and special teams, scoring all three touchdowns in Billerica's 20-14 win over Tewksbury in a Merrimack Valley Conference crossover game.

Clifford caught two touchdown passes, returned a kickoff for a score and also made an interception, putting up nearly 300 all-purpose yards. His 91-yard kickoff return for a touchdown in the third quarter -- his second kick return for a touchdown in as many weeks -- swung the momentum back in the hosts' favor and completed the scoring as the Indians improved to 4-1 overall and 3-0 in the MVC.

Tewksbury fell to 2-3 and 2-2.

"Like I said last week, we were great out here," Clifford said. "Great coaching. We were a little up and down (in the) first half. Second half we came around."

Tewksbury, coming off consecutive wins over MVC Large opponents Andover and Central Catholic, showed grit and ingenuity after losing starting quarterback Kevin Saunders to injury. Running back Chris Bettano (15 carries, 122 yards) had a successful night on the ground, and the Redmen expertly executed two trick plays in the first half, but in the end Clifford and Billerica had a few more weapons.

Some other quick thoughts on this entertaining contest...

No secondary concerns: Billerica has been solid in the defensive backfield the past two weeks. In addition to Clifford, the Indians also got some huge plays from Nick LaSpada (209 yards passing, 2 TDs), Cam Slatton and Jason Ferri. First, Slatton batted away a sure touchdown pass near the left pylon on fourth down to deny Tewksbury from the Billerica 9-yard line at the end of the first half. Then, in the fourth quarter, Ferri dropped Bettano for a 6-yard loss to force a punt. LaSpada then helped seal the win with an interception on Tewksbury's last possession. It was the second straight week LaSpada and Clifford each had an interception.

On the 'Mike': Friday night showcased two of the top middle linebackers in the MVC in Billerica's Brian Thompson and Tewksbury's Derek Tarpey. Each plays with a high football IQ and hits with authority. Tarpey made a big interception of LaSpada in the third quarter to set up a James Sullivan 22-yard touchdown run and Thompson simply made running between the tackles a difficult task for the Redmen for most of the night.

Thompson is listed at 5-foot-11, 210 pounds; and although Tarpey's measurements are not listed, he looks around the same. Each plays with that mixture of intelligence and tenacity you look for in a middle linebacker and strike a little bit of fear in opposing ball-carriers.

Redmen keep you guessing: Good luck trying to game plan for Tewksbury's offense. The Redmen showed a variety of looks and found ways to move the ball in almost every one. The Redmen lined up in everything from the single-wing to the I to the spread and you could almost never figure out exactly what was coming based on formation. Tewksbury scored on a 19-yard reverse pass from Frankie McLaughlin to Kevin Saunders and hit a 63-yard lateral pass from Dean Alves to James Sullivan, both in the first half.

When Saunders went down to injury, the Redmen used two backup quarterbacks -- sophomore Johnny Aylward and junior Zak DiRocco -- in the second half. Tewksbury coach Brian Aylward always seems to have a trick up his sleeve, and it's very difficult to game plan for everything he throws at you.

BILLERICA 20, TEWKSBURY 14

TEW (2-3) 0 6 8 0 --- 14
BIL (4-1) 0 7 13 0 --- 20

Second Quarter
T - Kevin Saunders 19 pass from Frankie McLaughlin (kick failed)
B - Matt Clifford 78 pass from Nick LaSpada (Steven Trask kick)

Third Quarter
B - Clifford 43 pass from LaSpada (Trask kick)
T - James Sullivan 22 run (Chris Bettano pass from Zak DiRocco)
B - Clifford 91 kickoff return (kick failed)
September, 30, 2011
9/30/11
11:06
PM ET
By
Adam Kurkjian
| ESPNBoston.com
DRACUT, Mass. -- For the first half at least, it looked like Friday night's Billerica-Dracut game was going to rival last year's shootout, where the teams combined for 102 points in a blowout Middies win.

Billerica put an end to those thoughts in the second half, however, shutting down the hosts in a 40-14 rout that sends a message to the rest of the Merrimack Valley Conference -- that the Indians have the defense to match the explosive offensive arsenal they've seemingly always had.

Overall, Billerica (3-1) held Dracut (2-2) to just 172 total yards of offense, including 12 in the second half. The Indians did not allow a first down in the final 22 minutes, and Matt Clifford and Nick LaSpada made interceptions in the fourth quarter.

Of course, the Indians did a lot of damage with the ball in their hands, as Clifford scored a touchdown on a kickoff return, a pass reception and a handoff in the first half and finished with 249 all-purpose yards. LaSpada completed 14-of-23 passes for 239 yards and two scores, while rushing for another. Byron Ramirez rushed for 134 yards and two touchdowns on 20 carries, and receiver Willie Ricard was LaSpada's favorite target, with eight catches for 134 yards and a touchdown.

A few observations from Billerica's dominant win...

Laying it on the line: Coming into the game, one would have thought Dracut's line play would be a little superior to Billerica's. But that was not quite the case Friday night, as the Indians held their own against an active Dracut front. One player in particular who had a phenomenal night was 6-foot, 195-pound senior Billy McInnis. Although he was clearly one of the smaller linemen on the field, McInnis may have been the quickest, as he found his way into the Dracut backfield consistently and protected LaSpada from his right tackle spot. Dracut also had some solid play up front, particularly seniors Peter Salem and Jacob MacShane, but it was Billerica that had the edge there, which came as a mild surprise.

More than just LaSpada: Everyone knows how well LaSpada has played over his career at Billerica, and the hype around the senior signal-caller and safety has been justified. However, there was a lot of talk last year that he didn't have much around him in terms of skill players.

Well, that's not the case anymore. Clifford, a junior, is an explosive weapon no matter where you put him. Ramirez is a bruising runner with good vision. Ricard is a tall and fast option to throw to on the outside. While LaSpada gets a lot of just praise, let's put to bed the notion that he is doing it all by himself out there, because he really isn't. There's more to Billerica's offense than just him.

Middies show their Tuff-ness: It was a rough night for the Dracut offense, which has seemed to have hit a lull at this point in the season. However, one player to keep an eye on for the future is 5-8, 170-pound junior Bryant Tuff. The speedy Tuff gets moved around a lot on offense and just makes plays wherever he goes. He had Dracut's longest play from scrimmage with a 46-yard run that set up Zach Bassett's first touchdown. Tuff also made an interception deep in Dracut territory early on that helped keep the Middies in the game. While Dracut seems to be struggling a little on offense right now, the Middies can look forward to getting revved back up by getting Tuff the ball in space and watching him work.

BILLERICA 40, DRACUT 14
Billerica (3-1, 2-0 MVC) 12 14 0 14 --- 40
Dracut (2-2, 0-2 MVC) 0 14 0 0 --- 14

First Quarter
B - Matt Clifford 94 kickoff return (kick blocked)
B - Clifford 49 pass from Nick LaSpada (pass failed)

Second Quarter
D - Zach Bassett 2 run (Jacob MacShane kick)
B - Willie Ricard 55 pass from LaSpada (pass failed)
D - Bassett 14 pass from Jimmy Ryan (MacShane kick)
B - Clifford 50 run (Matt Shannon rush)

Fourth Quarter
B - Byron Ramirez 14 run (Jason Ferri pass from LaSpada)
B - LaSpada 1 run (rush failed)
September, 16, 2011
9/16/11
11:45
PM ET
By
Andy Smith
| ESPNBoston.com
WOBURN, Mass. -- Well, that wasn't supposed to happen.

One would figure a Woburn team that one week earlier lost by 25 points to Acton-Boxborough shouldn't have been able to hold Nick LaSpada and the Billerica Indians to seven points, but it did in its 12-7 victory Friday.

It had Billerica (1-1) on its heels early in the first when Chucky Ortiz took a handoff to the right and ran untouched 71 yards for a touchdown to give his team the 6-0 lead.

"I just give all the credit to the line," said Ortiz, who finished the game with 14 carries for 117 yards on the ground. "They opened up that hole and I saw it and I just ran."

Woburn (1-1) held LaSpada, the dynamic senior quarterback, to under 100 yards in both rushing and receiving. He finished the game 8-of-17 for 93 yards and 2 interceptions through the air. He added 17 carries for 90 yards and a touchdown on the ground.

"[Woburn head coach] Rocky [Nelson] did a great job defensively," said Billerica coach Peter Flynn. "The Woburn kids played real tough. We couldn't move the ball. They shut us down."

LaSpada scored the only touchdown for Billerica when he ran a quarterback draw into the end zone from 5 yards out.

Woburn answered back three minutes later when quarterback Hunter Romano hit Dave Pratt with a 15-yard pass in the right corner of the endzone to put his team back on top 12-7.

A few other observations:

Turnover woes: With Woburn driving deep in Billerica territory ahead by five points with six minutes to go, it was evident the Indians would need a turnover to get back in the game. They got what they needed when Woburn quarterback Hunter Romano lobbed a play-action pass that went into the waiting arms of a Billerica defensive back.

Starting on its own 20, Billerica drove down to the Woburn in about three minutes. The drive was highlighted by a 36-yard catch-and-run from LaSpada to Matt Clifford. After the play was over, a Billerica player was whistled for a 15-yard personal foul penalty when he shoved a Woburn player after the play was over. This brought the team back to the 33-yard-line. On the next snap, Billerica was called for a false start, backing it up five more yards.

On the next snap, LaSpada was sacked for a loss of seven yards. In three plays, the team lost about 30 yards and precious time off the clock. Finally, facing a third down and very long, LaSpada dropped back to pass, was hit as he threw, which caused his second interception of the game. Woburn burned the rest of the time off the clock for the victory.

Locking up LaSpada: Woburn was able to do what every team in the Merrimack Valley Conference will try to do against LaSpada: contain him and get pressure on him. It utilized multiple blitzes to keep the fleet-footed quarterback from breaking off any long runs against its defense.

"We tried to change up our fronts and our coverages and send people to try to confuse him," Nelson said. "We were in his face and he didn't take a broken play and take it to the house. We contained him. We were sending our outside linebackers sometimes right from the line, sometimes inside. We had some line stunts that we put in that kept pressure on and we didn't let him scramble and beat us like he did a year ago."

The defense was able to sack LaSpada three times in the first half.

Staying their lanes: While the statistics show that LaSpada had close to 100 yards on the ground, the Woburn defense deserves credit for not allowing him to break off a big run. Of his 17 carries, only two went for 10 yards or more.

"We knew we could stop him, we know he's human," Ortiz said. "He's one of us. He puts his pants on like everyone else: one leg at a time."

LaSpada ran the ball only eight times in the second half.

Selling the fake: Romano didn't throw the ball many times in the game (5-of-10 for 103 yards, 2 INTs), but when he did, it was often a play-action pass. His first two passes, which went for 44 and 34 yards respectively, were to wide open receivers. The Billerica defense was often so keyed in on stopping Ortiz and Anthony Mendonca (8 rushes for 35 yards), that Woburn receivers could run free into the secondary.

Extra struggles: Woburn had difficulty converting its PATs Friday. First, there was a bad snap on the field goal following the Ortiz touchdown run. In the third quarter, after the teams second touchdown, Ortiz fumbled the handoff on the two-point conversion. It appeared Clifford was going to run the ball back for Billerica, but Ortiz got to his feet, ran 95 yards, and tackled him on the 5-yard-line.


WOBURN 12, BILLERICA 7
WOB --- 6 0 6 0 --- 12
BIL --- 0 0 7 0 --- 7

1st quarter
W - Chucky Ortiz 2-yard run (Kick failed)

3rd quarter
B - Nick LaSpada 5-yard run (Steve Trask kick)
W - Dave Pratt 15-yard pass from Hunter Romano (2-pt conversion failed)
September, 25, 2010
9/25/10
1:34
AM ET
By
Brendan Hall
| ESPNBoston.com
BILLERICA, Mass. -- Cal Carroll was just looking to move the chains, bring up a new set of downs, and run out the last 40 seconds on this clock to let the celebration begin. With third down and a few yards to go, his team up 29-26, the Methuen quarterback took a direct snap, churned up the right side and -- perhaps in a sign of how much his hogs in front had worn down the Billerica defense in the second half -- sprung loose for a 55-yard touchdown, the last 45 or so unscathed.

And so, on a night already on its way to being a pleasant surprise, the Rangers got some unexpected insurance in the first of what ought to be a handful of "hype games" in the Merrimack Valley Conference. Down 26-20 with under five minutes to go in the fourth quarter, No. 17 the Rangers rallied with 14 unanswered points to take down the No. 9 Indians, 36-26, for the program's first win over Billerica since 2000.

"I just can't believe it. This is the best win in program history," said Carroll, who racked up 290 yards of offense and four touchdowns in leading the Rangers to victory. "We haven't beaten Billerica in 10 years. This is just a great win for us...We wanted it so bad all week, we were hungry for it. You could tell. I think we proved it on both sides of the ball."

For wideout Raudy Minaya, whose basketball skills have translated well in the open field on the gridiron these last two seasons, tonight's win justifies that decision four years ago to come out for the freshman football team and put on a pair of shoulder pads for the first time in his life.

"It's amazing, it's amazing. Coming into high school, I didn't think I was going to play football," said an ecstatic Minaya, who had four catches for 155 yards and two touchdowns. "I tried it out, and now look where I am. It's just the greatest feeling in the world right now."

Carroll and Minaya, best friends off the court and running mates on the hardwood, had their MVC coming-out party before a packed crowd at Marshall Middle School. But the Rangers won this game by buckling down in the trenches, moving the ball steadily with a series of zone-read options behind the guards and tackles. Led by seniors Steve DiZazzo and Dan Cormier on the left side, the Rangers paved their way to well over 200 yards on the ground with Carroll's 113 and another 98 from Ryan Savastano.

"Our line just got after it every play," Carroll said. "They never took a play off. Our tempo was really fast again (no-huddle), like it was last week. We really wore down there defense, and again that's because of our offensive line just taking it to them every play and not giving up."

All-everything quarterback Nick LaSpada (21 carries, 94 yards, TD; 19 of 34 passing, 240 yards, 3 TD) gave the Indians (2-1) a 26-20 lead with a 56-yard strike to Matt Clifford with 4:58 to go in the game (the point-after pass failed). Methuen (2-1) responded with a 10-play, 69-yard scoring drive that took just over three minutes to complete. Minaya put the gears in motion by hauling in a 20-yard pass from Carroll in single-coverage on the third play, and the Rangers finished it off with a steady dose of Savastano draws and Carroll keepers. Carroll punched it in from three yards out on first and goal to give the Rangers a 29-26 lead.

On the ensuing kickoff, Clifford fielded a booming Cormier boot at his own five and brought it all the way down to the Ranger 37, bursting up a seam at the left hashmark before being dragged down near the left sideline. But the Indians stalled immediately.

Methuen head coach Pat Graham called for seven defenders to drop into coverage against LaSpada's precision arm, but the one rusher from the back seven -- linebacker Mike Harper -- caused a whole lot of havoc. Three times he exploded up the A-gap, and three times he created turmoil around LaSpada, first dropping him for a six-yard loss; then hurrying him into a throw out of bounds; and finally hurrying him to scramble up the middle on fourth down, where he was met forcefully by Jeff Sadezwicz and Gio Rivera and turned the ball over on downs with less than a minute to go.

"I didn't want to lose. We had a bad kick return (coverage), and I knew I had to make up for it," said Harper, who earlier in the second half blocked an extra point kick and returned it for two points. "(This win) definitely puts us on the map, but we're not done. We're not done at all. We've got alot of work to do."

A few more observations:

-- Minaya's two scores came on the long ball. His first, a 51-yarder in the second quarter, came off a slant from wide left coming over the deep middle, where he easily shed an arm tackle and marched unscathed to paydirt. His second came in similar fashion, beating his man off the blocks off a go route.

It seemed like whenever the Indians left Minaya in single-coverage with no help over the top, the Rangers were going to make them pay for it.

"Me and Cal have that connection, and we just know when...our coaches have the perfect play calls," said Minaya, who now has five touchdown receptions on the season. "They're just perfect plays at the right time, you know? And that's what opens me up. I just run routes."

-- Graham put together a pretty diverse gameplan for stopping LaSpada, the defending Gatorade Player of the Year and an ESPNU 150 recruit for the Class of 2012. The Rangers came out in a 3-3-5 stack look defensively all night, and threw in a few stunts. Graham's assessment?

"We had all kinds of plans to stop him, and we used them all, and I don't think any of them really stopped him," Graham said. "But I think we threw him different looks, and we did alot of different things to him, sometimes we contained him and sometimes we didn't. He's obviously a very special player."

No. 17 Methuen 36, No. 9 Billerica 26

MHS 6 7 9 14 --- 36
BHS 7 7 6 6 --- 26

B - Matt Clifford 18 pass from Nick LaSpada (Steve Trask kick)
M - Ryan Savastano 5 run (kick failed)
M - Raudy Minaya 51 pass from Cal Carroll (Eric LaCroix kick)
B - Ryan Donohoe 8 pass from LaSpada (Trask kick)
B - LaSpada 9 run (Mike Harper blocked kick return)
M - Minaya 61 pass from Carroll (LaCroix kick)
B - Clifford 56 pass from LaSpada (pass failed)
M - Carroll 3 run (LaCroix kick)
M - Carroll 55 run (LaCroix kick)