Boston High School:

Matt Delaney
November, 6, 2010
11/06/10
2:08
AM ET
By
Brendan Hall
| ESPNBoston.com



BRIDGEWATER, Mass. -- Billy Zolga exhaled deep when asked to describe his emotions in the wake of a dominant performance by him and his fellow Bridgewater-Raynham teammates. The senior quarterback rattled off some pedestrian phrases with junior tailback Nick Schlatz -- "pretty excited", "relieved", "can't describe it". And then Schlatz dropped a trigger word: "we wanted to make a statement."

Just what kind of statement?

"I think people should be nervous to play us, that's all I have to say," Zolga quickly shot back with a smile.

Added Schlatz, "Show everybody we're for real."

Hard to argue with that, based on the evening's results. The Trojans have been bouncing with swagger since their double-overtime upset of then-No. 3 Xaverian last month, and it all came to a head in last night's 50-22 dominance of Barnstable that assured them at least a share of the Old Colony League title for the second year in a row. B-R (6-2, 2-0) can claim the league outright with a win over Taunton next week.

Clearly, the Trojans are clicking at just the right time.

"We had a great week of practice," head coach Dan Buron said. "Probably the best overall week of practice we've had all season long. I credit the scout team for giving us a great look...practice was like, on Tuesday it felt like a Thursday."

Part of that scouting this week, Buron said, was having assistant coach Mark Hartsell play the part of Barnstable's vaunted quarterback D.J. Crook. Doesn't hurt that Hartsell quarterbacked some nationally-ranked squad at Brockton High before enduring careers at Boston College and the NFL -- "he's the closest thing to the arm strength of Crook, our sophomores can't throw like that," Buron said.

As for the play on the field, the Trojans pounced on the Red Raiders early, capitalizing on turnovers to build a 23-0 lead through the first quarter and 35-6 halftime lead. Barnstable (5-4, 2-1) opened the game with an onside kick that a Trojan player fell on at the Raiders' 41 yard line. The Trojans marched steadily down the field in seven plays, with inside runs by Schlatz (31 carries, 123 yards, three touchdowns) setting up a 23-yard strike from Zolga (107 passing yards, three touchdowns) to Sean McCall, rolling right and threading him a tight ball in double-coverage. Schlatz punched it in four plays after the strike, from five yards out, and Brad Delullis ran in the point-after try on a muddle play to take an 8-0 lead.

Things went bad for the Raiders when, on their ensuing three-and-out, a bad snap on their fourth down punt attempt forced Crook to fall on the ball at his own seven. Schlatz plunged in on the very next play, and fullback Mike Chicoine took a direct lateral from the snapper on another muddle try, to make it 16-0.

With the Raiders creeping up into the box to combat Buron's many different looks out of the Power-I, Zolga kept the defense honest with the waggle. He was a perfect 7 of 7 for 107 yards to start the game, before having to spike the ball with 13 seconds to go in the first half. That, of course, merely set up another touchdown run, this a sneak, to make it 35-6 headed into the break.

"I thought it was very important (to keep them honest with the pass), because they were creeping up on us," Buron said. "I thought there were two passes in particular -- one to Delullis and one to (Branden) Morin where they had it covered and those kids slid, and Billy was poised and threw a nice ball...I thought Billy showed alot of poise tonight."

Said Zolga, "They were sending everybody. Just completing those passes to keep the drives going, it helped us score some more points. It was big."

The Red Raiders can score quickly, and in bunches, and came out firing in the second half, putting together an 11-play, 67-yard scoring drive punched in with a five-yard Dennis Reddy off-tackle. They failed to seize any momentum from B-R, though, as Zolga put the finishing touches with a 45-yard interception return to seal it in the fourth quarter. Zolga, inserted into the secondary this week to combat Barnstable's deep and speedy stable of wideouts, jumped a route over the middle and leaped forward to make the pick for the 48-14 lead with nine minutes to go in the game.

"We were just dropping back into a deep zone," Zolga said. "I read his eyes, just saw the ball coming at me, just attacked it, just ran. Ran like Hell. I wanted to score."

Chicoine made it 50-14 with the same two-point try that he succeeded with in the first quarter, a direct lateral from the long snapper that he pushed past the goal line with an added spin.

"Every time we run that set, we read what they're doing. It's just an automatic read," Buron said of going for two at that moment. "That gets us up 28 points, and that's a team that can score at will. I mean, they came roaring back against Dennis-Yarmouth (a 41-38 loss in week two). No lead is safe against these guys."

BRIDGEWATER-RAYNHAM 50, BARNSTABLE 22

Barn 0 6 8 8 --- 22
B-R 23 12 0 15 --- 50

First Quarter
BR - Nick Schlatz 5 run (Brad Delullis kick) 7:20
BR - Schlatz 7 run (Mike Chicoine kick) 5:58
BR - Chicoine 1 run (Chicoine kick) 0:08

Second Quarter
BR - Sean O'Donnell 7 pass from Billy Zolga (kick failed) 4:38
Barn - Dennis Reddy 15 pass from D.J. Crook (pass failed) 3:09
BR - Zolga 1 run (kick blocked) 0:08

Third Quarter
Barn - Reddy 5 run (Matt Delaney pass from Crook) 7:51

Fourth Quarter
BR - Schlatz 3 run (Chicoine kick) 10:26
BR - Zolga 45 interception return (Chicoine run) 9:36
Barn - Crook 2 run (Jordan Henderson pass from Crook) 8:23
November, 4, 2010
11/04/10
6:28
PM ET
ESPNBoston's Brendan Hall stopped by practice today at Barnstable High School to take the pulse of the Red Raiders headed into tomorrow night's matchup with Old Colony League foe Bridgewater-Raynham.

Junior quarterback D.J. Crook called tomorrow night's showdown the most important game for the program in 10 years:




His leading wide receiver, Jordan Henderson, could eclipse the 1,000-yard mark against the Trojans:




Wide receiver Matt Delaney and running back Dennis Reddy are amped up for this contest:



October, 2, 2010
10/02/10
6:55
PM ET
By
Brendan Hall
| ESPNBoston.com


EVERETT, Mass. -- Matt Costello streaked by his defender down the left sideline, in one-on-one coverage, and easily hauled in the long fade from his Everett High quarterback, his fourth and final receiving touchdown of an eye-opening afternoon.

And then, in his typical demeanor, he shrugged it off.

"I tried to make it look like I do it all the time," the 6-foot-1 senior smiled. "I don't like to showboat much, I just like to let it all fly over."

His numbers, however, suggest quite the anomaly for the wide receiver. He finished the day with eight catches for 203 yards and four touchdowns, as the No. 2 Crimson Tide rolled to 43-14 win over No. 24 Barnstable, at Everett Veterans Memorial Stadium. His big day also allowed quarterback Jonathan DiBiaso (293 passing yards, five touchdowns) tie his own school record for most touchdown passes in a game (five), and inch closer to the career touchdown mark set by former Tide great Matt Nuzzo earlier this century (30, to DiBiaso's 27).

"We had a good gameplan, and we knew we could exploit some things in the defense," Costello said. "So we threw the ball around, and me and Jonathan happened to connect alot, so it worked out well."

Said head coach John DiBiaso, "I said at the beginning of the year, Jonathan's blessed that he has the two best receivers in the state," referring to Costello and Boston College-bound senior Manny Asprilla (110 yards of offense, 2 TD). "They both played that way today."

The Tide (3-0) got into the teeth of Barnstable's defense early on, marching all the way down the field on the game-opening drive, and capping the five-play, 66-yard drive with a 20-yard strike from DiBiaso to Costello. The Red Raiders (2-2) went three-and-out on the ensuing series, but Costello got a piece of D.J. Crook's punt, giving Everett a starting drive at the Raider 40. Vondell Langston (six carries, 59 yards) burst through the middle for 25 yards on the first play, and Jonathan DiBiaso did the rest, hitting Asprilla for six yards and finishing the drive with a seven-yard pass to Costello.

Barnstable answered, though, with a 31-yard touchdown pass from Crook (172 passing yards, 2 TD) to speedy wideout Jordan Henderson (five catches, 59 yards). The 6-foot, 180-pound senior blazed by the secondary with his 4.5 speed, and then ran in the ensuing two-point try to make it 14-8.

"He was pretty fast. He was actually pretty good," said Asprilla, who took on an additional role in the secondary this week to defend Handerson. "I wasn't expecting him to come out the way he did. He's pretty strong, he's a good athlete."

But Everett answered forcefully in the second quarter. Jakarrie Washington strip-sacked Crook deep in Barnstable territory, and Kenny Calaj fell on it at the Raider 13. Asprilla then plunged in from three yards out several plays later for a 22-8 score. Two minutes later, with 18.3 seconds to go in the half, the Tide went up 21 with a 79-yard pass from DiBiaso to Costello.

Costello slammed things shut in the second half with his final touchdown grab of the day, a 34-yarder late in the third quarter that made it 36-8.

"I thought we played with them well in the first half," Barnstable head coach Doug Crook said. "They've (Everett) just got so many athletes. Up front, we couldn't give D.J. any time whatsoever and establish any type of running game. He was getting alot of heat, and that limited his throws, and where he could throw to."

EVERETT 43, BARNSTABLE 14

BHS 8 0 0 6 --- 14
EHS 14 15 7 7 --- 43

First Quarter
E - Matt Costello 20 pass from Jonathan DiBiaso (Gilly DeSouza kick) 9:33
E - Costello 7 pass from DiBiaso (DeSouza kick) 6:50
B - Jordan Henderson 31 pass from D.J. Crook (Henderson run) 3:56

Second Quarter
E - Manny Asprilla 3 run (Costello pass from DiBiaso) 2:34
E - Costello 79 pass from DiBiaso (DeSouza kick) 0:18.3

Third Quarter
E - Costello 34 pass from DiBiaso (DeSouza kick) 2:33

Fourth Quarter
E - Asprilla 27 pass from DiBiaso (DeSouza kick) 7:45
B - Matt Delaney 25 pass from Crook (kick blocked) 3:48
September, 18, 2010
9/18/10
2:12
AM ET
By
Brendan Hall
| ESPNBoston.com
YARMOUTH, Mass. -- Matt Montalto sat back in coverage, jumped a route over the middle and put the cap on the most impressive first half of his young high school career with an interception that he returned for a few dozen yards with some of his trademark shake and bake.

The Dennis-Yarmouth quarterback/defensive back then took a late Barnstable hit out of bounds and, in Bledsoe-like fashion, popped right back up, let out a howl and sprinted off the field to the locker room.

"I was hyped up at that point," Montalto laughed. "I was hyped up before the game, I was hyped up all throughout. It felt really good."

The junior signal-caller had just put on a clinic in the through two quarters against his heavily-hyped visitors from two exits down Route 6, accumulating nearly 200 yards of offense and accounting for all four of the Dolphins' touchdowns for a 28-8 lead at the break. This annual rivalry, just as it has in previous years, inevitably turned into a shootout; and in the final minute of action, the Dolphins' secondary picked off Red Raiders quarterback for the fifth time, closing the door on a 41-38 win.

"Our quarterback is a very, very accurate passer," D-Y head coach Paul Funk said. "He might not have the strongest arm in the world, but he is accurate, and if you give him an inch, he's going to put it there."

Said Barnstable head coach Doug Crook, "Montalto gives you headaches with his quickness. He comes up on the run, our defense is young and the kids kids drop off their guy...it's an experience."

That was much the case in the first half. On the Dolphins' first drive, Montalto (213 total yards, 4 TD) found a wide-open Rufus Hamilton on 3rd and 10 for an easy 24-yard gain on the left sideline, then scrambled a few plays later for a nine yard rollout to keep the chains moving. Facing fourth and 10 at the Raiders' 15, Montalto put the finishing touches with a soft toss to Dylan Hodsdon wide open in the left slot for the game's first score.

This pattern of third-down bail-outs and wide-open strikes continued, with Montalto running in two (from 35 and five yards out) and firing one to Justin Clark in the near left corner, and the Dolphins took a 20-point halftime lead.

Barnstable's D.J. Crook (19 of 36 passing, 239 yards, 4 TD, 6 interceptions; nine carries, 87 yards) rallied the Raiders back to within striking distance and put the ball in seven different hands on the night, but overall the Dolphins' secondary seemed to throw him for loops. Over the top, D-Y was airtight, making the Raiders pay for balls over or under-thrown.

Junior fullback Joe Furness (15 carries, 108 yards) made it 41-22 with 1:58 left in the third quarter on a 74-yard break up the left sideline. But still, the Raiders had a chance to win this one late. Mike Holmes hauled in a 15-yard strike from Crook with 44 seconds to go, and Jordan Henderson came up with the point-after conversion pass in the back of the end zone to cut the lead to 41-38.

D-Y recovered the ensuing onside kick, only to have a Barnstable player recover the fumble on an attempted kneel. But on Barnstable's first play of the potential game-winning drive, Damion Johnson picked off Crook deep over the middle.

Dennis-Yarmouth 41, Barnstable 38

BHS 0 8 14 16 --- 38
D-Y 14 14 13 0 --- 41

First quarter
D - Dylan Hodsdon 15 pass from Matt Montalto (John Terrio kick)
D - Montalto 35 run (Terrio kick)
Second quarter
B - Dennis Reddy 3 run (Reddy run)
D - Justin Clark 11 pass from Montalto (Terrio kick)
D - Montalto 5 run (Terrio kick)
Third quarter
B - Andrew Ellis 5 pass from D.J. Crook (pass failed)
D - Damion Johnson 70 interception return (Terrio kick)
B - Mike Holmes 16 pass from Crook (Reddy pass from Crook)
D - Joe Furness 74 run (pass failed)
Fourth quarter
B - Henderson 8 pass from Crook (Matt Delaney pass from Crook)
B - Holmes 15 pass from Crook (Henderson pass from Crook)

September, 5, 2010
9/05/10
12:25
AM ET
HYANNIS, Mass. -- This is season is Doug Crook Sr.'s third at the helm of Barnstable High football and, after last year's 7-3 record and three-way share of the Old Colony League title, they're buzzing about the Red Raiders from Marstons Mills to Osterville.
They're an exciting team to watch, particularly behind junior quarterback, Doug "D.J." Crook Jr. Barnstable has the potential to put points up in a hurry working out of its spread offense.
And they're only getting better.
[+] Enlarge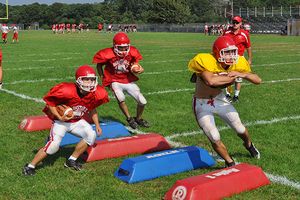 Scott Barboza/ESPNBoston.comQuarterback D.J. Crook (in yellow jersey) leads his teammates through drills during practice last week at Barnstable High.
"It means everything," D.J. said about his rapport with his receiving crew. "Just being able to trust them with whatever I throw. It's almost muscle memory with them. I've been throwing to them for three years, so it just makes it easier."
It's scary to think of what could be, considering last year's performance by the junior Crook and his receivers.
D.J. threw for 2,082 yards and 17 touchdowns last season, after a 1,980-yard campaign as a freshman.
"This is the first year that we've all our starting receivers back," the senior Crook said. "Now, they all have three years of varsity experience in the system. We're hoping that'll mean big things."
That receiving corps is led by Crook Jr.'s primary target, junior Jordan Henderson, who exploded for a three-touchdown performance against Thanksgiving rival Falmouth last year. Crook Sr. believes Henderson to be "one the best receivers in the state."
Fellow junior Mike Holmes provides size, at 6-foot-4, and speed from the outside, while Matt Delaney catches just about everything that's thrown his way underneath.
"It's fun for a wide receiver," said Delaney, who has been playing football with D.J. Crook since they were 5 years old. "We throw about 35 times a game, so there are a lot of chances to catch the football. It's a fun offense to run."
However, for all the hubbub about the Red Raiders aerial attack, they remained remarkably balanced on offense in 2009. Barnstable gained nearly 2,000 yards on the ground as well, due in no small part to running back Dennis Reddy.
"It's a lot of blocking as a running back," Reddy said of his responsibilities in the spread. "But it obviously helps when we're passing a lot and then come at them with the run. Either way, we can do it."
Yet, for the all the points the Red Raiders are capable of putting on the board, it doesn't mean much without winning.
"It wasn't good enough the way we finished last year," Delaney said. "We need to win that OCL title because we're back on the map now. I think we have the talent to do well and we want to prove it."
D.J. added: "If you look around here, we're not that big. But we're tough and we're always going to try as hard as we can to get as far as we can."
BARNSTABLE AT A GLANCE
2009:
7-3 (3-1 Old Colony League)
Coach:
Doug Crook Sr. (third year, 10-10)
Players to watch:
Doug Crook Jr., Jr., QB/P, 6-2, 185 lbs.; Jordan Henderson, Sr., WR, 6-0, 170 lbs.; Mike Holmes, Sr., 6-3, 185 lbs.; Dennis Reddy, Sr., RB, 5-10, 180 lbs.; Ben Pogue, Sr., OL, 6-4, 260 lbs.; Andrew Ellis, So., LB, 5-11, 200 lbs.
Strengths:
Skill and depth at wide receiver, quarterbacks.
Weaknesses:
Lack of experience and depth on offensive line.
Outlook:
The Red Raiders will be able to put points on the board with just about any team in the state. That's no secret. But Barnstable's X-factor could be 5-foot-3, 140-pound receiver Jason Carlino, who could see significant time as a slot receiver. "I hate to use the Wes Welker analogy," Doug Crook Sr. said. "But he's got a little bit of Wes in him." The one question on the offensive side will be how the Red Raiders' young line will hold up besides talented tackle Ben Pogue. Crook will have some decisions to make on the defense, as his squad returns a good number of players who saw varsity playing time, but who also weren't starters last year. However, Barnstable does have standout sophomore middle linebacker Andrew Ellis, who although young is a name you'll be hearing about for quite some time.