Boston High School:

Matt Goreham
June, 29, 2011
6/29/11
9:19
AM ET
THE STARTING ROTATION

Adam Ravenelle, Sr. RHP, Lincoln-Sudbury
The 6-foot-4, 185-pound fireballer was an integral part of the Warriors' run to the Division 1 state championship this season, going 8-0 with 93 strikeouts in 56 innings -- including a career-high 18 in a win over Arlington. He also batted .481 with 44 RBIs. Earlier this month, the Vanderbilt-bound Ravenelle was drafted in the 44th round by the New York Yankees.

Pat Connaughton, Sr. RHP, St. John's Prep
The 6-foot-4 Connaughton, who was also a starter on ESPNBoston's inaugural All-State basketball squad, strung together some dominant performances this season, including a no-hitter against his hometown Arlington High. On the mound, he went 2-2 with one save, with 86 strikeouts in 50 innings for an ERA of 1.83. At the plate, he also hit .400 with four home runs, a .547 on-base percentage and .750 slugging percentage. Earlier this month, Connaughton was drafted in the 38th round by the San Diego Padres

John Gorman, Sr. RHP, Catholic Memorial
The Boston College-bound Gorman was named the state's Gatorade Player of the Year last month, and was also named the Catholic Conference MVP, after a stellar senior season with the Knights. As the No. 1 ace, Gorman went 6-2 with 80 strikeouts and an ERA of 0.24. At the plate, he also hit .354 with 11 RBI, 14 runs scored an a home run. Earlier this month, the Norwood resident was drafted in the 50th round by the Boston Red Sox.

Steve Moyers, Jr. LHP, East Longmeadow
One of the state's most elusive lefties, Moyers turned in another strong campaign on the mound as the Spartans advanced to the Division 1 West Final. He went 8-1 this season, with 88 strikeouts in 64 innings with an ERA of 0.44. For his career, Moyers is 23-2 and has averaged better than a strikeout per inning. He is receiving various interest from Division 1 schools in the Atlantic-10, Patriot League and Big East conferences.

Garrison Banas, Sr. LHP, Hopkins Academy
Stats-wise, there isn't another pitcher in the state who can lay claim to the numbers Banas put up this season. He went 9-2 this season for the Golden Hawks, with 173 strikeouts in 87.2 innings for an ERA of 0.48, before bowing out in the Division 3 West final. For his career, Banas was 26-6 with five no-hitters and a perfect game, and is in the state's ever-exclusive 400-strikeout club with 415 career K's. He will pursue a post-graduate season next year at Salisbury School, in Connecticut.
STARTING NINE
Matt Walsh, Sr. C, Plymouth North
The Franklin Pierce-bound Walsh was one of the more intimidating hitters in the region this season, as he led the Eagles to their second Division 2 state title in four years by hitting over .530 with 36 RBIs. But the most outstanding stat on Walsh has to be the respect he commands behind the plate. Counting the playoffs, only five runners attempted to steal on Walsh, and four were thrown out.
Chris McCarthy, Jr. C, Everett
Equipped with a live arm, the junior backstop was as efficient at the plate as he was at throwing out runners, batting over .585 with 28 RBIs and an on-base percentage close to .700. McCarthy is receiving varied degrees of interest from Division 1 schools in the Big East, Atlantic Coast and Atlantic 10 conferences.
Mike Barry, Sr. C/OF, Lincoln-Sudbury
The 6-foot-2 Barry was one of the most prolific hitters on arguably the state's most dangerous lineup, as the Warriors captured their third state title in seven seasons. For the season, he hit .437 with 38 RBIs and seven home runs,
Matt O'Neil, Jr. SS, East Longmeadow
As one of the premier position players in Western Mass, O'Neil turned in a solid junior season for the Spartans, batting .447 with six home runs and stealing 15 bases. He was also efficient on the mound, going 6-1 and striking out 69 batters in 43 innings. O'Neil is verbally committed to UConn.
Chris Shaw, Jr. 1B, Lexington
As the Middlesex League co-MVP alongside teammate Will Marcal, Shaw put on a clinic at the plate, with the numbers to show. He batted over .490 with eight home runs, and plated 41 runs. Shaw is verbally committed to Boston College.
Ryan Summers, Jr. C, Westfield
The junior got off to an explosive start to the season for the Bombers, with 21 RBIs and six home runs through the first three weeks of the season. He finished the year with 27 RBIs and six home runs.
Jarrod Casey, Jr. OF/LHP, Milford
The latest in a line of Caseys to succeed on the diamond at Milford, the 5-foot-11 junior was one of the premier hitters in Central Mass, hitting .530 while also going 8-1 on the mound. Casey was also the Mid-Wach A Most Valuable Player.
Lorenzo Papa, Sr. 1B, Arlington Catholic
The Stoneham resident led the state in home runs last season with 10, and followed up with another solid campaign in 2011, finishing with eight homers for the Cougars. Papa will continue his career at the University of Rhode Island next year.
Sean Amaru, Sr. 1B, Westwood
Also a star on the gridiron, Amaru was a standout in the Tri-Valley League in 2011, turning in a monster season. He batted .515 with 34 RBIs, and also led the state in home runs with 10.
BULLPEN
Will Archibald, Sr. RHP, Milton
Freddy Andujar, Sr. LHP, Holyoke
Dan Dymecki, Sr. RHP, Wellesley
Evan Mackintosh, Sr. LHP, Northbridge
Will Marcal, Sr. LHP, Lexington
Ryan McDonald, Jr. LHP, Acton-Boxborough
Victor Mendez, Sr. RHP, Lawrence
Donny Murray, Sr. RHP, BC High
Matt Tulley, Jr. RHP, Lowell
Brandon Walsh, Jr. RHP, North Andover
UTILITY
Charlie Butler, Jr. IF/RHP, Nashoba
Dan Cellucci, Jr. SS, Lincoln-Sudbury
Aaron Fossas, Sr. SS, Holy Name
Matt Goreham, Sr. 1B, Catholic Memorial
Keith Kelley, Sr. SS, St. John's (Shrewsbury)
Dan Light, Sr. 1B, St. John's (Shrewsbury)
Bob Melley, Jr. C, BC High
Rory O'Connor, Jr. OF, Lowell
Tyler Sterner, Sr. SS, Doherty
Ramses Vittini, Sr. OF, Peabody
Alex Witkus, Sr. OF, North Attleborough
Paul Yanakopulos, Sr. SS, Malden Catholic
June, 7, 2011
6/07/11
12:43
AM ET


DORCHESTER, Mass. -- It was far from a perfect outing for BC High's Donny Murray.

But it was hard for the Eagles starter to be much better while hurling a complete-game shutout against No. 5 seed Catholic Memorial in the teams' Division 1 South quarterfinal Monday at BC High. The Knights banged out 10 hits against Murray, but they were unable to get on the scoreboard in a 3-0 Eagles' win.

With several superb defensive plays in the field behind Murray and a couple clutch hits from the bottom of BC High's lineup against CM ace John Gorman, the fourth-seed Eagles (16-6) claimed their third win of the season over their Catholic Conference rivals.

"Goreman's a good pitcher and we knew it wasn't going to be a blowout," BC High center fielder Jack Buckley said. "We knew it wasn't going to be a slugfest."

Murray wiggled out of jams in both the first and second innings with a pair of deft double plays started by second baseman Chuckie Connors and shortstop Ryan Tufts.

With two on and one out in the first, Tufts made a diving stop to his left, snaring a hot shot off of Knights third baseman Matt Goreham's bat. Tufts lunged to tag second base with his foot while firing to first in time to get Goreham and end the inning.

In the top of the second, Murray found himself in the same situation as the first. That's when Connors started his inning-ending twin-killing by ranging to his right and grabbing a bounding ball off the bat of Paul Fahey. Connors planted off the second base bag and threw across his body to get Fahey in a close play.

"That got me going," Murray said. "Not coming out here with my best stuff today, it was great to know I had a great defense behind me to help me through it in both innings. Chuckie [Connors] and Ryan [Tufts] made those plays and it was huge for us, huge for the team."

The 6-foot-1 right-hander hadn't toed the rubber since his last start, which was on May 24 against Xaverian.

Murray struck out six and walked one while throwing 122 pitches with 86 for strikes in nine innings.

"I think what hurt Donny [Murray] early was the long layoff from his last start," Eagles head coach Norm Walsh said. "He wasn't spotting the ball as well then. But in the later innings, he was really hitting his locations and they really weren't making good contact at all."

BC High got all the offense it would need in a two-run fifth. The bottom of the Eagles' lineup came through in a big way with No. 8 hitter Buckley and Chris Casey, from the nine-hole, delivering run-scoring hits.

Buckley drilled Gorman's 2-1 offering to shortstop. The ball bit the lip of the infield grass and exploded over the head of Knights shortstop Shane O'Leary, who could only look back in disbelief as the ball made its way into the outfield with scoring Bartley Regan from second.

Casey, the Eagles' first baseman, followed with a resounding double to left-center with Buckley scoring all the way from first.

BC High added an insurance run in the eighth when Casey scored on a balk.

Taking a hard-luck loss, the book closed on Gorman's illustrious high school career. The CM right-hander who's headed to Boston College next year allowed two earned runs on four hits in eight innings while striking out seven.

The Knights end their season at 15-7 while the Eagles advance to play Franklin in the semifinals, Wednesday at 4 p.m. at Braintree High School.


May, 28, 2011
5/28/11
5:58
PM ET
By
Brendan Hall
| ESPNBoston.com
FOXBOROUGH, Mass. -- For Billy Sittig, this morning's slate of baseball was a trip down memory lane.
The first-year Foxborough skipper watched as another loss pile up, as his Warriors lost 11-3 to Catholic Memorial at Payson Field. But today's matchup, dubbed the first annual "Hits For Hope" charity game on the MIAA's cutoff scheduling date, was about so much more. And at that, it was all good.
"The season went below our expectations, but we wanted to finish with something positive and have a great event," Sittig said. "It turned out we had a great weather and played a great team, and we did a great job fundraising, so this was a good thing."
[+] Enlarge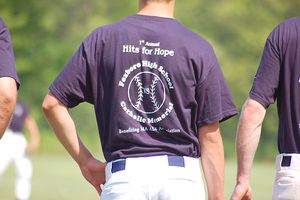 Brendan Hall Both teams warmed up for the Hits For Hope game in these commemorative T-shirts.
Sittig and his team came away from today's festivities having raised some $5,200 towards Curt Schilling's Curt's Pitch For ALS foundation, between donations, raffles, and pledges for a certain amount of money donated per hit in the game. He also found time to catch up with his old mates at CM; Sittig is a close friend of Knights coach Hal Carey, and coached the Knights' freshman basketball team for four years before taking his current job at Foxborough.
"I know a lot of these guys well," Sittig said. "Those three aces they've got, I know them very well, especially Matt Goreham. It was good and bad to see him have a good game against us... But no, it was a great experience, me and Hal are great friends, so it's a great experience to go through this fundraising with him."
Indeed, this was a monster game for the Northeastern-bound senior Goreham, who launched two 1-0 fastballs deep over centerfield for four RBI in his first two at bats, helping spot the Knights a 6-3 lead through three innings that stuck, and finishing the day 3 for 4 with three runs. Goreham also struck out four batters in the first three innings from the mound, before giving way to UMass commit John Mildner (4 IP, 7 K's, one hit allowed).
"I was just waiting for fastball, and was able to put a good swing on it," Goreham said, adding with a laugh, "Any other park that might have been out of here, but it's not bad running for a while."
As for Sittig, Goreham said, "I've known him since the eighth grade, he was always around with basketball and stuff. It's fun to see him, and I'm glad he's doing what he wants, you know, coaching."
[+] Enlarge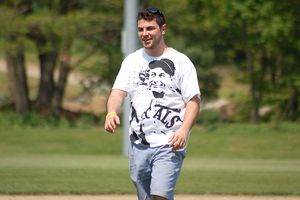 Courtesy Brendan HallMike Paladino threw out the ceremonial first pitch in the Hits For Hope game.
He added, laughing, "If you ask him, he was the best freshman coach in the state."
Foxborough centerfielder Steve Fitzmaurice was awarded the the game's Most Valuable Player in a post-game ceremony, and received an autographed Curt Schilling baseball from the 2007 Red Sox World Series championship season. He finished 2 for 3 with an RBI.
"Our guys responded well," Carey said. "I told the kids, 'I want to make a donation'. Most of the guys came through. Our players themselves came up with $200 combined, and he (Sittig) made a ton of money for the game, I'm sure.
"His guys gave a lot of money, too, and got a lot of donations. So it was great to be a part of it, and hopefully we can do it again next year."
TAKING CENTER STAGE
It's not Fenway, McCoy, or even Campanelli, but taking the hill in front of a few hundred spectators this morning still gave Mike Paladino a few jitters.
"I was so nervous," he laughed. "And I didn't even do that well, made the catcher work for it. Initially, Billy said I might be catching, but throwing out a first pitch is nerve-wracking no matter what."
Flanked by Boston Park League president Walt Bentson, who is suffering from ALS, the 2004 CM graduate and friend of Sittig threw out the ceremonial first pitch for the game. Paladino's father, Bill, was principal at Foxborough's Ahern Middle School from 1984 to 2000, before passing away from ALS in April of 2000.
"Honestly, it's been a great honor to me," said Mike Paldino. "Because my father had spent so much time in this community in Foxborough, and my history in Foxborough has been nothing but good to me and my family, since we went through the tough times with my father's sickness and all of that.
"You know, anything for this cause, I'm glad to go out there and give everything I got for it."
April, 12, 2011
4/12/11
1:22
AM ET
By
Brendan Hall
| ESPNBoston.com
Last week, we profiled Catholic Memorial senior Mike Slonina, a manager for the school's basketball team these last four years, who has taken the daunting task of
trying to shoot a basketball for 24 hours
in the name of brain cancer research (his mother, Betsy Cullen, had a brain cancer scare last year that turned out to not be cancerous).
Sunday at noon, Slonina
completed the task
, having served up 8,101 shots and nailed 5,930 of them, for a cumulative shooting percentage greater than 72 percent.
Slonina has been hampered by nerve damage to his left foot that has left him physically unable to play at the high school level. Having not played a minute of high school ball, CM head coach Dennis Tobin swears Slonina is the team's best shooter.
Meanwhile his mother, a self-employed photographer and art consultant, is waiting and fearing the worst. She's hoping her son can survive, let alone reach the lofty goals he's set for the shoot-a-thon (300 shots per hour, 10,000 shots total).
The day has finally arrived, and I have decided to take on the daunting (and insane) task of staying up all 24 hours to chronicle how he performs. What you are about to witness below is my hour-by-hour account, unedited, for your viewing pleasure. Have away with it.
Slonina enters the building with a fresh shooting sleeve, two pairs of sneakers and a rotation of nurses, paramedics, and classmates who have volunteered to do his rebounding.
I come equipped with my laptop, camera, four Red Bulls, nine hours sleep and an iPod shuffle with an 85-track techno mix.
Let's see who survives.
PREGAME: 'CAN'T BELIEVE IT'S FINALLY HERE'
Mike Slonina tossed and turned in his sleep until about 2 a.m., and estimates he got about seven hours of sleep. He woke up to three "very fluffy" pancakes, doused them in maple syrup and then made the trek over to the Ron Perry Gymnasium from his Watertown home.
"I wasn't even hungry," he admits.
Slonina got a new white shooting sleeve a few days ago from the Modell's at Fresh Pond Mall, in Cambridge. He will be wearing blue shorts, a blue Under Armour short-sleeve compression shirt bearing the custom "A Shot For Life" logo, and a blue Nike practice jersey bearing the number 24, with "A Shot for Life" and "Slonina" on the front and back, respectively.
He laces up the custom-designed sneakers of his: white Nike's, with red soles, and gray and red trim, just like his school's colors. His nickname, "Slo", is inscribed on the heels of the sneakers.
His assembled team of peers, here to help him stay stretched out and catch his rebounds, are all bearing special warm-up jackets with the logo on the left breast. Student Ian Cotterell is stetching out Mike's hamstrings near halfcourt, as Ozzy Osbourne's "I don't want to stop" blares in his oversized headphones (the rest of the playlist on his iPod, he says, is just rap).
Outside of the room, t-shirts are being sold to commemorate this event, $15 a pop, while a various assortment of items are being raffled off, from gift certificates to a pair of Reebok ZigTech's to a 19-inch flatscreen television.
Back inside, nearly 40 people are gathered for this event to start, including many members of CM's baseball team, currently ranked No. 1 in ESPNBoston's MIAA poll. They'll leave in a few minutes to take batting practice before their highly-anticipated matchup with No. 2 Lincoln-Sudbury later this afternoon.
Slonina repeatedly reminds us all of this importance of pace early, not to wear himself out for when those grueling midnight hours come along (he's shooting for 300 an hour, and 10,000 for the entire 24 hours). On the court, Slonina can't wait for it to start, but at the same time this all feels surreal.
No butterflies for this kid, least not yet.
"Maybe it's because I just don't understand right now how big it is, what I'm about to do," he laughs. "Maybe I don't get it yet, but right now I'm calm. I'm pretty relaxed right now."
He adds, "I'm gonna shoot bad to start, I'm telling you right now. The beginning is not going to go well."
HOUR ONE: SO MUCH FOR THAT COLD STREAK…AND PACE
Slonina's rap-heavy playlist is bumping over the PA, and we're underway. At the far end of the gym, in front of the stage area, he lines up on a spot in the paint six feet from the basket, right where the volleyball end line cuts through, and sinks a free throw to a round of applause. He then steps back to the charity stripe and makes his first five free throws, misses one and then hits his next 15. He then steps out to the top of the key, just inside the free throw line, and nails four of five. Then he slips out to the left wing, behind the three-point line, and makes seven in a row.
In spite of his reservations, Slonina is off to an incredibly hot start. Thirty-two minutes into the hour, he steps back to the volleyball line and hits nothing but net as a spectator hollers "Woo yeah!"
After years of spending hours in the gym by himself, his shooting form is flawless in spite of a bum left foot and right elbow. He steps into his shot, almost pushing it in the way VCU's Joey Rodriguez torched opponents in the NCAA tournament, and the result is a crisp backspin with a consistent 60-degree arc that falls lightly into the basket.
His final shot of the hour, a catch-and-shoot from the baseline, banks in and gets another round of applause from the several dozen in attendance.
HOUR TWO: 350 of 494 (71 PERCENT)
Right now, Slonina is flying through those goals, breaking a sweat as he nears 1,000 shots – a goal he wasn't supposed to hit until two hours from now.
Slonina has switched to the near end where Bill Hanson, his guidance counselor and the Knights' famed ice hockey coach, watches quietly. Slonina's 1,000th shot is a long three-pointer from the left wing, drawing another round of applause from the crowd.
"And would you look at that, kid nails it from NBA range," Hanson says.
Slonina finishes out the hour with 540 shots, making 386 of them, to come just under 70 percent for the hour. It's the complete opposite of what he predicted, a fast start with an even hotter hand from the field. But it's beginning to take a slight toll, as he goes to the bench to ice his arm for the first time.
"It's hard enough just to get him to take breaks," cracks his mother, Betsy Cullen. "But when has he ever listened to me?"
HOUR THREE: 736 of 1,034 (71 PERCENT)
Slonina starts the hour mostly taking his free throws, blasting his way to 1,500 with ease. At 1,499, he walks over to the scorer's table, where a team of four (two boys, two girls) are keeping track of his every shot (he would finish out the hour at 61 percent).
Once again, he takes off his shooting sleeve and applies ice once he decides to break. He'll finish out the hour 228 of 374.
When Slonina decides it's time to take a break, various students will jump onto the floor and shoot a half-dozen basketballs around, to stay loose. One rolls my way, in the bleachers situated in the corner next to the stage. I line up at the right baseline and huck a bullet of a flat three-point attempt that bounces angrily off the back iron.
What, 24 hours in a gymnasium, and you think I wasn't going to attempt at least one shot?
HOUR FOUR: 964 of 1408 (68 PERCENT)
Now, Slonina is getting loose out there, chatting up his rebounders and stretching out again with Cotterell. About halfway through the hour, he returns to the bench and removes his shoes, slipping on a pair of white ZigTech's with black soles and trim.
In planning for this ostensibly tough challenge, his nutritionist laid out a simple plan: at least 300 calories per hour, no matter what kind of food it is. So Betsy has laid out everything perfectly at his spot near the scorer's table: four Kit-Kat bars, a bundle of bananas, 12 ounce bottles of water and Gatorade, some Nutri-Grain bars, and a half-eaten sandwich.
"I'll be surprised if I can get him to eat half the sandwich and a banana," at his next break, Betsy laughs.
Slonina finishes out this hour his best so far, at a 78 percent clip, hitting 338 of 497. But the wear continues, as he strips off the shooting sleeve to apply ice packs to his wrist and right elbow, wrapped in ace bandage.
HOUR FIVE: 1,352 FOR 1,905 (71 PERCENT)
We've got our first sign of trouble. The shooting sleeve is off, and Slowie says the inner part of his right wrist is "just killing" him. Oddly enough, the left ankle – the one that doesn't let him run more than a couple lengths of the court without giving him trouble – is having no problems at all.
A visit from mayor Tom Menino at the bottom of the hour seems to lift the several dozen in attendance here. To relatively low-key advance, Menino ascends the staircase into the gym with the assistance of a cane – "Watch and see how fast I go up these stairs," he cracks – and has a few words of encouragement for Slonina before telling him "get back out there" and show him what he's got.
Menino stands and watches for 15 minutes before taking off. Slonina finishes the hour 339 for 484, and returns to the bench with a towel over his head, trimming his fingernails and taping up his right middle finger.
HOUR SIX: 1,691 FOR 2,389 (70 PERCENT)
In last week's profile of Slonina, Knights head coach Dennis Tobin confessed discouragement at the inability to throw his manager into the game at all – be it garbage time, free throws at the end of the game, or whatnot – because of the debilitating foot injury.
Standing under the near baseline near the double-doors, Tobin marveled as all of Slonina's toils these last four years are finally coming to fruition, one shot after another.
"I'm real proud of him," Tobin said. "He's not just representing the basketball program, but the entire school, you know, when you put your mind to something and you wanna do something good, what good can be accomplished. I couldn't be prouder."
Guess Tobin wasn't kidding when he called Slonina the team's best shooter. He finishes out the hour 308 for 420, to keep the overall clip around 70 percent. He then takes off his shoes and socks, soaks his feet in cold water, and then walks across the gymnasium floor to use the restroom. The Nike's are coming back on, and the left foot looks fine.
HOUR SEVEN: 1,999 FOR 2,809 (71 PERCENT)
Give Slonina credit for this: he could just stand under the rim and throw the ball off the backboard for the next 12 hours and nobody would hold it against him. This is a marathon.
Yet he continues to take the hard way. He's relegated to mostly free throws right now, but every now and then he'll catch wind and start firing from the perimeter like mad.
His right middle finger taped up (cut from the basketball) and his right arm bugging him, Slonina shakes it off has he attempts his 3,000th shot, a three-pointer that misses off the iron.
Half a dozen children are currently lined up along the lane taking rebounds, and half the CM baseball team has filed in here following their 10-5 win over L-S. Head coach Hal Carey sits up in the top bleacher, combing over the box score from today's game, and confesses he's taking off in a few minutes. Like everyone else it seems, he'll be here in the morning.
So far, this is Slonina's best hour, going 285 for 352 to finish up at 81 percent.
HOUR EIGHT: 2,284 FOR 3,162 (72 PERCENT)
Slonina's got the support of a handful of family members here on hand, some of which are staying the whole night through (including Betsy). Just reading the body language, you can tell her happiness outweighs the concern here. Basketball is his obsession, and it's showing its colors in the eighth hour. How else does someone go on like this?
Slonina sinks his 3,500th shot attempt with 10 minutes left in the hour, a 16-footer from the right wing, and blazes ahead undeterred. He'll finish the hour out at a 72 percent, clip, going 289 for 412. At this pace, he'll finish up the 24 hours having attempted 10,722 shots.
HOUR 9: 2,573 FOR 3,574 (72 PERCENT)
Two teachers bring out red ticker tape and rope off a section in the far corner near the stage, with a hand-written note hanging over the banner: "Due to the fact I am shooting for 24 hours, SLO ONLY!"
At Slonina's request, the music is turned way, to the point where one cannot hear themselves speak. Meanwhile on the court, he's untucked his gold cross necklace, letting it dangle over his shirt, as the few dozen students hanging out are passing around a two-liter bottle of Sun Drop.
When Slonina takes his next break, a huge game of knockout ensues, with about 30 or so kids lining up behind the free throw line closest the stage, as Slonina soaks his feet again.
Feeling it?
"Not at all, no way," he says, before cracking a smile and chuckling, "Just kidding."
But seriously…"Honestly, I pushed myself way harder than this during the training sessions, so that I'm prepared for this part."
Still, fatigue is clearly a factor. Maybe his shooting stroke is still consistent, but this is his lowest total of shot attempts so far: just 310, making 226 of them.
HOUR 10: 2,799 FOR 3,884 (72 PERCENT)
The music is turned off, and 15 minutes into the hour Slonina takes his 4,000th attempt, from the top of the key just inside the three-point line, and he calmly swooshes it as the several dozen in attendance yell their appreciation.
A few minutes later, the music comes back on, full blast, and what else could the song be? Yep, that's right, the theme from "8 Mile". Clever, huh?
Kidding aside, it's remarkable the way he is still easing into long-distance shots, the way a shooter might casually launch his shots during warm-ups.
His next break, a heating pad is applied to his right wrist by the nurse on hand, the previous ice packs having done nothing to reduce the swelling. He started taking Ibuprofen a few hours ago, and has a towel soaked in cold water draped over his head. The nurse on duty is massaging his neck.
"Mentally, I think he's just exhausted right now," Betsy says.
For Betsy, what's transpired so far has been "really difficult to watch". It's tough to get Slo to rest for just 10 minutes, let alone the 20 she wants him to sit for, so she's thrown up her hands and let the nurses do the talking, "Because he doesn't want to hear it from me".
"It's really stressful to watch him this tired," she says. "When you look at him, doesn't it?...he wants to keep sitting in that corner during the break, but I think if we can get him into the back room and have him chill out, without stimulation, they turned down the music -- I think it's too much -- but he wants the loud music.
"But I think there's so much going on. He's excited, he's wanted this for so long, but it's very stressful."
A rotation of volunteer nurses and EMT's are attending to Slonina during breaks, and from 11 p.m. on there will be an EMT vehicle parked outside the school. Mike is sore and aching, but the vital signs check out OK for now – no distress from the heart, no discoloring of his skin or lips. But it is finally forcing him to eat.
From herein, Mike will instead move into a conference room behind the gymnasium for 15 to 20 minute breaks after each hour, where he will get his wrist rubbed down, feet soaked, and everything else in between.
Betsy, meanwhile, confesses that Mike has "kinda outed me with the brain tumor". Cancer historically has run through her family, and with all the stress that mounts with it she felt it was better off not revealing it.
"My first cousins come in, and they're like, 'Oh my God, I read the ESPN article', and that's how they found out," she said. "But I knew it was gonna come out eventually. Clients have called me that didn't know. So, it's been…A lot's been going on. But he's holding up great."
HOUR 11: 3,173 FOR 4,428 (71 PERCENT)
"What are we at? My wrist is about to break," Slonina calls over to the scorer's table.
He then glances over at me and mutters, "Looks like I'll have to back up my words," referring to the quote in last week's profile where he proclaimed "If I break my wrist, I'll start shooting lefty" (Take that, LeBron)
Slonina can hide it all he wants, but fatigue is clearly factoring in right now. Then again, he's really doing a good job not selling it, still launching three-point bombs clean into the basket here in Hour 11. Heck, why hasn't his wrist broken by now?
It's determination, muses Ian Cotterell, a Mission Hill resident and one of Slonina's closest friends for six years now. Cotterell recalls many a time where they've headed over to the local YMCA and played one-on-one to 21 points, win by two, one's and two's, "til we couldn't even stand anymore".
Cotterell is one of the leaders on Slonina's assembled team, helping him train since January, and is one of the many here in the hallways at CM who draws inspiration from Slonina's dedication to a sport he couldn't even ride the bench for.
"He has more determination than any kid I've ever known," Cotterell said. "He's determined to be the best at everything he does, and I admire him for that."
So what about himself? Tired yet?
"I'm great, I'm fine. I've got the adrenaline pumping, I'm ready to go."
And when he hits the wall?
"Oh, we've got Monsters," he says (he means the energy drink). "We've got Monsters ready to go."
Slonina goes 70 percent for the hour, hitting 253 of 360 shots, to keep himself at a 70 percent clip overall.
HOUR 12: 3,484 FOR 4,794 (73 PERCENT)
The music has been shut off, probably to the dismay of Slonina, but he finally hits the halfway point.
At 12:20 a.m., like clockwork, he takes a deep breath and swooshes a free throw on his 5,000th attempt, drawing loud praise from the 20 or 30 still standing here in the bleachers. But there's no celebration from Mike; he simply calls for the ball and keeps going.
As for me, I'm cracking open my first Red Bull after that 5,000th shot. Not bad, right?
OK, confession time, I cheated a little. This afternoon I took a walk to the Dunkin Donuts 200 feet down the street and got myself an iced coffee and a Mountain Dew.
This is the first hour in which he didn't hit 300 shots, going just 169 for 244 for a 69 percent clip. Hitting a wall maybe?
HOUR 13: 3,653 FOR 5,038 (72 PERCENT)
"Slo, how you feeling?" yells a classmate from the bleachers.
"Pretty good," he smiles back. "I'm rested now."
That still doesn't stop him from taking his gingerly time. No more is the rapid-fire succession of bombs, as if he were in a three-point contest. He is officially slowed to a crawl at the halfway mark of this marathon of marathons.
As for the spectators gathered…well, what else is a bunch of over-caffeinated adolescents going to do at 1 a.m. on Saturday night? It's a free for all, as all sorts of shots are chucked from everywhere on the court, bodies flying, heads getting bumped, all sorts of steam being blown off.
HOUR 14: 3,847 FOR 5,332 (72 PERCENT)
Team member Christian Mowles, a 17-year-old senior from Dedham, has the singular task of tracking Slonina's every shot, and has broken percentages down into each 100 shots, each hour, and cumulative. Mowles has also been up since 7 a.m. Saturday, thanks to his duties throwing javelin and discus on the school's track and field squad – "I'm actually the defending state champ in the two-mile, too," the big guy kids.
It's 2:30 a.m. and Mowles is three Monster energy drinks, two sodas and a Five Hour Energy capsule deep. The way he sees it, he's got a simple task compared to what his good buddy is doing on the court.
"I'm pretty tired," he admits. "But I feel like if Mike can do it on the court, the least I can do is sit there and keep track of how many shots he's taken."
For many of Slonina's peers, this story is about inspiration to do something productive in their life. But it's also about burning desire, and there's plenty of it firing away at the opposite end of the court. This is four years of frustration being taken out in a span of 24 hours.
"It shows how competitive he is, but it also shows just how much he loves the game," Mowles says. "And it makes you kinda feel like, so many people are in it for themselves, and all he (Slonina) can do is basically tally the shots and points other people can score. And it really puts things into perspective.
"Like, when you go to the basketball games, you see everyone scoring the points, but you also see Mike recording everything. It's a humbling experience a little bit, because some people are just in it for themselves, and he's just about the team."
Couldn't-Help-Myself Time, part two: It's 2:45 in the morning, nobody's around the stage...once again, do you think I was really going to go 24 hours without taking a shot myself? In honor of one of my favorite NBAers of childhood, Hakeem Olajuwon, I back down my imaginary opponent, hit him up with the "Dream Shake", and watch as my right-handed hook shot sails over the backboard, onto the stage.
Cool.
HOUR 15: 4,094 FOR 5714 (72 PERCENT)
Slonina is resting comfortably in the conference room, his bare feet elevated on a chair as he lays on a mattress, the EMT on duty rubbing his sore right wrist with cream. An assortment of snacks lay next to him, from orange juice to crackers and assorted fruits, to coffee cake and even birthday cake. Three-hundred calories, remember?
He is staring at a sheet of lined paper, an inspirational letter he says he wrote to himself a long time ago – "It's real personal," he says, "Probably the most deeply personal thing in my life."
He keeps it in his room, and won't disclose the contents of the letter, only that it's been at least a year since he last looked at it.
Cotterell enters the room, and Slonina asks him how much time is left before he has to get back out there.
"You got 9:30," he says, to which Slonina grunts, "Thank God."
Slonina's wrist is just absolutely obliterating him right now. Even with all the ice packs, heating pads, and cream rub downs, every flick of the wrist feels "like a horrible sprain…because it basically is." Stabbing sensation? "You can call it that?" he concedes.
Mowles bursts into the room to tell him of his percentage from the last hour.
"I don't wanna know the percentage," Slonina scoffs.
"It's actually not that bad," Mowles says.
"OK, what is it?"
"65."
"Yeah, but I sucked."
The next three hours, he estimates, are going to be the most brutal. Once the sun comes up, he says he'll get another burst and catch his second wind. Right now, though, it's going to be a drag just getting through the wrist injury. He asks me how I'm holding up; I tell him of my ill-fated "dream shake", and he cracks up.
"I'm gonna go [expletive] crazy when this is over," he suddenly beams. "Then we're gonna throw a wicked big party at my house. Ma, you're gonna be so mad at me."
"Why would I ever be mad at you?" she asks sarcastically.
The conversation drifts to which girls they're going to invite over, and are trying to remember the names of the unfamiliar ones who came by earlier in the day to show their support. Betsy politely reminds everyone that women are still in the room; and as usual, Slonina isn't listening.
"Mom, did you see the blonde chick that came by?"
Slonina calmly sinks his 6,000th attempt, a free throw, and moves forward. For the hour he was 299 for 405, but things turn south in a hurry from herein.
HOURS 16, 17, 18…???
Fifty-seven year-old West Roxbury resident Kevin Shea, a 1972 alumnus and father of CM senior Brendan, has been saddled with overnight duty on Slonina, at least through the next four hours. Shea, a paramedic for the City of Boston, met Slonina for the first time at midnight, and marveled at how polite the kid was for someone who had just shot a basketball for 12 hours.
"He's gonna make it," Shea says a few hours later, in the wee hours of the morning. "I think once the sun comes up, and once more people start showing up, he's gonna be doing it totally on adrenaline. Marathon runners say they hit the wall, and then the last few miles are strictly on adrenaline because you know you can see the finish line."
Shea is about to take off, holding a cardboard box containing seven of Slonina's used pairs of socks (he's down to four as it stands), and will return in an hour. His wife Marilyn, a nurse, will assume duties for the next four hours – "My wife will be better than I was," he laughs.
In Slonina's next trip to the conference room, Marilyn asks him if Mayor Menino shot any basketballs with him during the visit.
"I actually couldn't understand a word he said," he confesses.
The timetable on when these next three hours started and ended, it seems, is a blur. This much is known: hour 18 supposedly ended 8 a.m., and there's virtually no chance he makes 10,000 by noon.
An hour and half ago, Slonina put on a black brace on his ailing wrist, only to take it off as soon as he attempted his 7,000th shot, and return yet again to the trainer's table to treat the wrist. On a scale of 1 to 10, Slonina says it's "11 painful".
From the last hours of darkness through sunrise, this place has been a ghost town. Everyone's either sleeping on top of bleachers, underneath them, or hidden on the footrests. Even I fall asleep for 20 minutes by the stage.
Apparently, three hours took five to complete, or something like that. At one point or another, we all lost track. Mowles finally tapped out somewhere between the hours of four and five, but he'll resurface in a bit. We do have Slonina's shooting percentages, though: 54, 42 and 64, respectively, but at a miserable pace.
HOUR 19: 4,916 FOR 7,001 (70 PERCENT)
By now, Slonina struggles to put up 50 to 60 shots in a stretch before heading back to the bench to nurse the wrist, or take a breather.
"I'm running on fumes," he says as he sits by the scorer's table, watching the game of knockout that's ensued while he rests. "Hopefully this game goes on, so I have an excuse for an extended break."
Slonina is staying in the paint, barely getting a leap on his shots as he watches them clank off the iron. The sun is out shining, and various droves of the two-dozen students are making runs to the Dunkin Donuts down the street, but that adrenaline rush hasn't kicked in yet. Neither has that supposed rush of the crowd, supposedly awaiting him at the end of this journey.
He puts up another 60 shots, before returning to the conference room at 7,151. "This is all heart right now," he says out loud, as Marilyn massages and heats his wrist, and Cotterell massages his neck. Slonina then asks for the time.
"Eight forty-seven," Mowles attently retorts. After disappearing for a few hours, he's up and at it again, full of energy.
"Alright, I'll start up again at nine," Slonina sighs.
HOUR 20…? OK, AT THIS POINT, LET'S JUST SCRAP THE WHOLE 'HOURS' CONCEPT AND HOPE HE MAKES IT TO NOON
We may have found that marathoner's last rush that Kevin Shea was referring to. A few classmates have filed in, and Slonina is stepping into his shot again, launching from just inside the three-point line and nailing his buckets.
At long last, there is light at the end of this tunnel, and not a minute too soon. I'm about to sink into my final Red Bull at 9:03 a.m., and I'm afraid I still have taxes to file when I return home.
At 9:30, having taken 7,320 shots, he soaks his feet again, leaning on a bench off to the side of the stage, as his mom takes pictures (she is a photographer, after all). Upon his return to the court, he heaves up an underhanded shot aimlessly – and somehow it banks in.
There is a crowd finally gathering here after 22 some-odd hours, though it's not the sold-out spectacle he was anticipating. A quarter-full gym will suffice at this point, though. He gets a brief applause when he hit 7,400, and another dragged-out, slow-building applause at 7,500, a free throw he makes at 10:22 a.m.
At 10:49 a.m. and 7,676 shots, he returns to the room for one last break, gearing for the home stretch as his biological father, Anthony Slonina, sits next to him and offers words of encouragement (Anthony and Betsy split when Mike was an infant).
Mike Slonina returns to the floor at 11:15 a.m., and is determined to see this thing through. He misses his 8,000th attempt at 11:50 a.m., from just inside the three-point line. The crowd gives him a standing ovation anyways.
As he nears 8,100, he tells his team to get up behind the stage and change the track to "All I Do Is Win", by DJ Khaled (Coincidentally, this is probably the 8,100th time we've heard this track over the course of 24 hours).
With one minute to go in this thing, he orders the music shut off. He would later say he couldn't even hear the people clapping and clamoring for him as he lined up this 8,100th attempt.
Of course, nothing's gone as planned to this point; Mowles doesn't get the signal to hit the buzzer after Slonina sinks No. 8,100, a three-pointer. And at the risk of an awkward buzz, Slonina simply lines up again, sinks the next three-pointer, and exhales deep as the buzzer sounds and the crowd all around him yells for him in another standing ovation.
At long last, this monster is over.
FINAL TALLY: 5,930 FOR 8,101 (72.6 PERCENT)
You can't put a price tag on this grin he's got right now. After all these hours, there isn't a happier kid in the world right now than the one with the back of his custom-made practice jersey tucked over his eyes, walking around the hardwood and soaking in a plethora of emotions. He hugs each of the half-dozen members of his team, and poses for pictures with them before retiring to the conference room once more to catch his breath.
When he returns to the floor, he is greeted to little fanfare. No television cameras, no herd of press. Just a reporter from a hyperlocal website and two ESPNBoston.com reporters who are about to put him in front of the camera.
Slonina lets loose a few expletives as he tries to walk around, jokingly telling reporters, "I hope you guys have a bleep button," as he sits down on the first row of bleachers with me, microphone in hand.
As sore as his wrist is – Mike's amazed it's not broken (least not yet) – and as much as his left foot is just killing him ("I can barely [expletive] walk right now," he gushes), Slonina is just bleeding passionate exhaustion as he walks us through the 24 hours, and what a painstaking journey.
Once again, this is six years of frustration swept away in 24 hours. This is the greatest moment of his life. This must be what Heaven is like. And so on and so forth, for the next five minutes he can't tell anybody within earshot enough about the redemption and reward of it all, even though he might be half-dead right now. Delusions of grandeur aside, he suggests to us that he may want to turn this into something bigger.
"I mean, I don't think I'll do this again," he said with a laugh. "I don't know why anyone would put themselves through this twice. But I want to turn 'A Shot For Life' into something national. I think other kids across the country will take this challenge. I'm a very competitive person, and there are kids like me out there that would want to do this, that would want to prove something. And I feel like I proved something today."
I'm no psychic. But by the sound of it, and the way things have unfolded here these last 24 hours, there's no way this is the last you'll hear from him.
Look out, world. Whatever he decides to do.
April, 9, 2011
4/09/11
8:41
PM ET
By
Tom Layman
| ESPNBoston.com



SUDBURY, Mass. — Catholic Memorial wasted little time showing off why it is ranked No. 1 in the polls with a big 10-5 road victory over No. 2 Lincoln-Sudbury (0-1) on Saturday afternoon.

The Knights (2-0) collected nine hits and looked to be in midseason form when it comes to seizing an opportunity, as they capitalized off of five errors in the field and four passed balls by the Warriors.

The big club in town might not be one for fast starts in 2011, but Knights' head coach Hal Carey wanted to see his team get off on the right foot.

"We were really ready for the game," said Carey. "We wanted to play really despite it being early in the year. It was kind of a motivational thing."

The Knights held a 2-1 advantage through the first four innings, but broke things open with a 4-run top of the fifth. CM sent eight men to the plate fueled by a two-out, two RBI single from John Mildner.

Steve Pike and Nick Barker both reached base to open the fifth, and with the heart of the Knights lineup ready to come up, it looked like the big inning was inevitable. But David McCullough got John Gorman swinging and got Matt Goreham to fly out to first.

On a 2-2 pitch, Mildner dropped a line drive right in front of the left fielder to grab a 4-1 lead. Mildner stole second, moved over on a passed ball and scored on a RBI double by Paul Fahey.

Fahey would make his way across home plate on two passed balls by Warrior pitching to stretch the lead to 6-1.

"We took advantage of a couple of their errors," said Carey. "We scored runs with timely hits and played well fundamentally."

The Knights kept the pressure on in the top of the seventh and took care of more Warriors' mistakes as the first five batters of the inning reached safely in another 4-run inning.

"We just didn't catch the ball," said Warriors head coach Kirk Fredericks. "Everyone took an opportunity to not catch the ball. They capitalized and made our pitchers throw more pitches than they should of. That was the difference between the two teams."

The Warriors had to go through five pitchers, while the Knights need just two, with Goreham doing most of the work. The big righthander was efficient in his six plus innings of work, striking out five and working his way out of trouble when he needed.

In the bottom of the third inning, Goreham allowed the leadoff man to reach, but got a 4-6-3 double play and a fly out to center to get out of that jam. He started an inning ending 1-6-3 twin killing after walking the first two batters of the fourth, and struck out the last two batters of the sixth inning after loading the bases.

"My off-speed stuff wasn't there," said Goreham. "I was sticking with a lot of fastballs and they were able to get on base. My defense really picked me up today. … It's just one of those things where your teammates pick you up when you are struggling."

Added Carey: "He's got such good poise out there that nothing really bothers him. He's even-keeled."

A bright spot for the Warriors was Adam Ravenelle, who crushed two homers, a solo shot and a three-run bomb, to dead center.
April, 4, 2011
4/04/11
7:55
PM ET
We've released our first state-wide MIAA Top 25 baseball poll this afternoon, which can be found
here
; and our panel of staff writers, correspondents and area coaches have tapped Catholic Memorial as No. 1 to top the preseason.
Many felt this could be the year the Knights, who have lost in extra innings in the last two Division 1 South finals, get over the hump. And certainly, head coach Hal Carey has the horses in his starting rotation to pull it off, between Division 1 commits Matt Goreham (Northeastern), John Gorman (BC) and John Mildner (UMass).
Overall, the Catholic Conference took four of the top five spots in the poll, with Lincoln-Subury taking the No. 2 spot followed by Malden Catholic, reigning Division 1 North champ St. John's Prep and Division 1 state runner-up Xaverian. Rounding out the top 10 are Lowell (6), Lexington (7), Peabody (8), Wachusett (9) and North Andover (10).
Our panel has also put together a preseason All-State to whet your appetite, listed below:
RHP – Adam Ravenelle, Sr., Lincoln-Sudbury
LHP – Will Marcal, Sr., Lexington
RHP – Pat Connaughton, Sr., St. John's Prep
RHP – Matt Goreham, Sr., Catholic Memorial
RHP – Pat Delano, Jr., Braintree

C – Matt Walsh, Sr., Plymouth North
1B – Lorenzo Papa, Sr., Arlington Catholic
2B – Zach Apotheker, Sr., Brockton
SS – Aaron Fossas, Sr., Holy Name
3B – John Gorman, Sr., Catholic Memorial
DH – Zach Littman, Sr., Abington
OF – Carl Anderson, Sr., Lincoln-Sudbury
OF – Connor McDavitt, Sr., Wachusett
OF – James Ricoy, Sr., Lowell
As always, let us know how we're doing in the comments section below, or by emailing editors Brendan Hall at bhall@espnboston.com and Scott Barboza at sbarboza@espnboston.com.
February, 5, 2011
2/05/11
11:24
AM ET
By
Tom Layman
| ESPNBoston.com
BOSTON -- Sometimes when your shooters are off and the ball just doesn't want to go through the net on a consistent basis the little things turn into the most important things. That's the formula that Catholic Memorial used to upend BC High, 65-56, on Friday night at McNeice Pavilion.

Matt Goreham scored nine points and grabbed six rebounds, but it was his timely offensive rebounds, defensive presence and ability to take a charge that helped the Knights climb above the Eagles in the Catholic Conference standings.

"It's the intangibles," CM head coach Dennis Tobin said of Goreham. "He passes well versus the zone and is a presence in the paint discourages teams from going down there."

The Eagles were holding a 25-11 rebound advantage after the first half, but CM nearly notched it up in the second half with big contributions from Goreham. He gobbled up an offensive rebound, hesitated and drew a foul. He then canned both of his free throws to give CM a 55-45 lead with over five minutes to go in the game.

"A big thing for me is charges and offensive rebounds," said Goreham. "It doesn't go down in the stat book, but it's noticeable for the team, and it helps the team win."

The Knights also got a solid contribution from Armani Reeves off the bench with six points, six rebounds, a couple of blocks and a couple of steals.

At 5-foot-10, Reeves is more of an athletic presence. On several occasions he kept plays alive and got the ball to an open three-point shooter. The Knights struggled behind the arc, going 9-for-27, but Dan Powers came alive with three, second-half three-pointers, and Chris Siggers also drained a big three at the beginning of the fourth quarter.

"We have the luxury of bringing in one of the most energetic kids in the state (off the bench)," Tobin said of Reeves. "It's tremendous, his athleticism. He's a tremendous rebounder."

The two hooked up on a pretty cross-body pass from Reeves to Goreham for a 63-51 advantage with less than two minutes to go. On the very next defensive possession, Goreham drew a charge much to the delight of the bench and his head coach.

A Quick Turnaround

The two teams will get to know each other again on Tuesday when the Eagles travel to CM, and Tobin is hoping the shots will start falling at a more frequent rate with the home court advantage.

"I think both teams are going to go look at the tape and make some adjustments," said Tobin. "The advantage is that it's going to be in our gym. We did not shoot well tonight here, but I think we will shoot better in our gym"

The Knights did hit three-pointers in bunches in key spots, but overall the long distance shooters were a little bit off the mark all night.

Matt Droney went 2-for-7 from behind the arc, but he did enough to muster up a game-high 20 points. Even he believes that an inside presence could help in the re-match.

"The coaches get on us about feeding the post a lot," said Droney. "We feel like we have some good shooters, but in all honesty we probably do need to feed the post more, but we made them when it counted, so we will take it."
January, 15, 2011
1/15/11
1:24
AM ET
By
Corey J. Allen
| ESPNBoston.com
DANVERS, Mass. –- St. John's Prep protected its perfect record (8-0) and pole position, pulling out a win tonight over No. 23 Catholic Memorial, 65-62.

"It's a big game, we're rivals," St. John's coach Sean Connolly said of the up-and-down game. "We're fighting for first place in the league, so stuff's going to happen," he added, referring to the aggressive play which resulted in numerous jump balls, separating of players and screams from both bleachers at the referees.

"They have a great player who could take over and make some plays for them," Catholic Memorial coach Denis Tobin said. "We have some very good players, they have a great one at the high school level."

Tobin was referring to Prep's leading rebounder and scorer for the game, Pat Connaughton, who came down with 20 boards and put up 27 points. He also racked up six assists and four steals.

"Beating them at home in front of this crowd was huge," the Notre Dame-bound Connaughton said. The fact that the game didn't have a clear winner until the final buzzer sounded might have contributed to the emotion."

With a minute left in the game, CM's Dan Powers (14 points) got an outlet pass from Matt Droney and made the open court layup to put CM (6-4) within one, at 63-62, after coming into the fourth quarter down 48-40.

"I think that we got careless with the ball," Connolly said of the Eagles losing their third quarter lead.

St. John's didn't score on their next possession, and Powers pulled down a rebound . The ball made its way to Droney, and he drove to the hole and was fouled, but failed to make either free throw with 41.1 left in the game.

Connaughton got the rebound after the second miss, tried to make his way up the court but was fouled with 37.8 on the clock. He made the first, missed the second, leaving St. John's up by two at 64-62.

CM's Matt Goreham got the rebound off the miss and down the other end the ball was put in the hands of freshman guard Aamahne Santos (10 points) who tried tie the game a layup, but was fouled. He also, missed both of his free throws.

"We wouldn't have been there without him," added Tobin after the game. "And he's a freshman."

Connaughton got the ball, got down the court and made a few circles dribbling and was eventually fouled. He made the first, missed the second.

"I missed a few free throws at the end of the game," said Connaughton, shrugging of his other stats.

CM got the ball, and a chance to win, but a missed three and tip in that followed came up short.

"We learn new stuff every game," said Powers. "Like if we hit four free throws at the end of the game, we win."

The Knights were not always fighting from behind; at the half, they were up by three and had control of the game.

"CM is a good team," said Prep's Stephen Haladyna (13 points). "They get the game [going] up and down real fast. "

Up 29-26 at the half, the Knights had Connolly and the Prep players making adjustments, and they did, outscoring CM 22-11 in the third on the heels of Connaughton and junior Freddy Shove scoring eight in the quarter.

"In the first half, we were playing into their hands, their defense was hyped up," said Shove. "We needed to come stronger in the second half, coach addressed that. We had to have them fear our defense."

In the fourth, the Eagles almost lost the lead because of CM's tenacious defense and some miscues by his team, according to Connolly.

"We were trying to dribble through a trap instead of passing over it," said Connolly. "But you've got to credit CM, they were all over the ball."

Although a close one, Connaughton still thinks the win is a high value for the team.

"We haven't beat CM on our home court since my freshman year," said Connaughton. "It's really a turning point in our season."

MACOMBER HURT

With 1:37 left in the game, St. John's senior captain Conor Macomber was stripped of the ball at half court, fell and hit the back of his head. He was bleeding, helped up from the floor and off the court. According to coach Connolly, he was en route to the hospital to get stitches after the game. No further report was given.