Boston High School:

Matt Grzelcyk
August, 8, 2012
8/08/12
5:04
PM ET
The dog days of summer are upon us, but local rinks are still hopping through August with plenty of great tournaments going on in and around the Boston area.
So we thought we'd take the opportunity to catch up with some of the happenings of local skaters during the offseason, along with a smattering of other notes collected in our notebook during the last month or so.
CLEARING THE CREASE
Bailey MacBurnie
burst onto the MIAA hockey scene last season, helping lead St. Mary's of Lynn to a second seed in the Super 8 tournament. All the while, the Beverly native backstopped the Spartans with a measly 1.66 GAA, placing him among the state leaders.
During the summer, MacBurnie has skated with the New England Thrashers. He and his Thrasher teammates had a solid showing in the recent Chowder Cup College Open championship, finishing fourth in a field of 56 teams while facing teams that largely were comprised of older players.
We caught up with the sophomore netminder to talk about his offseason, how practicing yoga has helped his game and his upcoming season at Brewster Academy:
Q: What kinds of things do you do in the offseason away from the rink to keep you sharp for the upcoming season?
A: "I've started doing yoga, it's my first year doing it. I go to classes at Merrimack College. And then I do on-ice work with Brian Daccord, who's my goalie coach."
Q: How do think yoga might help your game?
A: "I've found that it's already made me more flexible. It definitely helps out and gets you in shape."
Q: What other elements of your game have you wanted to work on this offseason?
A: "Puck handling, definitely. I want to be more confident playing the puck and quicker with making decisions with the puck. And skating, you can always be a better skater."
Q: Your team had a great showing at the Chowder Cup recently. How did that team come together?
A : "I played with a lot of guys I knew, like [Central Catholic's]
Mike Kelleher
,
Lloyd Hayes
,
Zack Cote
,
Jake Donahue
and [former St. Mary's teammate]
Jarrod Fitzpatrick
. We had a good tournament. First, we played the Nordiques, beat them 3-1, then we played Mass Attack and beat them, 7-2, and then Team One, 4-2. We played some Canadian teams in the playoffs. We did well though, especially because we were playing a lot of teams that had older players. We thought we should've went further, but we were playing against teams that he players that were mostly 92s and 93s [birth dates] and we were mostly 95s."
HERE AND THERE
On the rise: A bumper crop of New England prospects were scooped up earlier this summer during the NHL Draft and the region's best have continued to crop up during the summertime months. Four players with New England roots were chosen for the U.S. Hockey National Junior Evaluation Camp. Three of those players had their names called in the most recent draft, including goaltender Jon Gillies (South Portland, Maine),defenseman Matt Grzelcyk (Charlestown) and forward Jimmy Vesey (North Reading). Former St. John's Prep star and 2011 ESPN Boston Mr. Hockey Colin Blackwell (North Reading) also made the final cut for tournament play. Former Phillips Exeter standout and recent Tampa Bay Lightning draft choice Brian Hart was among those participating in camp practices at Lake Placid last week.
One to watch: Junior Robby Devaney helped Reading on a late-season Super 8 push last season, while leading the Rockets in scoring during the regular season. While catching Devaney play in both the Bay State Games and the Chowder Cup this summer, he looks like an early candidate for most improved player honorifics – if there were such an award. In the small sample size, he showed good speed, but also exhibited attention to detail, playing solid neutral zone defense in the summertime – something that's usually missing from offseason tournaments. Of course, we all know how well those Rockets are coached defensively.
Comings and goings: One of the more telling aspects of summertime tournaments is often found just looking at team rosters. Players are often listed with their corresponding schools next to their name, and that can often signify changes in locales. One of the more prominent changes listed was that of former Billerica standout Ross Olsson. The Northeastern commit played at Williston Northampton last year, but will move to the USHL, joining the Lincoln Stars, the team that drafted him in May's entry draft.
June, 23, 2012
6/23/12
3:07
PM ET
After a whirlwind Saturday morning, Sam Kurker had one thing on his mind — lunch.

The St. John's Prep standout was drafted by the St. Louis Blues in the second round (56th overall) of the NHL draft. He was in attendance at Pittsburgh's Consol Energy Center with his family to hear his name called. After meeting with the media, a quick photo session and a meet-greet with new Blues owner Tom Stillman, head coach Ken Hitchcock and staff, the Reading, Mass., native had his first chance of the day to grab some grub.

"It's been such a crazy day," Kurker said during a post-lunch phone interview Saturday afternoon.

Kurker wrapped up his senior season with the Eagles as an ESPN Boston MIAA All-State first-teamer, scoring 32 goals with 28 assists for 60 points.

After the season, Kurker's schedule remained full, fitting in interviews with prospective teams (he said he met with 25 teams) and attending the NHL combine. The 6-foot-2 inch, 210-pound winger called it a "stressful" experience.

"It's tough," Kurker said of the pre-draft gauntlet. "Between the combine and all the meetings, it's tough. I tried to do the best in everything that I did because you want to leave a good impression on the teams."

So Saturday came with a big sigh of relief.

"Looking at the draft board, you can guess where you might go, but you never know until it happens," Kurker said. "But I'm very happy where I ended up. I felt most comfortable with St. Louis from the start."

Kurker first sat down with Blues regional scout Vince Montalbano and then met with the entire staff at the combine.

He was looking forward to meeting some of his new teammates at the Blues' development camp, which will be held in July. But there's no rest for Kurker. He realizes the process has just begun, and he's already shifted his attention to joining Jack Parker's BU Terriers next season.

"Going to BU, the goal is to a win a national title. With all those guys going [in the draft], hopefully we can do that."

The Terriers had eight recruits taken in this year's draft, several of whom have local ties, including Brendan Collier, Matt Grzelcyk, Danny O'Regan and Doyle Somerby.

"It's great because there are a lot of local kids in that group and I think we all bring tough attitudes," Kurker said. "I'm so excited to get going there."
June, 23, 2012
6/23/12
1:40
PM ET
[+] Enlarge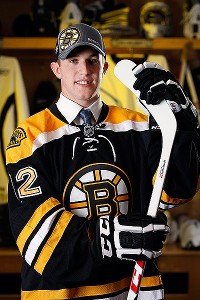 Gregory Shamus/NHLI/Getty ImagesBruins draft pick and Charlestown native Matt Grzelcyk will play at Boston University next season.
After making waves with their first-round pick on Friday night, the Boston Bruins kept things close to home for their third-round selection in the NHL entry draft.
With the 85th overall selection, the Bruins tabbed United States National Team Development Program U-18 (USHL) defenseman Matt Grzelcyk. The 5-foot-9, 171-pound, puck-moving blueliner is a Charlestown, Mass., native who grew up a stone's throw away from the TD Garden.
Being drafted by the Bruins isn't Grzelcyk's only link to the Bruins. His father, John, is a longtime member of the "bull gang" at the Garden.
The 18-year-old will bring his hockey game back to Boston next season when he joins Boston University. Grzelcyk was also a member of the gold medal-winning Team USA squad that claimed its fourth straight title at the IIHF World Men's Under-18 Championship in April.
• Here's a snippet of Grzelcyk's reaction to being taken by the hometown team today, courtesy of the Bruins communications staff:
On whether he had any indication from the Bruins that they might draft him
: "I met with them, so I mean I kind of had a rough idea, but you know I didn't really come in with high expectations. So, it's kind of a shock, but I couldn't be happier."
On whether 84th was where he hoped and expected to be picked:
"Not really, no, to be honest. You know I wasn't ranked that high, I'm kind of a smaller guy, so it was pretty unexpected, but what can you say, you can't go wrong."
On going through the draft with so many New England players:
"It's great to see. I've known these kids ever since I was young, so it's kind of a surreal feeling to be here with them and I'm just happy to share it with them."
On how his time with USA Hockey has helped him develop as a player:
"It was probably the best two years of my life, you know I feel like I really needed the development and that's exactly what I got. Being a part of that gold-medal team was just the best feeling I've had in hockey so far and couldn't be happier that I stayed and had my time there in Ann Arbor."
On whether he's ready to handle the pressure of playing for his hometown:
"Yeah, definitely. I mean obviously there's going to be a lot of people like my family and stuff, but I've always had this dream to play for the Bruins and hopefully that comes true one day."
• Bruins general manager Peter Chiarelli touched on Grzelcyk's game earlier this week during his pre-draft conference call with the media. Here's what
Chiarelli had to say
:
"The Grzelcyk kid's a very good, mobile defenseman. He's later on down but he's got a good head on his shoulders."
• Here's what Bruins director of amateur scouting Wayne Smith had to say on Grzelcyk's selection today:
"Well he's the type of kid that plays much bigger than he is. He's got a Bruin mentality. He plays to win; he plays hard; he's hard to play against; he plays a virtually mistake-free game. His decision-making and his ability to move the puck is second-to-none in this draft. Obviously, it's a great story that his father has worked at the Garden for [45] years. We brought him in to Boston in particular because we had keen interest in him, and after meeting with him, we just feel that he could be a part of helping us win another Stanley Cup."
June, 23, 2012
6/23/12
12:24
PM ET
Day 2 of the NHL Draft took place Saturday morning, and while there weren't any locals taken in Friday's first round, a host of New Englanders had their named called in the subsequent rounds.

Here's a rap sheet of those with New England roots who've been taken:

2ND ROUND
53. Tampa Bay Lightning - Brian Hart, Phillips Exeter, RW
56. St. Louis Blues - Sam Kurker, St. John's Prep, RW
59. New York Rangers - Cristoval "Boo" Nieves, Kent School, C

3RD ROUND
66. Nashville Predators - Jimmy Vesey, South Shore Kings (Belmont Hill), LW
75. Calgary Flames - Jon Gillies, Indiana Ice (USHL, South Portland, Maine), G
79. Chicago Blackhawks - Chris Calnan, Noble and Greenough, RW
85. Boston Bruins - Matt Grzelcyk, U.S. NTDP (Charlestown, Mass.), D

4TH ROUND
98. Minnesota Wild - Adam Gilmour, Noble and Greenough, C
106. Ottawa Senators - Tim Boyle, Noble and Greenough, D

5TH ROUND
125. New York Islanders - Doyle Somerby, Kimball Union (St. Mary's of Lynn), D
136. Ottawa Senators - Robbie Baillargeon, Indiana Ice (USHL, Enfield, Conn. via Cushing Academy), C
138. San Jose Sharks - Danny O'Regan, St. Sebastian's, C

7TH ROUND
189. Carolina Hurricanes - Brendan Collier, Malden Catholic, LW
February, 17, 2012
2/17/12
12:57
PM ET
The Charlestown hockey tradition is alive and thriving in and around Boston schools these days.

It should come as no surprise that a pair of best friends from the Town are among the scoring leaders in the respective divisions this season. While most are familiar with Malden Catholic and Boston University-commit Brendan Collier, Boston Latin's Conal Lynch is once again among the most feared scorers in Division 2. Lynch has again eclipsed the 40-point plateau with 27 goals and 13 assists in 18 games.

In addition, the Wolfpack, aided by a 12-game unbeaten streak to start the season and following Wednesday's 2-1 win over Lincoln-Sudbury, are atop the DCL/MVC Div. 2 standings and headed to the postseason.

We caught up with the Wolfpack captain earlier this week:

Q: What's your earliest memory of playing hockey?

A: "My earliest memories of playing hockey are in-house league. Basically, it's a division before mites that is made up of all kids from Charlestown playing against each other. I played with and against all of my best friends: (Malden Catholic's) Brendan Collier, Pauly Myers, Paul Wrenn and Nolan Carrier, and Matthew Grzelcyk (Belmont Hill/USNTDP). Those were great times and what really made me fall in love with the game."

Q: A lot of talented high schoolers seek out private or prep schools or junior hockey. What made your decision to stay with Boston Latin?

A: "I get this question a lot and can never really seem to come up with a great answer. But I guess the best way to describe it is just that I was getting a great education there and I met so many great kids. Early on, I didnt really see hockey as something I'd be able to play in college, but I guess as I got older people became more interested in me from a hockey perspective. So staying there really worked out for me educationally and hockey-wise."

Q: Your team was one of three remaining undefeated teams in the state until a few weeks ago. How was the team able to play at such a high level for most of the season?

A: "I think that we just had a high level of focus. We really played well because everyone was so intent on doing their job and getting things done. We did the little things right and put away all our chances. Everyone was working really hard and I'm really proud of my teammates for that accomplishment."

Q: Given the success this year, what is the team's expectation for the upcoming tournament?

A: "We expect nothing less than to win. We have really high expectations for ourselves and each other and if we meet those, you will see us at the Garden."

Q: You're among the leading scorers in the state, along with Brendan Collier, who've you been friends with since childhood. What does it mean to both of you to represent hockey in Charlestown?

A: "It means a lot to us to be able to represent Charlestown. We both played together for a long time in the Charlestown Youth Hockey program and I feel like a lot of people keep tabs on the kids that used to play there. I also feel like a lot of the kids playing youth hockey now look up to the older kids and to be able to set a good example -- I hope -- is a great feeling."

Q: Beside the notoriety and attention from movies like "The Town," C-Town can kind of get a bum rap. What are the things you've taken away from Charlestown that most outsiders don't see?

A: "There's a lot of things that people dont see about Charlestown. Mostly people just think that the community is a "code of silence" type thing, but they don't understand that everyone knows everyone and looks out for one another. I could be walking down the street and someone will stop me and ask about Latin and how the season is going and I'll never even figure out who they are. Also, I think that Charlestown breeds a sort of competitive nature in everyone. Everyone wants to be the best out of their friends and earn sort of bragging rights. Being best friends with Brendan [Collier], we have competed all of our lives and I am nothing but better for it."

Q: Along those lines, when the C-Town hockey crew gets together, where's the place to be seen?

A: "The place to be seen is "The Kitchen", the roller hockey court at Eden Street park. As soon as the season ends, we spend almost every bit of spare time out there playing roller hockey and developing our skills."

Q: What are your current plans for next year?

A: "I'm not completely positive what I'm doing next year. I've applied to a few colleges but that's mostly just to see where I'm at with them. I've talked a bit with some colleges, but I dont want to talk names because you know how people can start rumors. Prep school and juniors are both in the mix heavily as well and I've been in contact with teams, schools a lot recently."