Boston High School:

Matt Huemme
June, 11, 2013
6/11/13
8:31
PM ET
DIVISION 3

Dover Sherborn (18-4) vs. Cohasset (17-3)

Players to watch: D-S – D Rogers Boylan, A Matt Davies, G Ryan Goodall, M Matt Huemme, A Brandon Jaeger; Cohasset – G Jack Conte, LSM Tim Gillis, M Will Golden, A John Mills, M Colin Whelan.

Breakdown: The Raiders eye their second straight Division 3 title, but face a Skippers team that has won nine straight games dating back to a May 9 regular-season loss to D2 finalist Hingham. D-S feeds off of their goaltender, Goodall, who is equally adept making tough stops as he is springing the transition game with his long-strike passing ability. The Skippers are guided to Harvard by first-year head coach James Beaudoin, who hopes to lead the program to its first championship since 2010.

X-factor: For the skippers to win, they'll need Golden to bring his A-game to the faceoff X and control play. He's capable.

Pick: D-S 11, Cohasset 7.

DIVISION 2 WEST/CENTRAL SEMIFINAL

Longmeadow (23-0) vs. St. John's of Shrewsbury (18-3)

Players to watch: Longmeadow – A Kevin Barry, M Eric Barsalou, G Matt Draymore, M Keegan Dudeck, A Zack Lukus; SJS – G Andrew Arnold, A Hunter Burdick, A Josh Freilich, FOGO Connor Maloney, A/M Andrew Smiley.

Breakdown: The two district champions met once during the regular season, with the Lancers invading Shrewsbury and keeping their perfect season in tact with a 10-8 victory. Both of these teams have their share of offensive firepower, but they can also stop it, highlighted by Pioneers pole Aidan Fox. As their prior meeting, this game will likely be decided by the midfielders and which team is able to win 50-50 ground balls.

X-factor: Another matchup where I'll be watching the faceoff X. Maloney will need to be on point for the Pioneers to reverse the previous result.

Pick: Longmeadow 11, St. John's 10 (OT).

DIVISION 2 EASTERN MASS

Hingham (21-3) vs. Medfield (21-3)

Players to watch: Hingham – G Tommy Bannan, M Caleb Brodie, M Jacob Brodie, A David Freitas, D Jack Ullrich; Medfield – D Ben Cox, M Matt Crowell, A Andrew Melvin, G Robert Treiber.

Breakdown: The last time these teams squared off at Harvard Stadium (2010), the result was a double-overtime instant classic. The Warriors, who were then on a run of two straight state titles, hope the result is near the same. These squads have been near lights-out in front of their goaltenders, so expect a low-scoring struggle.

X-factor: Cox and Ullrich: Two of the state's best operating in their own end, they are game-changers.

Pick: Medfield 7, Hingham 5.

DIVISION 1

Lincoln-Sudbury (18-2) vs. Xaverian (15-6)

Players to watch: L-S – M Dan Delaney, A Jordan Dow, M Chris Giorgio, A Matt Hall, LSM Eamon Hunter, LSM John Sexton; Xaverian – D Rob Breed, M Ryan McClellan, M Ryan Scheib, A D.J. Sperzel, M Jack Wheeler.

Breakdown: It's been a while since the two teams met in the first week of the season on April 6 (a 10-5 win for L-S), and many things have changed. The No. 1 seed Warriors held serve through the bracket, running through their opponents by a combined score of 41-11 on the road to Harvard. Meanwhile, the Hawks had to dispatch last year's D1 finalist Needham and fend off Catholic Conference rival BC High — in overtime – in the semifinals.

X-factor: It doesn't matter where he is (taking faceoffs, on defense, on the man-up), Sexton is a force. It's always worth watching the manner in which head coach Brian Vona deploys Sexton in the game plan.

Pick: L-S 9, Xaverian 6.
May, 28, 2013
5/28/13
10:28
PM ET
The Tri-Valley League recently announced its boys' lacrosse All-Star team and postseason award winners.

Here's a look at the list, as provided by Dover-Sherborn head coach Brian McLaughlin:

Editor's note: League all-star lists may be sent to editors Scott Barboza (sbarboza@espnboston.com) or Brendan Hall (bhall@espnboston.com).

Tri-Valley League All-Stars:

Brandon Jaeger, A, Dover-Sherborn
Andrew Melvin, A, Medfield
Paul Beling, A, Holliston
Matt Crowell, M, Medfield
Drew Adams, M, Westwood
Zach Elkinson, M, Holliston
Matt Huemme, M, Dover-Sherborn
Brian Bissell, M, Medfield
Rogers Boylan, D, Dover-Sherborn
Ben Cox, D, Medfield
Jimmy Ganem, D, Medfield
Ryan Goodall, G, Dover-Sherborn

Specialist – Jeff Bolton, Ashland

Offensive Player of the Year – Matt Crowell, Medfield

Defensive Player of the Year – Ben Cox, Medfield

League MVP – Ryan Goodall, Dover-Sherborn

Coach of the Year – Chris Collins, Holliston

Assistant Coach of the Year – Dave Fredrickson, Westwood

Sportsman of the Year – Alex Muscanell, Hopkinton
June, 14, 2012
6/14/12
3:19
AM ET
By
Mark Goodman
| ESPNBoston.com
ALLSTON, Mass. – It took a period, but once the Dover-Sherborn boys' lacrosse team got going, it wouldn't be denied.
The Raiders scored 11 goals in a row after the opening quarter, turning an early 2-0 deficit into a rout as they defeated North Reading, 16-6, in the MIAA Division 3 state final at Harvard Stadium.
Seniors Jared Spence (4 goals, 3 assists) and Ben Newbert (goal, 5 assists) ended their high school careers in style, with plenty of help in the attacking end from junior Brandon Jaeger (5 goals).
And after so many close calls in years past –- including four losses in the final -– Dover-Sherborn finally has its first state championship.
[+] Enlarge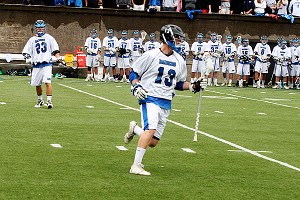 Courtesy of Ryan KilianTwo-time All-American Billy Polk helped Dover-Sherborn win 10 of its first 11 faceoffs and build a lead in Wednesaday's Division 3 state championship game at Harvard Stadium. The Raiders won their first-ever boys' lacrosse title in a 16-6 romp.
"To finally win one was a nice feeling, that's for sure," Raiders head coach Brian McLaughlin said. "Especially with the five seniors we have – this is their third time (in a state final)."
A 2-1 deficit after one turned into a 7-2 lead at halftime, with Newbert scoring one of the goals and assisting three others. Jaeger scored twice, with freshman Matt Davies, senior Billy Polk and Spence also getting in on the act in the second period.
The Raiders (19-4) dominated the faceoffs, with Polk and junior Keaton Stoner combining to win 10 of the 11 faceoffs in the first half.
"If you can keep getting the ball in lacrosse, it's tough for the other team," McLaughlin said. "Since we controlled the ball and ran our offense through, it was a big plus for us."
It was more of the same in the third period, as Davies, Spence and junior Matt Huemme all scored within the first four minutes to make it 10-2. D-S continued to dominate possession in the middle of the quarter, with only a couple saves by Hornet senior goalie Brian Conway on Newbert preventing the Raiders from increasing their lead.
They eventually did, however, with goals from seniors Peter Kostokos and Chris Flight to make it 12-2. North Reading senior Eric Valenti whipped on in from 15 yards out to finally stop the Radiers' run with 1:13 left to go in the frame. Valenti and Jaeger swapped goals in the final minute of the period, and it was 13-4 in favor of D-S going into the fourth.
North Reading (22-2) head coach Chuck Campobasso credited Dover-Sherborn's ability to keep control of the ball and limit his team's opportunities.
"We didn't have possession because they're unbelievable," Campobasso said. "They're not gonna turn the ball over, they're not gonna make mistakes."
Spence scored 1:18 into the fourth to make it 14-4. Junior Michael O'Brien and senior Cody Carbone gave Hornet fans something to cheer about with back-to-back goals, making it 14-6, but Jaeger put the exclamation point on the Raiders' fantastic season with his fourth and fifth goals in the closing minutes of the game.
North Reading started off strong, scoring the game's first two goals. Junior Cameron Knight opened the scoring 2:02 in with a well-placed bounce shot from 14 yards out. Junior Anthony Lytle made it 2-0 with 5:20 to play in the first period, taking a pass from Valenti and going top shelf over D-S junior goalie Ryan Goodall's shoulder.
Spence got the Raiders on the board just 35 seconds later with a goal from close range. Polk started the play with an excellent run from midfield, dodging three North Reading players in the process.
The Hornets outshot D-S in the first 12 minutes, 6-3, but Goodall made some good stops toward the end of the period to keep it a one-goal game.
"He made some great saves," McLaughlin said. "They have a great offense, and they shot well. [Goodall] came up big for us."
Newbert said he and his teammates were rushing their attack in the first quarter, but a more patient approach in the second turned the tide.
"After the first quarter, our coaches told us, 'We're not gonna get them back in the first 10 seconds. Just settle down; we got a whole game to play,'" Newbert said. "That's what we did. We didn't force the passes in the middle, and kids really ran their routes, made the cuts. Once that kinda settled us down, we really started getting going."
Sophomore defenseman Zach Ambrosino played a solid game for Dover-Sherborn, picking up a couple key ground balls in his own zone to prevent the Hornets' talented attackmen from getting shots on goal.
Valenti had two goals and two assists in his final game for North Reading. He's one of eight seniors whom Campobasso said will have a long-lasting effect on the program.
"You see the excitement at some of our games, with some of the youth guys that they want to play for North Reading High School," Campobasso said. "That's their legacy…This is unbelievable, but it's gonna be long-term with the amount of kids that are going to be coming out to play for us."
This was the Raiders' day, however, and one they went through plenty of growing pains to get to. The team lost in overtime to Scituate in the 2009 state championship, and fell by a goal in last year's final to Weston.
Dover-Sherborn has been knocking on the door a long time. Wednesday, they finally burst through.
"It's absolutely amazing," Newbert said. "More than anything, our coach, he's been here so many times, and to finally win it for us and him, it was just a great way for us to go out."
April, 18, 2012
4/18/12
12:34
AM ET
By
Shawn Myrick
| ESPNBoston.com


NORTH ANDOVER, Mass. -- In one of this year's top boys' lacrosse leagues, Concord-Carlisle and Lincoln-Sudbury are once more playing the role of the Dual County Leagues' perennial powerhouses.

An early season matchup between the defending conference champs may have started a potential let down, but a late push from the No. 2 Warriors in the Coaches Challenge Cup quarterfinals yesterday afternoon showed why both squads remain top in the state.

With C-C jumping ahead by five goals early, L-S (4-2) battled back but never led as they fell by a slim 8-7 margin at Joe Walsh Stadium in North Andover.

"They are the class of the league and we measure ourselves against them," C-C head coach Tom Dalicandro said. "We said 'value the ball, posses the ball, and take good shots'. I think we did a much better job today than we have done this year of valuing possession."



The No. 8 Patriots (4-0) burst out of the gate with the first three goals and a 6-1 lead to open.

Ducking defenders from the top corners of their offense, leading scorer Kevin Delehey netted all three of his goals off isolation plays in the first quarter. Slipping under a pair of Warriors, the C-C senior found himself five-yard in front of the netminder in the final seconds of the initial quarter to send the Patriots into the break up 5-1 with his final tally.

A wide-open open breakaway by long-pole Henry Bumpus left the senior walking into one-on-one with the keeper as he put the DCL (Small) defending champs up 6-1 at 11:04 in the second.

"We were able to generate some good offense out of our dodges," Delehey said. "I run through those dodges hundreds if not thousands of times. At this point so it is really just reaction."

After two turnaround tallies put the Warriors down 6-3 at half, L-S junior Jordan Dow nailed a pair of open-net man-up opportunities to help cut the deficit early in the third. L-S junior Dan Delaney rolled around his defender and hit a rip ten yards out to bring the score to 7-6 with 4:42 left in the quarter.

Delaney and Dow led the Warriors with two goals, while C-C senior Mike O'Brien also netted a pair.

"We called an invert and saw some matchups we really liked," L-S head coach Brian Vona said. "We eventually just tightened up defensively. They just out everything'd us."

Trading goals between the final quarters, L-S entered the last ten minutes down 8-7, but was unable to finish a pair of man-up chances along the post. A steal by C-C senior keeper Doug Gouchoe from behind the net sealed the victory in the final seconds.

HINGHAM ROLLS AGAIN


In other Coaches Cup quarterfinals action, No. 3 Hingham (5-0) never trailed as it was lead to a 9-5 victory over No. 14 Dover-Sherborn (7-1) with six goals from senior Kevin Blair.

"I was really finding the seams on offense," Blair said. "We are doing a lot of switches off ball, we are picking for each other and it really opens up the middle. We like to isolate and draw the men (out)."

The Raiders evened two score margin in the first, but gradually faded away as the Harbormen found open shots around the crease.

Three straight scores from Blair in the second helped Hingham run away with a 6-3 lead at 3:11. Scoring all three off motion aside the net, the senior caught a lob pass from fellow upperclassmen Reed McLeod (two goals) late in the quarter and side stepped around both the post and the goalie for his fourth tally on the afternoon.

"We have six guys on the field who are able to play well together," Hingham head coach John Todd said. "We made them practice at a high tempo. [Blair] sees the field very well and is very fast."

The Raiders managed to work the ball up top for a score from junior Matt Huemme to grab a 6-4 deficit in the final seconds of the half, but were out shot three goals to one in the final two quarters.

Hingham found Blair behind D-S's defense on a counter late in the third then buried a deep rip from senior Kevin Morris to put D-S away with a 8-4 lead at 7:24 in the fourth quarter.

"They pressured the ball real well and we did not have the ball a lot in the second half," D-S head coach Brian McLaughlin said. "It is hard to score when you can not get the ball back."

Originally trailing 3-1 in the first, senior Ben Newbert evened the score for the final time on the afternoon by finishing a ground-ball pickup next to the crease then side-arming a 10-yarder to put the score at 3-3 to end the first. Newbert lead the Raiders with two tallies.

RAIDERS PLUNDER
In the first game of the day, No. 6 Wellesley rolled past North Andover, 14-1.

Midfielder Oliver Saffery led the Raiders with four goals, in addition to a team-high seven ground balls. Ryan Cassidy collected two goals to go along with five ground balls.

Connor Darcey made eight saves in the cage to make it stand up.

"North Andover's a good team, and I'm just glad we came ready to play," Raiders head coach Rocky Batty said. "It's always nice to get a win in the Coaches' Challenge Cup, and we're already excited to play again at 2 p.m. on Thursday at Dover-Sherborn."

GOLDEN WARRIORS GIVE SACHEMS A RUN
In perhaps the day's most riveting game, No. 11 Winchester held off No. 20 Andover in a 10-9 decision.