Boston High School:

Matt McDermott
May, 31, 2012
5/31/12
11:15
PM ET
By
Tom Layman
| ESPNBoston.com
ALLSTON, Mass. — Marc Pelletier didn't care what his pitch counter said after the eighth inning when it came to his starter Andrew Hamel.

The coach knew his big lefty has pitched well enough this season to have plenty of wins in the column, but that elusive victory hasn't shown up for Hamel yet.

With 120 pitches after eight innings, Hamel needed 17 to get through the ninth to finish off his first victory of the season and an all-important 5-1 victory over Boston Latin in the preliminary round of the Division 1 North tournament, at Harvard University. It was a fitting first victory for Hamel, as the lefty picked up the first tournament win for the Raiders in three seasons.

"Andy is a pretty smart kid on the mound," said Pelletier. "He's had some tough-luck losses all year. For him to get his first victory against a DCL team, I'm very, very proud of him. I didn't know what his pitch count was in the eighth, but I wasn't asking."

Hamel struck out 10 and only allowed one earned run in nine innings. He scattered five hits and only surrendered three walks in his 137-pitch outing.

"Part of it has always been me," said Hamel of his hard luck this season. "I need to go out there and throw strikes. Sometimes it happens and sometime it doesn't. It worked out great last year, but this year it's been on and off.

Hamel throws a three-quarter arm slot and sometimes might dip a little bit lower than that, which could be a big deceiving with his big presence on the mound. Hamel also had his offspeed and secondary pitches working well as he compiled several of his strikeouts on curveballs down in the zone, and half of his strikeouts came with the hitter's bat resting on their shoulder.

"He had his second and third pitch today," said Pelletier. "When you have your curveball against a left-handed hitter, and then he runs his two-seamer away from a righty, you can do things. When you don't have a second or third pitch you are living out there with one bullet."

Added Hamel: "The curveball worked well today. I was able to locate it and I could throw it for an out pitch when I needed to."

Quick Strike: Matt McDermott helped Hamel ease into that comfort level on the mound as he rocketed a three-run shot in the top of the first off of Pat Naughton to rush the Raiders on top in the first inning.

McDermott went opposite field off the left-handed Naughton to clear the fence down the right field line.

"I was really just looking to not do too much and put it in play," said McDermott, who also made a slick play in right with a catch going away on the warning track . "I got a good piece in my first at-bat. … It felt pretty good."

Pelletier was hoping for a quick start off of Naughton, a pitcher heralded in the DCL, and he got that from his offensive leader.

"We thought it was a pop up," said Pelletier. "Then we saw the right fielder sprinting and then it carried the shrubs. We take an hour bus ride through the city of Lawrence into the city of Boston and then we go big fly in the first inning. It kind of set the tone for us."
September, 17, 2011
9/17/11
11:49
PM ET
By
Brendan Hall
| ESPNBoston.com



LAWRENCE, Mass. -- St. John's Prep head coach Jim O'Leary was asked about going for two instead of kicking an extra point in the first overtime of last night's 7-6 overtime loss to Central Catholic. And in trademark Jim O'Leary fashion, the long-time Eagles coach shot back a look that screamed, Are you kidding me?

Say what you want about the Eagles' conservative game plan tonight on offense, but in the crunch time O'Leary isn't afraid to roll the dice. Unfortunately for them, the Eagles (0-2) came up short, as Jack Sharrio was stopped short of the goal line by a gang of Raiders defenders, as Central (1-1) went on to score a big non-conference win, under the lights at Lawrence Veterans Memorial Stadium.

"There was no decision. We were going for two," said O'Leary, who opted to play defense first in the overtime. "You have an opportunity to win the game, on the road, win the game at home, you go for the win. Because if you go back to the 25 [yard line], anything can happen. It's not like we were ripping it up, moving the ball all over the field, you know?

"I've done that forever. We were gonna go for two. That's why you defer and go on defense, so you have that opportunity to win the game. Why stretch it out?"

On the other sideline, the Raiders scored a momentum swing for their program headed into Merrimack Valley Conference play next week, after dropping a 9-7 decision to an underrated Marlborough squad in the opening week.

"We weren't happy with how we played last week," Raiders head coach Chuck Adamopoulos said. "Marlborough beat us. We're not gonna say we played bad and that's why they won -- Marlborough beat us. We needed to bounce back with the game we had. Two years ago, we go down there and Marlborough spanked us pretty good, then we upset St. John's [Prep] and Dracut back to back, and kinda got on a roll. Hopefully this game kinda does the same thing."

Some key points from the game:

Play of the game, Pt. I: Central's game-winning touchdown on the second play of their first overtime series was called "Trips Left 79 Snare". Lining up with three receivers to the left, split end Henry Rodriguez ran eight yards upfield towards the left hash mark, and sat. After corralling in Matt McDermott's pass and charging towards the left pylon, Rodriguez was sprung loose by a block near the goal line.

"He got the ball to the right guy," said offensive coordinator John Sexton.

McDermott said Rodriguez "ran it exactly as he was supposed to" and "really did all the work", but for Rodriguez, it was the least the 5-foot-11 senior could do after dropping a pass earlier in the game.

"To be honest, I just...I dropped that first pass, and I'm usually a guy that struggles with confidence, so I kept my head up and got in, because I got benched for that [earlier]. I just kept my head up, ran my route right and scored."

McDermott said that play was "open all night" and confessed he was actually looking backside, because there was no safety over the top.

"I shoulda thrown it earlier," he said. "But it worked out as it did, and I'm not going to take anything back. It was awesome."

Play of the game, Pt. II: The Eagles' most threatening scoring drive of the night was thwarted by an unusual heads-up play from the unlikeliest of players. Senior nose guard Pat Hammond is your classic one-gap, speed-rush nose guard at 5-foot-7 and 195 pounds; and on third and goal from the Raiders' four yard line with 4:45 to go in the game, Hammond slipped through the playside A-gap immediately and stole Sharrio's handoff.

"He plays like his personality, because he's a pain in the butt," Adamopoulos laughed. "He's very disruptive. He's small, but he's quick and he gets in the backfield. That was a huge play that he made for us at that point. We forced the turnovers when we had to."

Getting loose: Was it a solid defensive game or just two offenses still breaking in new parts? Perhaps the answer is somewhere in between. The two teams combined for just six first downs in the first half, with Central's Ryan Barry, Christian Nunez and Hammond giving the Eagles a game in the trenches on both sides of the ball. Adamopoulos admitted after the game that in his 15 years at the helm "we're about as inexperienced as we've been since I've been head coach".

Meanwhile, the Eagles have been adjusting to a "flex" scheme similar to what Paul Johnson runs at Georgia Tech, complete with wide splits, wingbacks flanking outside the tackles and an excellent dive back in sophomore Jonathan Thomas (21 carries, 81 yards).

The gates started to open up in the third quarter, with the teams combining for 130 yards rushing (Central had 67, including Santino Brancato's 43-yard scamper that was the longest play from scrimmage). Each team also had two turnovers.

CENTRAL CATHOLIC 7, ST. JOHN'S PREP 6

SJ (0-2) 0 0 0 0 6 --- 6
CC (1-1) 0 0 0 0 7 --- 7

Overtime
C - Henry Rodriguez 25 pass from Matt McDermott (Tommy Jenoski kick)
S - Jack Sharrio 10 run (rush failed)
November, 25, 2010
11/25/10
6:54
PM ET
By
Bruce Lerch
| ESPNBoston.com
ANDOVER, Mass. -- When E.J. Perry arrived as Andover's third football coach in the last three seasons, he asked his seniors to find it within themselves to faith in the journey they were about to undertake.

They did, and that faith has been rewarded. Thanks in part to a stifling defense led by Mike McGovern and an Andrew Coke-led offense that hung tough and persevered through some tough stretches, the Golden Warriors defeated Central Catholic, 19-7, at Lovely Field and are going to the postseason for the first time since 1975.

"This is for the kids. I had to come in here and ask them to believe in me and they responded," Perry said. "For a group of seniors to respond and believe in a new coach for the third time is remarkable. I'll never forget this senior class. 35 years they haven't been to the playoffs, 35 years they haven't won an MVC title. Year one, we got it done."

Andover's (8-3) last game saw its defense allow 82 points to Lowell in an 8-overtime classic, and defensive coordinator Shawn Theriault and the rest of the staff knew they had to change that in order to topple the Raiders and capture the Merrimack Valley Conference Large title.

McGovern had an interception in his own end zone, deflected another pass, and made tackles all over the field to lead a unit that held Central Catholic (7-4) to 158 yards of offense and just one drive that traveled further than 27 yards.

"The defense was awesome," praised Perry. "Shawn (Theriault) came off that last game and he was upset about the 82 points. I told him, when they go to that overtime, it's like playing 3-on-3 basketball. It's not real. I just told him to stick in there and this defense was unbelievable."

Added Andover captain/lineman Connor Clancy, "The defense was awesome. Coach (Tim) Briggs, Coach Theriault, Coach (Joe) Iarrobino and Coach (Steve) Silva, they all had us prepared for this game. We knew everything they were going to do from the screens to the draws. We were perfectly prepared."

When Andover had the ball, it spent most of its time in the hands of junior quarterback Andrew Coke. Coke finished with 129 yards and a touchdown on 21 carries, a good chunk of which came on two fourth-quarter possessions where Coke shifted to tailback and Tom Dempsey took the snaps, including the game's final TD with 1:54 left to play.

"They were really shutting us down in the second half," Coke said. "That fourth quarter drive was really what did it. I went to running back, Tommy Dempsey went to quarterback and we just decided we were going to pound it down their throats and do what we always did this whole season."

Freddie Scribner (9 carries, 78 rushing yards) broke loose for a 60-yard run on the game's first play from scrimmage, which eventually led to a 37-yard field goal by Mark Zavrl. After trading turnovers, Andover forced Central to punt, and Coke led his team on a 10-play, 55-yard drive that culminated in a two-yard TD run by McGovern. Zavrl would add another field goal late in the half, this one a 42-yarder.

Meanwhile, the Andover defense was taking control of the game. The Raiders first five possessions went 6, 9, 2, 23 and 2 yards respectively. Central's best chance came on the final drive of the half, as big runs by Matt McDermott and Cam Walsh moved the Raiders to the Andover 11. However, McGovern stepped in front of a McDermott pass in the end zone, and the Golden Warriors were able to take a 12-0 lead into the break.

Central had trouble getting out of its own way at times, with a combination of penalties and miscues on snaps leading to big losses. They did make things interesting in the fourth quarter on a drive that started at the Andover 27, went all the way back to the CC 45, and then back into the red zone (aided greatly by three Andover penalties) before Trae Musumarra barreled in from the one with 7:58 left to make it a 12-7 game.

"I tip my hat to Andover because their defense hung in there and we felt like we were treading water all day," admitted Raiders coach Chuck Adamopoulos. "We got penalties at the wrong times and it felt like we were always first and 25. We didn't play well enough to win, and they deserved it because they played better than we did."

Central Catholic 0 0 0 7 -- 7
Andover 9 3 0 7 -- 19

A - Mark Zavrl 37 field goal
A - Mike McGovern 2 run (pass failed)
A - Zavrl 42 field goal
CC - Trae Musumarra 1 run (Cam Walsh kick)
A - Andrew Coke 6 run (Zavrl kick)
November, 6, 2010
11/06/10
1:21
AM ET
By
Phil Perry
| ESPNBoston.com
LAWRENCE, Mass. -- Against Central Catholic, Cal Carroll found yet another way to impact a game. And this time, Methuen's dual-threat quarterback wasn't even on the field.

With eight and a half minutes left in the fourth quarter, Central Catholic scored on a two-yard touchdown run by quarterback Matt McDermott and trailed, 17-16. Conventional wisdom would have told Raiders coach Chuck Adamopoulos to tie the game with an extra point. But across the field, on the opposing sideline, Carroll loomed.

"I wanted to go for two because I thought our best chance to win the game was to win in regulation," Adamopoulos said. "I didn't want to have to defend Carroll in overtime."

The Raiders' two-point try failed and left them trying to catch up for the remainder of a wild fourth quarter that ended with Methuen taking its eighth straight win, 24-22.

"It's awesome," said Carroll. "Methuen hasn't been 8-0 in the [Merrimack Valley Conference] in a long time…To be on top feels great."

After Central Catholic's failed conversion, Carroll made the Raiders' comeback climb even tougher. He capped a 67-yard drive by hitting Bobby Cole on a 35-yard touchdown pass to make the score 24-16.

Down eight, Central Catholic had one last scoring drive left in them. The second half of the Raiders' two-headed quarterback attack, Ben Onett (5-11, 65 yards), found Xavier Peralta (4 rec., 86 yards) in the end zone for a 23-yard score with 1:55 left.

Facing a two-point deficit, Adamopoulos was forced to go for two points again. The second try was similarly unsuccessful as the snap sailed over the head of running back Santino Brancato, forcing Brancato (10 carries, 45 yards) to fall on the ball for a loss.

Cole recovered the ensuing Central Catholic onside kick attempt to seal the Methuen victory.

It was a dramatic end to a firework-filled fourth quarter dominated by Carroll. He finished the game with a touchdown and 123 yards rushing on 28 carries, and 6-15 passing for 101 yards and two touchdowns. Both his touchdown passes came in the fourth quarter, and came with the Rangers' leading receiver, Raudy Minaya, out of the game. Minaya left with a right knee injury suffered on a punt return late in the second quarter. He did not return.

Before Carroll's touchdown pass to Cole, he started the fourth quarter by rolling out to his right to find Corey Shepherd for a 42-yard score. Shepherd was one of four Rangers receivers to catch a pass.

"Down the stretch everyone's taking away our run," said Methuen coach Patrick Graham, who also watched his running back Ryan Savastano rush for 123 yards on 16 carries. "So we're going to have to throw and [Carroll] has done a good job."

Methuen went into the half with a 10-0 lead after a Carroll one-yard touchdown plunge and an Eric Lacroix 29-yard field goal, but Central Catholic got those points back in the third quarter thanks to Cam Walsh.

Walsh kicked a 30-yard field goal to bring the Raiders within a touchdown of Methuen. Just over three minutes later, on Central Catholic's next drive, Walsh (4 carries, 87 yards) took a handoff, burst through the line of scrimmage and sprinted 78 yards for the game-tying score.

Methuen answered with Shepherd's touchdown catch and Central Catholic was left to catch up from there after McDermott (5-10, 58 yards passing) scored from two yards out and the following two-point try failed.

"It's big," said Graham of the win. "There's a lot of Methuen kids [on Central Catholic]. They grew up with those kids. They grew up playing with them in Pop Warner and other sports. When you lose to someone you don't know, it doesn't hurt as bad as when you lose to someone you do know."

Other notes:

- Methuen called up sophomore junior varsity center Dicky Aziz to play in place of starter Matt Whittaker, who missed the game with an injury. He fit into the Rangers zone blocking scheme just fine, helping to pave the way for 268 yards rushing. He also was on point with his shotgun snaps, as the Rangers' offense almost exclusively uses the shotgun.

"[Aziz] did an excellent job," said Carroll. "His snaps were all on target, and most of all he did a great job double teaming with our guards. That's great to see we can trust him."

- Methuen was unsure if Minaya would miss future games because of his injury. He was on crutches on the sidelines for the entire second half.

- This was Methuen's third straight win over Central Catholic.

- Central Catholic continued to platoon quarterbacks as McDermott and Onett took the snaps on every other series.

- The national anthem was performed by six-year-old Olivia DiFiore, daughter of Raiders assistant coach Ernie DiFiore.


METHUEN 24, CENTRAL CATHOLIC 22

MET (8-1) 0 10 0 14 --- 24
CEN (6-3) 0 0 10 12 –-- 22

Second quarter
M – Lacroix 29 kick
M – Carroll 1 run (Lacroix kick)

Third quarter
C – Walsh 30 kick
C – Walsh 78 run (Walsh kick)

Fourth quarter
M – Carroll 42 pass to Shepard (Lacroix kick)
C – McDermott 2 run (run failed)
M – Carroll 35 pass to Cole (Lacroix kick)
C – Onett 23 pass to Peralta (run failed)
September, 24, 2010
9/24/10
11:42
PM ET
By
Neil Carroll
| ESPNBoston.com
DRACUT, Mass. -- It was a special victory for head coach Jason Houston of the Dracut Middies on Friday night.

Dracut not only beat league-rival No. 21 Central Catholic, 27-14, but the team also garnered its first win of the season, and in doing so -- earned Houston the first win of his career.

The Middies cruised in the victory, going up 27-0 until the Raiders tacked on 14 points to end the game.

"I wouldn't have it any other way," said Houston about his inaugural victory at the helm for the Middies. "It's Central Catholic -- a league opponent -- and this is the second time we've beat them in 22 years. It's nice to know we can come in and beat a team that has really had our number over the years."

Houston did a solid job coaching a young defense that is missing three linebackers due to injury. The defense set the tone on the first drive when junior A.J. Proia intercepted Central Catholic's Matt McDermott, and the Dracut offense capitalized and never looked back.

"It feels a lot better than I thought it would," Houston said. "This is a lot better than I really thought it would be. The guys gave me the game ball for my first career victory, and it doesn't get any better than to win your first game against a league opponent."

Dracut's Matt Silva was impressive managing the game. The quarterback completed 12 of 17 passes for 126 yards with one touchdown and an interception.

"The seniors couldn't start off 0-3," Silva said about the group's determination. "We're too good of a program…we had to get it done tonight and we were determined that we were going to win."

Silva's 27-yard touchdown strike was to his favorite target, Chris Malonis. Malonis finished the game with six catches for 59 yards and one touchdown.

"Silva always gives it his all," Malonis said . "He's the one who carries us every single game and this one goes to him and the line."

Keith Hamel and Kevin Bishop were especially efficient with the ball for Dracut. Hamel had two touchdowns of fewer than three yards and Bishop had a 1-yard score to begin the game.

As the team has done all-season, Central Catholic substituted quarterbacks each series. McDermott started the game for the Raiders, but Ben Onett rotated in.

McDermott hit Xavier Peralta over the middle in the fourth quarter to give Central Catholic its second touchdown. Running back Trae Musumarra scored the first touchdown for the Raiders on a 6-yard run.

DRACUT 27, CENTRAL CATHOLIC 14
D - 7 7 7 6 -- 27
CC - 0 0 0 14 -- 14

1st quarter:
D - Kevin Bishop 1 run (Matt Silva kick)

2nd quarter:
D - Keith Hamel 3 run (Silva kick)

3rd quater:
D - Keith Hamel 3 run (Silva kick)

4th quarter:
D - Chris Malonis 27 catch from Silva (kick failed)
C - Trae Musumarra 6 run (Cam Walsh kick)
C - Xavier Peralta 27 catch from Matt McDermott (Walsh kick)
September, 20, 2010
9/20/10
11:27
AM ET
Now that the dust has settled on Week 2 of the MIAA football schedule, here's what we learned from this weekend's action:
The Atlantic Coast League race is going to be a lot closer than we thought
No. 15 Falmouth and defending Super Bowl champ Marshfield were the figurative favorites in the ACL headed into the 2010 season, but the picture just got a whole lot more crowded.
After a surprise upset of Methuen in Week One, Plymouth North almost pulled off another shocker last Friday against No. 24 Duxbury. Matt Walsh – he of the heroic 77-yard winning touchdown in week one – hauled in a 5-yard pass from Cody Merritt with no time left on the clock, to make it 14-12 Duxbury. The ensuing two-point conversion pass was intercepted and returned 100 yards for the 16-12 final, but a point has been firmly made in year one of the Dwayne Follette era.
Meanwhile, Dennis-Yarmouth – fresh off a 41-38 upset of Barnstable – is averaging 42 points per game, led by junior dual-threat quarterback Matt Montalto. The Dolphins run the spread and like to throw the ball, but a closer look at their program shows they're not some pass-happy outfit. Led by the hulking 6-foot-5, 319-pound Nate Crary at left tackle, the Dolphins are physical at the point of attack, and maintain a nice balance on their zone read behind running backs like Joe Furness and Damion Johnson.
"If you ever needed a big play in any sport, he's the one who's going to do it," D-Y head coach Paul Funk said of Montalto, who also plays hockey and baseball at the school. "That's him, that's his makeup. I'd take that kid anywhere."
As for toughness?
"(I'd rate him) at the top," Funk said. "That's what makes him so great. When your quarterback's as tough as everybody else, everybody else tows the line."
Burlington can score in a hurry
Down 28-14 to Arlington in the fourth quarter, the Red Devils bounced back in a hurry, scoring a whopping 29 points over the final few minutes of the contest to take a 43-28 win going away. Freshman Marcus Odiah hauled in a 25-yard Greg Sheridan pass, then recovered a fumble moments later and scored from three yards out. He then ran in the two-point conversion for a 29-28 lead with 1:15 left.
Seconds later, Kyle Shields intercepted a pass, and Odiah ran it in from 40 yards out to make it 36-28. Anthony Cruz then put the clamps on the win with a 52-yard pick-six on an Arlington Hail Mary heave.
One thing is for certain as Middlesex League play begins next week: The Red Devils are a wild card.
Dan Light is a tough guy to wrap up
Last season, we saw glimpses of Dan Light's ability as a running quarterback for St. John's (Shrewsbury), when he took direct snaps lined up next to quarterback Griffin Murphy as the Pioneers' ball-carrier in Wildcat formations. And now that Light, a senior, has made the full transition from tight end to signal-caller, we're seeing that in full force.
With the No. 4 Pioneers' 37-8 defeat of Longmeadow yesterday, the 6-foot-4, 235-pound lefty has accumulated over 600 yards of offense and 10 touchdowns through two games. On the ground, he is averaging 11.1 yards a carry, and has hooked up with Cal-bound receiver Richard Rodgers for four touchdowns.
At times, Light has shown Tebow-esque abilities carrying the ball. But it's the vision he's developed over the last few weeks that has made him that much more difficult to stop.
"If I looked at him over the last three weeks, he has become a very smart quarterback," St. John's head coach John Andreoli said of Light. "Our offense is really designed around looking at the defense and taking advantage of what the defense gives you, and I see Danny taking more ownership of those calls.
"He's been able to deliver the ball on the long balls, but on the short balls, you know, you see his feet moving around in the pocket and he's very comfortable. And all of that, when you pull people out of the box and give him the ability to run the ball, he's a very dangerous player. That's really the point where we want to get."
Tewksbury's visit to Methuen on Oct. 29 will go a long way to deciding the MVC Small crown
With Lawrence's surprise upset of Lynn English and Tewksbury's surgical handling of Lincoln-Sudbury on opening weekend, the two teams' meeting in Tewksbury last Saturday had the potential for greatness. The Redmen, however, wanted none of that, going up 28-6 on Lawrence at the half en route to an easy 35-6 win.
Sean Connolly led the way for Tewskbury with 101 yards on the ground and 105 through the air, totaling two scores, but watch out for tailback Anthony Arcari. He may be one of the more underrated speedsters in the league.
"The whole team likes to play as a family," Arcari told ESPNBoston's Neil Carroll. "We talked about that all year and on that one drive the offensive line did their job, the quarterback did his job, we ran the ball well and it demonstrated all that Tewksbury can do."
Meanwhile over in Methuen, the two-man game of Cal Carroll and Raudy Minaya that works so well during basketball season has finally broken out again on the gridiron. Carroll (11 of 15, 146 yards) easily dispatched much-hyped Malden on Friday night with a strong second half, finishing with five scores through the air – including three to his good buddy – and another on the ground.
This was the Methuen that so many coaches had raved about during preseason.
"We have some of the toughest lineman around," Carroll told ESPNBoston correspondent Phil Perry. "Steve DiZazzo, Sean Whittaker, they do all the dirty work inside. They watch so much film and work so hard, my success is because of what they can do."
This week is a brutal one for the MVC Small's front runners, with Methuen traveling to Billerica, Dracut hosting Central Catholic and Tewksbury visiting Andover. But based on the early returns, we suggest circling October 29 on your calendars.
Not the Raiders of old
Central Catholic proved more than just the point that they could hang with St. John's Prep in this weekend's game. The Raiders offensive identity has been altered from years past to incorporate the passing game more.
Although head coach Chuck Adamopoulos said in the preseason he hadn't seen a definitive No. 1 quaterback emerge, it looks as though Central Catholic has some able bodies at the position. Transfer student Ben Onett was impressive and accurate in his Massachusetts debut against Marlborough a week ago.
But it was junior Matt McDermott who seemed to take hold of the Raiders' offense this week at St. John's Prep. Adamopoulos again split time between his quarterbacks on Saturday, but McDermott looked as though he might have a hand up on the competition. He was on the field for each of the Raiders' scoring drives and seems to have developed a good rapport with his top target, receiver Xavier Peralta.
It was also telling that McDermott was on the field for the Central Catholic's final drive in the fourth quarter with the game on the line. The Raiders' chance for a comeback was thwarted by an interception in the game's waning moments, but it bears watching how the quarterback situation in Lawrence develops in the coming weeks.
No. 1 Brockton and No. 2 Xaverian have been flawless so far, setting up Saturday's showdown to be one for … well, really, do we need to explain?
Saturday. 1 p.m. Clapboardtree Street, Westwood.
No. 1 versus No. 2.
Public vs. Private.
Need we say more?
HEAD OF THE CLASS, WEEK 2
Taking a look at the weekend's top performers:
Isaiah Jones, Mahar: Tallied 311 yards of total offense and five touchdowns during just the first half in a 46-14 win over Dean Tech. Jones had two rushing scores, two punt returns for a touchdown and an interception return. Mahar ran just 4 plays in first half and was up 46-8 at half.
Ryan Vultaggio, Groton-Dunstable: Vultaggio picked up 279 yards on the ground on just 12 carries to go along with four touchdowns in a 52-34 over West Boylston.
Nick LaSpada, Billerica: The junior quarterback was stellar once again, completing 15 of 23 pass attempts for 318 yards and one touchdown against Woburn. LaSpada also ran for three touchdowns.
Cal Carroll, Methuen: See Phil Perry's story.
Charlie Blackett, Lexington: The senior defensive tackle set up camp in Concord-Carlisle's backfield to the tune of five sacks and was in on a countless number of other plays.
Dan Light, St. John's (S): The quarterback was superb with 296 yards of offense and five touchdowns in a 37-8 win over Western Mass. power Longmeadow.
John Pieterse, Worcester Academy: In his third career start, Pieterse was 16 of 18 for 322 yards and five touchdowns in a 41-14 victory over Blair Academy.
September, 18, 2010
9/18/10
7:51
PM ET
DANVERS, Mass. – No. 18 St. John's Prep headed to the locker room down 14-6 to No. 21 Central Catholic Saturday. The Eagles had been without their best running back, Tyler Coppola, for part of the half and head coach Jim O'Leary thought the Raiders were being tipped off on their runs. Their option attack wasn't yielding much either.

So O'Leary did what any good football coach does: He adjusted.

First, he put in a couple plays on play-action to get the ball into the hands of receiver Dillon Gonzalez.

Check.

Next, he changed up the Eagles' blocking scheme in the run game to throw off Central Catholic's keys on fullback Chris Ryan.

Done.

Those small changes added up in a big way for Prep on two second-half touchdown drives in a thrilling 22-21 comeback win.

"When the defense is keying in on the run, those passing lanes open up," Gonzalez said. "We made some changes to our running game, too. Those were all adjustments that we made at halftime."

Eagles junior quarterback Tommy Gaudet grabbed a botched snap, composed himself and snuck in for a 4-yard touchdown run — his second of the game — to bring Prep (2-0) within a point at 21-20. Gaudet then finished what he started by taking in the 2-point conversion on the keeper.

The Raiders (1-1) got the ball back with two minutes to play, but their drive was dashed when Ryan picked off a Matt McDermott pass over the middle in Eagles' territory.

"Did you really think I would kick it there?" O'Leary said, grinning about his decision to go for two and the win.

Coppola, who finished with 15 carries for 136 yards, was knocked out of the game for part of first half after he was clipped by an opponent's helmet on the chin. Eight stitches were required to close the gash.

The senior running back returned in time to led the Eagles back in the third quarter.

Coppola led Prep on a 79-yard touchdown drive that spanned more than eight minutes of the third. The drive culminated with his 32-yard touchdown run (the game was then tied 14-14 after Gaudet took in the 2-point try) to open the fourth quarter. Coppola accounted for 49 of the Eagles' yards on the drive.

"I want the ball in those situations," he said. "It gets you pumped up."

Both of the Eagles' second-half touchdowns were in no small way aided by Gonzalez's efforts in the passing game.

The 5-foot-11 wide out skied over the Central Catholic secondary to haul in a sensational one-handed reception over the middle for a 21-yard gain and helped to set up Coppola's touchdown run.

Gonzalez also put his imprint on what would prove to be the winning Prep drive. Once again, this time on a go-route down the right-hand sideline, he went up for a jump ball and came down the ball over a Raider defender.

"They were just flying up to our option so we put the pass to Dillon [Gonzalez] in," O'Leary said. "Tommy [Gaudet] threw a nice ball and he got us down the field."

Central Catholic was not without its bright spots though.

The new look Raiders offense was efficient under the direction of McDermott, who completed 11 of 18 passes for 109 yards and a touchdown in shared time with Ben Onett.

Bruising running back Trae Musumarra contributed 10 carries, 56 hard-fought yards and a rushing touchdown, which temporarily reclaimed the lead, 21-14, for Central Catholic in the fourth quarter.

"They ran the ball between the tackles and we didn't do a great job of stopping them," Raiders head coach Chuck Adamopoulos said. "We scored the go ahead touchdown with [three] minutes to go. You've got to be able to win the game there. They went for two, which was a good move because we looked awful on defense at that point.

"They made the plays."
August, 31, 2010
8/31/10
11:50
PM ET
LAWRENCE, Mass. -- In years prior, No. 22 Central Catholic found itself the victim of the critical turnover -- the fumble with a goal-to-go, a costly interception to swing momentum. That translated to a 5-6 record in both 2007 and '08.
In 2009, things just seemed to come around.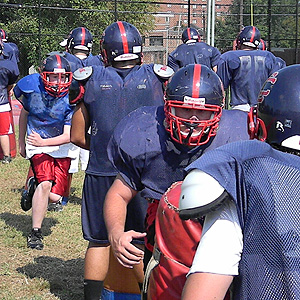 Scott Barboza/ESPNBoston.comCentral Catholic hopes to build on its turnaround season of 2009.
"I've found there's a very fine line between 5-6 and 8-3," Raiders head coach Chuck Adamopoulos said. "Last year, it was a group that just made plays. We had more than a couple times we made a play and came up with a big turnover at a big time in the game.
"In those years before, when we went 5-6, quite frankly, we weren't the team that was doing that."
A collection of tiny moments, small actions stitched together form the fabric of a season. And the Raiders were finally able to take hold of those last year. Such as when Cam Walsh's clutch field goal lifted the then 0-1 Raiders to a dramatic 15-14 win over St. John's Prep in Week 2. From there, Central Catholic ran off a string of six straight victories, putting them in contention for the Merrimack Valley Conference title.
Even after two straight losses (in a squeaker to Methuen and a drubbing administered by Billerica) to dash their MVC hopes, the Raiders rallied to snap a three-year skid against rival Andover on Thanksgiving morning.
It's brought a sense of optimism.
"I'd like for us to finish with a winning record, obviously, first of all," said senior running back and linebacker Trae Musumarra. "But I'd like to think that we can win it all. I'm feeling good about this season, real good. We're young, but I think we're going to make our mark."
If the Raiders are to do so, Musumarra will have to be a big contributor to the cause.
"He's explosive," Adamopoulos said, "he's a good player and we need him to have a big season for us to do well as a team."
It's a heavy weight to bear for the 6-foot, 190-pounder.
Musumarra, who has been clocked running a 4.5 in the 40, tallied six touchdowns on offense while collecting seven sacks playing as an outside linebacker last year. But there have been plenty of changes. While the Raiders will continue with their spread attack, Adamopoulos is going to a 4-3 instead of their customary 3-4 because of their losses at linebacker.
"I think we've had more learning to do this year because we're moving to a 4-3," Musumarra said. "Now, it's our job to pick up the leadership and make sure the younger players are getting it. With a lot of younger kids in there, there's a lot of learning to do."
Yet, for all the formations to remember and coverage schemes to study, Central Catholic's success will once again hinge on performance — making the big play in the biggest moments.
Just like Walsh's kick against Prep last year.
"Confidence is really what you need to kick the ball well," said the senior captain.
"It's more of a mind game."
The Raiders will have that covered.
CENTRAL CATHOLIC AT A GLANCE
2009 record:
8-3 ( Merrimack Valley)
Coach:
Chuck Adamopoulos (14th year, 90-50)
Players to watch:
Trae Musumarra, Sr., RB/LB, 6-0, 190 lbs.; Jaycob Morales, Sr., TE/LB, 6-0, 180 lbs.; Ryan Sullivan, Sr., WR/DB, 5-10, 150 lbs.; Cam Walsh, Sr., RB/DB/K, 5-10, 175 lbs.; Brendan Hopkinson, Sr., OL/DL, 6-1, 240 lbs.; Henry Rodriguez, Jr., WR/DB, 5-11, 175 lbs.
Strengths:
Depth at wide receiver and secondary, team speed.
Weaknesses:
Depth and experience at linebacker, experience on offensive and defensive lines.
Outlook:
The biggest transition the Raiders will face will be on defense with Adamopoulos' move from a 3-4 to a 4-3. The linebacker corps is also in flux, but will be anchored by strong-side linebacker Jaycob Morales. The secondary is the strength of the group with Zach Bardwell and Walsh holding down the corner spots. On offense, Adamopoulos' outlook is almost giddy with excitement. "This is probably about as talented a group of receivers we've had in a very long time." There are plenty of weapons between Xavier Peralta, Henry Rodriguez and Ryan Sullivan. The question is: Who will throw them the ball? Right now, it's a two-man race between Bardwell and junior Matt McDermott. The line is a little lacking in the experience department, but senior center Brendan Hopkinson provides stability. At the tackles, juniors Ryan Barry and Christian Nunez will give the Raiders capable bookends for the next couple years.