Boston High School:

Matt Mobley
January, 21, 2013
1/21/13
2:30
AM ET
By
Terrence Payne
| ESPNBoston.com
SPRINGFIELD, Mass. -- Worcester Academy's Rene Castro grabbed an errant pass and connected on a 3-pointer to give the Hilltoppers a two-point lead with 3:44 remaining in the first half. Worcester would hold the lead for the remainder of the game, countering several Wilbraham & Monson threats, earning a well-deserved and much-need 69-62 win to conclude Day 4 at the 2013 Hoophall Classic in Springfield.

Worcester built a five-point lead heading into halftime and started the second half on a 10-4 run, with several easy baskets coming in transition. Matt Mobley and Rene Castro on two separate possessions found the trailing Darryl Reynolds for layups. The early half surge but Worcester up 37-27.

"We were strong on defense," said Worcester senior Matt Mobley. "We had a lot of help defense, we didn't let them get to the middle."

Luis Montero, Kerem Kanter, and Curtis Cobb provided much of the offense in the second half to keep the Titans within striking distance. Montero scored five straight, followed by a bucket by Kanter to cut the lead to 52-47. Worcester responded with a coast to coast finish by Mobley and a Castro layup.

Kanter and Cobb combined for a 6-0 run with 3.5 minutes to go, but Matt Panaggio connected on a three to put the lead up to 59-53.

"I think we just had breakdowns," said Wilbraham & Monson head coach Chris Sparks. "We were able to guard them in the half court, but I think where we broke down was in transition."

Worcester had a four point advantage on the boards, including two different instances late in the game when Worcester secured an offensive rebound off a missed free throw.

"When you're two possessions away and you give up two offensive rebound that kills you," said Sparks.

Worcester shot 15-of-31 from the free throw line, leaving the door open for a WMA comeback. The Titans couldn't take advantage of second chance opportunities and coughed the ball up down the stretch.

"We didn't shoot the ball well from the free throw line," said Sullivan. "We kept fighting."

Mobley had a team-high 17 points, to go along with four rebounds and four assists. Castro added 15. Goodluck Okonoboh had 11 points and 10 rebounds.

Worcester has won the first two games against Wilbraham & Monson this season. They meet again on Feb. 9 at Worcester.

Bounce-back win for Worcester: Worcester needed this win following an upset loss to Beaver Country Day the previous evening, as part of the BABC Prep Classic. Beaver Country Day defeated Worcester 71-69, even though junior center Jacquil Taylor went down with a reported ankle injury.

A day later, the Hilltoppers had to forget about that game and get back on track against a talented Wilbraham & Monson team.

"We got away from that last night playing Beaver Country Day," said Sullivan. "With Taylor going down, which is a shame, that team rose up and beat up. But tonight was a night with a quick turnaround. Being able to in the gym, right away, without having that to fester too long was great."

This bounce back win not only kept the Hilltoppers undefeated in league play, but came at the right time for Worcester Academy. On Wednesday, Worcester travels down to Connecticut to take on Class AAA opponent, St. Thomas More.

Kerem Kanter reclassifies: Back in December, during the BasketBull Hoops Fest, Wilbraham & Monson forward Kerem Kanter landed scholarship offers from Boston College and Pittsburgh.

On Friday, through Twitter, he announced he would reclassify and join the Class of 2013.

"I just thought it was time to move up," said Kanter. "I felt like I will be ready by the time next year comes."

Kanter, the younger brother of Utah Jazz center Enes Kanter, says he will decide on a college sometime in April. The 6-foot-7 forward is still working on visits, but intends on taking several before he makes a commitment. He listed Miami (Fla.), Auburn, Tulsa, and Drexel as other schools involved in his recruitment.

Kanter has been impressive this season for Wilbraham & Monson with his footwork and ability to score around the basket. Due to the size of the Titans, Kanter has also been able to step away from the basket and show off his shooting touch.

He joins Kamali Bey as WMA seniors still on the board.
January, 17, 2013
1/17/13
3:18
PM ET
By
Chris Bradley
| ESPNBoston.com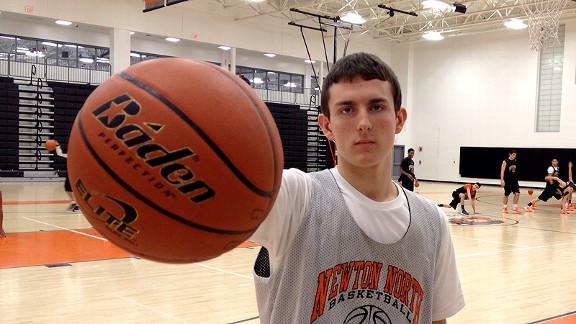 Brendan Hall for ESPNNewton North's Tommy Mobley has hit six 3-pointers or more in two games this season, including nine last month against Milton.
NEWTON, Mass. -– Circling his team up before practice last week, Newton North Coach Paul Connolly had one simple message following last Tuesday's four-point loss to rival Brookline.
"Any time Newton North comes to somebody else's gym, that's their biggest game of the year guys, especially if it's in the league," he said, pointing to the banner honoring the Tigers' Bay State Conference titles.
So many conference titles, in fact, that one would be hard-pressed to count them correctly the first time through.
Connolly didn't have to delve any further to make his point -- pointing to the banner spoke for itself.
The bottom half of the banner honors Connolly's two best teams ever: his back-to-back MIAA Div. 1 state championship teams in 2005 and 2006. Behind future Division 1 guards Anthony Gurley and Corey Lowe, the Tigers went 53-1 over that two year span.
Gurley, who played at Wake Forest for a year before transferring home to play at UMass, finished as Newton North's all-time leading scorer (1,850 points). Lowe was no slouch either. He was a four year starter and twice won team MVP at Boston University; he is the fourth-leading scorer in the history of the Terriers' program.
The year after Lowe and Gurley departed, a lanky but talented 6-foot-6 freshman named Greg Kelley quickly became a contributor for Connolly's squad. His little brother Tommy Mobley, a fourth-grader at the time, served as the team's ball boy.
That lanky freshman eventually led Newton North to four consecutive conference titles, finishing second in school history behind Gurley with 1,420 career points. Kelley is now a redshirt sophomore at Yale, and his little brother isn't so little anymore. Mobley has grown to 6-foot-2, and the sophomore is one of the best outside shooters in the state.
On Dec. 20, in a 71-43 win at Milton, Mobley went off for a record nine 3-pointers. Last Tuesday, he hit six 3's as part of a 28-point effort in a 53-46 defeat of Needham. Sprinkled in between are a handful of games with three, four, sometimes five trifectas.
He's not na´ve, though. He grew up around Connolly's team and fully understands the expectations that come along with being a Newton North basketball player, never mind for a minute that he is Greg Kelley's younger brother.
"Those banners are great, but it is a lot of pressure," Mobley said. "When another team comes in here, they're going to play us tough every time."
[+] Enlarge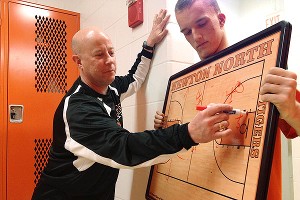 Brendan Hall Newton North coach Paul Connolly rigorously preaches fundamentals, something Mobley has taken to heart.
Newton North tradition isn't a reputation that was built overnight, but Connolly has come to enjoy the fundamental preparation that goes along with being one of the state's most storied traditional powers. The longtime coach preaches hard-nosed defense and rebounding, unselfish offensive possessions, stellar outside shooting, and academic success.
Mobley, a straight-A student, was president of his class as a freshman. This year, Connolly is proud to boast that his stud sophomore is one of five finalists for Newton North's Martin Luther King, Jr. essay award, a prestigious honor within a student body that goes 1,800-plus strong.
"It's something that both of my parents stress: you're a student-athlete," Mobley said. "Before my dad goes to the gym to rebound for me, he makes sure I have all my homework done. My brother went to Yale to pursue his academics, [and] when it comes down to it I'm going to want to do something like that. My basketball is going to help my academics."
Make no mistake though; Mobley isn't the only scholar on this team. Korey Mui, a senior leader who is one of Connolly's best inside-out players, is also a straight-A honor student.
"He makes us do weekly academic reports," Mui said. "You have to be eligible to play for the team, and school always takes priority over basketball, and he stresses that. That's a big thing."
Connolly's on-court fundamentals have been integral in the team being successful on the court. A squad that lacks size and experience, coming together has been a step-by-step process for the Tigers, who are now 6-2 and ranked No. 23 in the latest statewide ESPNBoston.com boys hoop poll. Discipline and hard work, though, are the keys for his team.
"Fundamentals are everything in life, that's what we're trying to get across to these kids. We've been in certain gyms where you see negative body language [from kids], you can see that bad body language," he said, shaking his head.
"We don't put up with any of that here. I'm very blessed...we have great support, great parental support, great administration support, and I have terrific assistant coaches."
Mobley takes Connolly's preaching of fundamentals to heart. Five times a week in the off-season he will go to the middle school near his house and do an hour-long ballhandling workout, where he can improve his dribbling and ability to penetrate opposing defenses.
Following that ball handling drill, he has a shooting regimen where he needs to make 400 jumpshots from different spots on the floor. He admits it usually takes 700 or 800 tries in order to reach the goal, but he isn't done after that.
Three times a week he'll lift weights following his basketball workout; the other two days, if the weather permits, he goes to the park to play pickup with friends and teammates.
Connolly makes sure Mobley and his teammates stay in top shape in-season, too. The Tigers do plenty of exhausting full-court defensive drills, and also lift weights twice a week with the guidance of Jill Zeller, a Newton North graduate who is a well-known strength trainer.
"I'm a huge advocate [of lifting in-season]. We did it when I was in college. I think it's very helpful," Connolly said. "Jill's the best, she does a lot of core stuff. It really helps our guys in terms of core exercises; there are a lot of flexibility exercises. She is one of the best in the business; she has a very bright future in strength and conditioning."
Looking out at Muri as he went for a layup, Connolly continued, exclaiming, "Look at Korey, he's getting more and more bounce every time!"
The end of practice meant time to gameplan for their matchup on the road with Framingham, a squad who was 1-8 at the time and would have loved nothing better than to give the Tigers a long, long bus ride home. Learning from their loss to Brookline was of the utmost importance.
"We didn't come out with much intensity, we need to bring it every time. We were playing really passive in the beginning of the game, and we only picked it up in the fourth quarter," Mobley said.
"It's mainly that we need to come out stronger, we got a little rattled, and before we knew it, we were in a deep hole."
Mobley listened, and listened well to what his coach had to say at the beginning of practice on Thursday. He came out on Friday night and had his best game of the season, scoring 25 points while brushing off back spasms that had been bothering him in practice all week, the Tigers beat the Flyers 71-49.
Breaking out and becoming one of the state's better-known underclassmen, he comes in with the mindset that he isn't going to play his entire high school career in his brother's shadow.
"There is pressure to live up to, but Greg taught me a lot about how to play. I feel as though we're very different players," he said. "And at the end of the day I know as long as I can go home and hold my own against him 1-on-1 and maybe beat him, then that's my main goal...Rather than putting up the same numbers that he put up."
Mobley couldn't help but laugh when reflecting on the many one-on-one wars that he and Greg have had over the years.
"When I'm here, I'm playing for the team," Mobley said. "But when we're playing in the driveway, it gets rough."
September, 18, 2012
9/18/12
11:33
PM ET
By
Christian Bradley
| ESPNBoston.com
Former St. Peter-Marian guard and ESPN Boston All-State selection Matt Mobley made his college choice on Saturday, deciding during his official visit to Central Connecticut State University that it was the school for him.
A 6-foot-3 guard known for his offensive versatility, high-rising dunks, and defensive instincts, Mobley burst onto the scene last year for SPM, leading the Guardians all the way to the MIAA Division 1 Central championship game, before falling to St. John's of Shrewsbury. Hungry for a scholarship and unsatisfied with his recruitment, he made the decision to go to Worcester Academy for a postgraduate year. This summer, he played AAU with Blackstone Valley Chaos and Bay State Flash, where he made himself one of the most talked-about players in New England.
"Since I didn't really have any Division 1 interest, I played this summer like I had something to prove," Mobley said, "I wanted to show people that I can play Division 1 college basketball.
Marcus Watson, the head coach at St. Peter-Marian and an influential figure whom Mobley calls his "second father," saw the potential in Matt from the time he was a young player. The Guardians' varsity squad was just 1-19 during Matt's freshman year, but a lasting memory for Watson is the one game that St. Peter-Marian won, thanks in large part to Mobley's heroics during clutch-time.
Down a point with a couple minutes left in a bout with Shrewsbury High, the lanky freshman pulled up from three feet behind the arc and knocked down the long jumper to give the Guardians the lead, for good.
"He has that
it
factor," said Watson, "He isn't afraid to take that big shot, because he has the confidence in himself."
SPM had three losing seasons in the first three years of Mobley's career, and that was a big reason why he never bolted for prep school, contrary to the exodus of New England players going to prep schools early in their high school careers. With the Guardians being a lesser-known program and a rather "untraditional" power, he wanted to finish what he felt that he and his teammates had already started.
"I wanted to have a strong senior year and graduate with the people who I started my career with, so I decided to stay and pursue a post-graduate year afterwards," he said.
While Mobley maintains that some of his greatest memories include
leading SPM to a win with 35 points over intra-city rival Holy Name
("the crowd was crazy that night," he recalls), scoring his 1000th point, and leading the Guardians to the D1 Central title game, Watson has a different approach. He has known Mobley, because of Matt's relationship with the Watson sons, since the star guard was nine years old, calling Mobley his fourth son and comically pointing out that he would often spend weeks at the Watson house. In becoming part of the family, Matt had chores that he needed to do to contribute to the household.
"He was no guest at our house," Watson said with a laugh.
With all that, Watson doesn't look at Matt Mobley the basketball player, but instead Matt Mobley the person. His lasting memory of Mobley will be how much he matured over the course of his high school career.
"Since he was very young he always had eyes on him, and he didn't know how to deal with that, so through the years he was shy, and I think some people falsely interpreted that as arrogance, or that Matt was standoffish," Watson said. "That was just his coping mechanism, in my opinion. He is humble and I'm so proud of the way that he has matured in the way that he handles himself.
"He's that kid who can play with the best players in the region, but then after that will spend time with my nephew, who idolizes him, talking to him or teaching him how to dribble a basketball. I'm proud of the way he's handled adversity."
Part of that adversity was making sure he took care of business in the classroom as well as on the court. Because of a poor grade in a class, Mobley was ineligible for the first half of his junior season, a year in which St. Peter-Marian finished one win shy of qualifying for districts. Despite that obstacle though, he went on to be an honor roll student in his final six quarters as a student at St. Peter-Marian; another fact, Watson says, that is a testament to his maturity.
A different type of adversity was the very fact that few athletes from central Mass. have the opportunity to go on to play Division 1 college hoops. Over the past few years, Worcester natives like Naadir Tharpe (Kansas) and Cedric Kuakumensah (Brown), along St. John's center Matt Labove (Dartmouth), have set the standard for hoops excellence in Worcester County. Now that he is part of a small circle of hoopers from the area to earn a Division 1 scholarship, Mobley is excited to even be mentioned.
"Of course I think about it," he said, "It feels good to know that I'm part of a select few from CMass to make it to D1 basketball. To be mentioned in the same group as Naadir, and other guys like Cedric is just a great feeling. To hear my name with theirs is fantastic."
As previously mentioned, he will spend this year teaming up with defending Gatorade Player of the Year Rene Castro at Worcester Academy, but in moving on to a new opportunity, he insists that in thanking those who have been there for him, he won't forget where he came from.
September, 15, 2012
9/15/12
8:37
PM ET
By
Brendan Hall
| ESPNBoston.com
New England Recruiting Report's Christian Bradley
reported this morning via Twitter
that former St. Peter-Marian guard/forward Matt Mobley verbally committed to Central Connecticut State University today, while on an official visit to the New Britain, Conn. campus.
The 6-foot-3 swingman was named to
ESPN Boston's MIAA All-State Team
last March after leading the Guardians to their most successful season under head coach Marcus Watson, and an appearance in the Division 1 Central Final. For the season he averaged 23.2 points, and he finished his career at SPM with 1,175 points. He also won a gold medal with the Central squad in this past summer's Bay State Games.
CCSU was the first Division 1 program to extend a scholarship offer to Mobley, doing so on August 2.
Mobley is currently doing a post-graduate season at Worcester Academy. He is expected to join the Blue Devils' program for the 2013-14 season.
July, 13, 2012
7/13/12
12:18
AM ET
Bay State Games communications coordinator Craig Kaufman sends along results from today's plethora of action:
WOBURN, Mass. -– A busy Thursday at the Bay State Games saw the start of the soccer, field hockey, basketball, ice hockey and boys' lacrosse competitions, as well as the continuation of the 2012 baseball tournament and the conclusion of the girl's lacrosse event. Friday will see all of these scholastic results continue and baseball will draw to a close with all the medal positions still hanging in the balance. Friday night will also see the beginning of the 2012 Bay State Games swim competition at Harvard University.

GIRLS LACROSSE

Bronze Medal Game: Southeast 14, Metro 6
Gold Medal Game: Northeast 13, West 11

BASEBALL

Northeast 5, Metro 5
Metro almost pulled an upset by taking a 5-3 lead in the top of the sixth inning but had to settle for a tie as Northeast came back to tie the game and then stranded the winning run on base in the bottom of the inning.

Austin Johnson (Brookline) drew a bases loaded walk and Nick Bruno (Lynnfield) followed with an RBI single before Jonathan Santana Arias (Somerville) knocked in two more runs as Metro plated four runs in the sixth. Kyle Hood (Arlington) had scored an unearned run for Metro in the second.

Northeast scored single runs in the second, third and fourth innings and then took advantage of three walks and two hit batsmen in the bottom of the sixth to tie the game at 5. Justin Freeman (N. Chelmsford) drove in a run for Northeast, as did Colby Morris (Newburyport), who drew a walk with the bases full.

Central 4, Southeast 1
Southeast scored in the top of the first when Cameron Hanley (Walpole) doubled home Sean Scales (Weymouth), but Central, led by Jake Ryan (Whitinsville), who went 2-2 with a run scored and an RBI double, had taken a 4-1 lead by the bottom of the fifth. Zack Tower (Auburn) also drove in a run for Central, who got good pitching from their rotation, including starter Christian Doskocil (Sterling), who went three inning s and struck out two.

West 3, Coastal 0
Austin Salnitis (Lenox) went five innings, allowing four hits and striking out seven for West, who ran their record t o3-1. West got on the board in the fourth when Kenny Potts (Southwick) drew a walk and scored on a double by Phillip Jasak (Palmer). They added another run in each of the next innings with an RBI single by Andrew Noonan (Springfield) and an RBI double by Jake LaBranche (W. Springfield).

Coastal was led at the plate by Andrew Mancini (N. Easton), who went 2-2 with two singles.


BOYS SOCCER

Metro 1, Southeast 1
Metro scored first in the 20th minute when Thayrone Miranda (Somerville) connected on an assist from Walter Guzman (Chelsea), but the Southeast team equalized in the 67th minute on a connection from Nick Savage (Milton) to Marquardt.

Coastal 2, Central 2
Coastal scored first through Joshua Medeiros (New Bedford) in the 34th minute, but Central scored twice to take a 2-1 lead with Riley Steele (Sutton) and Lukas Ritzer (Sutton) connecting. Coastal salvaged a draw with a 58th minute goal by Ty Catunto (New Bedford).

West 3, Northeast 0
West got three second half goals from Mark Richards (Springfield), David Serafino (Ludlow) and Nicholas Martinelli (East Longmeadow).


GIRLS SOCCER

Northeast 3, Metro 0
North got three goals in the first half, their first just three minutes into the game. Megan Cullen (Amesbury) scored the first two goals for Northeast and Alexa Cicolini (Methuen) finished the job in the 31st minute.

Southeast/Coastal 1, Central 0
Lauren Farrell (Rockland) scored the only goal in the 48th minute as Southeast/Coastal edged Central.

West 8, Metro 0
Jennifer Delasco (Lenox) and Mary Edwards (E. Longmeadow) each scored twice, with Stefano adding an assist. Jordan Bates (Chicopee) and Kiley Baran (Granby) added two assists apiece as West rolled to their first win of the tournament.

Northeast 4, Southeast/Coastal 1
Megan Cullen (Amesbury) scored four straight goals for Northeast to give them the victory after Jessica Murphy (Norwood) had given Southeast/Coastal a 1-0 lead in the 26th minute. Cullen started her scoring spree just a minute later.

West 4, Central 0
West endured an onslaught of Central possession early before scoring four times in the second half. Sharlotte Pernice (W. Springfield) scored twice, and Christina Ferriter (Springfield) and Brianna Voight (Springfield) also tallied for West.


FIELD HOCKEY

Metro/Northeast 3, Southeast 2
Central 2, Coastal 1


BOYS LACROSSE

Southeast 16, Northeast 4
Steve Righini (Weymouth) scored four times for Southeast, while Conor Martin (Plainville), Sean Williams (Scituate), and Jack Vail (Franklin) each tallied twice, with Martin adding two assists. Six other players tallied single goals, including Nicholas D'Innocenzo (Medway), who also added an assist. Tyler Boardo (Weymouth) and Daniel Sprague (Weymouth) combined for nine saves in goal.

Northeast got two goals from Derek Lawton (Bishop Guertin) and a goal apiece from Devlin Crane (Arlington) and John Curcuru (Gloucester). Evan Connolly (Peabody) made 13 stops in net and Joshua Nelson (Medford) spelled him for five saves.

Central 10, Metro 9
Joshua Daigle (Marlborough) and Alex Sabel (Algonquin) each scored twice and added an assist, while Thomas Whiting (Hudson) notched two goals as well. Matthew McIntire (Milford) made ten stops in the winning effort.

Jack Trottier (Tyngsborough), Brian Walsh (Lowell) and Joey Pescatore (Waltham) each scored twice for Metro and Ben Foley (Tyngsborough) added a goal and two assists in a losing effort. Scott Powell (Swampscott) made 9 stops in the Metro net.


BOYS ICE HOCKEY

Northeast 8, Southeast 7
Metro 6, West 1
Central 12, Coastal 2
Southeast 8, Metro 2


GIRLS ICE HOCKEY

Central/West 9, Metro 1
Southeast/Coastal 4, Northeast 2


BOYS 11-12 GRADE BASKETBALL

Central 82, Metro 47
Central was led by Tyler Delorey (Worcester), who scored 22 points, including four three-pointers. Matt Mobley (Worcester) also chipped in 18 points, including two buckets from downtown.

Coastal 75, West 59
Coastal got 25 points from Chris Green (Taunton), including four three-pointers, while Paul Maurice (Taunton) added 22 points.

Central 89, Coastal 80
Central got 26 points from Delorey, who nailed three shots from downtown and also got 17 points from Jacek Louisville (Worcester). Tommy Keyes (Somerset) led the way for Coastal with 19 points.

Northeast 79, West 78
Northeast's Devin Thompson (Winthrop) led all scorers with 22 points and two three's in the fourth quarter. Anthony Smith (Springfield) was the top scorer on West with 17 points.


BOYS 9-10 GRADE BASKETBALL

Central 68 Metro 64
Matt Grose led Central with 19 points and Bobby Flanagan put up 15. The Metro squad was led by Keith Burns (Belmont) with 22 points while Christian Lejuene (Waltham) added 14.

West 73 Coastal 41
The West squad was led by Keith Natale (Hatfield), who had 22 points and Conner Eckstrom (Greenfield) pitched in 15. The Coastal region had Tom Galanek (Plymouth) and Kent Mertz (Dennisport) score 8 points each.

Northeast 72 Coastal 60
Anthony Gilardi (Malden) led the Northeast squad with 24 points while Cody Broges (Dartmouth) picked up the slack with 16. Liam Gerrity (Barnstable) was the leading scorer in the game with 26 points and Pat Danner (Plymouth) had 10 points for Coastal.

West 67 Metro 40
West's Keith Natale (Hatfield) had 20 while Conner Eckstrom (Greenfield) pitched in 11. The Metro squad had Jaewoo Chung (Arlington) score 11 points.


GIRLS BASKETBALL

Northeast 73 Southeast 71
Northeast lead scorer Amanda Williams (North Andover) scored 13 points. Sarah Hood (Burlington) added 12 points to the scoreboard. Katie Lowerre (Sharon) led the way for Southeast with 18 points

Metro 72 Central 24
Melissa Baptista (Somerville) led the Metro region with 15 points. Kaila Duarte (Boston) score 13 points throughout the game which included making both of her free throws in the 4th quarter. Central was led by Kristen Smith (Littleton) chipping in 7 points.

West 66 Coastal 55
Keri Paton (Russell) contributed 17 points to West which included 13 points in the 4th quarter. Tea Spellacy (Belchertown) contributed 11 points to the scoreboard as well. Norma Waggett (Saugus) led Coastal with 25 points.

Southeast 68 Central 39
Lowerre led Southeast to victory against Central contributing 21 points. Montana Burke (Bromfield) and Abrielle Peltier (Leicaster) both chipped in 8 points for Central.

Metro 66 West 32
Metro got 14 points by Maggie Mulligan (Brighton) leading the team. Spellacy scored 11 points for West and Paton added 8 more to the scoreboard.

Northeast 62 Coastal 36
Hood tallied 14 points in Northeast's last game against Coastal. Williams and Courtney Walsh (Windham) added to the scoreboard. Coastal's Rachel Camara (Fall River) contributed 10 points and Brianna Camara (Fall River) chipped in 7.
March, 22, 2012
3/22/12
4:59
PM ET
THE SUPER TEAM
Guard – Aaron Calixte, Jr., Stoughton
An exceptional athlete gifted with a tenacious motor, and one of the state's most dynamic scorers, the 5-foot-11 Calixte was the driving force behind the Black Knight's run to the Division 2 Eastern Mass. final, and asserted himself as the state's premier point guard. For his junior season, he averaged 19 points and six assists, and was named a Hockomock League All-Star. Calixte also stands out on the gridiron for the Black Knights' football squad.
Guard – Tyrese Hoxter, Jr., Charlestown
After playing in the shadows of former All-Stater Akosa Maduegbunam a year ago, the 6-foot-3 Hoxter thoroughly burst onto the scene and had a monster campaign for the Townies, leading them to the TD Garden floor for the first time since 2005 before bowing out to Brockton in the Division 1 Eastern Mass. Final. This season he averaged 19 points, eight rebounds, three assists and two steals.
Guard – Tyrell Springer, Sr., Springfield Central
After falling short of a state title two seasons ago with New Leadership, the 6-foot-2 Springer led Central to the DCU Center floor this season where the Golden Eagles captured their first Division 1 state title since 1991. The centerpiece of one of the state's most athletic lineups, Springer averaged 15.3 points, 7.5 rebounds, seven assists and 7.3 steals. He is undecided on college plans.
Forward – Jake Layman, Sr., King Philip
The 6-foot-8 Layman was one of the most dominant players in Massachusetts this season, with the ability to score both inside and out, as the Warriors set a school single-season record for wins (18) before suffering a surprise upset in the Division 2 South quarterfinals. In 21 games, he averaged 26.5 points, 16 rebounds, 5.8 blocks, 3.2 assists and three steals. He closes his career with with 1,752 points, 1,098 rebounds and 391 blocks, giving him career averages of 20.6 points, 12.9 rebounds, 4.6 blocks, 2.8 steals and 2.6 assists. This is his second appearance on the Super Team; he also captured the Hockomock League's MVP for the second straight season. Layman, who was named ESPN Boston's "Mr. Basketball" earlier this week, is ranked the nation's No. 62 overall senior by ESPN, and will continue his career next season at the University of Maryland.
Center – Sayvonn Houston, Sr., Brockton
A nightly double-double machine, Houston established himself as one of the state's most dominant true centers, making life difficult down low as the Boxers went 23-3 and made their first Division 1 state final appearance since 1985. He saved his biggest performances for the biggest stages, such as his 20-20 night in the Division 1 South semifinals, or his 22-point, 13-rebound effort in Brockton's overtime win over Charlestown in the Division 1 Eastern Mass. Final at TD Garden. Houston is undecided on college plans.
BEST OF THE REST
Jalen Adams, Soph. G, Melrose
Quickly rising as one of the Bay State's most complete scoring guards, the 6-foot-1 Adams took home Middlesex League MVP honors after averaging 21 points per game. He led the Red Raiders to an 18-2 regular season record, before they fell to state runner-up Brighton in the Division 2 North semifinals. Adams has already declared that he will be transferring to Wilbraham & Monson Academy next season, where he will reclassify to the Class of 2015.
Jaylen Blakely, Jr. G, Brockton
Like Houston, the 5-foot-11 Blakely saved some of his best performances for the crunch time in the playoffs, such as his eight-assist performance in the Boxers' win over Catholic Memorial. Blakely distributed evenly to Brockton's talented shooters and post players, as they went 23-3 and reached their first state final appearance since 1985.
Matt Droney, Sr. F, Catholic Memorial
A terrific shooter, the 6-foot-4 Droney was named the Catholic Conference's MVP after a season of averaging 20.7 points, six assists and five rebounds per game. He also became the eighth player in school history to surpass 1,000 points earlier this season. The Canton resident will be doing a post-graduate season next year at the Taft School in Connecticut.
Darien Fernandez, Jr. G, Wareham
The 5-foot-7 waterbug demonstrated a tenacious motor in leading the Vikings to their second Division 3 Eastern Mass. Final appearance in three seasons. Wareham was the state's last unbeaten before losing to state champion Danvers. For the season, Fernandez averaged 24 points, 10 assists, eight rebounds and five steals, and recorded three triple-doubles. He needs just 45 points next season to reach 1,000 for his career.
Rony Fernandez, Sr. G, Charlestown
Fernandez was one of the most outstanding point guards of the MIAA tournament, leading the Townies to a thrilling win over Lexington in the Division 1 North final before bowing out to state runner-up Brockton in the Eastern Mass. Finals. For the season he averaged 16 points and seven assists. He is undecided on college plans, but is currently fielding interest from Division 1 programs such as Maine, Northeastern and Hartford.
Joey Glynn, Sr. F, Cardinal Spellman
The 6-foot-5 Abington resident did it all this season for the Cardinals, averaging a double-double (18.5 points, 12 rebounds, three steals, 2.2 blocks) as they lost to Eastern Mass. runner-up Wareham in the Division 3 South semifinals. For his career, Glynn scored 1,425 points. He will continue his career next season at Bentley University.
Steve Haladyna, Sr. G/F, St. John's Prep
One of two repeat All-Staters, the 6-foot-3 Haladyna was unable to lead the Eagles deep in their Division 1 state title defense, but he still leaves the Danvers campus as one of its most decorated basketball stars. He averaged 22.4 points and 9.5 rebounds per game, both team highs, and for his career he finishes with 1,392 points -- second all-time on Prep's scoring list. The South Hamilton resident will continue his career next season at Tufts University.
Malik James, Soph. G, Brighton
The 6-foot-1 James elevated his game when the Bengals needed it most, as they made their first state final appearance in school history, falling to Mahar in the Division 2 title game. For the season, James averaged 18.1 points, 8.2 assists and 4.2 rebounds as the Bengals won their first-ever Eastern Mass. title.
Jameilen Jones, Jr. G, BC High
BC High's season came to an unexpected halt as the Eagles loss in the first round of the Division 1 South tournament, but the 6-foot-2 Jones has established himself as one of Eastern Mass.'s premier two-way players. For the season, he averaged 17 points and eight rebounds as the Eagles went 15-6.
Zach Karalis, Sr. G, North Andover
The 6-foot-1 Karalis was one of the driving forces for the Scarlet Knights, who went 21-2 and reached the playoffs an unprecedented 47th straight time. For the season he averaged 15.9 points and shot 46 percent from the field, to go along with 6.5 rebounds, 4.7 assists and 1.8 steals. Karalis will continue his career next season at Worcester Polytechnic Institute.
Kevin LaFrancis, Sr. C, Acton-Boxborough
After a stellar season in leading the 21-2 Colonials to a Division 1 North semifinal appearance, the 6-foot-6 LaFrancis was named the Dual County League's MVP. He averaged 19.5 points and eight rebounds this season, and finishes his career at A-B with 1,012 career points. He is undecided on college plans.
Alex Lopez, Sr. G, Springfield Commerce
The 5-foot-10 Lopez led the Valley League in scoring for the second straight season, averaging 22.3 points as the Red Raiders went to the Division 1 Western Mass. Finals and took state champion Springfield Central to the wire. He led Western Mass. in field goals made (185) and total points (512). Lopez is currently undecided on college plans.
Damian Lugay, Sr. G, Weymouth
The 6-foot-2 Lugay led the Wildcats to a second straight 17-win season, before they were bounced in the first round of the Division 1 South tournament. For the season he averaged 18.1 points and just under four assists, and leaves Weymouth as a two-time First Team All-Bay State Conference. Lugay is undecided on college plans.
George Merry, Sr. C, Danvers
At 6-foot-7, Merry was a force at both ends of the floor for the Falcons, known for his ability to redirect shots as much as his scoring touch. He averaged 16.1 points, eight rebounds and 6.6 blocks as Danvers captured its first Division 3 state championship in school history. Merry is currently undecided on college plans, but showing interest from several schools in Divisions 2 and 3.
Marcus Middleton, Jr. G, Stoughton
Tasked nightly with locking down the opposition's top scorer, Middleton established himself as one of the state's premier on-ball defenders. Middleton averaged 16 points per game for the Black Knights, who won the Division 2 South title before bowing out to state runner-up Brighton in the Eastern Mass. championship at TD Garden. Middleton also stars on Stoughton's football squad.
Matt Mobley, Sr. G/F, St. Peter-Marian
One of state's most pleasant late-blooming surprises, the 6-foot-3 Mobley was one of the leading scorers in Central Mass. as the Guardians made it all the way to the Division 1 Central Final. For the season, he averaged 23.2 points in leading SPM to its most successful season under head coach Marcus Watson. Mobley finished his career at SPM with 1,175 points, and will do a post-graduate season next year at Worcester Academy.
Tyler Nelson, Soph. G, Central Catholic
The 5-foot-11 Nelson established himself as one of the state's premier shooters, as the Raiders made it to the Division 1 North semifinals before bowing out to champion Charlestown. He averaged 15.5 points and four assists this season, shot 42 percent from three-point range, and 91 percent from the free throw line.
Colin Richey, Jr. G, Whitinsville Christian
After winning a Division 3 state title a year ago, the 6-foot Richey nearly led them back, as the Crusaders lost in the final seconds to state runner-up St. Joseph Central in the state semifinals. For the seaosn, Richey averaged 16.8 points, 6.7 assist and 6.3 rebounds for the Dual Valley League champions.
Kamari Robinson, Jr. F, Springfield Central
The 6-foot-5 Robinson was a rock underneath for the Golden Eagles, who captured their first Division 1 state title since 1991 and third overall. He was a nightly double-double threat this season, averaging 13 points, 11 rebounds, four steals and three assists, as Central went undefeated in Massachusetts.
Michael Thorpe, Sr. G, Newton North
The Tigers went run-and-gun this season, and the 5-foot-11 Thorpe kept them thoroughly going. One year after reaching the Division 1 South finals, he nearly led them back, before losing to state runner-up Brockton in the semifinals. He was named the Bay State Conference's MVP, with averages of 15 points and four assists. Thorpe will continue his career next season at Emerson College.
DEFENSIVE PLAYER OF THE YEAR

MARCUS MIDDLETON, STOUGHTON
The kind of on-ball pressure Middleton provided nightly to some of the state's premier scorers can take its toll physically, but he was routinely up to the task. As teammate Aaron Calixte saw a barrage of double-teams and box-and-one's, Middleton did his part at the other end, hedging off screens and staying one one's hip, chasing them all over the floor. As much praise as Calixte will get in this unprecedented season for the Knights, an equal amount must be thrown Middleton's way.
ALL-DEFENSIVE TEAM
G – Marcus Middleton, Jr., Stoughton
G – Anthony Hodges, Sr., Holy Name
G – Darien Fernandez, Jr., Wareham
F – Jake Layman, Sr., King Philip
C – George Merry, Sr., Danvers
COACH OF THE YEAR

HUGH COLEMAN, BRIGHTON
The Bengals lost their best player before the start of the tournament, and backpedaled into the playoffs with uninspiring losses to Acton-Boxborough and Madison Park. Yet in the end, they were one step away from the school's first-ever state title. Coleman is an unabashed disciple of the legendary Jack O'Brien, and staples of those historic Charlestown squads are sprinkled all over the program. Not only has Coleman done a remarkable job bringing the team to heights never before reached in his three seasons at the helm, but this is a program that will be dangerous for the next few years.
RUNNERS-UP:
Paul Connolly, Newton North
Dean O'Connor, Franklin
FINALISTS:
Kevin Brogioli, Wareham
John Gallivan, Stoughton
Reggie Hobbs, Lexington
Malcolm Smith, East Boston
Chad Softic, Mahar
John Walsh, Danvers
Dennis Wilson, Madison Park
March, 11, 2012
3/11/12
10:37
PM ET
By
Jay King
| ESPNBoston.com
WORCESTER, Mass. -- Months ago, Davon Jones sat on a chair and practiced his shooting form on an invisible basket.
The freshman point guard for St. John's needed to improve his accuracy, and he could think of nobody better to help him than coach Bob Foley. The chair technique wasn't orthodox, but Foley's record of success makes his methods difficult to doubt. And so Jones swallowed his pride and he stuck his butt on that chair, and he shot at a rim that didn't exist.
There was a rim on Sunday during the Central Mass. Division 1 Central sectional title at WPI's Alumni Gymnasium, and Jones could hardly miss the middle of it. The point guard drilled three triples in the first half as St. John's built an early lead, and he made six straight free throws in the final minutes to fend off a St. Peter-Marian rally.
[+] Enlarge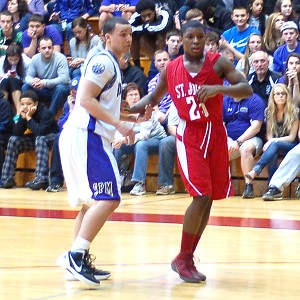 Brendan Hall/ESPNBoston.comFreshman Davon Jones (15 points), a major contributor to St. John's fifth straight district title, credited an unorthodox shooting drill for his improvement.
After scoring 15 points as the Pioneers sealed their fifth straight sectional title with a 72-63 victory, Jones attributed some of his makes to luck. But he also thought back to the hours he spent on that chair.
"I thank coach for that. Every day from the beginning of the year, I asked him to help me become a better shooter," he said.
Earlier in the week, before the Pioneers used a balance effort to hold off SPM, a number of St. John's alumni returned to the school to scrimmage the current team. Chris Harrington, Matt Harrington, Pete Richard, Chad LaBove –- the former St. John's stars all came back to help, and they collectively imparted one piece of advice:
"Just do what coach tells you," the alumni said, according to forward Ken Harrington.
"Coach has been here so many times that he knows what to do. If we just listen to him, it's going to work out for us," center Matt Palecki said.
On Sunday, Foley told his subjects to start in a 2-3 zone defense to limit Matt Mobley's penetration. The SPM star scored just five points on 2-of-4 shooting in the first half as St. John's took a 34-28 advantage into intermission.
Foley told them to box out and limit SPM's second chances. St. John's secured a 34-20 edge on the glass against one of Central Mass.'s biggest teams.
Foley told them to share the basketball. Palecki finished with 16 points, Jones had 15, Harrington added 14, Tarik Octave pitched in nine, and T.J. Kelley and Charlie Murray both scored eight.
"That's a credit to coach Foley and their system and how it works, and we would be wise to try to model it," SPM coach Marcus Watson said.
Foley left his fingerprints all over the latest Pioneers sectional championship. The coach has won more than 800 games, but this season brought unique challenges. The Pioneers start a freshman and two sophomores. Jones is a starting safety for the football team, so he took time to adjust to basketball shape once joining the team. Octave, one of the team's key subs, transferred to the school from New Hampshire prep school power Kimball Union Academy, and struggled to learn Foley's system.
In early January St. John's was 3-4, reeling after consecutive losses in the Assumption tournament, and Foley, for once, was a bit flustered.
"I was searching for answers after we lost those two games at the Assumption tournament. I'm thinking, 'What do we do? What do we do?'" Foley admitted.
What did they do? They did what Foley's teams normally do –- they focused on confidence, execution and teamwork. January's insecurities gave way to a 15-game winning streak entering Sunday's finals. Make it 16 now.
Youth became polished. Potholes were filled and smoothed. Learning is a process, and Foley was there to guide St. John's through the murky waters.
It helped that Palecki was inside the paint to stabilize everything, but Foley oversaw the transformation from a struggling young team searching for an identity into a powerhouse that hasn't lost since early January.
Octave knows what it's like to play for another coach, in another system. He took time to grasp Foley's style, but now vouches for it.
"I want to thank coach fully for having patience with me," Octave said. "My old school was a lot of one-on-ones, isolations and things like that. But at St. John's it's all teamwork –- passing, cutting, which I wasn't really used to. It's really old school, but it works. It obviously does, because we're the district champs right now."
The junior wing came off the bench to nail a trio of three-pointers, the last of which gave St. John's a 42-31 lead in the third quarter.
The Pioneers added onto the lead, eventually seizing a 48-33 advantage near the end of the third quarter before SPM raised the level of intrigue with a late run.
Brian Foley (19 points) led SPM's charge, scoring 12 points in the fourth quarter before fouling out with a minute left. Mobley came alive, netting 11 of his 16 points in the period as SPM cut the deficit to four on three separate occasions.
But Jones and Palecki drilled their free throws down the stretch and St. John's held tough to advance to the state semifinals against Western Mass. champion Springfield Central on Tuesday night at Springfield's MassMutual Center.
"Right now, those kids buy into everything that we try to do out there," coach Foley said.
The Streaky Mobley And Surging Foley:
For much of Sunday's contest, Matt Mobley failed to find shots against St. John's zone defense. The leading scorer in Central Mass. during the regular season, Mobley mustered just four shot attempts in the first half and did not score in the third quarter.
"I don't have the quickest guys. My point guard's quick, but the other guys we have aren't very quick out there. So we felt he would go by us (in man-to-man), and we thought that we could play zone. And any time he tried to penetrate, we just put two guys there and we've got Palecki behind those two guys. And it made them try to beat us with outside shots," coach Foley explained.
As usual, Mobley worked himself into a groove, pouring in 11 of his 16 points during SPM's fourth-quarter run. But those buckets all came after St. John's built a 15-point lead, and SPM was unable to get fight all the way back.
It seemed that Mobley should have been more aggressive the entire game, but SPM coach Watson said the star's early unselfishness was by design.
"I found that when we had Naadir two years ago, when he got his points our bigs didn't work as hard, because they felt, 'Why run?'" Watson said, referring to Naadir Tharpe, the former Guardians star who now plays at Kansas.
"Matt, I showed him a lot of Naadir's tapes. I took out his book and showed him: 'Look at the difference when we won games and when we lost games.' And Matt truly bought into that. If I truly turned Matt loose, I think he could have been a 30-plus point scorer."
As Mobley asserted himself in the fourth, Brian Foley dominated the painted area. The 6-foot-5 senior scored 12 of his 19 points in the final frame, teaming with Mobley to force the competitive conclusion.
"He's got a great jump shot and he does a great job on the boards too," Palecki said of Foley. "With SPM, it's pick your poison because they've got Mobley and (Steve) Flynn and Foley, too. All of them can shoot the basketball, so if you stop one of them, somebody's going to score. And tonight that was Foley for them."
The War Horse:
Early in the first half, Palecki scored a bucket inside and the St. John's student section erupted in chants of, "He's our war horse."
"It just started about halfway through the season," Foley said of the chant. "But if you watch him play, it's obvious."
"I like that chant," Palecki said before reverting to his humble self. "I just try to go out there and play defense and rebound and finish those little chippies inside. If I can do that –- I guess that's what makes the nickname stick."
The senior center finished with 16 points and nine rebounds, continually getting inside position against Flynn, Foley and Tim Berry – "some of the best post guys in Central Mass.," Palecki called them.
"He's just a beast. He's an animal," Jones said of Palecki.
And the bruiser is also a stellar captain.
"Palecki just keeps those other kids going," said Foley, adding, "He's the ringleader. He's the glue that holds us together."
"He's a great leader," added Octave. "He always gets us together. If we're down, he tells us to keep our head up. He's just a good motivator. I love him as a captain. I'm going to miss him next year."
January, 17, 2012
1/17/12
2:57
PM ET
By
Brendan Hall
| ESPNBoston.com
With many teams across the state reaching the midway point of their schedule this week, here are my mid-season picks for our annual MIAA All-State, All-Defensive, and Coach of the Year awards.

THE SUPER TEAM
G – Aaron Calixte, Jr., Stoughton
G – Steve Haladyna, Sr., St. John's Prep
G – Tyrese Hoxter, Jr., Charlestown
F – Jake Layman, Sr., King Philip
F – Isshiah Coleman, Jr., New Mission

BEST OF THE REST
Yadoris Arias, Sr. G, Lawrence
Tyler Delorey, Sr. G, Holy Name
Matt Droney, Sr. G/F, Catholic Memorial
Joey Glynn, Sr. F, Cardinal Spellman
Leroy Hamilton, Sr. F, New Mission
Jameilen Jones, Jr. G, BC High
Kevin LaFrancis, Sr. C, Acton-Boxborough
Alex Lopez, Sr. G, Springfield Commerce
Damian Lugay, Sr. G, Weymouth
George Merry, Sr. C, Danvers
Marcus Middleton, Jr. G, Stoughton
Matt Mobley, Sr. G/F, St. Peter-Marian
Brian Mukasa, Soph. G, Sharon
Tyler Nelson, Soph. G, Central Catholic
Quinton Perkins, Sr. G, Fitchburg
Luis Puello, Sr. G, Central Catholic
Colin Richey, Jr. G, Whitinsville Christian
Kamari Robinson, Jr. F, Springfield Central
Tyrell Springer, Sr. G, Springfield Central
Michael Thorpe, Sr. G, Newton North

ALL-DEFENSIVE
G – Luis Puello, Sr., Central Catholic
G – Anthony Hodges, Sr., Holy Name
F – Jake Layman, Sr., King Philip
F – Antonio Ferreira, Sr., Stoughton
C – George Merry, Sr., Danvers

COACH OF THE YEAR FINALISTS
Scott Boyle, Lowell
Hugh Coleman, Brighton
Paul Connolly, Newton North
Paul DiGeronimo, Fitchburg
John Gallivan, Stoughton
Paul Neal, Lawrence
Brendan Smith, Boston Latin
Malcolm Smith, East Boston
Mike Vaughan, Mansfield
John Walsh, Danvers
January, 7, 2012
1/07/12
12:00
AM ET
By
Brendan Hall
| ESPNBoston.com
(Video courtesy of Christian Bradley)

WORCESTER, Mass. -- Jason Chavoor took one look at it, and deferred to whoever was upstairs.

"That's a prayer," the Holy Name coach chuckled. "You just pray, you hope it goes in."

But like some of the city's coolest in the crunch, the kid delivering the prayer had a different frame of mind as he assertively stepped behind the three-point line on the right wing, took a kickout pass from point guard Jacek Louisville and let the ball fly.

Senior Tyler Delorey summed up what would be his last-second game-winning shot in this thriller over cross-city rival St. Peter-Marian as "just what people expect from me", saying it was "all about how bad I wanted to win this game."

"That was the most intense shot I ever took," he smiled. "But it felt so good leaving my fingers, and I'm just proud to win it."

The shot, coming off an inbounds play that was designed for Louisville as the top option, made it 70-67 for the Naps (9-0) with 2.6 seconds left. Down the other end, SPM's Matt Mobley (15 points, six rebounds, two blocks) hucked up an errant three that was tipped back in at the buzzer. But by then, the floor was already being overrun with celebration from the over-capacity crowd at the Naps' home gym.

Early on, the Naps looked poised to break take this one going away, as they closed out the first half on a 15-2 run to take a 34-28 lead over SPM (5-2) headed into the break. A Delorey three from the top of the key capped a 9-2 Holy Name run to start the third quarter, and the Naps went up by as much as 13 before the Guardians mounted their comeback.

Mobley, after going cold for two quarters, erupted in the last few minutes to string together some key baskets. After Anthony Hodges (22 points, five steals) knocked down a pull-up in the paint, Mobley turned right back around with the same shot with 1:07 left, cutting the lead to 62-58. Mobley then hit two free throws to tie it up at 65-65 with 43.6 seconds left. On the next Guardians possession, Mobley set up another tying score, dishing it to Tim Berry, who promptly was fouled and sank both shots for a 67-67 knot with 12.6 seconds left.

Chavoor called a timeout, and on the inbounds play Delorey slipped off a switching Guardian defender, and took a quick feed from Louisville as the point guard was trapped.

"He hit the big shot when they needed him," SPM head coach Marcus Watson said of Delorey's shot. "We were trying to stop the ball and force him to make a difficult shot, and our rotation to the back side was slow. He hit a good shot.

"I thought we showed a lot of character, a lot of perseverance when we were down 13, to keep battling back the way we did."

Delorey finished with 14 points, with nine of them coming on the three ball.

"The ball rolled our way," Chavoor said. "Tyler's a four-year player, he's close to scoring 1,000 points, and he made some unbelievable three-pointers. We obviously needed every single point...[but] even after missing free throws earlier he came back strong, the three was a great shot by a four-year varsity player."

Hodges dogs Mobley: One of the key moments in SPM's late rally might have been at the two-minute mark of the fourth quarter, when Hodges took a high lob over the top of the Guardians' press only to be denied at the last instance by Mobley's outstretched hands. Mobley pinned Hodges' layup against the backboard, and let out a roar as he flexed for a moment along the baseline.

Up to that point, Hodges had done a great job bottling up the late-blooming swingman, whom he considers a good friend. Mobley got off two quick three-pointers to start the game, but was held without another field goal until the fourth quarter. Hodges -- also a star wide receiver -- harrassed Mobley the way a star striker in soccer is often marked, keeping his hands active and his hips loose as he chased the sometimes-elusive Mobley around the offensive zone.

Hodges is considered one of the premier on-ball defenders in Central Mass., and tonight's effort was certainly a justification. In all, Mobley was held to 5-of-13 from the field.

"I know how he plays, and I knew I had to lock him down pretty much the whole game," Hodges said of defending Mobley. "I know he's a three-point shooter, pretty much [does] it all for SPM, and I knew if I held him to less than 20 points we could get the win."

"Matt's a good player, Anthony just tries to limit him," Chavoor said. "Anthony played so many minutes full speed. When Matt was in the game, we kept Anthony in the game. When Matt was out, we tried to rest Anthony. I don't know what his points were...but you know, Matt's a tough player."

Was it the shoes? Hodges already garners some attention on the court for his choice of purple shoes (oddly enough, the primary color of SPM), but drew more turned heads when he re-emerged from the locker room after halftime wearing bright, almost flourescent orange sneakers.

We'll resist the easy "must have been the shoes" zinger here, as it pertains to Hodges' inspired second-half performance. But allow the senior guard to explain.

"[The purple shoes] were pretty tight for me, and I put the orange shoes on because they're a little bigger [in] size," he said with a smile. "They felt comfortable...I was trying to go out with the purple to pretty much take them off."

Postal Service: One area the Guardians were efficient in tonight was their post play. The Naps don't roll out a kid over 6-foot-3, while SPM wields three able bodies in the low post in Berry (6-foot-6), Brian Foley (6-foot-5) and Steve Flynn (6-foot-5).

Flynn, who is also a star quarterback and pitcher at SPM, started a perfect 6-for-6 from the field. He was tough early with his back to the basket, either banking it from the elbow or taking his man baseline with a quick spin and finishing with a soft touch. He sizzled a bit, going 4-for-10 the rest of the way, but still finished with team high's of 18 points, 12 rebounds and four blocks.

There were other factors that led to SPM's demise, including costly turnovers and two second-half technical fouls on team captains, but Watson liked the size advantage on the interior.

"That was our thing going in," Watson said. "I didn't think they could match up inside, and when we executed our gameplan they didn't have much of an answer. What happened was we fell into a running game with them.

"You look at the transition points. Take those transition points away -- I think we gave up 16 in transition -- you take those away and it's a different game."
December, 19, 2011
12/19/11
12:17
AM ET
By
Brendan Hall
| ESPNBoston.com
WORCESTER, Mass. -- Catholic Memorial head coach Dennis Tobin was reminded of his frenetic starting off-guard's hot start from deep, and he had to pause for a moment.

"Chris is...how do I phrase this one?" he said rhetorically of junior Chris Siggers, who opened the nightcap of the BasketBull Catholic School Showcase against No. 18 St. Peter-Marian with back-to-back-to-back three-pointers for the No. 6 Knights.

After a brief pause and a flash of a smile, Tobin continued, "When he's hot, he's hot."

The Knights coasted to a 76-63 win, after going 9 of 19 from deep in the first half to take a 47-31 lead into the break. Siggers, a 5-foot-8 Hyde Park resident, finished the day 4 of 7 from deep, including his first three that gave the Knights (3-0) a 9-7 lead they wouldn't relinquish.

But more than his silky-yet-unorthodox delivery -- a rainbow of a high-arching shot, which he says he hones by shooting over 6-foot-8 center Gerard Adams in practice -- it was his defense of the Guardians' star swingman, senior Matt Mobley, that most satisfied Tobin.

The crafty Mobley finished with 20 points, seven rebounds and five steals, and generally kept the game from getting out of hand. But Siggers made life difficult for those 32 minutes.

"He was hot to start the game, but the main thing he does is bulldog-type defense," Tobin said of Siggers. "And he did a super job on Matt Mobley, I thought. Matt got his points, but earned them. I thought Chris did a great job there."

Said Siggers, "I was just feeling it. I was very excited, very amped about the game. I tried to play [Mobley] as best I can, and I was feeling my shot."

The Knights' top shooters, senior captains Dan Powers and Matt Droney, finished with 18 and 14 points, respectively. Sophomore point guard Aahmane Santos also registered five assists, while the sophomore center Adams led on the glass with 10 points, seven rebounds and two blocks.

Senior Steve Flynn also put in 10 points for SPM (2-1).

Run and Gun: The Knights excelled in transition on both ends of the floor. Offensively, they got up the floor quickly off a defensive rebound, and pushed the ball quickly upcourt rather than dribble. That led to a barrage of fast break perimeter shots. When the Guardians forced halfcourt play, one-touch passing around the perimeter created open shots that they hit well enough (the Knights finished 29 of 62 from the field).

"Hopefully we'll look more into the post going forward, but we live and die by the three," Tobin said. "That's just the way we play."

At the other end, the Knights showed some poise in defending in transition, with Armani Reeves and Rich Lopez providing energy off the bench to help the cause.

"My guys toughed it out, I thought," Tobin said. "We've got a lot of speed and quickness. If they can create the open-court game, we can be pretty successful."

McDonough out: The Knights' usual starter at center, John McDonough, was missing from the lineup today with a bone bruise on his hand. Tobin said the length he'll be out "could just be tonight", saying "it's nothing serious."

Praise for Mobley: Singularly one of the state's premier scoring talents, the 6-foot-3 Mobley drew praise from across the way.

"He's good, you've just got to worry about him, stay on him," said his defender, Siggers. "Make sure he's your main focus, play hard. Make sure he doesn't go off like he usually does."

Said Tobin, "He's a terrific player. Very, very quick with the ball, can hit the open three -- we tried to take that from him, that was our focus going in. We knew he'd get his points because he's such a good player, we just wanted to make him earn his points. I thought we did a decent job of that.

Mobley, an ESPN Boston preseason All-State third team selection, could be one of the MIAA's best-kept secrets, if not its most late bloomer. A smooth wing player who demonstrates good body control, first-step acceleration and leaping ability, he's just coming into his own after a solid showing in leagues this fall. Mobley also missed half of last season as the Guardians struggled to an 8-11 campaign.

When asked about the projectability of Mobley, who will likely pursue a post-graduate season next year at a prep school, Guardians head coach Marcus Watson said "his ceiling is untapped".

"His range is unlimited," Watson said. "His ballhandling skills are great. Defensively, his length, he's athletic. He has the package, there's no two ways about it. But another year of development will definitely benefit him."

Growing Gerard: Adams first burst onto the scene last summer with the Boston Amateur Basketball Club, playing limited minutes on the 9th Grade squad that won AAU Nationals in Little Rock, Ark. At a long 6-foot-8 and close to 300 pounds, he poses matchup problems on size alone, even as his sluggishness and overall lack of conditioning is visible.

For starters, in the third quarter Powers took an inbounds pass and lobbed one up to Adams, who caught the ball roughly a foot from the rim and tipped in the ball over the outstretched hands of two defenders. At the other end, Adams stayed out of foul trouble by staying close to the basket, maintaining firm positioning and making himself wide in the lane.

There's not question that the future for Adams, who has reportedly lost 37 pounds since the summer, has potential to be bright.

"Two years down the road, he's going to be tough to stop," Tobin said. "He is right now when we get him the ball. We're not used to having a big man in the CM program, so sometimes we don't look to him. But he's really going to help us when we play a team that manages to get us in a halfcourt game, because now we have a low-post option."
December, 8, 2011
12/08/11
3:33
PM ET
Here is ESPN Boston's preseason MIAA All-State boys basketball teams:

FIRST TEAM
G – Steve Haladyna, Sr., St. John's Prep
G – Luis Puello, Sr., Central Catholic
F – Jake Layman, Sr., King Philip
F – Joey Glynn, Sr., Cardinal Spellman
F – Keandre Stanton, Sr., Lynn English

SECOND TEAM
G – Aaron Calixte, Jr., Stoughton
G – Matt Droney, Sr., Catholic Memorial
G/F – Tyrese Hoxter, Jr., Charlestown
F – Isshiah Coleman, Jr., New Mission
F - Nate Anderson, Jr., New Mission

THIRD TEAM
G – Colin Richey, Jr., Whitinsville Christian
G – Matt Mobley, Sr., St. Peter-Marian
G – Rony Fernandes, Sr., Charlestown
F – Jarrod Neumann, Sr., Northampton
C - Kevin LaFrancis, Sr., Acton-Boxborough