Boston High School:

Matt O'Neil
June, 22, 2012
6/22/12
2:09
PM ET
STARTING ROTATION
RHP – Matt Tulley, Sr., Lowell
The Virginia Tech signee lived up to every ounce of his preseason hype, taking ESPN Boston's 2012 Mr. Baseball Award earlier this week as the state's top player. He earned his third consecutive Merrimack Valley Conference Player of the Year honor, going 7-1 with 90 strikeouts in 59 innings and one save, for a 1.46 earned run average. Opponents batted just .159 against Tulley on the season. At the plate, Tulley batted .306 for the Raiders, leading the team in RBI (20) and ranking second in runs scored (19). For his career, Tulley went 20-2 with a 1.57 ERA and 200 strikeouts in 140 innings.
RHP – Pat Ruotolo, Jr., Peabody
The 5-foot-10 craftsman caught national attention this year after throwing three no-hitters in a span of four starts, and finished the season as the state's runner-up in strikeouts (130). In 76 innings of work, he went 8-1 with two saves, 31 hits allowed and 12 walks, for an ERA of 0.83, to earn Northeastern Conference MVP honors. He has 232 strikeouts since the start of his sophomore season, and over 300 for his career. Ruotolo is considering interest from a handful of Division 1 schools.
RHP – Alex Rozak, Sr., Plymouth North
The UMass-bound Rozak catapulted himself into discussion as one of the state's best pitchers with his postseason play, winning three games as the Blue Eagles made their fourth Division 2 state final appearance in five seasons. He also carried a no-hitter into the final out in the Division 2 Eastern Mass final. For the season, Rozak was 8-3 with 61 strikeouts and 13 walks, with a 1.02 ERA. He won 24 games in his career at North, including a 9-1 campaign in the Eagles' 2011 state championship season.
LHP – Steve Moyers, Sr., East Longmeadow
One of a handful of returning All-Staters, the University of Rhode Island signee is making his second appearance in the "Starting Rotation" after compiling a 7-2 record with 106 strikeouts. Over his last two seasons, he has gone 15-3 with 194 strikeouts, and he leaves East Longmeadow as one of the school's winningest, compiling a 30-3 career record.
LHP – Ben Bowden, Jr., Lynn English
The 6-foot-4, 220-pound southpaw got off to a hot start, throwing a perfect game on April 7, and didn't cool off. On the mound he had six wins, with 82 strikeouts in 51.2 innings for a 2.19 ERA. At the plate, he played a key role in the Bulldogs' stunning upset of Peabody in the Division 1 North tournament; on the season, he batted .394 with 21 RBI, two home runs and nine extra-base hits, and also drew 17 walks.
STARTING NINE
CF – Casey DeAndrade, Sr., East Bridgewater
The speedster joins exclusive company as one of several players to make All-State in two sports, having made the football squad last fall. This spring, he put up .455/.506/.682 totals at the plate, with 25 RBI, two home runs, 19 runs and 15 stolen bases. On the mound, he went 5-2 with 67 K's in 50.2 innings, holding opponents to a .106 average as the Vikings captured their first Division 3 South title since 1993. DeAndrade is headed to the University of New Hampshire in the fall for football.
2B – Chris Hoyt, Sr., Xaverian
Nobody elevated their stock in the playoffs more than the Stonehill College-bound Hoyt, who pounded out eight RBI in the MIAA tournament – including four in the Division 1 state final. Batting out of the leadoff spot this spring, Hoyt batted .411/.477/.526 totals, with 19 RBI, two home runs, stole 19 bases and only struck out three times in 107 plate appearances. He also posted a ridiculous OPS of 1.003.
C – Bobby Melley, Sr., BC High
A returning All-Stater, the 6-foot-3, 200-pound Centerville resident was one of the state's most dangerous power hitters, compiling .370/.557/.685 totals with 13 RBI, three home runs and drawing 22 walks. Behind the plate, only two runners attempted to steal on him, both of which were caught out. Melley will continue his career next year at UConn.
1B – Chris Shaw, Sr., Lexington
A returning All-Stater, Shaw was one of three Bay Staters taken in this year's MLB Draft, going to the New York Mets in the 26th round. This spring, he batted .480 with seven home runs and 27 RBI, and also went 5-0 on the mound with 95 strikeouts in 45 innings. Shaw will be honoring his commitment to Boston College rather than signing.
3B – Frank Crinella, Sr., Springfield Cathedral
In addition to flawless defense, Crinella was a tough out at the plate, hitting .456 on 26 hits, with 27 RBI and four home runs to go along with it as the Panthers went 18-2 before a surprise upset in the Division 1 West quarterfinals. Crinella will continue his career next year at Merrimack College.
SS – Matt O'Neil, Sr., East Longmeadow
Coupled with Moyers, the returning All-Stater formed an imposing 1-2 punch on the mound for the Spartans, who suffered a surprise upset in the Division 1 West semifinals. O'Neil batted four home runs to go along with 21 RBI; on the mound, he was 4-3 with 70 strikeouts in 41.1 innings. O'Neil will continue his career next year UConn.
1B – John Jennings, Sr., Newton South
The Dual County League's Large Division MVP was a force at the plate for the Lions, batting .415 with five home runs and 31 RBI. On the mound, he was 4-1 with 31 K's in 27.2 innings, for a 1.27 ERA. He will continue his career next year at UMass.
SS – Regan Aghdam, Sr., Burncoat
One of the state's premier leadoff hitters, Aghdam was solid at the plate, leading the Inter-High league in batting average (.463). On the mound, he went 6-0 with 43 strikeouts in 49 innings pitched. Aghdam will continue his career next year t the University of Rhode Island.
SS – Brandon Bingel, Jr., St. John's Prep
The Catholic Conference's co-MVP was a driving force for the Eagles, hitting .418 with 25 RBI and five home runs. On the mound, he was 5-1 with a 1.20 ERA in 40.2 innings pitched. Bingel is currently committed to Bryant University.
BULLPEN
LHP – Scott Tully, Jr., Reading
Tully had a breakout junior season, going 8-2 with four saves with a 0.99 ERA and 122 strikeouts in 63.1 innings, tied for third-most K's in the state. Tully also allowed just 27 hits this spring. He is currently committed to Notre Dame.
RHP – Pat Delano, Sr., Braintree
Nearly two years after Tommy John surgery, the 6-foot-7 fireballer found his way back to the top, going in the 35th round to the Boston Red Sox in the MLB Draft, and earning MVP honors in the Bay State Conference's Carey Division. He posted a 1.21 ERA with four wins and 50 strikeouts in 57 innings, and added four home runs at the plate. He was also named a Region 1 All-American by the American Baseball Coaches Association. Delano is currently committed to Vanderbilt, but has until the August 15 deadline to decide whether he'll sign or not.
RHP – Charlie Butler, Sr., Nashoba
A returning All-Stater, Butler was once again dominant on the mound for the Chieftains, striking out 90 in 54 innings for a 0.91 ERA and 6-2 record. At the plate, he batted .365 with 14 RBI and two home runs. Butler will continue his career next year at the University of Maine.
RHP – Mike Walkowicz, Sr., Amherst
Another one of the state's strikeout kings, Walkowicz went 5-4 on the mound as he rang up 112 batters in 65 innings of work for an average of nearly two K's per inning. He will continue his career next year at Endicott College.
LHP – Tyler Buck, Sr., Franklin
One of the state's most elusive lefties, Buck went 7-1 on the mound with 80 strikeouts and a 1.42 ERA for the Panthers, who were the No. 1 overall seed in Division 1 South. He also went .378 at the plate with 18 RBI and two home runs. Buck will play next year at St. Anselm College.
LHP – Mac Curran, Jr., Coyle-Cassidy
The hard-throwing 6-foot-4, 240-pound Lakeville resident was an intimidator for the Warriors, going 6-1 with a 0.52 ERA and 63 strikeouts in 49 innings. He also batted .351 at the plate, and is 14-3 so far as a starter for Coyle. Curran is currently fielding a slew of Division 1 interest.
RHP – Brandon Shileikis, Jr., Dighton-Rehoboth
The workhorse logged 68 innings and struck out 74 while walking just 12, going 9-1 with three saves, an ERA of 1.75 and a WHIP of 0.96. At the plate, Shileikis had .427/.456/.524 totals with 28 RBI and 27 runs. Shileikis is currently fielding various Division 1 interest.
RHP – Keegan Dellacona, Sr., Barnstable
The 6-foot-3 Dellacona formed a dynamic 1-2 punch on the mound along with UConn-bound Willie Nastasi, as the Red Raiders won the Old Colony League outright. For the season, Dellacona struck out 67 in 49.1 innings, for a 4-0 record and 0.89 ERA. He also threw 70 percent of his pitches for strikes, registered a 0.67 WHIP, and held opponents to just a .136 batting average. Dellacona is undecided on college plans.
LHP – Ryan McDonald, Sr., Acton-Boxborough
Another of the state's most deceiving lefties, McDonald went 5-2 with 71 strikeouts in 46 innings, for a 1.98 ERA. He also led the Dual County League in batting average (.468) and plated 16 runs, including two homers. McDonald had previously signed with Bryant University, but is currently uncommitted.
RHP – Lee Albertson, Sr., Westfield
Albertson was the ace of a Bombers staff that won its third Division 1 West title in five years this spring. He went 6-2 on the mount with two saves, and struck out 58 batters in 54 innings. Albertson will be heading to Holyoke Community College next season.
UTILITY
3B – Joelfi Arias, Sr., Springfield Central
The Eagles scored one of the biggest upsets of the MIAA tournament by knocking off Springfield Cathedral, and Arias played a big role. He had five home runs on the season to go with 24 RBI, and on the mount he had 65 strikeouts in 62 innings, logging a 5-2 record. Arias is headed to Juco power Indian Hills Community College, in Ottumwa, Iowa.
OF – Adam Benvie, Sr., Dighton-Rehoboth
One of several mashers on a lineup that batted nearly .400 as a team, Benvie posted .386/.538/.771 totals with 37 RBI and five home runs, scoring 27 runs and drawing 22 walks. Benvie will continue his career next year at UMass.
C – Joe Walsh, Sr., Taunton
The Old Colony League MVP led the Tigers on a surprise run to the Division 1 South final, where they lost to eventual state champ Xaverian. He batted .447 with 31 RBI, 23 runs scored and three home runs, for an on-base percentage of .562. He leaves Taunton a career .379 hitter with a .486 on-base percentage and 50 RBI. Walsh will play next year at Eckard College in St. Petersburg, Fla.
SS – Evan Mondor, Sr., Dighton-Rehoboth
One of several big bats that led the Falcons to the No. 1 seed in Division 2 South, Mondor posted .478/.617/.791 totals with 10 doubles, three home runs, and 20 RBI. Mondor also scored 35 runs and only struck out three times all year. He will continue his career next year at Bentley University.
SS – Brendan Skidmore, Sr., Franklin
Skidmore took home Hockomock MVP honors this season after batting .467 with five home runs and 21 RBI for the Panthers, who won the league outright as well as the No. 1 seed in Division 1 South. Skidmore will do a post-graduate year at Bridgton Academy next season.
OF – Jarrod Casey, Sr., Milford
A returning All-Stater and the reigning Mid-Wach A MVP, Casey put in another dominant season for the Scarlet Hawks, batting .490 with 22 RBI. On the mound, he was 6-2 with 73 strikeouts in 47 innings, for a 0.91 ERA. Over the last two years, Casey has gone 14-3 on the mound.
SS – Sean O'Neill, Sr., Norwood
The senior played a significant impact on the Mustangs' run to the Division 1 South quarterfinals, taking MVP of the Bay State Conference's Herget Division in the process after batting .416 with 16 RBI and a home run in the wood-bat league. O'Neill will play next year at Merrimack College.
SS – Dan Cellucci, Sr., Lincoln-Sudbury
Another returning All-Stater, Cellucci was consistent once again for the Warriors, batting .435 with 18 RBI and two home runs as the Warriors came up short in the Division 1 state title defense. Cellucci will continue his career next year at Bryant University.
1B – Adam Mayhew, Sr., Westfield
His numbers probably don't reflect his importance to the team (12 RBI; 3-0, 15 IP), but his defensive presence was without question as the Bombers won their third Division 1 West title in five years. Mayhew will continue his career next year at Westfield State University.
Photos of Adam Mayhew, Mike Walkowicz, Lee Albertson, Matt O'Neil and Joelfi Arias are courtesy of the Springfield Republican. Photos of Pat Ruotolo, Ben Bowden and Mac Curran are courtesy of the Area Code Games.
May, 6, 2012
5/06/12
10:36
PM ET
WESTFIELD, Mass. -- Historically speaking, geography makes the best rivalries. The proverbial border wars that come year in and year out are must-see matchups regardless of records.

A rivalry brought on by nearly unmatched success between two teams over a certain timespan, however, shouldn't be discounted. And in the case of Westfield and East Longmeadow, two of the premier baseball programs in Western Massachusetts year in and year out, that rivalry has never been better.

Sunday's latest installment was a testament to that.

Westfield, the No. 14 team in the latest ESPN Boston MIAA Baseball poll, used a three-run first-inning and an efficient and otherwise dominant complete-game effort from senior Lee Albertson to knock off No. 4 East Longmeadow. It was the first loss of the season for the Spartans (12-1) while the Bombers improved to 11-1.

With four-year starter and URI commit Steve Moyers on the mound, Westfield didn't waste any time or allow him to settle in. A leadoff single from Conner Laraway followed by a sacrifice attempt turned two-base throwing error led to early scoring opportunities for the Bombers. Billy Smith, Adam Mayhew and Dan Jacques all drove in runs in succession, giving Westfield a 3-0, first-inning lead against the usually unflappable Moyers.

"[Moyers] is a great pitcher and we've seen him before," said Mayhew, who finished 2-for-3 with a double and two RBI. "We wanted to get to him early and get deep in the count. This is definitely a statement win for us."

The Spartans grabbed a run in their half of the second inning but that was as much offense as they'd see the rest of the night thanks to Albertson.

The senior righthander threw a complete-game and improved to 4-0 on the season. He allowed just two hits and struck out five, gaining momentum as his efficient outing progressed. He closed out his 79-pitch masterpiece with back-to-back 1-2-3 innings, including a punch out for the final out.

"Lee is throwing harder now than he was in the beginning of the season and that's helped him," said Westfield head coach Rich Discenza. "He throws the cutter and that's what helped him today. He's around the plate and is able to get out of tough spots and get back on track."

This was the fifth time these two teams have met since the 2009 season. East Longmeadow came out on top last season, defeating Albertson, 4-2. In 2010, the Spartans beat Westfield twice, 3-2 in the regular season and again by the same score in the sectional semifinal. The Bombers avenged a regular season loss in 2009 by knocking off the Spartans in the Western Mass. championship game.

If recent history is any indication, these two teams haven't seen the last of each other this season. With Westfield's win over East Longmeadow, there are now only three one-loss teams in the region (Springfield Cathedral is the other). Westfield was the only team to knock off Cathedral and the two rivals play again May 18. East Longmeadow and Cathedral square off Wednesday.

"Now it's back to work for us," said East Longmeadow shortstop and UConn signee Matt O'Neil. "They beat us today, they were a better team. If anything this loss will help us out a bit. If we see them in playoff time, we'll have this thought in the back of our minds."

Moyers lost his first of the year, falling to 4-1. He scattered nine hits and struck out five.

Conner Laraway had two hits and scored twice and Tim Donahoe had a pair of hits, including a double, for Westfield. Moyers and Brian Casey had East Longmeadow's two hits.
March, 1, 2012
3/01/12
11:45
AM ET
ESPNHS kicks off its baseball season coverage by unveiling its preseason All-State Teams for all 50 states plus the District of Columbia. A number of stars litter its Massachusetts squad, including BB&N's Rhett Wiseman, Lowell's Matt Tulley, Lexington's Chris Shaw and Braintree's Pat Delano.
You can find the entire list, which includes "Other Top Players"
by clicking here
. Below is ESPNHS' All-State Team for Massachusetts:
POSITION PLAYERS

Anthony Capuano, St. John's Prep, OF, Senior
Led SJP in hits, runs and stolen bases last year.

Jarrod Casey, Milford, OF/LHP, Senior
Batted .530 and posted an 8-1 record on the mound.

Dan Cellucci, Lincoln-Sudbury, SS, Senior
Posted a .536 BA and scored 44 runs for Division 1 state champs.

Chris McCarthy, Everett, C, Senior
Hit .585 and drove in 28 runs as a junior.

Bob Melley, BC High, C, Senior
Productive backstop has signed with UConn.

Matt O'Neil, East Longmeadow, SS/RHP, Senior
Batted .447 with 15 stolen bases last year, committed to UConn.

Christopher Shaw, Lexington, 1B/RHP, Senior
Boston College recruit hit eight home runs last year.

Ryan Summers, Westfield, C, Junior
Hit six home runs and drove in 27 last year; headed to Louisville.

Matt Tulley, Lowell, SS/RHP, Senior
Has signed to play at Virginia Tech.

Rhett Wiseman, BB&N, OF, Senior
Vanderbilt recruit hit .447 with 11 HRs and 29 SBs last year.


PITCHERS

Austin DeCarr, Xaverian, RHP/SS, Junior
Strong-armed athlete also took snaps as a quarterback in the fall.

Patrick Delano, Braintree, RHP, Senior
Big power pitcher is headed to Vanderbilt.

Tyler Dowd, Springfield Central, RHP/OF, Senior
Should be among state leaders in K's this spring.

Mike Krupczak, Springfield Cathedral, RHP, Senior
Went 7-0 with a 1.85 ERA last year.

Ryan McDonald, Acton-Boxboro, LHP, Junior
Posted a 0.90 ERA last year, striking out 71 batters over 55 innings.

Steve Moyers, East Longmeadow, LHP/OF, senior
Went 8-1 last year while posting a 0.44 ERA; career record of 23-2.

John Nicklas, St. Sebastian's, RHP, Senior
Has signed to play at Boston College.

Pat Ruotolo, Peabody, RHP, Junior
Struck out 102 batters last year, including three games of 15-plus K's.

Max Tishman, Lawrence Academy, LHP, Senior
Polished left-hander has signed with Wake Forest.

Troy Whitty, Dexter, RHP, Senior
Transferred from Oliver Ames, where he posted a 0.90 ERA last year.
June, 29, 2011
6/29/11
9:19
AM ET
THE STARTING ROTATION

Adam Ravenelle, Sr. RHP, Lincoln-Sudbury
The 6-foot-4, 185-pound fireballer was an integral part of the Warriors' run to the Division 1 state championship this season, going 8-0 with 93 strikeouts in 56 innings -- including a career-high 18 in a win over Arlington. He also batted .481 with 44 RBIs. Earlier this month, the Vanderbilt-bound Ravenelle was drafted in the 44th round by the New York Yankees.

Pat Connaughton, Sr. RHP, St. John's Prep
The 6-foot-4 Connaughton, who was also a starter on ESPNBoston's inaugural All-State basketball squad, strung together some dominant performances this season, including a no-hitter against his hometown Arlington High. On the mound, he went 2-2 with one save, with 86 strikeouts in 50 innings for an ERA of 1.83. At the plate, he also hit .400 with four home runs, a .547 on-base percentage and .750 slugging percentage. Earlier this month, Connaughton was drafted in the 38th round by the San Diego Padres

John Gorman, Sr. RHP, Catholic Memorial
The Boston College-bound Gorman was named the state's Gatorade Player of the Year last month, and was also named the Catholic Conference MVP, after a stellar senior season with the Knights. As the No. 1 ace, Gorman went 6-2 with 80 strikeouts and an ERA of 0.24. At the plate, he also hit .354 with 11 RBI, 14 runs scored an a home run. Earlier this month, the Norwood resident was drafted in the 50th round by the Boston Red Sox.

Steve Moyers, Jr. LHP, East Longmeadow
One of the state's most elusive lefties, Moyers turned in another strong campaign on the mound as the Spartans advanced to the Division 1 West Final. He went 8-1 this season, with 88 strikeouts in 64 innings with an ERA of 0.44. For his career, Moyers is 23-2 and has averaged better than a strikeout per inning. He is receiving various interest from Division 1 schools in the Atlantic-10, Patriot League and Big East conferences.

Garrison Banas, Sr. LHP, Hopkins Academy
Stats-wise, there isn't another pitcher in the state who can lay claim to the numbers Banas put up this season. He went 9-2 this season for the Golden Hawks, with 173 strikeouts in 87.2 innings for an ERA of 0.48, before bowing out in the Division 3 West final. For his career, Banas was 26-6 with five no-hitters and a perfect game, and is in the state's ever-exclusive 400-strikeout club with 415 career K's. He will pursue a post-graduate season next year at Salisbury School, in Connecticut.
STARTING NINE
Matt Walsh, Sr. C, Plymouth North
The Franklin Pierce-bound Walsh was one of the more intimidating hitters in the region this season, as he led the Eagles to their second Division 2 state title in four years by hitting over .530 with 36 RBIs. But the most outstanding stat on Walsh has to be the respect he commands behind the plate. Counting the playoffs, only five runners attempted to steal on Walsh, and four were thrown out.
Chris McCarthy, Jr. C, Everett
Equipped with a live arm, the junior backstop was as efficient at the plate as he was at throwing out runners, batting over .585 with 28 RBIs and an on-base percentage close to .700. McCarthy is receiving varied degrees of interest from Division 1 schools in the Big East, Atlantic Coast and Atlantic 10 conferences.
Mike Barry, Sr. C/OF, Lincoln-Sudbury
The 6-foot-2 Barry was one of the most prolific hitters on arguably the state's most dangerous lineup, as the Warriors captured their third state title in seven seasons. For the season, he hit .437 with 38 RBIs and seven home runs,
Matt O'Neil, Jr. SS, East Longmeadow
As one of the premier position players in Western Mass, O'Neil turned in a solid junior season for the Spartans, batting .447 with six home runs and stealing 15 bases. He was also efficient on the mound, going 6-1 and striking out 69 batters in 43 innings. O'Neil is verbally committed to UConn.
Chris Shaw, Jr. 1B, Lexington
As the Middlesex League co-MVP alongside teammate Will Marcal, Shaw put on a clinic at the plate, with the numbers to show. He batted over .490 with eight home runs, and plated 41 runs. Shaw is verbally committed to Boston College.
Ryan Summers, Jr. C, Westfield
The junior got off to an explosive start to the season for the Bombers, with 21 RBIs and six home runs through the first three weeks of the season. He finished the year with 27 RBIs and six home runs.
Jarrod Casey, Jr. OF/LHP, Milford
The latest in a line of Caseys to succeed on the diamond at Milford, the 5-foot-11 junior was one of the premier hitters in Central Mass, hitting .530 while also going 8-1 on the mound. Casey was also the Mid-Wach A Most Valuable Player.
Lorenzo Papa, Sr. 1B, Arlington Catholic
The Stoneham resident led the state in home runs last season with 10, and followed up with another solid campaign in 2011, finishing with eight homers for the Cougars. Papa will continue his career at the University of Rhode Island next year.
Sean Amaru, Sr. 1B, Westwood
Also a star on the gridiron, Amaru was a standout in the Tri-Valley League in 2011, turning in a monster season. He batted .515 with 34 RBIs, and also led the state in home runs with 10.
BULLPEN
Will Archibald, Sr. RHP, Milton
Freddy Andujar, Sr. LHP, Holyoke
Dan Dymecki, Sr. RHP, Wellesley
Evan Mackintosh, Sr. LHP, Northbridge
Will Marcal, Sr. LHP, Lexington
Ryan McDonald, Jr. LHP, Acton-Boxborough
Victor Mendez, Sr. RHP, Lawrence
Donny Murray, Sr. RHP, BC High
Matt Tulley, Jr. RHP, Lowell
Brandon Walsh, Jr. RHP, North Andover
UTILITY
Charlie Butler, Jr. IF/RHP, Nashoba
Dan Cellucci, Jr. SS, Lincoln-Sudbury
Aaron Fossas, Sr. SS, Holy Name
Matt Goreham, Sr. 1B, Catholic Memorial
Keith Kelley, Sr. SS, St. John's (Shrewsbury)
Dan Light, Sr. 1B, St. John's (Shrewsbury)
Bob Melley, Jr. C, BC High
Rory O'Connor, Jr. OF, Lowell
Tyler Sterner, Sr. SS, Doherty
Ramses Vittini, Sr. OF, Peabody
Alex Witkus, Sr. OF, North Attleborough
Paul Yanakopulos, Sr. SS, Malden Catholic
May, 29, 2011
5/29/11
6:27
PM ET
By
John McGuirk
| ESPNBoston.com
EAST LONGMEADOW, Mass. -- With the myriad of success the East Longmeadow baseball team has attained over the last several seasons, it will never be good enough until the Spartans are able to hoist a championship.
Highly regarded as one of the best programs in the state, the Spartans have posted an 89-12 mark since 2007, but they don't take much homage over such an accomplishment. That's because the ultimate goal of winning a state crown has eluded them. The Spartans got close in 2007, but lost to Algonquin Regional in the Division 1 state semifinals.
Needless to say, this team expects more of itself and expects nothing less than a championship.
[+] Enlarge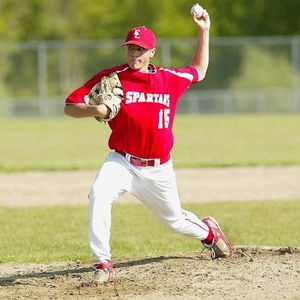 Moyers Family PhotoLefty Steve Moyers (6-0, 0.16 ERA) is one of the biggest reasons for East Longmeadow's success.
East Longmeadow, which presently sits at 17-3, has the necessary talent again this season to win a state title. But the folks in this Springfield suburb town have heard that story before. The last two years, in fact, when the Spartans have reached the district championship game only to fall short despite being considered the unanimous favorites both times.
Two years ago, they let a big lead slip away in the final inning against Westfield and lost by a run. Last year, they were blanked by reigning state champ Amherst, 1-0.
Even though East Longmeadow has been dominated on the diamond in the regular season, it's the postseason that matters most and this team won't be satisfied until it gets the proverbial monkey off its back.
"It's been really tough coming up short like we have," said senior tri-captain and outfielder Ken Morrisino, the bitterness still lingering in his voice. "We know we can win but we just need to stay loose and not think too much about it."
Morrisino -- who will prep at the Canterbury School next year in New Milford, Conn. -- along with fellow captains Steve Moyers and Matt O'Neil, were all part of the disappointment of having to bear witness of watching someone else celebrate a title they felt should have been theirs the past two years. As expected, those painful memories of the past two postseasons have not subsided and all three captains are using it as motivation to win it all this year.
"That's been our goal every year," said Moyers, the junior ace of the pitching staff who, in three seasons, has a career record of 22-1, with a 0.40 ERA and is 6-0 this season with a 0.16 ERA. "We want to get a Western Mass. championship and after that try and go on and win states."
Even though there are many new faces on this year's squad, the objective has not changed. The rest of the team, according to eight-year coach Kevin Magee, looks up to the three captains because of what they have accomplished at East Longmeadow as high school and Legion players.
Morrisino, Moyers and O'Neil certainly bolstered their reputations this past summer as they were all key contributors on the East Longmeadow Post 293 Legion state champion team -- a club that needed to come out of the loser's bracket and would go on to sweep Milton Post 35 in a doubleheader with both O'Neil and Moyers earning back-to-back victories, respectively on the mound.
The question by all three captains coming off that Legion title is, why can't the same be done at the high school level?
"To not win here the last two years and then we can win it all in Legion is a bit strange," said O'Neil, a junior shortstop/pitcher who is batting .469 and is 4-1 on the hill and has already made a verbal commitment to play at UConn in two years. "We need to win Western Mass. and go from there. We want it really bad."
Moyers, who is still undecided over his future college plans, added "We just need to buckle down come postseason time. We know we've been considered the team to beat the last couple of years. What we need to do in the postseason is get a lead early and as a pitcher go out, throw strikes and try to put the other team away early. If we can do that we'll be effective."
Behind this array of winning consistancy is Magee -- a player's coach who constantly instills proper fundamentals and a positive attitude to his team. As much as he too would like to celebrate a championship Magee's primary objective all along has been team unity.
"My number one goal has been to get them to work on sportsmanship and their work ethic by putting the team first," he said. "That's been the theme ever since I got here. We talk about championships two-percent of the time but 98 percent of the time we talk about sportsmanship, work ethic and putting the team first.
"Every person on our roster at some point this season has said they'll do whatever is best for the team and what is in the best interest for the team. I'm fortunate to have a team like this. I can tell you that they're aren't many teams that have a full roster of players who would put the team first. We do here."
July, 29, 2010
7/29/10
8:45
AM ET
BROCKTON — If at first you fail, try, try again.
Facing the offensive juggernaut of Milton Post 114, which had scored 48 runs in its previous four games, East Longmeadow Post 293 did well merely to limit the club to single-digits on the scoreboard.
Milton was slowed just enough in Wednesday's first game — a 12-9 East Longmeadow win — of the double-elimination Massachusetts American Legion baseball championship final to force a deciding second game. Post 293 then completed its climb back with an 11-3 victory in the nightcap to claim the title at Campanelli Stadium.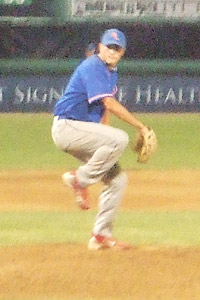 Brendan HallEast Longmeadow lefty Steven Moyers kept the potent Milton lineup in check.
As the first Western Massachusetts team to capture the state crown in 32 years, East Longmeadow's accomplishment was remarkable enough.
Yet, that only begins to describe the adversity they faced.
The team lost their ace, Holy Cross commit Mike Ahmed, to a season-ending knee injury in the district playoffs against Northampton. But Post 293 was resilient and trudged along with victories over Bridgewater and Brockton, opening the state tournament.
They would only be knocked down again during their first match-up with Milton, a 16-4 thrashing in the state tournament on Monday.
"We knew we gave them a bad inning, seven runs in the third inning and fell behind 11-1," East Longmeadow coach Jason Shea said. "We knew we just dug too big of a hole. But we knew today it's either win two or come home. We came in third last year at state, and we weren't really satisfied with it."
Milton was undefeated in the tournament and needed only one win against East Longmeadow to advance to Regionals, which begin at Palmer Field in Middletown, Conn. next Thursday.
The complexion of second game was that of a low-scoring one early; the score was tied, 2-2, entering the sixth inning. That's when East Longmeadow caught fire against Milton ace Mike Bortolotti.
Robert Mack put Post 293 on top with an RBI single, scoring James Christensen with the first of six East Longmeadow runs in the frame. Mack later came around to score what would prove to be the winning run, swatting the ball out of the catcher's hand in a collision at the plate on a fielder's choice.
"The only thing on my mind at that point is that I've just got to get this run," he said, "and I just happened to go through the catcher. I lowered my shoulder, tried to knock the ball out, and it happened.
"It felt awesome. It was the biggest adrenaline rush of my life, oh my god. And that really got the team going, I think."
Matt O'Neil, who earned the win on the mound in the first game, added an exclamation point to Post 293's victory with a two-run home run in the eighth.
On the mound, East Longmeadow lefty Steven Moyers kept the potent Milton lineup in check, earning his second win of the tournament.
"I wanted to try to throw strikes early in the count and then work in my off-speed pitches later in the count," he said.
Ahmed joined his teammates in celebration on the field for the post-game presentation of the state championship trophy, his body slouched over crutches. It meant a lot to the player who Mack called the "emotional leader of the team." It also meant a lot to the team to have him there.
"He was at physical therapy and he was [text messaging] the bench players [during the 16-4 loss], but he's the heart and soul of our team," Mack said of Ahmed, who will undergo surgery this week. "I feel bad for him that he had to miss out on this, but he kept us going on the bench. He still was right in the game all the time.
"That might have been the one reason we lost that game, him not being there."
Brendan Hall contributed reports to this story