Boston High School:

Matt Owens
May, 5, 2012
5/05/12
9:56
PM ET
By
Brendan Hall
| ESPNBoston.com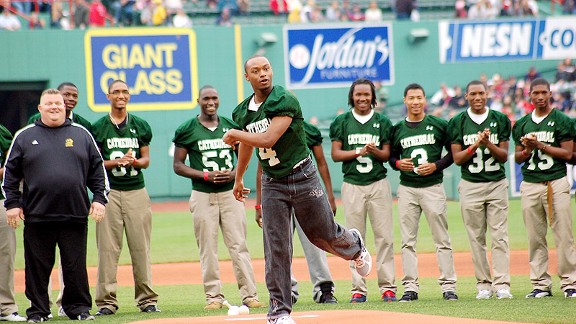 Brendan Hall/ESPNBoston.comBoston Cathedral's Matt Owens threw out the ceremonial first pitch before Saturday's Red Sox game at Fenway Park.
BOSTON -– Matt Owens woke up this morning, and felt some deep jitters he hadn't sensed since the last football game of his high school career last December.
The Boston Cathedral High senior was getting ready to toss out the first pitch at this afternoon's contest between the Boston Red Sox and Baltimore Orioles, at Fenway Park, where he would be flanked by over two dozen of his high school football teammates.
"I was really nervous," he said. "But it was a special moment, mainly for my team. Just seeing them smile and have a good time out there, that's what was most important."
Owens became the subject of a national controversy last December, when he was flagged for an excessive celebration penalty on the potential game-winning fourth quarter touchdown of the Division 4A Super Bowl against Blue Hills. Pundits locally and nationally took heated sides on the debate over whether Owens' brief point to the sky before crossing the goal line was enough to warrant the flag.
Boston Mayor Tom Menino invited the Cathedral team to lunch later that month, where they were also joined by Red Sox President Larry Lucchino and manager Bobby Valentine. Lucchino reached out to the team at this time, asking them if they'd like to come and throw out a ceremonial first pitch during the season; a date was nailed down last month.
Owens called it "a good consolation prize" –- the latest in a not-so-bad series of consolation prizes, if you will. During baseball season, his signature outpitch is a low-80's fastball ("But I'm still working on it," he chuckled). But once he took the mound, the lefty exhaled a deep breath, and tossed a looping pitch up and in, and pointed in both directions to the crowd cheering him on.
"The mound looked like it was 500 feet away," Owens laughed. "That was nerve-wracking, but it was pretty cool too."
Owens was an integral part of the Panthers' storybook run to the Division 4A Super Bowl, which included a Catholic Central Small title, an undefeated regular season, and the school's first postseason appearance since 1994. He is still undecided on college plans, but is also considering a post-graduate year at prep schools such as Canterbury and Tilton.
December, 6, 2011
12/06/11
10:28
AM ET
We have video this morning of the controversial ending to Saturday's Eastern Mass. Division 4A Super Bowl at Bentley University. Boston Cathedral senior quarterback Matt Owens pointed his finger to the sky for a brief moment as he ran what was thought to be the game-winning 56-yard touchdown scamper. Instead,
Owens was flagged for a penalty
, and Blue Hills escaped with a 16-14 win for the Super Bowl title.
Worthy of an excessive celebration call? You be the judge in the video below:
December, 3, 2011
12/03/11
3:48
PM ET
By
Matt Noonan
| ESPNBoston.com
WALTHAM, Mass. -- For a minute, it appeared Boston Cathedral had won their first Super Bowl in school history.

Then, there was a flag.

Senior quarterback Matt Owens was flagged for lifting his right pointer finger toward the sky during a fourth-quarter sprint on the 24-yard line of Blue Hills. All the momentum immediately shifted to the Warriors, who escaped with a dramatic, 16-14 victory Saturday at Bentley University.

"On the game being played, we won the game, [but] I give Blue Hills a lot of credit. They're a great football team, [and] we deserved better," Boston Cathedral head coach Duane Sigsbury said.

As for Blue Hills head coach Ed Catabia, he appeared more relieved and overjoyed that his team was able to walk off the field with a victory.

"I've had these kids in class [since] their sophomore year," Catabia said. "They're undefeated as freshman [and] we knew that they were a good team."

Warriors' senior quarterback John Curran jumpstarted his offense on the team's first drive with a 45-yard strike to senior Isaiah Teixeira before senior running back Vincent Brown trotted past the Panthers defense for a one yard score on the ensuing possession.

Boston Cathedral responded after an unproductive first quarter with two touchdowns before halftime, as senior quarterback Matt Owens connected with senior teammate Carlos Bermudez on a 44-yard pass, and then ran for a three-yard score.

In the second half, Boston Cathedral produced two critical turnovers, an interception and a fumble, which Blue Hills couldn't capitalize on. Yet, the Warriors offense did win the time of passion battle, as they finished the final two quarters with 29 plays compared to Boston Cathedral, who had 17.

"We took some time off the clock and that was one of our goals is to take some time off the clock [in the second half]," said Catabia.

"We just wanted [to get a few] first downs, [and] that's all that mattered," Warriors quarterback John Curran said. "We weren't worried about milking the clock, as much as just trying to get in the end zone."

Blue Hills offense produced Boston Cathedral's only points of the second half, as they snapped the ball high above their quarterback late in the fourth quarter and out of the end zone before they stopped the Panthers on their final drive of the game, which was an incomplete pass from Owens to Bermudez.

UNSPORTSMANLIE CONDUCT
Prior to kick-off, both coaches and captains met to discuss the rules for the game and in that particular meeting, the referees reminded the participants that they wouldn't be allowed to celebrate a touchdown before it was scored.

However, Sigsbury believed that the decision to flag Owens, who did celebrate the potential go-ahead touchdown in the fourth quarter, was the wrong decision, and certainly, it seemed as if he believed the Panthers should have been crowned champions.

"[The game] got taken away from us, and what else can you do," Sigsbury said. "If you're going to take away from a kid being excited because he just made the play of his life, shame on you."

When asked about the touchdown that was revoked, Blue Hills head coach Ed Catabia responded by saying, "We try to play by the rules, and the rule is that there is no celebrating. It was unfortunate for him [and]; it was a great a call. It's just unfortunate that's how it turned out."

Boston Cathedral certainly had chances in the second half to score, but this particular play will certainly be in the back of their minds prior to the start of next years season.

VINCENT BURTON'S GROUND GAME
Burton recorded 150 yards on 36 carries, as well as one touchdown, but the biggest offensive series of the game came for the senior running back in the third quarter, as he recorded 13-of-19 plays from the line of scrimmage.

"It was very important [because] we had to keep control of the ball, and let the clock run out, so that we could just eventually win the game," said Burton, when asked to describe the play call in the third quarter.

When asked to describe the play of Burton, Currant commented by saying, "[He's] unbelievable player. He's one of the best backs I've ever seen. It's incredible watching it from after I hand the ball, it's like watching him make the cuts and hit the defense, and it's unbelievable."

What it means to win a championship

After losing last year to Shawsheen Regional Technical High School, both Burton and Curran explained they were overjoyed and happy to end their final season with a championship.

"I [saw] all the hurt in everyone's eyes when we lost last year," Burton said. "This year, it meant a lot to us and we knew that I didn't want to see that feeling in their eyes again, so I know it meant a lot to me to win this game."

"It's a dream come true to have another chance to go back to the Super Bowl," Curran said. "We worked so hard since August [at] captain's practice, [and] we did everything we could to get back here. We just couldn't miss the opportunity again. We knew what we had to do."

Blue Hills– 16-0-0-0--16
Boston Cathedral – 0-12-0-2 --14



First Quarter
BH – Isaiah Teixeira 45-yard pass from John Curran (Vincent Burton run)
BH – Burton one-yard run (Burton run)

Second Quarter
BC – Carlos Bermudez 44-yard pass from Matt Owens (Owens run unsuccessful)
BC – Owens three-yard run (Pass fails)

Fourth Quarter
BH – Safety
November, 29, 2011
11/29/11
11:41
PM ET
By
Andy Smith
| ESPNBoston.com


READING, Mass. -- Chelsea had the ball around midfield holding a 10-6 lead with less than a minute to bleed off the clock to come away with a win over Boston Cathedral Tuesday and head to the Division 4A Super Bowl.

Michael Stellato instructed his team to let the play clock run down to 0 and take a delay of game penalty. When the referees threw the penalty flag, the clock had only 16.5 seconds left on it. Cathedral's hope of an undefeated season came down to a punt return.

Carlos Bermudez and Geeavontie Griffith set up deep to return the punt. Chelsea did most teams would do in this situation: punt away from Griffith. In what some would consider a break for Cathedral, the ball did not go out of bounds. Rather than having about 10 seconds to go about 70 yards with no timeouts, the punt came to Bermudez outside the right hash mark.

He fielded the punt at his own 30-yard line, and decided to cut back to the left, where there was the most space. Running behind Griffith, Bermudez kept his eyes up field looking for any potential holes in the defense to break through. When he could not find any, he headed for the sideline and cut upfield.

Like dominoes, the Chelsea coverage unit was knocked down by oncoming Cathedral blockers. With no one left in front of him, Bermudez outran everyone else and got into the end zone for the game-winning touchdown as time expired, to give his team the 12-10 win.

"First I saw Geeavontie in front of me, with an amazing block... one down," he said. "Derek Welcome... another man down. Mohammed Braimah... another man down. Sage Phillipe... another man down. I kept on running, and touchdown."

"If it wasn't for my team, for my blockers, none of it would have happened," he added. "Because of them, we scored."

Slow start: Until the fourth quarter, nothing seemed to go right for Cathedral (12-0). Its quarterback Matt Owens (2-of-7, 18 yards; 8 carries, 41 yards) had three turnovers in the game (two interceptions, fumble). Griffith also lost a fumble. In the first quarter, after Chelsea (6-5) got on the board first, it was able to recover a squib kick after the ball hit of a Cathedral player. The team was able to recover, however, and score 12 points in under 2:30 to come away with the victory. It had some difficulty stopping the heavy-running attack of Chelsea.

Juan Martinez finished the game with 17 carries for 116 yards and a touchdown for the Red Devils, while Hector Rivera and Raul Flores added 68 and 38 yards on the ground respectively.

"We never gave up, we played great defense," said Cathedral coach Duane Sigsbury. "We self-destructed on offense, but our defense was unbelievable. I can't be any happier for our kids."

Owens, Griffith in the clutch: When a team needs a big play, it more often than not will put the ball in the hands of its best player. That is what Cathedral did when it faced a 4th and 18 from its own 16 midway through the fourth quarter. Owens was called for intentional grounding on the 1st down of the drive, pushing his team back 18 yards. After failing to gain yards on the next two plays, it faced fourth down with 5:35 on the clock. While conventional wisdom said Cathedral could punt and use its timeouts to get the ball back, it lined up in the shotgun.

Again going against the armchair quarterbacks, the team did not pass. Instead, Owens handed the ball off to Griffith, who ran through the defense for 32 yards, giving the team a fresh set of downs and confirming the faith Sigsbury has in his team.

High spirits: What does a coach say to his team when it has 16.5 seconds left on the clock and its only opportunity to score is on a punt return?

"We said, 'When they make that punt, there is going to be about 18 to 15 seconds left, so we're going to run Mirror Block where if we block it we're going to go get it but if not, we're going to peel off into our return," said Sigsbury. "They kicked it to Carlos and it was over."

Dramatic turnaround: This is the first year for Sigsbury as the head coach at Cathedral. After having not made the playoffs since 1994, the team is now 12-0 and headed to the Super Bowl. The players have seen a change in their environment, which has helped them achieve this success.

"Coach Sigsbury and this coaching staff has had the biggest impact on this team by far," said Griffith. "He makes sure our grades are right, makes sure we're always at practice on time, make sure we have everything down perfect. He stayed on us day in and day out. He made sure he called us at home to make sure we were in our house on time so we could get ready for the next game or next practice. He just stayed on us the whole time."

Up next: With the win, Cathedral moves on to the Division 4A Super Bowl on Saturday where it will be Blue Hills, which defeated East Boston 25-22 Tuesday.

"We're just looking forward to playing on Saturday," said Sigsbury. "It's the first Super Bowl in history for Cathedral and we're looking forward to representing our league and Cathedral the best we can."


BOSTON CATHEDRAL 12, CHELSEA 10
BC (12-0) 0 - 0 - 0 - 12 --- 12
CH (6-5) 7 - 0 - 0 - 3 --- 10


1st quarter
C - Juan Martinez 76-yard run (Martinez kick)

4th quarter
C - Martinez 33 field goal
B - Geeavontie Griffith 11 run (rush failed)
B - Carlos Bermudez 70 punt return
November, 14, 2011
11/14/11
11:32
AM ET
HOW THE CONTENDERS FARED

George Craan, Sr. RB, Concord-Carlisle - Carried 28 times for 164 yards and two scores in the Patriots' 27-0 shutout of Lincoln-Sudbury.
Casey DeAndrade, Sr. RB, East Bridgewater - Ran for 116 yards on 19 carries, and returning a kickoff 71 yards to the house, in a 16-6 loss to Mashpee.
Jonathan DiBiaso, Sr. QB, Everett - Threw for 232 yards and four touchdowns, and added 97 rushing yards and a fifth score, in the Crimson Tide's 42-20 win over Malden that clinched their 17th straight Greater Boston League title. DiBiaso is now at 97 career touchdown passes.
A.J. Doyle, Sr. QB, Catholic Memorial - In the No. 5 Knights' win over Xaverian, threw for 167 yards and three scores and added 72 rushing yards and a fourth score.
Matt Montalto, Sr. QB, Dennis-Yarmouth - Completed 14 of 15 passes for 170 yards and 3 TD, and added 124 rushing yards and two more scores on just three carries, in a 42-7 win over Sandwich.
Sacoy Malone, Sr. RB, Springfield Central - Carried 14 times for 94 yards in a 34-25 win over Holyoke, the first time since the Eagles' season-opening loss to Putnam that he's been held to under 100 yards.
T.J. Norris, Sr. RB, Longmeadow - Spraing his ankle in the opening five minutes of an 18-6 win over Minnechaug. Reports have surfaced that Norris, who has nearly 1,400 rushing yards on the season, sprained it somewhat significantly.
Matt O'Keefe, Sr. QB, Duxbury - In the Dragons' 34-7 league-clinching win over Hingham, completed 14 of 25 passes for 248 yards and four scores, and also added 95 rushing yards and a fifth score.
Melquawn Pinkney, Sr. RB, Putnam - Carried 33 times for 168 yards and two scores in the Beavers' 22-12 win over South Hadley.
Armani Reeves, Sr. RB/WR, Catholic Memorial - Opened up the floodgates in the first quarter of a 33-11 win over Xaverian, with a 92-yard touchdown scamper, before Doyle took over.
Michael Walsh, Sr. QB, Swampscott - In the Big Blue's 33-15 win over Gloucester, he was 13 of 22 passing for 251 yards and four touchdowns, and carried nine times for 63 yards. On the season, the Brown commit has over 2,900 yards of offense.

ON THE RISE

Dan Barone, Sr. QB, Holliston - In the Panthers' 48-22 win over Norton, completed a perfect 7 of 7 passes for 227 yards and three scores, and added two rushing scores.
Andrew Coke, Sr. RB, Andover - Totaled 283 yards of offense and four rushing touchdowns in a 26-21 win over Lowell.
Mike Decina, Sr. QB, Hopkinton - Threw for 300 yards and six touchdowns in the Hillers' 42-13 beatdown of Westwood.
Theo France, Sr. RB, Barnstable - Last week, it was carving up the B-R defense on the ground. This week, he had 103 receiving yards and three touchdowns, in a 20-10 win over Plymouth North.
Jordan Keli'inui, Sr. RB, Mashpee - Carried 18 times for 98 yards in the Falcons' 16-6 win over East Bridgewater.
Cam McLevedge, Sr. QB, Weymouth - Threw for four touchdowns in a 50-0 shutout of Framingham, bringing his season touchdown pass total to a Division 1-best 34.
Chucky Ortiz, Sr. RB, Woburn - Did it all in the Tanners' 24-7 win over Lexington, running for two scores, throwing for another, and kicking a field goal.
Matt Owens, Sr. QB, Boston Cathedral - Threw for 270 yards and four touchdowns in the Panthers' win over Trinity Catholic that clinched the Catholic Central Small.
Quinton Perkins, Sr. RB, Fitchburg - Ran for four touchdowns in the Red Raiders' 26-15 win over Holy Name.
Karl Sery, Sr. RB, Hudson - The Bryant commit carried 34 times for 239 yards and two scores in the Hawks' 25-14 win over Clinton.