Boston High School:

Matt Palecki
December, 7, 2012
12/07/12
12:43
AM ET
By
Chris Bradley
| ESPNBoston.com
SPRINGFIELD, Mass. –- Notes and observations from today's scrimmage between No. 1 Springfield Central, widely considered as the best team out of western Mass. this year, against St. John's-Shrewsbury, Central Mass' highest ranked team.:

Kelley the catalyst: The biggest surprise of this scrimmage was the play of St. Johns' 6-foot-6 junior forward T.J. Kelley. Kelley played second-fiddle last year to forward Matt Palecki, but with the big man graduated, Kelley appears to be taking much more of a leadership role for the Pioneers. Returning All-State forward Kamari Robinson was matched up with Kelley on several defensive possessions for Central, but Kelley never faltered or backed down. He finished around the basket through contact all night, was the Pioneers' most consistent rebounder, and, when need be, even did a little ball handling for the Pioneers.

Central's dominant frontcourt: Springfield Central's post combination of 6-foot-5 senior Kamari Robinson and 6-foot-7 sophomore Chris Baldwin could very well be the MIAA's best this year. Robinson helped lead Central to last year's Division 1 State Championship, the program's first since 1991. The Golden Eagles had trouble at times getting their bigs the ball, and St. John's 2-3 zone defense certainly didn't help matters. For example, Baldwin only had two decent looks from the post the entire third quarter.

As Baldwin becomes more comfortable playing with new teammates, Robinson takes more of an assertive role offensively, and Central improves at guard, this Golden Eagles squad has the talent to make a deep run in the state tournament.

Young guns step up for SJ: It was clear from the start tonight that Coach Bob Foley completely trusts Davon Jones with the Pioneers offense -- not bad for a sophomore who was playing safety for the Pioneers in last Saturday's Division 1 Central Super Bowl loss to Leominster. Jones showed clearly that he is one of the most reliable point guards in the Western half of the state.

Though his jumpshot may take a couple weeks to come back, Jones did a great job of running the Pioneer offense. He made a few big stops defensively, and he showed the quickness to penetrate Central's defense on many different occasions.

Freshman Adham Floyd also played a big role for the Pioneers off the bench. A highly-touted 6-foot-1 guard, Floyd stepped up and gave St. John's an extra ballhandler when Jones or senior Ken Harrington needed a breather. Sophomore Stefan Masciarelli was very efficient off the bench, scoring ten points on five shots.

Eagles' point guard woes: Cornelius Tyson was huge for Central during their state title run last season, but it looks as if for the forseeable future, Tyson won't be a part of the team due to academic ineligibility. The Golden Eagles graduated a lot of talent in the backcourt, including Lee Turner, Chris Prophet, and ESPN Boston Super Teamer Tyrell Springer. In addition, junior guard Cody Williams -- whom Central was expecting to carry the load at guard -- is out for three weeks due to an ankle injury sustained while quarterbacking the Eagles to the Division 1 West Super Bowl championship over Longmeadow. His cousin Ju'an, a junior and three-sport standout, got some significant minutes tonight at guard.

March, 28, 2012
3/28/12
6:49
PM ET
By
Brendan Hall
| ESPNBoston.com
With the unveiling of our MIAA All-State Teams for Boys and Girls late last week, the 2011-12 basketball season has come to close. But before we officially slam the book on another exciting season of hoop, and move on to spring sports, I wanted to get out a few thoughts on the landscape for next season.

To whet your appetite for the 2012-13 season, here are my early projections on the state's must-see teams to watch:

BOYS

Central Catholic - Plenty of talent returning with this squad, which captured the No. 1 overall spot in Division 1 North despite missing Luis Puello (ankle) for most of the season. ESPN Boston All-State guard Tyler Nelson returns as one of the state's top shooters, but the Raiders also return all three of their regular bigs in Joel Berroa, Doug Gemmell and Nick Cambio.

New Mission – Apparently it's never too early for bulletin board fodder, because head coach Cory McCarthy is already making some barnstorming rounds, telling ESPNBoston.com this afternoon that if the Titans don't win the Division 2 state title next year, "I should be fired." Bold, yes, but it's hard not to like a lineup of Isshiah Coleman, Nate Anderson, Greg Bridges, Damion Smith and Shaquan Murray. There is some promising talent in those ranks.

Mansfield – Folks are talking about the Hornets being one of the South region's top teams in two years' time, between promising freshman Brendan Hill and sophomore Michael Hershman. I'm of the camp that believes with those two versatile parts, paired with a terrific coach in Mike Vaughan, the future is now.

Taunton – Shaquille O'Neal Davis. That's legitimately his full name, and one you certainly will not forget by this time next year, for reasons that have nothing to do with The Big Aristotle.

West Springfield – Terriers return virtually everyone, including Chris Lipscomb, Paul Bessette, Andy McNulty, Dewey King, and leading scorer Riyadh Asad. West Side is the early favorite next year in Division 1 West.

St. John's (Shrewsbury) – Junior transfer Tarik Octave was one of the nice surprises of the playoffs, and freshman Davon Jones has shades of former Pioneers great David White all over him (Doesn't hurt that Jones was also the Pioneers' starter at safety last fall, too). A boat load of underclassmen return, including Ken Harrington and T.J. Kelley, which should more than make up for the graduation of Matt Palecki.

Danvers – Falcons graduate 6-foot-7 center George Merry, an ESPN Boston All-State selection, but return some terrific guards. Nick McKenna, Nick Bates, Eric Martin and Dan Connors can all shoot the ball, and are perfectly-suited for John Walsh's four-out offensive system. My early pick to repeat at D3 champs.

BC High – Eagles return what ought to be one of the state's best backcourts in point guard Charles Collins and ESPN Boston All-State swingman Jameilen Jones. Throw into the mix one of the region's best basketball minds in Bill Loughnane (he of four state titles) and it's hard to think of the Eagles as anything but a favorite in the South.

Springfield Central – A plethora of talent graduates, including Chris Prophet, Lee Turner, Jevaughn McMilian, and ESPN Boston Super Teamer Tyrell Springer. But All-State forward Kamari Robinson should have another terrific season, and the way Cornelius Tyson exploded onto the scene in the Division 1 state final makes us all wonder if he's about to realize the potential that many in the Springfield area have been talking about for so long.

Stoughton – Super Teamer Aaron Calixte and Defensive Player of the Year Marcus Middleton formed the state's best backcourt in 2011-12. If all goes as planned, they'll be well-equipped to defend that notion next season.

Wareham – Vikings might not endure an unbeaten regular season again next year. But another year of All-State point guard Darien Fernandez means they're not going anywhere.

GIRLS

Braintree – Wamps started three freshmen this year: Ashley Russell, Bridget Herlihy, and 6-foot-1 center Molly Reagan. Expect them in conversation for state title contention from now until their time runs out in 2015.

Archbishop Williams – Ditto the Bishops, who have two 6-foot freshmen to look forward to the next three seasons. Add in sophomores Olivia Conrad and Leah Spencer, and their fiery mouthpiece Sara Ryan, and this could be another top-five team come December 2012.

Reading – The Rockets made a flawless run through the Division 2 gauntlet, winning their first Division 2 state title in school history as one of two final unbeaten squads in Massachusetts. Two-time Middlesex MVP and ESPN Boston All-State Olivia Healy returns, as does guard Morgan O'Brien.

Andover – Golden Warriors are expected to come down to Earth with the graduation of two-time ESPN Boston Miss Basketball, Nicole Boudreau, and UConn lacrosse commit Ally Fazio. What might be overlooked amidst Andover's unprecedented run to a third straight state title is that there were plenty of terrific complimentary backcourt pieces in the underclass.

Central Catholic – Raiders treaded water after some injuries early on. But once junior forward Casey McLaughlin was back to full strength, they made a run all the way to the Division 1 North semifinals. Have to imagine they'll be in conversation again next year.
March, 14, 2012
3/14/12
1:40
AM ET
By
Jay King
| ESPNBoston.com
SPRINGFIELD, Mass. -- Last year's speed bumps, this year's dominance, everything paved a road of tribulation and reward which led to this: Springfield Central, the No. 1 team in the state, trailed St. John's 44-38 with 6:23 remaining in the state semifinals Tuesday night at the MassMutual Center.

Central coach Mike Labrie called timeout and reminded his team of a drill they used so many times in practice. He calls it "animal" –- a coach throws the ball to the basket, no fouls are called, anything goes, and the objective is for one side to score 10 points first.

Labrie knows his squad thrives when games become muddy, even possesses a unique ability to control chaos.

"Let's play animal with them," he told his players. "Who's going to win an animal game? We will."

St. John's didn't score again until less than a minute remained, and only scored three points the rest of the way. Tyrell Springer -– who finished with 18 points, 11 steals, eight rebounds and five blocks -– hammered home a put-back dunk with 2:30 left to give Central its first lead of the fourth quarter, 45-44, then captured another offensive rebound and tip-in on Central's very next possession.

When Central's mesmerizing scramble ended with the final buzzer, the Golden Eagles had seized a 52-47 victory, securing a title bout with Brockton in Saturday's MIAA Division 1 state finals at the DCU Center in Worcester.

"We kept it away from the chaos until about four minutes to go, but then they turned us over a few times down the stretch," St. John's coach Bob Foley said. "They're tall, they're athletic, they're everything."

They're everything, yet without the aptly-named Springer, they'd probably be an everything sitting at home on Saturday. When asked about the lefty kangaroo's surreal stat line, Labrie just nodded.

"I'm used to it," he said.

Used to someone briefly flirting with a quadruple-double? Dominating on both ends? Sprinting in for a putback dunk just when Central needed a bucket most? Working his way inside to clean up a teammate's miss again on the next play, despite being just 6-foot-2?

"That's what he does. And what's nice about it is that he could score 30 a game. But that wouldn't be what's best for us. He lets the game come to him, and he kind of determines, 'What's better tonight?" Labrie said.

"'Am I going to defend?' Obviously he defends all the time. 'Am I going to share the ball? Am I going to make people involved? Am I going to take it to the hole? Am I going to take the outside shot?' And tonight he just decided to take over."

Springer explained, "This game just meant so much. I was just trying to do as much as I could in every aspect of the game."

Central trailed 44-43 when Chris Prophet missed a three with 2:30 left. The ball hung suspended in the air about six inches above the rim, a level in the stratosphere very few high school players -– much less do-it-all guards –- can reach.

Springer sprung, grabbed the board and slammed it through the hoop, giving the Golden Eagles a lead they would never surrender.

"I jumped my highest. Even if it went off to the side, I knew I was up high enough to grab it," he said. "That put-back pretty much sealed the deal. After they saw that –- I looked at them and saw it, they just didn't want to play as much."

"They had a lot of momentum on that tip dunk, slam, whatever you want to call it," said St. John's center Matt Palecki, who finished with eight points. "I thought we did a good job trying to control things after that, but sometimes it's just not your day."

For Central, this journey began last year. With almost the exact ensemble as this season, the Golden Eagles finished 12-8, falling to Westfield in the Western Mass. quarterfinals.

To some observers, the season was a disappointment. But to Labrie, it was a necessary step toward reaching the mountaintop.

"Last year we got better and better. We look at this year, everyone's talking about this year. But it was last year when we made significant improvements throughout the season. It's those years where you're 12-8 that really make the difference, and all of a sudden you're 23-1," he said.

Without last year's lessons, perhaps senior guard Lee Turner would not have finished with 14 points, including a critical five-point flurry in the third quarter.

Perhaps Prophet would not have shaken off four straight missed free throws to can two in the fourth quarter, bringing Central within one point.

Perhaps Kamari Robinson and Jevaughn McMillian -- the latter of whom left during the second half with an injured ankle -- would not have done combined for 11 rebounds and four blocks while doing such an impressive job limiting Palecki inside.

Perhaps the Golden Eagles would have folded after giving up five straight points to begin the fourth quarter. Instead, they tightened their defense and turned once more to their good friend -- chaos.

"Mostly, we just gutted it out," said Labrie. "With our veteran core, you just hope you can control the last four minutes. And we did."

No update on McMillian: Labrie didn't have an update on the McMillian's status following the game, stating simply, "I'd like to get Jevaughn healthy by Saturday."

The 6-foot-7 McMillian is considered one of the premier shot blockers in Western Mass., and has proven a terrific compliment to the 6-foot-5 Robinson in the frontcourt. Brockton's Sayvonn Houston, arguably the state's premier center, would stand to benefit if McMillian is out of the lineup or less than 100 percent during the state finals.

Advanced Scouting: Labrie spent all season preparing for St. John's.

Knowing that Central might meet the Pioneers in the state semifinals –- they entered this season having won the last four Central Mass. sectional titles –- Labrie and his coaching staff scouted St. John's six times throughout the season.

"That's a pretty interesting thing that they did that because Holy Name and St. Peter's, going into the year, were the teams to beat," Foley said. "We consider that to be the ultimate compliment that they came and saw us six times."

He added, "We're hard to scout because we don't run plays. Well, we have one, but for the most part it's just motion, cutting."

Central still benefited from seeing St. John's so often, with Labrie noting that he spent plenty of time devising the best way to stop Palecki.

"He's a tremendous worker," Labrie said. "But we knew we could play behind him, as long as he doesn't post up under the hoop. He goes right all the time and we have shot blockers, so I was comfortable with that matchup."

A Successful Journey: Despite winning the past four Central Mass. sectional titles, perhaps only a few observers (Labrie obviously excluded) expected St. John's to reach the state semifinals again this season.

The first few games of the season did little to change anyone's opinion. St. John's started 3-4 as the team's starting lineup, which features two sophomores and a freshman, struggled to mesh.

Even in defeat on Tuesday, the Pioneers realized how special their turnaround was.

"We took the bumpy road to get here. It wasn't easy, we started the year 3-4, but from there we just rattled off a big winning streak," Palecki said, referring to the 16 straight wins St. John's earned before falling to Central.

"Our confidence just improved game after game. I'm just proud of the way our guys played tonight. It was a full 32-minute effort, and you can't ask for much more than that against probably the No. 1 team in the state."

Noted junior Ken Harrington, after netting seven points, "Nobody even expected us to make the playoffs this year. We slowly started coming back, under our captain Matt Palecki and Coach –- everyone bought into everything Coach said. Every game we got better, every practice we got better."

"These kids just kept on winning," Foley said. "Then we hit the districts –- and we talk about the dirt road. You saw who we had to play in the districts. We had to go through Milford, No. 5, and then Holy Name, No. 1, and then St. Peter's, No. 2. It was no easy street there and these kids took them all on. Those are the memories we look at."

"For what it's worth, we won the state championship in 2000. Yay, you get a plaque," he added with an edge of sarcasm. "The biggest thing I remember about that year is we beat Holy Name with Neil Fingleton, who was 7-feet-6. That's the game I remember. I don't remember the state championship. You look at the plaque once in a while, but the biggest plaque was the district championship. And these kids can go back to Worcester County and know we did a heck of a job this year with what we had."

This wasn't the most talented St. John's team; Palecki admitted as much. But in yet another season that featured a masterful coaching job by Foley, the St. John's name still matters.

"It means something special. When you talk about high school basketball in Massachusetts, you're talking about St. John's," Labrie said.
March, 11, 2012
3/11/12
10:37
PM ET
By
Jay King
| ESPNBoston.com
WORCESTER, Mass. -- Months ago, Davon Jones sat on a chair and practiced his shooting form on an invisible basket.
The freshman point guard for St. John's needed to improve his accuracy, and he could think of nobody better to help him than coach Bob Foley. The chair technique wasn't orthodox, but Foley's record of success makes his methods difficult to doubt. And so Jones swallowed his pride and he stuck his butt on that chair, and he shot at a rim that didn't exist.
There was a rim on Sunday during the Central Mass. Division 1 Central sectional title at WPI's Alumni Gymnasium, and Jones could hardly miss the middle of it. The point guard drilled three triples in the first half as St. John's built an early lead, and he made six straight free throws in the final minutes to fend off a St. Peter-Marian rally.
[+] Enlarge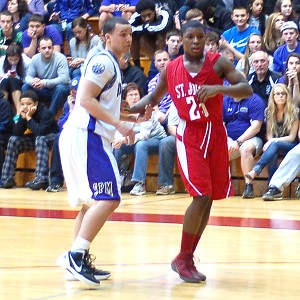 Brendan Hall/ESPNBoston.comFreshman Davon Jones (15 points), a major contributor to St. John's fifth straight district title, credited an unorthodox shooting drill for his improvement.
After scoring 15 points as the Pioneers sealed their fifth straight sectional title with a 72-63 victory, Jones attributed some of his makes to luck. But he also thought back to the hours he spent on that chair.
"I thank coach for that. Every day from the beginning of the year, I asked him to help me become a better shooter," he said.
Earlier in the week, before the Pioneers used a balance effort to hold off SPM, a number of St. John's alumni returned to the school to scrimmage the current team. Chris Harrington, Matt Harrington, Pete Richard, Chad LaBove –- the former St. John's stars all came back to help, and they collectively imparted one piece of advice:
"Just do what coach tells you," the alumni said, according to forward Ken Harrington.
"Coach has been here so many times that he knows what to do. If we just listen to him, it's going to work out for us," center Matt Palecki said.
On Sunday, Foley told his subjects to start in a 2-3 zone defense to limit Matt Mobley's penetration. The SPM star scored just five points on 2-of-4 shooting in the first half as St. John's took a 34-28 advantage into intermission.
Foley told them to box out and limit SPM's second chances. St. John's secured a 34-20 edge on the glass against one of Central Mass.'s biggest teams.
Foley told them to share the basketball. Palecki finished with 16 points, Jones had 15, Harrington added 14, Tarik Octave pitched in nine, and T.J. Kelley and Charlie Murray both scored eight.
"That's a credit to coach Foley and their system and how it works, and we would be wise to try to model it," SPM coach Marcus Watson said.
Foley left his fingerprints all over the latest Pioneers sectional championship. The coach has won more than 800 games, but this season brought unique challenges. The Pioneers start a freshman and two sophomores. Jones is a starting safety for the football team, so he took time to adjust to basketball shape once joining the team. Octave, one of the team's key subs, transferred to the school from New Hampshire prep school power Kimball Union Academy, and struggled to learn Foley's system.
In early January St. John's was 3-4, reeling after consecutive losses in the Assumption tournament, and Foley, for once, was a bit flustered.
"I was searching for answers after we lost those two games at the Assumption tournament. I'm thinking, 'What do we do? What do we do?'" Foley admitted.
What did they do? They did what Foley's teams normally do –- they focused on confidence, execution and teamwork. January's insecurities gave way to a 15-game winning streak entering Sunday's finals. Make it 16 now.
Youth became polished. Potholes were filled and smoothed. Learning is a process, and Foley was there to guide St. John's through the murky waters.
It helped that Palecki was inside the paint to stabilize everything, but Foley oversaw the transformation from a struggling young team searching for an identity into a powerhouse that hasn't lost since early January.
Octave knows what it's like to play for another coach, in another system. He took time to grasp Foley's style, but now vouches for it.
"I want to thank coach fully for having patience with me," Octave said. "My old school was a lot of one-on-ones, isolations and things like that. But at St. John's it's all teamwork –- passing, cutting, which I wasn't really used to. It's really old school, but it works. It obviously does, because we're the district champs right now."
The junior wing came off the bench to nail a trio of three-pointers, the last of which gave St. John's a 42-31 lead in the third quarter.
The Pioneers added onto the lead, eventually seizing a 48-33 advantage near the end of the third quarter before SPM raised the level of intrigue with a late run.
Brian Foley (19 points) led SPM's charge, scoring 12 points in the fourth quarter before fouling out with a minute left. Mobley came alive, netting 11 of his 16 points in the period as SPM cut the deficit to four on three separate occasions.
But Jones and Palecki drilled their free throws down the stretch and St. John's held tough to advance to the state semifinals against Western Mass. champion Springfield Central on Tuesday night at Springfield's MassMutual Center.
"Right now, those kids buy into everything that we try to do out there," coach Foley said.
The Streaky Mobley And Surging Foley:
For much of Sunday's contest, Matt Mobley failed to find shots against St. John's zone defense. The leading scorer in Central Mass. during the regular season, Mobley mustered just four shot attempts in the first half and did not score in the third quarter.
"I don't have the quickest guys. My point guard's quick, but the other guys we have aren't very quick out there. So we felt he would go by us (in man-to-man), and we thought that we could play zone. And any time he tried to penetrate, we just put two guys there and we've got Palecki behind those two guys. And it made them try to beat us with outside shots," coach Foley explained.
As usual, Mobley worked himself into a groove, pouring in 11 of his 16 points during SPM's fourth-quarter run. But those buckets all came after St. John's built a 15-point lead, and SPM was unable to get fight all the way back.
It seemed that Mobley should have been more aggressive the entire game, but SPM coach Watson said the star's early unselfishness was by design.
"I found that when we had Naadir two years ago, when he got his points our bigs didn't work as hard, because they felt, 'Why run?'" Watson said, referring to Naadir Tharpe, the former Guardians star who now plays at Kansas.
"Matt, I showed him a lot of Naadir's tapes. I took out his book and showed him: 'Look at the difference when we won games and when we lost games.' And Matt truly bought into that. If I truly turned Matt loose, I think he could have been a 30-plus point scorer."
As Mobley asserted himself in the fourth, Brian Foley dominated the painted area. The 6-foot-5 senior scored 12 of his 19 points in the final frame, teaming with Mobley to force the competitive conclusion.
"He's got a great jump shot and he does a great job on the boards too," Palecki said of Foley. "With SPM, it's pick your poison because they've got Mobley and (Steve) Flynn and Foley, too. All of them can shoot the basketball, so if you stop one of them, somebody's going to score. And tonight that was Foley for them."
The War Horse:
Early in the first half, Palecki scored a bucket inside and the St. John's student section erupted in chants of, "He's our war horse."
"It just started about halfway through the season," Foley said of the chant. "But if you watch him play, it's obvious."
"I like that chant," Palecki said before reverting to his humble self. "I just try to go out there and play defense and rebound and finish those little chippies inside. If I can do that –- I guess that's what makes the nickname stick."
The senior center finished with 16 points and nine rebounds, continually getting inside position against Flynn, Foley and Tim Berry – "some of the best post guys in Central Mass.," Palecki called them.
"He's just a beast. He's an animal," Jones said of Palecki.
And the bruiser is also a stellar captain.
"Palecki just keeps those other kids going," said Foley, adding, "He's the ringleader. He's the glue that holds us together."
"He's a great leader," added Octave. "He always gets us together. If we're down, he tells us to keep our head up. He's just a good motivator. I love him as a captain. I'm going to miss him next year."
March, 19, 2011
3/19/11
11:45
PM ET
WORCESTER, Mass. -- For every Batman, there's a Robin. Every yin has its yang.
And to St. John's Prep's Pat Connaughton, there was Steve Haladyna.
While most in the capacity crowd at the DCU Center watching Saturday's Division 1 state final between the Eagles and St. John's of Shrewsbury paid their undivided attention on the clash of two heavyweights, Prep's other scorer went about his work. Connaughton, the Notre Dame signee, went tete-a-tete with the Pioneers' Richard Rodgers (a D1 football recruit in his own right). But it was Haladyna whole stole the spotlight, doing what he does best – providing Prep's counterpunch.
[+] Enlarge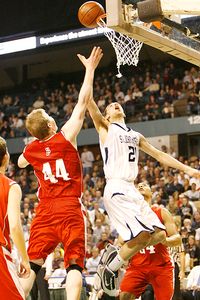 Jon Mahoney for ESPNBoston.comSteve Haladyna (29 points) was the catalyst for St. John's Prep in capturing its first state title in basketball.
"When people key in on Pat, he's tough," Eagles head coach Sean Connolly said of his senior guard. "He has an array of shots. He can hit floaters, 10-footers, he can hit threes. He's just a tough cover."
Never had Haladyna proved his mettle than the third quarter, when the 6-foot-1 silky-shooter was nearly unstoppable. Haladyna tossed in 17 of his game-high 29 points during the third stanza and had the Eagles off and running while starting the half on a 9-0 run.
"It was their pace in the first half, we only had like 28 points and they wanted a low-scoring game," Haladyna said of Prep's halftime adjustments. "We wanted to get up-and-down, so that's what we did. We didn't think they could keep up with us in the full court. We just pushed it on them and got fastbreak points."
Aside from his offensive prowess, Haladyna also harassed Pioneer ball-handlers, playing at the top of the Eagles trap.
"He caused them some problems," Connolly said, "and he does that well."
Setting the tone both offensively and defensively, Haladyna reflected on the path the Eagles blazed. Following their loss to Central Catholic in last year's Division 1 North title game at the Garden, Haladyna and his teammates pledged to put in whatever kind of work it would take to make sure 2011 ended on a positive note at the DCU Center.
As Connolly likes to instill with his running-intensive practices, the Eagles are always the best-conditioned team on the court any given night. And Prep showed their athleticism while pushing the tempo throughout, combating the Pioneers height advantage down low, between Rodgers and junior center Matt Palecki.
"We think we're in better shape than everybody we play," Haladyna said. "That's where all the hard work in practices comes in. Now, it's all paid off."
He added, "It feels awesome to put in so much hard work and win. It's just awesome."
March, 18, 2011
3/18/11
3:53
PM ET
By
Brendan Hall
| ESPNBoston.com
We've got you covered from the first tip-off to the final buzzer tomorrow at Worcester's DCU Center, home of six MIAA basketball state championships. But for now, to whet your appetite, here's high school editor Brendan Hall's picks for each of the six games.
DIVISION 3 GIRLS: LEE (24-1) VS. ST. MARY'S OF LYNN (23-4)
The Lowdown:
In a season of relative unknowns in Division 3, the Wildcats of Lee dominated Western Mass again, albeit to nobody's surprise. Puncutated by wins over Division 1 finalist Amherst and Division 3 juggernaut Sabis (which was averaging nearly 70 points per game before falling in the D3 West final to Lee), the Wildcats are at it again with that famously dogged press of theirs. Always undersized yet always relentless, they blitzed Pentucket a year ago on the DCU floor en route to their sixth state title in 20 years, and could be up to their same old tricks tomorrow morning. St. Mary's, meanwhile, has size all over the place, led by the senior "Twin Towers" of 6-foot-2 center Tori Faieta and 5-foot-11 forward Cassi Amenta. The Spartans beat Lee a month ago, 71-60, in a tournament just before the start of the MIAA playoffs.
Hall's Pick:
History says to never take Lee lightly -- no matter what shape or size it comes in. But unfortunately, there is just too much size to be accounted for on St. Mary's side of things. Not that they're unbeatable, but I just think the Spartans will control the glass.
St. Mary's, 50-45.
DIVISION 3 BOYS: WHITINSVILLE CHRISTIAN (22-2) VS. WATERTOWN (19-5)
The Lowdown:
Another matchup that on paper looks uneven, the Whitinsville Christian Crusaders boast plenty of size behind 6-foot-9 Hans Miersma, who dominated Lenox in Wednesday night's Central/West semifinal. Meanwhile, Watertown's tallest player is 6-foot-3 senior forward Connor Stockdale -- whom head coach Steve Harrington likens to another point guard on the floor -- and Marco Coppola, one of the state's leading scorers with 25 points per game. Whitinsville excels in the 2-3 zone but isn't afraid to quickly drop it and play straight man should they get into early trouble. But this is Harrington's Raiders, which means you're likely to see four things: weakside post, four out, pick and roll, perimeter shots. In other words, don't take the Raiders lightly, especially if they don't try to challenge Miersma immediately at the rim.
Hall's Pick:
The tale of the tape favors Whitinsville, just based on the size it wields in the frontcourt. But Steve Harrington is one of the best coaches in New England, and you can guarantee he's going to draw up a hell of a game plan to try and neutralize the size advantage.
Whitinsville Christian, 65-64.
DIVISION 2 GIRLS: ARLINGTON CATHOLIC (20-6) VS. MILLBURY (23-1)
The Lowdown:
The Arlington Catholic Cougars -- led by Emma Roberson, Nicole Catizone, and sisters Rachel and Maura Buckley -- can be viewed as a green bunch with all of their youth abound. But on Monday night at TD Garden, they pulled off one of the more impressive feats in recent EMass Finals history, clawing back from 18 down with six minutes left in the first half to take a halftime lead over Hopkinton and hold it up. Meanwhile, Millbury has burned opponents in the transition game all season long, beating opponents in the playoffs so far by an average of 16.5 points per game. Out on the break, seniors Julie Frankian (19.1 points, 8.3 rebounds) and Sydney Bloomstein (9.5, 6.1) have been as formidable duo as we've seen in Division 2.
Hall's Pick:
Sorry, AC. That was an amazing comeback you pulled over Hopkinton over the Garden. But this is Julie Frankian's moment in the sun.
Millbury, 60-48.
DIVISION 2 BOYS: NORTHBRIDGE (20-5) VS. NEW MISSION (21-4)
The Lowdown:
Mission was the odds-on favorite in Division 2 headed into the season, and hasn't done a whole lot to convince otherwise. Led by three Northeast-10 ready senior guards in Samir McDaniels, Kachi Nzerem and Darius Davis; as well as Charles Gunter, Leroy Hamilton, and Isshiah Coleman on the blocks; the Titans have begun to find that scoring touch around the rim that was missing for stretches this season. They also like to wear opponents out with a smothering, physical man-to-man defense -- as head coach Cory McCarthy often tells reporters, "The uglier, the better." Good news for the Titans: Northbridge relishes in that style, too. Eight of its players were on the Rams squad that won a Division 2 football Central Mass Super Bowl this past fall, and have brought that aggressive mentality to the floor with forwards (and brothers) Thomas and Harrison Murphy. Also watch out for Corey Pryor, who burned Sabis on Wednesday night with a series of uncontest layups en route to 24 points.
Hall's Pick:
Cory McCarthy is known to fill up a reporter's notebook fairly quickly with his endless arsenal of money quotes. But the one that still resonates above the rest is the one he gave our correspondent Adam Kurkjian back in
December
: "I love these kids. I would do anything for these kids. And I feel like they will eat glass for me." Remember that one if this is close in the waning minutes.
Mission, 58-47.
DIVISION 1 GIRLS: ANDOVER (26-1) VS. AMHERST (22-2)
The Lowdown:
Amherst, written off the in preseason after the transfer of Mariah Lesure to Tabor Academy, has rolled through Western Mass, and arrives in Worcester after a thrilling overtime defeat of Algonquin in Tuesday's Central/West state semifinal. Much of the Hurricanes' emergence has to do with the maturation of their junior class led by Brianna Leonard (11.1 points), Morbasaw Nkambeo (10.0) and Kristen Ferrola (9.3). The Golden Warriors, meanwhile, were one of several heavy favorites in Division 1 headed into the season, and save a lone regular-season blip to Central Catholic have done nothing to deter that thinking. Much has been made of Andover's Division 1-ready backcourt led by Marist-bound senior Natalie Gomez-Martinez and BC-bound junior Nicole Boudreau, the state's newly-anointed Gatorade Player of the Year. But the Warriors excel on the boards, too, behind junior Ally Fazio and sophomore Devon Caveney.
Hall's Pick:
At the risk of jinxing this...should Andover win, I don't think it's out of the realm to think the Warriors have a shot next season at making it the first Division 1 girls three-peat since Haverhill in the mid-90's. Long Live The MVC.
Andover, 70-60.
DIVISION 1 BOYS: ST. JOHN'S PREP (24-1) VS. ST. JOHN'S OF SHREWSBURY (21-5)
The Lowdown:
After the loss of Ryan Kelley (ACL tear) and stalemate of a Central Final defeat of Fitchburg (40-38), some questioned whether Shrewsbury was ripe for the picking. The Pioneers put an end to that doubt on Wednesday night, handling a talented Northampton squad with physical defense and clutch shooting from Matt Harrington. Head coach Bob Foley is known for his Princeton-ish offense, this year led by forward pivots Matt Palecki and Richard Rodgers, but we've seen the Pioneers transition teams to death in state championships past (Lynn English, 2009, anyone?). This marks the fourth straight D1 final appearance for SJS, while Prep is making its first appearance since 1974. The matchup of the day might be Pat Connaughton versus Rodgers (we'll just assume that's what Prep head coach Sean Connolly will do for now), but the Eagles have prided themselves all year long on the work of their role players. Every game, it's a different kid stepping up, between Steve Haladyna, Freddy Shove, Mike Carbone, Owen Marchetti and Isaiah Robinson.
Hall's Pick:
It's going to be a rockfight on the court, and both student sections are going to be rocking out. And I do mean rocking. I literally can't wait. By the way, every high school fan ever, you've got your work cut out for you after Northampton's "Full Metal Jacket" routine the other night at DCU.
Prep, 45-41.
March, 17, 2011
3/17/11
12:48
AM ET
By
Neil Carroll
| ESPNBoston.com


WORCESTER, Mass. -- Even though St. John's of Shrewsbury made just two field goals in the third quarter, the Pioneers withstood a strong run by Northampton and came away from the DCU Center with a 52-43 victory over the Blue Devils on Wednesday night, in a Division 1 state semifinal.

This marks the fourth straight year that the Pioneers are in the Division 1 state championship, having won it in 2009 over Lynn English and lost to Central Catholic in 2008 and 2010.

The Pioneers scored five points in the third quarter, but then put up 22 points in the fourth to come away with a win over the Western Mass champion Blue Devils.

"I thought our kids really gutted it out and I think a big key was our defense once again." St. John's head coach Bob Foley said.

St. John's defense made Northampton work for their points throughout the game. Jarrod Neumann -- the Blue Devils' key offensive threat -- had eight points in the second half, but was held in check by Pioneers' forward Richard Rodgers.

"When they beat my perimeter guys -- especially some of the younger guys -- Richard Rodgers was waiting for them, or Matt Palecki was waiting for them and I think that really helped us out," Foley said of his defense.

"We just knew to keep our composure and we needed to step up," Rodgers said about the game. "Matt Harrington stepped up big time. He hit a three and then a jumper and then we just kept going from there."

While Rodgers shined on defense and had 12 points on the night, it was St. John's Matt Harrington that kept the offense going when the Blue Devils made it a tight game.

Harrington was 3 of 4 from beyond the arc, and tallied 18 points against an aggressive Northampton defense. Although he was hounded in the second half by a Northampton press that kept St. John's in check in the third quarter, Harrington protected the ball well and caught fire on offense in the fourth.

"We had to get the ball moving again," Harrington said about the team's slump in the third quarter. "Northampton did a good job taking away our wing passes and our entry passes so we had to move the ball and set better screens -- and that's when our bigs opened up."

In St. John's last game against Fitchburg in the state-quarter finals, Harrington slumped, but was able to rebound when his team needed him in the semi-final.

"We knew we had the confidence in him that he could knock them down, Matt's a really good shooter," Palecki said.

The Pioneers blew the Blue Devils out in the fourth quarter and now advance to face St. John's Prep in the state finals.

"It was a great thing to get this win because we need it for our confidence going into the state championship," Rodgers said.



February, 15, 2011
2/15/11
1:32
AM ET
By
Brendan Hall
| ESPNBoston.com



FITCHBURG, Mass. -- Ryan Kelley swore it was a pass.

"It hit the rim, I wasn't supposed to do that," the senior forward joked to reporters about his St. John's teammate's tip-slam in the waning minutes of last night's 68-55 win over St. Bernard's. Up 59-49 wit three minutes left, the 6-foot-2 Kelley broke free in transition and tossed up a lay-in that kissed the glass -- and the rim -- before 6-foot-4 senior Richard Rodgers easily slammed it home one-handed, effectively putting the game away.

That would have been his eighth assist in an otherwise superb night for the 6-foot-2 Kelley, who bailed out the Pioneers (14-3) in the fourth quarter after the Bernardians (14-4) stormed back into the game with a third quarter rally that cut the lead to one. Working against a 2-3 zone, Kelley repeatedly stepped out into the wing and delivered a swift entry pass to 6-foot-6 junior Matt Palecki (17 points), who tipped it home.

Kelley was deferential after the game, particularly to Palecki -- "We've been playing together for three years, before school, after school," he noted. Palecki was nearly perfect from the field (8 of 10) as the Pioneers spoiled a festive night at the St. Bernard's Activity Center, which included a round of "Senior Night" photo-ops and a halftime ceremony honoring the recent nomination of senior John Henault (26 points, six rebounds) for the McDonald's All-American Game.

The chemistry between Kelley and Palecki is evident as the Pioneers get geared up for another Division 1 state tournament run.

"To get ready for St. Bernard's, we practiced against the 2-3 every day," Kelley said. "Every cut was made more than a couple of times, so I know where he knows to go, I know where he's going to be open, and I just throw it there. He gets there, and you know, it worked out tonight."

Said head coach Bob Foley, "Ryan Kelley, he was the key during that period of time. They were all obviously trying to play Richard Rodgers (13 points) and Kelley made some big plays, and Matt Palecki comes to the right spot and he got open and made the big plays. These are the games you wait for, you know are going to happen, and boy I'd like to see St. Bernard's go a long way."

Down 35-23 at the half, the Bernardians outscored St. John's 19-8 in the third quarter to cut the lead to 43-42, taking two brief leads along the way. Keying the run was the perimeter presence of Henault and Andrew Pierce (nine points, three 3-pointers). St. B's went 5 of 6 from long distance, and took a 40-39 lead with Henault's third trey of the game with 1:13 left in the quarter.

"We're slower than most teams, especially tonight, so we're a very perimeter-oriented team," St. B's head coach Mark Pierce said. "And we run a lot of stuff to try to get open looks, and our first half they did a pretty good job getting out on our shooters, challenging everything. I thought the third quarter especially, we did a better job setting screens, creating enough space so we can get shots off."

But from therein, the Pioneers' size advantage reclaimed momentum. With nobody to match up with St. John's frontcourt, the Bernardians' 2-3 zone struggled to slow Palecki and Rodgers at the blocks. And when they managed to size up, they left sophomore Ken Harrington (12 points, 4 for 6 on three-pointers) open on the wing; he nailed two treys in the fourth to help stave off the surge.

In all, both teams shot over 47 percent from three-point range, including a 7 for 14 night for St. John's. But there's a reason the Pioneers haven't lost to an in-state opponent since last year's Division 1 state championship, and it showed once again around the rim.

"It's not for lack of effort. I told the guys, fourth quarter they're going to go back to their bread and butter," Pierce said. "Three-four passes, reverse the ball, into the post, and sure enough...they do it very well. We stopped it half the night, and the other half we didn't, fourth quarter especially. (Palecki) got some great shots, you just catch the ball from three feet in and he's got it sealed off, it's tough."