Boston High School:

Max Athy
November, 22, 2012
11/22/12
9:15
PM ET
By
Bruce Lerch
| ESPNBoston.com


WESTWOOD, Mass. -- In the final minute of the second quarter of their annual Thanksgiving clash with Holliston, Westwood found itself facing a fourth-and-nine situation at the Panthers 14-yard line.

The Wolverines held a 14-7 lead at the time but the stakes in this game were pretty high. The winner would clinch the Tri-Valley League Large title and the playoff spot that goes with it. The loser would be handing in uniforms and equipment the next morning.

Westwood coach Ed Mantie had to weigh his options carefully. He could opt for a field goal try, not always a sure thing in high school football. He could give the ball safely to one of his two sure-handed running backs, Daniel Roache or Brandon Rodenbush, with the hope that one of them might break through the line, or let dynamic Alex Berluti just keep it himself. Even if the Wolverines didn't produce anything, the Panthers would be pinned deep with minimal time to mount a drive.

Mantie decided throw caution to the wind and go for the jugular. Setting up in the shotgun, Berluti took the snap and faked a handoff to Roache. Holliston nose tackle Jake McLinden blew past the center and took a dive at Berluti's legs, forcing the quarterback to dance to the outside. Berluti took a couple of steps, set his feet and lofted a pass toward the back of the end zone where Pierce Dierker had gotten behind the Panthers safety and hauled down the pass for the touchdown.

The ensuing extra point gave Westwood a 21-7 lead with 31 seconds left in the half, but served as a microcosm for an aggressive nature borne out of a team's belief in itself.

"If you're getting your kids to believe we're the better team then once you have your hands around the throat you have to squeeze a little bit and that's what we tried to do," Mantie explained. "We were able to control the clock a bit at the end of the first half, get down into a position where we could take some chances. It got down to fourth down but we made it - that's the play of the game right there to push it up to 21-7 at the half."

The Wolverines inspired play continued in what was the most complete effort they put together all season en route to a 42-14 rout of Holliston (7-4) at Flahive Field. Now, Westwood (8-3) will make its first postseason appearance since winning the 2004 Super Bowl when they take on Wayland Tuesday.

"We haven't won since 2004 so to bring home the league is really great," Berluti said. "The team played really well, everyone did what they had to do. We worked hard for two weeks. We prepped hard and it was a good win today."

FAMILY AFFAIR ON THANKSGIVING
The Berluti brothers - Alex, the quarterback, and Bo, the receiver - displayed a terrific connection on this day. Alex finished with 14 completions in 17 attempts for 269 yards and three touchdowns. Bo was his main target with five catches for 107 yards and the go-ahead score at the start of the second quarter.

Westwood had scored first, courtesy of a five-yard run by Rodenbush, but Holliston came right back to tie it up when TVL MVP Max Athy broke through the middle of the defense for a 26-yard scoring jaunt. The Wolverines proceeded to march from its own 24 down to the Panthers nine, where Alex drilled Bo on a perfect slant pattern to take a 14-7 lead.

"It's nice throwing to him," Alex said. "It's fun. It was memorable. I'll have that for the rest of my life."

UP-TEMPO PACE MEANS SOMEONE HAS TO MAKE A STOP
Both teams favored the up-tempo, no-huddle offensive style that is en vogue across the nation. Holliston runs its plays so fast that the sideline chain gang had to hustle to keep up after each gain. Berluti proved equally adept at running the fast-paced spread, primarily utilizing his brother and Dierker, who finished with 72 yards and two scores on four catches.

What helped Westwood stand apart on this day was its ability to run the ball and get key stops on defense early on. Roache lugged the rock 25 times for 141 yards and a touchdown, while Rodenbush ran in a pair of scores.

Defensively, the Wolverines really only allowed a handful of the big plays that had helped Holliston win the last two TVL titles and a Super Bowl a season ago. Holliston scored on Athy's 26-yard run, then added an 85-yard TD pass from Matt Jeye to Zach Elkinson, but stalled twice in the red zone in the final frame.

"We just completely shut them down," said Rodenbush, who had an interception - as did Roache. "They came in here thinking they could run WAR all over us and we shut it down so they tried to pass and we shut that down. They couldn't do anything. This was the most confident game we've played since I've been here."

Added Mantie, "We gave up two big plays and those were their two scores. Snap after snap after snap they just kept battling. I think we controlled the line of scrimmage pretty well, I think we tackled pretty well for the most part, which is huge because Athy is such a dynamic kid. In the end, it came down to us being able to cover their guys because they were trying to throw the ball. We gave up a little bit at the end there but certainly made the plays when we had to.("



WESTWOOD 42, HOLLISTON 14

HOLLISTON (7-4) 7 0 7 0 - 14
WESTWOOD (8-3) 7 14 14 7 - 42

WW - Brandon Rodenbush 5 run (Connor Cote kick)
HO - Max Athy 26 run (Grant Slattery kick)
WW - Bo Berluti 9 pass from Alex Berluti (Cote kick)
WW - Pierce Dierker 14 pass from Alex Berluti (Cote kick)
WW - Rodenbush 3 run (kick failed)
HO - Zach Elkinson 85 pass from Matt Jeye (Slattery kick)
WW - Daniel Roache 1 run (Alex Berluti rush)
WW - Dierker 30 pass from Alex Berluti (Cote kick)
October, 15, 2012
10/15/12
1:35
PM ET
Here is the ESPN Boston Mr. Football Watch list for Week 7 of the high school season. As always, stats can be sent to editors Brendan Hall (bhall@espnboston.com) and/or Scott Barboza (sbarboza@espnboston.com)

THE CONTENDERS

Drew Belcher, Jr. QB, Reading
Threw for a pair of touchdown passes in the Rockets' 40-7 win over Lexington.

Vincent Burton, Sr. RB, Blue Hills
After surpassing 4,000 career yards a week ago, Burton joined the 500 career point club on Friday with 251 yards and four touchdowns in the Warriors' win over Southeastern.

Brian Dunlap, Soph. WR, Natick
Got going in a different way in the Red Hawks' 42-23 win over Weymouth on Friday. He had just one catch for 16 yards, but carried the ball five times for 107 yards and a score, and added a 38-yard pick-six in the fourth quarter.

Cam Farnham, Sr. WR/KR, Andover
Returned his second kickoff to the house in the Golden Warriors' 42-14 win over Lawrence, this one for 90 yards, giving him seven total touchdowns and nearly 750 all-purpose yards on the season.

Brendan Flaherty, Sr. RB, Beverly
Ran for 234 yards and two touchdowns in the Panthers' 30-14 win over Masconomet.

Troy Flutie, Jr. QB, Natick
Turned in a menacing night for the Red Hawks in their 42-23 defeat of Weymouth. He was 10-of-14 passing for 171 yards and two scores; on the ground, he carried 22 times for 215 yards and two more scores.

Marshall McCarthy, Sr. LB, Duxbury
Totaled 14 tackles and three sacks in the Dragons' 14-6 win over Pembroke.

Alex Moore, Sr. RB/S, St. John's Prep
Carried eight times for 83 yards and two touchdowns, and added a third touchdown on a 54-yard reception, in a 49-8 win over St. John's of Shrewsbury.

Nick Peabody, Sr. QB, Barnstable
In the Red Raiders' 35-6 win over Dartmouth, was 14 of 29 passing for 241 yards and two touchdowns, and ran in a third score.

C.J. Scarpa, Sr. QB, Andover
Threw for 112 yards and two scores on 4-of-5 passing in limited action in a 42-14 win over Lawrence.

Jonathan Thomas, Jr. RB, St. John's Prep
Ran for 238 yards and three touchdowns on 19 carries, including a 68-yard scamper, in the Eagles' 49-8 rout of St. John's (Shrewsbury).

Jakarrie Washington, Sr. ATH, Everett
Carried 12 times for 87 yards and three scores, and added an interception, in the Crimson Tide's 24-7 win over Xaverian.

Quron Wright, Sr. RB, Holy Name
In the Naps' 40-20 win over Milford, carried 19 times for 147 yards and four scores.

ON THE RISE

Max Athy, Sr. RB/LB, Hollison
Ran for 202 yards and two scores on 14 carries in the Panthers' 49-7 thrashing of Ashland.

Zach Bartak, Sr. QB, Greenfield
He's a quarterback by trade, with nice passing stats (778 yards, 10 TD) but the powerful runner actually leads Western Mass. in rushing (878 yards, 11 TD). Against Mohawk Trail last weekend, he completed 8-of-17 passes for 87 yards and two touchdowns, and added 15 carries for 243 yards and a third score.

Kayjuan Bynum, Sr. QB/LB, Springfield Putnam
Completed 15 of 26 passes for 218 yards and four touchdowns in a 50-8 win over Springfield Cathedral. He currently leads Western Mass. in passing yards (1,209) and leads his team in tackles.

Terrel Correia, Sr. TE, Nantucket
The Whalers tossed a 50-yard Hail Mary pass with time expired, and the 6-foot-7 UMass commit came down with it, for a thrilling 20-14 win over West Bridgewater.

Babila Fonkem, Sr. ATH, Abington
Served a number of roles for the Green Wave in their 40-21 win over Carver, rushing for a touchdown, returning a kick 78 yards for a second score, and making two interceptions on defense.

Tedaro France, Sr. WR, Barnstable
Caught four passes for 128 yards and a score in the Red Raiders' 35-6 defeat of Dartmouth.

Matt Phelan, Sr. QB, Northbridge
In the Rams' 44-6 thrashing of Nipmuc, was 13-of-18 passing for 204 yards and two touchdowns, hauled in a 34-yard touchdown reception, and added 39 yards and a fourth score on the ground on 13 carries.

Spencer Tyler, Jr. QB, Dennis-Yarmouth
Threw for 152 yards and a touchdown, and added 143 yards and two scores on the ground, in the Dolphins' 36-12 thumping of Marshfield.
September, 14, 2012
9/14/12
2:41
AM ET
NO. 19 AUBURN (1-0) AT HOLLISTON (0-1)
The Skinny: Retribution is on Holliston's mind after last year's tough 14-13 loss in Auburn, and they'll face an uphill battle in trying to return the favor on their own turf. The Panthers fell to a talented Stoughton squad last week, while Auburn looked sharp in an easy victory over Shrewsbury. Holliston's Max Athy is a playmaker on defense, but the Panthers will have their hands full against an Auburn offensive line that averages nearly 280 pounds across and has been playing together for the last two seasons.

Co-editor Scott Barboza: The Panthers have some nice athletes on defense, the Rockets line simply takes over. Auburn, 28-14.

Co-editor Brendan Hall: Rockets will win again, and this time there will be no dispute about it. Auburn, 21-6.

DENNIS-YARMOUTH (0-0) AT NO. 4 BARNSTABLE (1-0)
The Skinny: The last three results of this early-season rivalry have been decided by a total of five points, with D-Y holding a two-game win streak in the series, making this the fiercest non-Thanksgiving rivalry on Cape Cod. Barnstable figures to have the advantage offensively, with Nick Peabody leading a potent and speedy attack that is coming off a 55-3 blowout of Durfee, but the Dolphins have always devised a great defensive game plan to slow things down. The key matchup might be in the trenches, where Barnstable center Tom Grimmer is expected to square off with D-Y tackle Joe Tyo.

Barboza: I think the rivalry factor keeps this game closer than it might look otherwise. Barnstable, 25-21.

Hall: On paper, the Red Raiders have an advantage in many facets of this game. But they don't call it a "Backyard Brawl" for the seafood chowder. I'm hoping to get out of Hyannis in one piece after this one.

Barnstable, 21-20. NO. 6 LONGMEADOW (1-0) AT NO. 18 ST. JOHN'S OF SHREWSBURY (1-0)
The Skinny: St. John's may have answered any offensive questions with its 47-point outburst over Holy Name last week, but may have raised defensive ones by allowing 40 points and over 460 yards rushing. The road doesn't get any easier this week, with some calling this Longmeadow's best shot at getting an elusive win over the Pioneers. As usual, they'll do it behind a surgical Wing-T scheme, with an all-senior line led by Rob McClure and Lou Calabrese. Pioneers quarterback Andrew Smiley looked impressive in his varsity debut, and he'll be hoping for another big day from Shadrach Abrokwah to open up the middle of the field again.

Barboza: I think Longmeadow is able to play ball control and keep St. John's offense off the field. And it doesn't matter where Frankie Elder is lined up, he makes it happen. Longmeadow, 20-13.

Hall: Much like Holy Name last week, this is the year Longmeadow has to beat St. John's. But if this turns into a track meet again, I don't like the Lancers' chances. St. John's, 30-20.

NO. 1 EVERETT (1-0) AT NO. 15 SPRINGFIELD CENTRAL (1-0)
The Skinny: A season ago, Central rolled into Everett Memorial Stadium and was swiftly handed a 42-13 loss. The Golden Eagles have grown up a lot since that fateful night in Everett, reeling off 10 straight wins en route to the 2011 D1 West Super Bowl, and return many key components, including quarterback Cody Williams and defensive tackle Shawn Lockett. Everett remains unsettled, with running back Kenny Calaj's status up in the air and the quarterback situation a mystery. Last week, the Tide resorted to Gilly De Souza under center, even though he'd never played the position before, but he got the job done in a 29-7 win over Leominster. The biggest question might be whether the Eagles' secondary can contain Everett's talented perimeter players, specifically Jakarrie Washington and Jalen Felix.

Barboza: Similar to Everett's matchup with Leominster last week, Central is a strong team in its own right, but just not enough to dethrone King Crimson. Everett, 34-21.

Hall: Central might have its own "Honey Badger" (the good kind, of course), but the Tide have "Felix The Cat". Everett, 35-14.

No. 21 NEEDHAM (1-0) at No. 20 MANSFIELD (1-0)
The Skinny: Both teams rolled in the season openers last week, but this one could go down to the final seconds. The Rockets had a tremendous performance last week from Mike Panepinto (8 carries, 181 yards) running behind a line anchored by tackle Mitch Hildreth. Meanwhile, Mansfield claimed a 49-15 romp over Westfield. Alex Ruddy led the Hornets on defense, racking up 10 tackles (8 solo) in last week's win and will be a key to slowing down the Rockets' rushing attack.

Barboza: The scoreboard at Mansfield might malfunction trying to keep up with the scoring in this one. Needham, 35-34.

Hall: We could honestly see 800 yards of offense in this one. Mansfield, 38-34.

No. 9 BROCKTON (1-0) at No. 22 READING (1-0)
The Skinny: The question is what the Boxers will do with the momentum they gained while shutting out BC High last week. Will they ride the wave and roll over the Rockets? Or does this game have let down written all over it? The matchup to watch will be watching Rocket-armed Reading quarterback Drew Belcher operating against the Brockton secondary led by Micah Morel. Boxers QB Auggie Roberts had a huge week against BC High, running to the tune of 139 yards and two touchdowns, so the Rockets will need to slow down the triple-option threat if they're to defend their home turf.

Barboza: Made this pick in the preseason when we projected out Brockton's record through the first month of the season. Boxers are moving to 2-0. Brockton, 25-21.

Hall: Since Reading head coach John Fiore is a big pro wrestling fan (just like Scott and I), my gut tells me the Rockets will deliver a Stone Cold Stunner under the bright lights. Reading, 21-20.

NO. 17 NORTH ATTLEBOROUGH (1-0) at NO. 13 BC HIGH (0-1)
The Skinny: BC High will assuredly enter this one ticked off as a bull after failing to get on the board against Brockton in Week 1. But what the Eagles will look like on offense is a whole other deal. Brendan Craven joined BC High's growing MASH unit against Brockton and should be out a month. On the other hand, North enters with a modicum of momentum after dispatching Rhode Island's No. 1 squad, La Salle Academy. Alex Jette went off for 346 all-purpose yards while scoring three touchdowns as our Player of the Week for Week 1.

Barboza: I think the X-factor is the Red Rocketeers' offensive line, which is athletics as ever, but also one of the biggest lines Don Johnson's ever seen in his tenure. North, 14-13.

Hall: I'm getting antsy here. If BC High can't pull this one out, I'm 0-2 with the Eagles and I might have to default on my mortgage. I'm still in debt to Galvo for my anti-Brockton picks. BC High, 13-6.

CENTRAL CATHOLIC (1-0) at NO. 3 ST. JOHN'S PREP (1-0)
The Skinny: The question of this matchup might be how many passes are attempted. These teams love them some ground game and, why not? With running backs like Central's Santino Brancato and Prep's Alex Moore and Jonathan Thomas, there's not a lot of incentive for airing out the ball. This one is going to be settled with three yards and a cloud of dust.

Barboza: Even though these teams could end up in a ball-control kind of game, I think there will be a couple of big running plays to be had for either side. Prep, 31-20.

Hall: As they have done in recent years, the Raiders will find a way to make this game interesting. But if they don't, then you know Prep is for real. Prep, 24-10.
November, 30, 2011
11/30/11
1:56
AM ET
By
Ryan Kilian
| ESPNBoston.com
LOWELL, Mass. --- Concord-Carlisle is heading back to Gillette Stadium for the second consecutive year, as they defeated Holliston 32-27 in one of the most exciting contests of the 2011 Eastern Massachusetts season.
Holliston (9-2) got on the board first in the opening quarter as senior quarterback Dan Barone tossed the first of his three touchdown passes on the evening to a leaping Brody Ciarcello for a 38-yard score.
[+] Enlarge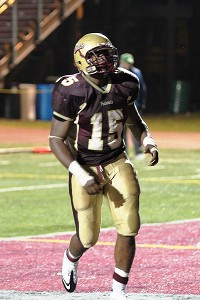 Ryan Kilian for ESPN.comC-C's George Craan (35 carries, 220 yards, 4 TDs) put in a heavy workload to keep feisty Holliston at bay.
The constant misdirection, no huddle offense and unbalanced alignments had C-C (12-0) befuddled early, as Holliston moved the ball up and down the field through the air in the first half.
"Holliston is an incredibly tough team to prepare for," said C-C head coach Mike Robichaud. "I think we did a good job against their run but they are so multi-faceted that they were able to execute in their passing game."
C-C bounced back in the second quarter on two consecutive George Craan scoring runs. The senior tailback was a workhorse on the day as he carried the ball 35 times for 220 yards and four touchdowns.
After some great back and forth play through the middle portions of the game it would come down to the final stages of the fourth quarter as both teams had critical defensive stands within the final five minutes of the game.
C-C got a final time-consuming drive that ended in a six-yard surge through the line by Craan to all but ice the game.
Barone, however, would not settle for defeat after the C-C score, as he led Holliston all the way down the field and into the end zone. The quick drive was capped off by a fantastic individual effort, as the senior signal-caller dove for the pylon and scored from five yards out to cut the lead to five, 32-27, with 35 seconds to play.
The ensuing two-point conversion attempt was unsuccessful, and the Patriots recovered the onside kick to advance to the 9 a.m. Eastern Massachusetts D3 Super Bowl game on Saturday morning at Gillette Stadium in Foxborough.
"We basically knew it was going to be a hard fought game," said Craan. "Coming into the game Coach said it was going to be a senior game so we all just had to step up."
Low Numbers, Big Effort:
Holliston had one of the smallest rosters in the 2011 Eastern Massachusetts playoffs, with 40 players. With what they lacked in numbers they made up for with experience, skill and effort as the defending Eastern Massachusetts Division 3 Super Bowl Champions did not quit at any point on the night.
"They are really well coached so they knew what we were trying to do," said Robichaud. "We kind of out physical'd them but they got us a little more one dimensional then we wanted to be."
Down Lineman:
In the fourth quarter C-C lost senior offensive lineman Owen Guattaduaro to a knee injury as they were driving toward the end zone.
After the game, instead of huddling at midfield, the team all ran over to the sideline bench to be with their fallen teammate and celebrate the win while listening to the coaches.
"It was a group effort and without my O-line I would not have got any of the yards I had," said Craan.
On Saturday's opponent Oliver Ames:
"They have an unbelievable tradition in that town", said Robichaud of Oliver Ames. "We know that they have been down for awhile but Coach (Jim) Artz has done a great job of getting them back."
CONCORD-CARLISLE 32, HOLLISTON 27
C-C (12-0) - 0 - 16 - 8 - 8 --- 32
HOL (9-2) - 8 - 6 - 7 - 6 --- 27
1st Quarter
H – Brody Ciarcello 38 pass from Dan Barone (Stephen Hennessy run)
2nd Quarter
C – George Craan 3 run (Craan run)
C – Craan 24 run (Henry Bumpus pass from Ryan Hoey)
H – Ciarcello 17 pass from Barone (rush failed)
3rd Quarter
C – Craan 4 run (Craan run)
H – Max Athy 24 pass from Barone (Barone kick)
4th Quarter
C – Craan 6 run (Tyquan Culbreath run)
H – Barone 5 run (rush failed)
October, 21, 2011
10/21/11
11:53
PM ET
By
Bruce Lerch
| ESPNBoston.com
HOPKINTON, Mass. -- Holliston quarterback Dan Barone admitted, with a big smile on his face, to being a little tired following last night's Tri-Valley League Large showdown with Hopkinton.

He had good reason to be both tired and smiling. The 5-10, 170-pound senior was a workhorse for the Panthers, ripping off 217 yards and two touchdowns on 28 carries as Holliston blanked the Hillers, 20-0, Friday night at David Hughes Stadium.

Both defenses really dug in and it took until nearly halftime for the game's first points to be scored. After a Hopkinton (6-1 overall, 1-1 TVL) punt set the Panthers (5-1, 2-0) up at the Hillers 48, Barone carried four times in six plays and ultimately scored from the 1 with 2:08 left in the half.

Late in third quarter, the Panthers needed just four plays to go 80 yards as Barone broke loose for a 60-yard touchdown run, taking a pitch, looking inside first, then cutting back to the outside to make it a 14-0 Panther lead with 54 seconds left in the frame.

"I just saw a cutback lane," Barone described. "I kind of ran up the right side and a seam opened up on the left so I kind of cut it back and had some great backside blocks and I was able to get free down the sideline and tried my best to get into the end zone."

Holliston was able to stall a Hillers drive when Charlie Moore recovered a fumble at his own 43. The normally fast-paced Panthers settled in for a 12-play march that took 6:28 off the clock, ending with a five-yard touchdown run by Max Athy that left just 2:28 on the game clock.

"He's the heart and soul of our team," said Holliston coach Todd Kiley in praise of Barone. "We have a lot of good players but I think he's the kid everyone looks to. When the going gets tough, he's the guy we want with the ball in his hands. As well as Jake Frechette too. It's a 1-2 punch, you could really pick either one of them."

POWER FOOTBALL FOR HOLLISTON?
Kiley noted early in the game that the Hopkinton defense was very focused on limiting breakaway chances for his speedy Panthers. Rather than play into it, Kiley opted to shift his offensive scheme from their regular spread to what he calls the 'WAR' set. Barone would shift from quarterback to wingback, with sophomore Steven Hennessy under center.

Out of this set, Holliston looked to pound the ball with Barone, Frechette (11-61 rushing), Athy (7-39, TD) and freshman Joe Bellomo (4-29). Hennessy would either make a short, inside pitch to one of the backs, or fake the pitch and send his runners through the middle with traps and inside handoffs.

"We've always been a team, we like to think at least, that we're a team that takes what the defense gives us," Kiley explained. "We felt they were doing a nice job against our spread. They were mixing it up so we decided to go into what we call our 'WAR' set and pound the football."

"You could tell they were defending our edge," Kiley continued. "They wanted to shut down our speed and our perimeter play and we felt there were some seams in there. They still did a nice job defending it but we started getting 6-7 yards a pop because they were defending the perimeter so much, we felt like we could take advantage of off-tackle."

BEND BUT DON'T BREAK ON 'D'
The way both defenses started the game, it looked like the winner would be a matter of which team would be the first to finally break through with a big offensive play. Barrett Hanlon finished with a game high eight tackles and an interception for Hopkinton, while teammates Alex Hulme and James Goncalves (sack) each had seven.

The Hillers also came up with a huge goal-line stop on Holliston's opening drive of the fourth quarter. The Panthers led, 14-0, and drove from their own 31 down the Hopkinton 3, but Hulme led a host of defenders in a charge to stop Barone at the 1.

Holliston did it on the interior, led by linemen Moore and Jon Schofield with six tackles apiece. Frechette added five stops and an interception in his own end zone.

Additionally, the Panthers defense allowed the Hillers to get on their side of the field just four times in eight possessions. The first ended on Frechette's interception in the end zone; the second and third stalled at the 40 and 43 yard lines respectively; and the final bid ended on the Panthers 29 in the final seconds.

"I think that's our first shutout of the year and to get it against a team like this, Hopkinton's a great team, is definitely great our defense," Barone said. "We played with a lot of heart. The coaches set a goal for us in that, if we tackled well in this game, they thought we were going to come out with a victory and I think that definitely showed tonight."

Added Kiley, "Our defense played well. They moved the ball on us but we kind of took on the bend-don't-break. [Frechette's] interception was huge. That's just a senior, a four-year starter for us, making a play when it counts. He's a kid that's a warrior. When the going gets tough, thats when he gets better too."

HILLERS MISSING THEIR STAR
Starting quarterback Mike Decina missed last night's showdown due to a bout with mononucleosis, although he was able to stand on the sidelines with his teammates. He expected to possibly miss the next two games. Junior Hank Rudden took over under center and finished with 97 yards on 11-of-25 passing.

Decina's absence was not why Hopkinton lost this game, but he was greatly missed for a couple of reasons. First and foremost, the loss of his incredible athletic ability and experience simply cannot be overcome, especially in such a huge game such as this one. Second, the Hillers were forced to add new wrinkles to the gameplan to compensate, alternating from a Rudden-led spread offense to a 'Wildcat' scheme that featured Hulme running the ball (87 yards).

Kiley, an offensive guru who knows a thing or two about coaching great quarterbacks, had nothing but praise for Rudden afterward.

"You gotta give them credit, they battled tonight, he said. "That was a tough football team. They were down a couple of kids but they don't quit. The backup QB came in and threw the ball nicely, had a lot of composure. That's a well coached football team and we're very happy to get out of here with a win."

HOLLISTON 20, HOPKINTON 0
Holliston (5-1) 0 7 7 6 - 20
Hopkinton (6-1) 0 0 0 0 - 0

HOLL - Dan Barone 1 run (Barone kick)
HOLL - Barone 60 run (Barone kick)
HOLL - Max Athy 5 run (kick failed)