Boston High School:

Max DeLorenzo
July, 5, 2011
7/05/11
3:59
PM ET
By
Roger Brown
| ESPNBoston.com
At halftime of Saturday's Governor's Cup All-Star football game there were those who probably thought Connecticut's eight-game winning streak against Rhode Island was in jeopardy. If so, those thoughts disappeared early in the second half.

Connecticut, which led by four points at halftime, scored three touchdowns in the first 7:18 of the third quarter and cruised to a 37-6 triumph over Rhode Island at Southington High School.
It was Connecticut's 10th victory in the 13-year history of the event.
Things began to turn sour for Rhode Island when Montrell Dobbs (Ansonia) scored on a 77-yard run to help Connecticut increase its lead to 17-6.
Dobbs, who was held to two yards on five carries in the first half, finished the game with 96 yards on 10 carries. He was selected as Connecticut's offensive MVP.
"At halftime we talked about taking care of business in our house, and that's what we did in the second half," Dobbs said.
Rhode Island fumbled the ball away on the next play from scrimmage. Two plays later Connecticut's Max Delorenzo scored on a 15-yard run to help made it a 24-6 contest.
Jack DeBiase intercepted a pass on Rhode Island's next possession, and Connecticut cashed in when Joe DellaVecchia tossed a 20-yard touchdown pass to Brian Kelly.
Kelly also caught a 13-yard TD pass from Kyle Nolan. He had three receptions for 69 yards in the victory.
"We just had to fix some problems," Kelly said. "Our coach [Masuk's John Murphy] told us that if we fix our mistakes we'd win."
Connecticut's only TD in the first half came on a 59-yard TD catch by Temple-bound wide receiver Nainy Bah.
Matt Cassidy's fourth point-after kick followed Kelly's second TD reception and capped the scoring. Cassidy also made a 33-yard field goal in the first half.
The Connecticut defense set a Governor's Cup record by holding Rhode Island to six points. It was also the first time a team didn't score a touchdown in the contest. Rhode Island scored on two Chad Bacon field goals.
Defensive lineman Wille Maxen (Pomperaug) was named Connecticut's defensive MVP. Maxen, who will play at Central Connecticut State next season, made three tackles behind the line of scrimmage.
Murphy said although his team had a slim lead at halftime, he had plenty of confidence entering the third quarter.
"I watched this defense for two weeks so I knew how good we were," he said. "I knew they weren't going to score a lot of points on that defense."
August, 24, 2010
8/24/10
12:07
PM ET
Sean McQuillan, who will prep at Avon Old Farms this year after his career with Glastonbury (Conn.) High football, has committed to UConn, according to the
Hartford Courant
.
A 6-foot-4 quarterback and running back at Glastonbury,
McQuillan
joins the Class of 2014, which already has a local flair with
Taariq Allen
(Rivers),
Max DeLorenzo
(Berlin, Conn.) and
Paul Nwokeji
(Thayer Academy).
Read more on McQuillan from Scouts, Inc.:
August, 18, 2010
8/18/10
6:14
AM ET
By
Matthew Stout
| ESPNBoston.com
Kevin Callahan is entering his 11th year as head football coach at Ridgefield High School this fall. Since 2001, his Tigers have never endured a losing season. They've won nine games four times, and six or more every year but one.

And yet, they've been to the CIAC playoffs twice, playing for -- and winning -- their only state championship in 2002.
Callahan thought something was wrong with that.
"It's nice when kids understand how to win," he said, "but you have to reward winning."
Others thought so, too.
In a change met with sweeping applause from the Connecticut high school football community, the CIAC is implementing a new playoff system this fall that features fewer divisions, more teams and a venue that many feel finally fits the bill.
In recent years, the football playoffs featured four teams earning postseason berths in six divisions. This season, there are only four divisions (LL, L, M, S) but with eight teams qualifying in each, the number of playoff competitors jumps from 24 to 32. The hope is to reward the larger schools who play in more difficult divisions. Last season, three 9-1 teams (two in Class LL, one in L) didn't make the playoffs, and the seasons of four 8-2 teams ended on or around Thanksgiving. In 2008, 14 teams with eight or more wins didn't qualify.
"All other CIAC sports, you win 40 percent of your games, you're in the playoffs," said Berlin coach John Capodice, a member of the CIAC football committee. "I felt the football kids were shortchanged."
[+] Enlarge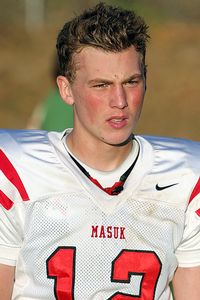 Courtesy of Dave ChoateMasuk-Monroe (Conn.) quarterback Casey Cochran is looking for a repeat performance of last year's state-best 2,968 passing yards in 2010.
It's difficult to find any detractors of the decision, aside from those who would have welcomed further expansion to include as many as 48 teams. Some, such as St. Joseph coach Joe Della Vecchia, believe the system will still keep some deserving schools out only because they're playing tougher schedules.