Boston High School:

Max Frawley
June, 13, 2013
6/13/13
1:30
AM ET
By
Brendan Hall
| ESPNBoston.com
LYNN, Mass. -– Bridgewater-Raynham's two sophomores, Jack Connolly and Andrew Noviello, were the ones who got it done on the mound to help the Trojans advance to the state championship game. Some in attendance may have been surprised, but coach John Kearney is used to it by now.
Connolly picked up the win on the mound for B-R, while Noviello picked up the save by pitching a scoreless final two innings to give the Trojans (19-3) the 5-2 victory over Billerica (18-7) in the Eastern Mass. Division 1 championship game
[+] Enlarge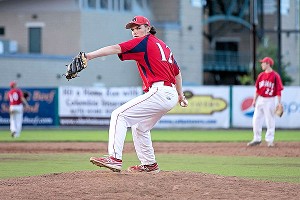 Tim Hart for ESPNBoston.com Sophomore Jack Connolly picked up the win for Bridgewater-Raynham, which is making its first ever Division 1 State Final appearance on Saturday.
"[Connolly] had been scuffling, that's how he pitched during the regular season,: Kearney said. "He gave us more than we expected. Our pitching has been pretty good all year, it really has been a real solid plus for us all year. We were hoping to get as much as we could out of Jack, and I knew if we could get it to Novi, cause he was rested, that he'd pitch just like he did tonight."
B-R got some timely hits from Tyler Glavin and Brian McSherry, Glavin drove in Tyler Carey to draw first blood in the first inning. Glavin also had an RBI on a single on a base hit in the fifth.
Kearney praised Glavin after he made the move from outfield to shortstop earlier in the year look seemingly effortless.
"Tyler moved in from where he was in the outfield all year," Kearney said. "He made all the plays at short, and the made them with some pretty fast guys at the plate. He's been getting a couple hits almost every game. Glavin had an outstanding game."
Following two straight walks after Glavin's single, McSherry ripped line drive to left field that scored Joe Freiday and David Miller.
"That bases-loaded gapper was huge huge," Kearney exclaimed, discussing McSherry's hit. "The first two swings he didn't look so good...he fouled off the third one, just barely, and then he just hit a shot. That and Sullivan's big play at second with men on were two huge plays."
B-R, while making three errors of their own, was able to capitalize on five errors by Billerica, including three in the first inning. In addition, Billerica was forced to pull starting pitcher Max Frawley early in the game. The senior walked off the field in excruciating pain, holding his right shoulder.
Billerica managed to add their second run on an error in the seventh inning, but Noviello slammed the door shut from there. Despite having a team with very little playoff experience before this year, B-R will advance to the state championship game on Saturday against Central Mass. champion Nashoba. This is the first time the Trojans have made it to the state final since moving up to Division 1.
Kearney said the calmness and confidence on the bench was due to his seniors, who combine vocal leadership with leadership by example.
"The senior leadership on this team is outstanding...those kids have been great," he said. "In the ballgame all the time, keeping the kids up, the senior leadership has been a big key for our resurgence here. They've kept the team focused from preseason. It's tremendous...this is a great feeling—that's a good Billerica team, that's a real good Billerica team."
June, 9, 2013
6/09/13
9:26
PM ET
By
Andy Smith
| ESPNBoston.com
LOWELL, Mass. -- For 30 years, the mystique and aura of Atlanta Braves pitching great Tom Glavine has hung over the Billerica High School baseball program.

Glavine was on the mound pitching for Indians in 1983, the last time the school won the Division 1 North title. After the North title game Sunday, some on the team were left wondering if he had something to do with the team's 4-3 victory over heavily-favored St. John's Prep.

"We had an unknown person that came into our locker room and put on the bulletin board, 'The Spirit of Tommy Glavine is with you," said Billerica (18-6) coach Joe Higgins. "We don't know who did it, but I'll tell ya, I think his spirit and Gary DiSarcina's spirit, they're all here today. That was a great upset. The guys played great."

The Indians got on the board against Prep (22-2) starter Justin Snyder in the second after back-to-back singles from Max Frawley (2-for-4) and Chris Murphy (3-for-3, 3 singles). On Murphy's bloop hit to center, Frawley attempted to go first to third. The throw from center hit him in the back while he was running, sending the ball down the third base line, which allowed him to score easily.

Kyle Murphy (2-for-5) plated Robby Gambale in the third to give the team a 2-0 lead. Kyle got another RBI in the fifth when his double scored Eric Eknanian. He scored the eventual winning run after Mike Driscoll, Prep's third pitcher of the afternoon, was called for a balk. Driscoll made a move towards third, but never stepped off the rubber, causing the umpires to award Murphy home plate.

Since Dylan Lavery and Max Frawley each threw at least eight innings in Billerica's last two games, Higgins gave the ball to Murphy to start Sunday. He delivered, throwing 132 pitches in six innings, striking out eight while giving up three hits and walking six.

"I wanted to pound fastballs and try to get ahead on a lot of hitters," he said after the game. "I knew after the first time through the lineup, they would be able to time the fastball since they're a great hitting team. I worked in my change-up, which was really good for me today, and had a few good curveballs to catch them off balance. I threw a few to keep them thinking I had that in my back pocket."

As Murphy said, Prep struck the second time through the lineup. In the third inning, after Alex Moore (1-for-2, two walks) singled and Brandon Bingel (0-for-3, two walks) walked, Keith Leavitt (1-for-5) laced a double down the right field line. Both runners scored, tying the game at two, but Leavitt was thrown out at third trying to stretch the double into a triple.

Prep added another run in the fifth when Tommy Buonopane (2-for-4) scored on a wild pitch.

The Eagles put a scare into the Billerica faithful in the final two innings, but could not score the tying run. It had runners on second and third with two outs in the eighth and runners on the corners with two outs in the ninth.

On both occasions, Gambale, who came on in relief of Murphy in the seventh, was able to force a ground-out, ending any chance Prep had of tying the score.

Guaranteeing victory: After Saturday's 7-1 victory over Westford Academy, Bilerica's Eric Eknanian said the best team was going to win Sunday, and he believed his team is the best and can play with anybody.

It is one thing for a player to proclaim something like that coming off the emotional high of a state tournament semi-final victory, and it is another for it to be instilled in the fabric of a team. That belief and confidence runs through the entire Billerica team.

"We believe that 100 percent," said Robby Gambale. "We all have faith in it, we all believe in it, so we go out and prove it and do our job."

While they agree on the talent and ability of the team, they were quick to acknowledge the potency and achievements of a Prep team that came into Sunday riding a 22-game winning streak and still gave them all they could handle.

"We just beat the best team in the state, they've been ranked No. 1 all year," said Murphy. "If we play like that every day, we're going to go out and win the state championship."

As the teams exited the playing field on the way to their respective buses, some Prep players made it a point to seek out Murphy and Gambale and, in a show of good sportsmanship, congratulate them on the win and their quality pitching performances.
April, 29, 2013
4/29/13
10:40
PM ET
By
John McGuirk
| ESPNBoston.com
BILLERICA, Mass. -- Baseball is not a game that allows much time for reflection -- good or bad.

On Friday, Chelmsford was on the wrong side of a gut-wrenching, extra-inning loss to BC High. Such defeats usually have coaches wondering aloud about the overall mental state of their team's psyche after such a calamitous loss. Lions coach Mike O'Keefe was no exception.

O'Keefe's Lions returned to action Monday with a task equally as difficult as the one they encountered a short 72 hours prior. Against unbeaten Billerica, Chelmsford knew they had to get to get the bats off their shoulders to have any chance. The Lions also understood what a victory over their border rivals would do for their spiraling confidence.

Chelmsford rode that premise all the way to a 14-6 victory at Hall of Fame Field, after scoring nine runs in the third and adding five more in the fourth.

"One of the things we preach all the time here is you learn from the past but you can't live in the past," O'Keefe said. "You learn from it, you let it go and you move on. We did that today. Our kids came out and swung the bats very well today. I know these kids have confidence in themselves but it has been lacking a little bit of late. Hopefully a game like this will improve our confidence a little more."

Falling behind 1-0 early, Chelmsford (6-3) took things over for good in the third by sending 13 batters to the plate. Billerica starter Robert Gambale was effective in his first two innings on the mound, but got punched around in the third as he allowed nine runs on nine hits and the Lions grabbed a 9-1 lead.

An RBI single off the bat of Mike DeDonato (3-for-4, three RBI) followed up by a run-producing triple from Russell Olive gave Chelmsford a 2-1 lead. The Lions bats, which finished with 16 hits overall, continued to pelt Gambale in the inning. Matt Rabbito doubled in Olive. Moments later Rabbito came around on Mike Rosa's line single. The assault continued after Chelmsford loaded the bases. A fly out produced another run and DeDonato returned to the batters box and promptly blasted a two-run triple off the fence in right field.

"We knew coming in this was going to be a big test for us," said DeDonato, a junior. "That's a great team we played and we knew we needed to come out swinging or else they would've put us away. Today we swung the bats well."

Reliever Chris Murphy took over for Gambale with two outs in the third, and was able to stop the bleeding for the time being. But entering the fourth, the junior righty wasn't as fortunate. Murphy open things by issuing back-to-back walks and serving up a soft single to load the bases with nobody out. That set things up for sophomore Ben Sauter (three RBI), who drove in a pair with a hard single to right to make it 11-1.

Before the inning was over, the Lions plated three more courtesy of a Jack Campsmith single, a pass ball and an RBI single by Tommy Bishop, extending the lead to 13 runs.

The Indians (8-1) mustered a mini-comeback against Chelmsford right-hander Quinn Cooney in the fifth on the strength of a two-run double from Alec Mattar and an RBI single by Max Frawley. Billerica added single runs in the sixth and seventh innings but the deficit was much-to deep to crawl out from.

"It was great to see them battle back," Indians coach Joe Higgins said. "Even though the score was so lopsided they never quit. This was just a stinker for us today. Hopefully it's a wake up call. I hope these kids now realize they need to bear down and know they need to play every game hard right from the beginning."