Boston High School:

Max Hooper
January, 29, 2011
1/29/11
11:30
PM ET
By
Brendan Hall
| ESPNBoston.com
WOLFEBORO, N.H. -- Maybe it's the shoes. Or maybe it's Max Hooper's breakfast cereal.
"I don't know what he's eating, if it's the Wheaties," cracked his Brewster Academy teammate Naadir Tharpe. "I don't know what it is, but we're gonna make sure we keep giving my man Max Hooper the ball. That's all that matters."
And justifiably so. One night after nailing six 3-pointers in a 99-36 win over Philips Exeter, and a week after sinking six in a 99-63 win over upstart Vermont Academy, the post-graduate shooting guard was at it again Saturday afternoon at the Smith Center. The Irvine, Calif. native was 4 of 6 from long range, part of a 14-point effort, to kick-start the Bobcats as they blew the doors open in the second half en route to a 108-68 win over the Connecticut-based South Kent.
[+] Enlarge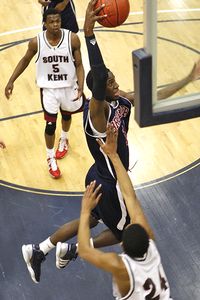 Phil Stiles for ESPNBoston.com Jakarr Sampson (16 points) put the game away in the second half with two monstrous alley-oops.
In all, Hooper's contribution was part of a 13-of-29 night from three-point range for the Bobcats. The Harvard commit was deferential, though, about his hot streak.
"That's because of my teammates," Hooper said. "I've been playing with these guys for the last six months, and we've developed a chemistry between the guards, especially Eli Carter and Naadir Tharpe. Knowing where I'm at on the wing, spotting up in transition, coming off down screens, stuff like that, in practice and open gym every day, you just get used to it.
"And then, I'm just ready to knock down my shots. I do the preparation, put in my work every day, 500 makes every day. So, that's just what helps me knock down those shots in the game."
Said the Kansas-bound Tharpe, who finished with 28 points and 10 assists, "It just opens up the court for everybody once Max starts hitting. He was knocking them down today, so we made sure to keep finding him."
To open the game, Hooper capped a 12-5 run for the Bobcats (20-0) with a three-pointer from the left wing with 13:35 left. Six minutes later, he pushed the lead out to 33-18 with two more shots from the perimeter -- first, a stepback two from the baseline, followed by a three from the right wing.
And while the Cardinal (12-6) never led in this game, they gave Brewster trouble early with a 2-3 zone that at times forced poor shot selection and unforced turnovers. Brewster still shot 44 percent from the field in the first half, and led 40-28 headed into the break, but needed to make some halftime adjustments to break this thing open.
"Mainly, it was just attack the zone," head coach Jason Smith said. "There was a lot of open gaps in the middle of the zone. We had to make sure we got ball reversal, find the shooter. And when Hooper came in the game, he can space the floor and make shots."
The Bobcats opened the second half with a 10-2 run, capped by back-to-back drive-and-kick three-pointers by Tharpe and Carter (17 points, five assists). Over the first seven minutes of the second half, Brewster outscored South Kent 21-6 to take a 61-34 lead.
And with the hot shooting opening up the floor, that gave way for St. John's-bound forward Jakarr Sampson (16 points) to show off his leaping ability with two thunderous alley-oops on the 21-6 run. Both came from the wing from Carter, and both were thunderous one-handed tomahawks.
By now, such is a regular occurrence at Brewster practices, but for Hooper "it never gets old."
"Eli, I think he's gonna shoot a floater, and then all of a sudden it turns into an alley-oop out of nowhere," Hooper laughed.
Six-foot-eight forward Maurice Harkless, another St. John's commit, led the way for South Kent with with 21 points, while Kentucky-bound guard Ge-lawn Guyn added 19 in the loss. For Brewster, junior forward Mitch McGary had a double-double (14 points, 12 rebounds) while Villanova-bound center Markus Kennedy added 10 points.
November, 22, 2010
11/22/10
10:31
AM ET
The ninth annual National Prep Showcase took place this weekend in New Haven, Connecticut. The event featured 23 of the top prep school teams in the country and well over 100 division I prospects, including some of the nation's highest-ranked players. By the time the weekend had come to an end, close to 200 college coaches had come through the doors to evaluate talent along with 30-plus members of the national and local media.

The three full days and 21 games of action provided insight on what to expect from the upcoming season as well as some intel on the world of college basketball recruiting.

Here are five lessons we came away having learned:

1. Khem Birch is a Panther…in 2011
The gym was abuzz on Saturday with news that Khem Birch had signed a National Letter of Intent with Pittsburgh, meaning that he was forgoing his intended post-graduate year at Notre Dame Prep and reclassifying from 2012 to 2011. The implications of the decision were widespread as Birch went from the second ranked player in 2012 to the ninth overall prospect in ESPNU's Super 60, Pittsburgh's recruiting class went from unranked to the 12th best in the country, and Panthers head coach Jamie Dixon solidified the highest ranked recruit he has ever landed. Birch was dominant with his performance on Friday and there is little doubt that he will be an instant impact type freshman next season in the Big East.

2. Brewster Academy has a chance to repeat
Brewster Academy was the consensus top prep school team in the country last year after scoring both the NEPSAC Class A title, as well as the National Prep Championship. And based on what we saw this weekend they have a very good chance of repeating. Head coach Jason Smith's squad is loaded at every position and returns Naadir Tharpe, the Kansas-bound floor general who was at the helm of last year's squad. That is really only the beginning as Brewster has two legitimate high-major big men inside with Markus Kennedy and Mitch McGeary, a pair of high athletic swingmen in Jakarr Sampson and Durand Johnson -- who are pledged to St. John's and Pittsburgh, respectively -- a knockdown shooter in Max Hooper, and a scoring combo-guard in Elijah Carter. The squad was dominant both times they took the court this weekend, scoring blowout wins over Fishburne Military Academy as well as Princeton Day Academy.

3. New England is loaded in 2012
The local boys defended their home turf this weekend as all of the top players in New England's class of 2012 played to rave reviews. St. Thomas More's Andre Drummond, the top-ranked player in the country, was dominant on Saturday turning in a 22-point, 16-rebound, and six-block performance with his incredible physical talents inside. The St. Mark's duo of Alex Murphy and Kaleb Tarczewski was no less impressive as Tarczewski established position inside and finished with power for 26 points and 12 rebounds. But it was Murphy who owned the glass as he pulled down a career high 17 boards while also handling most of the ball-handling responsibilities, creating for his teammates, and scoring 18 points of his own. Rhode Island native Ricardo Ledo was no less impressive on Friday night going for 30 points by showing his ability to create his own shot at virtually anytime. With all four players proving themselves against the highest levels of competition, it only reinforces that this junior class is among the best ever in New England.

4. High-Majors are desperate for big men and point guards
All six of the BCS conferences were represented by various coaches this week and almost all of them were looking for the same things -- big men and point guards. With 96 of the top 100 prospects in the ESPNU 100 having signed during the early signing period, high-major programs all around the country are starting to look for Plan B. The simple matter of fact is that there are more spots than there are suitable high-major prospects at those two crucial positions. The consequence will undoubtedly be a trickle down effect as high-major schools will settle for mid-major prospects, mid-majors will be forced to settle for low-major types, and so on.

5. Every game will be a battle in NEPSAC AAA
All eight members of the newly formed class AAA of the NEPSAC were in action this weekend. While Brewster was dominant, it was hard to establish much of a hierarchy after that. St. Thomas More, Northfield Mount Hermon, Bridgton Academy, Maine Central Institute, and South Kent all went 1-1 while New Hampton and Winchendon both suffered hard-fought losses to go 0-2. But even Winchendon and New Hampton proved plenty as the Green were arguably the grittiest team in the field and New Hampton will undoubtedly be dangerous once they get more experience with the team's offensive strategies. Outside of Brewster's supremacy, the only thing we can come away from this weekend having learned about the new league is that it will be as competitive as ever with virtually any team capable of knocking off anyone else on any night.
October, 26, 2010
10/26/10
7:37
PM ET
Brewster Academy head coach Jason Smith has confirmed to ESPNU that shooting guard
Max Hooper
has verbally committed to Harvard University for the fall of 2011.
Hooper, an Irvine, Calif. native, is doing a post-graduate year at the Wolfeboro, N.H. prep school after graduating from Mater Dei High School last spring. He is the sixth player to commit to head coach Tommy Amaker for the Class of 2011.