Boston High School:

Max Tishman
June, 4, 2012
6/04/12
1:54
PM ET
By
Brendan Hall
| ESPNBoston.com
Last Thursday, in the Red Sox' annual pre-draft press conference with the Boston media, general manager Ben Cherington was asked about the local talent, and declared "We bet there's a big leaguer this year out of New England, even if we don't know for sure who it is."
The MLB amateur draft kicks off tonight with the first round, followed by 39 more rounds over tomorrow and Wednesday, and there's probably one overwhelming guess as to who that individual might be. But the reality is it's anyone's guess –- and, with the new rules enacted by the latest Collective Bargaining Agreement, perhaps more so.
Most notable among the new rules is a tax penalty on teams that exceed the designated slot salary recommendation for the sum of their first 10 picks. Also, players taken after the 10th round cannot sign for more than $100,000 (including bonuses).
"I think the changes in the draft from an industry standpoint are generally intended to create more meritocracy, where the first player taken is the best player, and on down from there," Cherington said. "And in that, you know, spread the talent out more. I think that's part of the intent. The reality is, no matter what you do to create meritocracy in scouting, there's always going to be, you know, one player taken, and then 20 picks later a player taken that's better, no matter what the rules are."
That makes for an interesting situation for Buckingham, Browne & Nichols outfield Rhett Wiseman, the most high-profile of the bunch, with projections as high as the late first round. The state's Gatorade Player of the Year and a Vanderbilt signee, has explosive speed both on foot and at the plate, and drew as many as 75 scouts to a game last March during the Knights' spring training trip.
The Red Sox, Angels, and a slew of National League teams have shown significant interest in the Mansfield resident. But this morning, Wiseman confirmed to ESPNBoston.com that it is highly likely he will honor his commitment to Vanderbilt unless he is taken in the first 40 picks.
"I'm so excited about Vanderbilt, and I'm very fortunate with all the pro attention this spring," Wiseman said. "But what we're looking for as a family I don't think is there right now out of high school. Hopefully in three years the attention is still there and I can start my professional career after going to Vanderbilt."
Asked about a potential asking price, Wiseman said that wasn't the case.
"We took in a lot of questions about a possible asking price," Wiseman said. "But for a Vanderbilt education, it's tough to put a price on it, and a price on the college experience."
Wiseman is close friends with Tyler Beede, the Lawrence Academy righthander and 2011 ESPN Boston Mr. Baseball who turned down $2.5 million from the Blue Jays at the signing deadline last August. And he was with Beede the night he got drafted last June, watching from the living room with nearly 100 others as the Jays made him their 21st overall selection.
But tonight, the Wiseman clan is keeping it low-key. Rhett will likely head to one of the Hockomock region's favorite pizza joints, Town Spa Pizza in Stoughton, and hole up for a bite with another close friend and draft hopeful -– Lawrence Academy lefty and Wake Forest commit Max Tishman.
"We had 26 pro teams in the house over the winter, hundreds of guys come in during the season, and if I had to do it all again I wouldn't do it any other way, that's for sure," said Rhett's father, Mike Wiseman. "It is an incredible decision for a 17-year-old kid to make when you think about it. He did a great job handling it the whole way, and I've been proud of him from start to finish.
"He had some great games this year when a lot of people were in there to watch him. It was great to see everyone, I enjoyed it. I loved talking to all the scouts, talking real baseball with baseball guys."
Some other thoughts as we head into tonight's first round:
The skinny on Rhett
Wiseman put together a solid season in the ISL to win Gatorade Player of the Year, batting .444 with eight home runs, 24 RBI and 26 runs scored. But just what part of the outfield he ultimately lands on is not universally agreed upon in the scouting fraternity.
Two American League scouts offered different takes on how he projects.
"I don't know if he has the arm for right," says one scout. "I think ideally he'll end up in centerfield, because of his speed and it takes some pressure off the bat a little bit. He'll need to improve on his defense. He's not a finished product yet."
Says another, "Everyone was interested in seeing what he'd come out and do in the spring, making changes to his swing in the offseason, and I'd say he's pretty similar to the player he was last summer, but more advanced and with more years under his belt. His bat speed and running speed, there's two really useful tools right now, it's just a question of whether or not he can put it together against elite pitching."
Gens on the rise?
Virginia Tech-bound righthander Matt Tulley garners the most attention for Lowell High, and is a potential late-rounder, but the most interesting prospect to rise on the local radar this spring might be one of his teammates.
Chad Gens, a senior bound for College of San Mateo (Calif.) who roams the left side of the infield and pitches relief, doesn't have the impressive numbers of other more high-profile position players (.356, 20 runs, 14 RBI, 3 HR, 10 stolen bases; 1-1, 2 saves, 3.00 ERA, 20 K, 9 IP). But his physical tools are impressive, demonstrating power from the plate, and his athletic 6-foot-2 frame is almost prototypical.
Late last month, for instance, Gens came in for relief in the Red Raiders' game with Andover at Lelaucher Park, and was clocked at 90 miles per hour on his fastball –- and 62 on his curve.
"He's probably one of the most intriguing kids to pop up around here," says an American League scout. "His overall athletic ability makes him intriguing as a position player, he's got the raw tools and he's physical offensively.
"Going to a junior college he's viewed as more signable than a kid going to Vanderbilt, and I think that's the intriguing part. Gens is really raw and could learn a lot from the lower levels if you spend time developing him. So the question is, do you draft a kid like that this year with immaturity and raw tools, and hope you have a diamond in the rough, or do you wait?"
Lowell head coach Danny Graham says he's been told by scouts that day three is a possibility for Gens, just as it is for Tulley.
"Here's a kid who's never been in the right situation, but he eats, sleeps and drinks baseball, the whole nine yards," Graham said. "I was told by someone in the scouting bureau that talks to a bunch of people, Chad is going to get drafted somewhere around the 30th round. Whether or not any of that happens, I don't know."
Others on the cusp
At the beginning of the spring,
we targeted five players who could hear their name called
. Looking at that number again, there seems to be only one sure thing -– Wiseman, but where is anyone's guess. But there are a number of other players who could see themselves in the mix.
In addition to the aforementioned Tishman and Tulley, keep an eye out for Lexington's Chris Shaw and St. Sebastian's John Nicklas, who are both heading to Boston College.
Also keep an eye out for another one of Wiseman's future Vanderbilt teammates, Braintree rigthhander Pat Delano. Two years out from undergoing Tommy John surgery from world-renowned orthopedist Dr. James Andrews, Delano's velocity –- once clocked in the low-90's as a sophomore –- appears to be coming back. Standing 6-foot-7 and showing quality leg strength, the Bay State Conference MVP could develop into a draft-ready prospect in three years' time, if not this year.
April, 11, 2012
4/11/12
9:10
PM ET
By
Andy Smith
| ESPNBoston.com
[+] Enlarge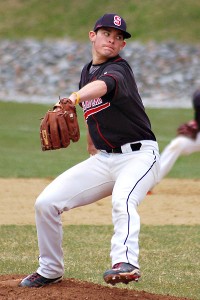 Brendan Hall/ESPNBoston.comSt. Sebastian's RHP John Nicklas, a Boston College signee, struck out 13 batters in a complete game win over Lawrence Academy.
GROTON, Mass. -- It was the baseball equivalent of two heavyweight boxers squaring off, with the winner being decided after the bout was over.
Lawrence Academy's Max Tishman and St. Sebastian's John Nicklas each took the hill for their teams Wednesday, with Nicklas and the Arrows coming away with the 3-0 victory.
Each pitcher made quick work of his opponent's lineup through the first three innings. It was not until the fourth until St. Sebastian's manufactured it's first run of the game.
After Tishman struck out Andrew Vandini to begin the inning, he walked Peter Cimini after an seven-pitch at-bat. The next batter up, Justin Bellinger, hit a rocket to left that was hit so hard it rolled underneath the wall for a ground rule double, which put runners on second and third with one out.
Tishman kept battling however, and got Alex Venditti to ground out to him for the second out of the inning and keep the runners from scoring.
Ryan Wolfsberg singled home Cimini on the first pitch of his at-bat, which proved to be all his team needed.
Nicklas was dominant on the other side for St. Sebastian's. He went seven innings, threw 121 pitches, had 13 strikeouts, while allowing only three hits and five walks.
"There were two great pitchers and competitive hitters on both sides," said St. Sebastian's coach Mike Schell. "I knew it was going to be a situation where we'd just need to win every pitch and make the pitchers work. John's stuff is great, but his competitiveness is even better. We were expecting this kind of a game to come down to the last swing."
Nicklas' biggest scare came in the fifth inning. After walking Sean Mullaney with one out in the inning, Brady Burns came up and hit a rocket that barely stayed inside the left field foul line. The ball rolled past the foul pole and was initially called a triple on the field. However, the ground rules called for any ball that rolls past the wall to be considered a ground rule double.
Therefore, instead of the tying run crossing the plate for Lawrence Academy, Mullaney had to return to third. This put runners on second and third with one out.
The next batter up, Nick Day, struck out swinging. Marcus Backlin grounded out to third, ending any hope Lawrence Academy had of scoring that inning.
Nicklas came back out for the last two innings and appeared to only get stronger. He struck out four of the last six batters he faced, giving him and his team the complete game shutout.
Tishman was replaced on the mound by Kevin Wnukowski for the final inning. St. Sebastian's tacked on two more runs in the final frame, and came away with the 3-0 victory.
Friendly Foes:
This game carried a friendly rivalry, beyond any animosity the teams had for each other. Away from the field, Nicklas and Tishman have known each other and played against each other for years.
The scouts came out to watch Tishman, even going so far as to gather on the small hill overlooking the throwing area where Tishman threw his pregame bullpen session.
When Tishman was done throwing, the scouts left to take their place behind the backstop, leaving Nicklas to throw his bullpen in peace.
Did Nicklas feel any extra emotion leading up to this game, or feel the need to match Tishman in any way because of the attention his starts bring?
"Honestly, no, because I've always been better than Tish," he began. "I've played four or five years with him now, we've played summer ball. We're literally brothers. It's just recently that he's got to be a little better than me, as a lefty."
Just kidding.
"No, we've always considered ourselves equal, in my opinion. I kind of figured it was just another day. It was a little nerve-wracking going against one of my best friends, but it was definitely fun."
Did he feel slighted at all by the scouts, seeing as they payed much less attention to his work on the bullpen than his friend's?
"Absolutely. I did notice that, actually made a mental note of that," he said. "I just kind of shook it off and knew I was going to try my best to go out and be the competitive guy that I am and just go for the win."
Battling a Complete Game:
Nicklas went into the final inning having thrown 109 pitches, and ended the game having thrown a total of 121, an almost unheard of amount of pitches this early in the spring season. He didn't want to come out of the game however, and even assured his coach keeping him in was a good idea.
"I just told him, I said, 'This is my game, I really want to finish this," he said. "He said, 'Alright, but I'm giving you a maximum of 15-20 pitches. I got right about there."
March, 30, 2012
3/30/12
2:42
PM ET
By
Brendan Hall
| ESPNBoston.com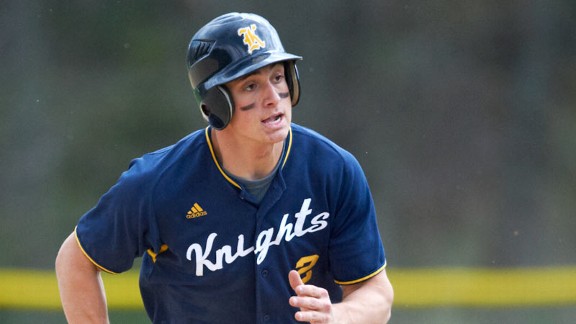 BB&NBB&N outfielder Rhett Wiseman has the potential to be taken in the first five rounds of this year's MLB Draft.
Last season at this time, we identified
eight players from Massachusetts
that would go on to get selected in June's Major League Baseball Entry Draft. Of the eight listed, six were taken, including
Lawrence Academy's Tyler Beede 21st overall to the Blue Jays
. Winnisquam (N.H.) righthander Jordan Cote
also went in the third round to the Yankees
.
By all measures, it was one of the most loaded draft classes for pitching prospects in years. This season the Bay State comes back to Earth a little bit, but it is once again a unique class. BB&N outfielder Rhett Wiseman and Lexington first baseman Chris Shaw are considered the most draft-ready prospects, something you don't see often around these parts. Typically, pitching dominates the draft classes in New England, due to their projectability from a lack of live action in the offseason.
Further complicating things this year will be the new regulations on signing draft picks under the latest Collective Bargaining Agreement, which includes a tax penalty on teams exceeding the designated salary slot recommendations for the sum of their picks in the first 10 rounds. Last year, that would have made teams more reluctant to draft prospects such as Lincoln-Sudbury's Adam Ravenelle (Vanderbilt) and St. John's Prep's Pat Connaughton (Notre Dame) -- two pitchers with first five-round potential who made their intentions to pursue college baseball well-known, and subsequently dropped all the way to day three.
With that in mind, I went over the prospects with an American League scout earlier this week, and he identified five players in Massachusetts who could possibly see their named called in June.
Rhett Wiseman, OF, BB&N
Height:
6-foot-1
Weight:
195 lbs.
Bats:
Left
Throws:
Right
Hometown:
Mansfield, Mass.
College:
Vanderbilt
2011 Stats:
.447, 12 doubles, 5 triples, 11 home runs, 29/29 stolen bases.
Scout's Take:
"Rhett is one of those outfielders who you look at and try to figure out if he can continue to progress as a Centerfielder, or if eventually you have to move him to Left because of his arm strength. The way his speed plays, you could probably keep him in center until he proves he can't handle it. Then the bat comes into play – is he a power guy or is he more of a speed guy who can make his power play? His power was on display in the bigger events last summer, but he's also shown a propensity to strike out quite a bit against top-tier pitching. Obviously the power is going to be there as he gets older, but putting the ball in play and allowing his speed to show itself more consistently will be a big piece for him. Ultimately, I think he's a gap to gap guy who will be able to hit HR's as he learns to stay within himself and take what he is given. He's shown the ability to play at a really high level, but it's going to be a matter of whether people are willing to buy into his swing. He tends to get a little stiff on his front side; if he can smooth that out and show development and the ability to go the other way a little bit, he's going to put himself into the mix. It's a tough sign because of his commitment to Vanderbilt and the new CBA rules, but I can see someone taking a chance on that."
Projection:
First five rounds.
Chris Shaw, 1B, Lexington
Height:
6-foot-3
Weight:
230 lbs.
Bats:
Left
Throws:
Right
Hometown:
Lexington, Mass.
College:
Boston College
2011 Stats:
.484, 10 doubles, 8 home runs, 27 runs; 25 IP, 49 K, 7 BB, 8 hits, 5-0, 0.00 ERA
Scout's Take:
"He's an interesting one. You go and look at him, and he's got that typical look of a power guy, goes about 6-3, 6-4 ,225, 235ish. Supposedly he's put more weight on over the winter and got stronger. Obviously, he can hit for power, the question is whether he can hit consistently for contact against upper-echelon pitchers. His swing is really smooth from the left-side and he generates some nice loft and backspin. The only issue is he tends to lose his rhythm in the box a little bit when the velocity picks up and the swings and misses can add up. That's definitely correctable as he sees more of it at the next level and learns to make adjustments on a consistent basis. He's really intent on going to BC, so you have to really believe in his bat if someone's going to make a run at signing him, but he has a chance to go pretty high if he shows a willingness to sign."
Projection:
First 15 rounds.
Max Tishman, LHP, Lawrence Academy
Height:
6-foot-2
Weight:
200 lbs.
Bats:
Left
Throws:
Left
Hometown:
Wellesley, Mass.
College:
Wake Forest
2011 Stats:
32.2 IP, 45 K, 8 BB, 8 runs, 5-0, 1.70 ERA
Scout's Take:
"He's a loose-arm lefty with a chance to throw three pitches for strikes, and he's still very projectable. He put on 25 or 30 pounds over the winter, we'll see how that plays in his development. He's got a little bit of an unorthodox delivery with a quick-tempo delivery and a high leg kick, but that creates some deception for him and he's shown the ability to repeat it, so I think you leave that alone. He flew under the radar last year, pitching at 165 pounds, but his velocity climbed from 86-87 to the 88-90 range by the end of summer. He put on that weight over the winter, and supposedly his velocity has climbed into the 88-91 range coming into this season, so who knows as weather warms up where he'll go. He's in the same boat as Jordan Cote was last year [Yankees third-round pick from Sanbornton, N.H.], where people might be climbing onto the bandwagon as the season goes on. Nice three-pitch mix there with a fastball to both sides of the plate and a slider and changeup to complement that. He works really fast out there and has shown a propensity to pitch down in the zone. He could be really interesting if his velocity holds in that 88-92 range, because there aren't many high school lefties, who can mix three pitches of that quality."
Projection:
First 15 rounds.
Matt Tulley, RHP, Lowell
Height:
6-foot-1
Weight:
200 lbs.
Bats:
Right
Throws:
Right
Hometown:
Lowell, Mass.
College:
Virginia Tech
2011 stats:
42 IP, 68 K, 7-0, 0.82 ERA; .280, 17 RBI
Scout's Take:
"He came onto the scene a little bit at some of the high profile events last summer like Area Code Games. He's similar to Barrett O'Neill [Ashland resident and Virginia freshman], where there's not a ton of projectability but his velocity is in the 88-91 range with some downward angle on his fastball and he's shown the ability to compete in the strike zone. He surprised a lot of guys at the Area Code tournament, putting his fastball by people, and complementing that by getting swings and misses with his cutter. Most people view him as a college guy right now, but that could change. His velocity climbed over the winter, and he's got a chance at the 91-92 range as well. You never know with a player like that, if someone views him as being signable, a team might make a run at him in the middle rounds
Projection:
Fringe/late rounds.
John Nicklas, RHP, St. Sebastian's
Height:
6-foot
Weight:
180 lbs.
Bats:
Right
Throws:
Right
Hometown:
Foxborough, Mass.
College:
Boston College
Scout's Take:
"Another competitor out of the ISL who's a pretty polished three-pitch, four-pitch guy. His fastball is consistently in the 87-89 range, with a cutter, curve, and changeup; he attacks with all four of those pitches. He doesn't necessarily have the projectable body you're looking for out of the high school ranks, but he's got a quick arm and really competes well. He's similar to John Gorman [former Catholic Memorial ace and BC freshman] or John Leonard from BC last year, just kind of a bulldog out there. His curve is a little bit more of a tighter two-plane breaking ball without a ton of depth and he throws it pretty firm. A lot of his pitches come in hard, and there's not a ton of separation. That's something he'll want to improve upon. Very good high school pitcher, who I expect to have a lot of success in college as well."
Projection:
Fringe/late rounds.
March, 1, 2012
3/01/12
11:45
AM ET
ESPNHS kicks off its baseball season coverage by unveiling its preseason All-State Teams for all 50 states plus the District of Columbia. A number of stars litter its Massachusetts squad, including BB&N's Rhett Wiseman, Lowell's Matt Tulley, Lexington's Chris Shaw and Braintree's Pat Delano.
You can find the entire list, which includes "Other Top Players"
by clicking here
. Below is ESPNHS' All-State Team for Massachusetts:
POSITION PLAYERS

Anthony Capuano, St. John's Prep, OF, Senior
Led SJP in hits, runs and stolen bases last year.

Jarrod Casey, Milford, OF/LHP, Senior
Batted .530 and posted an 8-1 record on the mound.

Dan Cellucci, Lincoln-Sudbury, SS, Senior
Posted a .536 BA and scored 44 runs for Division 1 state champs.

Chris McCarthy, Everett, C, Senior
Hit .585 and drove in 28 runs as a junior.

Bob Melley, BC High, C, Senior
Productive backstop has signed with UConn.

Matt O'Neil, East Longmeadow, SS/RHP, Senior
Batted .447 with 15 stolen bases last year, committed to UConn.

Christopher Shaw, Lexington, 1B/RHP, Senior
Boston College recruit hit eight home runs last year.

Ryan Summers, Westfield, C, Junior
Hit six home runs and drove in 27 last year; headed to Louisville.

Matt Tulley, Lowell, SS/RHP, Senior
Has signed to play at Virginia Tech.

Rhett Wiseman, BB&N, OF, Senior
Vanderbilt recruit hit .447 with 11 HRs and 29 SBs last year.


PITCHERS

Austin DeCarr, Xaverian, RHP/SS, Junior
Strong-armed athlete also took snaps as a quarterback in the fall.

Patrick Delano, Braintree, RHP, Senior
Big power pitcher is headed to Vanderbilt.

Tyler Dowd, Springfield Central, RHP/OF, Senior
Should be among state leaders in K's this spring.

Mike Krupczak, Springfield Cathedral, RHP, Senior
Went 7-0 with a 1.85 ERA last year.

Ryan McDonald, Acton-Boxboro, LHP, Junior
Posted a 0.90 ERA last year, striking out 71 batters over 55 innings.

Steve Moyers, East Longmeadow, LHP/OF, senior
Went 8-1 last year while posting a 0.44 ERA; career record of 23-2.

John Nicklas, St. Sebastian's, RHP, Senior
Has signed to play at Boston College.

Pat Ruotolo, Peabody, RHP, Junior
Struck out 102 batters last year, including three games of 15-plus K's.

Max Tishman, Lawrence Academy, LHP, Senior
Polished left-hander has signed with Wake Forest.

Troy Whitty, Dexter, RHP, Senior
Transferred from Oliver Ames, where he posted a 0.90 ERA last year.
July, 21, 2011
7/21/11
3:49
PM ET
The rosters for next month's Area Code Baseball Games have been finalized, and there are a handful of locals who will be participating with the New York Yankees squad.
Now in its 25th year of operation, the wood-bat tournament annually pits high school players from different geographical areas against one another, each team corresponding to a particular Major League Baseball team. Eight Major League teams will compete in this year's field, which will be held from August 5 to 10 at Blair Field in Long Beach, Calif.
Since its inception in 1987, nine Area Code Games alumni have gone on to become No. 1 overall draft picks, including this year's top pick, Gerritt Cole out of UCLA. In last month's draft, 34 of the top 100 picks had Area Code Games experience. Locally, that included Lawrence Academy's Tyler Beede, who went 21st overall to the Blue Jays.
The Northeast squad, which falls under the Yankees, features seven Bay Staters:

Pat Delano, RHP, Braintree
Riley MacEachern, RHP, Austin Prep
Buck McCarthy, C, Everett
Chris Shaw, 1B, Lexington
Max Tishman, LHP, Lawrence Academy
Matt Tulley, RHP, Lowell
Rhett Wiseman, OF, BB&N
The full roster
can be found here
.
More information, including the seven other Major League rosters and a schedule of events,
can be found here
. All four of the games on August 9 will be broadcast on ESPN3.
January, 18, 2011
1/18/11
11:54
AM ET
By
Brendan Hall
| ESPNBoston.com
Lawrence Academy junior lefthander Max Tishman verbally committed to Wake Forest University last Sunday night, making it the fourth in-state baseball prospect to commit to the Demon Deacons.

Tishman, a Wellesley native who transferred to the Groton campus after his sophomore year at Wellesley High, joins teammate Joe Napolitano, Holy Name's Aaron Fossas and Belmont Hill's Colin Egan on the list of Wake commits from the Bay State. Tishman, who is roomates with Vanderbilt commit and potential day one draft pick Tyler Beede, was also considering Boston College, Vanderbilt, UConn and Virginia before issuing his verbal commitment on Sunday night.

The story was first reported by the Boston Herald.