Boston High School:

Max Willman
June, 28, 2014
6/28/14
5:12
PM ET
By
Jeff Cox
| ESPNBoston.com
Maxwell Willman, from high school to signing autographs at the #NHLDraft. #Sabres2014Draft pic.twitter.com/UYUlhlwojk

— Buffalo Sabres (@BuffaloSabres) June 28, 2014
PHILADELPHIA – Max Willman almost gave up playing hockey last spring after the conclusion of his high school career at Barnstable High School.
Good thing he didn't. On Saturday, the Buffalo Sabres selected Willman in the fifth round of the NHL Draft. It was the ultimate reward for a year's worth of hard work and dedication to getting better, but it all might not have happened had it not been for communication with a prep school coach.
Williston-Northampton head coach Derek Cunha presented Willman with the opportunity to play a post-grad year at his school and entry into some prestigious summer showcase events, including the Beantown Classic.
[+] Enlarge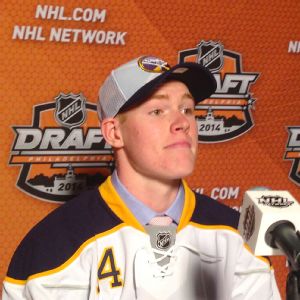 Courtesy Jeff Cox Former Barnstable standout Max Willman nearly gave up hockey before landing at Williston-Northampton for a postgraduate year. On Saturday, he answered questions in Philadelphia after being selected by the Buffalo Sabres in the NHL draft.
"Coach Cunha gave me a chance. He put me in some summer tournaments and I took advantage of it," explained Willman. "It's overwhelming and exciting. It's definitely a dream come true. Hard work pays off."
"One thing he did was he made the most of every opportunity along the way," Cunha said. "Starting with summer showcases last summer, midget hockey in the fall and then with us during the prep season, he got better and better."
It's the ultimate success story. Willman was ready to just head to Quinnipiac University as a regular student like many of his fellow graduates from Barnstable. Instead, he took Cunha up on the offer to play prep school hockey.
"When I graduated from Barnstable, I didn't have very many options. I was looking to go to Quinnipiac as a student," said Willman.
A year later, Willman has secured an offer to play college hockey at Brown University and is now a prospect in the Sabres' system, as the organization attempts to rebuild.
"Some kids level out, but Max keeps getting better. He has a lot more potential for growth," said Cunha, a Nobles & Greenough grad, who played college hockey at Holy Cross.
It wasn't that Willman wasn't a good hockey player when he skated for head coach Scott Nickerson at Barnstable. It was a matter of exposure.
"Exposure is a big thing. Not many [scouts] come down to the Cape to watch public school hockey," Willman said.
Willman isn't the flashiest player fans will ever watch, but he is the type of player who just gets the job done. He is tenacious and brings the play to his opposition.
"I have good vision and can see the ice well. I try to make my linemates around me better," said Willman when describing his game.
He is a versatile scorer that can find the back of the net in many different ways.
"He can beat defensemen one-on-one, shoot and score from the perimeter or bowl his way towards the net," said Cunha. "He really dictates the play. He forces the play and makes defensemen worried about him."
Willman will join a strong recruiting class at Brown that also includes two other locals selected in the 2014 NHL Draft: Deerfield's Sam Lafferty and Kimball Union's Tyler Bird.
"It's definitely exciting with the incoming class. I played with Sam [Lafferty] last summer and fall and played against him in prep school," said Willman, who was also looking at Providence, Union, Holy Cross and Army.
Perhaps most importantly, in the minds of the Sabres' brass, Willman is a character guy who will give his all every shift and be respected by his teammates.
"He's a character guy, he's a great kid," Sabres General Manager Tim Murray said. "He's the type of kid you want to marry your daughter. He's a smart kid going to Brown.
"Every scout on our staff all said he was a good hockey player. There wasn't one guy who said he wasn't sure on this kid. I like unanimous decisions."
Another unanimous decision around Philadelphia was that Max Willman was one of true feel good stories of the draft.
what an unreal feeling! thank you to everyone who has helped me reach this point! I'm excited and honored to be apart of the @BuffaloSabres

— Max Willman (@MaxWillman10) June 28, 2014
June, 27, 2014
6/27/14
1:44
PM ET
The NHL Draft kicks off tonight in Philadelphia and there are more than a dozen New England-bred skaters who are hoping to hear their names called during the two-day event.

Last year's local draft class was exceptionally deep, with 12 New England-born players at the secondary or junior level coming off the board.

Before getting the scouts' takes on this year's class, here's a look at the locals that made the NHL Central Scouting bureau's final North American rankings:

SKATERS

45. Shane Eiserman, C/LW, Dubuque (Cushing, St. John's Prep), 6-1 1/2, 200

58. Ryan Donato, C, Dexter, 6-0 1/4, 174

74. Miles Gendron, D, Rivers, 6-1 1/2, 181

79. Beau Starrett, C/LW, South Shore (Catholic Memorial), 6-4 1/2, 197

109. J.D. Dudek, C, Kimball Union, 5-11, 1/4, 180

116. Max Willman, C, Williston-Northampton (Barnstable), 5-11, 181

117. Tyler Bird, RW, Kimball Union (St. John's Prep), 6-1 1/2, 200

119. Bobo Carpenter, C, Sioux City (Austin Prep), 5-10, 183

147. Jonathan Barry, D, Thayer Academy, 6-1, 192

177. Billy Sweezey, D, Noble & Greenough (Archbishop Williams), 6-0 1/4, 192

184. Sam Lafferty, C/LW, Deerfield Academy, 6-0 1/2, 187

203. J.C. Brassard, D, Noble & Greenough, 5-10, 190

GOALIES

14. Joey Daccord, Cushing (North Andover), 6-2, 199

In advance of the draft, we sampled the views of a couple of NHL amateur scouts based in the area and their evaluations of the aforementioned prospects.

Shane Eiserman
One scout's take: "He's a heavy body and he plays a heavy, physical game. He finishes his checks and he's got a mean streak in him. He plays with an edge. He's a good skater and he gets around the ice well – especially in a straight line. I think he projects a third-line winger, who can provide some secondary scoring."

Scout's need to improve: Scoring touch.

Ryan Donato
One scout's take: "He has really high-end skills: great hands, super soft hands, great vision in offensive zone. So obviously that's when he's most dangerous, when he has the puck, you have to keep your head on a swivel. He has a great shot and the ability to thread a pass into a tight area."

Scout's need to improve: Skating.

Miles Gendron
One scout's take: "He's an interesting player because he's a forward-turned-defenseman. He's a kid that still needs time to learn the position, but he's heading to UConn and he's going to get great coaching from Mike Cavanaugh and Mike Souza – they've got big plans for him. He's probably the most dynamic skater in the East – a great stride, fluid, long and thin with great balance. He's a one-man breakout."

Scout's need to improve: Net-front defending.

Max Willman
One scout's take: "I think he's a kid that played at a lower level and was underrated for a while but he's really coming on strong. I think he had a great year last year and he's headed to Brown, so he's maybe a bit of a wild card, just from perspective of taking the skill set that he has, and you can see it, and applying that to the next level. You might be taking a bit of a chance, but you're getting a guy that has some really nice skill, can pass the puck as good as anyone and can shoot the puck well."

Scout's need to improve: Can he carve out role outside of top six skilled forward?

Bobo Carpenter
One scout's take: "I don't think he's a natural goal-scorer, but he has an unbelievable shot, shoots a heavy puck. He's good on the power play and he'll be utilized there. He's a very tough competitor and loves to finish checks. He's always going as hard as he can to the whistle. He loves to the play in the role of a bottom six forward, and he can fit in there because he loves to finish checks and get those dirty, greasy goals. He's going to a good place, a good school [BU] and I think he did fairly well in the USHL at the end of the season when he was there."

Scout's need to improve: Skating.

Joey Daccord
One scout's take: "He's a very technical goaltender. He handles the puck well and he's good with his stick, he can move the puck like a college player. He's very technical. He's got good size, good height, a long, rangy kid. He just has to get a little more consistent with his play."

Scout's need to improve: Game-to-game consistency.
January, 13, 2014
1/13/14
2:27
PM ET
The National Hockey League's Central Scouting bureau released its midterm rankings for the 2014 draft today.
Once again, local-based skaters littered the rankings, with St. John's Prep and Cushing Academy product Shane Eiserman leading the class. The West Newbury native was 39th among the 200-plus ranked North American skaters.
There is also a goaltender in the mix, with Thayer Academy standout Bob McGovern ranking 25th among North Americans.
Here's how the locals stacked up:
(For a look at the complete rankings, click
HERE
.)
Skaters:
39 Shane Eiserman, Dubuque - USHL (U.S. NTDP, Cushing, St. John's Prep), C/LW, 6-1.5, 200
44 Johnathan MacLeod, U.S. NTDP (Kimball Union), D, 6-1.5, 200
54 Ryan Donato, Dexter School, C, 6-0.25, 174
83 Beau Starrett, South Shore Kings - USPHL (Catholic Memorial), LW, 6-4.75, 195
85 Miles Gendron, Rivers, D, 6-1.5, 173
121 Michael Turner, Cushing Academy, LW, 6-1.5, 192
123 Tyler Bird, Kimball Union (St. John's Prep), RW, 6-1.5, 202
146 Bobo Carpenter, Austin Prep, C, 5-10, 183
157 J.D. Dudek, Kimball Union, C, 5-11.25, 178
159 Michael Lee, The Gunnery, D, 5-11.25, 165
177 Max Willman, Williston Northampton (Barnstable), LW, 6-0, 180
188 Dominic Franco, Kimball Union, RW, 6-2.75, 183
193 Billy Sweezey, Noble & Greenough, D, 6-0, 190
204 Evan Smith, Salisbury School, C, 6-0, 190
Goaltenders:
25 Bob McGovern, Thayer Academy, 6-4, 245
March, 31, 2013
3/31/13
3:58
AM ET
By
John McGuirk
| ESPNBoston.com
WORCESTER, Mass. -- Several times during Saturday's Fourth Annual Aleppo Shriners MSHCA High School Classic, South All-Star head coach Chris Ross commented to his assistant coaches Karl Infanger (Natick) and Derek Harrington (Medway) how amazing it was to be able to coach so many talented hockey players in one setting.

Ross was right. The level of talent he had at is disposal was eye-popping and certainly lived up to its billing inside the DCU Center.

Catholic Memorial's Liam Coughlin, Natick's Matt Kustra and Barnstable's Max Wilman each netted a pair of goals in leading South to a 9-2 demolition of the North All-Stars.

"All of us coaches were remarking on the bench about the amount of great talent that was out there on the ice today," said Ross, who serves as head coach at Medway High. "Our overall skill level was tremendous and it was a lot of fun to watch and coach these kids. I joked with our other coaches saying 'don't you wish you had this kind of talent during a regular high school season?' For me personally, this event is great and it is a lot of fun to be a part of."

South left little doubt as to who was the stronger team on this day. Four goals in a span of 5:26 of the opening period made believers out of everyone, including North. Xaverian's Eddie Pratt got things started with a long-range goal from the high right slot coming at 5:31. Four minutes later Wilman bagged his first with a nifty right-to-left cross over in front of Burlington High goalie Derek Decastro, beating him with a back hand for a two-goal lead. South was not done by a long shot. A Coughlin laser low glove side was followed up by a Kustra marker just 14 seconds apart giving South a commanding 4-0 lead.

"To play in a game like is pretty awesome," said Coughlin, who scored 26 goals this past season for the Knights. "It was kind of weird though playing on the same side with some guys who were our main competitors and rivals during the season. We didn't talk much but overall it was a lot of fun."

North finally broke its offensive drought early in the second as the Chelmsford High duo of Tommy Bishop and Drew Dawson joined forces. From behind the South goal, Bishop lifted a perfect feed to Dawson, out in front, who one-timed his shot past Duxbury goaltender Chris Johnson to make it a 4-1.

But any thoughts of a comeback were short-lived. Kustra made it 5-1 late in the period to send South into the intermission on top by four goals.

"At the end of this season I sprained my ankle so this was the first time I had been on the ice since then," said Kustra. "I expected to play a few shifts but to score two goals is something I never expected to have a game like this."

As if leading by four goals wasn't enough. South came out for the final period looking for more and got it.Wilman, voted the game's MVP, and Medway's Jack Kilty each found the back of the net to continue South's lamp-lighting ceremony.

"Since we hadn't practiced together prior to this game it took a little time for all of us to get use to one another on the ice but once we did we started to click," Wilman said. "For me, it's an honor to be named the MVP. I never expected to win it especially with (Liam) and a bunch of other guys who deserved it as well."

Bishop got one back for North but Dennis Medeiros (Catholic Memorial) and Coughlin closed this one out with a late goal each.
March, 28, 2013
3/28/13
9:11
PM ET
FIRST LINE
F - Liam Coughlin, Sr., Catholic Memorial
Finished third among all Division 1 players in scoring, while leading the Knights back to the Super 8 for the first time since 2009-10. The South Boston native put up 28-20-48 totals, tied for first among Catholic Conference scorers this season.
F - Ara Nazarian, Soph., Malden Catholic
ESPN Boston's Mr. Hockey award winner this season, Nazarian had 26-22-48 totals for the regular season, along with nine goals and five assists during the Super 8 tournament for the three-time defending champions. The Boxford resident and center is the first underclassman to win the Mr. Hockey award.
F – Brian Pinho, Sr., St. John's Prep
The Providence College commit led the Eagles to a No. 1 seed in this year's Super 8 tournament. The North Andover resident compiled 12-24-36 totals this season and, in January, was ranked No. 117 among North American skaters in the NHL Central Scouting's Midterm Rankings.
D – Casey Fitzgerald, Soph., Malden Catholic
The North Reading resident earned his second Super 8 title with the Lancers, playing on all defensive units and is one of two players making a second-straight appearance on our All-State team. The Boston College commit had 5-17-22 totals on the season and recently was accepted in the United States National Team Development Program's U-17 team.
D – Matt Foley, Sr., Springfield Cathedral
The two-way blue-liner finished third on the Panthers in scoring with 10-16-26 totals this year while leading them to another Super 8 apperance. A Longmeadow resident, the captain is deciding among prep schools for next year, as well as offers to play in college.
G – Peter Cronin, Sr., BC High
The only repeating First-Team All-Stater this year, Cronin finished in the top five among Division 1 netminders in both goals against average (1.40) and save percentage (94.6) while starting all 23 of the Eagles' games. He is currently considering colleges among playing opportunities at the prep school and junior levels.
SECOND LINE
F – Tom Besinger, Jr., BC High
The Eagles' top center and captain was force to reckon with in the circle, in addition to leading the Eagles with 35 points (10 goals and a team-best 25 assists).
F – Cam Owens, Sr., Wilmington
Finished his high school career with back-to-back Division 2 state championships. Owens racked up 30 points, playing alongside All-State honorable mention Brendan McDonough. Owens is currently weighing prep and junior options for next year.
F – Nolan Vesey, Sr., Austin Prep
The senior captain led the Cougars back to the Super 8 for the first time since the 2009-10 season and all the way to a finals appearance at the Garden. Vesey led AP in goals (18) and points (31) while kicking in 13 assists.
D – Nick Gorski, Sr., Central Catholic
A player who head coach Mike Jankowski repeatedly called his "most improved player" since freshman year, the Raiders captain played on all units, leading Central to another Super 8 appearance.
D – Jack Williams, Sr. Springfield Cathedral
A major component to perhaps the state's best blue-line core, Williams did a little bit of everything for the Panthers, including playing forward on power-play units. The Suffield, Conn. resident tallied four goals and 19 assists for 23 points. He is currently weighing his playing options for next season.
G – Colin Soucy, Jr., Central Catholic
The break-out star of this year's Super 8 tournament, Soucy nearly delivered the Raiders to a quarterfinal-round upset of No. 1 seed St. John's Prep in his first year as Central's starting netminder.
Best of the Rest – Honorable Mention
Forwards
Tyler Bird, Jr., St. John's Prep
Tommy Bishop, Sr., Chelmsford
Matt Brazel, Jr., Hingham
Brian Brooks, Jr., Canton
Mike Carbone, Sr., Marshfield
Bobo Carpenter, Soph., Austin Prep
A.J. Couto, Sr., Danvers
Ben Cox, Sr., Medfield
Peter Crinella, Soph., Springfield Cathedral
Cam Curley, Sr., Franklin
Sam D'Antuono, Jr., Hingham
Jordan Dow, Sr., Lincoln-Sudbury
Josh Edwards, Sr., Blue Hills
Brendan Greene, Jr., Winchester
C.J. Grinnell, Sr., Burlington
Marc Happy, Jr., Wachusett
Lloyd Hayes, Jr., Central Catholic
Kevin Hock, Frosh., Catholic Memorial
Mike Iovanna, Sr., Malden Catholic
Andrew Irving, Sr., Beverly
Connor Irving, Jr., Beverly
Ryan Jones, Sr., Coyle-Cassidy
Jack Kilty, Sr., Medway
Pat Kramer, Soph., BC High
Tom Koopman, Jr., Marblehead
Matt Kustra, Sr., Natick
Brendan McDounough, Jr., Wilmington
Anthony Lespasio, Sr., Bedford
Jack O'Hear, Sr., Catholic Memorial
Derek Petti, Sr., Tewksbury
Eddie Pratt, Sr., Xaverian
Nolan Redler, Jr., Winchester
Tyler Sifferlen, Jr., Malden Catholic
Mike Sorenti, Jr., Archbishop Williams
Sean Spohr, Sr., Westfield
Max Turcotte, Sr., Holliston
Max Willman, Sr., Barnstable
Defense
Matt Burchill, Sr., Marshfield
Derek Butler, Jr., Natick
John Carlson, Jr., Hingham
Adam Crowley, Jr., Burlington
Nick Edwards, Jr., Blue Hills
Sean Heelan, Sr., Catholic Memorial
Kurt Leavitt, Sr., Canton
Bryan Nelson, Soph., St. John's (Shrewsbury)
Nick Rolli, Jr., Malden Catholic
Ryan Shea, Frosh, BC High
Sam Topham, Sr., BC High
Goaltenders
Tim Birarelli, Soph., Beverly
Alex Buckley, Sr., Newburyport
Brandon Collett, Frosh., Catholic Memorial
Jordan Davis, Sr., Norwood
Derek DeCastro, Sr., Burlington
Drew Foley, Jr., Wilmington
Nolan Greene, Jr., North Quincy
Elijah Harris, Soph., Austin Prep
John Liquori, Jr., Springfield Cathedral
Al Lynch, Jr., Framingham
Evan Morelli, Sr., Reading
James Offner, Soph., Winchester
Nick Russo, Sr., Waltham
Jimmy Tierney, Soph., Oliver Ames
March, 4, 2013
3/04/13
12:47
AM ET
By
Mike Abelson
| ESPNBoston.com
BOURNE – It was like the tortoise and the hare except that the hare won.

Three third-period goals powered Barnstable past Weymouth 5-2 Saturday at a packed Gallo Arena. The Red Raiders advance to take on Hingham in the Division 1 South semifinals Wednesday night at Gallo.

"This team here has fought hard," Barnstable coach Scott Nickerson said. "We played well. I think we've overachieved to get where we're at. I thought we played well."

Barnstable senior Max Willman turned the game into his own personal highlight reel. Willman scored three goals, including an empty-netter to seal the deal, but both he and Nickerson said he could have done even more.

"On the score sheet it looked like he had a fantastic game, but I thought he could have had three or four more," Nickerson said. "It sounds crazy, the kid had a hat trick and I'm knocking him, but we're going to be successful because of him. If he had a couple early that he missed it could have been a little bit different."

"I had a couple of breakaways that I missed, but that happens," Willman said. "All that matters is that we picked up the W."

The Red Raiders assaulted Weymouth goalie Kurt Gutting early with 17 first-period shots, but Gutting turned aside 16 of them. Willman's first goal was answered by Weymouth's Kevin Morrissey just over two minutes later to tie the game after one.

Weymouth had a much stronger period in the second. The Wildcats were able to dictate tempo and make Barnstable junior Kevin Huska work between the pipes.

Willman scored his second of the game midway through the period, but junior forward Steve Ganley put one past Huska just 75 seconds later to tie it at two.

After that Huska locked it down and turned aside Weymouth's final nine shots. He had 17 saves during the game.

"I expect him to make saves," Nickerson said. "He's got us here. He played well tonight."

Weymouth pressed during the third period, but the attack, led by juniors Pat Coleman and Joe Flanagan, couldn't solve Huska in the final frame.

A rocket from Chris Fowler at 6:33 of the third period put the Red Raiders ahead for good. Eric Rogerzenski added the dagger for Barnstable 2:10 later.

"We had a lot of chances; lot of breakaways that we didn't capitalize on," Weymouth head coach Marty King said. "They're a real good team. We never gave up though and that's why I'm proud of them."

With a date against perennial power Hingham looming, Willman said that there was still much work for him, and the Red Raiders, to do.

"This is huge," Willman said. "It's farther than we got last year, so it's a bonus. But we've got still got to work hard to get to where we need."
February, 7, 2013
2/07/13
2:20
PM ET


BRIDGEWATER, Mass. – It looked as though Bridgewater-Raynham was going to scrap its way to an Old Colony League championship.

After the Trojans dealt No. 18 Barnstable a surprising 3-2 loss on Jan. 16 in Hyannis, B-R needed just a point out of Wednesday night's rematch with the Red Raiders at the Bridgewater Ice Arena.

The Trojans started well, building a two-goal lead early in the second period. However, Barnstable struck back with a string of four straight goals in the second and into the early third to skate away with a 6-3 win and the OCL title.

The Red Raiders (10-3-3, 3-1-0) were lifted on the heels of a four-point game for senior captain Max Willman.

"Connor [Fries] got us going early, throwing a shot on net and finding a way in," Willman said. "That just got the points going and got me going."

Fries' goal at 8:17 of the second ignited the string of Red Raiders' goals, culminating with Willman's second of the game, scored just 52 seconds into the third period.

Eric Rogorzenski potted his second point of the game with a goal 8:51 of the third, reestablishing a two-goal lead for Barnstable. Defenseman Chris Fowler added an empty-netter to give the Red Raiders their final margin of victory.

While Barnstable distanced itself in the later stages, the contest hinged on a pivotal sequence midway through the second.

Truman Daniels broke in on Barnstable goaltender Kevin Huska (19 saves) before being hauled down from behind on a breakaway with a hook. Daniels was awarded with a penalty shot on the play. On the penalty shot, Daniels dangled to try to create room for a back-hander stickside, but Huska didn't budge and gave the shooter little to aim for. Daniels shot went wide to the boards.

It provided the Red Raiders with a much-needed lift.

"He's been solid for us all year," Willman said. "He just proved tonight that he's one of the best in the state. He can get the job done."

Liam Wholly, Owen Wholly and Daniels were the goal-scorers for B-R (3-10-5, 2-1-1).
January, 20, 2013
1/20/13
1:05
AM ET
HYANNIS, Mass. -- Officially they didn't win the game, but try to tell that to the Barnstable Red Raiders.

The MIAA does not sanction overtime, so No. 15 Barnstable and No. 4 Catholic Memorial — by the books — played to a 2-2 draw tonight the Kennedy Rink in Hyannis in the first round of the Nate Nickerson Invitational. Unofficially, the Red Raiders (5-2-3) scored the only goal in a shootout, after a scoreless overtime period, to advance in the winner's bracket of the Nate Nickerson Invitational, to win the game 3-2. They will play Falmouth (Maine) tomorrow for the tournament title.

Ultimately, the tie could serve as a win for the Red Raiders, in a different way. Barnstable scheduled the game to increase the degree of difficulty on their ledger this year in hopes of impressing the Super 8 Selection Committee. Playing in the Old Colony League, the Raiders historically don't have a very difficult road to the state tournament. But, this year, they've gone out of their way to play against tougher competition in hopes of getting to the toughest tournament at the end of the year.

"For us, it goes as a tie, but it feels like a win," Barnstable head coach Scott Nickerson said. "In our minds, it's a win, and it's as big a win as we've had in this program maybe in 50 years, as long as it goes back."

If Saturday night's effort can be used as a measuring stick, the Raiders have made a pretty convincing case that they belong.

Behind a 38 save effort by junior goaltender Kevin Huska, Barnstable hung tough all night long. The home team survived a kitchen sink second period that saw Catholic Memorial (8-3-1) score twice, and outshoot them (17-2) to give themselves a chance at crunch time.

They made the most of that chance.

Seconds after Huska had skated for the bench, for an extra attacker, the Red Raiders struck to tie the game with just 1:27 left in regulation time. Senior center Max Willman forced a turnover just outside the CM blue line, stealing the puck away and sending it deep. Barnstable worked the puck around and it found the stick of junior winger Connor Fries, who flung a low wrister at the net from the right wing circle that circumvented traffic and found space between CM goalie Brandon Collett's pads to tie the contest up at two aside.

"We fought back, we never gave up," Nickerson said. "We pulled the goalie, we were able to get the equalizer and I thought we deserved that. I thought we deserved at least that. No doubt, they're a great team, that's a good program. We outworked them in the third period, which for us is where we wanted to be."

Huska shone brightest in the shootout. After Willman collected the only goal by either team in the shootout, on a beautiful backhander that he lifted to the top shelf, the goaltender stopped three straight penalty shots, with each save prettier than the one before it. First, he used his leg pad to deny Jack O'Hear, then he slid right to left to stymie Liam Coughlin. Finally he ended the game with a brilliant glove save on a shake and shimmy move by Beau Starrett before being pig-piled on by the entire Barnstable bench.



"[Huska] isn't a very good technical goalie, he absolutely isn't, but he does whatever he has to do to stop the puck," Nickerson said. "That's what wins games. I thought he played great."

Huska said it doesn't matter if it looks pretty, as long as the puck isn't behind him.

"I just go around and try to stop the puck any way I can," Huska said. "I'm not really a butterfly goalie, I just try to stop it any way that I can."

After a first period that saw Catholic Memorial carry most of the play, but leave the ice down 1-0 thanks to a nifty shorthanded goal by Eric Rogorzenski, the Knights took the ice with purpose in the second and dominated the action. CM came at Barnstable with purpose, and popped the tying goal just two minutes into the period when O'Hear flung one from the right wing circle that beat Huska to the glove side. The Barnstable goalie said after the game that that was the one shot that he wished he'd had a do-over on.

CM grabbed the lead a little over five minutes later, at the 7:40 mark of the second as they scored on a break-in. Huska made the initial save on a wrister by Starrett, but Tim Weinstein pushed in the rebound on the weak side pipe to put the Knights up 2-1.

CM had chances to pad their lead late in the period, but Huska made certain that they didn't, and he also got a little bit lucky. The junior, who plays the position in a very unorthodox manner – he compares himself to Tim Thomas – made two great stops late in the second to keep his team within one. He stoned Starrett on a tip shot, sliding across the crease and then gloved a wrister by Aaron Clancy with 1:24 to go in the frame.

With 47 seconds left, fate intervened for the Raiders. Zach Sullivan flew past the defense up the right wing boards and let a rocket fly from 25 feet out, but his shot rung the pipe and flew to the corner.

CM head coach Bill Hanson said that, while his team piled up the shots – they held a 40-19 edge in that category – they weren't the best kind.

"Never mind shots on goal … I think the number of quality scoring chances is the most important statistic," Hanson said. "We had three two-on-ones, a three-on-one, with our best guys, and they didn't get it done for us there. We didn't put ourselves in position to really score, I mean the goaltender's good, he played well, but any goalie can make a save when you shoot it right at his chest when you're not making that extra pass with the open man situation. We didn't make good decisions."
December, 27, 2012
12/27/12
4:47
AM ET


HYANNIS, Mass. – Matt Foley thinks there's no better feeling in the road than being in a hostile rink, game placed on the blade of his stick.

"You can't play in a better atmosphere than on the road," the Springfield Cathedral senior defenseman and preseason ESPN Boston All-Stater said.

With his shootout goal in Panthers' first-round game in the Cape Cod Freeze Out against host Barnstable, Foley was able to silence an otherwise rowdy barn.

No. 5 Cathedral, although dropping their first point of the season in a 3-3 tie with the Red Raiders, won the shootout 3-2 on Foley's game-clincher to advance to Thursday's tournament championship game against Newburyport.

The shootout goal was Foley's second of the evening, having knotted the score 2-2 late in the second period.

Barnstable (2-0-2) came back to grab a point from the contest as junior winger Connor Fries netted his second goal of the game at 9:53 of the third period.

The teams skated to a scoreless overtime period before heading to the shootout. Then, Barnstable and Cathedral volleyed goals back and forth through two rounds before Panthers goaltender Adam Mercer (who replaced starter John Liquori in the shootout) made the first and only stop of the shootout session. Foley then ended it with a pretty back-handed finish.

Eighth-grader Cam Peritz had the Panthers (3-0-1) to a 1-0 lead just 2:28 into the game on Artie Potter's set up from the wing.

Barnstable countered with Fries potting his first of the game, coming on a partial break. Working the left wing boards, Red Raiders leading scorer Max Willman lofted a perfect pass through the neutral zone, settling near the Panthers' blue line on the tape of Fries' stick. Fries took care of the rest with a deke and a back-hander past Liquori.

The Red Raiders then took a 2-1 lead just before the first intermission with Christian Holmes banking in a shot from the right-wing boards near the goal line.

Cathedral pulled even on Foley's goal in the second before netting the go-ahead with Dominic Blad's wrister at 2:54 of the third, with assists from Johnny Leonard and Jack Williams.

STACKING UP
With a talented returning group this season, Barnstable head coach Scott Nickerson has bulked up the Red Raiders' schedule with some of the state's top programs.

Considering his team's performance in their first "Super 8" challenge of the season, Barnstable could be primed to make some noise this postseason.

"They're a perennial powerhouse as far as I'm concerned," Nickerson said of Cathedral. "We've had good years in the past, but we haven't had the schedule too often. So we've loaded up our schedule and try to get games like this every night. I think it can only make us stronger. I thought it was a very good showing for us."

Of course, a big part of any Red Raiders run this season will be galvanized by a talented troika on their top line.

Fries and his two-goal game is just the latest cog in Barnstable's top group to rack up the goals. Willman (2 A) has come out of the gates charging with nine goals scored in the Red Raiders' last three games. Senior Eric Rogorzenski centers the line and is an adept passer with good vision.

"I think our top line is as good as any line that we've seen so far," Nickerson said. "I think they can control the game. We count on them a lot. But I think in a game like that, my first line matches up very well against everybody, but I thought they had a little bit more depth than us."

STEPPING INTO THE RUSH
Cathedral's offense is rooted in its defense, in that the Panthers' blue-liners (led by Foley and Williams) are comfortable stepping up into the rush and pushing play into their opponents' zone.

Foley showed off his offensive acumen on his second-period goal. After gloving down a failed clearing attempt at Cathedral's blue line, Foley coolly batted down the puck and started a slaloming run toward the Red Raiders' crease. He also showed a strong finish on the backhand from low in the right side faceoff circle.

While natural ability takes care of so much, Foley credits Cathedral's coaching staff with his development and comfort turning defense into offense.

"We've always had great defensive coaches, we have Coach [Mike] Rousseau, who was a great player at Holy Cross and a great coach. There's Coach Mike Ashe, who played at Clarkson," Foley said. "Offense has always been in our heads, Jack [Williams] and I, that's the type of players we are. We're not big bricks on the D end, we go both ways."

Panthers head coach Brian Foley has seen a gradual progression through the years leading up to their senior season.

"They're a big part of our offense, a big part of our team," Brian Foley said of Matt Foley and Williams. "They're veterans, they're seniors and have been around for three years. They recognize when the play's going up-ice that they can join in and maybe add some offensive opportunities. They're hungry for points and they're offensive-minded. I think that just comes through experience."


December, 22, 2012
12/22/12
11:23
PM ET
FALMOUTH, Mass. -- The sounds of Bruno Mars musing about being "Locked Out of Heaven" escaped the Barnstable High locker room tonight at the Falmouth Ice Arena. His hit song was a remix, with the backing of 20 or so Red Raiders who felt exactly the opposite way.

With a 5-2 upset of their rivals from Falmouth High School, behind a hat trick from sniper Max Willman, Barnstable (2-0-1) felt more like they'd entered the pearly gates and were having the time of their lives.

"When you've got a star player, and he plays like that, you've got a good chance of winning," Barnstable head coach Scott Nickerson said following his team's win in the first meeting between the old rivals in Falmouth's beautiful new rink. "He's a legitimate goal-scorer."

"I was just trying to do the best for my team, and it just worked out in my favor," Willman said after netting his second consecutive three-goal game for the Raiders.

Willman already has seven goals for the season.

His second of the game changed the game's complexion entirely. After a high flying first period, the two clubs settled into a slugfest defensive battle in the second period. Barnstable did not allow the Clippers a shot on goal during the first 11 minutes of the second period, but Falmouth seemed to be gaining some late momentum as they went on a late power play and were hoping to pop one behind Kevin Huska to take the lead.

A shot by Durham Ghelfi, from the high slot, knuckled toward the net and struck Huska in the face, but the keeper kept it out. Barnstable skated the puck out on a 2-on-1 break up the left wing. Eric Rogorzenski brought up the left side and went deep, before crossing it to a wide-open Willman on the right side. The Barnstable forward unleashed a rocket for the top shelf that sizzled past Cody Garcia to push the Raiders into the lead at 13:35 of the second.

The goal gave Barnstable the lead for good, and sent them to the locker room with a 3-2 lead.

"It definitely did [change the game]," Willman said. "It was a great pass from my linemate Rogo [Rogorzenski], and I just put it in the back of the net. To tell you the truth, I wasn't really looking, I just kind of shot it, just found a way.

"That was huge. That really got the boys going and it showed in the third period, and we just capitalized on everything."

Falmouth head coach Buddy Ferreira said that the short-handed goal turned things in Barnstable's favor for good, as it deflated the Clippers.

"[Eighty-five seconds] left in the period and it turned the game around, and you could see it," Ferreira said. "You try to let them know [there's plenty of hockey left], but they're kids. We didn't recover from that right away…you can't let a kid like that [have a chance]. He's a sniper."

In the third, the momentum carried over for Barnstable. The Raiders scored a dagger of a goal early in the final frame when Hayden Murphy smacked in the rebound of a Kyle Rood shot to make it 4-2 at 4:26.

Earlier in the game Rood had been glued to the bench for a while after a mistake had led to a Falmouth goal. Nickerson was pleased to see that the junior learned from the mistake and helped the third line capitalize with a huge goal.

"He got back out there, he fought and we got a goal off that effort. When you can get a goal from the third line in a big game like that, on something that they made a mistake on earlier in the game, they come back and correct it, that's nice," Nickerson said.

Less than three minutes later, Willman capped his hat trick on a penalty shot. With the Clippers killing off a penalty, defenseman Joe Meloni went down in front of the net to block a shot. He slid through the crease and the puck ended up underneath him and refs cited him for covering the puck in the crease.

Willman won his one-on-one battle with Garcia with a pretty move. He came up the right side of the slot, crossed over and backhanded a lazy slider off of a toe drag.

"I wasn't actually trying to do that, it just worked in my favor. I was going to just shoot it, but then I saw an opening," he said.

The first period was the definition of back-and-forth. Falmouth struck, and Barnstable answered. Then it happened again.

Falmouth netted the game's first goal at 9:01 of the first as third line winger Ben Boudrot netted the first goal of his high school career for the Clippers, redirecting a shot from the right point by captain Zack Zaino.

Barnstable won the ensuing draw, skated right down and tied it 16 seconds later. Willman broke up the left wing and crossed a pretty feed for Connor Fries that the junior popped past Garcia to knot it at 1-1.

The teams then traded goals a second time a bit later in the frame. At 12:06, Falmouth tri-captain Cyrus Wickersham hustled into the right wing corner to take the puck away from the Raiders defense. As Wickersham broke for the curved boards, Storm Fotiu slid through the slot and was in position to tip in a great crossing feed from his linemate to make it 2-1.

Barnstable's boisterous traveling fanbase wasn't in the dumps for long after that one as Willman brought them to their feet just 27 seconds later with an electric play.

Rogorzenski let a shot rip from the right wing circle that flew over the goal to the rear boards. Willman was the first one to it and sped out front, circling to a shooting position and rifled a wrist shot under the crossbar to send the teams to the locker rooms tied.
March, 3, 2012
3/03/12
8:05
PM ET
BOURNE, Mass. -- The Bay State League stole the show during Saturday's Division 1 quarterfinals, played at Gallo Ice Arena.

The public school league will see four of its teams in the semifinal round, the notable exclusion being No. 1 seed Needham.

Here's the breakdown of the action from a long day of hockey, along with a couple nuggets of analysis:

NO. 4 NORWOOD 2, NO. 5 BARNSTABLE 1


First period: The Mustangs went on an early power play, getting just one shot off on the Barnstable kill. The Red Raiders took the first lead of the game at 8:35 on Max Willman's strike from Chris Harris and Eric Rogorzenski. Andrew Alty tied the game with 30 seconds remaining on a pretty cross-ice pass from Jake Ranalli. Brendan Cathcart picked up the second assist. Norwood took a 7-6 shot advantage in the stanza.

Second period: Scant scoring opportunities for either side. Norwood carried play for portions of the second, but the Raiders had the best of the latter stages. Still, Barnstable out-shot the Mustangs 9-7 in the period.

Third period: The Mustangs found the go-ahead goal with defenseman Kyle Dolan tallying his second of the season, with some good work down low from Cathcart (2 assists)and Tyler Gover. The Red Raiders were ham-strung by a late penalty (playing with a broken stick) that had them on the penalty kill with just 1:38 remaining. Despite having a couple of offensive zone face-off opportunities in the final minute, the Red Raiders weren't able to find the equalizer. Jordan Davis made 25 saves for the Mustangs in the win, as Barnstable outshot Norwood, 26-22, for the game.

Analysis: What made Norwood successful in this game were a lot of the little things that don't show up in scoresheets. The Mustangs did a terrific job on the back check, keeping pace with a speedy Barnstable roster. When the Red Raiders were able to enter the zone, Norwood collapsed down low and were able to throw sticks, bodies, whatever, in the passing a shooting lanes, limiting quality chances on Davis.

NO. 9 NATICK 3, NO. 1 NEEDHAM 2


First period: Most of the period's play was conducted in the neutral zone, with both teams playing a tight checking game. Natick had its best chance of the game, coming on a 2-on-1 during a late power play. However, Needham actually out-chanced the Red & Blue, 2-1, while a man down. Shots were 10-5 in the Rockets' favor in the first.

Second period: Needham earned its first power play of the game early on, but was unable to cash in with two shots against Red & Blue goaltender Derek Kwok. Natick opened scoring at 5:56 with Andrew Newis tallying his 13th of the season from Mike Pennett and Derek Butler. At 11:52, Butler added his second point with his 16th goal of the season. Just 1:08 later, Pennett picked up his second point of the game with a goal, giving the Red & Blue a 3-0 lead at the second intermission.

Third period: Needham got on the board 4:06 Joey Parsons entering on a partial break on an unassisted goal, his fifth of the season. Play continued on in Natick's end for the bulk of the period. Lucas Davis added an unassisted goal of his own, drawing the Rockets within one, but for the second time this week (after Monday's Super 8 play-in game) their third-period rally fell short.



Analysis: Once again, Needham's tendency to come out slow hurt them. As in their Super 8 play-in game against St. John's (Shrewsbury) on Monday, the Rockets dug themselves into a hole they weren't able to recoup.

NO. 3 MILTON 3, NO. 6 FALMOUTH 1


First period: There was little to speak of scoring chances between the two squads, save for Clipper forward Ben Taylor's shot off the post in the second minute. Not whole lot to say beyond that. Shots were 7-2 in favor of Falmouth.

Second period: After skating to a scoreless first period, Storm Foitu netted the first goal for Falmouth 1:11 into the period. Durham Ghelfi set up the goal with some nice work along the half boards, putting a pass back to Foitu on the left wing circle. Milton tied the game with 30 seconds remaining in the period, thanks to some slick passing in the offensive zone. Brian Higgins set up Paul Curran, skittering a pass across through a Falmouth defender with Curran directing the pass into the net from the goal mouth. Milton took an 11-4 shots advantage in the period.

Third period: Curran and Higgins continued their dazzling offensive show in the third, only to see Falmouth netminder Petey Negri make a couple of circus saves. The middle portion of the period was played predominately in the Clippers' end with the Wildcats sustaining offensive pressure. Curran scored his second of the game, his 21st of the season, the game-winner, with 43 seconds to play, with a shot deflected off a Falmouth defender's skate. Terrance Walsh and Dan Curran had the assists. Higgins notched his second point of the game with an empty-net goal with eight seconds remaining. Hankard made 18 stops to earn the victory.



Analysis: Paul Curran showed why he was one of the most feared scorers in the Bay State Conference this season. His work, along with that of linemate, Higgins, was impressive throughout, creating a bulk of Milton's scoring chances.

NO. 7 BRAINTREE 2, NO. 2 MARSHFIELD 0
First period: The Wamps took a 7-6 shots advantage, but neither team was able to find the back of the net. Braintree went 0-for-2 on the power play, while the Rams were shut out in their only opportunity.

Second period: After being held to just one shot on their third power play opportunity, the Wamps took the first lead of the game on Cody Kingston's goal at 9-minute mark, with assists from James Flaherty and Tom Troy. Braintree claimed a 2-0 lead two minutes later on David Fasano's wrist shot from the right side circle. Troy picked up his second assist of the game with another handed out to Nick Ward. The Wamps claimed a 12-7 shots advantage in the period.

Third period: Marshfield upped its pressure in the offensize zone, but were unable to crack Wamps netminder Dan Murphy. Murphy made 20 saves in the shutout.

Analysis: Marshfield wasn't able to sustain pressure in Braintree's defensive zone throughout. Once Braintree takes a lead, as has become the custom under David Fasano, the Wamps become increasingly hard to play against, clogging up the neutral zone in a 1-2-2 and collapsing down low when set in the defensize zone. Murphy wasn't tested all that often, but when he was he was ready. Wamps all-star defenseman Conor Fenton (3-9-12) was his usual self, playing aggresively and mixing it up physically often drawing the assingment of shutting down the Rams' top line of Mike Carbone, Chris Perry and Connor McLean.
January, 23, 2011
1/23/11
12:43
AM ET
By
Brian Fabry
| ESPNBoston.com
HYANNIS, Mass. -- Barnstable's Scott Nickerson can be his team's worst critic, but even the fifth-year head coach had to admit there was not much to complain about.
Senior captain Zach Wells scored two goals, including the game-winner, as the Red Raiders upended No. 20 Bridgewater-Raynham, 4-1, in a battle of Old Colony League unbeatens.
Wells potted the game-winner 6:03 into the third period, 25 seconds into the second power play opportunity of the period. The man-advantage set off three unanswered goals in the final stanza with the senior captain adding an empty-netter with 1:05 remaining to give him 10 tallies on the season and pairs of goals in each of the last three contests.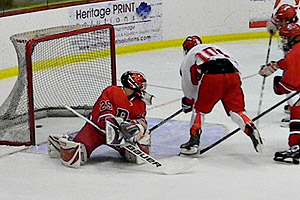 Brian Fabry for ESPN BostonBarnstable's Max Willman (10) slides the tying goal past Bridgewater-Raynham goaltender Peter Drowne in the Red Raiders' 3-2 win Saturday in Hyannis.
"Bridgewater's the only team really [in the league] that this is the biggest game for us all year until the state tournament", said Wells. "They've always been a good team, we usually don't beat them so it's a great win for us."
The victory over the Trojans (5-3-1; 1-1) is the first for the Red Raiders in the last three seasons and puts Barnstable (6-1-3; 2-0) directly in the driver's seat for the Old Colony League title.
"The first period they out shot us, but after the first period we were a better team out there", said Nickerson. "You know I'm negative a lot but that's a big show for us, I'm happy and we had a lot of guys really play well for us."
Bridgewater-Raynham carried the play for most of the first period holding a 9-5 shot advantage as freshman Connor Sullivan gave the Trojans the 1-0 lead only 1:28 into the first period. Corbette McLucas' blast from the point bounced to senior Matt White, who tried to punch home the rebound, but Sullivan finished the frenzy with the easy wrister just to the right of the crease.
Max Willman led a 14-shot effort in the second period with his seventh goal of the season on a highlight-reel toe-drag across the crease for the period's lone goal as the teams skated to a 1-1 tie after the first two stanzas.
Nickerson lit up in his office talking about the equalizer scored at 7:23 of the second period.
"Beautiful, just beautiful but there is a kid, although he's small, he's got a head on him, and he can make that play and we don't have many guys who can make that play," said Nickerson. "If he was even 5-10, he'd be all world, but he's only about 5-5, 125 pounds."
Added Wells: "He has some really good hands and what was a huge goal for us and we really needed something to get back in."
After Wells' game-winner, Will Toffey scored at 8:01, less then two minutes after the senior captain's tally, for the insurance goal and Wells followed with the empty-netter. Wells' power-play strike was all goaltender Sean Cleary needed as the freshman netminder was solid the rest of the way with 21 saves for the Red Raiders.
"The guys that are supposed to score scored tonight, Willman and Wells, Toffey and exactly what happened is what we've been looking for," said Nickerson. "Figure a 3-1, 3-2 game, figure Wells is going to get one, our defense is going to get one, and then someone else."
The power-play goal was only the second of the entire season for Barnstable as they out shot the Trojans 29-22 overall. But the small improvements can add up in the end for Nickerson's Red Raiders.
"We're getting better and better, more aggressive, handling the puck a little bit better," said Nickerson. "This game helps us confidence-wise as they are starting to believe they are pretty good - not getting cocky over it - but our guys are really starting to believe."
BRIDGEWATER-RAYNHAM (5-3-1; 1-1) - 1 - 0 - 0 - - 1
BARNSTABLE (6-1-3; 2-0) - 0 - 1 - 3 - - 4
FIRST - BR - Connor Sullivan (Matt White, Corbett McLucas), 1:28.
SECOND - BA - Max Willman (Ricky Panton, L.J. Fellows), 7:23.
THIRD - BA - Zach Wells (Willman ), 6:03; BA - Will Toffey (Kyle Fontaine), 8:01; BA - Wells, 13:57 (en)
SAVES: BR - Peter Drowne (25); BA - Sean Cleary (21).