Boston High School:

Meagan Keefe
April, 23, 2012
4/23/12
11:43
PM ET
By
Brendan Hall
| ESPNBoston.com
NEEDHAM, Mass. -- Heading into this afternoon's much-anticipated showdown with Andover, Needham head coach Beth O'Brien stressed to her team the importance of getting on the scoreboard first.

But when you play for a coach as fiercely passionate as O'Brien, it turned out, one goal is never enough. Because the Rockets didn't just get on the board first -- they lit up the board in the first half, jetting out to a commanding halftime lead and making it hold up after staving off a late rally from the Golden Warriors, prevailing 13-9 in a matchup between two of the state's top five programs loaded with Division 1-caliber talent.

"That's something we've struggled on, coming out and scoring those first few goals, and then having the ability to maintain that throughout the game," O'Brien said. "That was a big step for us."

The Rockets (7-1) reeled off an 8-1 run in the first half to take a 10-4 lead over Andover (7-2) at the break, with junior Maddie Stenberg and sophomore Catherine Conley combining for seven of those scores. The duo got opportunities for points off free position shots, but also moved the ball around the attacking zone with efficiency, slipping through some of the state's most talented defenders with split-dodges, and using the space behind the net to create net-front presence.

Three straight scores from Conley with less than five minutes to go in the first half gave Needham all the cushion it would need in the end. First, Conley cut down the middle towards the net and put a one-timer from behind the net top shelf, with 4:04 to go. Two and a half minutes later, she scored on a free position shot; that was followed with 52 seconds remaining in the half with a wrap-around, for a 10-3 advantage.

Conley finished with four goals and an assist, while Stenberg led all scorers on the day with five goals and two assists.

"Cat had a great game today," O'Brien said. "She was one of our leading scorers last year as a freshman, and was suffering a little bit of an injury at the beginning of the season, so this is what we like to call a 'Coming Out Day'. She's been having some great games, but this is really the Catherine Conley that we know is there. She's a phenomenal player who is only going to continue to get better."

O'Connor Shines in Net: Sophomore goalie Annee O'Connor came up with eight saves in net, all of them seemingly brilliant with a large degree of difficulty. That included three saves on free position shots as well.

"Let's face it, she's only a sophomore...[But] those saves, she's capable of making those," O'Brien said. "She's been mentally able to get herself to that next level, as far as, 'You know what, two or three are going to go in, but I've got to make that next stop. She's just been working incredibly hard."

Lockdown D: Speaking to O'Connor's performance, O'Brien heaved plenty of praise unto the defense in front of her, calling it their best performance of the year and giving the sophomore goalie plenty of confidence. Considering the Rockets are already allowing just over six goals per game, and boast Division 1-bound midfielders in Shelby Aubin (Georgetown) and Tory Waldstein (Harvard), that praise is especially impressive.

"They were composed, they were aggressive," O'Brien said. "The referees were great. They [Needham] figured out they were being allowed to play the game, so they took some chances. They communicated well, their slides were good, their switches were good, it was just a very well-rounded game for them."

Dink and Dunk: One area the Rockets excelled at in the offensive end was with flashing towards the net, and in turn drawing defenders outward to open up diagonal lanes underneath in front of the net. That created some entry passes that were dumped off at close range from the net.

Between UConn-bound attack Ally Fazio, UMass-bound twins Anne and Kate Farnham, along with a supporting cast of scorers like juniors Jaclyn Torres and Meagan Keefe, Andover is not exactly a team where one can afford to mark a specific player. Asked if there was anything specific the Rockets were looking to exploit, O'Brien noted the Warriors' quick adjustments, pointing to Torres, who scored the team's first four goals.

"We were really more just trying to draw anybody out," O'Brien said. "Because we were just trying to create space for those lanes, to either dodge or free up that open person because they were starting to double us, so we needed to free up that person and find that open person in the middle."

Read and React: Needham won 11 of the game's first 15 draw controls, which yielded a sizeable advantage in time of possession.

"That's something that we've been working on," O'Brien said. "We've been doing reaction drills for the last week and a half, because we knew that was what would cost us as we face this tough schedule ahead. It's something that we've been working intensely on, in regards to just, getting those draw controls, working on just really that reaction time, getting off that line first, because we knew it was going to be won on the circle or on the restraining line."
November, 19, 2011
11/19/11
6:06
PM ET
By
Corey J. Allen
| ESPNBoston.com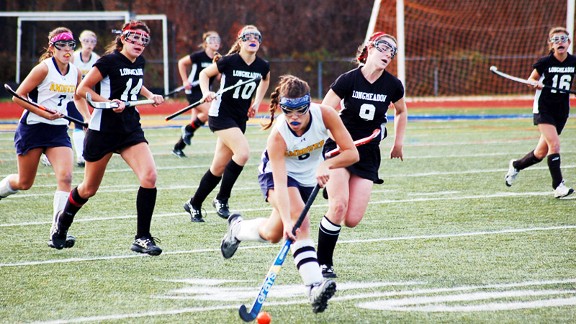 Brendan Hall/ESPNBoston.comAndover's Anne Farnham, a UMass lacrosse commit, was one of several Warriors turning in sound defense in their second straight state championship win.
WORCESTER, Mass. –- With 14:58 left in regulation, and after 17 shots on the Longmeadow goal defended by Elizabeth Suschana, Andover sophomore forward Julia LeBlanc blazed the 18th ball past Suschana for the only score on the day. That drive the Golden Warriors to their second consecutive Div. 1 state field hockey championship past Longmeadow, 1-0.
"I was really in the moment," LeBlanc asserted, donning her championship medal after the victory. "Because our defense is so strong, I was able to get it in. I was there at the right time and I just dove in and tipped it in…If we didn't have our defense, I wouldn't have been able to get up there."
"It (the ball) came from Kate [Farnham]and she sent it across the circle to me and I just hit it over as far as I could to the net and Julia just happened to be there," said junior left forward Meagan Keefe, who owns the game's sole assist. "She just tipped it in which was amazing."
The Golden Warriors (21-0-2) had 21 corners during the game but were not able to get a score on one of them. With about 20 minutes to go in the second half, Andover called a timeout and coach Maureen Noone and her staff advised the girls to change the game.
"Stop putting the ball maybe to one side or continuing to do what we've gotten away with in the other games that have worked for us," said Noone recalling the timeout. "I think they were stuffing an extra defender in there and it was getting difficult so we tried to swing the ball as much as possible and just take chances; start swinging, start stepping up to the ball and playing a little bit harder."
We Do This:
Although Andover had sent a number of balls towards the goal and had not scored, they were not discouraged, they just became more determined.
"We're used to this, this is how it is," said LeBlanc. "We have low scoring games and we're just trained to keep going at it and keep shooting and keep working hard. There's always a way. It's 0-0, even if we score 1-0, it doesn't matter, we're going back and our defense is just as ferocious. We don't give up because they can score and tie it up."
"After we knocked that one in I felt pretty confident," added goalie Shannon Tully, giving a different perspective but with the same knuckle down message."We brought the sweeper back so we could play more of a defensive game."
Bring It Back:
"Uhhhh! It's Amazing!" exclaimed the 2010 lacrosse All-American Anne Farnham, with much enthusiasm and a mile-wide smile.
"Literally, we never imagined this could happen," added Farnham, a senior right forward, theoretically forgetting that she was already sporting the official "Andover 2011 State Champs Back to Back" grey t-shirt with navy blue print just moments after the game, directly refuting her claim.
Coach Noone added something that may give a clue as to why the Golden Warriors printed the shirts prior to the start of start of the match.
"This year, we knew what to expect and we had a little bit more confidence coming into the game," added coach Noone. "Even though we only have five seniors, they're all quality kids and they understand their leadership role. I think they did an outstanding job of taking the younger kids and telling them step-by-step what they needed to do, and they did it."
Going Hard in the Cage:
Even though she only had three saves on the day, those are three opportunities that were thwarted by senior goalie Shannon Tully. If she doesn't, the Golden Warriors are singing a different tune.
"We have the most confidence in her," said LeBlanc. "She's such an athletic goalie and we really rely on her. She's made a lot of great saves through the season and we're happy to have her."
Team Love:
"We don't look at who scores, it was a team effort," said Kate Farnham, who along with her twin sister Anne are committed to playing lacrosse for UMass Amherst next year. Despite getting plenty of touches during the game, she said neither she nor her teammates thought about an individual getting a goal.
"The scores don't matter because we just play as a team so I don't think they were looking for me to score personally."
I Don't Want To Go Home:
Junior Meagan Keefe, despite winning the state championship, was not ready for the sun to set on the Golden Warriors' 21-0-2 season after the game.
"I am just as psyched, it's a great feeling, I just want to keep going," Keefe said. "It's sad that it's over."
November, 17, 2010
11/17/10
2:02
AM ET
NORTH ANDOVER, Mass. -- Through the grueling pace of a tense 60-minute game and more than halfway through the second overtime period, legs were growing weary during Tuesday's Division I state field hockey semifinal between South sectional champion Walpole and North champion Andover, played at North Andover High.

Enter sophomore Meagan Keefe.

She'd only played a couple of minutes, spelling the starters and providing a boost of energy to the front line of the Golden Warriors' attack. Then, eight minutes and 47 seconds into the second overtime period, Keefe tipped home Laura Dimitruk's blast from the top of the penalty area, giving Andover a 2-1 victory and a chance to play for the state title.

"You're always trying to be ready, staying in the game," Keefe said. "Then, when coach tells you to go in, you'd better be ready."

Keefe took full advantage of her opportunity after both teams had seen stellar opportunities go by the wayside in the first overtime.

Walpole (22-1-0) out shot Andover, 4-3, in the first overtime, but Golden Warriors goaltender Dina Hagigeorges was up to task. No save was finer than the senior's effort to stack the pads on a breakaway attempt by vaunted Porkers striker Caroline Malone.

"At the break we had just had previously, one of my coaches told me that if anyone comes on a breakaway, you have to be aggressive," Hagigeorges said. "I was thinking back on that and what I'd been taught before. When you approach breakaways, you can't wait for the ball to come to you, so that's what I did."

Stopping Malone and the talented Walpole offense had been a priority for Andover (23-0-0) heading into the game.

"I think what we tried after watching [Malone] last week and going over some of the films was just to take the pass away from her and try to avoid them getting the ball to her," Golden Warriors head coach Maureen Noone said. "If she does get the ball down low and you make a nice block tackle, then most of the time it works. I think the kids played supportive. If it got by one, then somebody else was there to pick up."

Andover got off to a quick start as Jaclyn Torres buried and nice set up from Anne Farnham a little more than five minutes into the contest.

The Porkers answered midway through the first half on Hannah Feeley's goal, assisted by Meghan Murphy off of a penalty corner, but were unable to find the back of the net again.

Walpole has now bowed out in the state semifinal round in each of the last four seasons, after winning the Division I crown in 2006.

Andover will play Central champion Algonquin -- which beat South Hadley, 2-1, on Tuesday -- for the state title at Worcester State College, Saturday at 10 a.m.

WATERTOWN HOLDS OFF CANTON
Bitten twice shy, Canton had experienced the same fate just a year before.

For the second straight season the Bulldogs fell, 1-0, to Watertown in the Division II state semifinal, the early game on the slate at North Andover on Tuesday. In 2009, the Red Raiders slipped past Canton by the same score en route to their 10th state field hockey championship.

"I think to start the girls were maybe a little nervous, they were a little too excited," Bulldogs head coach Fior Griggin said. "Once we settled in, we had a lot of breaks. We had more shots than they did. We had more corners than they did. I thought we had more possession time than they did."

Canton (20-1-1) carried play early, but Red Raiders goaltender Kayla Costa kicked out chance after chance to keep her team in it during the first half.

"I thought our team should have been more intense, matching them," Watertown head coach Eileen Donahue said. "I thought we were lucky to hold against them."

The Red Raiders emerged from the break a different team and immediately went on the offensive. Erika Kelly found Lauren Giardano for the game's lone marker 1:12 into the second half.

Kelly likened her chemistry with Giradano to the attraction of magnets — they simply know how to find each other.

"I saw her running down the right side, so I just smashed it across field and that was it."

Watertown had an excellent chance to strike again when Kelly squared off with Bulldogs goaltender Sarah Healey on a penalty stroke midway through the second stanza. Healy robbed Kelly with a blocker save on the shot that was ticketed for the nearside post.

"That was sick," Griggin said of Healey's save.

Canton rode the momentum their keeper provided them, pushing the Red Raiders to the end. The Bulldogs had seven penalty corner chances in the final 12 minutes of play, but were unable to connect.

Watertown will face Central champion Auburn (who beat Mohawk Trail, 2-1 in overtime) at Worcester State College, Saturday at noon with the chance at state title No. 11 on the line.