Boston High School:

Medomak Valley
March, 6, 2013
3/06/13
3:26
PM ET
By
Matt DiFilippo
| ESPNBoston.com
Like any old building, it has its flaws. It's cold and drafty sometimes, and way too hot other times. Everyone's relieved when the roof doesn't leak during games, or when a week of basketball tournament games goes on as scheduled without any old parts breaking down.

But the Bangor Auditorium, which hosted its last high school basketball tournament game on March 1, has history on its side.
The basketball part of the arena, of course, is old-fashioned. There are Maine high school tournaments at the Augusta Civic Center and the Cumberland County Civic Center in Portland. In Augusta, the concession stands are behind one of the baskets, creating a depth perception problem that knocks some teams right out of the tournament. In Portland, the seats are so far away that watching a game from the front row is like trying to watch your neighbor across the street.
At the Bangor Auditorium, everything is enclosed. There is little space behind the baskets or out of bounds, so the sound bounces off the walls loud enough that it can be impossible to hear the person talking next you.
"To this day, I wonder how anyone can play in that atmosphere," Lawrence coach Mike McGee told the
Bangor Daily News
. "It's amazing to look straight up and see the crowd. Your mouth is dry, all you want to do is drink water, and it makes you wonder how all those great athletes were able to perform in that setting.
"Since we've gone to the [Augusta] Civic Center coaching hasn't been the same for me," McGee added. "The fans are so on top of you in Bangor. You hear a giant roar when you score and now it's just silence by comparison. They can hear me all over the Civic Center, and back when we played in Bangor we had to use play cards because the players could never hear me."
Several newspapers and television stations have done tributes to the Auditorium over the past couple weeks. As the
BDN
wrote, "The Bangor Auditorium is filled with the echos of the basketball heroes it created, from Mike Thurston making a halfcourt shot as time expired to win the 1969 Class LL state championship for Caribou to Joe Campbell's buzzer-beating basket that rallied Bangor past Deering of Portland for the 2001 Class A crown."
Campbell's shot is one of the most famous in state history. He came from the other side of the basket to get a rebound and reverse layup just before the buzzer (Many still insist Bangor got a few extra seconds on the play because the clock operator was slow to re-start the clock.). Within a couple seconds, the floor was covered with Bangor fans. During this year's Eastern A boys tournament, Hampden freshman Nick Gilpin hit a 30-footer to beat Lawrence at the buzzer – a shot that made SportsCenter's list of Top 10 plays for the night. A group of adults formed a wall to make sure the Hampden fans didn't rush the court. No one thought to do anything like that in Bangor.
Maine has long had a problem keeping its high school graduates in the state or even in the area. That's especially true when you get north of the Portland area. Many big schools have seen their enrollment drop over the last 20 or 30 years. Presque Isle used to be in Class A and is now a normal-sized Class B school. Waterville has around 1,500 students in the late 1970s, and now has well under half that.
But even with the economy faltering and the small towns getting smaller, they still had the Bangor Auditorium.
"So many people, when they say 'That's the worst place to play,' they're not from northern Maine or eastern Maine," Lindsey Welch, who played at Nokomis and now coaches at Winslow, told the
Morning Sentinel
. "They don't know. I would get so defensive about the place. It's like family."
MR., MISS MAINE BASKETBALL SEMIFINALISTS NAMED
The 10 semifinalists for the Mr. and Miss Basketball Awards were announced recently, with the winners to be announced on Friday, March 8.
On the boys' side, the semifinalists are Garet Beal of Jonesport-Beals, Spencer Carey of Lawrence, Anthony DiMauro of Boothbay, Charlie Fay of Falmouth, Quin Leary of Edward Little, Garrett Libby of Old Town, John Murray of Medomak Valley, Aaron Todd of York, Mitch Worcester of Washburn, and Evan Worster of Forest Hills.
Beal is one of the favorites, even though his Jonesport-Beals team was stunned by Easton in the Eastern D tournament.
On the girls' side, the semifinalists are Leavitt's Kristen Anderson, York's Emily Campbell, Dexter's Lauren Crane, Presque Isle's Chandler Guerrette, Lake Region's Sydney Hancock, Camden Hills' Jordan Knowlton, Cony's Josie Lee, Gorham's Kristin Ross, Waynflete's Martha Veroneau, and Orono's Jillian Woodward.
Only three of those players are taking part in state championship games this weekend. Guerrette and Hancock will face off as Presque Isle takes on Lake Region in a rematch of last year's Class B state final, won by Presque Isle in a squeaker. In the Class C final, Veroneau and Waynflete will play Calais for the Gold Ball.
The biggest omission on the girls' side was probably Richmond's Jamie Plummer, who led the Bobcats to the regional title for the third consecutive year.
TWO PLUS TWO ON THE SIDELINES FOR EASTERN A GIRLS FINAL
The Eastern A girls' basketball final between No. 2 Bangor and No. 9 Cony was notable not just for Cony's run from the last seed, but also because both coaches – Bangor's Katie Herbine and Cony's Karen Magnusson – are pregnant.
Herbine – who is so animated on the sidelines she makes Jonathan Papelbon look subdued – is nearly six months along, while Magnusson is a little over four months into her pregnancy. Both were standout players at their current schools as high school athletes.
The game was anticlimactic. Bangor had a height advantage and outrebounded Cony, 54-29, in a 57-43 victory.
December, 17, 2012
12/17/12
8:08
PM ET
By
Matt DiFilippo
| ESPNBoston.com
For most teams, the Maine high school basketball season began Dec. 7. Here's a look at how the classes shape up

Class A Boys:
The West looks like a three-team race between Portland, Deering, and Bonny Eagle, with South Portland ready should there be an opening. Junior Justin Zukowski is Portland's top all-around player, and he has help in Nick Volger and Jayvon Pitts-Young. Deering tries to beat you inside, with six-six Labson Abwoch, and six-four Thiwat Thiwat, both of whom are from the Sudan and moved to the United States at an early age.
Hampden was upset by Deering in the state final, and even though the Broncos return only two starters, they were still the pick for first place in Eastern A's preseason coaches poll. Edward Little, Lawrence, and Bangor, all programs with strong traditions, could each challenge Hampden. Lawrence relies on forward Spencer Carey and guard Xavier Lewis, a transfer from Bangor.
Class A Girls:
Western A has at least four strong teams in McAuley, Scarborough, Cheverus, and Deering. Oddly enough, none of them play each other until January. Point guard Allie Clement leads two-time defending state champion McAuley. Add in three six-footers and a talented guard in sophomore Olivia Dalphonse (a transfer from Bonny Eagle), and this team should go far in the tournament again.
In the East, Edward Little, Mt. Ararat, and Mt. Blue should fight it out for the top spot. Edward Little's top scorer is guard Ashlee Arnold, and the Red Eddies have some motivation after blowing an 11-point halftime lead and losing to Cony in last winter's regional final. Mt. Blue has balanced scoring, and guard Gabby Foy is a player who can run up a lot of points in a short time. Brewer was the big surprise in the early going, beating Mt. Blue on a three-pointer at the buzzer, then knocking off Lewiston the same way three nights later. Bangor has the height and athleticism to play with anyone, while Oxford Hills, Skowhegan, and Lawrence could be sleepers in a deep league.
Class B boys:
Falmouth and York are two of the tallest and best teams in the West. York has five players six-four or taller; Falmouth has three at least six-five. Falmouth didn't return any starters this season, but began the year with three lopsided wins. To go with York's height, the Wildcats have senior guard Adam Bailey, who hit 11 three-pointers in York's first four games this season.
Expectations are very high at Oceanside, which finished 12-8 last season but returns four starters and is loaded with height. The
Portland Press Herald
even said that, "Anything short of winning Eastern Class B would be a disappointment." Winslow is expected to be a playoff team, but Oceanside beat the Black Raiders, 80-53, on opening night. Medomak Valley, Camden Hills, and possibly Caribou and Presque Isle will also look to get hot at the right time.
Class B girls:
Defending regional champ Lake Region is probably the favorite again. Tiana-Jo Carter averaged 15 points and 17 rebounds per game last winter, and the
Portland Press Herald
reports she has already received full scholarship offers to Division I schools. The Lakers are so deep at guard that freshman CeCe Hancock stepped in and had 11 points and nine assists in an early-season win over Waynflete. York, Gorham, Spruce Mountain, and Wells could all make a run at Lake Region. Leavitt might not have all the pieces to go all the way, but the Hornets have one of the most entertaining players in the state in senior Kristen Anderson, who will play at the University of New Hampshire next season. Anderson can shoot from 30-35 feet out, and often does.
In Eastern B, Presque Isle is the decided favorite. The Wildcats finally got past Nokomis last winter and squeaked past Lake Region to win the state title. Presque Isle's first three games this season were wins by scores of 39, 63, and 38 points, and that's a good indication of how their regular season will go. The Wildcats are never very tall, but they throw lots of quick guards at you and can shoot from long range. Nokomis, which won't face Presque Isle during the regular season, may have the best chance to defeat the Wildcats in the playoffs. The Warriors have three fine guards in Lindsay Whitney and twins Kylie and Kelsie Richards, and a good low-post option in Anna MacKenzie.
Class C boys:
Dirigo has won four consecutive Western C titles, and until someone gets past the Cougars, they have to be considered the favorites again. Even after graduating seven seniors from last winter's state champions, Dirigo was still picked first in the Mountain Valley Conference coaches poll. Boothbay is probably Dirigo's toughest competition in the MVC, and Waynflete, which competes in the Western Maine Conference, could be a dark horse.
Houlton went 8-10 last winter, but may just be the No. 1 team in Eastern C. Kyle Bouchard, who can play pretty much any position, leads the Shiretowners. Among Houlton's early wins this season was a seven-point victory on the road against a good Class B Presque Isle team. Penquis Valley and Lee Academy — which is currently on probation from the Maine Principals' Association for recruiting violations — are also threats for the regional crown.
Class C girls:
The Mountain Valley Conference is deeper, but the Western Maine Conference has the best player (Margaret Veroneau) and maybe the best team (Waynflete). The Flyers have a top-notch coach in Brandon Salway, and bring back all five starters. They're good enough that they almost beat Class B Lake Region, losing by five on the road. Madison, Lisbon, and Monmouth are also contenders. Mt. Abram should have been in that mix, but the Roadrunners had some players decide not to return, and apparently don't have everything they need to play with the top teams.
Calais, led by guard Madison McVicar and center Paige Gillespie, is the favorite in the East. Orono, Dexter, and Narraguagas are also in the hunt.
Class D boys:
Forest Hills is known for a lot of things, like being closer to the Canadian border than any other high school in Maine, and having kindergarten through 12 all in one building. The Tigers also have a great basketball team. Senior Evan Worster already has over 1,000 points, and everyone returns from a team that went to the Class D state championship game this winter. The Tigers will get tested this season, as Valley, Greenville, and possibly Hyde all have the potential to cut down the nets after the Western D final in late February.
When Jonesport-Beals won the state title last season, it did so with a total high school enrollment of 58 students. It helped immeasurably that one of those was six-foot-five Garet Beal, the state's Gatorade Player of the year. Beal will play at the University of Maine next season, and already has back-to-back 40-point games this season. The second of those was in overtime against Deer Isle-Stonington, a team that could challenge the Royals again this winter. Woodland could also give Jonesport-Beals a scare.
Class D girls:
It looks like Rangeley and Richmond will battle once again for the Western D title. Rangeley, a school with about 80 students, has three six-footers in sophomore Taylor Esty, freshman Blayke Morin, and transfer student Emma Gunic. Richmond has its own six-footer in Jamie Plummer, the daughter of Colby College baseball coach Dale Plummer. Rangeley won the first meeting this season, 56-54 in overtime.
In the East, Washburn won the state title last winter with no seniors and three juniors. The Beavers did lose their coach when Mike Carlos was not rehired after winning two consecutive state titles. There were widespread rumors of parents being unhappy with Carlos, who is now coaching at East Grand. When Carlos was not rehired, superintendent Ed Buckley released a statement to the
Bangor Daily News
which included the line, "we do not measure the success of our athletic teams by the number of contests they win but whether it is a positive experience for all our students." Diana Belskis Trams is now coaching the Washburn girls. Van Buren could give Washburn a run in the East. The Crusaders' star is junior guard Parise Rossignol, who verbally committed to the University of Maine as a sophomore.
April, 23, 2012
4/23/12
11:37
PM ET
By
Gary Hawkins
| ESPNBoston.com
Mt. Blue boys basketball coach Jim Bessey retired recently after 37 years with the Cougars. Bessey, who also coached at Madison Memorial High School, leaves with 479 wins. This year's team reached the Eastern Maine Class A championship game where it lost to Hampden 46-44.

Bessey, 68, led the Cougars to the Eastern Maine title in 1997. He answered some questions regarding his team and coaching philosophy.
Q: Who were your early influences in the game?
A: "My high school coach, Rod Shain. My whole life has been connected with sports. It was and always has been my niche. I played for a small high school and had the physical ability to excel and the internal desire to win. Coach brought this out in me."
Q: How did you first get into coaching?
A: "I started out as a JV coach at Farmington High School."
Q: When did you start to feel comfortable as a coach and why?
A: "I have always been comfortable as a coach and I knew in the sixth grade that it was I wanted to do. I think my comfort level has always been connected to my ability to relate to my players."
Q: How would you describe your coaching philosophy?
A: "It has always been to get players to work together as a team and to make them understand that everyone on the team can and must make a contribution for the team to be successful. Every player has the ability to make the team better. That little things are important. To convince them that playing and practicing hard are talents."
Q: Where did it come from?
A: "I developed it over time."
Q: Who were your coaching role models?
A: "At the high school level Dick Hunt (Cony), Bob Brown (Cheverus), Tom Maines (Morse, Scarborough). At the college level Dick Whitmore (Colby), Dick Meader (Farmington) , Ed Kohtala (Maine), Steve Clifford (Orlando Magic)."
Q: How has the game changed and how have you adapted to it?
A: "The inability to score the ball-which may be related to more aggressive defense. This demands better ballhandling skills and more time has to be spent on it. More drills."
Q: What do you believe is the key to a successful basketball program?
A: "The key is to get young people to commit to the time it takes to be good."
Q: What will you miss most?
A: "The contact with the players and the coaches and the relationships developed as a result."
Q: How do you hope to be remembered as a coach?
A: "As someone who gave his best and always came prepared. As a coach who made a difference in the big picture of his players, who used sport to teach life lessons."
February, 10, 2012
2/10/12
2:15
PM ET
By
Gary Hawkins
| ESPNBoston.com
That Travis and Karen Magnusson would become high school basketball coaches, given their backgrounds as point guards and students of the game, seemed inevitable. So does the success that the husband and wife coaches are having this season at their respective schools.

Travis, who coaches the Dirigo High School boys team, came within a whisker of a perfect season before falling to Spruce Mountain, 39-34 Wednesday night. Still, his Cougars finished the regular season at 17-1 and enter the upcoming Western Maine Class C tournament as the top seed. Karen, who coaches the Cony High School girls team, finished at 18-0 Thursday and her Rams will enter the Eastern Maine Class A tournament as the top-seeded team.
There wasn't much talk between Karen and Travis about going unbeaten this season — both recognize winning a state title as a larger goal — but it's still hard to avoid.
"Honestly we try not to do it," Karen said. "But it's something that comes up with other people."
The couple rarely get to see one another's teams play since they usually play on the same night. Fans at both schools, however, recognize what's going on.
[+] Enlarge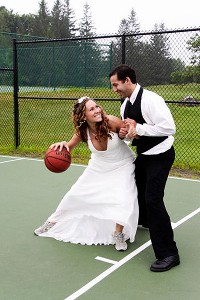 Courtesy of Karen Magnusson Travis and Karen Magnusson are having success coaching high school hoops in Maine.
"It's almost like we share our programs with each other," Karen said. "His fans ask how I'm doing and my fans ask how Trav's doing."
The Magnussons are both basketball junkies, a passion that began long before they met at the University of Maine at Farmington a few years ago. Karen Sirois starred at Cony in Augusta while Travis played for Georges Valley in Thomaston. Both played point guard at UMF and each of them totaled over 1,000 points and 500 assists in their careers.
Farmington women's coach Jamie Beaudoin and men's coach Dick Meader saw coaches in the two long before their playing careers ended.
"I knew from the first moment I watched her play that she was going to be a coach," Beaudoin said. "She was able to see things on the floor that many times an experienced coach wouldn't pick up on. She's just a student of the game."
Meader echoed those thoughts about Travis, who served as a varsity assistant at UMF the year after he graduated. Travis was hired as boys coach at Livermore Falls a year before Karen go the job at Cony so she helped him out and gave him an unbiased look at the players and the team.
"There was nobody I listened to more, especially with my team that first year," Travis said.
Travis turned the Livermore program around, reaching a tournament prelim game his first year in 2009 and the tournament itself the next two. He lost his job when Livermore and Jay high schools combined this year to form Spruce Mountain, but when the Dirigo job opened up he applied. The Cougars reached the state final last year and return many of those players.
The Magnussons talk basketball most of the time, often while breaking down film at home another or swapping drills.
"I get some of my plays and sets from him," Karen said. "I know his personnel, we definitely help each other out. Sometimes we sit up until 11:30 or 12 talking about it. We watch game film together. It's like having an assistant coach at home."
They also share a similar philosophy, borne from the way they played the game.
"We both like to run and gun, play pressure defense and give our players freedom to take shots." Travis said. "As I've gotten older I've realized the importance of quality shots."
The Magnussons are competitive by nature and haven't played a serious game of 1 on since Travis came away with a bloody nose when the got together on the court in college.
"He's competitive and I'm competitive so we never really have the fun 1-on-1," Karen said.
Well, they did have a little fun on the court on the day they were married, playing a friendly game, she in her wedding dress and he in his tuxedo.
They'll get a chance to watch the other's team play in about 10 days when their teams will be favored to win regional championships at the Augusta Civic Center.
January, 31, 2012
1/31/12
3:58
PM ET
Leavitt senior Jordan Hersom was recently named recipient of the 41st Fitzpatrick Trophy, given annually to the state's top high school football player. The other finalists were Louis DiTomasso of Wells and Spencer Cooke of Cheverus.

Hersom played quarterback and defense for the Hornets, leading them to three straight Class B state championship appearances, winning in 2009. The Hornets were 42-4 over four seasons with Hersom in the lineup.
This year, he passed for 1,630 yards and 16 touchdowns and rushed for 10 scores, averaging 8.7 yards a carry. On defense, he recorded 56 tackles and two interceptions. In the classroom he carries a 96 average which is also a factor in selecting the Fitzy winner.
He recently answered questions about his career and his future:
Q: When did you begin playing football and who were your early influences?
A: "I've been surrounded by football my whole life. The minute I was born my parents had me in a cradle holding a football, and the first time I walked was on a football field. I started playing flag football in kindergarten, and started playing tackle football in third grade. My biggest influence on me was my father who has been coaching high school football for over thirty years and also played throughout high school and college."
Q: What do you enjoy about the sport?
A: "I enjoy being around my teammates and forming bonds with them that will last a lifetime. In a team sport, it's amazing how much a group can accomplish if nobody cares who gets the credit. This is what the Leavitt football team was all about. I enjoy the team aspect, it takes eleven players to win a game, not one."
Q: When did you first play quarterback and why?
A: "In third grade I remember my first time playing quarterback. Part of the reason I was put at this position was because the fourth grade starter was hurt, and my coach thought I could do a good job running the QB boot play we had around the end because I was pretty fast. I've been a quarterback ever since."
Q: What has contributed to the success of football at Leavitt?
A: "The whole community has played a part in the success Leavitt football has had. Starting with the parents of the players, all the way through to the teachers at the school. So many people do work behind the scenes for the program to succeed. Having coaches who care about the players and the game of football, along with the players having a desire to get better everyday has all contributed to the success the team has had."
Q: What does winning the Fitzpatrick Trophy mean to you?
A: "Winning this award to me, is a way of saying thank you to everyone who has been a part of my life. I couldn't have received any of this recognition without the help, and support from many people. This trophy is something the community deserves for all of the dedication, and loyalty the people in Turner, Greene, and Leeds have shown to the game of football."
Q: Your cousin Jack won the award a few years ago. Did this help inspire you?
A: "I remember being a part of Jack's experience at the banquet in January of 2008. Jack has served as a role model to me, and still does, not just for the athlete he is, but for the type of person he is. I honestly never would have thought that I would be in the same position he was in. I just wanted to be the best teammate, leader, and player I could be by working hard everyday and looking up to people like my cousin Jack as a role model."
Q: Have you narrowed you choices of colleges? What is your criteria?
A: "Springfield College, and the University of Maine are two of my top choices. They are very different schools in a size and athletic wise.
Springfield would provide good private education for me, along with the possibility of being a two-sport athlete. At UMaine I would be able to
challenge myself in the classroom and at a high level of football. Academics comes first, and I want to be somewhere where I fit in, and have a sense of belonging."
Q: You play offense and defense. How would describe the mentality on playing on different sides of the ball?
A: "Football is a contact sport, and on both sides of the ball, I try to be aggressive and physical because that is how the game is supposed to be played. Offensively, as a quarterback I try to be the leader on the field, always staying positive and being confident. As a defensive
player, I turn on a mean streak. To play defense you must be tough and not afraid to hit somebody."
Q: What position would you prefer to play in college?
A: "I'm all about the team. Wherever a coach tells me to play is where I will be happy to play. I just want to be out on the field. So the position doesn't really matter to me because it's not about me, it's about the team."
Q: What other sports do you play?
A: "I play basketball in the winter and participate in outdoor track and field during the spring."
Q: What influence have athletics had on your life?
A: "Sports have taught me a lot of life lessons. In life, not everything goes your way, and I've been able to deal with the joys and disappointments of playing high school sports. I play for the love of the game, not for winning and losing."
Q: How do you maintain the balance between athletics and academics?
A: "Academics always comes first and by being busy I think it helps me. This way I always have a structured time to do homework whether it is before or after practice. At this point I've realized that sports and school are important and they are what I want to succeed in."
Q: What do you enjoy doing when you're not playing sports?
A: "Spending time with my family and friends is what I like to do outside of sports. I have a great family that loves and supports me, and my friends are always there for me as well."
January, 12, 2012
1/12/12
6:37
PM ET
By
Gary Hawkins
| ESPNBoston.com
Paul Vachon established himself as one of the top basketball coaches in Maine, winning seven girls Class A state championships in 23 years at Cony High School in Augusta. Prior to that he coached at Waterville and Messalonskee and won over 400 games in his career at Cony alone. He stepped down five years ago to take the athletic director's position at Cony and recently answered a few questions about his job.
Q: You were a basketball coach for nearly 30 years. What misconceptions did you have about an athletic director's job during that time?

A: "I didn't realize all the time and responsibility that came with this position. Being in charge of 23 varsity sports, 25 sub-varsity, 55 coaches, supervising events, and attending meetings, certainly puts a lot on your plate. I had tunnel vision when I was coaching. Basketball was all I saw. Wow, was I ever wrong."
Q: How many hours do you work during an average week during the school year? And what are those hours devoted to?
A: "I average between 50-70 hours a week. Bus scheduling, referee assignments, daily updates on events, committee meetings, cancellations, MPA information updates and paperwork, parent concerns, player concerns, student eligibility, drug and alcohol concerns, field and game preparations, special events, booster meetings, evaluations, and making sure there is enough pizza for tonight's game — just to name a few."
Q: What is the most important aspect of your job?
A: "The most important aspect of my job is to be a good listener. I may not agree with everything, but I must understand that everyone has their own opinion. I must listen, research, and evaluate all dilemmas. I then must come up with a solution that hopefully everyone will understand and agree upon."
Q: Augusta has a number of centrally located and well developed facilities which make it an attractive site for regional and state championship events. How much of an extra burden is this on your job?
A: "I don't know if I would call it a burden. This is what I envisioned the AD position would be like. I love watching athletics and I would do anything to promote events for our school and community. Yes, we are centrally located, but our administration, community and city have built some nice facilities that many people want to use. I feel it is one of my responsibilities that I help promote these outstanding facilities."
Q: How have athletes changed since you began coaching?
A: "School teams were always our No. 1 priority. I'm not sure that this is truly the case anymore. I've seen athletes miss practices and even games to attend other sporting events. Year round practices and games for elite groups are now being offered for all sports. Many athletes and parents have already chosen their career sport by middle school. Instead of developing athletes, it seems that we are focusing on a specific area and hoping for scholarships. The best teams I ever coached was when I had three sport athletes on our teams."
Q: What is the most difficult part of your job?
A: "The most difficult part of my job is my inability to have the time to spend with the student athlete. They need to know that we care about them and more than just being an athlete. It is a difficult world out there. Expectations for our student/ athletes is as pressurized as ever. We must remember that this is high school. Our job is to make sure that they feel good about who they are and that athletics is only one part of their high school education. We are teachers first and coaches second. Technology has made it very difficult to focus on certain areas."
Q: What is the most rewarding part of you job?
A: "The most rewarding part of my job is our support system. Our administration and school board have a great understanding that athletics play a huge role in a student's high school education. You must understand that Cony offers as many sports as any school in this state."
Q: Do you miss coaching and do you think you'll ever return?
A: "I do miss coaching. I still run camps and attend clinics. I am positive that I will be coaching again."
Q: Is the turnover of coaches greater today than is was 15 or 20 years ago? If so, why?
A: "The turnover is much greater. I think if you check the coaches who have longevity, I think that you will find out that they are involved in the school system as an employee. Mike McGee, Dianne Fornier, Al Veneziano, Paula Doughty, Moe McNally, Scott Graffam, Mt. Blue football coach etc."
Q: Being a teacher in the system gives you a greater understanding of the student athlete and vice versa. How do you walk the fine line between parental involvement and parental interference in high school athletics?
A: "We need parent volunteers. Our All Sports Boosters raise a huge part of our athletic budget and it is all because of their great dedication and love that our parents have for their children. Cony High School is very fortunate to have such caring parents. With that said, I must admit that we do have dilemmas with parents voicing their personal opinions. I must also admit that I have been on both sides of the fence. I must again go back to my original statement; I must become a great listener. I hope what I have learned as a parent, teacher, coach, and administrator has provided me with the wisdom that I can share that provides comfort for the parent's concern."
Q: Cony continues to offer a number of sports that many schools do not. With a declining enrollment and budget considerations, how long can this be sustained?
A: "The athletic budget is less than two percent of the entire school budget. I am in hopes that the school board and community believe that athletics plays at least two percent of a role in a high school student's education."
Q: What changes, if any, would you like to see in high school athletics in Maine?
A: "I would like to see students receive credits for playing sports. A lot of lessons are learned in participating in athletics. We give chorus credit and band credit. Why not athletics?"
Q: Is today's high school athlete as dedicated to their sport as he or she was 20 or 30 years ago?
A: "I believe that athletes are as dedicated today as they were 20-30 years ago. We just don't have as many. Kids have many more distractions today than they had 20 years ago."
May, 19, 2011
5/19/11
3:31
PM ET
By
Gary Hawkins
| ESPNBoston.com
A Westbrook High School team that has won baseball games at every level appears primed to cap it off this spring with its first Class A state championship in 60 years.

Many of this year's group of seniors reached the Little League World Series six years ago followed by two appearances in the Babe Ruth World Series, first for 13-year-olds and three years ago reaching the championship game for 15-year-olds.
"They're definitely used to winning," coach Mike Rutherford said.
The Blue Blazes are 9-0 so far this season with seven shutouts. Senior pitchers Scott Heath and Sean Murphy are a combined 7-09 and have yet to allow a run while Matt Weimer, another senior, is 2-0.
Heath, a left-hander, who will play for the University of Maine next year, has pitched a pair of one-hitters so far this season. His fastball is in the high 80's and he features a good slider.
"He may be the toughest kid I've ever coached," said Rutherford, who coached at Portland High for 12 years and won a state title. "If things don't go his way it doesn't bother him."
Heath inherited some of that toughness from his father Mike, a high school football player and wrestler, as did his freshman brother Kyle who is the team's catcher.
Scott is also an accomplished hitter and he chose Maine because coaches assured him he would be able to hit as well as pitch "I believe he's a bettor pitcher/outfielder than he is a pitcher in Division I," Rutherford said.
Murphy, who has verbally committed to attend St. John's University, missed all but a few innings of last season with a shoulder injury "Not having him last year hurt us," said Rutherford, who team lost in the Western Maine semifinals.
Before he was hurt, the 6-foot-5 right-hander was throwing in the high 80's with a good slider, but is now in the mid 80's as he tries to regain his arm strength. St. John's coaches plan to take a second look at him later this season.
April, 20, 2011
4/20/11
11:25
PM ET
By
Gary Hawkins
| ESPNBoston.com
High school players who have been rivals through the years will join one another next season as four schools consolidate into two.

The neighboring communities of Livermore Falls and Jay recently decided to consolidate into one school which will be known as Spruce Mountain High School.
The adjoining towns have played in a long-standing football rivalry that goes back 72 years. The Black and Orange of the Jay Tigers and the green and yellow of the Livermore Falls Andies will be replaced by the black and green of the Spruce Mountain Phoenix.
The schools, which competed for years in the Class C Mountain Valley Conference will move to Class B next season.
Georges Valley and Rockland high schools decided several months ago to merge into one school known as Oceanside. The Black and Orange of the Rockland Tigers and the green and white of the Georges Valley Buccaneers will soon become the dark blue, light blue and white of the Oceanside Mariners.
Students will attend their last three years of high school in Rockland while freshmen classes from both communities will combine at Georges Valley High in Thomaston. Although the schools are only five miles apart, their athletic rivalry generally ended in middle school. Georges Valley has competed in Class C in Western Maine while Rockland has largely competed in Class B in Eastern Maine. With the enrollment at Oceanside expected to be in the upper 600s, the schools will compete in Eastern Maine in the Class B division of the Kennebec Valley Athletic Conference.