Boston High School:

Megan Barrett
February, 19, 2014
Feb 19
2:27
AM ET
By
Mike Abelson
| ESPNBoston.com


HINGHAM, Mass. – Acton-Boxborough scored just over a minute into the game and controlled the first and third periods to ease by St. Mary's, 4-1, at the Hingham Girls' Hockey Showcase at Pilgrim Arena.

The Colonials' depth was apparent as they were able to set the terms of engagement throughout and make the Spartans work harder for chances.

"The girls were really excited to play St. Mary's," A-B head coach Brian Fontas said. "Since I've been at Acton-Boxborough, I think we've played them six or seven times and haven't beat them yet. It's nice. They're such a great program, I have a lot of respect for them."

The Colonials were led by senior captain Annie Messuri. Messuri scored the opening goal of the game off a rebound and assisted on A-B's third goal with just over three minutes remaining to seal the victory.

Messuri led an offensive attack that only outshot St. Mary's, 23-18, but had far more quality scoring chances.

Megan Barrett scored for the Colonials to put AB up 2-0 just under four minutes into the game.

Leah Cardarelli had Acton's third goal, and Olivia Keefe buried an empty-net goal in the waning seconds from the neutral zone.

"I guess you could say that the first goal is important for our team," Messuri said. "It gives us the adrenaline to go into the game and all three periods more excited to play."

While scoring in the first minute was a boon for the Colonials it was a nightmare for the Spartans. St Mary's was on its heels for the final 44 minutes and was never fully able to push back A-B.

Samantha Callahan scored early in the second period to halve a 2-0 deficit, but that was as close at St. Mary's would get.

"I thought we came out flat and they took advantage of it," St. Mary's coach Frank Pagliuca said. "We've had an issue coming out stronger, and they scored a goal on us. Right away we're behind and playing catch up the entire game. I thought after the first we played a really good second. We just didn't have enough finish.

"[Callahan's] one of our more offensively talented players, and she finished the chance for us."

CLUTCH CALI: St. Mary's didn't have many top-notch chance,s but when they did Cali Loblundo was up to the challenge. The sophomore goalie shined for Acton-Boxborough turning aside 17 shots, including a Tim Thomas-esque dive across the cage in the second period.

"She's a big-time goalie," Fontas said. "She's capable of those saves. St Mary's didn't stop and I knew they wouldn't."

Loblundo chirped at her teammates all game about positioning and when Spartan forwards tried to sneak behind the AB defense. Messuri said having a confident goalie is a lift for the team.

"I thought Cali was great tonight," Messuri said. "She stood on her head for us when we needed her most. She hung in for us real well tonight and I'm real proud of her."
November, 16, 2013
11/16/13
10:36
PM ET
By
Phil Garceau
| ESPNBoston.com
NORTHBOROUGH, Mass. -- At the end of that day, there can only be one team standing. And for 10 of the last 11 years, and the fourth consecutive year, it has been the Barnstable Red Raiders. A true decade of dominance.
And the way the Red Raiders are playing right now, it looks as if they are set for a century of dominance.
The scene is all too familiar for Barnstable coach Tom Turco. Clear his schedule for the middle of November, because he has a trophy to hoist. It's almost become as regular as an annual family reunion.
[+] Enlarge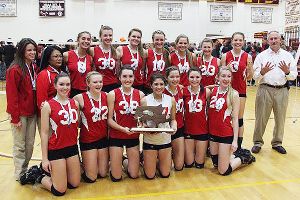 Phil Garceau for ESPNBoston.comBarnstable beat Newton North in straight sets to capture its 10th Division 1 girls volleyball title in 11 years.
From start to finish, the Red Raiders were quicker, stronger and faster than Newton North, winning in straight sets 25-10, 25-15 and 25-11, capping off a perfect finish to one of the more dominant seasons in recent memory.
Sure, a 23-0 season is pretty impressive. But the Red Raiders took it a step beyond that. Barnstable played a total of 73 sets this season and won 69 of them. Twenty of their wins came via a 3-0 victory, including every match this postseason. Twice they were pushed to a fourth set and only one time did a match go five sets.
"It feels sweet," Turco said following his fourth straight championship season. "These girls go out on a limb, set their goals really high and they sacrifice, they work and they stuck together out there and I'm really happy for them."
This Barnstable team was not the same as we've come to expect from the Red Raiders. This team takes their defense and turns it into offense. They don't allow the ball to hit the ground and transition quickly from defense to offense. Once they are set up, they don't attack through the middle, which the Raiders have done for years, and instead attack from the outside.
""Barnstable forever, we've been attacking from the middle, 90 percent of our hits come from the middle," said Turco. "This year we kept Hannah [Andres] and [Ciara] Bruning on the outside and we knew we had to quicken it up. The quicker you can get the attack off, the less time the defense has and the block has to set up."
Seniors Bruning and Andres couldn't be contained on the Barnstable front line. Sophomore Madison Sollows added a third dimension to Raiders attack for which the Tigers had no answer.
"I give all the credit to Barnstable," Tigers coach Richard Barton said. "It was very cool to watch them play, uncool to be the team losing to them, but we played fine and got nothing out of it."
Three of these Red Raiders, from the time they were freshmen up until Saturday night, were on the floor for each of the four championships. Stephanie Martin, Holly Wilson and Andres saw all four and Martin saw something special about this group of players.
"This team, we're closer and we spend more time together and we work hard on the court. We bond more off court and on court and it brings the team together."
The Red Raiders wasted no time establishing themselves as the dominant team, grabbing a 12-1 lead to begin the game. Three times in the opening set the Raiders made runs of six points.
Barnstable got off to anther hot stat in the second set, jumping out to a 15-6 lead before the Panthers, led by Infiniti Thomas-Waheed, found a bit of a rhythm. Newton North lost, 25-15, but matched Barnstable every point for the remainder of the set giving them hope for the third set.
The first eight points were evenly split before Barnstable went on a dominant 11-0 run, giving themselves a 15-4 and a championship coming into sight.
"This is why they're different this year," said Barton. "They attack every ball that came over. They're steadier in every regard. They run offense from all positions instead of the middle, they pass better, nothing hits the floor."
Junior setter Olivia Brodt set the ball up for all of her hitters, leaving the Tigers defense guessing.
"[Brodt] came into camp in unbelievable physical condition," Turco explained. "She worked for this and wasn't going to be denied."
D2: Notre Dame Hingham 3, Westborough 2
Holding a 18-12 lead and momentum at their backs, Notre Dame Academy had the Division two championship in their sights.
What they weren't counting on was a Westborough team that refused to give up. The Rangers went on a 15-7 run to force a deciding game five, setting the stage for Notre Dame Academy's Julia Flynn.
With a championship on the line in a winner take all set, it was only fitting for the senior hitter led her team to claim the state title, just as she had all season.
After a nail-biting back-and-forth battle all afternoon, it was the Cougars that prevailed in the fifth set, taking it 15-12 in front of a capacity crowd at Algonquin High School.
"It was a very very big opportunity for these young women to step up into a moment that big," Cougars coach Joshua Sheperd said. "After having a lead and letting it slip away in game four, to recapture it and move forward."
"We had some inspired volleyball tonight. We saw Julia [Flynn] be as advertised both in the front row and back row. Moments carrying her team, and showing them the strength when they needed it."
Trailing 14-12 in the final set, Westborough got what they wanted. A perfect set to Samantha Kehoe, who had carried the Rangers all game. The senior hitter wound up, but a perfectly timed jump from Notre Dame's Casey Thorbahn blocked Kehoe's hit and bounced back into play for the championship point.
"Sam did exactly what I told her to do on the last hit," said Rangers coach Roger Anderson. "I told her to go up and rip it and she did. And I'm so proud of her for that. She got us here and if we're going to go down, we're going to go down swinging."
Notre Dame saw some excellent defense from senior Megan Barrett, but the story of the game was the emergence of sophomore Avery Spaziani. And what better place to make a name for yourself than the state championship game.
"We saw inspired defense from our other captain Meg Barrett," Shepherd said. "We saw an unbelievable dawning of a new player in Avery Spazeroni tonight. She came to play and played the game with heart that was very admirable."
With time running out on their season, Westborough seemed to bury themselves in too deep of a hole. In the fourth set, already trailing two sets to one they found themselves down 18-12.
An ace from Kehoe, kills from Maria Hession and Julia Arsenault and a couple of fortunate bounces tied the game at 18 and sent the massive Ranger student section into a state pandemonium.
The teams exchanged points up until 25, where a long serve and a bad hit from Notre Dame sent the game into a fifth set.
"That comeback was built on playing a schedule that is really tough and being in battles all year long," Anderson said of his team in the fourth set. "We don't relent to anyone. You can knock us down but we're going to keep coming back."
Every match was a closely contended game. In the second match neither team strung together more than two consecutive points until Westborough put together a four-point run to take a 20-15 lead. The Rangers went on to win that set 25-18.
"They sent us a message earlier in the year saying Westborough is for real and we're going to come with it and they did," said Shepherd. "They came as advertised."
Notre Dame took a close first set 25-20, with Julia Marshall sealing the win with an ace, and capping a 5-0 run to close. The Cougars also took the third set 25-18, using a 6-0 down the stretch.
D3: Frontier 3, Fairhaven 1
This was supposed to be a rebuilding year for the Red Hawks. After three consecutive state championships, Frontier lost their star hitter Cassidy Stankowski to graduation, leaving a gaping hole as their team's leading hitter.
With a new philosophy this year, Frontier had no trouble running the Division 3 tournament this season for their fourth title in as many years.
"It's really special to win when you don't have an all American on your team," Frontier coach Sean MacDonald said following the game. "They wanted to show that Frontier volleyball isn't just Cassidy Stankowski.
"We had that cannon last year, and now we have a bunch of little guns all over the place shooting at you, so we're a little less predictable."
After weathering off a ferocious Fairhaven rally in the fourth set, Sarah Woodward clinched the championship with an ace, giving the Red Hawks a 25-22 edge.
The Blue Devils fell behind 20-15 after a 5-0 run from Frontier. The Blue Devils responded with a strong run of their own, but their rally to force a deciding fifth game fell just short and were forced watched the Red Hawks receive the division three championship trophy.
"I thought Fairhaven played pretty well in that set," said MacDonald. "A couple fluky things and its like okay, things aren't going our way this set. But we didn't come in here expecting to sweep Fairhaven."
After a back-and-forth battle to being the first set, Frontier ended on a 9-3 run, with Cassidy Ciesluk putting the exclamation point on the win with the final kill to give the Red Hawks the all important 25-20 first set victory.
A balanced Red Hawk attack in the second set kept the Blue Devils searching for answers. The Blue Devils offense also had a tough time, as they struggled to find any rhythm. Farihaven never strung together more than two consecutive points in a lopsided 25-15 loss, setting up Frontier with a quick 2-0 lead.
"A lot of it was they needed to relax and they couldn't get themselves to relax and play their game," Fairhaven coach Karen Arsenault said. "I don't think they really did relax, ever, and just play how I've seen them play."
It looked as if Fairhaven was on their way to being swept, falling behind 5-2 and 15-11 and still looking for answers on their offense.
With their backs against the wall, senior Mariah Nicholas led her team back with five kills and a block in final stretch and Fairhaven went on to win 25-20.
"They've had this resilience all year," said Arsenault. "We've come back all season, we came back in the semifinals. I knew they could do that, it was just a matter of would it be enough and unfortunately it wasn't."
"They had a much quicker game, way quicker game than the semifinal game. They had a lot of go to people and ran a really clean offense. We don't normally see that. Probably the best team we've played all year."
With Frontier only losing three players to graduation, they look primed to make another run in 2014.
"We have a lot coming back," said MacDonald. "I feel good moving forward."
April, 1, 2013
4/01/13
7:11
PM ET
FIRST LINE
F - Alison Butler, Sr., St. Mary's
This year's ESPN Boston Miss Hockey award winner, Butler captained the Spartans to their fourth Division 1 state title, scoring the game-winning goal against Arlington Catholic at the Garden. The St. Anselm's commit was third in Division 1 in scoring with 37-25-62 totals. It is her second ESPN Boston All-State nomination.
F - Hannah Murphy, Sr., Duxbury
The fulcrum to Duxbury''s run of three straight Division 2 state championships. Murphy, a three-sport athlete, finished fifth among all Division 2 scorers, putting up 29-24-53 totals. Murphy will play lacrosse at UMass-Amherst.
F - Kayla Smith, Sr., Woburn
One of the most talented pure scorers in the state, Smith finished second in Division 1 across the state in scoring with 34 goals and 24 assists for 63 points. The three-time ESPN Boston All-Stater will continue her hockey career at Salve Regina.
D - Cassandra Connolly, Sr., Woburn
The repeat ESPN Boston All-Stater finished fourth on the Tanners in points (2-15-17) while helping goaltender Courtney Davis notch seven shutouts on the season. Connolly will continue her playing career at the University of New England next year.
D - Hannah Wright, Sr., Arlington
A shut-down, physical blue-liner, Wright also finished tied for fourth on the Spy Ponders with 17 points (3 goals, 14 assists). She will attend Castleton State College next year where she will play hockey.
G - Shannon O'Neil, Sr., Austin Prep
Pitched a remarkable 10 shutouts on the season, along with a dazzling 96.8 save percentage. O'Neil, a Franklin Pierce commit, was also among the statewide leaders in goals against average with a 1.08 marka.
SECOND LINE
F - Kaleigh Finigan, Sr., St. Mary's
Despite missing time with an injury, Finigan still managed to finish second on the Spartans in scoring - following Alison Butleró with 17-28-45 totals. The Medford resident is also a standout on St. Mary's softball team.
F - Jane Freda, Sr., Hingham
A two-time ESPN Boston All-State selection, the Harborwomen captain finished among the Top 10 scorers in the state, tallying 31 goals to go along with 16 assists.
F - Ashley Moran, Jr., Woburn
The rangy winger made great strides this season, finishing among the Top 10 scorers in the state, posting 25 goals and 31 assists.
D - Brooke Matherson, Jr., Walpole
The blue-liner led the Rebels in scoring this year with 33 points points and her 24 goals were also a team-best. Matherson is also a standout player on Walpole's field hockey team.
D - Annie Messuri, Jr., Acton-Boxborough
Messuri was named the DCL/MVC Large division Most Valuable Player this year after posting 13-17-30 totals.
G - Courtney Davis, Jr., Woburn
Led the Tanners to an undefeated regular season while registering seven shutouts. The three-year starter registered a 92.1 save percentage while posting a 1.35 goals against average.
BEST OF THE REST - HONORABLE MENTION
Forwards
Carolyn Avery, Sr., Lexington
Megan Barrett, Frosh., Acton-Boxborough
Christie Caliendo, Sr., Billerica
Leah Cardarelli, Soph., Acton-Boxborough
Molly Connolly, Sr., Wellesley
Amanda Conway, Soph., Tewksbury/Methuen
Gabby Crugnale, Sr., St. Mary's
Jackie Denning, Sr., Lexington
Cecily Docktor, Soph., Wellesley
Kara Donati, Sr., Winthrop/Lynn
Erin Dwyer, Sr., Archbishop Williams
Marissa Fichter, Soph., Duxbury
Ela Hazar, Jr., Westwood
Shannon Hickey, Sr., Arlington
Emily Kelly, Jr., Norwood
Olivia Konaxis, Sr., Beverly/Danvers
Brittani Lanzilli, Jr., Medford
Maggie Layo, Jr., Sandwich
Sara Lehman, Sr., Lexington
Emily Lissner, Jr., Woburn
Kim Lizotte, Sr., Westford Academy
Emily Loprete, Soph., Watertown/Melrose
Meaghan McKenna, Sr., Canton
Rachel Moore, Soph., Falmouth
Ali O'Leary, Frosh., Reading
Adrieana Rossini, Soph., Arlington Catholic
Nicole Woods, Jr., Beverly/Danvers
Defense
Allison Cunningham, Soph., Arlington Catholic
Tatiana Doucette, Jr., St. Mary's
Erin Ferrara, Sr., Fontbonne Academy
Hannah Ghelfi, Soph., Falmouth
Alexandria Gong, Sr., Hingham
Ally Hammel, Jr., Duxbury
Melissa Richard, Sr., Arlington Catholic
Caroline Seibold, Frosh., Reading
Goalies
Megan Messuri, Jr., Arlington Catholic
Rachel Myette, Jr., Duxbury
Madison Scavotto, So., Falmouth
Lauren Skinnion, Jr., St. Mary's
Coach of the Year
Frank Pagliuca, St. Mary's (Lynn)
While piloting to the Spartans to four Division 1 state championships, perhaps Pagliuca's finest job behind the bench came this year, as St. Mary's knocked off Catholic Central rival Arlington Catholic in a rematch of the 2012 title game.
Finalists:
Todd Fletcher, Westford Academy
Michael Golden, Reading
Friend Weiler, Duxbury
March, 3, 2013
3/03/13
12:44
AM ET
By
Bruce Lerch
| ESPNBoston.com


READING, Mass. - When it came to getting ready for postseason play, the first, second and third items on the list for the Acton-Boxborough girls squad were all about special teams. That work and preparation came through in a big way in Saturday's night's first round matchup against Reading.

The 11th-seeded Colonials scored two power play goals, added a shorthanded tally, and then killed off a huge power play in the final two minutes to hang on for a 3-2 victory over No. 6 Reading at Burbank Arena.

Leah Carderelli led the way with a goal and two assists, Kaitlin Hoang had a goal and an assist, Megan Barrett had the short-handed mark and defenseman Annie Messuri dished out two helpers. Acton-Boxborough (15-6-2) will face a familiar foe in Wednesday's quarterfinal when they take on MVC/DCL rival and No 3 seed Westford Academy.

"Our penalty kill has been tremendous all season long," praised A-B coach Brian Fontas. "We do a great job of keeping the puck to the outside, tremendous effort and battle, they just worked so hard back there. We really take a lot of pride in our penalty kill. We work hard back there and it paid off tonight."

"My assistant coach Jeff Vaughn spends a lot of time on the power play and penalty kill," he continued. "We work on it a lot and I just know in the tournament its going to come down to power plays, penalty kills, special teams. We came through big tonight."

Penalties reared up early for the Rockets (14-5-2), who were called for five in the first period alone and got stuck defending a pair of five-on-three situations. A-B (15-6-2) cashed in on both, getting on the board first as Messuri fired the puck toward the crease and Hoang jammed it home at 2:50.

Carderelli normally mans the point when the Colonials have the extra skater, but during another two-man advantage in the final minute of the first, the sophomore moved down low in a wrinkle installed by Vaughn just a couple days ago. The move worked as Messuri fired off another blast and Carderelli was in position to stick the rebound at the far post.

"On our power play, I'm usually up top and I just try and get the puck to our other players so they can shoot and if there's an open shot I take it," Carderelli explained. "We did a different play on the [second five-on-three] power play, we just learned it the other day in practice so I was kind of nervous but once Annie [Messuri] took the shot, I saw the rebound and I just went in and got the puck."

Freshman standouts Ali O'Leary and Caroline Seibold teamed up to get Reading back in the game. While still killing off the remaining penalty after the Colonials goal, Seibold sprung O'Leary loose for a breakaway. A-B goalie Cali Loblundo (18 saves) made the initial stop, but O'Leary followed the rebound and put it right back with 12 seconds to go.

Acton found itself killing penalties more often in the second but produced another big play as Carderelli sent a perfect pass up to Barrett, who got the puck in stride while streaking through the middle of the ice. The freshman walked in and a made a nifty move to her backhand for the finish and a 3-1 A-B advantage.

Reading turned up the heat in the third, producing its best period of the night and finally breaking through as Stephanie Cohen corralled a long rebound of an O'Leary shot and sent it right back into an open net with 4:42 remaining in the game.

That would be all they would manage, however, as Messuri and the Colonials defense blocked several shots and clogged up the middle and Loblundo handled anything that got through. Despite being shorthanded, A-B did not allow a shot through to Loblundo over the final 1:25.

"[Coach Fontas] had said on the bench to block shots so everyone was diving for shots, doing everything they could to block everything in front of the net," described Messuri. "In the beginning we started doing a high forward where we would have one high forward up and the defensemen could pinch. As we were up 3-2 at the end, we had the third forward stay on the blue line and play defense for the rest of the game."

ROCKETING BACK TO RELEVANCE
Make no mistake about it - Reading is going to be a team to keep an eye for the next several years. After missing the postseason the last two seasons and winning just three games a year ago, the Rockets made a stunning turnaround and emerged as one of the state's top teams in 2012-13.

Four immensely talented freshmen - forwards Ali O'Leary and Tori Grimmer, defenseman Caroline Seibold and goalie Kayla St. Pierre - were at the heart of it. O'Leary proved herself to be among the state's elite scorers with 30 goals and 18 assists, while Grimmer and Seibold were second and third on the team in points. St. Pierre pitched five shutouts and finished with a goals against average well under 2.00.

The transformation could not have happened, however, without the leadership and all-around good nature of the Rockets veteran players. Senior captains Heather Toussaint and Delaney Albert, along with junior captain Sarah Hart and the rest of the upperclassmen - many of whom were losing playing time - helped smooth the way for those freshmen to feel comfortable about coming and doing their thing.

"It was a nice blend where we had very welcoming seniors that knew what was coming because they skated together in the summer," Reading coach Mike Golden said. "We had high expectations and I think we actually exceeded a little bit on our expectations. No one really knew how dynamic Ali was until she got here and Seibold is terrific on defense. The girls were great, they were receptive. Even the kids who had played regular shifts last year knew they were here and they had to play."

"We're going to be good next year but I'm really going to miss this team because it was all a year of firsts," Golden added. "Turning the thing around, winning games, competing for the Middlesex League, excitement going into states...we could have as easily lost this game today as reached the finals. It was a blast. it was a fun year and the kids made it fun.

"I told them my wife thinks I'm insane because I'm running down here six days a week but I said, 'If she got to spend three hours a day with you guys, she'd understand and appreciate why I look forward to coming here every day.' They're just a great group of kids."


February, 21, 2013
2/21/13
11:48
PM ET
By
Mark Goodman
| ESPNBoston.com
HINGHAM, Mass. -- The Woburn girls' hockey team is a team on a mission.

A five-point night from junior center Emily Lissner helped the No. 1 Tanners complete their first undefeated regular season since 2003-04, as Woburn defeated No. 12 Acton-Boxborough, 5-3, Thursday in the second night of The 8 Showcase at Pilgrim Arena.

Colonial freshman Megan Barrett scored a pair of third-period goals – the second coming with 2:54 left in the game – to turn a comfortable 4-1 Woburn lead into a 4-3 nail-biter. The Tanners held on in the closing minutes though and put the game away on an empty-net goal from junior Ashley Moran with just a second left on the clock. Lissner set up the play by breaking up a rush from A-B junior Eleana Cardarelli at the Tanner blue line and finding Moran, who backhanded the puck from neutral ice into the empty net.

It was Moran's second goal of the game, as she had scored at 5:49 of the third off a face-off in the A-B zone that Lissner worked toward the net. Moran scored two goals in both of the Tanners' games in this competition.

The No. 1 star Thursday night, however, was Lissner, who scored all three of her goals in the first 18 minutes of the game to give head coach Bob MacCurtain's Tanners (17-0-3) an insurmountable lead.

"Finishing, I wouldn't necessarily say that's her greatest strength, but she did a great job of it today," MacCurtain said. "She's gotten better and better at it this year."

Lissner and her linemates set the tone early with a terrific opening shift that resulted in a goal just 43 seconds into the game, as senior Kayla Smith set up Lissner in the slot from behind the net for a 1-0 lead.

"We always try and get a quick start," Lissner said. "We've learned to get the quick goal but also stay in the game and not get too far ahead of ourselves."

Lissner scored her second with 12 seconds left in the period, establishing position in front and tipping home a shot from the point from sister Erica.

Woburn would have led by even more at the first intermission but for the efforts of A-B freshman goalie Cali Loblundo, who denied Smith on two golden opportunities in front.

Despite it being even on the scoreboard, Woburn dominated the second period to the tune of a 15-5 shot advantage. Lissner completed her hat trick at 2:56 of the period with the Tanners on the power play, taking a pass across the slot from Smith and finishing past Loblundo.

The Colonial goalie again made some fine saves to keep her team in it, as A-B didn't get its first shot of the period until there was 5:01 left in the frame. But sophomore Alex Loblundo put the team on the board with 59 seconds remaining, stuffing home a rebound off a shot by freshman Kaitlin Hoang.

Woburn's group of defensemen – led by senior Cassandra Connolly and featuring senior Haley Rafferty, junior Gabby Mourousas, and freshmen Morgan Bishop and Madison Cole – helped limit A-B (13-6-2) to just nine shots through the first two periods.

"It's been a little bit of a work in progress over the course of the season, but they're all playing really well right now," MacCurtain said.

After beating Arlington Catholic, 4-1, in the Showcase's first day of action Tuesday, Woburn has likely established itself as the team to beat in the MIAA Division 1 state tournament that kicks off next week.

ARLINGTON 3, HINGHAM 3
A goal by Arlington senior Katie Cummings with 4:08 to play capped a wild third period that featured four goals and several good saves, as No. 18 Arlington and No. 6 Hingham played to a 3-3 draw in Thursday night's final game.

The Harborwomen (13-6-3) had come back from a 2-0 second intermission deficit to take a 3-2 lead, with senior Jane Freda's second goal of the night at 5:49 of the third period putting Hingham ahead. That goal came in the midst of a four-minute major penalty against Arlington, during which Hingham senior Alexandria Gong scored at 4:08 to tie the game.

But the Spy Ponders (11-8-1) wouldn't give up, and Cummings was in position to put in a centering pass from senior defenseman Hannah Wright to earn Arlington a point. Junior goalie Katie Gilligan came up big for Arlington with four stops in the final 90 seconds, including a great double-save on Freda with 21 seconds to go.

"She's been flawless these two games," Arlington head coach Jeff Mead said. "That's a good confidence booster for her going into the tournament."

Arlington came into the week on the heels of a 4-0 loss to Reading, but a win over Acton-Boxborough followed by this tie will certainly give the club some momentum going into the state tournament.

"I think they want to prove a point and they want to prove that you might not want to face us in the first game of the playoffs," Mead said. "The kids battled hard. Win or lose, we were competitive all week."

Senior Carolyn Woodin gave Arlington a 1-0 lead at 6:56 of the first. Senior Shannon Hickey made it 2-0 with 4:58 left in the second after a terrific individual effort, beating two Hingham players in the offensive zone before putting the puck past Hingham junior goalie Taylor Walsh.

Freda got Hingham back in the game just 2:12 into the third, and Gong tied it off a pair of good passes from Freda and sophomore Hannah Falvey with the Harborwomen enjoying a 5-on-3 advantage.

Head coach Tom Findley's team finished with a 30-15 advantage in shots, but had to settle for the draw.

"That's our season in a nutshell," Findley said. "We get a lot of shots on net -- sometimes they go in, sometimes they don't ... I think the team played really well in the first two periods. They just didn't score."

ALL-STARS
Each team had two all-stars named for the tournament. Representing their programs from the second half of Thursday's festivities were: Smith and Connolly (Woburn); Barrett and Cali Loblundo (Acton-Boxborough); Woodin and Wright (Arlington); Gong and Freda (Hingham).
February, 20, 2013
2/20/13
12:29
AM ET
By
Bruce Lerch
| ESPNBoston.com


HINGHAM, Mass. -- With eight of the state's best girls hockey programs on display at The 8 Showcase at Pilgrim Arena, you had to expect at least a nailbiter or two. That game turned out to be the third of the day as No. 2 Duxbury and No. 5 St. Mary's battled to a scoreless draw.

At the end of regulation, a three-skater shootout was held for fun and the Dragons' Hannah Murphy scored the only goal.

The goaltending was nothing short of spectacular at both ends, necessarily so in the face of two of the state's most potent offenses. Spartans (15-3-3) junior Lauren Skinnion made 25 saves while her counterpart Rachel Myette stopped 16 shots in goal for Duxbury (16-1-2).

"Duxbury is a great team, they hustle a lot and they are really talented," Skinnion said. "For me, it's just focusing on one shot at a time and not worrying about what's going to happen next. Just focusing on what I have to do on each individual shot. My defense really stepped it up and played great. They were really aggressive and kept people away from and cleared pucks well."

Added Duxbury head coach Friend Weiler, "Rachel [Myette] is always there when we need here. She came up huge in the shootout, even though it didn't mean anything it's still good practice to get. She's nursing a few injuries, trying to get back healthy again and she's definitely a gamer. She stepped up big for us."

St. Mary's already thin roster took a couple of hits as first-line forwards Kaleigh Finigan (shoulder) and Sam Callahan (hamstring) were taken to the hospital with injuries. That forced Spartans head coach Frank Pagliuca to do some juggling with his lines, but players such as Madison Molea, Jacqueline Murphy, Sarah Ryan and Kira Iaccoupucci filled in admirably.

Additionally, second line center Gabby Crugnale continued to look like the most improved player in the state. The senior has the talent to play up on the Spartans top unit, but instead serves as the lynchpin of the second line. She was one of the most notable players on the ice for either side at both ends, as well as on special teams.

"I'm proud of my kids, we battled hard today," Pagliuca said. "We had some kids step up. Obviously the depth is an issue when we lose two of our regular players but I was proud of our kids. I thought we played a really good game considering everything."

The Dragons also got key contributions from several spots aside from the usual standouts. Weiler praised freshman defenseman Payton Donato, who continues to look like a player to watch over the next few years, as well as top blue liner Ally Hammel. Sophomore Marissa Fichter also continues to gain tremendous strides, displaying incredible strength and skating ability while excelling in all facets of the game.

"She's a complete player," Weiler said of Fichter. "She works just as hard in the defensive zone as the offensive zone and in the neutral zone as well. She's always in the right place. She's just a high caliber kid and a high caliber hockey player. She's a force out there and she never quits."

ARLINGTON 2, ACTON-BOXBOROUGH 1
The Spy Ponders, the lowest ranked team in the field at No. 18, may have been the biggest surprise on the first day of the showcase. Carolyn Woodin and Katie Cummings had the goals in a 2-1 victory over No. 12 Acton-Boxborough.

"We have to do the little things and get the puck in deep and chip it in and forecheck and play smart," explained Arlington coach Jeff Mead. "We have nine seniors, we're big and we're strong. We don't have a tremendous amount of skill but we can skate and we're physical. We just have to keep doing the little things. Today was one of those games where we got the bounces and AB didn't."

The Colonials (13-5-2) scored the game's first goal as Lauren Roche collected a bouncing puck that came off the stick of teammate Megan Barrett and rifled home a bull's-eye wrist shot for a power play goal at 5:33 of the first period.

Arlington (11-8-0) got it back late in the frame as Woodin converted a feed from captain Kaitlyn Morse. Then, midway through the second, senior Eva Colarusso made a pair of heads up plays, first intercepting an attempted clearing pass and then having the presence of mind to dish the puck over to Cummings, who buried her shot into an open net.

"Eva is a workhorse," praised Mead. "She works hard all the time and she's one of those kids that, once the puck is below the dots, she's big and she's strong, she knows how to protect the puck and she keeps it below the circles. Katie Cummings is another one. They're my number one penalty killers and they're tough to knock off the puck. When they get the puck on their stick its tough to knock them off it."


December, 16, 2012
12/16/12
12:40
AM ET
By
Bruce Lerch
| ESPNBoston.com
BOXBOROUGH, Mass. - Hingham coach Tom Findley was looking for signs of improvement in all facets when his team took the ice Saturday night against Acton-Boxborough. He certainly left the rink with good feelings.

Catherine Linehan notched a hat trick and Jane Freda added a goal and an assist as the Harborwomen took a 4-2 decision over the Colonials in a game slowed by 13 penalties at Nashoba Valley Olympia.

"It's always good to beat a team like Acton. Brian's got them prepared and they played an awesome game," Findley said. "Their power play was great, they got two power play goals. They protect the box, they played great. We had to really battle hard to come out with a victory. Our top forward put the puck in the net to win the game for us and that's what it comes down to."

Penalties would be a theme and it was Acton-Boxborough (1-2-1) who struck first, cashing in on its first power play. Senior captain Lauren Roche did a tremendous job to keep the puck alive in the Hingham zone, poking it behind the boards to Eleana Cardarelli. Cardarelli drifted out and quickly snuck a pass across to junior defenseman Annie Messuri, playing her first game after missing the last two with a wrist injury, who banged home the one-timer at 6:32.

Hingham won the ensuing faceoff and Freda served up a nice feed to Linehan, who buried her shot to tie the game just 26 seconds later. Penalties began to play a crucial role as A-B took a pair in the final minute of the opening frame, and then got tagged with two more in the second, giving the Harborwomen consecutive five-on-three advantages, the latter of which last 1:21.

The Colonials killed off both, but Hingham broke through a second after the last one expired. Sam Ryder pushed the back to Tori Messina at the point for a quick wrist shot, Cali Loblundo (19 saves) made the initial save but Linehan swooped in from the boards and stuck in the rebound to give the Harborwomen a 2-1 lead at 5:52.

Hingham then found itself in the penalty box and A-B cashed in again as Cardarelli redirected a shot by Roche to tie the game 45 seconds later at 2-2. Freda popped in the game-winner off a feed from Linehan at 7:27 of the third, and Linehan capped her big night with an empty-netter for the final score.

NEWLY CONFIDENT GOALIE
In the later stages of the third period, an A-B skater rushed into the Hingham crease looking for a rebound and pulled up short upon realizing there was none, sending a shower of snow into the face of Hingham goalie Taylor Walsh. Walsh hopped to her feet immediately and came charging out to voice her displeasure.

A year ago, Walsh was an inexperienced sophomore netminder stuck with the role of replacing four-year starter and two-time state championship winner Beth Findley. She improved tremendously over the course of the year in terms of her on-ice play, but her confidence level remained a work in progress.

That has clearly changed. Now a junior, Walsh not only showed off her feisty side in the example above, but showed a willingness to get out of her crease to challenge shooters and even flash the glove around a bit. Walsh was at her best in the third, stopping seven shots and finishing with 16 saves.

"Taylor was great in the third period, she was awesome," praised Findley. "She's a solid goalie and a great kid. She comes to practice every day and works her tail off. Success comes from hard work and that's what I'm proud of her with."

"She got sprayed and she was upset about it. I kind of like that, Findley continued with a big grin. "Last year was her first year playing and she probably didn't know how to react. But now, after playing a while and being an upperclassman, she's going to react. I was very happy with her performance for sure."

POSITIVE SIGNS FOR A-B
While 1-2-1 was not the record Colonials coach Brian Fontas had envisioned for his talented group at this stage, there were many things to chalk up in the plus-column.

Loblundo, now in her third year as a starter despite being just a freshman, was terrific in the early going, making the bulk of her saves between the first and second periods.

Messuri, an ESPN Boston preseason second-team All-State selection, showed no signs of being bothered by her wrist injury despite being forced to wear a cast to protect it. The junior scored a power-play goal, played rock-solid defense in her own end and captained the shorthanded unit that killed off seven penalties.

In fact, it was that special teams play that kept the Colonials in the game. The Harborwmen had two-man advantages that lasted 39 seconds and 1:21 and A-B's penalty killers managed to kill off both among the seven power plays they were forced to defend.

"Annie Messuri is our top penalty killer. She's just tremendous in the defensive zone," Fontas praised. "She really thrives on the penalty kill. She's so good at eating the puck in the corner. I thought Eleana and Leah Cardeaelli did great when they were out there, Lauren Roche, Kaitlin Hoang, Megan Barrett - they did a tremendous job. It's not easy to kill a penalty against Hingham."

And while the final result wasn't what Fontas had hoped for, the effort was and if that continues, things will definitely turn positive for his team in a hurry.

"I'm not disappointed," he stated proudly. "I told the girls that if they continue to play like we're going to win some hockey games. That's why we schedule teams like that, it makes us better. We're young and we made a couple mistakes. We are seasoned but they are still young and when you get in those pressure situations, sometimes stuff happens."
February, 15, 2012
2/15/12
11:14
PM ET
By
Tom Layman
| ESPNBoston.com
NORTH BILLERICA, Mass. -- Acton-Boxborough used a dominating first period to set the tone as the Colonials sped away from Chelmsford (12-3-3) with a 6-0 victory to claim the DCL/MVC Large division title last night at Chelmsford Forum.

Kati Goguen scored two goals as nine Colonials talled a point, while eighth grade goaltender Cali Loblundo made 12 saves to register the shutout and push the teams record to 16-0-2.

The two teams were locked up in a one-goal game earlier in the season, and Colonials head coach Brian Fontas knew a quick start in this contest with league bragging rights on the line would be very important.

His team responded with four goals in a 16-shot flurry during the first 15 minutes of the game.

"If they had beat us then we would have tied for the league, and we didn't want to tie," Fontas said. "I think we had a little extra incentive."

Kaitlin Hoang got things going for the Colonials when she fired a puck into traffic and it ricocheted off someone's leg and into the goal at 4:47. Before the Lions could shake off the early frustration, Leah Cardarelli took the puck back over the blue line and scored near post above the left shoulder of Torrie Russo from the right circle just 39 seconds later for a 2-0 advantage.

"To go up quick like that is big," Fontas said. "That set the pace for the rest of the night."

The Lions were called for a four-minute penalty on a hit along the boards and the Colonials responded before the big-time advantage could be squandered with 34.2 seconds remaining on the penalty. Goguen got to the same spot as Cardarelli and mirrored the result from with a goal just under the crossbar.

With 1:51 remaining in the period, Hoang charged towards the net, left it for Megan Barrett and she slid a pas right to Olivia Keefe in front for the 4-0 advantage.

Goguen and Lauren Roche would pot second-period goals for the final goals of the game.

YOUTH IS SERVED
What makes the Colonials so unique is their ability to play young players in key spots and continue to build upon last year's success as league champions and a showing in the Boston Garden.

The second line — which actually got the start last night — of Hoang, Keefe and Barrett are all still in eighth grade, but play with a lot more seasoning to their game.

"I thought we were going to be competitive," Fontas said. "To be honest I didn't think we were going to not have lost a game at this point in our schedule. It speaks volumes of our kids."

YOUNG GOALIE SOLID AGAIN
Loblundo didn't have to make a ton of saves as the Colonials controlled play on the other end of the ice, but she was in position on a several attempts on the doorstep and also stoned Julianne Sheehan on a breakaway in the third period.

The young netminder has only let up 10 goals all season and recorded her seventh shutout with her latest mastery.

"She played last year as a seventh grader, and we were in the Garden last year," Fontas said. "She has no fear. She welcomes the pressure and she likes it."
January, 7, 2012
1/07/12
11:57
PM ET
By
Bruce Lerch
| ESPNBoston.com
BOXBOROUGH, Mass. -- Motivation can be a big weapon if it's used correctly and is applied with heart and determination behind it.

The fifth-ranked Acton-Boxborough girls hockey team had plenty of reason to be motivated entering last night's game against No. 3 Hingham. The last time the two teams met, the Colonials watched the Harborwomen skate around the TD Garden ice with the Div. 1 state championship trophy following a 3-1 loss.

Determined to atone for that, A-B made a pretty big statement Saturday night as eighth-grade forward Kaitlin Hoang scored the game's lone goal just 2:05 into the opening period while eighth-grade Cali Loblundo had 31 saves to make it stick as the Colonials took down Hingham, 1-0, at Nashoba Valley Olympia.

"I'd be lying if I didn't say that game in the Garden last year wasn't a huge motivation for us this year," admitted A-B coach Brian Fontas. "Any motivational tool you can use with the girls is big."

Co-captain Emily Loebs, one of just two Colonials seniors with fellow co-captain Kati Goguen, noted that the bad memories of that night at TD Garden were still fresh in hers and her teammates minds.

"Every practice since we came back from break, Coach started off by staying 'this is for Hingham. They beat us in the Garden.'" Loebs said in a refreshing bit of honesty. "Me and Kati, we tried to enforce that, as much as the entire team should want to win, because of the sole reason that they beat us in the Garden, that should give you a fire inside among everything else that."

TEAM DEFENSE FIRST
The other subject of the Colonials practices this past week revolved around defense and killing penalties. A-Bs quartet of defenders - Loebs, Annie Messuri, Alex Loblundo and Alex Macrides - did a spectacular job of limiting Hingham's chances to utilize its devastating team speed to create scoring chances and blocked numerous shots.

Stuck facing six shorthanded situations, including a pair of 5-on-3s, penalty killers Loebs, Messuri, Goguen, Lauren Roche, Hoang, Olivia Keefe and Megan Barrett managed to hold off the normally deadly Harborwomen every time.

"Our penalty kill was just incredible," praised Fontas. "We really stress penalty kill and team defense. My assistant coach Jeff Vaughan is just amazing. He was a defensive player at Northeastern. He stresses it and works on it constantly every day so we're prepared in that area."

"It's just determination and hard work, it doesn't take a lot of skill to penalty kill," Fontas continued. "It just takes heart and determination and we had that tonight. To kill two 5 on 3s is pretty incredible against that offense."

Added Hingham coach Tom Findley on his team's lack of power play success, "That's a killer and I told the kids we're going to have to work on that the next couple of days. We were a little hesitant. We haven't had a lot of five on threes and I think the kids were trying to run the regular power play. You don't have to do that. You can basically use the low post and do a lot of different things. We were trying to do the hook and ladders and the D to D too much."

WEATHERING THE STORM
Hingham started off a bit slow, but as the game wore on, the number of chances began to increase along with the quality of those opportunities. The diminutive Loblundo improved right along with them.

Standing at what we'll just call a flat five feet tall, the 13-year old netminder took her game to another level in the third period. Several times, the Harborwomen found themselves with chances for one-timers or sim-ply staring straight in at the A-B goal. Every time, Loblundo's quickness and uncanny reflexes put her in position to make the stops.

"Most of the time there were screens so I didn't really know what was going on and I kind of just dropped, guessing and hoping," Loblundo admitted with a smile. "Sometimes when I could see it I was thinking about the fact that they beat us last year and I don't want that to happen again."

Findley knows a thing or two about goaltending in his own right, having won Division 1 and 2 state titles with his daughter Beth in the cage, came away even more impressed than he already was with Loblundo's ability.

"She played fantastic," he said. "She's an elite goalie, she stays square to the puck and she's only in the eighth grade so she's only going to get bigger and better."
February, 24, 2011
2/24/11
10:37
PM ET
By
Joe Vieira
| ESPNBoston.com
WOBURN, Mass. -- No. 2 Woburn dealt a surprising blow to No. 5 Acton-Boxboro in a season-ending nonleague contest yesterday afternoon at O'Brien Rink, as the Tanners' top line of Colleen Martell, Siobhan Duran and Kayla Smith accounted for six goals in an 8-2 victory.

Woburn (18-1-1) wasted little time in setting the tone for the game, as Smith (three goals, three assists) skated down the right wing and snuck a back-handed shot under the crossbar for a 1-0 lead 42 seconds into the first.

Duran (goal, assist) made it 2-0 at 8:04 when she took a feed from Martell (two goals, two assists) and skated out of the left corner, planting another backhander under the crossbar as she crossed the low slot.

"We had a really good game today," Martell said. "We worked well together and everyone tried their hardest, and that's the result. We tried to keep our stick on the puck and work on our forecheck and hopefully get them flustered so we could go and make plays."

The first line wasn't the only unit in top form for the Tanners, however, as the blue liners had a dominate game in the neutral zone. Their pressure bottled the A-B attack and forced myriad turnovers at center ice, several of which turned into transition goals.

"I thought we did a nice job of creating turnovers off the forecheck, particularly in the neutral zone, and then transitioning into offense off of that," Woburn head coach Bob MacCurtain said.

The Tanners pulled away in the second period, as A-B added to its problems by committing four infractions, leading to two Woburn power-play goals.

Woburn cashed in on the first advantage at 1:41, when Kelly Duran pounced on a rebound in the low slot. Smith made it 4-0 at 3:59 with an even-strength tally, stealing a clear on the forecheck and breaking in alone before sniping the top right corner.

"You can't fall behind them; they have too much firepower up front," A-B coach Brian Fontas said. "They bottled us up big-time in the neutral zone and they're a great transition team. You can't turn the puck over there."

Megan Barrett got the Colonials (16-4-1) on the board at 5:47 when she fired off a wrist shot from the low slot. Any momentum was snuffed out by three straight penalties on A-B, the last leading to a 5-1 lead on a goal for Martell at 11:40.

Martell added a short-handed goal at 13:08, tapping the rebound of a Smith wrist shot over the goal line, and Ashley Moran made it 7-1 just before the intermission with a low wrist shot from the left circle.

Despite the lopsided nature of the contest, both teams were keeping themselves tempered with the state tournament approaching.

"I think we're a better team than that," Fontas said. "It's just one of those games. I think we'll be able to shake it off. We have a good group of kids."

Added MacCurtain, "We have a lot of veterans here who I think keep it in perspective. We know that, if we see them again, the game will be closer."