Boston High School:

Megan Pelletier
April, 23, 2012
4/23/12
11:37
PM ET
By
Gary Hawkins
| ESPNBoston.com
Mt. Blue boys basketball coach Jim Bessey retired recently after 37 years with the Cougars. Bessey, who also coached at Madison Memorial High School, leaves with 479 wins. This year's team reached the Eastern Maine Class A championship game where it lost to Hampden 46-44.

Bessey, 68, led the Cougars to the Eastern Maine title in 1997. He answered some questions regarding his team and coaching philosophy.
Q: Who were your early influences in the game?
A: "My high school coach, Rod Shain. My whole life has been connected with sports. It was and always has been my niche. I played for a small high school and had the physical ability to excel and the internal desire to win. Coach brought this out in me."
Q: How did you first get into coaching?
A: "I started out as a JV coach at Farmington High School."
Q: When did you start to feel comfortable as a coach and why?
A: "I have always been comfortable as a coach and I knew in the sixth grade that it was I wanted to do. I think my comfort level has always been connected to my ability to relate to my players."
Q: How would you describe your coaching philosophy?
A: "It has always been to get players to work together as a team and to make them understand that everyone on the team can and must make a contribution for the team to be successful. Every player has the ability to make the team better. That little things are important. To convince them that playing and practicing hard are talents."
Q: Where did it come from?
A: "I developed it over time."
Q: Who were your coaching role models?
A: "At the high school level Dick Hunt (Cony), Bob Brown (Cheverus), Tom Maines (Morse, Scarborough). At the college level Dick Whitmore (Colby), Dick Meader (Farmington) , Ed Kohtala (Maine), Steve Clifford (Orlando Magic)."
Q: How has the game changed and how have you adapted to it?
A: "The inability to score the ball-which may be related to more aggressive defense. This demands better ballhandling skills and more time has to be spent on it. More drills."
Q: What do you believe is the key to a successful basketball program?
A: "The key is to get young people to commit to the time it takes to be good."
Q: What will you miss most?
A: "The contact with the players and the coaches and the relationships developed as a result."
Q: How do you hope to be remembered as a coach?
A: "As someone who gave his best and always came prepared. As a coach who made a difference in the big picture of his players, who used sport to teach life lessons."
February, 10, 2012
2/10/12
2:15
PM ET
By
Gary Hawkins
| ESPNBoston.com
That Travis and Karen Magnusson would become high school basketball coaches, given their backgrounds as point guards and students of the game, seemed inevitable. So does the success that the husband and wife coaches are having this season at their respective schools.

Travis, who coaches the Dirigo High School boys team, came within a whisker of a perfect season before falling to Spruce Mountain, 39-34 Wednesday night. Still, his Cougars finished the regular season at 17-1 and enter the upcoming Western Maine Class C tournament as the top seed. Karen, who coaches the Cony High School girls team, finished at 18-0 Thursday and her Rams will enter the Eastern Maine Class A tournament as the top-seeded team.
There wasn't much talk between Karen and Travis about going unbeaten this season — both recognize winning a state title as a larger goal — but it's still hard to avoid.
"Honestly we try not to do it," Karen said. "But it's something that comes up with other people."
The couple rarely get to see one another's teams play since they usually play on the same night. Fans at both schools, however, recognize what's going on.
[+] Enlarge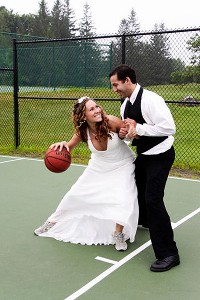 Courtesy of Karen Magnusson Travis and Karen Magnusson are having success coaching high school hoops in Maine.
"It's almost like we share our programs with each other," Karen said. "His fans ask how I'm doing and my fans ask how Trav's doing."
The Magnussons are both basketball junkies, a passion that began long before they met at the University of Maine at Farmington a few years ago. Karen Sirois starred at Cony in Augusta while Travis played for Georges Valley in Thomaston. Both played point guard at UMF and each of them totaled over 1,000 points and 500 assists in their careers.
Farmington women's coach Jamie Beaudoin and men's coach Dick Meader saw coaches in the two long before their playing careers ended.
"I knew from the first moment I watched her play that she was going to be a coach," Beaudoin said. "She was able to see things on the floor that many times an experienced coach wouldn't pick up on. She's just a student of the game."
Meader echoed those thoughts about Travis, who served as a varsity assistant at UMF the year after he graduated. Travis was hired as boys coach at Livermore Falls a year before Karen go the job at Cony so she helped him out and gave him an unbiased look at the players and the team.
"There was nobody I listened to more, especially with my team that first year," Travis said.
Travis turned the Livermore program around, reaching a tournament prelim game his first year in 2009 and the tournament itself the next two. He lost his job when Livermore and Jay high schools combined this year to form Spruce Mountain, but when the Dirigo job opened up he applied. The Cougars reached the state final last year and return many of those players.
The Magnussons talk basketball most of the time, often while breaking down film at home another or swapping drills.
"I get some of my plays and sets from him," Karen said. "I know his personnel, we definitely help each other out. Sometimes we sit up until 11:30 or 12 talking about it. We watch game film together. It's like having an assistant coach at home."
They also share a similar philosophy, borne from the way they played the game.
"We both like to run and gun, play pressure defense and give our players freedom to take shots." Travis said. "As I've gotten older I've realized the importance of quality shots."
The Magnussons are competitive by nature and haven't played a serious game of 1 on since Travis came away with a bloody nose when the got together on the court in college.
"He's competitive and I'm competitive so we never really have the fun 1-on-1," Karen said.
Well, they did have a little fun on the court on the day they were married, playing a friendly game, she in her wedding dress and he in his tuxedo.
They'll get a chance to watch the other's team play in about 10 days when their teams will be favored to win regional championships at the Augusta Civic Center.
February, 24, 2011
2/24/11
2:26
PM ET
By
Gary Hawkins
| ESPNBoston.com
It's tournament basketball week in Maine and there's no more exciting time in high school sports. Schools in four classes are playing for regional titles at the Bangor Auditorium, the Augusta Civic Center, the Portland Expo and the Cumberland County Civic Center. State championships will be contested next week.
Here are some of the highlights so far:
Boys Class A

In Western Maine games, top seeded and unbeaten Cheverus struggled before getting past No. 8 Marshwood 52-40. Louis DiStasio led the Stags with 16 points. Second-seeded Bonny Eagle won its quarterfinal against Westbrook but No. 5 Portland upset No. 4 South Portland behind 19 points from Mike Herrick and No. 6 Deering knocked off No. 3 Thornton, 41-33. The seedings held in the quarterfinal round in Class A East with No. 1 Bangor, No. 2 Hampden, No. 3 Edward Little and No. 4 Mt. Blue all winning.
Kennebec Valley Athletic conference southern division player of the year Bo Leary led Edward Little past Mt. Ararat with 28 points and 13 rebounds. Northern KVAC player of the year Graham Safford led Hampden past Lewiston with 22 points. The semifinal matchup between Bangor and Mt. Blue featured a pair of coaches with over 1,000 combined career wins. Bangor's Roger Reed has 554 while Mt. Blue's Jim Bessey has 463.