Boston High School:

Meghan Rich
May, 9, 2012
5/09/12
11:39
PM ET
By
Ryan Kilian
| ESPNBoston.com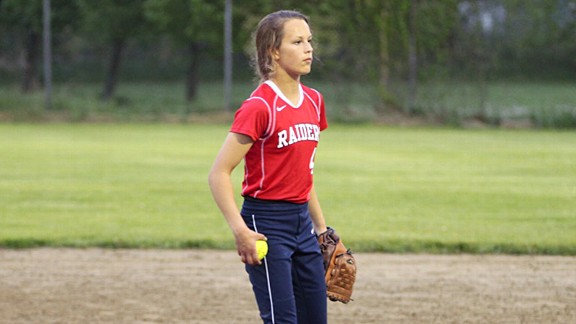 Ryan Kilian for ESPNBoston.comCentral Catholic freshman Olivia Antczak struck out 10, allowed just three hits and retired 20 of the final 21 batters to improve to 10-1 on the season.
CHELMSFORD, Mass. -- Central Catholic freshman Olivia Antczak tossed a 3-hitter to lead the Lady Raiders (11-1) to a 3-1 victory over Chelmsford (10-5) on Wednesday night in a battle of Merrimack Valley D1 teams.
Antczak improved to 10-1 on the season, as she struck out 10 batters en route to a 3-hit complete game win. That win also qualified Central Catholic for the MIAA Division 1 North tournament.
Chelmsford got on the board first in the bottom of the opening inning, as junior third baseman Rachel Couto doubled to left center field to drive in second baseman Clancy Taylor. Taylor had reached on a single and would also steal second base.
"I was definitely concerned when they came out and scored early as they also did that to us last game," said Central Catholic head coach Stacy Ciccolo. "Our goal was to come in, minimize our damage early, and let whatever happens happen throughout the game."
Chelmsford scored three runs in the opening inning of the team's first meeting on April 13. In that game, Chelmsford defeated Central Catholic 6-4 to hand the Raiders their only loss to date on the season.
On Wednesday night, Chelmsford starting pitcher Meghan Rich battled through a first inning jam and shut down Central Catholic in order in the second before Central would plate their first run in the third inning.
"We came out early and played with more confidence tonight," said Ciccolo. "We got a couple of big hits off of a very good pitcher."
Antczak led off the third with a bomb to left field that would result in a triple, and eventually the game-tying run after a Brittney Hall single.
After Antczak shut Chelmsford down in the bottom of the third, Central would score its final two runs on a leadoff triple by first baseman Leslie Moore, and two RBI singles by Antczak and Nicole Howe.
"We try to emphasize having different people chip in each game," noted Ciccolo. "It is nice to get it done all over the order and tonight it was done from the six, seven and eight spots."
Despite a leadoff double in the sixth inning by sophomore Abby Desrosiers, Chelmsford could not find the answer to Antczak. The freshman retired 20 of her final 21 batters for the complete game victory.
Freshman Poise:
Antczak is no average freshman, as the slender fireballer shows poise beyond her years on the mound.
"She is so composed and has incredible poise for her age," Ciccolo said. "She recognizes that there is always something that she needs to work on. She is young and growing and she does a great job of always working on that next pitch."
Antczak also had a big night at the plate, going 2-for-3 with a triple and one RBI.
She has now won three games in a row since the loss to Chelmsford including an impressive nine inning, 15-strikeout game in a 3-2 win over Methuen.
Intense Rivalry
: "In the first game we played them we probably made about four or five errors," recalled Ciccolo. "Chelmsford hit the ball well as they are a good hitting team but we definitely did not help our cause that game."
Chelmsford and Central Catholic have battled for the top sport in the MVC Large the last four years and have built a nice rivalry in the MVC Division 1.
"We have a lot of respect for Chelmsford and we have built a nice rivalry with them that played out last year in the tournament. Central Catholic defeated Chelmsford 2-0 in the 2011 Division 1 North sectional semi-finals.
Central Catholic finished the 2011 season with a record of 18-4 and lost to in the Division 1 North final to Acton-Boxborough, 4-0. Despite graduating many key parts of last year's squad, the 2012 Central Catholic girls look posed to make some noise again come playoff time.
Central Catholic meets up with surprising second place squad Tewksbury on Friday in another important MVC D1 game. Chelmsford will look to rebound from their fourth loss in five games when they take on Westford Academy on Friday afternoon.
March, 30, 2012
3/30/12
3:02
PM ET
Today we kick off our high school coverage of the spring season with our preseason MIAA softball All-State team, as selected by ESPNBoston.com staff and state high school coaches.

STARTING ROTATION
Kiara Amos, Sr., Malden
Trish Hansen, Sr., Mansfield
Meghan Rico, Sr., King Philip
Sarah Ropiak, Sr., Acton-Boxborough
Shannon Smith, Jr., Milford

STARTING NINE
Taylor Archer, Sr. C/3B, Milford
Patty Borges, Sr. SS, Coyle-Cassidy
Alex Burgess, Sr. OF, Chelmsford
Bri Chiusano, Sr. OF, Mansfield
Lexi Gifford, Sr. IF/OF, Natick
Olivia Godin, Sr. C, King Philip
Nicole Lundstrom, Jr. C, Dighton-Rehoboth
Christina Raso, Sr. SS, Burlington
Reilly Weiners, Jr. C, Agawam

"BEST OF THE REST"
Meg Carnase, Sr. P, King Philip
Katie Casey, Jr. P, Braintree
Katherine Clark, Sr. P, Coyle-Cassidy
Allie Colleran, Jr. SS, Concord-Carlisle
Meghan Colleran, Soph. P, North Attleborough
Stephanie Cornish, Sr. SS, Abington
Abby Curran, Sr. IF, Bishop Fenwick
Alexis DeBrosse, Jr. 2B, New Bedford
Audrey Dolloff, Sr. P, Bridgewater-Raynham
Maggie Hoffman, Jr. P, Avon
Kaleigh Finigan, Jr. C, St. Mary's (Lynn)
Natalie Leone, Jr. 2B, Ashland
Rachel Levine, Jr. CF, Milford
Abby Johnson, Sr. SS, Chelmsford
Galen Kerr, Jr. P, Concord-Carlisle
Jackie Kielty, Jr. P, Middleborough
Kayli Moniz, Sr. SS, Fairhaven
Breanna Monroe, Sr. OF, Shrewsbury
Shannon Orton, Sr. P, Case
Kaci Panarelli, Jr. C, Shrewsbury
Meghan Rich, Sr. P, Chelmsford
Julie LeClair, Sr. 3B, Coyle-Cassidy
Cayleigh McCarthy, Sr. 1B, King Philip
Madi Shaw, Soph. SS, Bridgewater-Raynham
Alyssa Siegmann, Sr. SS, King Philip
June, 10, 2011
6/10/11
10:54
PM ET
By
Tom Layman
| ESPNBoston.com
LOWELL, Mass. -- Central Catholic head coach Stacy Ciccolo insisted that there was no extra incentive for Raiders in the Division 1 North semifinals, but the celebration in the infield at the conclusion of the contest sure looked like the win meant a little bit more.

The Raiders (18-3) tripped up No. 1 seed Chelmsford (21-2), a team that handed the Raiders two losses during the regular season, with a 2-0 victory on Friday night at Martin Field. Central Catholic will now take on Acton-Boxborough in the sectional finals on Saturday.

"We talk about if somebody beats us nobody beats us the second time," Ciccolo said when asked about the extra motivation for her team. "We want to show improvement and not allow that to happen, so only in those terms, not specifically against Chelmsford. It's great to see two MVC teams in the semifinals, but we talked about the fact that they were able to get us a couple times earlier and we didn't want that to happen."

The game looked like neither team would be getting to each other with the way both pitchers were buzzing their way through the lineups. It took only a little over an hour for the Raiders Meg Donegan and the Lions' Meghan Rich to establish their dominance on the mound.

But in the top of the seventh, Brianna Martin was finally able to break through. Leslie Moore started with a pinch-hit single with one out in the seventh inning. Moore was forced out at second when Nicole Howe rolled one to short.

However, it was clear that the Raiders were finally able to string a couple of good at-bats together.

"At that point I kind of wanted to mix things up and get somebody to get a new look," said Ciccolo.

Alex Borrelli sent a grounder up the middle that just got under the glove of the shortstop to set up first and second with two down in the inning. Martin wasted little time in her at-bat, as she rocketed a Rich offering down the left field line and the ball skirted away from the fielder. Howe scored without a doubt from second and Borrelli put on the jets to score a little insurance from first base.

"It was such a nice shot down the line and tough for the left fielder to play," Ciccolo said. "When we knew we had a shot we were definitely going to go with the second one even if we knew it would be close."

Donegan gave up a two-out single in the bottom of the seventh, but she got out of the jam when she got Allison Couch to fly to left field.

There wasn't much going on against Donegan for most of the night.

The right-handed pitcher struck out nine and only surrendered three hits in her seven innings of shutout work. She mowed down five hitters in a row at one point by way of the strikeout and when she did give up a single in the fourth, her defense helped her out with a double play to get out of the inning.

"I was just working my corners and trying to get them off-balanced," Donegan said.
May, 10, 2011
5/10/11
5:14
PM ET
No. 6 Chelmsford took a huge pace toward becoming the softball champions of the Merrimack Valley Large with a dramatic come-from-behind, extra-innings win over No. 5 Central Catholic on Monday.

With the win, the Lions capped a season sweep of their league rivals.

On the mound during the highly anticipated rematch of "Meg versus Meg" was Chelmsford's Meghan Rich, who opposed Central ace Meg Donegan.

Now, Lions head coach Bruce Rich never leads on that he also calls Meghan his daughter; their relationship is strictly that of player-coach on the field. But we caught up with Meghan to get her take on the latest battle with the Raiders and to find out whether she lends any advice to her father's other coaching gig as Chelmsford's football coach.

Q: I think a lot of people were looking forward to the pitching matchup in the game against Central Catholic. How do you compare your game against that of Meg Donegan?

A: "Well, she throws harder. I'm more of a junk pitcher, so it's two different things. I think we both did really well, but we did a good job hitting her [in the final inning]."

Q: What did you see from their lineup from the first you played to apply to the second game?

A: "I think were a little more off-balance in the first game. But this game, they kind of got how I pitch. I still tried to keep them off balance. We gave them their only other loss of the season, so I think they were thinking about us since that game. You knew they were looking to beat us. But we wanted to beat them the second time even more."

Q: That was a huge game in the MVC. What was the mood around the team going in?

A: "It's like any other game. You just have to take that game like any other game."

Q: You guys found your swings in the eighth inning. What made the difference from the first couple times around the order?

A: "In all the other innings, we just didn't put it together. Thankfully, in the last two innings, we put it together. We had better swings."

Q: How has this season stacked up to the expectations you had for this team?

A: "We were told to take things one game at a time, but we've always wanted to win the MVC."

Q: So tells us about Coach Rich.

A: "You mean, my father?"

Q: If that's what you call him, yes.

A: "It's player-coach on the field, definitely. And, at home, it's still player-coach, but it's father-daughter, too. You know how that is. I tell him what I think about things, about the team."

Q: Do you like having your dad as a coach?

A: "Sometimes it's not the greatest, but I like having him there."

Q: What would you say is the biggest thing he's taught you about softball?

A: "Just to take it one pitch at a time, don't get too far ahead of yourself."

Q: You said you give your input on the softball team. Do you ever lend football advice to him?"

A: "He tries to fill me in on what's going on, but I don't really listen much. Yeah, I just watch the games."

Q: How you spend time with teammates away from softball?

A: "We have a really good relationship with each other. Outside of softball, we're all best friends. We'll see each other in the hall way and we'll give each other high fives. We just have a lot of fun because we're like a family."

Q: We're getting close to tournament time. How do you see things shaping up in D1 North?

A: "It's going to be tough. But I think we should be good. We'll take it one game at a time.

Q: So that's the M.O.?

A: "That's pretty much it."
May, 10, 2011
5/10/11
1:02
AM ET


NORTH CHELMSFORD, Mass. -- No. 6 Chelmsford completed a season sweep of Merrimack Valley rival No. 5 Central Catholic with a dramatic 2-1 win in eight innings over the Raiders on Monday night at Southwell Park.

The Lions' Meghan Rich and Central's Meg Donegan squared off in the circle. Neither disappointed as they threw seven innings of shutout ball each.

The Raiders (8-2) pushed across a run in the top of the eighth. But Chelmsford (10-1) came roaring back with in the bottom of the inning as shorstop Abby Johnson led off the frame belting her third home run of the season. Meg McNamara later come across to score the winning run on Alex Burgess' game-winning hit that was lined into center field.