Boston High School:

Melissa Light
June, 13, 2012
6/13/12
1:05
AM ET
By
John Botelho
| ESPNBoston.com
LOWELL, Mass. -- The role of hero is one Melissa Light doesn't seem to mind playing for the Malden High softball team.

After providing a walk-off single on Monday that gave the Golden Tornadoes their first ever Div. 1 North Sectional championship, Light delivered a game-winning hit again on Tuesday in Malden's EMass. Final game against South Sectional champ Bridgewater-Raynham.

"She had struggled the last couple games, but last night and tonight she really came through," said Golden Tornadoes coach John Furlong. "Last thing I said to her last night was 'make sure you touch first base when you hit this ball,' so I said it to her again tonight. We started laughing, but she ended up hitting the ball hard and we got the run."

Light's infield single, which bounced off pitcher Audrey Dolloff, knocked in Emily Moran in the bottom of the ninth at Martin Field in Lowell, propelling the Golden Tornadoes to a comeback win over the Trojans, 5-4, and sending them on to Saturday's state title game.

"In the last game, I knocked in the winning run so this was just as exciting as that one," Light said. "Before that though, I've never done anything like this. It's something I'm always going to remember and keep with me. It's not just me, though, it's everybody. Without everyone doing all the little things there's no way we win this game."

The first team in school history to play for a state title, they'll play Central Sectional champ Milford -- who cruised past Agawam, 13-0, in the other semifinal game -- at Worcester State at 7 p.m.

The walk-off single capped off a 3-for-3 day for the Golden Tornadoes nine hitter. Trailing 4-0, she got their offense rolling in the bottom of the sixth, leading off with a triple deep to right center field.

Emily Hoffman drew a one-out walk and Hannah Caberone (2-for-4) singled to left, scoring Light.

Malden starting pitcher Kiarra Amos struck out, and B-R looked like they might get out of it when Dolloff went to 0-2 with two outs on Jessalyne Brown. Brown, however, bounced a ball up the middle that Rachel McCall was able to knock down, but wasn't able to record an out.

Emily Furlong, the seventh hitter of the inning, smashed a double deep toward left centerfield, and all three runners came around to score, tying the game at four.

Early on, it looked as though the Trojans would be the ones squaring off against Milford on Saturday as their 4-0 lead through five innings looked like it would be more than enough for Dolloff.

Before the sixth inning rally, Dolloff had surrendered just three hits and only Erika Hanson had reached scoring position.

The Trojans, who finish at 21-4, scored twice before Dolloff even stepped into the pitcher's circle.

McCall drew a one-out walk and Chelsea Correia followed with a single to left. Dolloff grounded out to second but the other two advanced into scoring position.

Alyssa McKinnon delivered a two-RBI single up the middle.

McKinnon set the Trojans up to score their third run when she led off the top of fourth with a wall-ball triple to centerfield. Sophie Perez brought her home one pitch later with a sacrifice fly to left.

In the fifth, Madi Shaw (2-for-4) started the inning with a lead-off double for B-R and was followed by a McCall single.

Correia lifted a fly ball into left field that scored Shaw, giving the Trojans their 4-0 lead.

Amos settled in after that, allowing just two hits the rest of the way.

"The first inning, I obviously panicked because I gave up two quick runs and I thought it might be a rough game for me," Amos said. "I've learned to pick myself up and just keep doing what I have to do. Even when they scored the two more runs, I knew I just had to keep going."

OLD HABITS DIE HARD
The extra-inning affair marked the fourth straight for Bridgewater-Raynham in the tourney.

They found themselves on the other side of one-run games in their South Sectional quarterfinals win over Mansfield, semifinals win over North Attleborough and their finals win over defending state champ King Philip.

Unfortunately for them, it was only a matter of time before a close call didn't end in their favor.

"When I first saw it, I said 'here we go again,'" said Trojans coach Mike Carrozza. "It was kind of comical in a way but we've played and had to come back in all of those games. Sooner or later it's tough on the girls."

Tuesday proved to be the day it got tough on his girls, who weren't able to get Dolloff in after she reached third base in the top of the eighth.

AS GOOD AS ANYONE
Without production from the back half of their batting order, the Golden Tornadoes may have never mounted their come-from-behind effort against the Trojans.

"My one through four [hitters], I'll take with any other team but my five through nine is better than anybody out there," Furlong said. "If you look at the production tonight, you see our RBI came from our five through nine."

The Nos. 5-9 hitters combined to knock in four of the five runs in the win. They also scored two of them, while accounting for nine of Malden's 12 hits.

"It just carries through the rest of the lineup. The kids at the top see it and they starting hitting, too."
June, 12, 2012
6/12/12
12:25
AM ET
By
Ryan Kilian
| ESPNBoston.com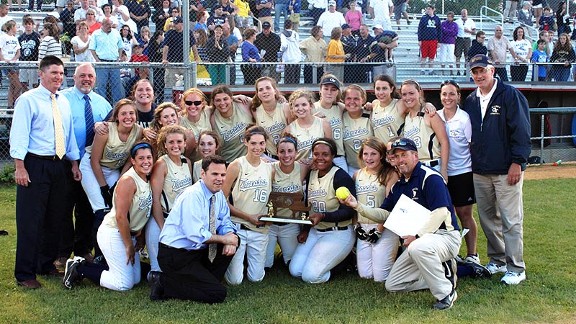 Scott Barboza/ESPNBoston.comMalden will play for the Division 1 EMass title on Tuesday after claiming the North sectional crown Monday with a 3-2 extra-inning win over Acton-Boxborough.
LOWELL, Mass. –- With two future Division 1 college pitchers on the mound in the Eastern Massachusetts Division 1 North final you would expect a low scoring pitcher's duel to play out.
That was precisely the case when No. 1 Malden (23-1) and their senior ace Kiara Amos (Providence College) took the mound against No. 10 Acton-Boxborough (17-7) and their senior ace Sarah Ropiak (Brown University).
Both teams struggled defensively and both pitchers shined on the big stage as the Golden Tornados pulled out a 3-2 extra-inning victory in the bottom of the eighth to advance to Tuesday's Eastern Mass. D1 championship game at Martin Field.
"It was a game of strong pitchers," Malden head coach John Furlong said. "What we have in Kiara they have in Sarah Ropiak."
Amos tossed a complete game, striking out an impressive 13 batters in her eight innings on the mound. She also got herself out of a couple of jams with big strikeouts in the second, third and fifth innings.
"When she gets runners on base she really bares down," Furlong said. "That is why she is going to Providence. She is that good."
Ropiak would match her throughout the night as the Brown-bound star would strikeout 13 Golden Tornados of her own.
"Sarah is so crafty," Furlong said. "Never does she throw a ball down the middle of the plate. Everything is on the corner, outside or a change-up. She is a good player and also scares the heck out of me whenever she gets up at the plate."
Malden plated their first two runs in the bottom of the second inning as junior Melissa Light delivered the big hit to right field in the inning to lead the charge.
A-B would bounce back with two runs of their own in the top of the third inning as junior Michelle Surdan struck the biggest blow in the inning with her own shot to right field.
After the third inning it would be all about the lights out pitching of both ace hurlers.
Ropiak got out of multiple jams herself in the game with big strikeouts. She also provided an offense lift for the Colonials with two singles and one RBI in the game.
Amos would save her best work for the last three innings in the game as she struck out seven batters and looked to be getting stronger as the game advanced.
"In the seventh and eighth inning I did my best," Amos said. I knew what I had to get done, not let runners get on base and not let them score."
Amos struck out the final two Colonial batters in the eighth inning after Ropiak led off with a single to center field.
Light would strike the final blow for Malden in the bottom of the eighth inning with a shot to right field that was mishandled, scoring junior Emily Moran who had singled with one out in the inning.
Program Builder:
Malden High School softball is in unchartered waters as they enter the Eastern Mass. championship game against Bridgewater-Raynham on Tuesday night. First pitch is scheduled for 7 p.m.
"We have never made it this far before and I have never been more proud of my teammates," Amos said.
A-B defeated Central Catholic 4-0 at Martin field in 2011 behind Ropiak's shut-out gem before bowing out to eventual State Champion King Philip in the Eastern Mass. finals.
"A-B is a great program," said Furlong. "They have been here before. This is a great stepping stone for our program. It has taken a long time for us to get here. It was not the flashiest of games but it is what it is. A win is a win and I will take it."