Boston High School:

MIAA Football Playoffs
November, 23, 2013
11/23/13
9:31
PM ET
By
Paul Lazdowski
| ESPNBoston.com


LOWELL, Mass. -– Some thought it might be a matchup that would surprise the masses; a game where the outcome would be decided in the closing seconds as one team drove for a game-winning score.

Others projected that the multipronged offensive ground attack of Tewksbury and the dual run-pass threat of Melrose senior quarterback Malik Garrett would engage in a high-scoring, back-and-forth battle, especially given both sides' penchant for points (each entered with averages of more than 31 points per game).

Everyone, however, agreed that the Division 3 North state semifinal winner would earn a ticket to Gillette Stadium and a Super Bowl berth against Plymouth South, which defeated Stoughton, 14-12, on Friday night to capture the Division 3 South title.

So when the final horn sounded at Cawley Stadium around 1:15 pm on Saturday in a game that could have been so many things, the outcome revealed just one: a stepping stone for Tewksbury, which easily dismantled Melrose, 32-14, but was much more one-sided than the final score indicated, to advance to Foxborough for the second time in three years.

"When we were sophomores we got out (butts) kicked by Duxbury," recalled Tewksbury senior Kevin Dick of his team's 35-0 drubbing back in 2011. That was "a great Duxbury team. It was two years in the making that we were trying to get back there . . . it's a great thing. I can't wait. It's a great thing for Tewksbury; it's a great thing for everyone."

And while many Redmen factored into the victory, especially with five different players recording touchdowns, arguable no one was more significant than Dick.

With Tewksbury, which remained a perfect 11-0, clinging to a 13-7 lead late in the second quarter and Melrose driving, Dick made a play that ultimately changed the game's complexion.

Behind Garrett, who completed 13-of-30 passes for 171 yards, one touchdown and two interceptions and also rushed for 61 yards and a touchdown on 18 carries, the Red Raiders drove from their own 20 down inside the Tewksbury 10-yard line.

The Redmen lead appeared in limbo as Garrett fired a pass towards the right sideline of the end zone while scrambling to his right and the receiver simultaneously broke back towards the pass and prepared to make the catch.

However, Dick beat the receiver to the ball, and returned the interception from two yards in the end zone to Tewksbury's 12-yard line.

"We were doing it all week," Dick said. "We had the scout running it all week. At the beginning of the week they were catching it, completing it. I was like, 'What the heck?' But as we progressively moved through the week, I was catching on.

"I just jumped it, and that's that."

The play was just as critical to the Red Raiders.

"Obviously, you can't have turnovers and expect to win," said Melrose coach Tim Morris after his team fell to 9-2. "We haven't really turned the ball over this year that much, (but) I think in the two losses we've had this year we've turned the ball over."

Dick's pick preserved the Redmen lead heading into halftime, and also set the stage for a dominant seven-plus minute span to open the third quarter.

On its first two second-half possessions, Tewksbury scored 13 unanswered points to extend its lead to 26-7 with 3:51 remaining in the quarter.

James Sullivan (20 carries, 117 yards, touchdown) started the outburst with a four-yard scoring burst up the gut. After Mitchell Miskell split the uprights on the PAT and Tewksbury held Melrose to its second consecutive three-and-out, Johnny Aylward connected with Dick on a flanker screen in the left flat. Solid blocking and the speed Dick showed to get to the left sideline turned what looked like a short gain into a 55-yard touchdown catch and run (PAT failed).

Meanwhile, over the same span the Melrose offense managed just six plays for minus-five yards. Red Raiders running plays were repeatedly snuffed out in the backfield by Tewksbury's defensive line, and Garrett was also sacked during the six-play sequence.

"We talked all week about winning on first down," said Tewksbury coach Brian Aylward of the Redmen defensive line. "If we could win on first down it puts them in position to do stuff that they don't particularly want to do. Our guys got off the ball pretty good. I give them a ton of credit."

"We just couldn't get anything going in that third quarter," admitted Melrose's Morris.

The teams traded scores in the fourth quarter.

Tewksbury struck first when Tom Casey (eight carries, 72 yards, touchdown) rushed in from three-yards out (PAT failed) to give the Redmen a 32-7 advantage with 7:12 left. Melrose responded as Garrett found Colby Andrews for a 29-yard touchdown toss. Sean Foley added the PAT to close out the scoring.

Though Tewksbury set the tone early by orchestrating a 10-play, 69-yard drive, which spanned more than five minutes, to open the game and culminated in an 11-yard touchdown run by Aylward off a fake jet sweep handoff in which he sprinted in between the tackles for the score, Melrose displayed resiliency even after its first drive stalled.

The Red Raiders defense came up with a big interception deep inside Redmen territory on Melrose's next series.

Aylward launched a pass towards the right sideline but the intended receiver, who dove while attempting to make the catch, tipped the ball in the air and into the arms of Melrose's Aaron Aveni. The Red Raiders cornerback returned the pick 12 yards to the Tewksbury 14-yard line.

After working the ball inside the one-yard line, Garrett snuck it in on the first play of the second quarter. A Foley PAT knotted the score at 7-7.

It was, however, the last time the score was tied.

On its ensuing possession, Tewksbury put together a 55-yard drive that consumed 5:10 and ended with Eddie Matovu (seven carries, 27 yards, touchdown) rumbling in for a three-yard touchdown. A failed two-point conversion brought the score to 13-7 and set the scene for Dick's interception.
November, 28, 2012
11/28/12
2:49
AM ET
By
Brendan Hall
| ESPNBoston.com



WEYMOUTH, Mass. -– The last time Brockton was in an MIAA Division 1 Super Bowl, gas prices were around $3, the housing market was spiraling downward, and Barack Obama had just been elected President.

Nothing crazy, right? Well, just understand that four years is an eternity in Brockton.

The Boxer faithful are known for their uniquely feverish blend of paranoia and restlessness, and aren't afraid to let it be known to the players, coaches and everyone in between.

"We were beyond sick and tired of it, especially after last year," said senior safety Micah Morel, alluding to their disappointing 5-6 finish in 2011. "We were absolutely disgusted with not being in the playoffs the last two years. We just wanted to turn this ship around."

Said quarterback Austin Roberts, "They're always coming up to you, and no one's happy until you win a Super Bowl."

For now, everyone can rest easy. Brockton (9-3) is back in its first Division 1 Super Bowl since 2008, by way of an easy 33-7 victory over Bay State Carey champion Weymouth at the latter's home field, thanks to a dominant rushing attack that gained 432 yards with just a single passing attempt.

Brockton hasn't won a Super Bowl since taking back-to-back titles in 2004-05, when quarterback Jessy Resende and tailback Junior Penn were taking New England by storm and the Boxers were getting love in national polls. If they are to bring home the third Super Bowl title of the Peter Colombo era, they'll have to do beat St. John's Prep, which won the first meeting, 27-12, in Week 4.

"It's been a while," Colombo said.

Alluding to the Boxers' first Super Bowl title in the first year of the era, in 1972, he continued, "We're hoping to get back, and 40 years later...We started it off in '72, and we're hoping to put the brackets around this era."

As usual, the dominant ground game was primarily the work of a four-pronged attack in the Boxers' flex scheme: Roberts (18 carries, 125 yards, 2 TD), and senior running backs Moise Edouard (seven carries, 106 yards, TD), Ricardo Calixte (eight carries, 88 yards, TD) and Morel (10 carries, 90 yards, TD).

The Wildcats (8-4) stacked the box with its 50 front, yet the Boxers were able to establish the edge consistently, for big gains. Leading the attack as usual was Roberts, unafraid to lower his shoulder and charge forward and making the correct read on the option seemingly every play.

"He was very, very efficient tonight," Morel said. "He played 'Augie-Ball' tonight. It was great."

It started on the Boxers' opening drive of the game, gift-wrapped for them at the Wildcats' 19 after a Weymouth fumble on the first play of the game. Four plays later, Roberts tossed out wide to Morel, who glided over the left pylon for the game-opening score just two minutes into the contest.

Weymouth drove all the way to the Boxers' 20 on the next drive, but stalled after quarterback David Harrison threw incomplete looking for the end zone. Going the other way, the Boxers completed a 12-play, 80-yard scoring drive thanks to Edouard's work, taking an off-tackle 44 yards down to the Weymouth 3 then punching it in on a dive the next play.

Then, the weirdest thing happened. Brockton's kicker slipped as he went to kick, getting the nose of the ball, and the ball rolled 10 yards only to bounce off a Weymouth blocker into the hands of Brockton's Justin Ahanon. Three plays later, the 215-pound Calixte made it 21-0 just 11 minutes into the contest with a 38-yard touchdown scamper, sprung loose by an Edouard kick-out block and cutting back at the left sideline with 10 yards to go for an easy score.

Defensive Back U: Year after year, the Boxers' secondary churns out future Division 1 college athletes, this year being the Bryant University-bound Morel. Tonight, the unit made arguably the statement of the game after the offense fumbled the ball away on the first play of the second half. Harrison used a bubble screen to Ozzy Colarusso and a 24-yard QB draw to give the Wildcats first and goal from the Boxer 4.

Earlier in the game, Harrison knifed through the defense with a slick 18-yard touchdown pass to Colarusso. The play was drawn up perfectly, with trips to the right, both inside receivers running out routes and the outside man – Colarusso – cutting to the goal post on a slant.

This time, however, Harrison threw four incompletions to end the drive. Roberts then led the Boxers 96 yards the other way, accounting for 52 of the yards plus the score to make it 33-7.

"If we elimintated Harrison from extending the plays, we knew we had a good shot," Morel said. "We've been playing great lockdown defense on the outside with our corners and our secondary the past few weeks, and we knew if we could contain Harrison then we had a good shot at winning this game."

And how did they contain?

"Pressure up front, linebackers took their key steps," he said. "Stay in the cutback lanes and just make sure that he wasn't going to get anywhere."

Tanks in the trenches: The Boxers installed their "Flex" offense, an option-based scheme utilizing multiple wing-backs (popularized by college programs such as Navy and Georgia Tech), as a way to take advantage of Roberts' run-first exploits and the running back depth. Suffice to say it's more than paid off, as the Boxers have run for 3,066 yards and 37 touchdowns as a team, with an average of 255.5 yards per game, making them among the state's most efficient rushing attacks.

It's a misdirection offense, but also one predicated on mobile linemen. Led by 6-foot-2, 260-pound road grader Joe Previte, the Boxers controlled the line of scrimmage from the opening whistle. It was an efficient night, calling 45 running plays and averaging 9.6 yards per run.

"The o-line has been great all season," Roberts said. "They're the best part of our team, offensive line and defensive line. They did a great job today. They controlled the line of scrimmage, made it easy for the backs."

For all the headlines Roberts and Morel tend to grab, Weymouth head coach Kevin Mackin agreed it's the guys in the trenches that are the key ingredient.

"The most impressive part is that offensive line -- they are very, very physical," he said. "They've played a lot of years together obviously, and we threw everything we had at them. I think at one point we had all 11 guys in the box, and they still pushed us back. So, you've got to tip your hat to a team like that. They're very physical."

BROCKTON 33, WEYMOUTH 7

BRO (9-3) 7 20 6 0 --- 33
WEY (8-4) 0 7 0 0 --- 7

First Quarter
B - Micah Morel 8 run (De'Andre Brown kick) 7:58

Second Quarter
B - Moise Edouard 3 run (kick blocked) 9:30
B - Ricardo Calixte 38 run (Austin Roberts run )8:06
W - Ozzy Colarusso 18 pass from David Harrison (Colarusso kick) 2:27
B - Roberts 5 run (kick blocked) :16

Third Quarter
B - Roberts 2 run (rush failed) 3:07
November, 27, 2012
11/27/12
11:22
PM ET
By
Mike Scandura
| ESPNBoston.com
(Video by Greg Story)
TAUNTON, Mass. -– So much for the suspense that might have existed in a rematch of one of the 2011 Division 1A playoff games.
A year ago, Barnstable built a 13-0 halftime lead only to implode in the second half as Lincoln-Sudbury rallied for a 14-13 victory.
Ironically, the Red Raiders led Tuesday night's semifinal game by an almost identical score at intermission -– 14-0 in this case. But instead of crumbling, Barnstable buried the Warriors, 28-7, and advanced to the 1A Super Bowl for the first time since 1995.
The Red Raiders (11-0) will tackle the winner of the other semifinal game between Masconomet and Everett at 1:30 p.m. Saturday at Gillette Stadium.
Barnstable stepped on the slick Taunton High turf averaging 37.6 points per game while the Warriors (10-2) came in allowing an average of only 8.1 points per game.
[+] Enlarge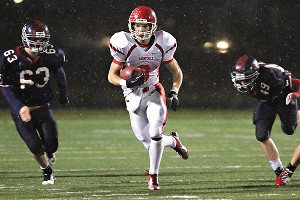 Eric Adler for espnboston.comHayden Murphy led the way with 153 yards rushing and three touchdowns in the Red Raiders' win, setting up a rematch Saturday with Everett.
While the Red Raiders didn't quite match their offensive average they did "out-defense" the Warriors.
In retrospect, the game was over by halftime when Barnstable led 14-0 after allowing a paltry 27 yards of total offense on only 17 plays.
"We have the ability on defense," Barnstable coach Chris Whidden said. "We know we can step up and play well in a big game. Unfortunately, there might have been some times during the course of the season when we played down a little bit to the level of our competition.
"We stepped up tonight) and played not as well as we can but as well as we have. But without question there's room for improvement. We'll nit-pick that for the next couple of days and hope we bring the best thing we have on Saturday afternoon."
Altogether, Barnstable's defense allowed only 102 yards of total offense and held Lincoln-Sudbury scoreless until exactly five minutes remained on the clock.
That's when Chris Giorgio scored on a 1-yard run –- a touchdown which didn't exactly faze Whidden.
"Although they scored at the end, it took them four minutes to get that touchdown," Whidden said. "Ultimately, it was a win for us even though it wasn't the shutout we were hoping for because it took that much time. Now, we could get one drive and end the game which is what we did."
Barnstable was "offensive":
What Barnstable also did was slice and dice Lincoln-Sudbury's once-impenetrable defense as it amassed 330 yards of total offense.
Leading the way in this department was junior running back Hayden Murphy, who accounted for 153 yards and three touchdowns on 27 carries.
"Anytime a running back has a game like that he's got to have somewhere to run," Whidden said. "Our front five of Owen Murray, Tom Harrington, Tom Grimmer, Chris Kennedy and Allen Buckley all played a great game up front to provide those seams for (Murphy).
"And (quarterback) Nick (Peabody) did a great job reading it. They were bringing some pressure up the middle but a lot of times they were showing it so we were able to see it. That's where having a kid who's as intelligent as Nick is in the game helps us because he would check us into that or check us out of that."
Peabody was quick to admit his passing didn't resemble the second coming of Tom Brady since completed only 7-of-23 passes for 98 yards. But he also was quick to admit that his teammates overcame his shortcomings in the passing department.
"I was terrible throwing the ball," Peabody said. "But Hayden really picked it up. That's what a team is all about. You're not going to play your best game every time. Hayden was amazing. Our offensive line was amazing. You can't say enough about our defense.
"We showed we're a complete team. We don't just throw the ball but we also can run it."
Catching a break:
Barnstable didn't have to run or throw to score its first two points.
Lincoln-Sudbury was punting from its 4 when Joe Kenney's snap sailed over the head of Chris Giorgio and out of the end zone for a safety.
Five plays after the ensuing free kick, Murphy capped a 48-yard drive by running it in from the 15 for an 8-0 lead.
Barnstable then took advantage of a short punt by Giorgio and regained possession on the Warriors' 41.
Seven plays later, Peabody bolted 13 yards up the middle for a score which produced a 14-0 halftime lead.
Not surprisingly, that conjured up memories of last year's semifinal game between these teams when Barnstable blew that 13-0 halftime lead.
"You don't forget things like last year," Peabody said. "We didn't forget that. It was almost the exact same score going into halftime. We went in there and knew we couldn't take the foot off the gas, and we didn't.
"Our defense got several big stops and we were able to punch it in a few times."
Barnstable "punched it in" a third time with 4:46 left in the third quarter when Peabody capped a 72-yard drive by wedging over from the 1.
Then, after Jon Eldredge intercepted a Henry Guild pass, Murphy scored from the 1 for a commanding 28-0 lead.
"There wasn't a letup even when we were up 28-0," Whidden said. "The kids really showed their pride by not letting up and bringing it on every snap."
BARNSTABLE 28, LINCOLN-SUDBURY 7
BA (11-0) 8-6-14-0 – 28
LS (10-2) 0-0-0-7 – 7
First quarter
B – Safety
Second quarter
B – Hayden Murphy 15 run (run failed)
B – Murphy 13 run (pass failed)
Third quarter
B – Nick Peabody 1 run (Dereck Pacheco kick)
B – Murphy 1 run (Pacheco kick)
Fourth quarter
LS – Chris Giorgio 1 run (Greg Boden kick)
October, 26, 2012
10/26/12
3:57
PM ET
By
Brendan Hall
| ESPNBoston.com
MARLBOROUGH, Mass. -- We were roughly half an hour into this morning's MIAA special general assembly at Assabet Valley Regional Vocational High, where in a few short minutes the mass would vote approval of a plan that radically alters the state's football playoff landscape, when my cell phone buzzed.
It was from Cory McCarthy, the patriarch of New Mission's rapidly-ascending athletics program and quotable trump card for any Boston high school reporter, looking for the school's address to plug into his GPS.
"You'd better hurry up," I typed back.
He responded, "I'm 39 minutes away. But my vote is gonna get me in more trouble anyway."
Each school competing in the MIAA, even the ones without football, were permitted one vote in this election, and it was widely accepted that all 19 votes allotted to the Boston Public Schools would be used as a block against this proposal -- a notion McCarthy refuted, tweeting to Boston reporters a few minutes prior, "I'm voting yes, so make it 18".
He never ended up making it to the auditorium at Assabet, but they didn't need him anyway. By a vote of
161-131 from the general assembly
, the MIAA will next fall begin a two-year pilot system that does away with the 19 regional Super Bowl championships in the state, replaced by a statewide playoff system that shortens the regular season to seven games, but allows for up to 160 playoff participants in four regions, and crowns true state champions in six enrollment-based divisions.
So how does this anecdote tie into the big picture here?
McCarthy's visit was meant to be a quick pit stop on the way to Amherst, where he was taking two of his talented Class of 2014 girls' basketball stars, Jazsala Laracuente and Deandra Humphries, on an unofficial visit to UMass.
And that, perhaps, leads us to one of the more underrated aspects of this radical altering of the Massachusetts football landscape. For all the talk about increased participation, revenue-sharing and a now seemingly unpredictable effect on many Thanksgiving traditions, it's the recruiting angle that has me intrigued.
Maybe it's just me, but I feel like football is one of the last sports remaining where a state championship is valued highly in the evaluation of a high school player. Basketball powerhouse Tilton (N.H.) losing three of its last five contests, including two prep school championship tournaments, did nothing to detract Nerlens Noel's regard as the No. 1 high school player in the country and possibly the top pick in next June's NBA Draft. Ten days ago, U.S. Lacrosse issued a statement expressing concern that the current climate of college lacrosse recruiting -- which, like its basketball and baseball counterparts, is beginning to focus more towards summer club programs -- is "not structured in the best interest of high school student-athletes."
Football, by far, is the biggest crap-shoot when it comes to projecting talent long-term. A kid can show up at a combine with all of the physical tools requisite for a Division 1 program, but lacking in fundamentals. And that's why the high school season is still so valuable. Playoff football is all about being comfortable with the uncomfortable, as the old saying goes, and this particular system allows for extended opportunities to demonstrate that mental moxie -- as well as production -- against high-level competition. There is no substitute for the real thing in football, and giving it a true playoff setting makes it all the more crucial.
Just for perspective, let's take Stoneham, which is enduring an historic season for the ages. The Spartans are 7-0, but none of their wins have come against a team that has spent any time in ESPN Boston's statewide MIAA Top 25 poll this season. Are there talented players on the team? Sure. Do we know how they'd project? Under this current system of league-based berths and 19 regional Super Bowls, perhaps not accurately.
Let's take another example using two up-and-coming Class of 2014 quarterbacks, Springfield Central's Cody Williams and Cambridge's David Maaghul. Both are talented, but we didn't have a good idea just how talented until we saw how admirably they played in losses to powerhouse Everett. Now, the two are getting varied degrees of feelers from Division 1 programs around New England.
Or let's take Nashoba, which is by all accounts one of the state's stingiest defenses, led by Division 1 linebacker prospect Zach Hume. Could the Chieftains hang with a Walpole or a Reading? I believe so, but for now we're stuck watching them wade through a perceived thinner pool of talent in Central Mass., and we're left with the lingering thought of "What if?"
Or better yet, let's take the one team that did beat Everett and currently sits No. 1 in our statewide poll, Barnstable. Did beating the Crimson Tide on their own turf not solidify quarterback Nick Peabody as the state's best?
Going forward, college coaches will have a better idea of what they're looking at when evaluating talent in Massachusetts, because the levels of competiton are more solidified. I contended a few weeks ago in our weekly "Roundtable" discussion that the Greater Boston League always has leftover hidden talents outside of Everett,
pointing out the fact that three GBL alums are currently on NFL rosters (scroll to question No. 5)
. Yet, not one of them played their high school ball for the Tide. Now, the perceived powder kegs of the league in Malden, Cambridge and Somerville not only enter the season with a fair shake at contending for a state title, but also the ability to demonstrate that under-the-radar kid's ability over an extended season against top-flight competition.
McCarthy has been aggressive in promoting his state champion basketball players to college coaches, and now finds himself doing the same with his football program, in its first year of varsity under head coach Michael Pittman. While the Titans haven't been competitive in most games, there is an element of intrigue with defensive end Isshiah Coleman. The 6-foot-5 senior is a power forward during the winter with a 38-inch vertical leap and intuitive shot-blocking abilities, but now finds himself wondering if he could pursue a post-graduate year at prep school for football.
"I'd have voted in favor of the new system. It really will push the city towards raising their standards -- we have the same athletes as everyone else," McCarthy said by phone. "We might not have the resources, but we have very good coaches who can get these kids to compete without having to go to a Fiesta Bowl or a Sunshine Bowl. If you really want to be a football coach, you have to look at yourself and your program and understand this is what you need to do to be recognized as a Super Bowl champion.
He added, "I think it helps locally with recruiting, too. Colleges know now what they're getting, and they will work harder to see players, without going to have to see 15 Super Bowls in the state."
As it stands, Massachusetts produces an average of eight to 10 Division 1 FBS scholarship players a year in football, a number that may increase with UMass joining the Mid-American Conference.
Nobody's ever going to confuse the Bay State with the Lone Star State in terms of football talent, not in this lifetime or next. But if this increases that clip by five? Ten? To me, this plan is well worth it.
November, 26, 2010
11/26/10
12:05
PM ET
The MIAA has unveiled the
sites and times
for Tuesday night's football playoffs. They are as follows:
EASTERN MASS
Division 1
New Bedford (6-4) vs. St. John's Prep (7-4), 5, Taunton High School
Everett (10-0) vs. Andover (8-3), 7:45, Manning Field, Lynn
Division 1A
Weymouth (10-1) at Bridgewater-Raynham (9-2), 7:45
Gloucester (11-0) at Lincoln-Sudbury (8-3), 7:45
Division 2
Walpole (10-1) vs. Mansfield (10-1), 7:45, Weymouth High School
Dracut (8-3) at Reading (11-0), 7:45
Division 2A
Dennis-Yarmouth (10-1) vs. Duxbury (11-0), 5, Weymouth High School
North Andover (10-1) vs. Concord-Carlisle (9-2), 7:45, Cawley Stadium, Lowell
Division 3
Scituate (9-2) vs. Beverly (5-6), 5, Manning Field, Lynn
Somerset (11-0) vs. Dighton-Rehoboth (10-1), 7:45, Taunton High School
Division 3A
Cardinal Spellman (11-0) vs. Hamilton-Wenham (8-2), 5, Reading High School
Rockland (10-1) at Holliston (10-1), 7
Division 4
Shawsheen vs. Madison Park, 5, Lincoln-Sudbury High School (Blue Hills has a first-round bye)
Division 4A
Brighton (8-2) vs. West Bridgewater (9-1), 5, Bridgewater-Raynham High School
Pope John (8-2) vs. Northeast (9-2), 5, Cawley Stadium, Lowell

CENTRAL MASS
Division 1
St. John's Shrewsbury (10-1) vs. Gardner (7-4), 7:45, Foley Stadium, Worcester
Marlborough (7-4) at Wachusett (9-2), 7:45
Nashoba (9-2) vs. Milford (7-4), 5, Doyle Field, Leominster
Holy Name (9-2) vs. Fitchburg (7-4), 7:45, Doyle Field, Leominster

Division 2
Leicester (9-2) vs. Millbury, 5, Auburn High School
Shepherd Hill (6-5) at Auburn (11-0), 7:45
Northbridge (8-2) vs. Grafton (7-4), 5, Foley Stadium, Worcester
David Prouty (10-0) vs. Oxford (6-5), 5, Wachusett Regional High School
Division 3
Narragansett (8-3) vs. Valley Tech (7-4), 5, Oakmont Regional High School
Littleton (7-4) at Oakmont (7-4), 7:45
Hudson (9-2) vs. Groton-Dunstable (7-4), 7:45, Lunenburg High School
Clinton (9-1) vs. Bay Path (7-4), 5, Lunenburg High School
WESTERN MASS
Division 1
Springfield Central (8-3) vs. West Springfield (8-3), 7:30, Chicopee Comprehensive High School
Longmeadow (10-1) at Holyoke (6-5), 7:30
Division 2
East Longmeadow (9-1) vs. Springfield Putnam (8-3), 5, Chicopee Comprehensive High School
South Hadley (10-1) vs. Hoosac Valley (6-1), 5, Holyoke High School
Division 3
Mt. Greylock (8-0) at Mahar (9-1), 5
Athol (9-2) vs. Belchertown (9-2), 7:30, Mahar Regional High School
Division 4
Pioneer (9-2) vs. McCann Tech (6-4), 5, Westfield State College
Pathfinder (8-3) vs. Easthampton (7-4), 7:30, Westfield State College