Boston High School:

MIAA State Championship
December, 6, 2013
12/06/13
11:15
AM ET
FOXBOROUGH, Mass. -- ESPN Boston High Schools editors Brendan Hall and Scott Barboza preview each divisional battle ahead of Saturday's MIAA Football State Championships, from Gillette Stadium.

(Video by Greg Story)


November, 16, 2013
11/16/13
10:42
PM ET
By
Josh Perry
| ESPNBoston.com
WORCESTER, Mass. -– Most former high school soccer players have long forgotten the final kick of their careers. Belchertown senior midfielder Cameron Messier will remember his for the rest of his life.
Messier scored his fourth, and most important, goal of the season six minutes into the first overtime to lift the Orioles to a 2-1 victory over Medway in the Division 3 state title game at Foley Stadium in Worcester. Saturday night's dramatic win earned the program its first ever state championship.
"As soon as I scored, it was just a huge rush of adrenaline and I ran to the fans," described Messier. "It feels like a dream right now. As soon as it hit his hands and I put it in, I just immediately [thought] 'Oh my god, that's the game!" It was incredible."
[+] Enlarge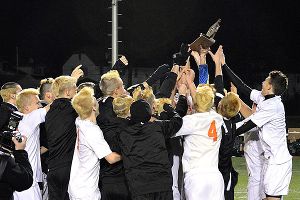 Josh Perry for ESPNBoston.comBelchertown grabbed the D3 state title in dramatic fashion over Medway, scoring six minutes into overtime.
The overtime began with Medway trying to create havoc and pushing numbers forward, but in the sixth minute Belchertown found space to cross from the right. The ball eluded junior Billy Aldrich and fell to midfielder John Ingram, who flashed a shot across the face of goal. The shot was saved by a diving Michael Bagdon, but the rebound fell to the foot of Messier, who made no mistake with the finish.
Medway head coach Jeff Hallenbeck was disappointed that his team was not able to bring home the title for the second straight season (the Mustangs fell to Groton-Dunstable in the D2 state title game in 2012), but could only shrug at how the final goal was scored.
He noted, "We started letting down in the midfield, so we started making adjustments on the fly. Once the overtime came along we decided to put immediate pressure on them. We got a couple of opportunities, but then gave up a bobbling ball in the middle."
The Orioles jumped out quickly in the opening minutes of the game to earn three corners in the first four minutes, but it would be Medway that would get the scoring started. Six minutes into the game, sophomore Jacob Warren was played to the edge of the 18 by Justin Kaplan and then unleashed an unstoppable left-foot shot into the bottom corner.
It was a great start for the Mustangs, but Hallenbeck admitted that the team could not sustain that energy and allowed Belchertown to play their game.
"I don't know if the guys got a little excited when we scored so early...I did," he remarked. "They [Belchertown] play a very aggressive style; they were moving the ball quickly. We got into a little game of kickball. So they kind of threw us off our game."
The Orioles got their footing as the half wore on and fully dominated possession after the break. In the final 10 minutes of regulation, Belchertown was pushing Medway back and had several chances at a winner. Alex DeSantis had the best opportunity with a brilliant turn and shot on the edge of the box that came back off the crossbar. The rebound was headed home by Aldrich, but he was ruled offside.
"We never lost confidence," said Belchertown head coach Tony Almeida. "These kids are good and they've been working hard all season long and they knew they could recoup from this. It certainly wasn't our best game but it was good enough today."
Despite Belchertown having momentum, Hallenbeck insisted his team was confident heading into overtime. The Mustangs stormed out of the gate in search of an early goal, but did not get the bounce they needed and then watched the Orioles put away their chance at the other end.
"We went four attackers up top and only two central defenders; that's it," he explained. "We went with our defenders to just chip it over the top to our forwards, but unfortunately it didn't fall to feet. It was a good goal for them. It should've been cleared, but it wasn't; these things happen unfortunately."
After back-to-back seasons of reaching the state semifinals in Division 2, Belchertown made it to the finals in its first year in D3 (its first finals appearance since 2005) and the Orioles took home the trophy for the first time.
The goal-scoring hero Messier marveled, "First time in history that we've ever won States at Belchertown High, so it's just incredible, honestly."
"I love it for the kids because I know that they really wanted it," said Almeida. "It's great for the program. The kids have been at it for a long, long time. We've been working hard for the past 10 years and it's finally nice to get here and win one."
D3 Girls Final: Newburyport 1, Granby 0
Newburyport (20-0-2) completed an undefeated season with a commanding performance in Saturday afternoon's Division 3 final at Foley Stadium in Worcester. The Clippers scored the lone goal and controlled possession in a 1-0 victory over Granby (18-3-1).
Senior Jaycie Triandafilou scored the game's only goal seven minutes into the first half when a corner from Amy Sullivan took a deflection off her thigh and slipped inside the post. As it turns out, it was the only goal that the Clippers would need.
"I don't really know what to say; it was amazing," reflected Triandafilou about the game-winning goal. "It's my last game and it felt right to get it. I couldn't have done it without my teammates."
The shutout was Newburyport's 18th of the season and the Clippers only allowed five goals all season. Senior defender Alyssa Leahy is the lynchpin for the Clippers in the heart of the defense and was named the program's first All-New England player. Co-head coach Kevin Sheridan credited the strong back line as the key to the state title.
"In the second half we started to control the game a little bit and that's the way you want to win a championship," said Sheridan.
Co-head coach Robb Gonnam, who also coaches many of the players during the club season, remarked, "Clearly, she dictates what happens back there. She makes [keeper] Lily [Donovan's] job easier back there and she makes the fullbacks' job much easier. She barks at them a lot, but it's a lot better when you have someone directing traffic."
Granby pushed forward at the end of the game, but it was Newburyport that had the best chances in the final minutes. Sullivan and Trianafilou both had chances to wrap up the victory with breakaways only to shoot straight at Granby keeper Brittany Hauschild.
After the game, Triandafilou was not concerned about the missed chances as she clutched the D3 state championship trophy.
"Our coach said last year when we lost in the North sectionals that we would be undefeated this season and it came true. That was fitting also."
November, 16, 2013
11/16/13
10:36
PM ET
By
Phil Garceau
| ESPNBoston.com
NORTHBOROUGH, Mass. -- At the end of that day, there can only be one team standing. And for 10 of the last 11 years, and the fourth consecutive year, it has been the Barnstable Red Raiders. A true decade of dominance.
And the way the Red Raiders are playing right now, it looks as if they are set for a century of dominance.
The scene is all too familiar for Barnstable coach Tom Turco. Clear his schedule for the middle of November, because he has a trophy to hoist. It's almost become as regular as an annual family reunion.
[+] Enlarge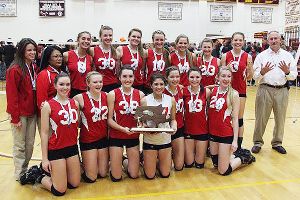 Phil Garceau for ESPNBoston.comBarnstable beat Newton North in straight sets to capture its 10th Division 1 girls volleyball title in 11 years.
From start to finish, the Red Raiders were quicker, stronger and faster than Newton North, winning in straight sets 25-10, 25-15 and 25-11, capping off a perfect finish to one of the more dominant seasons in recent memory.
Sure, a 23-0 season is pretty impressive. But the Red Raiders took it a step beyond that. Barnstable played a total of 73 sets this season and won 69 of them. Twenty of their wins came via a 3-0 victory, including every match this postseason. Twice they were pushed to a fourth set and only one time did a match go five sets.
"It feels sweet," Turco said following his fourth straight championship season. "These girls go out on a limb, set their goals really high and they sacrifice, they work and they stuck together out there and I'm really happy for them."
This Barnstable team was not the same as we've come to expect from the Red Raiders. This team takes their defense and turns it into offense. They don't allow the ball to hit the ground and transition quickly from defense to offense. Once they are set up, they don't attack through the middle, which the Raiders have done for years, and instead attack from the outside.
""Barnstable forever, we've been attacking from the middle, 90 percent of our hits come from the middle," said Turco. "This year we kept Hannah [Andres] and [Ciara] Bruning on the outside and we knew we had to quicken it up. The quicker you can get the attack off, the less time the defense has and the block has to set up."
Seniors Bruning and Andres couldn't be contained on the Barnstable front line. Sophomore Madison Sollows added a third dimension to Raiders attack for which the Tigers had no answer.
"I give all the credit to Barnstable," Tigers coach Richard Barton said. "It was very cool to watch them play, uncool to be the team losing to them, but we played fine and got nothing out of it."
Three of these Red Raiders, from the time they were freshmen up until Saturday night, were on the floor for each of the four championships. Stephanie Martin, Holly Wilson and Andres saw all four and Martin saw something special about this group of players.
"This team, we're closer and we spend more time together and we work hard on the court. We bond more off court and on court and it brings the team together."
The Red Raiders wasted no time establishing themselves as the dominant team, grabbing a 12-1 lead to begin the game. Three times in the opening set the Raiders made runs of six points.
Barnstable got off to anther hot stat in the second set, jumping out to a 15-6 lead before the Panthers, led by Infiniti Thomas-Waheed, found a bit of a rhythm. Newton North lost, 25-15, but matched Barnstable every point for the remainder of the set giving them hope for the third set.
The first eight points were evenly split before Barnstable went on a dominant 11-0 run, giving themselves a 15-4 and a championship coming into sight.
"This is why they're different this year," said Barton. "They attack every ball that came over. They're steadier in every regard. They run offense from all positions instead of the middle, they pass better, nothing hits the floor."
Junior setter Olivia Brodt set the ball up for all of her hitters, leaving the Tigers defense guessing.
"[Brodt] came into camp in unbelievable physical condition," Turco explained. "She worked for this and wasn't going to be denied."
D2: Notre Dame Hingham 3, Westborough 2
Holding a 18-12 lead and momentum at their backs, Notre Dame Academy had the Division two championship in their sights.
What they weren't counting on was a Westborough team that refused to give up. The Rangers went on a 15-7 run to force a deciding game five, setting the stage for Notre Dame Academy's Julia Flynn.
With a championship on the line in a winner take all set, it was only fitting for the senior hitter led her team to claim the state title, just as she had all season.
After a nail-biting back-and-forth battle all afternoon, it was the Cougars that prevailed in the fifth set, taking it 15-12 in front of a capacity crowd at Algonquin High School.
"It was a very very big opportunity for these young women to step up into a moment that big," Cougars coach Joshua Sheperd said. "After having a lead and letting it slip away in game four, to recapture it and move forward."
"We had some inspired volleyball tonight. We saw Julia [Flynn] be as advertised both in the front row and back row. Moments carrying her team, and showing them the strength when they needed it."
Trailing 14-12 in the final set, Westborough got what they wanted. A perfect set to Samantha Kehoe, who had carried the Rangers all game. The senior hitter wound up, but a perfectly timed jump from Notre Dame's Casey Thorbahn blocked Kehoe's hit and bounced back into play for the championship point.
"Sam did exactly what I told her to do on the last hit," said Rangers coach Roger Anderson. "I told her to go up and rip it and she did. And I'm so proud of her for that. She got us here and if we're going to go down, we're going to go down swinging."
Notre Dame saw some excellent defense from senior Megan Barrett, but the story of the game was the emergence of sophomore Avery Spaziani. And what better place to make a name for yourself than the state championship game.
"We saw inspired defense from our other captain Meg Barrett," Shepherd said. "We saw an unbelievable dawning of a new player in Avery Spazeroni tonight. She came to play and played the game with heart that was very admirable."
With time running out on their season, Westborough seemed to bury themselves in too deep of a hole. In the fourth set, already trailing two sets to one they found themselves down 18-12.
An ace from Kehoe, kills from Maria Hession and Julia Arsenault and a couple of fortunate bounces tied the game at 18 and sent the massive Ranger student section into a state pandemonium.
The teams exchanged points up until 25, where a long serve and a bad hit from Notre Dame sent the game into a fifth set.
"That comeback was built on playing a schedule that is really tough and being in battles all year long," Anderson said of his team in the fourth set. "We don't relent to anyone. You can knock us down but we're going to keep coming back."
Every match was a closely contended game. In the second match neither team strung together more than two consecutive points until Westborough put together a four-point run to take a 20-15 lead. The Rangers went on to win that set 25-18.
"They sent us a message earlier in the year saying Westborough is for real and we're going to come with it and they did," said Shepherd. "They came as advertised."
Notre Dame took a close first set 25-20, with Julia Marshall sealing the win with an ace, and capping a 5-0 run to close. The Cougars also took the third set 25-18, using a 6-0 down the stretch.
D3: Frontier 3, Fairhaven 1
This was supposed to be a rebuilding year for the Red Hawks. After three consecutive state championships, Frontier lost their star hitter Cassidy Stankowski to graduation, leaving a gaping hole as their team's leading hitter.
With a new philosophy this year, Frontier had no trouble running the Division 3 tournament this season for their fourth title in as many years.
"It's really special to win when you don't have an all American on your team," Frontier coach Sean MacDonald said following the game. "They wanted to show that Frontier volleyball isn't just Cassidy Stankowski.
"We had that cannon last year, and now we have a bunch of little guns all over the place shooting at you, so we're a little less predictable."
After weathering off a ferocious Fairhaven rally in the fourth set, Sarah Woodward clinched the championship with an ace, giving the Red Hawks a 25-22 edge.
The Blue Devils fell behind 20-15 after a 5-0 run from Frontier. The Blue Devils responded with a strong run of their own, but their rally to force a deciding fifth game fell just short and were forced watched the Red Hawks receive the division three championship trophy.
"I thought Fairhaven played pretty well in that set," said MacDonald. "A couple fluky things and its like okay, things aren't going our way this set. But we didn't come in here expecting to sweep Fairhaven."
After a back-and-forth battle to being the first set, Frontier ended on a 9-3 run, with Cassidy Ciesluk putting the exclamation point on the win with the final kill to give the Red Hawks the all important 25-20 first set victory.
A balanced Red Hawk attack in the second set kept the Blue Devils searching for answers. The Blue Devils offense also had a tough time, as they struggled to find any rhythm. Farihaven never strung together more than two consecutive points in a lopsided 25-15 loss, setting up Frontier with a quick 2-0 lead.
"A lot of it was they needed to relax and they couldn't get themselves to relax and play their game," Fairhaven coach Karen Arsenault said. "I don't think they really did relax, ever, and just play how I've seen them play."
It looked as if Fairhaven was on their way to being swept, falling behind 5-2 and 15-11 and still looking for answers on their offense.
With their backs against the wall, senior Mariah Nicholas led her team back with five kills and a block in final stretch and Fairhaven went on to win 25-20.
"They've had this resilience all year," said Arsenault. "We've come back all season, we came back in the semifinals. I knew they could do that, it was just a matter of would it be enough and unfortunately it wasn't."
"They had a much quicker game, way quicker game than the semifinal game. They had a lot of go to people and ran a really clean offense. We don't normally see that. Probably the best team we've played all year."
With Frontier only losing three players to graduation, they look primed to make another run in 2014.
"We have a lot coming back," said MacDonald. "I feel good moving forward."
November, 16, 2013
11/16/13
10:19
PM ET
By
Brendan Hall
| ESPNBoston.com
EVERETT, Mass. -- Cody Demers started this one in the hurt locker. He ended it on cloud nine.
His 24-yard touchdown catch with two minutes to go, against one of the state's most intimidating and highly-regarded defensive backs, will go down forever in Central Catholic folklore as one of the program's all-time defining moments, a 20-14 stunner over juggernaut Everett for the inaugural MIAA Division 1 North title and trip to Gillette Stadium for next month's first-ever true state championship.
"We've been coming out from lifting, to practicing, to two-a-days, everything, we've just been coming out full of heart," said Demers. "Anything can happen, and we wanted to make our stand and come back as a team."
[+] Enlarge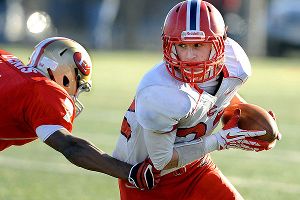 Jim Valente for ESPNBoston.comCody Demers was shaken up early, but made the game-winning touchdown catch late as Central Catholic shocked Everett.
It was how it got to that point, however, that might have been the most impressive. Demers took a beating at wide receiver and kick returner, taking on a series of brutal blows, none more violent than the one laid on him by Crimson Tide linebacker C.J. Parvelus up the middle returning a kickoff in the second quarter. A feeling of weightlessness overcame him for a brief moment as he lay face down in the turf.
"Honestly, it was a shot. I was running the ball, I thought I was gonna get a block, I forget who it was, but he just popped me, and my whole body went flat," Demers explained. "Like I dunno, I can't even explain it. It was an incredible hit. I tried getting up, but I got up too quick and I was dizzy."
Demers was sidelined for five plays, before returning to the field and later helping the Raiders in their winning rally.
It started late in the third quarter, when quarterback Mike Milano pulled off a perfectly-executed veer, put the ball in the belly of University of New Hampshire commit D'Andre Drummond-Mayrie for the dive, then pulling it and racing 60 yards off the edge up the middle of the field, for the touchdown and 14-7 lead with :54 to go in the stanza.
"We knew the whole game, they were crashing [linebacker Josh Palmer] off the edge hard," Milano said. "D'Andre told me before the play, 'You know that kid's gonna crash, so make sure you make the right read'. So I made the right read, pulled it, and then it was one-on-one with [Parvelus]. D'Andre made a great fake, everybody flowed to him, and it was one-on-one."
Everett responded with a 12-play, 70-yard drive that was kept alive with a huge break on third and 12 from the Raiders 37. Quarterback Raheem Wingard's pass to Joe D'Onofrio was initially tipped by Raiders linebacker Jon Parsons, but sailed over his head into D'Onofrio's bread basket for a 20-yard gain. Four plays later, Marquis Holman rumbled in from a yard out, then the Tide converted a swinging gate play on the point after for the 15-14 lead with 7:12 to go.
Central had a chance to go ahead on its next drive, when Milano completed a 56-yard screen pass to Markus Edmunds, giving them first and goal at the five after a tacked-on facemask call. But on the very next play, Palmer stripped the ball from Drummond-Mayrie and fell on it. A quick three-and-out and shanked punt, however, gave the Raiders another fortunate bounce, with starting field position at the Tide 36.
This time, they capitalized.
Three plays into the drive, on third and five, Drummond fumbled, but the ball rolled seven yards forward, and lineman Brad Marggraf pounced on it to keep the drive alive. Two plays later, Demers gave them the lead for good.
Isolated to the left, in a formation newly installed this week, Demers ran a "sluggo" (slant-and-go) route against Everett's Lubern Figaro, bouncing to the outside and leaning into the highly-touted Wisconsin commit as he tried to jam him to the sideline. At the near pylon, Demers came across Figaro's face and slipped underneath his hands, drawing pass interference as he laid out for the diving touchdown catch.
"That's our big home run play," Demers said. "When that play was called, I couldn't wait."
Everett stalled on its potential game-winning drive at midfield, a last-ditch attempt at a pass landing at Lukas Denis for a 20-yard gain as time expired, as the Central side went into a frenzy.
NO RESPECT
Drummond-Mayrie was asked about the most important defensive techniques against the Tide's offense, and like the Milano 60-yard score, he veered off. He didn't bite his tongue when he played the tried and true "no respect" card that has become commonplace in these increasingly-heated playoff games, and let it rip.
"We knew it was going to be a scrappy game, when we met the captains [at midfield, for the coin toss], they were eyeing us down," he said. "They didn't have respect for us. We knew we had to come out here and earn their respect...They didn't think we belonged here."
Asked if there was conversation headed into the game that indicated this sentiment from Everett, Drummond-Mayrie said, "No, it was all in their body language."
"It makes it that much sweeter, that much better. I have so much respect for their program, I have no hard feelings at the end of the game. It was a scrappy game, that's how football is. Great team, with great players, but the better team won today. I took some hits, but we gave some hits too."
TOUGH AS NAILS
By now, Demers' gritty performances have become customary around the Central program.
"That's just the type of kid he is," Raiders head coach Chuck Adamopoulos said. "That's his personality, he's thinks he should be able to beat anyone on a pass. He's just a playmaker, a spunky kid."
Said Drummond-Mayrie, "He's the toughest kid I know. He's small, but he packs a punch. That's why he's the best player on this team. That's why I look up to him so much. He's just a great person."
CENTRAL CATHOLIC 20, EVERETT 14

CC --- 0 - 0 - 14 - 6 --- 20
EV --- 0 - 7 - 0 - 8 --- 14
Second Quarter
E - Marquis Holman 1 run (Matheus Varela kick) 6:06
Third Quarter
C - D'Andre Drummond-Mayrie 1 run (Paul Karamourtopoulos kick) 3:24
C - Mike Milano 60 run (Karamantopoulos kick) :54
Fourth Quarter
E - Holman 1 run (James Hunt run) 7:12
C - Cody Demers 24 pass from Milano (pass failed) 2:10
November, 16, 2013
11/16/13
9:54
PM ET
By
Mike Abelson
| ESPNBoston.com
TEWKSBURY, Mass. -– Down six points and time dribbling away, Tewksbury called for James Sullivan to take a sweep to the left from the 21-yard line. As he rumbled behind a pair of blockers Marblehead's Dean Fader lined him up and locked on his target.

Sullivan slipped out of Fader's grasp and finished off the touchdown run, the Redmen's second touchdown in 30 seconds. The home sideline erupted in a fit of ecstasy. Fader laid prone on the ground, he and his team's chance at a title gone. Victory is sweet. Defeat is sour.

Sullivan's second touchdown of the game capped Tewksbury's entertaining 34-21 win over the Magicians in the Division 3 Northeast final at an over-capacity Doucette Field.

"It must have been fun from an outsider's perspective," Tewksbury coach Brian Aylward said. "Two teams that never quit and kept fighting."

With the game tied at 21 late in the fourth the Redmen forced the Headers to make a mistake. Tom Casey jumped a sideline route, picked off Matt Millett and returned the ball 25 yards for the eventual game-winning touchdown with 2:43 to go. Eddie Matovu strip-sacked Millett on the Magicians' next offensive play that set up Sullivan's late touchdown.

"Plays like Casey make are really what change games like that at the end," Motavu said. "That was the biggest play of the game by far."

22-MINUTE TRACK MEET
The first half was an emotional ride for all involved.

Marblehead turned over the Redmen 81 seconds into the game and capped the ensuing 58-yard drive with a five-yard touchdown reception from Brooks Tyrrell. Tyrrell caught four balls for 55 yards and ran for a team-high 124 yards all while nursing a sprained ankle.

"He probably shouldn't have been in today," Marblehead coach Jim Rudloff said. "Anything he gave us was gravy. I give him a lot of credit. We had a lot of kids banged up today. They played a great game today."

Two plays later, Matovu took an inside-counter toss 78 yards to tie the game. The teams traded interceptions on consecutive plays four minutes later.

Sullivan scored from five yards out on the first play of the second quarter to put Tewksbury ahead only to see the lead disappear immediately when Mark Cohen took the ensuing kickoff 95 yards for a score. Millett and Tewksbury's Johnny Aylward exchanged passing touchdowns in the waning minutes of the half to end the chaotic first 22 minutes tied at 22.

ADJUST AND ADVANCE
If the first half was all about explosion then the second half was a slow burn.

The first two possessions of the third quarter were three-and-outs, and seven of the first eight combined possessions of the half ended with punts.

"The defense is definitely one of the better ones we've seen," Johnny Aylward said. "Every adjustment we made they adjusted right back. It just came down to our execution and finishing strong."

Rudloff said that his team played well defensively, but blinked at the wrong times.

"Defense played great the entire game except those five minutes and even then it was a play here, a play there," Rudloff said. "That's been the story of us all year. I thought the things our team did in the second half that kept them from putting yards together helped us a lot and made us a much better team."

The teams combined for three plays of 30 or more yards in the first half, but the defenses held them to just two plays of 20 yards or more in the second half.

As a two-way player, Matovu said that it was hard to adjust but that there was a job to be done.

"Coach has a saying that he read in a book, 'Charlie Mike', and it really just means to keep going forward no matter what," Matovu said. "That showed in this game a lot. Don't think about the last play; think about the next play."

GILLIS BOYS SHINE
Marblehead cousins Jeremy and Liam Gillis were a menace on defense from kickoff to final gun. The hard-hitting pair of linebackers were able to put a wrench in Tewksbury's ground attack for much of the game.

Jeremy also caught a pair of balls for 13 yards.

"Liam Gillis has been our leader on defense for two years," Rudloff said. "Jeremy, this year, was the first year he really stepped up especially with about six games to go. Immense leadership from both of them. Mature kids."

Rudloff said that the cousins Gillis lead by example and are model players on and off the field.

"They're the type of kids you want dating your daughter," Rudloff said. "They're just good people, and they're important to this team because it's important not only to be good football players but to have good leaders, good young men on your team. It makes coaching fun; you come back to coach kids like that."

KEVIN DICK DOES IT ALL
Tewksbury's Kevin Dick did everything he could for the Redmen and more. He caught four passes for a game-high 72 yards and a touchdown, and he intercepted two balls on defense.

Having a multi-faceted weapon like Dick on the field is pivotal at this time of the year, a fact that wasn't missed by Johnny Aylward.

"Kev's an outstanding player and a great athlete," Aylward said. "He's just a gamer no matter what the situation is. You can always rely on him to make a play."
November, 15, 2013
11/15/13
1:41
AM ET
By
Josh Perry
| ESPNBoston.com
LYNN, Mass. -– Standing at the penalty spot with the chance to clinch her side the Division 2 state title, Notre Dame Academy senior striker Gabriela Kenyon had no doubt that she was going to make it.

"During the Scituate game, I put one away, so I was confident that I was going to make it," said Kenyon afterwards. "I knew it was in. I knew it. I knew we were going to win this game."

The shot was much closer than that confidence may let on. The ball barely squeezed past Wilmington keeper Kellie Souza's fingertips and struck the post, but angled back into the net. The goal capped off a great final and clinched the Cougars the championship.

"Gabby has definitely got it done for us this year," said head coach Elizabeth Mustafoski. "She always scores when we need it most and she's been a rock for us."

Notre Dame keeper Margaret Elliott had her struggles during regulation, but she stepped up to save the first penalty and the teams traded a miss apiece to set up Kenyon's attempt at the winner. Kenyon noted that the team had worked all week on penalties to prepare for the final.

"We've been practicing all week for PKs," she said. "Our goalie is amazing at saving them and we knew we had this; we knew it. It feels amazing; I'm speechless, still can't really comprehend what happened."

The ending was perfect for Notre Dame (21-2), but the game could not have gotten off to a worse start. Just two minutes into the game, a long pass forward slipped underneath Elliott's body and Wilmington senior Alexandra Bischoff was in perfect position to run onto the loose ball and tap it into the empty net.

It took a few minutes following the goal, but soon the Cougars started to find a rhythm offensively and started to play with their customary style. Mustafoski admitted that there were some nerves to overcome early in the game.

She explained, "We play a possession style and it does take some time to get the nerves out, settle in, and knock the ball around. Luckily, this is as nice of a field as you can play on so we can play our game."

Mustafoski added, "We made a couple of mistakes, but the important thing was that we were able to shake it off and come back and win the game."

Notre Dame evened the score with six minutes remaining to halftime. A long pass over the top by Parker DiNatale landed in between the back line and Souza. Kenyon read the bounce, beat the keeper to the ball, and nodded home her 36th goal of the season.

The Notre Dame attacking foursome of Kenyon, sophomores Hannah Volpe and Kristen McCrea, and junior Sarah Rawson was a constant menace to the Wilmington back line. Volpe, in particular, continuously found space between the midfield and the back four and it opened up a lot of lanes. Wildcats centerbacks Devyn Malatesta and Kelly Hartsough were consistently forced to mop up inside the Wilmington box.

"They're dangerous and they're young," said Mustafoski about her attacking corps. "Hannah Volpe up top with Gabby, they work really well together. Hannah is a very technical player; she can hold the ball and take people on."

The Cougars momentum carried over to the second half. Kenyon had an early shot that went right at Souza and then, in the 51st minute, the Cougars got a free kick about 25 yards from goal. Junior defender Elissa Dukeshire hit it perfectly and it flew into the net over Souza to make it 2-1.

Much like Wilmington's goal in the first half, the Notre Dame goal seemed to spark the opposition into life. Bischoff struck the bar with a header before another ball over the top two minutes later caused the Notre Dame defense fits and Rachael Mara was able to head home the game-tying goal.

Wilmington head coach Sue Hendee expressed her pride in the Wildcats ability to bounce back in the second half.

She noted, "They've done that consistently throughout the season. They've been really good about reacting well to different situations."

Wilmington (19-2-1) nearly took the lead in the 18th minute. Senior Kaitlyn Curley picked out sophomore Casey McFall at the edge of the 18 but her shot struck the bar. The rebound fell to a Wilmington player at the far post but Elliott scrambled across to block the shot with her legs. Kenyon would have one more chance before the end of regulation that Souza saved.

Neither team created much in the first overtime. In the second, Bischoff nearly got on the end of a through ball by Jordyn Granara, but Elliott scooped it up. Allison Zaccheo forced Souza into a diving save and Kenyon nearly had the winner but pulled it just wide on a quick counterattack.

Mustafoski marveled, "It was a really exciting game; it was really back and forth. I knew that this team had a lot of character and would bounce back."

Hendee echoed those sentiments. She remarked, "I couldn't be any more proud of these girls…that was an absolutely incredible game."
November, 15, 2013
11/15/13
1:22
AM ET
By
Josh Perry
| ESPNBoston.com
LYNN, Mass. -– There are few 10-minute stretches in a soccer match that are as full of incident and action as the opening 10 minutes of the second half in Thursday night's Division 2 boys' state title game at Manning Field.

Four goals, a red card, and an injury to a captain set up an exciting finish, but Masconomet (23-1-1) took advantage of a quick start after halftime to break open a 1-1 tie and, despite being reduced to 10 men, held on for a 4-2 victory over Walpole (13-8-2) It was the program's second state title and first since 1996.

The first half set the tone for the match with end-to-end action. Just six minutes after the opening whistle, Masco took the lead when senior Edison Forbes hit a perfect through ball to forward Stephen Pease, who slid it past Walpole's Peter Hoegler for the first goal.

The Rebels, who came into the game with an eight-game win streak that stretched back into the regular season, did not back down and equalized in the 14th minute. A long throw was nodded on by Matthew Brownsword and fell to senior Nabil Chamoun. The striker hit a looping shot over Masco keeper Willie Stewart to tie the game at 1-1.

Walpole defended well and played its physical brand of soccer through the rest of the first half, but Masco continued to cause problems particularly on the flanks with Pease and Paul Criscione. The Chieftains had the best chance at taking the lead in the first half on a ball that slipped under Hoegler, but Thomas Helm dove in to block a shot at the far post and somehow prevent a goal.

Just two minutes after the restart, Masco was dealt a huge blow when towering central midfielder Jeffrey Panella went down in the Walpole box with an apparent head injury. Instead of fading, the Cheiftains responded almost a minute later with a goal. Forbes picking out a perfect pass to slide in Adam Grammer to make it 2-1.

The injury and the goal sparked a remarkable string of action.

Three minutes after Masco took the lead, it added a third. Pease made a long run down the right sideline and sent a ball across the edge of the 18. Criscione settled and picked his spot to make it 3-1. Less than a minute later, Forbes intercepted a pass in midfield and drove at the net. He rounded Hoegler and passed it into the open net to make it 4-1.

Masconomet head coach David Mitchell credited his captain Grammer for rallying the team after Panella's injury and turning the tide in the game.

"When Jeffrey went down with the injury, I'm sure Adam had the guys together and everyone just had to step up a little bit more and the guys did that," explained Mitchell. "When you have a player of Jeffrey's caliber on the sideline then having Edison out of the game, guys came in and played those spot 10-15 minute roles and did a great job."

Walpole responded to the setback just a minute later. Chris Gallivan flicked a header into the box and senior striker AJ Chauvin took it off the volley and placed it inside the near post to bring the Rebels back within two goals.

There was to be another twist in the 31st minute when Forbes, who had been a constant menace to the Walpole defense, was shown a straight red card for what was described as a punch. With Masco down to 10 men, it seemed Walpole had been given a lifeline, but instead it was the Chieftains that continued to control the match.

Mitchell noted, "We ran that one frontrunner to keep pressure on their four backs and just kept rotating that guy to keep him fresh; I thought we did a good job with that. I thought with a man down with did a good job with possession too."

In fact, it was Masco that created the best chances of the final 31 minutes. Hoegler did well to slide out and block a chance by Grammer on the counter and then Pease shot wide after Grammer's pass sent him in behind the defense.

"We've talked all season long about how sometimes our best defensive work is just keeping the tempo of the game," Mitchell remarked. "I thought we did a better job of that in the second then the first, but you know in a state title game that you're going to have it all thrown at you."

Walpole head coach Lee Delaney, who was able to celebrate the team's first sectional title earlier this week, was proud of his team's effort and gave the credit to his opponents for a very strong game.

"We battled as best we could. Masconomet was terrific tonight," said Delaney.

He elaborated, "They deserved it tonight. We had a lot of trouble with their speed. We just couldn't stop them at the start of the second half. We have a couple of young defenders that have done well but these guys just overwhelmed us at the start of the second half."

Mitchell reflected on the season that his team had just gone through and the redemption that a number of his players felt after losing the 2011 state title game to Ludlow.

"A lot of things have to go right for you for the whole season and certainly during the tournament. We were very fortunate that it went that way."