Boston High School:

Micah Cummins
May, 10, 2013
5/10/13
10:23
PM ET
By
Chris Bradley
| ESPNBoston.com


SHREWSBURY, Mass. –- St. John's coach Charlie Eppinger knew the Pioneers needed a standout performance from star pitcher Ben White, and he got just that, as the Holy Cross-bound righty led St. John's (12-3) to a 5-1 victory over BC High (9-3).

White pitched all seven innings for the Pioneers, giving up just three hits and allowing one earned run. His control was pinpoint, walking no BC High hitters.

"That was the Ben White we're used to seeing," Eppinger said. "He had one rough outing against New Bedford earlier in the year, and has been real solid since. We knew we needed a good effort out of Ben."

The Pioneers drew first blood in the bottom of the second, as senior Micah Cummins singled and later came around to score to make the score 1-0.

BC High answered in the fourth inning though, as senior Ryan Tufts hit an RBI double to bring classmate Jake Marotta around to even the score. After that though, BC High's offense was literally nonexistent.

"For some reason, mentally we just weren't there," BC High coach Norm Walsh said. "We've got to change that, we've got to come out hungry every single game. We got a little complacent."

Walsh also said that his team has been struggling as of late with the approach of opposing pitchers. Generally, Eagles' hitters have been seeing fastball early in the count, and then see mostly off-speed pitches for the rest of their at bat.

"We've been getting pitched backwards, and we're not responding in terms of making our adjustment at the plate," Walsh said. "That needs to change, and that's what we're going to see—not too many teams are going to try to throw the ball by us. We've got to understand that, it's not like we aren't capable of it, because we are. It's all in the approach we have."

St. John's began to develop some momentum in the fourth inning after Walsh took starting pitcher Tommy McDonald out to keep a limit on his pitch count. Freshman Drew Rosen drove in P.J. Browne on a ball hit to right field that resulted in error. Kevin Quinlivan hit a single in the next at bat to get Rosen over to third, and then got caught in a pickle between first and second that ultimately allowed Rosen to score from third.

Eppinger was proud of how many players had a hand in the victory.

"A lot of it is a team effort, the team has really supported him," he said. "We expect so much of Ben, sometimes I think one player thinks they need to do it all. We have 20 players on the roster and we trust all of them."

The Pioneers built the lead further in the sixth inning, as cleanup hitter Jake Byrne smashed a solo home run over the center field fence. After getting hit by a pitch, Cummins came around soon after to score his second run of the game, bringing the score to 5-1.

"The insurance runs are huge, going out 5-1 instead of 3-1 against a lineup like that, you take the wind out of their sails and give yourself some confidence," Eppinger said.

After losing 7-4 to BC High on Monday, the Pioneers' coach said today's victory was just the confidence booster that his relatively young squad needed going into the final stretch of the regular season.

"It's time for us to compete at a state level," Eppinger said. "This gives us a lot of confidence that we can compete with anybody, but we've got to bring our A-game, we're not going to be able to come out and play mediocre baseball and beat a good team."


April, 15, 2013
4/15/13
7:27
PM ET
By
John McGuirk
| ESPNBoston.com
WORCESTER, Mass. -- Ben White has proven over the last couple of years that he is quite capable of pitching in any situation which presents itself. Spot the senior a six run lead and it is a near-certainty the opponent is done for.

Such was the case on Monday when St. John's of Shrewsbury jumped on rival St. Peter-Marian for six runs in the first two innings, en route to an 8-1 triumph.

While the Pioneer offense did its job, the day belong to White. The tall, lanky righthander was in control throughout during his seven innings of work on the mound, holding the Guardians to just one hit while striking out 13.

"This game is always a big rivalry game for us," said White. "It has gone back many years. That team always competes and I know all of those guys over there. My catcher Scott (Manea) called a great game and my defense was strong behind me when I needed them to be. I was throwing my slider, my change up and my two-seamer and we just continued working it in the zone and it worked today."

St. John's (3-1) took advantage of some early wildness from SPM righty Zach Zona. The UMass-bound senior, who tossed a no-hitter against Burncoat in his previous outing, got off to a rocky first inning by hitting a pair of batters sandwiched around a walk to load the bases with none out. Zona, who played for St. John's his first two years before transferring to SPM last season, then issued another walk to Jake Byrne forcing in the Pioneers' first run. Owen Shea and Joey Evangalista followed with RBI singles to make it 3-0.

Zona's woes continued the following frame. He walked Mike Sullivan and, with two out, he induced a Byrne grounder to short. What should have been the final out instead resulted in shortstop Cam Frederick misplaying the ball to keep the inning alive. Shea followed that up by launching an 0-1 pitch deep over the left field fence to put St. John's up by six.

"Zach was off with his control early on," Guardians coach Ed Riley said. "I give him credit for gutting it out there until he was relieved in the sixth. But when you fall behind after giving up three runs in the first and three more in the second against a quality pitcher like that, it is tough to comeback. Ben threw a great game for them and hats off to him."

The six runs proved to be more than enough ammunition for White, who will play at Holy Cross next season. White thoroughly mesmerized the SPM line up all afternoon. The Guardians lone hit came in the second on a Jon Roy infield single. From there, White retired the next 15 batters before a pair of errors in the seventh cost him the shutout as SPM (1-4) was able to get a run across.

"It was important for us to get going offensively," said Pioneers coach Charlie Eppinger. "We felt our pitching and defense would take care of itself but we needed to score. We know Zach well having spent his first two years here at St. John's and we know he's a very good pitcher. That's why we knew it would be important for us to get some runs off of him early.

"Ben is our ace this year. Last year he was our No. 3 and was sort of hidden behind two of our other pitchers. This year he is going to pitch in some big games for us from now to hopefully June. I thought today he worked hard and kept his composure. He was in control and Scott did a real nice job guiding him from behind the plate."

St. John's added solo runs in the fifth and seventh innings. In the fifth, Micah Cummins delivered an RBI single and in the seventh, with the bases full, Guardian reliever Danny Bushe plunked Kevin Quinlivan to drive in the eighth run.
September, 15, 2012
9/15/12
8:11
PM ET
By
Brendan Hall
| ESPNBoston.com
SHREWSBURY, Mass. -– St. John's quarterback Andrew Smiley noticed receiver Micah Cummins putting on a red basketball-like compression sleeve on his left arm before this afternoon's visit from Longmeadow, and kept things real –- "You drop a pass, I'm gonna be all over you about it," Smiley cracked to him.
Done and done.
[+] Enlarge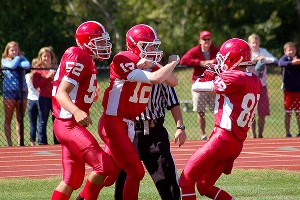 Brendan Hall/ESPNBoston.comQuarterback Andrew Smiley (12) and receiver Micah Cummins (88) connected for two touchdowns to lead St. John's to a 35-14 win over Longmeadow.
Not only did Cummins refrain from a drop, but the 5-foot-11 wideout came up with two pivotal touchdown catches in the first half that put the No. 18 Pioneers ahead for good. The defense did the rest in the second half, forcing the No. 6 Lancers into three straight turnovers on downs en route to a 35-14 win at Pioneer Field.
After a dazzling debut in his first varsity start last week against Holy Name (353 yards, 4 TD), Smiley once again went over the 300-yard mark in total offense. He was 16-of-18 passing for 246 yards, and carried the ball 15 times for 96 yards, with four touchdowns total.
Meanwhile Cummins finished with four catches for 74 yards for St. John's (2-0), but earned most of his yardage after the catch with some slippery moves. At 160 pounds, Cummins is not the biggest or most intimidating target for the Pioneers – but he may have the best body control.
That was perhaps best explicated on Cummins' second touchdown catch, a 30-yard snag at the two-minute warning of the first half that put the Pioneers ahead 21-14. The play called for Cummins to run a "jerk" route to the left sideline, in which the receiver fakes like he will sit in a zone hole before continuing his shallow crossing route. He hauled in Smiley's short dart with a few feet of real estate left, then planted upfield, spun through one defender, juked to the right of another, and marched the final 25 yards untouched.
That was preceded by a 47-yard strike to Cummins towards the end of the first quarter that put the Pioneers up 14-7. Cummins ran a post route up the left sideline, facing man coverage with a safety shaded to his side, and was sprung free by a pick from John Giacoppe (5 catches, 62 yards) to make the grab behind the safety and glide into the end zone.
"He's so shifty, hard to tackle," Smiley said. "He's not the strongest kid out there, but he's quick. He's just hard to tackle."
Smiley came up with two more scores in the third quarter to put this one away, first calling his number for a seven-yard scamper, then finding Davon Jones on a seam deep downfield for a 30-yard pass.
Improved defense:
The Pioneers came away with the win last week against Holy Name, but were not satisfied with the run defense, giving up 463 yards and five scores on the ground to the Naps' vaunted Double Wing scheme (282 coming from Quron Wright). This week, they split that number in half, allowing 233 yards and two scores against the Lancers' modified Wing-T scheme (which today also showed elements of the "Flexbone" formation, with heavy personnel groupings).
Give credit to the front four for that marked improvement. Against a Longmeadow's senior-laden offensive line that is considered one of the state's best -- averaging over 260 pounds across, and led by road graders Rob McClure and Lou Calabrese -- the Pioneers held their own. Led by juniors Jeff DeMango and Connor Gatto, and sophomore Sam Norton, they were able to stuff the interior gaps ably.
The hallmark of today's defensive effort was the aforementioned second-half effort, in which the Lancers ended three straight drives with a turnover on downs in Pioneer territory.
"They've gotten some confidence every week, and they're getting better," St. John's head coach John Andreoli said. "We've played some tough teams all along – Brockton, New Bedford, Shepherd Hill [all three were scrimmages], Holy Name, I mean those are great teams. And our kids stepped up and played disciplined.
"We stayed in a lot of base fronts today, they trusted their reads, and ran to the football. That's what they did, and that's what they've been doing all year."
Longmeadow quarterback Frankie Elder led the Lancers with 86 yards and a score on 16 carries, but a had a forgettable day through the air with 74 yards on 5-of-17 passing, with two picks. Fullback Austin Sierra also had 14 carries for 68 yards.
Dejection, but praise:
Some Lancers felt their hearts sink to their knees in the moments following the game. Elder, for one, sat on the grass, helmet still buckled and lay motionless with a thousand-yard stare.
With legendary former head coach Alex Rotsko leaving behind arguably one of the Lancers' most talented senior classes in a while, there have been high hopes for this year's squad, with a No. 6 preseason ranking in ESPNBoston.com's statewide MIAA poll. A win today would have satisfied Longmeadow's wishes to be taken seriously as one of the state's elite programs.
But in the eyes of many, they already are, and have been for some time.
"It's a respectable win [today], because Longmeadow is a very good program," Cummins said. "I think in a couple articles, they said they wanted to get themselves into the elite of Massachusetts football, and I think they already are elite. I look back at the stats, and they're one of the top programs in the state year in and year out.
"They're well-coached, and I have all the respect in the world for them."
One aspect of the Lancers' gameplan that worked particularly well today was their defense of St. John's running back Shadrach Abrokwah. Coming off a 205-yard, three-touchdown performance last week over Holy Name, the Worcester resident was held to 36 yards on seven carries, but did have a nice 40-yard reception off a swing pass.
But as the stats indicate from today's game. Keying Abrokwah on the zone read opened the field once again for Smiley and the air attack.
"They're just athletic," Longmeadow head coach Nick St. George said. "They're good athletes, they have good receivers, they get the ball out to their guys in space and they force you to make tackles. We missed a lot of tackles today."
Flash cards?
One of the most interesting nuggets from today's post-game interviews was the suggestion from Smiley that the Pioneers may begin to utilize flash cards from the sideline to speed up what has already been a turbo-charged playcalling system.
But not just any ol' flash cards. One of the main storylines with the Pioneers' early season is how they have adopted the "Blur offense" tempo popularized by the University of Oregon under coach Chip Kelly. In recent years, Kelly's assistants have used posterboard-sized placards consisting of four panels with seemingly any sort of picture on it –- a number, a color, a school logo, a mascot, characters from
Caddyshack
, hosts from
ESPN College Gameday
, and so forth.
Even among the increasingly-innovative college coaching ranks, Oregon's method of calling in plays is considered radical. The only thing that's come close so far in the MIAA in recent years might be Duxbury, which dresses five JV players in bright orange hats (
nicknamed "The Amigos"
) and gives them color-coded cards to hold up.
"Oh, we might be bringing those out," Smiley said when a reporter asked about replicating the "Blur" tempo and referenced the Ducks' flash cards.
Have they been working on it?
"Yeah, a little bit," Smiley said.
It could be an innocent comment, and ultimately nothing could come of this. But given the progression of this offense, it could also be the next natural step.
ST. JOHN'S 35, LONGMEADOW 14
LHS 7 7 0 0 --- 14
SJS 14 7 14 0 --- 35
First Quarter
L – Frankie Elder 3 run (Eric Barsalou kick) 6:36
S – Andrew Smiley 8 run (Pat Lehane kick) 6:16
S – Micah Cummins 47 pass from Smiley (Lehane kick) 1:50
Second Quarter
L - Joe Lee 1 run (Barsalou kick) 6:51
S – Cummins 30 pass from Smiley (Lehane kick) 2:00
Third Quarter
S – Smiley 7 run (Lehane kick) 8:02
S – Davon Jones 30 pass from Smiley (Lehane kick) 1:52
September, 8, 2012
9/08/12
10:04
PM ET
By
Brendan Hall
| ESPNBoston.com
SHREWSBURY, Mass. -- Mike Pucko sat on the bench next to one of his linebackers, who was sobbing softly with his left knee heavily wrapped in ice, and watched as the paramedics lifted him onto a stretcher.
By this point, Pioneer Field had cleared out, and the Holy Name coach was once again left with nothing but a long, deflated sigh that shouted,
Just what do I have to do to beat these guys?
[+] Enlarge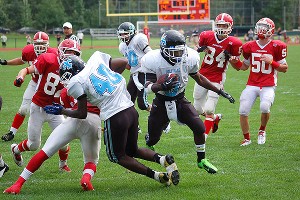 Brendan Hall/ESPNBoston.comHoly Name's Quron Wright gave the St. John's defense fits, rushing for four touchdowns and a career-best 282 yards.
Under Pucko, the Naps have become something of folklore with their less-is-more modus operandi, playing a Division 1 schedule with essentially a Division 4 student body. They've rolled into this annual season-opener with rival St. John's of Shrewsbury carrying a little over two dozen of the toughest kids in Worcester, and have come at them with pretty much everything but the kitchen sink.
For all of the Super Bowl championship success under Pucko, the Naps haven't been able to get an elusive victory over St. John's under John Andreoli. In recent years, the Naps have lost 9-8 and 22-21 to the Pioneers. Today, it was a recovered fumble by St. John's Sam Norton with under four minutes left that did the Naps in, as the Pioneers eked out a 47-40 shootout victory in which neither defense was able to contain the other's running back.
Of his own Lilliputian scatback, Quron Wright, Pucko was asked about the career day of the waterbug generously listed at 5-foot-7, and without initiation fired one of his trademark shots from the hip.
"Anybody that thinks he's too short to play college football can kiss my a--," Pucko said of Wright, who finished the day with a career-best 282 yards on 28 carries for four touchdowns. "He showed what he can do against any competition, any time."
When he was done talking, for good measure, Pucko brisked by Wright and slammed his open palm on the senior's right shoulder pad.
Between Wright and St. John's senior tailback Shadrach Abrokwah (24 carries, 205 yards, 3 TD), this was a must-see clinic for rushing, albeit in styles at opposite ends of the spectrum -- Wright the patient breaks behind sweeping convoys in the Double Wing, Abrokwah the darting cutbacks in an uptempo Inside Zone Read scheme.
The best story of the day, however, might have on the other side of the ball, where Andrew Smiley stepped in for the injured Connor Kurtz in his first varsity start and promptly accumulated 353 yards of offense (226 passing, 127 rushing) and four touchdowns (three passing). The 6-foot-3 junior connected with wideout Micah Cummins for two of his passing touchdowns, the second a soft goal line fade to the back pylon early in the fourth quarter that rounded out the wild scoring.
[+] Enlarge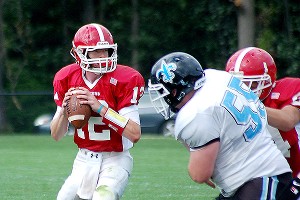 Brendan Hall/ESPNBoston.comMaking his first varsity start, St. John's QB Andrew Smiley accounted for 353 yards of offense and 4 TDs.
"I was rolling out, and I saw the corner jump the under route," Smiley said of his second scoring strike to Cummins. "I saw a little window, tried to fit it in, and Micah made a nice play."
After pounding the ball in between the tackles all afternoon, routinely drawing nine Pioneer defenders into the box, Naps quarterback Shamus Malley caught the secondary sleeping for a wide-open 41-yard scoring strike to tight end Robert Baker. The pass, a play-action post with Baker slipping behind the safeties, was his only completion of the day, and cut the Pioneers' lead to 41-40 with 8:06 to go.
St. John's fired right back with a seven-play, 62-yard scoring drive marching through the middle of the Naps' defense with a series of zone read plays. Smiley finished the drive with his rollout floater to Cummins.
Five plays into the ensuing Holy Name drive, the ball was fumbled near the line of scrimmage, and sophomore defensive tackle Sam Norton was there to fall on it and give the Pioneers the ball back with under four minutes to go. St. John's effectively ran out the clock with steady inside zone plays to Abrokwah.
"We thought we could have won 48-47," Pucko said. "We were starting to drive again, the kids were sucking it up even though they all had cramps, they were giving everything to stay out there…But hey, what are you going to do?"
The Pioneers totaled 558 yards of offense, while Holy Name amassed 504 yards –- 463 of it coming on the ground –- giving the teams over 1,050 yards for the day.
Read to Achieve:
Pucko plays scout team quarterback each week in practice – "I can look into kids' eyes and know where our problems are," he explained – and this week he felt they were able to defend it sufficiently.
Clearly, that was easier said than done. The Pioneers are going with an Oregon-like "blur" tempo this year, a spread-based option look aimed at snapping the ball in less than 20 seconds, and the most effective staple of Andreoli's game plan today was the inside zone read.
Abrokwah chose his cutbacks wisely and used his superior lower-body strength to brush through the second level. But they were at their most effective when a Holy Name defensive end crashed, forcing Smiley to call his own number. That's because the middle of the field was usually wide open.
Not bad for his first varsity start under center. It was evident this afternoon how much time Smiley and Abrokwah have put into selling the fake.
"We stay on them all the time about it," Andreoli said. "Every drill we do about carrying out the fakes, because what happens is it's like a block, really. Even if you don't pull the ball as a quarterback, but you carry out the fake, you might freeze a high safety, and that's the difference between a guy making the play on the backside and not.
"If you can get them to carry out their fakes, and then they pull it, they [the defense] have to respect that. And he [Smiley] has the kind of speed that when he pulls it, he's got a one-on-one, and he runs pretty good. So, that helped us today."
The Wright Stuff:
At this point, Pucko is clearly ticked at the lack of attention from college coaches towards Wright, who is now roughly 1,000 yards from breaking the school's all-time rushing yardage record held by former UMass tight end Emil Igwenagu (who himself was one of the Philadelphia Eagles' final cuts this preseason).
Generously listed at 5-foot-7 and 170 pounds, there are obvious questions about whether his frame would be able to take on the level of physicality demonstrated in Division 1.
To put his frustration in perspective, Pucko brought up one of the greatest running backs to ever come through Massachusetts. He coached Joe Morris as an assistant at Ayer High in the late 70's, and recalls how tough it was to get the 5-foot-7 fire hydrant his due diligence, even from Pucko's alma mater UConn. Morris went on to endure an All-American career at Syracuse, before winning a Super Bowl with the New York Giants and appearing in two Pro Bowls.
"He gives 100 percent all the time, and if they think height is an issue, watch our game films and watch him tear people up all the time," Pucko said of Wright. "[He's been doing this] all his career, and I can't get anybody to chase me down.
"We'll get it, we'll get it. Somebody's finally gonna realize they're an idiot and make a move on him, like with Joe Morris. I lost that fight with UConn, my alma mater wouldn't take him, he ends up doing all that and his whole career. I guarantee that's going to happen with Quron."
ST. JOHN'S (SHREWSBURY) 47, HOLY NAME 40
HN (0-1) 6 14 12 8 --- 40
SJ (1-0) 14 6 14 13 --- 47
First Quarter
S – Shadrach Abrokwah 57 run (Micah Cummins pass from Andrew Smiley) 10:39
H – Quron Wright 10 run (rush failed) 4:39
S – Abrokwah 16 run (rush failed) 2:51
Second Quarter
H – Wright 5 run (rush failed) 7:07
S – Cummins 75 pass from Smiley (rush failed) 6:07
H – Jeff Holland 4 run (Holland rush) 1:25
Third Quarter
S – Smiley 23 run (Abrokwah rush) 7:38
H – Wright 65 run (pass failed) 7:21
S – T.J. Kelley 7 pass from Smiley (kick failed)
H – Wright 9 run (rush failed) :30
Fourth Quarter
S – Abrokwah 6 run (Pat Lehane kick) 10:48
H – Robert Baker 41 pass from Shamus Malley (Wright rush) 8:06
S – Cummins 11 pass from Smiley (kick failed) 6:17
August, 24, 2012
8/24/12
2:00
PM ET
By
Brendan Hall
| ESPNBoston.com
SHREWSBURY -– The Leominster Blue Devils' Super Bowl championship over rival St. John's of Shrewsbury last December at Gillette Stadium has kicked off a sort of football revival in the Pioneer Plastics City.

Long considered one of the state's richest traditions, the Blue Devils had gone a decade without a Super Bowl title before first-year coach Dave Palazzi breathed some new life into the program last fall. Once again, Blue Devil football is all the rage.

Just ask St. John's wide receiver John Giacoppe, a Leominster resident who has to listen to it every day.

"Leominster is a football town, no doubt about it," said Giacoppe, a senior co-captain. "But it just makes me want to work harder. I haven't beaten them yet, freshman, JV, varsity, so I just want to beat them."

Or ask his buddy, quarterback Connor Kurtz, a resident of neighboring Lunenburg. In addition to passing leagues and various camps this summer, often the two would call each other up and go throw on the FieldTurf at Lunenburg High.

"We just sneak on, I guess," Kurtz chuckled.

The difference in last year's fateful ending at Gillette was speed, with the Blue Devils exploiting the perimeters and stretching the field. This year, the Pioneers seem to have a good amount of speed returning, conditioned enough that head coach John Andreoli is opting for a no-huddle "blur" offense, similar to the style you see in college programs such as Oregon.

In evaluating the fitness level of his skill players, Andreoli was pleased with the 40-yard dash times of some of this most integral returning varsity -– including running back Shadrach Abrokwah, who reportedly has run a 4.5 hand-timed 40 -– prompting his decision.

"I think it's familiarity with the offense, the ability to use multiple personnel groups, and just being able to run this offense on the fly," Andreoli said. "It's keeping it simple, but being able to execute it, hoping you catch the defense tired, one or two guys that miss a play. If we can take advantage of that, hopefully we can score."

We'll have a better idea of the offense after tomorrow morning's annual scrimmage with Brockton, but the possibilities of this offense are intriguing, In the 5-foot-8, 200-pound Abrokwah –- who is expected to take the lead role after spelling Sean Wilson a year ago –- the Pioneers have a unique blend of speed, above-average leg strength, body lean and a low center of gravity that could be difficult to wrap up cleanly.

"He turns the corner and he's just got powerful legs," Andreoli said. "He is a kid who's just going to be very exciting this year in the running game, because he's just a powerful runner that has a great instinct for where the holes are going to be. In our zone scheme, we give him leeway to run the ball where he gets an opening, and when he hits the opening and gets those shoulders upfield, he just has an explosive step that just kinda of puts him into another gear.

"If he has contact, it's going to have to be a pretty good shot, because he's got that low center of gravity and powerful legs that just keep going."

At quarterback, the 5-foot-11 Kurtz is the assumed incumbent, but could get a challenge this preseason from Andrew Smiley, a 6-foot-4, 195-pound junior with some quick feet. The two are splitting snaps under center, a competition not unlike the one in 2009 when Griffin Murphy and future Fordham quarterback Dan Light were dueling it out.

One of the most intriguing developments, at least in the long-term will be that of sophomore Davon Jones. He got a load of time at free safety last season as a freshman; both he and fellow 2015 Taquar Stewart (who has since moved to Georgia) are the only freshmen to ever get time with the varsity under Andreoli.

"I can't wait to see how he turns out as a senior," Kurtz said.

Jones, also one of the MIAA's top young combo guards in basketball, will see additional duty as a slot receiver this year. The ceiling is set high for him, with Andreoli going so far as to say "If he continues to develop the way he develops, the way he's playing now, he's got the ability to play at the highest level" of college football.

"If you look at where he was a year ago, when we plugged him into the Brockton scrimmage as a 14-year-old freshman…you could tell he was a 14-year-old kid playing against some pretty strong kids," Andreoli said. "But now, when you look at where he's come in the last 12 months, he's as mature a player and as physical a guy as anyone that's been playing for four years.

"He's made tremendous strides, he's a special kid, he's a great athlete, he's physical, he's got a good nose for the ball and he's a competitor. He's going to be an impact player this year."

ST. JOHN'S AT A GLANCE
2011: 8-5, Lost in Division 1 Central Super Bowl
Coach: John Andreoli (9th year, 74-23)
Key Returnees: Shadrach Abrokwah, Sr. RB/LB, 5-8, 205 lbs.; Connor Kurtz, Sr. QB, 5-11, 180 lbs.; John Giacoppe, Sr. WR, 6-2, 190 lbs.; Barron Dandridge, Sr. LB, 6-1, 195 lbs.; Davon Jones, Soph. WR/S, 6-0, 180 lbs.; Jim Andreoli, Sr. WR/LB, 6-1, 196 lbs.; Kyle Roy, Sr. OLB, 5-11, 185 lbs.; Andrew Sullivan Sr. DT/DE, 6-2, 235 lbs.; Micah Cummins, Sr. WR, 5-11, 170 lbs.; Mike Griffin, Sr. C, 6-2, 200 lbs.; Andrew Smiley, Jr. QB, 6-4, 195 lbs.
Strengths: Conditioning, team speed, skill positions, depth at quarterback.
Weaknesses: Inexperience.
Outlook: In evaluating his personnel at the skill positions, Andreoli determined the best way to utilize his talent is with a no-huddle "Blur" offense, most famously used by Chip Kelly's Oregon Ducks. The Pioneers went with some no-huddle in their 2010 Super Bowl championship year, but nothing like this. "As a defensive coach, I know it presents problems for you," Andreoli said. "We want to take advantage of that, with the kids that we have and the shape that we think we need to be in to play the schedule we play." Taking over for Sean Wilson as the feature back will be Abrokwah, a unique blend of speed and lower-body strength who could be difficult to square up on. There is an interesting battle at quarterback right now, with the incumbent Kurtz getting competition from Smiley, and the guess here is one of them could move to the slot. Buzz is beginning to build around Jones, who started at free safety as a freshman and will be another able slot receiver, with Andreoli saying he has potential to play "at the highest level" of college ball. Defensively, the 4-3 mentality remains unchanged, but they must replace key pieces in the front seven. The secondary, as usual, should be among the best out west of I-495.
July, 11, 2012
7/11/12
9:25
PM ET
Bay State Games communications coordinator Craig Kaufman sends along results from today's baseball and softball action:

BASEBALL
Three days of play at the 2012 Bay State Games baseball tournament are complete, and the Northeast team has emerged at the top of the standings after staging a late comeback to defeat West in the battle of the two undefeated teams. In the other games, Southeast got above .500 by beating Coastal 4-1 and Central picked up their first win with a 16-3 victory over Metro.

There are two more days of baseball competition, as the teams vie for the gold, silver and bronze medals at Bentley University.

Northeast 5, West 2
Northeast starter Mike Driscoll (N. Reading) pitched a 7-inning complete game with 11 strikeouts and Northeast overcame a 2-0 deficit in the top of the final frame to remain the only team undefeated in the 2012 Bay State Games baseball tournament at 3-0. Northeast was held scoreless until the seventh inning, but West made three errors in the frame and allowed Northeast to score five runs. Scott Betts (Peabody), Tyler Noe (Lynnfield), Keith Linnane (N. Reading), Connor Macrae (Newburyport) and Dmitri Hunt (Salisbury) all crossed the plate, with Hunt picking up a stolen base along the way.

West held the lead for much of the game after scoring two runs in the third inning. Nick Leduc (Belchertown) and Kevin White (Wilbraham) each drew walks and Kenny Potts (Southwick) and Dan McGuill (E. Longmeadow) followed with RBI singles.

West starter Liam Nolan (Pittsfield) went four innings, holding Northeast to four hits and striking out one batter.

Southeast 4, Coastal 1
Sean Scales (Weymouth) scored an unearned run in the first on an RBI single by Mark Saulnier (Norwood). Coastal equalized in the bottom of the inning through a Mike Bruemmel (Bridgewater) double and a Jimmy Gamache (Mattapoisett) RBI single to right field.

Scales drove in a run to give Southeast a 2-1 lead in the top of the fourth inning, though Coastal kept the deficit a single run when right fielder Ryan Kowalski (Taunton) made a great play to cut down Ben Smith (Bellingham) at home.

The game stayed a one-run affair until the seventh inning when Southeast tacked on two more runs thanks to consecutive RBI singles by Brian Biagini (E. Weymouth) and Smith.

Coastal starter Peter Poulin (Mattaposett) worked the first three innings of the game, allowing one unearned run and striking out two while issuing four walks.

Southeast got fine pitching outings from Zach Dunphy (Milton), Sean Roche (Rockland) and Connor Goetz (Cohasset), who combined to allow five hits and collected seven strikeouts as a trio.

Central 16, Metro 3
Central scored seven runs in the first and five runs in the fifth en route to their first win of the 2012 competition. Central rapped out five hits and took three walks in the first and sent, twelve men to the plate, capitalizing when Mitch Goldman (Uxbridge) and Micah Cummins (Auburn) each delivered two-run singles. They grabbed five more runs in the fifth on three hits, the biggest by Cam DiSarcina (Shirley).

Kyle Cutler (Clinton) was the fourth Central player with a two-run hit, delivering a single in a four-run seventh to extend Central's lead.

Metro scored a run in the second when Tom Mcdonald (Quincy) walked and stole second, scoring on an RBI single by Sean Doyle (Everett). Metro tacked on two more unearned runs in the sixth, as Malcolm Nachmanoff (Boston) and Nathan Spielvogel (Brookline), who went 2-2 off the bench, crossed the plate.

Austin Cave (Southborough) went two innings of scoreless ball in relief for Central. Tom Jankins (W. Brookfield) got out of a jam in the bottom of the seventh to shut the door.

SOFTBALL
The Northeast Region captured the 2012 softball crown with a 5-2 victory over Coastal, running their record to a perfect 5-0 in the 2012 Bay State Games softball competition.

Northeast scored single runs in the third, fourth and fifth and two more in the sixth to run their record to 5-0 and capture the 2012 Bay State Games softball gold medal. Terri Ferranzani (N. Reading) hit a two-run homer and Danielle Moran (Lynn) was on base twice, scoring the first run of the game. Coastal did all their damage in the fifth inning, after a double by Julianna Ferguson (Sandwich) scored Alexis Charest (Chatham) and Margaret Johnson (S. Dennis), both of whom had drawn walks.

In the bronze medal game, Metro defeated West 5-2. West took a one-run lead in the first on a homer by Tasha Polana (Orange), but an error allowed Metro to take a 2-0 lead in the second inning. They grabbed the lead with two runs on three hits in the fifth.

The final game in the last day of the softball competition saw West and Central play to a 4-4 tie.

Results from Tuesday, July 10:
Northeast 4, Coastal 3
Metro 13, Southeast 1
West 10, Metro 1
Central 7, Southeast 3
Northeast 5, West 1
Coastal 3, Central 3
May, 11, 2012
5/11/12
11:23
PM ET
By
John McGuirk
| ESPNBoston.com
SHREWSBURY, Mass. -- Although they never displayed it openly, you knew to a player that St. John's had Friday's return match against BC High circled several times on its calendar.

The Pioneers were beaten handedly by the Eagles in Dorchester last month and were chomping at for a redemption shot. Jumping out to a 3-0 lead after one inning, St. John's did precisely what it set out the do having turned the tables en route to a 5-2 non-league victory at Pioneer Field.

"We have taken every team we've played just as serious as this game today," said Pioneer third baseman Owen Shea, who contributed a pair of RBIs in the victory. "Yesterday after our game against Burncoat, we talked and made sure that all of us were ready for this one today. We came out hard early and managed to get the win. It's great."

With Advanced Placement testing taking place this week, BC High coach Norm Walsh did not have a full unit to begin the game. Those players who were testing arrived just before first pitch. That being the case, Walsh had to maneuver his lineup some and had to use a junior varsity pitcher (Sam Telman) on the hill.

St. John's (14-2) wasted little time getting to Telman, a righty. Tom Petry led off the Pioneer first with a double. Two outs later, Shea followed with a wind-blown double to right scoring Petry. Shea took third on the play after Eagle third baseman Justin Silvestro, taking the cutoff throw, fired home trying to nail Petry but the ball sailed on catcher Bobby Melley hitting the backstop. Moments later Scott Manea belted a double to center plating Shea with the Pioneers' second run.

Telman woes would continue. Following Manea's hit, Jake Byrne next smacked a single to left scoring Manea with St. John's third run.

"They took advantage of my JV guy," said Walsh, his club falling to 12-3. "We could have bailed him out I think with some better play in the outfield. It was tough, wind conditions today and the balls were hit pretty hard. Them scoring three in the first was certainly the difference today."

Pioneer starter Ben White, despite playing with a stomach virus, was holding the Eagles in check over the first three frames, issuing no hits. But in the fourth, BC High (which defeated the Pioneers 11-5 three weeks ago for St. John's last loss) started to make some noise against the junior righthander.

With one out, Chuckie Connors reached on a Petry error at shortstop. White then struck out Silvestro but couldn't escape the power of Brian Hocking. The senior roped an 0-1 pitch over the left field fence to bring the Eagles back to within a run. Following the blast, BC High proceeded to load the bases but White (4-0) avoided further damage by striking out Rich Roach.

Following the gutty fourth, White's day was done. Senior Anthony Perry took over and it was up to him to maintain the lead. The lefty pitched was flawless in his three innings of work, surrendering just one hit.

In between, St. John's was able to tack on a couple of more runs on Perry's behalf. In the fifth, consecutive singles by Jimmy Smith, Nick Sieber and Shea produced the Pioneers' fourth run. In the sixth they added one more on a Micah Cummins home run off of reliever Bartley Regan.

"Scoring early really helped us," St. John's coach Charlie Eppinger said. "We know BC High has an amazing lineup and I give Ben White and Anthony Perry a tremendous amount of credit. Our catcher Scott Manea called a great game and kept their hitter off-balanced throughout. Our kids really wanted this one today. It's a great win against a great, well-coached program."
May, 10, 2012
5/10/12
7:59
PM ET
By
John McGuirk
| ESPNBoston.com
SHREWSBURY, Mass. -- Jimmy Smith has done a lot of good things during his time as a St. John's baseball player. But the one thing the senior had never done was homer in a game. You can now add that to his resume.

In a scoreless deadlock against mighty Burncoat yesterday, it was Smith who struck the decisive blow. With two out and a runner on, Smith turned on a letter-high fastball and sent it deep over the right field fence giving the Pioneers a 2-0 victory at Pioneer Field in a highly-anticipated matchup between two of the elite programs in Central Mass.

"That is the first one I've hit in the two years I've played here," said Smith, more noted for his speed on the base paths and defensive prowess. "I grew up around the Burncoat area and I know everyone on that team so it feels good to get a big hit like that. Everyone on this team has a huge heart and we look to come out an win every single game. That comes back to our practices. We practice as hard as we can all the time. Everyone is pushing each other to make everyone better and I think that has helped us to win a lot of these close games like today."

As expected, both St. John's ace Mike Badjo and Patriot counterpart Sean McGrail matched zeros on the scoreboard. The two seniors played things out as if it were a do-or-die chess match with neither hurler refusing to give an inch.

Prior to the fifth inning dramatics, the Pioneers had managed only a pair of singles against McGrail, a righty who started his career at St. John's before transferring a few miles down the road to Burncoat. Likewise, the Patriots were struggling to get anything going against Badjo (CG, 2 hits, 6 Ks). In the third they did load the bases with two out but the right hander got a ground out to end the threat. Burncoat did nothing with the bats thereafter.

"It was an outstanding baseball game," said Pioneers head coach Charlie Eppinger, his team improving to 13-2 and await a huge showdown Friday when they host BC High. "McGrail and Badjo both pitched great. We know McGrail really well after he spent his first two years here at St. John's and is a great pitcher. I thought Badjo was just a horse for us out there today.'

McGrail, like Badjo, went the distance, allowing 3 hits and striking out 8. Burncoat (12-2) came into this tilt averaging just under six runs-per-game. In spite of the many victories the Patriots have attained this season, they knew St. John's would be a measuring stick game for them.

"It was a matchup between two of the better teams around and two of the better pitchers around," Burncoat head coach Brian Sargent said. "One hit by them was it today. Playing a team like that you have a small window to score runs and in the third we had our shot but couldn't get the big hit. We have nothing to hang our heads over. We knew St. John's is the best team around. Today we played a quality team and now we know that we can hang with anyone. Today was the highest level of competition yet for us and I think we rose to the challenge."

In the fifth, No. 9 hitter Micah Cummins drew a one-out walk (one of five issued by McGrail on the afternoon). After retiring leadoff batter Tom Petry on a comebacker, McGrail had a 2-1 count on Smith. Sticking with his bread-and-butter fastball that was moving well all over the strike zone, McGrail delievered his next pitch. Only this time the ball never moved and stayed up which allowed Smith to take full advantage as it was gone the moment it struck the bat.

"It was good to see Jimmy come up with that big hit," Eppinger added. "I don't know where that came from because he's more of a speed and singles guy. Two out hits like that one win ball games and it showed today."