Boston High School:

Michael Barry
November, 22, 2012
11/22/12
8:06
PM ET
By
Tom Layman
| ESPNBoston.com
ANDOVER, Mass. -- C.J. Scarpa isn't the biggest, fastest or even your most prototypical quarterback when you first take a look at him.
[+] Enlarge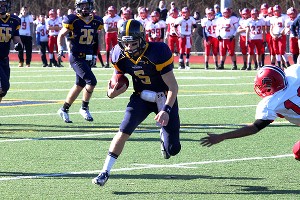 Ryan Kilian for ESPNBoston.comAndover's CJ Scarpa threw his first pick in over a month and half, but led the Golden Warriors to victory.
But if you make a short list of the best quarterbacks in Eastern Mass., you would be hard-pressed not to find his name at the top or right near it.
Scarpa was brilliant in the second half of Andover's 22-19 victory over Central Catholic (9-2) on Thanksgiving Day at Lovely Stadium. The 5-foot-9-inch, 162-pound senior quarterback finished the day 16-of-29 for 233 yards with two touchdowns and one interception.
In the second half alone, Scarpa was 12-of-17 for 128 yards and he was near picture-perfect on the first drive of the second half that basically sealed the victory, and the Merrimack Valley Conference tiebreaker, for the Golden Warriors when he picked up his lone rushing touchdown of the day.
The quarterback-head coach relationship has grown over the past couple of years between E.J. Perry and Scarpa, and this game was a perfect example of that.
"Early in his career we used to have discussions," Perry, whose team will take on St. John's Prep in the first round of the Div. 1 playoffs, said of his quarteback, "and now I have trust."
Scarpa showed the ability to connect on the long ball — like when he struck with Cam Farnham for a 77-yard touchdown in the first half — and the medium to short distance throws. The dink-and-dunk nature of taking what the defense gave him was on display on the Golden Warriors 15-play, 80-yard drive on their first possession of the second half.
Scarpa came out and divvied the ball to Will Heikkinen, Andrew Deloury, and Jack Sylvester out of the backfield. He connected with Heikkinen for an 8-yard connection on a crucial fourth-and-2, and five plays later he used his legs to get in the end zone for the 21-13 lead.
Perry went to a little bit of trickery on the extra point attempt as Scarpa pulled the hold back and fired it to a wide open Jake Flaherty for the two-point conversion pass and the 22-13 lead.
"Just getting the balls to the guys out quick," Scarpa said of the second-half tempo. "Our tempo was obviously spectacular (on that drive). It was awesome to get the tempo up, because we knew if we did they would get a little bit tired.
"[The coaching staff] probably called 100 percent of the plays [on that drive]. I just improvised."
When he needed to make connections late in the fourth quarter he did, connecting on two third-and-longs to keep the drive going and keep the Raiders from getting the ball back.
MISSED CHANCES FOR RAIDERS
This game came down to two chances for the Raiders' offense inside of red zone that never surfaced into touchdowns.
Ryan Doherty blocked a Golden Warriors punt and set up the Raiders inside the 20-yard line. The offense couldn't generate a first down and had to settle for a 39-yard field goal off the foot of Thomas Jenoski.
The Raiders took the opening kickoff inside of Golden Warriors territory, and again, the offense couldn't get across the goal-line and had to settle for a 30-yard field goal from Jenoski.
Two opportunities inside the red zone and the Raiders settled for six points instead of potentially 14. In a 3-point game, those situations need to be capitalized on.
"It's a weird game," said Raiders coach Chuck Adamopoulos. "I thought we played well defensively and I thought offensively we did some good things at times. We just didn't do enough to win a game like this."
ANDOVER 22, CENTRAL CATHOLIC 19
Central Catholic (9-2) 3 – 7 – 3 – 6 - 19
Andover (10-1) 7 – 7 – 8 – 0 – 22
CC — Thomas Jenoski 39 FG
AN — Cole Organisciak 9 pass from C.J. Scarpa (Oliver Eberth kick)
CC — Ryan Doherty 14 pass from Michael Milano (Jenoski kick)
AN — Cam Farnham 77 pass from Scarpa (Eberth kick)
CC — Jenoski 30-yard FG
AN — Scarpa 9 run (Jake Flaherty pass from Scarpa)
CC — Michael Barry 25 pass from Milano (kick failed)
September, 15, 2012
9/15/12
10:16
PM ET
By
Ryan Kilian
| ESPNBoston.com
DANVERS, Mass. -- The St. John's Prep defense continued their strong play to open the season as they held Central Catholic to just one first down in the first half en route to a 31-7 nonleague victory on Saturday afternoon.

Both teams started slow out of the gate as they tried to establish the run between the tackles. After St. John's Prep's (2-0) second possession stalled and Central took over safety Alex Moore would force a fumble and also recover it to set Prep up with the ball at the Central Catholic 18-yard line.

"We wanted to make some plays on defense to get the momentum on our side," Moore said. "We want to try to get the ball to our offense in a good position and go to work."

St. John's Prep quarterback Jack Sharrio would finish off the drive as he found senior wide receiver Gerald Kahari on a 6-yard middle screen to give Prep a 6-0 lead after a failed conversion kick.

Sharrio would strike again later in the half as he found senior tight end Anthony Bongiorno on an 11-yard pass to conclude a 59-yard drive. Sharrio added the two-point conversion pass to running back Jonathan Thomas out of the backfield to give Prep a 14-0 lead.

In the NFL they say that third-down is the "Money Down". On Saturday afternoon the St. John's Prep defense struck it rich in the opening half as they held Central Catholic (1-1) to just one first down at the 1:55 mark in the second quarter. Prep was stingy on third and fourth downs all afternoon as they continued to control the line of scrimmage.

"The defense played a great game," St. John's Prep head coach Jim O'Leary said after the game. "We have to be a great defensive team and that is what we are basing it around this year,"

Thomas, Prep's junior running back, was the workhorse all afternoon for the Eagles as he ran 25 times for 156 yards, highlighted by a beautiful 46-yard third quarter touchdown run as he broke multiple tackles and showed off his breakaway speed on the way to the end zone.

Central's lone score occurred on a 59-yard bomb from quarterback Michael Milano to wide receiver Ryan Barry with four seconds remaining in the third quarter. Barry made a nice individual effort to out-leap the Prep defensive backfield and take it the rest of the way for the score.

Senior Lucas Bavaro led the Prep defense with seven tackles including a bone crushing hit mid-way through second quarter. Bavaro also added two receptions for 33 yards on offense from his tight end position.

Sharrio's Efficiency: St. John's Prep has pounded the ball between the tackles to start the season but they have also shown glimpses of an efficient passing game due to the steady and solid play of Sharrio.

"He was more of an option quarterback last year and he worked hard in the off-season to get his throwing down."

Sharrio completed 8 of 12 passes for 135 yards and two touchdown strikes. He now has four passing touchdowns in the first two games and is always a threat to break a run when flushed out of the pocket.

"We have to make teams defend the field," O'Leary said. "He is making good decisions out there and we have good receivers who are possession guys."

Everett up next: The next team on St. John's Prep's schedule is No. 1 ranked Everett (2-0). The Crimson Tide were in attendance on Saturday to get scout on their upcoming opponent. Kickoff is scheduled for 2:30 p.m. on Saturday in Everett.

"Clearly they are the best team in the state," O'Leary said.

Everett routed St. John's Prep 35-0 last season and they come into Saturday's match-up on the heels of two straight victories over Leominster and Springfield Central.

"We know what is coming up," Moore said. "It is going to be a tough week against a tough team. We are really looking forward to getting back to work and getting our game plan in to get ready for next week."

ST. JOHN'S PREP 31, CENTRAL CATHOLIC 7
SJP (2-0) 6 8 7 10 --- 31
CEN (1-1) 0 0 7 0 --- 7

First Quarter
S – Gerald Kahari 6 pass from Jack Sharrio (kick failed)

Second Quarter
S – Anthony Bongiorno 11 pass from Sharrio (Thomas pass from Sharrio)

Third Quarter
S – Jonathan Thomas 46 run (Stephen Camarro kick)
C – Michael Barry 59 pass from Michael Milano (Thomas Jenoski kick)

Fourth Quarter
S – Sean Smerczynski 1 run (Camarro kick)
S – Cammo 26 field goal
June, 9, 2011
6/09/11
1:04
AM ET
By
Andy Smith
| ESPNBoston.com
LOWELL, Mass. -- It would be very difficult to find a baseball player in Massachusetts that had a better day than Adam Ravenelle Wednesday.

Mere hours after the Lincoln-Sudbury senior was drafted by the New York Yankees in the 44th Round of the Major League Baseball entry draft, he went out and hit for the cycle in a Division 1 North quarterfinal game against Chelmsford, helping propel his team to an 8-1 victory at Alumni Stadium.

The Warriors will play the winner of Thursday night's matchup between Lawrence and Acton-Boxborough, at Alumni Stadium, for the Division 1 North Championship Saturday at LeLacheur Park.

"I would definitely say this is a pretty good day for me," he said after the game. "There was a lot of anxiety all day, leading up to the final moment I did get drafted, but once I did get drafted, the weight was lifted off my shoulders and I kind of got to relax a little bit and play a game that I love. So it was a good day."

The Vanderbilt commit had no problem focusing on the task at hand, even with it being such a momentous day. He went 4 for 4 at the plate with a walk.

"If anything, it made me have more of a positive attitude because I was up and I was excited so I came in here excited and we got the job done," he said.

On the field, L-S (21-4) was able to overcome a tough fielding day for the position players with exceptional offense and pitching. Carl Anderson pitched five scoreless innings, and was able to get himself out of trouble when in difficult spots in the game. In the fourth inning, with runners on second and third with one out, he struck out one hitter and got the next to fly to center to get out of the jam.

"He gave us fits," Chelmsford head coach Mike O'Keefe said. "We got a little bit out of our comfort zone and tried to do things that we're not really capable of doing and got a little bit away from the plan that we had. You tip your hat to the kid."

The lefty exited the game with six strikeouts, while giving up only three hits and two walks.

"He did that on four days rest," L-S head coach Kirk Fredericks said of Anderson. "We were looking for five innings, but didn't know if we'd get two, didn't know if we'd get seven, but we were looking for five. He did a great job and gave us a chance to win the game."

A walk, fielding error, and single gave Chelmsford (16-8) the bases loaded with one out in the fifth, but L-S caught a break to keep the game scoreless. Dom Zaher, Chelmsford's No. 3 hitter, hit a scorching ground ball at second baseman Ryan Bassinger, who was unable to handle it.

The ball ricocheted off Bassinger's body, however, right into Dan Cellucci's waiting glove at second base. He tagged the bag and threw to first to finish the double play and keep the Lions off the board.

Those breaks in the game and the scoreboard helped mask the five errors the defense made, which was uncharacteristic for a team like Lincoln-Sudbury.

"We were gross today, absolutely awful," Fredericks said. "We hit the ball a little bit but we were awful. Defensively, mentally, we're a very tired team. We're terrible defensively and we're struggling to be able to get bunts down, base running, etc. etc. So we're not playing well right now."

The Chelmsford bats did not come through until the eighth inning when back-to-back hits by Matt Rabbito and Kevin Driscoll plated the only Lion run of the game. Even then, the L-S bats answered back in the bottom of the inning with back-to-back triples by Ravenelle and Michael Barry and a single by Keith Anderson to put two more runs on the board.