Boston High School:

Michael Brooks
March, 11, 2013
3/11/13
1:54
AM ET
By
Mike Abelson
| ESPNBoston.com


STONEHAM, Mass. -- It was too smooth. It was too easy. It was Liam Coughlin.

With less than 30 seconds left, Catholic Memorial's Coughlin scooped up the puck behind BC High goalie Peter Cronin and circled around the net. With Cronin sprawled out and the BC High defense desperately out of position, Coughlin spun around, reset himself, and calmly lifted the puck over Cronin to put the Knights up 3-2 with 22.5 seconds left.

That's how the game would end as CM defeated BC High 2-1 in the opening round of Super 8 to advance to Wednesday's semifinals against Malden Catholic.

Coughlin, who led the Catholic Conference in scoring, had been held in check the first two games of the series before exploding for a pair of goals yesterday. He also had CM's first goal.

"I was getting pucks to the net but they weren't going in," Coughlin said. "So I knew I had to go high. I always shoot low; I went high today and it worked."

Coughlin and the Knights may have advanced to play on, but they did not make it easy on themselves. A slew of head-scratching penalties kept the Eagles power play on the ice, especially early in the game.

BC High made the Knights pay late in the first period when Patrick Kramer punched home a rebound past Brandon Collett.

"We did take a couple of needless penalties," Catholic Memorial head coach Bill Hanson said. "The first one was a bad play by our kid, there was one down behind the net. We've been good at killing penalties all year long. We survived it."

The Eagles assaulted Collett, peppering the freshman with 24 shots, but Collett buckled down when he had to and kept Tom Besinger & Co. at bay.

"It's a BC High, CM game," BC High head coach John Flaherty said. "A bounce one way, a bounce the other way, and it's a difference in the game."

Peter Cronin had a solid, 18-save showing in his final high school game. Flaherty said that he was sorry that Cronin, and the Eagles' four other seniors, wouldn't have a chance to continue on.

"Not every team makes it this far and I'm proud of my team for making it this far," Flaherty said. "Disappointed for all my seniors; I think they deserved a better fate. Wish they could have a few more.

"I wish we could have him for more. [Michael] Brooks, [Ryan] McDonough, those guys have been around for a long time. They mean a lot to the program. They've done a lot of things for the program."

Chris LaLiberte feathered a lazy wrist shot through some bodies and into the goal to put BC High up 2-1 early in the third. Catholic Memorial's Aaron Clancy scored less than three minutes later to tie the game and set up the chaotic finish.

YOUTH IS SERVED
Collett does not yet have his driving license, but he already has the poise of a seasoned veteran.

Collett's 22- save performance, in the biggest game of his fledgling career, earned much praise from his coach.

"He's good," Hanson said. "This is not a figment on anybody's imagination, he can play the game."

Hanson compared Collett to a couple of former CM greats.

"Jim Carey, Tom Noble they could have done it as freshmen, but didn't have the opportunities to do it," Hanson said. "This kid is the only freshman I've ever had that has played a full season of [varsity]."

A NEVERENDING RIVALRY
After going through the grinder of playing against each other three times in a week, both coaches had varying opinions about the new format used in the Super 8 tournament.

"BC High and CM, that rivalry of schools actually supersedes the hockey game," Hanson said. "We compete with them in everything."

After competing with the Knights for more than 230 minutes of hockey spread over five games, Flaherty said that the new tournament format might create too much of a good thing.

"If they don't like how it works, I'm sure they'll change it," Flaherty said. "It's something new, something different. I think playing someone five times is a lot, but it is what it is."
February, 17, 2013
2/17/13
12:20
AM ET
By
Brian Fabry
| ESPNBoston.com


FALMOUTH, Mass. -- In a day that could be labeled "Separation Saturday" in MIAA hockey, Duxbury needed to showcase their skills in the Cape Cod Classic despite rattling off an impressive 12-0-2 record since the start of 2013.

Too bad 2012 Super 8 finalist BC High happened to be their first-round opponent.

The No.3 Eagles shut out the Green Dragons for the first time this season in a 3-0 win behind 18 saves from Peter Cronin, along with two power-play goals at the Falmouth Ice Arena in the state's premier regular season-ending tournament.

The Green Dragons (14-2-4) last lost on Dec. 27 to Norwood, but with playing in the Patriot League on the South Shore, the Super Eight competition committee needs to see some bigger wins in Duxbury's nonconference play to impress the voters.

In the first of four quarterfinals, BC High scored the first of their two power play goals on the second Duxbury penalty of the game. Right off the opening man-advantage face-off, Ryan Shea shuffled the showdown behind him into the right slot where Tim Larocque cued up the lamp with a one-timer as Shea also provided the perfect screen in front.

"We got some good chances and we made some good saves, but Duxbury worked hard, they are well coached, so we knew we were in for a battle and got everything we thought we would get," Eagles head coach John Flaherty said.

The Eagles held a slight 21-18 shot advantage in the end, but had a difficult time generating offense in front of the net with Duxbury dominating the physical play and controlling the puck with their forecheck, especially in the second period.

The Eagles failed to record a shot on goal for the first 7:57 of the second stanza but were also able to fend off the deep Duxbury bench. Duxbury head coach John Blake features three tough and scrappy lines, but his team also had trouble in front of the net due to the rangy defense of the Eagles.

"[In the] first period, [Duxbury] only had four shots on net and we had eight so we outshot them in the first but they work hard, skate well, throw three lines over and very good lines," Flaherty said. "So I'm not sure Duxbury limited us as much as they just worked hard and made us work hard."

The score remained 1-0 to start the third period and it looked as if Duxbury finally caught a break. BC High's Sam Topham was called for a cross-checking penalty on a failed Nick Marrocco breakaway to give Duxbury a golden power play chance only 30 seconds into the final period.

But the Dragons' again struggled to set up a solid power play, going 0-4 in the game, and the defense turned the puck over in their own end just as the power play was about to expire. Senior forward Michael Brooks' came in trailing the dumped pass from the neutral zone and stole the puck right off the right post and punched home the Eagles' second goal between the pads of senior goalie Chris Johnson. The short-hander came with three seconds remaining in the penalty at 1:56 of the third period and was the backbreaker.

"You know going in that you're not going to beat BC High in a slugfest," Blake said. "You've got to bear down defensively and try to get out of it, one-nothing or two-to-one."

Brooks' hustle goal put the Green Dragons on their heels as Tom Besinger put things away with BC High's second power play goal of the game off an easy pass into the slot from Shea, who also assisted on Larcque's first-period tally.

"The pressure by Michael Brooks and Ryan McDonough was the difference," Flaherty said. "They are captains, leaders, and do little things well. They are short-handed specialists if you will and the turnover happened and Michael Brooks walked in and put it away."


January, 24, 2013
1/24/13
2:14
AM ET


BOSTON -- No. 2 BC High had plenty ahead of it entering Wednesday night's Catholic Conference duel with No. 17 Xaverian. Aside from keeping pace in league play, the Eagles had the opportunity to wrap up an early tournament berth

The Eagles did all of the above while remaining unbeaten in the Catholic Conference with a 4-2 win over the Hawks at UMass-Boston.

"It was a qualifying game for us so we wanted to win it, plus it's a big two points for us in the Conference," BC High head coach John Flaherty said. "You have to take those opportunities when they come."

The Eagles (9-1-2, 4-0-2) reestablished a two-point lead over St. John's Prep atop the Conference standings, leading into Saturday's duel at Ristuccia Arena.

But BC High had its hands full with the physical Hawks (4-5-3, 0-3-2), who jumped out to 1-0 first period lead on Brian Cahalane's power-play goal at 12:06. Cahalane cut across the goal line to stuff in backhander to the short side of Eagles goaltender Peter Cronin.

However, BC High struck for the equalizer before the period was out. Seconds after an Eagles power play expired, Chris LaLiberte wristed home a shot with 29 seconds remaining in the period, with assists from Michael Brooks and John Stillman.

Neither team was able to generate much offense in the second period, despite sharing three power-play opportunities. The Eagles held a slim 14-9 lead in shots on goal through 30 minutes.

BC High claimed its first lead of the game at 7:11 of the third period with Brooks tallying his second point of the game, sneaking one past Matt Michals (19 saves) off a broken play.

Xaverian fired back less than a minute later with its second power play goal of the game. Eddie Pratt blasted a slap shot, working the blue line on the man-up unit, from the point off a feed from Jake Farrell.

The momentum shifted back to the Eagles moments later when Pat Kramer scored what would prove to be the game-winner at 9:34. Kramer's wristshot from the right wing circle was set up by an expert drop pass from Eagles junior captain Tom Besinger.

"[Besinger] is able to draw attention to himself and when Pat [Kramer] saw that, he put himself in position to receive a pass," Flaherty said.

BC High closed out the victory with Brooks tallying his second goal of the game and third point of the contest with an empty-netter.

COMMITMENT TO D
Despite having nothing to show for it in the standings, the Hawks were effective on specialty teams, going 2-for-5 on the power play and shutting out BC High on four power play chances.

In addition to their keen defense on the man-down, Xaverian was consistently able to bottle up the Eagles coming through the neutral zone. It limited BC High's scoring chances, particularly in the first two periods, and helped to bog down the Eagles' fleet-footed forwards.

"We've been trying to clog the middle up a little bit more," Hawks head coach Dave Spinale said. "You have [the first forward] take the pass away, then the [second and third forward] fill the middle and try to make them go cross-ice instead of up the middle. I thought we were pretty effective there and that's a big part of their game."

DEAD AHEAD
The Eagles could control their own destiny, in terms of claiming the Catholic Conference title, if they can sweep the season series from Prep on Saturday.

It's one of the goals BC High's leaders set at the start of the season.

"We set a goal to win the Catholic Conference," said Brooks, a senior captain. "We haven't won it, but it's another step closer. This is the earliest we've ever qualified [for the tournament] and that's a good feeling. I've been here four years, so it's a good feeling."
January, 17, 2013
1/17/13
3:11
AM ET


BOSTON – Expect the unexpected.

When a rivalry game of the gravitas of a BC High versus Catholic Memorial hockey occurs, all bets are off.

"With BC High and CM, conventional wisdom goes out the window," Eagles head coach John Flaherty said after Wednesday night's Catholic Conference duel at UMass-Boston. "You can prepare all you want and something goes differently."

So why should anyone have been surprised when the Clark Center's Zamboni ran out of water mid-scrape, causing about a 15-minute delay between the first and second periods.

When the teams finally returned, No. 2 BC High nearly melted the ice, using a four-goal outburst in the second in a string of five straight goals in a 5-1 win over the No. 4 Knights.

CM (8-3-0, 2-2-0 Catholic Conference) jumped out to a 1-0 lead just 11 seconds in on an Aaron Clancy's seventh goal of the season.

The lead would be short-lived as the Eagles (7-1-2, 2-0-2) tied the game less than a minute later on Tim Larocque's first of two goals on the evening.

The teams retired to their rooms tied after the first, but the second would be much different.

"[Flaherty] said we needed to just keep on being physical and get everything to the net," Larocque said. "We came out flying and we were able to get some lucky bounces."

The Eagles outshot CM 14-7 in the second period, in addition to outhustling and outhchecking the Knights while wining just about every one-on-one battle there was to be in the stanza.

Michael Brooks broke the stalemate at 4:21 of the second. It was the first of two BC High goals within a minute, 13-second span, including Jake Lemanski's boomer of a Tom Besinger offensive zone face-off win. The Eagles notched their fourth short-handed as Steve DeForge broke in after a neutral zone turnover.

Larocque capped scoring with his second of the game with an assist from Connor Noonan at 12:41 of the second.

"Noonan was skating in and he lost it," Larocque said. "I happened to be right behind him and I took a took a quick shot and saw it go in."

The pressure applied by the Eagles in the second was simply unrelenting.

"Every one of their goals, they forced the issue," Knights head coach Bill Hanson said. "It was a mistake forced by them with aggressive play. Nonetheless, you can't make mistakes when they're going after you."

A SILENT CONTRIBUTION
It's not often that perhaps the most dominant player on the ice doesn't figure prominently on the scoresheet.

Besinger, the Eagles' junior captain and center, was downright dominant taking the draws against CM's top pivots. He also showcased his speed and shiftiness in a flurry of scoring chances at the tail end of the second period. In both instances, with less than two minutes to play, Besinger turned transition into quality scoring chances.

Even though both of those opportunities went by the boards, his efforts were not lost on his coach.

"Tommy Besinger wasn't on the scoring sheet other than that assist tonight, but he owned the faceoff circle tonight," Flaherty said. "He was beating, in my mind, two very, very good centers in Liam Coughlin and Jacky O'Hear."

He continued, "The little things he does translates into victory today."

THE FLIP SIDE
While there wasn't much to like about the Knights' efforts in the second period, Hanson put a positive spin on things after his team endured perhaps its toughest stretch of the season.

During the last two-plus weeks, the Knights have played a string of five straight ESPN Boston Top 25 ranked teams, including four tilts against each of their Catholic Conference opponents and a Super 8-caliber challenge against Hingham.

"I look at it like this," Hanson said. "It's been a tough five-game stretch, we're two and two in the league and we got six out of 10 points against five real good teams. So that's what we take out of it."
December, 30, 2012
12/30/12
1:37
PM ET
By
Josh Perry
| ESPNBoston.com
BOSTON -- Two goals in the opening period turned out to be enough for BC High in its Top 5 showdown against Reading on Saturday afternoon at UMass-Boston. The No. 2 Eagles held on for a 2-0 victory (their third shutout of the season), but rode their luck against a spirited No. 5 Rockets squad that had two apparent goals disallowed.

Reading (4-1-1) had plenty of chances to get the goals it needed, but the Rockets went 0-7 on the power play including two, 2-man advantages that each lasted longer than a minute.

BC High head coach John Flaherty credited his team's penalty kill and senior goalie Peter Cronin for pulling out the win.

"The defense battled, but as they always say, your best penalty kill is your goalie," Flaherty said. "We killed some 5-on-3's down the end and we were running around and he made some very big saves there to keep it where it was."

Flaherty added about his star netminder, "He's focused, you know, he's seeing the puck very well right now. He's in the zone. It is little movements but they're important ones."

Reading head coach Mark Doherty also pointed to his team's struggles on the power play as a deciding factor in the team not getting the result against the Eagles.

"Truthfully, I don't think we've dedicated, obviously, enough time to it in practice, which is on me," he explained.

BC High (5-0) took the lead at 2:54 of the first period with a power play goal by Pat Kramer. The sophomore forward redirected a shot from the point by captain Tom Besinger. Sam Topham was also credited with an assist.

With just under eight minutes remaining in the period, the Eagles struck again.

Steve DeForge sent the puck around the boards behind the net to Tim Larocque, who fired a great pass through the crease to the back post where Connor Noonan was on-hand to tap into the open net.

Reading had a great chance to get on the board within five minutes of the start of the second period, but a brilliant 3-on-2 move ended with a shot off the post. Mark Dente and Mike Thomson combined to create an open net opportunity, but Robert Devaney could not apply the finish.

Reading showed the ability to skate with the Eagles and created a number of scoring chances through the team's speed but Cronin was always there to stymie the Rockets.

After the game, Cronin spoke about his team's focus on getting off to a good start in a tough game.

"The past couple of games, we've had pretty bad first periods, so we wanted to come out here and set the tone early on," Cronin said. "We were treading water for a little bit there, but we pulled it out and that's what good teams do."

TAKE-AWAYS
Despite the score line, Doherty was impressed by his team's effort in its third game in four nights and the way that the Rockets competed against one of the top teams in the state.

"I'm proud of my kids' effort for the second and third period," he said. "I thought we fought hard for two periods against a very good hockey team."

The third period was stop-start because a number of penalties on both sides. The best chance down the stretch fell to the Eagles Michael Brooks on a breakaway after Reading defenseman Mike Seibold broke his stick. Brooks flew into the zone but his shot sailed wide of goalie Evan Morelli (18 saves).

Flaherty admitted after the game that his team had to bear down and grind out a result to stay unbeaten ahead of Wednesday's showdown with No. 1 Malden Catholic.

He said, "Reading's historically a very good team and I would say that this as good a team as they've had. They compete and they're fighting for one last shot to make it to the Garden."
December, 3, 2012
12/03/12
12:49
AM ET
MARLBOROUGH, Mass. -- Here are some notes and observations from Sunday's Garrett Reagan Hockey Summit played at the New England Sports Center:

Wamps provide the 'D': Burlington and Braintree squared off in a battle of Middlesex League and Bay State Conference powers with the Wamps playing their patented, sticky brand of hockey in the neutral zone. Braintree slowed down the Red Devils' speed through center ice and limited their quality scoring chances behind All-Star defenseman Troy Tenaglia.

A race worth watching will be the Wamps' goaltending battle. Junior Nick Anson, who earned the shutout Sunday and who is also a member of Braintree's football team, is the leading candidate to assume Dan Murphy's old post. Once settled, the Wamps, who will have a strong returning presence up top led by David Fasano and Tom Troy, could be the preseason favorite heading into Bay State play.

Guiding the ship now: We saw major flashes of the promise of Hingham's junior class last year when they were sophomores playing with the Harbormen in the Super 8. Another year mature, the Harbormen should be poised for another deep Super 8 run behind that tremendously talented class. That talent was on display Sunday as the Harbormen roughed up Peabody. Matt Brazel (11-23-34 in 2011-12) and Sam D'Antuono (9-19-28) will be called upon to shoulder a greater offensive load after Hingham graduated four of their top six scorers from last year. The Harbormen also have a steadying presence on the blue line in John Carlson (2-10-12) who's already generated plenty of college interest in his two-year career.

'Work in progress': Returning Super 8 finalist BC High squared off another of last year's Super 8 entrants in St. Mary's of Lynn. And while the Eagles looked crisp at times offensively, the biggest news of the day was who wasn't on the bench. BC High's leading scorer Tom Besinger (14-18-32 in 2011-12) was held out by an illness.

"We return a lot of bodies [at forward]," Eagles head coach John Flaherty said, "but we're finding our lines and some combinations there. We've had Michael Brooks and Ryan McDonough have played together for a couple of years now, there's definitely good chemistry there. Stevie DeForge can skate, so he's up there with them. Tom Besinger is a dynamic player, too."

Of course, the constant for BC High has been goaltender Peter Cronin. The senior looked near midseason form while going the distance against the Spartans, showing some fine rebound control.

Panthers can hang: No team was more snake-bitten at last year's Super 8 than Springfield Cathedral. The Panthers suffered three one-goal losses — two of which came in overtime, the other in a shootout.

While years come and go, Cathedral picked up where it left off on Sunday, skating with two-time defending Super 8 champion Malden Catholic to a 2-2 tie.

The Panthers suffered losses in key areas like any squad, but return a strong nucleus of seniors, including top defensive pairing Matt Foley and Jack Williams.

"They've been playing together since they were six years old," Panthers head coach Brian Foley said of his four seniors. "Along the way, they've won championships. It's a good leadership group. But outside of that, we're young.

"We've only got one junior [goaltender John Liquori], but our young kids are really fast and really skilled. I wasn't sure what we were going to have coming into tryouts, but we had a great first week."

With Liquori (2.63 GAA) backstopping the Panthers for a second straight year and with sophomore forward Peter Crinella (8-10-18) poised for a break-out season, Cathedral could be in the hunt again.
March, 18, 2012
3/18/12
10:37
PM ET
By
Dan Hickling
| ESPNBoston.com
BOSTON – Every championship means something. But the Division 1A Super 8 crown won by Malden Catholic meant everything.
To players such as junior Mike Iovanna, whose game-winner helped push the Lancers past BC High, 3-1 at TD Garden.
And to Chris Serino, MC's cancer stricken head coach, who although too ill to perform his whistle-tooting duties, played a huge emotional role in Malden's second consecutive crown.
"You know what," said Iovanna, whose backhander with 8:06 gone in the third snapped a 1-1 tie, "we did it for him. It's tough to see him like that. Our season was based on him."
[+] Enlarge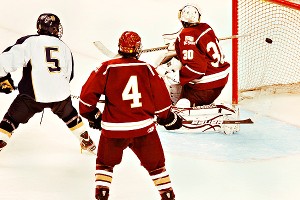 Jon Mahoney/ESPNBoston.comMike Iovanna tallied what would prove the game-winning goal during the third period of Malden Catholic's Super 8 title game victory over BC High Sunday at TD Garden.
Senior defenseman Colin MacGillivray was in hearty agreement.
"Everything on that ice was dedicated to him," said MacGillivray. "We just did it for him. We wanted it, and we did it."
They did, but not without a struggle, after having spotted BC High an early goal.
The Eagles grabbed that lead on Sam Topham's tally, 1:59 into the contest.
Showing no reluctance to jump into the offense, Topham, a sophomore defenseman, took a feed from freshman Tim Larocque, barged to the bottom of the left circle, then threaded in his tight-angle shot which caught Lancers' junior goalie Connor Maloney by surprise.
"Those were all things we worked on this week in practice," Eagles head coach John Flaherty said. "Driving wide. We knew where they were vulnerable."
Matters opened up in the second period, which put both goaltenders on the hot seat.
BC High netminder Peter Cronin faced 17 shots in the second stanza, including Iovanna's sharp wrister which he gloved.
The Eagles missed out on a golden scoring chance a minute later, when Michael Brooks was set up by linemate Tom Besinger, but missed the open net.
"That wasn't the only one," said Flaherty. "Three or four pucks that laid there for us to bury. When you're playing with the fire power of Malden Catholic, you need to be mistake free and capitalize on everything they give you."
Instead, was the Lancers who exploited a BC High breakdown and used it to tie the contest, 1-1, at 11:28.
Brendan Collier, working a 2-on-1 with Ryan Fitzgerald, took Sifferlen's cross-ice pass, put a head fake on Cronin and tucked the puck inside the right post.
The stalemate continued until midway through the third, when an uncleared puck in the Eagles zone ended up on Nick Rolli's stick near the blue line.
Rolli saw Iovanna cutting to the net and deftly fed him the puck.
"We were really pressuring them down low," said Iovanna. "They couldn't get it out. We kept banging on them."
Iovanna finished the play by lifting a back hander over Cronin's shoulder from six feet away.
Lancers freshman Casey Fitzgerald put the game out of reach with 4.6 seconds remaining, when he sent a shot 150 feet into an open net.
By that time, the Malden faithful, including Serino who was in attandence, were able to celebrate this sweetest title.
"I've been there since my freshman year," MacGillivray said. "We've basically been a family together. It sounds weird, but [Coach Serino] is like the father of the family. We did it for him."
Said MCinterim coach John McLean, "It's mission accomplish. It's been a very long, tough season, mentally and physically. The kids dug down in the third period and did what they had to do."
With hockey being such a close-knit fraternity, Serino, who is still Lancers athletic director, had a real presence in the Eagles' dressing room, too, one that was still grieving the in-season passings of the fathers of two BC High sophomores.
"We were playing for our own cause," Flaherty said. "Two of our kids lost their dads. (But) I have the utmost respect for Chris Serino. He just came into my locker room and congratulated our guys. That's what true Chris Serino is. Here's a guy fighting for his life and he takes the time out of celebrating with his team to come into my locker room.
"That's what hockey is. It's a family."
February, 4, 2012
2/04/12
9:53
PM ET


BOSTON –- It was a kind of glass-half-full tie for No. 11 Catholic Memorial.

Akin to last season's stretch run, the Knights have the quandary of needing points to qualify for the postseason tournament while in the thick of their Catholic Conference schedule – never an easy task.

The Knights were about 49 seconds away from taking two points from No. 5 BC High during their Ed Wright Cup game at Walter Brown Arena on Saturday. While CM settled for one in a 4-4 tie with the Eagles, the Knights came away with more plusses than minuses.

"The good news is in our last two games, we've scored nine goals," an upbeat Knights head coach Bill Hanson said.

Still, the Knights (6-6-1, 2-3-1 Catholic) were in prime position for the victory, only to watch the Eagles (8-3-3, 2-2-3) to tie it in the final minute.

CM forward Aaron Marcel looked as thought he'd found the game-winning goal with 1:51 to play, breaking a 3-3 tie. However, with 49.3 seconds remaining, BC High senior captain Matt Sullivan cleaned up a rebound to knot the score again.

"We were just trying to keep the puck down low, and I think Steve DeForge took the puck off the half wall," said Sullivan, who earned game MVP honors with two points. "He got shot off high on the goalie's shoulder and I was able to get the rebound."

The Knights held the lead on three occasions in the course of the back-and-forth affair.

Jack O'Hear had CM to a 1-0 in the first; Tom Besinger countered for BC High later in the first. Then, eighth-grader Kevin Hock popped in his third of the season for a 2-1 lead in the second.

The Eagles claimed their first lead of the game in the third with Michael Brooks banking in a one-timer in front off of Ryan McDonough's centering pass, after a goal by DeForge had tied it.

John Malewicz tied the score, 3-3, with nine minutes remaining.

"All in all, it was a pretty typical CM, BC High game," BC High head coach John Flaherty summed it up. "Records go out the window."

HISTORICAL SIGNIFICANCE
Hanson, with a quick wit and ability to turn phases with the best of them, was in rare form following the contest.

When fielding a reporter's question about CM's ability to handle opposing team's forechecks in recent weeks, the Knights bench boss pulled out a Korean War reference.

"We're playing a lot better in the neutral zone right now, which is allowing us to get pucks deep," Hanson said. "We're not having opponents coming at us like the [Chinese] Red Army over the Yalu River."

Aside from the colorful description, what was at the heart of Hanson's message was that he was pleased overall with team's ability to make easy transitions out of the defensive zone, coming with speed through the neutral zone. It has been a sore spot in CM's recent efforts, but Saturday marked a vast improvement for the Knights' blue-liners.

"We can play with the confidence that we can come back when we're down," Hanson said.

A MOMENT OF CONCERN
Scary sight in the second period when BC High sophomore forward Chris LaLiberte left the game.

LaLiberte was skating through the neutral zone, near the penalty boxes, when he was sandwiched between the checks of two CM skaters. After laying motionless for a couple of tense seconds, LaLiberte eventually skated off on his own power.

He even tried to swing back toward the Eagles' bench, only to be sent off to the room for the afternoon by Flaherty.

"You just can't take any chances with head injuries," Flaherty added.

LaLiberte's play drew Flaherty's praise, despite giving himself up in the process.

"He's played with one hand, he's played on one leg," he said of the winger. "That's the type of kid he is. … He sacrificed himself to make that play. We went on a 2-on-1 because of what he did. That's what he does, he plays hard every shift."


January, 21, 2012
1/21/12
9:53
PM ET
By
Tom Layman
| ESPNBoston.com


WILMINGTON, Mass. -- Kristian Hanson wasn't ready to commit or even hint that his team could be on the beginnings of a run similar to the streak St. John's Prep made all the way to the Super Eight final last season.

But it's been a good week for the Prep.

Hanson's club got a little bit of payback against No. 3 BC High with a 3-1 victory Saturday at Ristuccia Arena in a battle of Catholic Conference heavyweights. Tyler Bird at two goals and Sam Kurker added a goal and two assists, as the Prep has now won three in a row and have outscored their opponents, 17-2.

"I don't want to predict any runs," said a humble Hanson, whose team is now 7-4-0 this year. "I think sometimes that we may appear to be a second half of the season type team. We get so many new faces in each year and it takes time for them to build team chemistry and gel and understand their role. That's why we may perform stronger in the second half than the first half."

Obviously, Colin Blackwell (Harvard) carried the offensive load last season — and his output is sorely misses on this team — but it starts with the stalwart defense that has and will carry this team for the remainder of the season.

Nick Pandalena anchors the unit with his size at defense, while David Letarte (24 saves) has been stellar in net in his senior season. The defensive unit played some of their better hockey of the season in the first two periods as they routinely made their way into the passing lane, blocked numerous shots and forced the Eagles to take shots from less than ideal spots in the zone.

"I thought we did a wonderful job with defensive coverage today," said Hanson. "System-wise we blocked 10 shots today. … The guys just stuck with the system all day and it worked."

GETTING A LITTLE PAYBACK
The last time these two hooked up in the Catholic Conference opener there were plenty of good vibes to be felt by both teams. Bartley Regan's goal in the waning moments of the game gave the Eagles a stunning 4-3 win and Hanson really wanted his guys to use that heartbreak as motivation on their home ice.

"I thought we played a really complete game and thought we deserved a better fate or at least a point out of that game," he said. "We kind of stressed that before this game. We really wanted to try and go out there and get a point or two."

NEW LINE, GOOD RESULTS
Hanson threw together Bird, Kurker and Brian Pinho a few weeks ago and the trio made dividends in this one. Each player recorded at least two points and the Eagles really didn't have a match anytime the potent line was on the ice.

Bird cleaned up a wide shot by Pinho in the first period. He did a little more tidying up in the second period when he gloved down a shot from Kurker on the break rang off the crossbar and deposited it past Peter Cronin (15 saves).

"We were having trouble finding chemistry between the lines lately," Bird said. "A couple of weeks ago (Hanson) put us together. At first it was kind of different. It was difficult working together. But we've been clicking and we've been playing really well together."

The Prep have started a tradition of handing around an old school St. John's Prep jacket — it looks like one from the 1980s with gold lettering and trim instead of the white and blue sported now. If the line keeps performing like it did yesterday, then the jacket might not be leaving the shoulders of that trio for some time.

EAGLES CAN'T SHAKE SLOW START
A sluggish first period has been a bit of an issue for BC High this season. It happened at Fenway Park against Catholic Memorial and happened in the early moments against Winchester. But usually that slow start is followed by a flurry of goals and odd-man rushes by the team wearing maroon and gold.

Those opportunities didn't arise until it may have been a bit too late.

Michael Brooks potted a goal with a little more than a minute left in the third period and Kurker killed the rally with Cronin pulled for an empty-net goal.

"We came out a little bit slower than what I wanted to," BC High head coach John Flaherty said. "I think the third period was more indicative of how we need to play. … You can't give them chances and we did."

The Eagles had a couple of opportunities to post a couple of goals in the third period as they put 12 shots on net in the final 15 minutes.

"We finally started playing desperate," Flaherty said. "We finally started playing the way we are supposed to play. It just wasn't enough. We gave ourselves a chance to get a point and it just didn't happen."