Boston High School:

Michael DeDonato
July, 16, 2013
7/16/13
11:01
PM ET
By
Brendan Hall
| ESPNBoston.com
The Bay State Games today announced six recipients for its Future Leaders Scholarships. Here is the official release from Bay State Games communications director Amy Barry:

***

WOBURN, Mass. – The Bay State Games is proud to announce the 2013 Future Leaders Scholarship recipients. After a rigorous application process, filled with countless deserving Bay State Games participants, the following six student-athletes were selected for exemplifying the definition of a future leader with outstanding credentials in academics, athletics, community service and leadership: Michael DeDonato (Chelmsford), Samantha Gjeltema (Stow), Kellie Hagerty (Somerville), Emily Martin (Richmond), Lindsay Partin (Barnstable) and Matthew Walsh (East Weymouth).

Applications for the scholarship were submitted by Bay State Games athletes who were currently in their junior year of high school as of the 2012-13 academic year. More than 120 applications were reviewed by the Bay State Games staff and board members, before a pool of 18 were asked to interview. This year, six students from that pool were selected to receive a $2,000 scholarship. For more than two decades, the Future Leaders Scholarship program has distributed over $230,000 to students. For more information on the Future Leaders Scholarship and the Bay State Summer Games, please visit BayStateGames.org.

The 2013 Future Leaders Scholarship Winners

Michael DeDonato – Baseball / Ice Hockey - Chelmsford – Chelmsford High School
Michael DeDonato, exemplifies the definition of a future leader.

Not only does he lead by example in academics and athletics, but also in the community. Accumulating over 80 hours of community service throughout his high school career, the Chelmsford native gives back through cancer walks such as the Lowell General Team Walk for Cancer and Making Strides for Breast Cancer, and on playing surfaces as a volunteer coach with youth baseball and Chelmsford Hockey Learn to Skate programs.

A two-sport varsity athlete, the Chelmsford local has earned Merrimack Valley Conference All-Star accolades for his efforts on the ice. He also earned MVC All-Conference honors for his hard word on the baseball diamond, where his teammates elected him captain for the 2014 season. A four-year class representative, he has participated in DECA since his sophomore year and is a Freshman Mentor.

Despite his many commitments and accomplishes, he maintains a 3.68 GPA and ranks 77th in a class of 373.

Samantha Gjeltema – Field Hockey - Stow – Nashoba Regional
Samantha Gjeltema, a student athlete in the truest sense of the word, this individual has excelled in the classroom and has made every effort to expand her knowledge through her involvement with academics, athletics and a multitude of community service experiences. Recognition of her academic ability was her induction into the Nashoba Regional National Honor Society.

Of particular importance to this Stow native, has been her involvement with the Best Buddies program where traditional students are paired with intellectually and developmentally disabled students to foster social opportunities. As an athlete she is diligent in her preparation for her sport, on and off the field, and also has gone out of her way to support her fellow athletes.

Kellie Hagerty – Ice Hockey – Somerville – Somerville High School
Kellie Hagerty's soccer coach, Jason Lenicheck, said, "The easiest way to see if somebody is a leader is simply to see if others follow."

Lenicheck went on to say, "Others follow Kellie Hagerty because she acts as the embodiment of internal conscience, representing by her words and deeds what we all know to be the right thing to say and do….Others follow Kellie Hagerty. I know I would."

The Highlanders of Somerville High's girls' soccer team has followed Hagerty as captain for three years while the Cambridge Rindge and Latin girls' ice hockey team has elected to follow her the past two seasons, despite the fact she is the only person who hails from Somerville on the team. Not only has Hagerty been elected to lead on the playing surfaces, but also by her fellow students as the Class of 2014 Vice President.

The rising senior strives to one day give back to the community as a nurse and has already made an impact especially with the Best Buddies program.

This extraordinary leader not only gives back and leads by example, but also ranks ninth in a class of 281 and maintains a 4.35 GPA.

Emily Martin – Alpine Skiing – Richmond – Monument Mountain Regional
Emily Martin is a respected and positive role model throughout her school and community. Martin has excelled in all of her rigorous courses for the past three years and on top of earning exceptional grades has been honored as a junior class marshal.
The Richmond native has skied competitively, since the age of seven. She has competed in Tri-State competitions from the age of 11 to 16 and was an All-Berkshire Selection. Cameron Geller, her ski coach, describes her as nothing short of phenomenal.

"After becoming her ski coach and spending four to five days a week around her I realized what an exemplary women she has become," Geller said. "Our younger racers look up too and learn from the older members of our team. As a coach you can only hope that you are so lucky to have Emily Martin lead the way."

Being a three-sport athlete, taking all honors and AP classes, acting as class treasurer and playing in the band, Martin seems to be doing it all. She has accomplished so much in her life and has a bright future ahead of her.

Lindsay Partin – Swimming – Barnstable - Barnstable
"Dependable, mature, intelligent, conscientious, industrious, honest and focused," are among the qualities used to describe Lindsay Partin.

Partin an avid swimmer who has competed for the past nine years and is currently the captain of the YMCA Cape Cod Makos. She also competes for Barnstable's swim and track teams. At school, the straight A's, Barnstable student was recently inducted into the National Honor Society and serves as a member of both the Student Council and Spanish Honor Society.

Each week, Partin spends time volunteering at Dr. Rudman's office, where she observes Rudman's work and gains experience for her future career.

Matthew Walsh – Baseball – East Weymouth – South Shore Christian Academy
Matthew Walsh demonstrates the qualities of perseverance, leadership, and service both in and out of the classroom. While not only representing exceptional leadership qualities as co-captain of South Shore Christian Academy's baseball team, Walsh also maintains a GPA of 3.6.

As a member of the Perfect Council the East Weymouth native was able to reach out to his fellow classmates and plan numerous student activities such as the annual pep rally and family cookouts for the traveling baseball and softball teams. In addition, one of his most renowned achievements is his Eagle Scout Project. Not only does an Eagle Scout gain respect and gratitude within the community, but also gives scouts an opportunity to give back. For his project he restored a World War II Veterans Memorial in his hometown of Weymouth. He prioritized in ensuring that the site symbolized veterans' efforts and the impact they have made on the lives of many people.

Walsh described by his teachers as, "an intelligent and gifted person," truly is a dedicated and hardworking individual who embodies the facets of a real leader.
May, 4, 2012
5/04/12
11:51
PM ET
By
Ryan Kilian
| ESPNBoston.com
CHELMSFORD, Mass. -– Chelmsford starting pitcher Tanner Houle tossed a complete game on Friday afternoon to pick up the win as Chelmsford (9-4) defeated Merrimack Valley Conference rival Lowell, 4-2, for their second victory over the Red Raiders this season and their fifth win in a row.
The Lions wasted little time getting on the board as they plated three first inning runs, sending seven batters to the plate in a 15-minute opening inning.
[+] Enlarge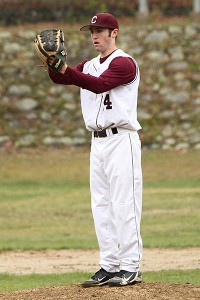 Ryan Kilian for ESPNBoston.comTanner Houle picked up his second win this season over No. 1 Lowell, going the distance on the mound in a 4-2 battle.
Chelmsford senior first baseman Thomas Murphy struck the biggest blow in the inning as the lefty clean-up hitter took a breaking ball the other way for a two-run double over the head of the left fielder. The RBI double plated Matt Rabbito and Michael DeDonato. Rabbito had previously raked a double off the left field rock wall that scored lead-off man Mason Trubey.
"I was down in the count so I was just trying to battle back," said Murphy. "He left one over the plate so I was just trying to go the opposite way."
The Lions would score their fourth run in the third inning as Russell Olive walked with the bases loaded to force DeDonato in for his second run scored of the game.
With a 4-0 lead Houle made quick work of the Red Raiders in the fourth inning as he did a great job of mixing up his pitches and keeping the Lowell hitters off balance all afternoon. The only trouble that Houle encountered on the day came in the fifth inning as Lowell mounted a rally behind a leadoff single from R.J. Noel and an RBI double from Joe Parisi that would lead to two runs in the inning.
"It feels real good as last year they got us pretty good both games," recalled Houle. "To get them back this year makes me so happy."
Houle also picked up the win out of the bullpen during the first meeting between the two teams on April 13. Chelmsford defeated Lowell 11-5 in that contest.
Momentum killer:
The Red Raiders scored two runs in the fifth inning and were looking for more as they had runners on the corners with one out.
Rabbito would then come up with the game's biggest play as the junior backstop threw out R.J. Gray trying to steal second base. The caught stealing halted a feverish Lowell rally and gave Chelmsford a key second out to help curb the Lowell comeback.
"Knowing I have him makes me so happy out there," said Houle of his battery mate. "I can throw a slow curve and he can still beat them out there and if I throw it in the dirt he will knock it down."
The Beauty of Ayotte:
Ayotte Field in North Chelmsford is one of the classic fields in Eastern Massachusetts as it sports a short, sloped rock wall in left field that often draws the attention of batters. The neighborhood ballpark is set on the banks of Freeman Lake and is named after legendary long time Chelmsford coach Harry Ayotte, who passed away last year.
Friday afternoon was no different, as Rabbito pelted the rock wall on the fly, resulting in a first inning RBI double.
"The rocks are there and that ball that he hit could have bounced any direction," said Chelmsford head coach Mike O'Keefe. "It is a unique field and we are happy that it is ours."
Red Hot Lions:
The Lions have now won five games in a row, and eight out of their last nine, as they head into the home stretch of their schedule.
"We are working on team chemistry as we go along," explained Murphy. "Each game we seem to be getting better and I am excited to play the next couple of games."
The Lions get back to action on Monday as they host Andover in another MVC Large battle. First pitch is scheduled for 3:45 p.m. at Ayotte.
"We are starting to understand who we are and what we do well," O'Keefe said. "As long as we don't beat ourselves it gives us an opportunity to do what we did today."