Boston High School:

Mickey Foley
January, 15, 2013
1/15/13
10:43
PM ET
By
John McGuirk
| ESPNBoston.com
WEST SPRINGFIELD, Mass. -- As a youngster, Matt Foley would often be seen hanging around the Springfield Cathedral bench with clipboard in hand. Foley, the son of Panthers head coach Brian Foley, was enthralled with the game of hockey at an early age. In that time he was a sponge, gathering as much information as one possibly could about the game by watching and listening.
"I started hanging around the team when I was an eight year-old and I thought of myself as an assistant coach offering my two cents on everything," Foley said. "I think by being around the team at such a young age it truly helped to give me a better understanding of the game because I was always keeping stats and always observing."
Fast forward to the present and Foley, a senior, has cemented his place as one of the finest high school defensemen in the state. The young kid who was joined at the hip to his father is now playing for him and is one of the primary contributors to the top-ranked Panthers' success.
"Matt does all the right things on and off the ice," said the elder Foley, now in his ninth season with Cathedral. "This is the place he has always wanted to be at. As to how good I thought he would be when he was younger, I honestly had no idea. I would just tell him what he needed to work on and he would take the initiative to go out and shoot pucks in the driveway and do his push-ups, sit-ups and pull-ups. He's a self-motivated kid but is all ears as well. He is good at taking advice. He's very focused on his goal to play college hockey somewhere."
[+] Enlarge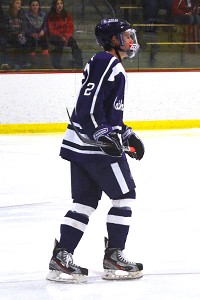 Scott Barboza/ESPNSpringfield Cathedral senior captain Matt Foley is among the top-scoring defenseman in the state -- 7 goals, 7 assists -- for the top-ranked Panthers.
Like with the rest of the Cathedral players, a rigorous, yet dedicated, off-season workout program is essential and expected. Foley, along with his teammates, has put in the extra time to turn himself into a top-level player. Also a seven-inch growth spurt didn't hurt either.
"During my first varsity season, as a sophomore, I was slow, small and weak," Foley said. "I started to grow finally and worked hard over the off-seasons to get stronger physically and get stronger with my stick. It was all about physical development with me. Playing defense is more of a thinking game. At forward, you can let loose a little more. On defense you need to be in control and have to think everything through. If you make just one mistake on defense the whole rink sees it."
As a junior, Foley was limited on the ice because of a nagging hamstring injury he suffered in mid-November. He returned to the Panthers in December, but still was not at 100 percent. It wasn't until February that he fully recovered and helped lead Cathedral to a berth in the Super 8 Tournament.
The conversations around the Foley household in Longmeadow no doubt center around hockey. Foley's mother Julie comes to most games. His older brother Mickey plays for Choate-Rosemary Hall in Wallingford, Conn. He also has an older sister (Bridget) and younger sister (Kate).
"My father and I talk hockey a lot," Foley said. "It's basically an extension of our practices. We go home and watch game tape together and talk about it. As my coach he is very honest with me after games. I know half the mistakes I make in a game so some of the things he tells me I already know. He's not overly hard on me nor is he ignorant. I just find that he is always right in his opinion."
Even though his father is the head coach he doesn't work with his son all that much.
"Coach [Mike] Rousseau coaches our defensemen," Brian Foley said. "So I sort of stay out of that end of the bench. I am coaching the team but I'm not coaching Matt specifically."
With the season at the midway point, Foley is hopeful his career closes with another trip to the Super 8 Tournament. Only this time, the goal is to come home with the top prize. After graduation, Foley plans on attending a prep school as a postgraduate before moving on to college. He is eyeing schools in the Ivy League and NESCAC.
Foley has had opportunities to jump ship and play for a junior league club but could never fathom himself wearing anything but a Cathedral hockey sweater. His plan all along was to remain a Panther and continue to bring this program to the forefront of Massachusetts Division 1 hockey.
"Playing high school hockey is what it's all about," he said. "When you go off and play for juniors you aren't playing in front of any of your fans. Since I've been playing here I see the same people in the stands for every game. For me that's pretty special. I'm really going to miss playing in front of these same people and the tight community this school represents. It is something that you truly embrace here. It will be tough when it's time for me to leave here."
March, 12, 2011
3/12/11
1:17
AM ET


BOURNE, Mass. –- Even though Marshfield went into the first intermission down one goal, Rams head coach Dan Connolly wasn't discouraged.

And he didn't worry either when his team fell behind by two goals.

"I thought we played well and we carried the play," Connolly said. "They just capitalized on both their chances."

Then, as though a switch had been turned on, the Rams took off. After falling behind second seed Barnstable 2-0 midway through the second period of Friday night's Division 1 South semifinal at John Gallo Arena, No. 3 seed Marshfield rallied to score three goals in three and a half minutes and pull out a 3-2 comeback win over the Raiders.

"The attitude in the locker room after the first period, they were a little down," Connolly said. "But we told them they played well, there was nothing to be ashamed of. We just had to keep playing the way we were and they were going to go in eventually."

Barnstable (14-4-4) took a 1-0 lead with 9:04 remaining in the first when Zach Wells redirected a Will Toffey point shot.

The Raiders were also able to neutralize the Rams' team speed through the first period, playing a 1-2-2 defensive trap.

"They kind of played that trap on us and we knew if we skated to them and we manipulated one guy to come over, there would be another guy open," Rams junior forward Chris Perry said. "And that's what happened."

Toffey helped Barnstable to a 2-0 lead in the second, stripping a Marshfield defender with a persistent forecheck and then walking into the slot and letting off a wrist shot at the 8:56 mark.

The Rams (17-3-5) began their comeback 11 seconds later, straight off the ensuing faceoff. Joe Admirand raced up the left wing boards and slid a cross-ice pass to Jon Fraser, who buried the one-timer.

Ty Martina tied the game with 2:30 to play in the second, unleashing a slap shot from the right wing circle that appeared to be deflected by a Raider defenseman's stick. Ryan Connors and Jimmy Connors had the assists on the play.

Perry then tallied the game-winner before the period was out. With 25 seconds remaining, Perry put back the rebound off of Ryan Connors' shot from the off wing. Connors' blast ricocheted off the post, but back in the direction of Perry, who then finished top shelf.

"It was a great play by my linemate Ryan Connors," Perry said. "He was flying around everywhere. It came off the back post right to me. I was lucky."

The Rams defense held through some tense final minutes of the third period, with Kyle Moran making seven saves.

Freshman Sean Cleary also turned in a strong performance in net for the Raiders with 23 saves.

Marshfield will face top-seeded Springfield Cathedral at Gallo on Sunday for the sectional championship. The puck drops at 4:45 p.m.

"They're deep, they're big and they're fast," Connolly said of Cathedral. "Hopefully, it's a good one."

PANTHERS RETURN


Top-seeded Springfield Cathedral's been in this territory recently.

Two years ago, the Panthers lost a Super Eight play-in game and then rebounded, tearing through the Division 1 South tournament en route to the state championship.

Cathedral has followed through on that trajectory this season, advancing to the D-1 South final with a 5-0 win over No. 13 seed Duxbury during the early game at Gallo.

The Panthers (14-10-1) jumped on the board four minutes into the first with Frank Crinella one-timing Mickey Foley's feed through the slot. Dante Christofori also picked up an assist on the play.

Christofori tallied his second point of the game, finding the back of the net 1:19 into the second period, providing Cathedral with a 2-0 lead. The Panthers ran their lead to 3-0 three minutes later with Matt Peloquin cashing in after camping out on the high slot with Griffin Foley providing the feed.

"Me and Frank have been connected all year long and Dante came on our line two weeks ago," Mickey Foley said. "He's really fit the spot. We had an empty spot and he's really stepped up to the plate. He's getting open and giving good passes. We've connected really well."

Cathedral carried play through the second and Duxbury was held without a shot for the first 13 minutes despite having two power play opportunities sandwiched together midway through the period. The Panthers outshot the Dragons, 9-1, in the period.

Duxbury (9-8-8) was unable to cash in on four power play chances.

"We went into the third talking about staying out of the box," Panthers head coach Brian Foley said. "We gave up two man-up opportunities, but we practice those situations a lot and it was nice to see the execution on the power play and the penalty kill."

Stephen Metayer had the Panthers to a 4-0 lead in the third, exhibiting some quick hands, picking up a loose puck in the slot and letting off a wrist shot. Sean Kavanagh rounded out scoring with a power play goal with 6:15 remaining.