Boston High School:

Middlesex
May, 23, 2013
May 23
2:27
PM ET
By
Paul Lazdowski
| ESPNBoston.com
ANDOVER, Mass. -– Over the course of the 2013 season, the success of the Phillips Andover baseball team has hinged on three arms, or, more specifically, two right-handers and a southpaw.
Senior Rory Ziomek and sophomore Tim Salvadore, or simply 'Sal' to teammates and coaches, have brought power from the right side, while post grad Tim Superko has added craftiness from the left.
This talent -– Ziomek and Superko are headed to Tufts University next season, and Salvadore has verbally committed to Boston College –- led Big Blue to an 8-6 regular season record and a second straight Central New England Prep School Baseball League (CNEPSBL) title. Last weekend in Worcester, Mass., PA defeated Deerfield Academy in the semis and Worcester Academy in the finals for the crown.
[+] Enlarge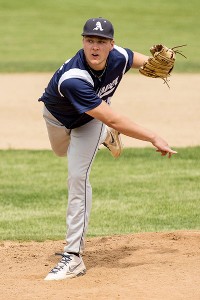 Karen Leavitt for ESPNBoston.comTufts commit Rory Ziomek, younger brother of former Amherst southpaw Kevin, distinguishes himself with his demeanor on the mound.
"Rory's been with us for three seasons now, and he's like an old pro," said fifth-year head coach Kevin Graber when asked to breakdown his three hurlers. "He understands every facet of this program and how we pitch. Superko is equally experienced, but it's his first year (here). Sal is young, has a year under his belt and he's kind of a phenom. He's still got two years of high school; he throws really hard (and) competes like you wouldn't believe. They all bring a little different piece to the equation.
"I have to think ... this is the strongest pitching staff we've had in recent memory."
In Ziomek, a 6-foot-4-inch, 210-pound, Amherst native, Graber has what he describes as "John Wayne because he's like the gunslinger at the OK Corral. He just stands on the rubber, looks at you over the top of his glove and you know you're gonna get his best."
Heading into the season finale this Saturday against Phillips Exeter Academy, Ziomek has pitched 37.1 innings and posted a 1.50 ERA and 52 strikeouts. His last two regular season starts were back-to-back complete game shutouts, including a one-hitter with 12 strikeouts versus Tabor Academy to clinch a playoff berth.
Ziomek's arsenal features mid-80s four-seam and two-seam fastballs, a slider in the mid-70's and a changeup around 70 mph. But his on-mound demeanor –- best summed up as fierce and intense –- is what distinguishes him from Superko and Sal.
"He knows what pitch to throw and when and where," said senior catcher Harry Roche after describing Ziomek as magical. "He will hit you in your weak spot whenever he feels it's necessary to hit you there. And he'll make sure you end up grounding out if he wants you to or striking out if he wants."
In three years at PA, Ziomek's evolved from a thrower to a pitcher. And when he takes the mound for Tufts next spring, he will do so as the second person in his family currently pitching in college. Older brother, Kevin, a lefthander, is a junior at Vanderbilt University who this season has racked up two SEC Pitcher of the Week awards, 10 wins and a 1.99 ERA.
Superko also understands how to pitch, but according to the lefty tends to rely more on his curve. With only one season at PA, the Wellesley product developed most of his pitching acumen at Wellesley High in the Bay State Conference.
"Polished," said Graber when asked what differentiates Superko. "When he came to me he knew how to pitch."
The 6-foot-2-inch, 170-pound post grad throws a mid-80's fastball, a curveball he acknowledges as his 'out pitch' and "lots of changeups to right-handed hitters to keep them off-balance." It's been a successful recipe. Over 26 innings he has a 2.42 ERA and has held opponents to a .170 batting average.
"I'm competitive," Superko said. "Once I get on the mound I'm kind of in the zone. People will be like, 'Did you hear me cheering for you?' or something. I'm like, 'Nah, I was pitching. I can't hear anything.'"
It's this mindset which led his fellow starters to label him as both calm and tenacious.
"Superko's really good at mixing up his pitches," said Roche, a day student from Andover who plans to walk on at Villanova University. "You never know what's coming. I was hitting off him the other day and he was throwing a curveball when I wasn't expecting it. And his changeup, it's the best on the team in my opinion."
The triumvirate's youngster, Sal, has the potential to not only excel at Boston College but perhaps beyond.
[+] Enlarge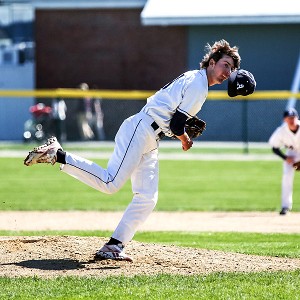 Karen Leavitt for ESPNBoston.comPhilips Andover head coach Kevin Graber believes sophomore righthander and Boston College commit Tim Salvadore is potentially "a future Major Leaguer."
"Future Major Leaguer," said Graber of his sophomore stud from Holliston. "I work in scouting and I have a background in professional baseball. I believe in my heart that he will play in the Major Leagues."
In his second season at PA, the fiery and vocal 6-foot-3-inch, 180-pound hurler pitched 29.2 innings and led the staff with a 1.18 ERA and 4-0 record.
"I look to get ahead in the counts and get quick outs," Sal said. "That allows me to go deep in the ballgames. I feel like I can rely on a fastball/slider combination."
His four-seam fastball tops out at 90 mph, and is complimented by a sinker in the high-80s and a high-70s slider and changeup. This combination has made Sal the staff's most dominant arm and one that oftentimes leaves batters feeling uneasy.
"I would say he's wild," Superko said. "But that has a negative connotation when you're pitching. He's composed while being wild to the point of making hitters uncomfortable."
Sal boasts the deepest baseball roots. His father pitched in college for Worcester Polytechnic Institute, and his grandfather was drafted by the Montreal Expos.
Big Blue's 2013 campaign was built around three players who, at times, carried the team. Each played a pivotal role, especially during the two playoff games, in giving PA its 10th CNEPSBL title since 1988.
"Sal is a huge reason why we were able to come out on top on Saturday," Graber said. "He got the start in the semis against Deerfield and was amazing, with just one earned run in five complete innings.
"Rory came in on two days rest and pitched the sixth and seventh to close out the semifinals win."
And Superko pitched a complete game six hitter with seven strikeouts to secure the finals victory over Worcester.
Both Sal, who was named First-Team All-Central New England, and Rory, who was awarded the Central New England MVP, were individually recognized.
But their legacy along -– along with Superko –- will not be based on awards or championships. Instead it will be in their impact on future PA pitching recruits, the stories teammates will recall once their playing days are past and the cohesion with which they carried themselves.
"I think it just continues the idea that every year Andover strongly emphasizes their pitching staff," Ziomek responded when asked about their legacy. "Every year I've been here it's gotten better. I think this will help (Coach Graber) and the rest of the team (recruit) new talent, younger kids, that he can work through the ranks."
"When I caught Rory during his one-hitter against Exeter," Roche said. "I went up to him afterwards and said, 'Rory, you gave me one of the best feelings multiple times in this game.' That feeling was striking out a kid looking to end an inning, tossing the ball back to the mound (and seeing) the kid would just stare there and look at it come in."
"One of the conversations I had with them early was that you have to foster the notion that you're a team within a team," Graber said. "When you guys condition, you condition together. When you long toss, you long toss together. When you do flat ground work, you do flat ground work together. When we watch video, we watch video together. You guys need to support each other even when you're not on the mound.
"And they have totally bought into that and (that's why) they're a true pitching staff."
ISL BASEBALL: SENIOR ROUND UP
A quick look at a few of the top seniors who will be playing collegiately next season:
Brendon Canavan (Middlesex School):
Playing this season with a torn ACL suffered during an ISL ski race this winter, the 6-foot-1-inch, 180-pound catcher has been relegated to first base. But the team captain's hitting has not suffered. Canavan is batting .424 with a .548 OBP through 12 games, and also providing the tone-setting leadership that, according to his coach, John Morrissey, has led to solid team chemistry.
Next year, Canavan, who lives in Carlisle, will suit up for Bates College, a decision he based on a number of factors, including the chance to play for coach Mike Leonard, a former Red Sox catcher. With two surgeries scheduled this summer –- one on his knee and the other on his right rotator cuff –- Canavan's focused on improving his position flexibility.
"I'm working on my versatility since I can't play catcher this year," Canavan said. "When I get (to Bates) next year (Coach Leonard) will have a senior catcher. So he was talking more about if (I'll be) ready to play with my knee and shoulder and also trying first base, right field, left field...another position where I could play to get my bat into the lineup."
Cameron DiSarcina (Groton School):
Through 12 games, the 5-foot-11-inch, 135-pound shortstop, who bats lefty and throws righty, has 18 hits in 36 plate appearances with 11 RBI. Coached by his father, Glenn, a former minor leaguer, and nephew to Gary, a 12-year major league shortstop, Cameron comes from strong baseball lineage.
But when the Shirley resident opted to play for Merrimack College next fall, it wasn't a decision based solely on baseball. In Merrimack, DiSarcina found a great fit with its strong engineering department, close geographic proximity and solid baseball program. Plus, he'll have the chance to play immediately.
"My Dad got recruited to Division 1 (UMass) and all that stuff," DiSarcina said. "But he told me that it's not about going to play D1. It's about finding the place where you're going to be the happiest on and off the field."
This summer he'll hone his game -– including expanding his inside plate coverage, adding more muscle and developing as an outfielder –- as a member of the Chelmsford Legion.
And when he finally pulls on the Warriors' uniform next spring, his father will be there to watch.
"It's going to be nice to see him play for the next four years," Glenn admitted.
Trevor Holmes (Governor's Academy):
Arguably the ISL's most feared hitter Holmes leads the league with four homeruns, while also batting .462 with 15 RBI through 12 games.
The 6-foot-1-inch, 215-pound catcher is described by his coach, Mike Kinnealey, as possessing tremendous bat speed and power, a dynamic arm and the mental makeup to thrive in the most stressful game situations. It was this combination of attributes which captured the University of Connecticut's interest and earned Holmes a baseball scholarship.
In addition to catching this season, the two-year captain has also joined Governor's pitching staff. Over 21 innings, he's posted a 1.67 ERA with 26 strikeouts and six walks. His success has opened the possibility of pitching and/or catching for the Huskies.
"I used to pitch back in middle school," Holmes said, "But I came in here and the opportunity arose for me to be a catcher. I threw off the hill once last summer, and my summer coach liked what he saw so he put me on the mound and exposed me a little bit. It took off from there."
This summer Holmes will again play for North East Baseball, before leaving his hometown of Ashburnham for the Storrs, Conn. campus and summer classes on July 11.
May, 15, 2013
May 15
1:54
AM ET
By
Ryan Kilian
| ESPNBoston.com
BYFIELD, Mass. – Governor's Academy lost their first game of the season on Saturday to a St. Sebastian's team who has been playing its best lacrosse in the second half of the season.

Gov's midfielder Tate Jozokos knew that they needed to come out strong on Tuesday against fellow top ISL opponent, Noble and Greenough.

"We were down coming off that big loss but with the one practice he had in between we knew that it was going to make us better in the long run," Jozokos said after the game.

In a defensively charged game, it was Governor's Academy (12-1, 11-1 in ISL) who would come out on top as they held Nobles (11-4, 9-3 in ISL) to a season-low four goals to earn a 6-4 victory and remain tied at the top of the ISL with Belmont Hill.

"This was a big game and an important game for both teams," Gov's head coach Peter Bidstrup said. "We knew we were facing an excellent team today."

Nobles would jump out to an early 1-0 lead as star middie Morgan Cheek scored in transition at the 7:29 mark in the first quarter.

Gov's would net two goals in the final three minutes of the first quarter on scores from Jozokos and Teddy Bettencourt to take a 2-1 lead into the second quarter.

With both teams struggling to execute possessions early it was the work of both team's defenses that kept each opposing offense at bay.

"We defended very well but they also defended very well," Bidstrup said. "Toward the end of the season these games can get a little defensive between these good teams."

Gov's middie Drew Pirie would give the home team some minor breathing room as he scored with 7:10 remaining in the second quarter on a dodge from the top. He would also add another two minutes later on a man-up strike assisted from attack Larsen Bidstrup.

Nobles middie P.J. Bell would score a crucial goal on a beautiful dodge, with 24 seconds remaining in the half, to cut the Gov's lead to 4-2 and give Nobles some much needed momentum headed into the half.

The third quarter would begin with a burst of rare offense as Gov's would get goals from middie Jesse Gwozdz and attack Ben Stafford and Nobles would get one back on a strike from middie Parker McKee.

Gov's goalie Eddie Gilman would do his best work in net in the second half and neither team would score in the final 15 minutes of the game as Gov's would hold on for the narrow win.

Despite the loss the Nobles defense, led by sophomore goalie Teddy Strzetelski (14 saves), stood tall all evening. Strzetelski made numerous big saves to help keep Nobles in the game throughout.

Gov's has three ISL games remaining on their schedule. They will take on Thayer, Brooks and Middlesex to conclude the season. Despite defeating Belmont Hill, 12-7, earlier in the season, Gov's shares the top spot with BH as both squads head into the final stretch run of their schedules.

D-Middie Dominance: Gov's controlled the possession edge in the game, winning 7-of-8 draws in the first half and 11-of-14 in the game.

Gov's long-stick middies Andy "Bug" Carper and Eli Morrissey were instrumental in both the midfield defense and the faceoff edge.

"We definitely focused on our defense today," Jozokos said. "On the faceoffs, we had our double poles going and wanted to put pressure on whoever was taking the faceoff for them. We were strong with the checks today."

Jozokos, Bettancourt, Gwozdz and the rest of the Gov's middies also did a great job of playing two-way midfield as they helped neutralize one of New England's top midfield units of juniors Cheek (1 Goal, 1 Assist), Bell (1G, 1A), and McKee (1G) throughout the game.

"We are really athletic in the midfield," Bidstrup said. "We are a group of guys who can play hard, tough defense and we did that today against a team that has a group of very good dodgers."
December, 9, 2012
12/09/12
3:03
PM ET
Middlesex School quarterback Nick Andonian has verbally committed to Middlebury College for the 2013 season, his father Dave told ESPNBoston.com today.

Andonian completed 62 percent of his passes for a school single-season record 2,045 yards and 18 touchdowns this season for the Zebras, who finished 4-4 in the ISL. Andonian leaves the Concord prep school as the program's all-time passing leader, with career totals of 4,906 yards and 40 touchdowns in 24 games.
December, 12, 2011
12/12/11
6:26
PM ET
Last week we unveiled our second annual
MIAA All-State Team
. Today, we're unveiled our second annual Prep All-State Team, limited to schools competing under the NEPSAC umbrella.
OFFENSE
QB - Tate Jozokos, Jr., Governor's Academy
RB - Chris Coady, Sr., BB&N
RB - Abner Logan Jr., Sr., Dexter
OL - Eric Olson, Sr., BB&N
OL - Robert Perdoni, Sr., Belmont Hill
OL - Shane Donovan, Sr., Thayer Academy
OL - Costa Toubekis, Jr., Dexter
OL - Billy Oldach, Sr., Rivers
TE - Brendan O'Neil, Jr., BB&N
WR - Bryan Viera, Jr., Thayer Academy
WR - Bryson Gilbert-Bono, Sr., Middlesex
DEFENSE
DL - Dan Connaughton, Sr., BB&N
DL - Tucker Oniskey, Sr., Governor's Academy
DL - Sam Caldwell, Jr., Groton
LB - Kirk Ryder, Sr., Governor's Academy
LB - Jack Connolly, Sr., St Sebastian's
LB - Nick DiChiara, Sr., BB&N
LB - Nick Antonucci, Jr., Pingree
DB - Kenny Abragye-Adinka, Sr., Pingree
DB - Sam Davis, Sr., Governor's Academy
DB - Kendall Dardy-Jones, Jr., St Sebastian's
DB - Richard Bradley, Jr., St Paul's
July, 14, 2011
7/14/11
2:11
PM ET
ESPN RISE lacrosse editor Mike Loveday is reporting that Middlesex School's Julia Burns has verbally committed to Stanford for the fall of 2012.

The Dover native is an incoming senior midfielder.

May, 30, 2011
5/30/11
5:06
PM ET
Tomorrow at 7 p.m. at Waltham High School, the Boston Warriors AAU program will hold its 3rd Annual College Showcase Night to showcase its juniors and sophomores, as well as several uncommitted seniors.

The evening will begin with 45 minutes of individual skill work, with the players split up between big men and guards. Former Providence College and Atlanta Hawks star Troy Brown will be working the big men; Watertown High coach Steve Harrington, a two-time MIAA state champion coach, will be working out the wings and guards.

The last 75 minutes all of the players will be split up to run five-on-five games on both courts, in front of the college and prep school coaches on in attendance. Below is the preliminary list of players expected to be in attendance:

Kachi Nzerem, 6-5, New Mission / Marianapolis
Nate Anderson, 6-6, New Mission
Kenny Reed, 5-10, Reading
Matt Droney, 6-4, Catholic Memorial
Max Risch, 6-6, Old Rochester
Jared Lewis, 6-3, Malden Catholic
Jordan Lewis, 6-1, Malden Catholic
Corey Gomes, 6-6, Uxbridge
Abiodun Akanni, 6-4, Fitchburg
Ryan Jann, 6-3, Westford Academy
Jerry Ellis-Williams, 6-5, Reading
Tyson Hallowell, 6-2, Middlesex
Sam Musler, 5-11, Belmont
Isshiah Coleman, 6-5, New Mission
Leroy Hamilton, 6-3, New Mission
Anthony Bell, 5-10, Boston Cathedral
Tony Alexander, 6-3, Boston Prep
Kyle Howes, 6-1, Maynard
Chris Murray, 6-1, Littleton
Joseph Connelly, 6-1, Beaver Country Day
Mark Melanson, 6-2, Burlington
Patrick McHugh, 6-4, Watertown
Isaac Carp, 5-10, Pingree
Ben Lawhorn, 6-3, Lincoln-Sudbury
Terrence Manning, 5-10, St Rafael's (R.I.)
Mario Payne, 6-0, Lincoln-Sudbury
August, 5, 2010
8/05/10
9:51
AM ET
Former Harvard and Colgate assistant basketball coach Billy Holden has been hired as the new head boys' basketball coach at Middlesex School, athletic director Joe Lang confirmed today.

Holden takes over for Jamie Gallagher, who stepped down after this past season after guiding the team to a 14-8 record and a NEPSAC Class C Tournament berth.

Holden graduated from Bentley University in 1990, where he set school career marks in scoring, three-pointers made, free throws made and steals. Ten years later, he was inducted into the school's Hall of Fame. Holden went on to serve two stints on the coaching staff at Harvard, from 1992-94 and then again from 1997-2007, where he also served with current Milton Academy head coach Lamar Reddicks. Holden then moved on to Colgate, where he served as an assistant from 2007 to 2009.

"His whole attitude was what we were looking for," Lang said. "His demeanor fits well with the kids. He carries himself real well, I think that was obvious in his interviews with the school. His background, his connections across the country, getting us qualified academic students, he has a proven record. I think he'll work well with these kids."