Boston High School:

Middlesex School
September, 23, 2014
9/23/14
10:40
PM ET
The NHL Central Scouting Service today unveiled its "Players to Watch" list, providing the first evaluations for the draft eligible class ahead of the 2015 NHL Draft.

To little surprise, a few local products checked in with "A" grades, including North Chelmsford native and Boston University freshman Jack Eichel, who is projected as a top five selection by many draft observers. Former St. Sebastian's defenseman and Norwood native Noah Hanifin (Boston College) also collected an A grade, as did former Noble & Greenough center Colin White (U.S. NTDP).

"A" grades are assigned to prospects expected to be selected in the first round, B for second through third round picks and C grades given to players who are likely to be taken between the fourth and sixth rounds.

On current MIAA player received mention as well, as recent Northeastern commit and BC High defenseman Ryan Shea holds a C grade. Former Malden Catholic turned U.S.A. U-18 defenseman Casey Fitzgerald garnered a B grade.

Here's a list of the New England-based skaters appearing on the preliminary ranking:

"A" Grade:
Jack Eichel, Boston University (North Chelmsford, Mass.), 6-2, 195, C
Noah Hanifin, Boston College (St. Sebastian's - Norwood, Mass.), 6-2, 201, D
Colin White, U.S.A. U-18 (Noble & Greenough - Hanover, Mass.), 6-0, 183, C

"B" Grade:
Taggart Corriveau, Westminster (Conn.), 6-1, 176, RW
Casey Fitzgerald, U.S.A U-18 (Malden Catholic - North Reading, Mass.), 5-10.5, 186, D
Erik Foley, Cedar Rapids - USHL (Mansfield High), 5-11.5, 185, LW
A.J. Greer, Boston University (Kimball Union Academy), 6-2.5, 204, LW

"C" Grade:
David Cotton, Cushing Academy, 6-2.5, 200, C
Liam Darcy, Berwick Academy, 5-10.5, 175, D
Trevin Kozlowski, The Gunnery, 6-3.75, 186, G
John McDermott, Westminster (Conn.), 6-1.25, 185, C
Shane Sellar, Canterbury, 6-1.25, 186, LW
Eric Shaw, Middlesex School, 6-2, 215, C
Ryan Shea, BC High (Milton, Mass.), 6-0, 168, D
Will Somers, Hotchkiss School, 6-4, 228, LW
Luke Stevens, Noble & Greenough (Duxbury High), 6-3.75, 184, LW
Spenser Young, Dubuque - USHL (Phillips Exeter - Brentwood, N.H.), 5-9.75, 177, D
June, 20, 2014
6/20/14
10:33
AM ET
In its 29th year of honoring the nation's best high school athletes, The Gatorade Company, in collaboration with USA TODAY High School Sports, today announced Garrett O'Toole of Middlesex School as its 2013-14 Gatorade Massachusetts Boys Track & Field Athlete of the Year. O'Toole is the first Gatorade Massachusetts Boys Track & Field Athlete of the Year to be chosen from Middlesex School.

The award, which recognizes not only outstanding athletic excellence, but also high standards of academic achievement and exemplary character demonstrated on and off the track, distinguishes O'Toole as Massachusetts's best high school boys track & field athlete. Now a finalist for the prestigious Gatorade National Boys Track & Field Athlete of the Year award to be announced in June, O'Toole joins an elite alumni association of state award-winners in 12 sports, including Ryan Hall (1999-01, Big Bear HS, Calif.), Meb Keflezighi (1993-94, San Diego HS, Calif.), Derek Jeter (1991-92, Kalamazoo HS, Mich.), Candace Parker (2001-02, Naperville Central HS, Ill.), Mark Sanchez (2004-05, Mission Viejo HS, Calif.) and Lolo Jones (1997-98, Roosevelt HS, Ia.).

The 5-foot-11, 135-pound senior won the 800-meter run in a meet-record time of 1:52.32 as well as the 1,500 in a meet-record 3:58.24 at the Independent Schools Track Association championship meet this season, leading the Zebras to fourth place as a team. A returning Boys' Track All-Scholastic selection as named by The Boston Globe, O'Toole also anchored the bronze medal-winning 4x400-meter relay quartet that crossed the line in 3:34.98. His 1-mile time of 4:01.89 at the Adrian Martinez Classic and his 1,500 time of 3:45.55 at the Princeton Elite Meet both ranked as the nation's No. 1 performance by prep competitors in 2014 and amongst the top 25 clockings in U.S. prep history.

O'Toole has maintained a 3.37 GPA in the classroom. In addition to participating in his school's drama program as well as its FOCUS and jazz lunch clubs, he has volunteered locally on behalf of a nursing home, the American Cancer Society's Relay for Life and the Open Table community assistance organization.

"Over the last four years, I have watched Garrett develop as a person and an athlete," said Scott Bosworth, head coach of rival Milton Academy. "With all the success that he has earned, he has remained humble, approachable and thoughtful. He is quick to support his teammates and athletes from other teams. He is universally liked and respected by his contemporaries at all of the 16 ISL schools. He has been a terrific role model. In all respects, Garrett is an ideal student athlete."

O'Toole will attend Princeton University this fall, where he will compete in track and field.
November, 20, 2013
11/20/13
4:33
PM ET
The Independent School League today announced its All-ISL football team for this season

Coaches or league representatives, across all fall sports, are encouraged send their league All-Star lists to editors Scott Barboza (sbarboza@espnboston.com) and Brendan Hall (bhall@espnboston.com):

Belmont Hill
Evan Chaletzky, Jr. WR/K
Eric Gustafson, Sr. DB
Harry Kraft, Jr. QB
Joe LaLiberte, Sr. OL
Greg Plumb, Sr. RB

Brooks
Chris Cervizzi, Jr. RB
Geoff Fulgione, Sr. LB
Andrew Konovalchik, Sr. DB

BB&N
Patrick Champagnie, Sr. DB
Frankie Williams, Sr. RB
Dante Papas, Sr. LB
Matt Bonazzolli, Sr. RB
Connor Coady, Sr. OG
Mike McCaffrey, Sr. WR

Governor's Academy
Jesse Gwozdz, Sr. RB
Bug Carper, Sr. LB
Mark Hoffman, Sr. OL
James Leary, Sr. OL
Tyler Harrington, Jr. OL
Brandon Lopez, Jr. RB
Tommy Vailas, Sr. QB

Groton
Austin Stern, Sr. LB
John Beatty, Soph. RB

Lawrence Academy
Andrew Crane, Sr. DL
Kyle Howes, Sr. FS
Chris Garrison, Jr. WR
Austin Luckey, Jr. FB
Rocco Daigneault, Sr. LB

Middlesex School
Hasani Figueroa, Sr. RB
Charlie Owen, Sr. LB
George Morris, Jr. LB
Sam Carlin, Jr. LB

Milton Academy
Drew Jacobs, Sr. RB
Anthony Scurto, Sr. QB
Matt Morin, Sr. LB
Bobby Gilmore, Jr. OL
Peter Graves, Sr. DL
Luke MacDonald, Sr. LB
Justin Yoon, Jr. K

Noble & Greenough
Alex Beach, Sr. DL
Ryan Vultaggio, Sr. QB
John McCarthy, Sr. DB
Martin Williams, Soph. DT
John Keally, Sr. LB
Teddy Strzetelski, Jr. DE

Roxbuty Latin
Mark Goldstein, Sr. OL
Duncan Finigan, Sr. OL
Sean Lowrie, Jr. WR
Kevin Cohee, Sr. TE

St. George's
Sage Hill, Sr. RB
Jonathan Lumley, Jr. WR

St. Paul's
David Smith, Sr. WR
John Bews, Jr. TE
Colin Sequiera, Sr. QB

St. Sebastian's
Connor Strachan, Sr. LB
Dan Fulham, Sr. DE
Will Kenny, Sr. OL
Joe Kearney, Sr. DB
John McNamara, Sr. DL

Thayer Academy
Quentin Hall, Sr. OL
Jack Becker, Sr. QB

March, 3, 2013
3/03/13
2:08
PM ET
By
Roger Brown
| ESPNBoston.com
SALEM, N.H. – Pretty much everything went right for the Brooks School boys hockey team Sunday morning, and not much went right for Kents Hill.

Third-seeded Brooks stuck with its defensive game plan and it paid off with a 4-1 triumph in the New England Prep School's Piatelli/Simmons Tournament at the Icenter.

Brooks scored in every period and limited Kents Hill to 15 shots on goal.

"They put a lot of pressure on us and forced us to make some bad plays," Kents Hill coach Larry Cockrell said. "I thought their forecheck pressure was very good, and when we did get it down in their end they kept everything to the outside – that's a good recipe. Our strength is transition, and they took that away."

Cam Armstrong, K.J. Moore, Ian Speliotis and Nick Vasilopoulos scored for Brooks, which raised its record to 18-7-5.

Brooks surrendered two goals in its three tournament games, which included victories over sixth-seeded Middlesex (4-0) and fifth-seeded Tilton (2-1).

"We're a very disciplined team defensively," Brooks coach Dave Ries said. "We played our system as a team, and every kid competed hard.

"This is the first one [championship] in our program's history, which is huge. It's a good group of kids who do things the right way."

Brooks led 1-0 after one period and 3-1 entering the third. Kents Hill trailed 3-0 until junior forward Drew Sommerhoff scored with 3:35 left in the second. Sommerhoff was called for roughing Brooks goaltender Colin Langham on the play, however, which killed any momentum Kents Hill had generated.

Top-seeded Kents Hill, which completed its season with a 23-8-2 record, defeated Millbrook (4-1) and Holderness (5-1) earlier in the tournament.

"We knew they had a lot of offensive weapons," Brooks forward Mitch Nylen said. "Everyone knew their role, stuck to it and it paid off in the end. This is the best payout possible for the hard work put in by the senior class."

Speliotis gave Brooks a 3-0 lead when he scored on a backhanded shot during a breakaway with seven minutes remaining in the second period. After Sommerhoff's goal, Brooks regained a three-goal advantage when Vasilopoulos scored at 15:20 of the third.

Armstrong, a junior defenseman, scored the only goal in the first period. It was his first goal of the season. The lead doubled when Moore – one of four Georgia residents on the Brooks roster – scored at 5:19 of the second.

"I thought they played outstanding," Cockrell said. "They did everything right."
February, 28, 2013
2/28/13
2:59
PM ET
Roxbury Latin athletic director Tony Teixeira forwards this list of the ISL Eberhart Division boys' hockey All-League Team.

(Note: All league representatives, athletic directors and coaches are encouraged to send their representing league all-star teams to sbarboza@espnboston.com)

2012-13 ISL Eberhart Division Boys' Hockey All-League Team

Eberhart Division MVP: Mitch Nylen, Brooks

First Team:
Timmy Doherty, Jr. F, St. George's
Steve Vansicien, Jr. F, Rivers
Pat Young, Sr. F, Rivers
Justin Ferreira, Jr. F, Middlesex
A.J. Lucchesse, Sr. F, Middlesex
Greg Conrad, Sr. F, Brooks
Ian Speliotis, Jr. F, Brooks
Jordy Abrams, Sr. F, BB&N
Bobby Mullins, Jr. F, BB&N
Miles Gendron, Jr. D, Rivers
Dan Glavin, Sr. D, Groton
Alex Hreib, Soph. D, St. Mark's
Billy Olsen, Sr. D, Middlesex
Mitch Nylen, Sr. D, Brooks
Connor Hegarty, Jr. D, BB&N
Matt Deveney, Sr. D, Roxbury Latin
Ryan Colena, Sr. G, Rivers
Matt Pompa, Jr. G, Groton
May, 3, 2012
5/03/12
12:02
AM ET
By
Ryan Kilian
| ESPNBoston.com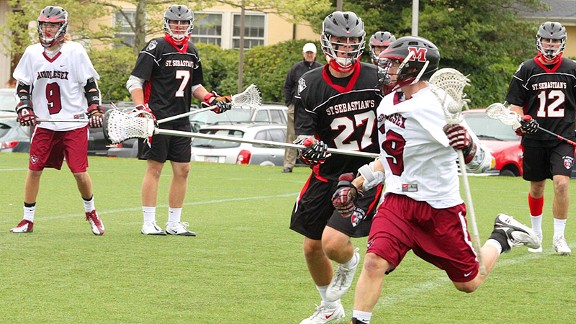 Ryan Kilian for ESPNBoston.comSt. Sebastian's cruised to an 8-2 win over Middlesex School in a duel of ISL powers, thanks to some lock-down D from Pat Healy (No. 27) & Co.
NEEDHAM, Mass -- St. Sebastian's led from start to finish and executed in all facets of the game as they defeated Middlesex 8-2 in an Independent School League match-up on Wednesday afternoon.
"Middlesex is a good team and they came in here undefeated," St. Sebastian's head coach Shaun Stanton said. "We had possession early and that was key for us. We also got some big goals from our midfielders early."
St. Seb's (9-1) got on the board first as senior midfielder Jack Connolly found the back of the net on a nice individual effort to score the game's first goal two minutes into the contest.
The St. Seb's midfield unit of Connolly (3 goals, 1 assist), Aidan Balboni (2 G) and Notre Dame commit Dalton MacAfee (2 A) would account for five of the team's eight goals, highlighted by Connolly's second tally of the game. The Dartmouth commit scored with 11.3 seconds remaining in the first quarter as he beat his man to the left and found the back of the net to give the Arrows a 3-0 lead after one quarter of play.
St. Seb's remained in control throughout the first half as they dominated the ball and used timely offense and lockdown defense to take a 6-0 lead to the half.
Middlesex defenseman and face-off specialist Sam Tweed did a good job all day for Middlesex in the face-off circle but the St. Seb's defense and midfield play eliminated any lengthy possessions for the Zebras on the day.
St. Seb's got two goals from attack Gordon Donnelly, who played well on the crease for the Arrows, and a lone score from attack Sam Washburne.
Middlesex received their offense from midfielders Toby Porter (1 G, 1 A) and Sam Muse who both found the back of the net in the third quarter.
GOALTENDING AND DEFENSE RULE THE DAY
St. Seb's senior goalie and Bentley commit Jarrod Dillon had a strong game in the cage for the Arrows as he made numerous big saves that led to St. Sebastian's break outs and long possessions.
"Jarrod played great today," Stanton said. "That is probably the best game that he has ever played for us. Hopefully it is not the best game he will ever play, as we have the rest of the season to go, but he did a great job for us today."
The St. Seb's long poles also shined on the afternoon as they dictated the tempo of the game and created problems for the patient Middlesex offense. Along with long-stick midfielder Stephen Brown, the underclassmen close defensive unit of Notre Dame commit Pat Healy, Brian O'Malley and Connor Strachan shut the Middlesex attack out on the afternoon.
"Whether we are playing 3-3 zone or man-to-man we just naturally extend out and force offenses to go north to south," Stanton explained. "This keeps them from getting to the cage so it makes it a lot easier for us. They also did a great job of forcing turnovers today."
THE ROAD AHEAD
St. Sebastian's has now won nine games in a row after a season-opening 5-4 loss to Phillips Exeter. The schedule does not get any easier for the Arrows as they take on Rivers, Milton Academy, and undefeated Governor's Academy (10-0) in their next three contests.
Stanton highlighted the Gov's game as "the big one."
Middlesex fell to 7-1 on the season and hosts Groton on Saturday. Groton is led by junior midfielder and Princeton commit Adam Hardej.
Groton is 6-4 on the season and boasts a wins over Roxbury Latin and Thayer on their resume.
November, 2, 2011
11/02/11
1:53
PM ET
Middlesex School attack A.J. Luchese has committed to playing lacrosse at Brown University, the Laxachusettts lacrosse club reports.

The junior will join the Bears' class of 2013 and is a three-sport letter winner at Middlesex as a member of the soccer and ice hockey teams.
August, 15, 2011
8/15/11
2:54
PM ET
It's been a busy summer of local lacrosse recruits headed to NESCAC schools and there's news of two more commitments to pass along.
On Friday, Medfield rising senior
Connor Roddy
announced his commitment to join Williams' class of 2012 via the Laxachusetts Minutemen club. He joins Wellesley's Peter Crane and Middlesex School's Bryson Gilbert-Bono as recent additions to the Ephs.
Also, ESPN Boston correspondant Ryan Kilian reports via his New England Prep Stars website that former Concord-Carlisle standout
Seth Bird
will spend a postgraduate year at Northfield Mount Hermon before joining Trinity College in 2012.
August, 10, 2011
8/10/11
4:57
PM ET
The Laxachusetts Minutemen lacrosse club has announced that Middlesex School midfielder Bryson Gilbert-Bono has committed to Williams.

Gilbert-Bono is the sixth Laxachusetts player to commit to a NESCAC school and is the 26th commitment from the 2012 class.
July, 15, 2011
7/15/11
12:45
PM ET
Middlesex School graduate Meghan Ford will play collegiate lacrosse at the Naval Academy next year, according to an email sent to ESPN Boston.

The Billerica resident was captain of the Zebras and a first-team All-American in her senior season.