Boston High School:

Mike DeDonato
December, 27, 2013
12/27/13
11:22
PM ET
FALMOUTH, Mass. – Not one of the teams that participated in the Cape Cod Cup yesterday left the rink feeling all that satisfied.

Both Archbishop Williams and Chelmsford were deemed winners in overtime in their respective games. However, since the MIAA does not recognize overtime until postseason play, those clubs, along with their respective foes, Westford Academy and Falmouth, played to ties.

No. 5 Archbishop Williams and Westford Academy's game will go into the record books as a 4-4 draw, while Chelmsford and host Falmouth counts as a 1-1 deadlock.

Of the four tying squads, the Bishops were the ones that had the most to feel good about at the end of the day as they rallied from two goals down in the final minute of regulation to tie the score.

Even so, head coach Derackk Curtis was hardly jumping for joy following a game that saw Bishops' sniper Nick Menzel complete a hat trick with two goals in the final 48 seconds, both with the goalie pulled for an extra-attacker.

"I thought we should have been able to dominate the game a little bit more. Nothing against Westford Academy, but coming off the Springfield Cathedral game I thought we'd come in here and have a little more success, a little more confidence," Curtis said. "We finished the game strong, so there is a positive, because last year we don't win this game. Last year, we don't come back from this, because we didn't have the confidence, we didn't have the leadership, and the determination to finish it off."

Westford Academy (0-1-1) looked like it'd be finishing off a win as the game got down to crunch time. Riding a standout performance by sophomore goaltender Kyle Martin (31 saves), the Ghosts held a 4-2 lead through 44 minutes and needed to just survive the last 60 seconds to earn their first win of the year.

Archbishop Williams put that first win celebration on hold, though. The Bishops went on to win in overtime, on a goal by Mike Davis two minutes and three seconds into the extra session.

Menzel and the Bishops were the better team for much of the game, but Martin kept making big save after big save. With the extra attacker out in the last minute, the numbers game caught up to the netminder and the Ghosts. Menzel popped his second of the game with just 48 seconds to play, as he camped on the right pipe and waited for a pinpoint pass off the far side boards that found him unmarked.

Archies then controlled the ensuing faceoff, got Steve Jenner out of the goal again, and went back on the attack. In a matter of seconds the puck was on the ice in front of Martin being whacked at by a gaggle of sticks. It was the one held by Menzel that made solid contact, and slipped it through the maelstrom to knot the score and leave the Ghosts stunned and the Bishops on Cloud Nine.

In the meaningless overtime, Archies dominated the proceeding as it accounted for all six shots that found the net, the last of which Davis popped in to make it 5-4.

After a scoreless first period, the Ghosts got hot in the second and tickled the twine three times to take charge. They struck first just 34 seconds into the period when Ryan Hesseltine completed a cross by Jay Drapeau. At 3:27 Andrew Gounaris buried a rebound, after Jenner stoned Tim Curran, to make it a two-goal game.

The Bishops answered 17 seconds later as Sorenti got his first of three in the game on a break-in.

The back-and-forth third period continued with Westford going up 3-1 on a gal by Anthony Gulliver, who found himself in the right place at the right time. The Bishops attempted to clear the puck out of their own end, without looking up first and sent a pass right to Gulliver in the high slot, who skated a stride in and then snapped a wrister past Jenner to the glove side at 6:15.

Four minutes later the Bishops made it a one-goal game on the first varsity goal of Cullen Lyne's career. The sophomore, who had not played with the big club before the Cape Cod Cup, stepped into a regular shift when Eric Keefe went down with a shoulder injury early in the game. He popped a rebound up and over Martin, finishing off a break-in by Ryan Dunn.

In the third period it looked like Westford had the game in hand after taking a two-goal lead with 5:42 left in regulation. Hesseltine set up the Ghosts' final tally with a brilliant lead pass out of the defensive zone, splitting the middle and finding Cam MacDonald in stride for a 2-on-1 break with Drapeau, who buried a cross to make it 4-2.

That set the stage for the Bishops' late-game dramatics, whose plan was to get Jenner out of the cage with 100 seconds to play and try to wreak havoc. They did just that, and rallied to earn the draw, which felt like a win, and unofficially was one.

"They made a lot of good plays at the end, you have to give them a lot of credit," Westford head coach Bob Carpenter said. "They really hung in there and made a lot of great plays on both goals, I thought. They're good."

Chelmsford 1, Falmouth 1

In the nightcap, the goals did not flow as freely as in the opener. Chelmsford (1-2-2) and Falmouth (3-1-1) each netted a goal in the second period, just 71 seconds apart, and that was it, other than an overtime goal by Mike DeDonato, that was set up by Matt Calnan with 45 seconds left in the extra session.

Paul Moore, the Clippers' new head coach who replaced Massachusetts legend Buddy Ferreira this year, was upbeat about his young team's performance against an opponent he sees as high quality.

"I'm so proud of the way that they played," Moore said. "That's a huge point for us right there and the effort from top to bottom was unbelievable. Cody Bailey had the game of his career, he got the game puck. Isaiah Lineaweaver, he could have gotten the game puck, too. I'm just so proud of there effort, we hung in there."

While they weren't exactly lighting it up, the two teams did light one another up with plenty of solid hitting in the open ice and solid defense all-around on both sides. The goalies were good, too. Falmouth's Jake Beaton stopped 16 of 17 shots that he saw during regulation and his counterpart from Chelmsford, Tim Huggins, halted 17 of 18.

Beaton stopped two late first period shots, by Wes Phillips and Derek Adamson, which were definite scoring opportunities. Phillips' bid hit a skate on the way to the goal, but Beaton stayed with the deflection and covered it up. He then dove to the far post with just 20 seconds left in the period to deny a wraparound try by Adamson that would have crossed the line if not for the lunge.

Chelmsford head coach Mike McGrath said he felt like his team left Falmouth off the hook early in the game. "I'm disappointed. We had four two-on-ones in the first period, and we had an opportunity to put them away early and we let them hang around," McGrath said. "Right now we're just struggling to score. We've only got four goals in the last three games."

Huggins came up biggest late in the game, with Falmouth flying around in the final five minutes looking to bring the hometown crowd to its feet. He robbed Bailey on a break-in with six minutes to go in the game and then answered the bell on an Arlin Moore chance with 5:05 to play.

As for the goals that were scored, they both came late in the second frame. Chelmsford took a brief 1-0 lead at the 11:53 mark of the second when Jack Olson roofed a rebound over Beaton after the keeper had stopped a shot by Jesse Lye, but was left prone on the ice.

Shortly after they fell behind, the Clippers drew even as their leading scorer, Robbie Souza, found the back of the net for the fourth game in a row. The senior co-captain blocked a shot by the Lions and beat everyone else up the ice in a mad dash for the loose puck. Souza tipped it ahead to himself in the neutral zone and bore down on Huggins, beating the goalie from the high slot with a wrister to the glove side for his ninth tally of the young season.

All four teams will be back at tomorrow afternoon. Falmouth will face Westford Academy at 1 p.m., followed by Archies against Chelmsford at 3 p.m.
April, 29, 2013
4/29/13
10:40
PM ET
By
John McGuirk
| ESPNBoston.com
BILLERICA, Mass. -- Baseball is not a game that allows much time for reflection -- good or bad.

On Friday, Chelmsford was on the wrong side of a gut-wrenching, extra-inning loss to BC High. Such defeats usually have coaches wondering aloud about the overall mental state of their team's psyche after such a calamitous loss. Lions coach Mike O'Keefe was no exception.

O'Keefe's Lions returned to action Monday with a task equally as difficult as the one they encountered a short 72 hours prior. Against unbeaten Billerica, Chelmsford knew they had to get to get the bats off their shoulders to have any chance. The Lions also understood what a victory over their border rivals would do for their spiraling confidence.

Chelmsford rode that premise all the way to a 14-6 victory at Hall of Fame Field, after scoring nine runs in the third and adding five more in the fourth.

"One of the things we preach all the time here is you learn from the past but you can't live in the past," O'Keefe said. "You learn from it, you let it go and you move on. We did that today. Our kids came out and swung the bats very well today. I know these kids have confidence in themselves but it has been lacking a little bit of late. Hopefully a game like this will improve our confidence a little more."

Falling behind 1-0 early, Chelmsford (6-3) took things over for good in the third by sending 13 batters to the plate. Billerica starter Robert Gambale was effective in his first two innings on the mound, but got punched around in the third as he allowed nine runs on nine hits and the Lions grabbed a 9-1 lead.

An RBI single off the bat of Mike DeDonato (3-for-4, three RBI) followed up by a run-producing triple from Russell Olive gave Chelmsford a 2-1 lead. The Lions bats, which finished with 16 hits overall, continued to pelt Gambale in the inning. Matt Rabbito doubled in Olive. Moments later Rabbito came around on Mike Rosa's line single. The assault continued after Chelmsford loaded the bases. A fly out produced another run and DeDonato returned to the batters box and promptly blasted a two-run triple off the fence in right field.

"We knew coming in this was going to be a big test for us," said DeDonato, a junior. "That's a great team we played and we knew we needed to come out swinging or else they would've put us away. Today we swung the bats well."

Reliever Chris Murphy took over for Gambale with two outs in the third, and was able to stop the bleeding for the time being. But entering the fourth, the junior righty wasn't as fortunate. Murphy open things by issuing back-to-back walks and serving up a soft single to load the bases with nobody out. That set things up for sophomore Ben Sauter (three RBI), who drove in a pair with a hard single to right to make it 11-1.

Before the inning was over, the Lions plated three more courtesy of a Jack Campsmith single, a pass ball and an RBI single by Tommy Bishop, extending the lead to 13 runs.

The Indians (8-1) mustered a mini-comeback against Chelmsford right-hander Quinn Cooney in the fifth on the strength of a two-run double from Alec Mattar and an RBI single by Max Frawley. Billerica added single runs in the sixth and seventh innings but the deficit was much-to deep to crawl out from.

"It was great to see them battle back," Indians coach Joe Higgins said. "Even though the score was so lopsided they never quit. This was just a stinker for us today. Hopefully it's a wake up call. I hope these kids now realize they need to bear down and know they need to play every game hard right from the beginning."
April, 26, 2013
4/26/13
11:35
PM ET
By
John McGuirk
| ESPNBoston.com
CHELMSFORD, Mass. -- Norm Walsh thoroughly understands the importance of depth. The longtime BC High head coach is cognizant of the fact that you can never have enough of it when the situation calls for it.

On Friday, Walsh summoned two players from his deep bench who, in turn, performed remarkably in helping lift the Eagles to a thrilling 4-2 extra-inning victory over Chelmsford at Ayotte Field.

With his starter Zach Dunphy having already thrown 75 pitches in just 2 2/3 innings, and the season still in its early-stages, Walsh needed save his senior's arm for the stretch run. Senior reliever Dan Cobban was brought in with his club trailing 2-1. For the remainder of the afternoon, Cobban was nothing short of brilliant in his 6-1/3 innings, allowing no hits and striking out five. The righty did his part, keeping BC High within striking distance until the offense flurried late.

"I just went out there throwing strikes and I knew my team could come back and get this," said Cobban. "As long as I kept them in the game I knew we could win it. We really needed this after our loss to St. John's Prep (6-5 on Wednesday). We had to get a bounce-back win and what better way to get it."

After the Lions plated a pair of runs against Dunphy, Cobban came in and stifled Chelmsford the rest of the way with a mix of fastballs, curves and change ups.

"Cobban was just unbelievable," Walsh said. "He completely shut them down by hitting his spots and keeping the ball down for the most part. He was simply outstanding."

In spite of Cobban's heroics on the mound, the Eagles were clinging to life support, down by a run with two out and no one on in the seventh inning. But good teams always seem to find way to come through and BC High (6-1) did just that.

Chelmsford pitcher Andrew Knightly, getting his first start of the year on the hill, was equally impressive. The senior limited the Eagles to a solo run on just two hits through his first six innings of work.

But in the seventh things changed dramatically. BC High senior Tommy Landry led off the frame by singling to left. Walsh had Nick Valicenti pinch-run for Landry. Valicenti advanced to second on a ground out and, following a botched pickoff attempt, took off for third. Lions centerfielder Tommy Bishop made a perfect throw to third baseman Conor Barry, who appeared to apply the tag on Valicenti just before the junior reached base. However, umpires called Valicenti safe.

Still in control, Knightly induced Sean Webster to pop out on the infield for the second out. Hoping for a miracle, Walsh opted to send out junior Andrew Jaehnig from the bench to pinch hit. The strategy worked to perfection as Jaehnig drove a Knightly outside fastball to right for a single to score Valicenti and even things at 2-2.

Knightly recorded the next out to avoid any further damage. But after Chelmsford failed to score in the bottom of the frame, Knightly, showing signs of fatigue, came out for the eighth and promptly issued a walk to No. 9 batter Nick Petchell. Lions head coach Mike O'Keefe made the decision to bring relief pitcher Joe St. Hilaire in.

"Andrew pitched a fabulous game for us today," said O'Keefe, his team dropping to 5-3. "He's a true pitcher who uses all of his pitches and changes speeds. He's not an overly intimidating presence on the mound but once you get up to the plate you realize how quick he is. He never beats himself. Every time he pitches he gives you a battle. After today he deserves to get some more starts for us. I'm very proud of the performance he gave us."

After Petchell was thrown out at second on a steal attempt, Hilaire surrendered a double to Dan Dougherty. But the senior managed to escape further trouble by and got out of the inning unscathed.

In the top of the ninth, however, he wasn't as fortunate. Hilaire set down the Eagles' first two batters with ease before Jaehnig singled to keep the inning alive. Luke Catarius followed with a long double to left plating Jaehnig and give the Eagles a 3-2 advantage. Billy Mitchell, pinch-running for Catarius, would later came around to score on Dougherty's ground single to right.

"After our loss to St. John's Prep on Wednesday it took us a while to get our act in gear," said Walsh. "Their pitcher did a very nice job keeping us off-balanced. It was getting somewhat frustrating but we were able to hang in there. Besides Cobban, Jaehnig was also unbelievable today. His hit ties it for us and later on he scores the winning run."

In the bottom of the inning, Cobban allowed a lead off walk before punching out the next three Lions batters to earn the victory.

Ryan Tufts put BC High ahead 1-0 in the first after stroking a Knightly fastball over the left field wall. But Chelmsford knotted things in the bottom of the inning courtesy of an opposite field RBI single from Mike Rosa. The Lions would take the lead in the third. Mike DeDonato tripled and scored moments later after Eagles left fielder Mike Roberts failed to corral Russell Olive's hard liner.

"Give BC High credit," O'Keefe said. "They're a very good team and very well-coached. We hung with them to the end but it just didn't work our way today. BC High will be in contention throughout the year but I truly believe we proved that we can play with them."
April, 5, 2012
4/05/12
10:47
PM ET
By
Tom Layman
| ESPNBoston.com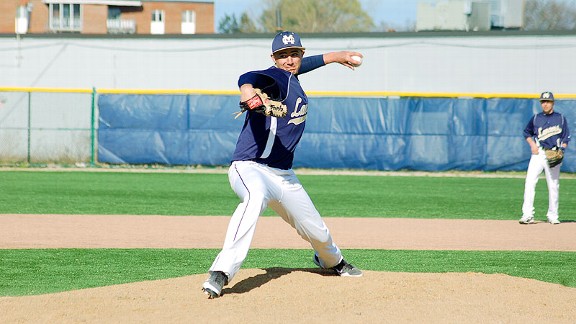 Brendan Hall/ESPNBoston.comJunior lefty Joe Velozo (8 K's) looked promising despite picking up the loss for Malden Catholic.
MALDEN, Mass. — Mike O'Keefe knows that nothing is going to come easy for his Chelmsford baseball team this season, and he got a real good sense of his team's resolve in the very first outing of the year.
The Lions watched a 2-run lead dissipate with one swing of the bat in the seventh inning, but rallied back with three runs in the top of the eighth without recording a hit to snare a 6-3 extra-inning affair over host Malden Catholic (0-1) yesterday.
"I was really proud of our guys," said O'Keefe. "We didn't put our head down and we sort of clawed back right away. That's the type of team that we are going to have to be. Those are the types of games that we are going to be in all the time. We aren't the type of team that is going to pound people and score 10 or 15 runs."
Jake Kelley was maneuvering his way through the Lancers lineup through 6.2 innings, but hit a bit of a thud on the way to the complete game victory. Lucas Lott worked a two-out, pinch-hit walk and the next batter, Steven Passatempo, made everyone's afternoon a little longer with an opposite field home run to right to tie things at 3.
The Lions wasted little time to help pick up their starting pitcher.
David DeDonato worked a leadoff walk and Mike DeDonato had an interesting time trying to get the former into scoring position. Mike DeDonato fouled off his first two bunt attempts and fought off a couple pitches before the Lancers' catcher had a tough time handling a high pitch from Paul Campbell. David DeDonato moved to second base and Mike DeDonato finally worked a walk after a nine-pitch at-bat.
Matt Rabbito got the intentional pass to set up the force at any base, and Tom Murphy put the go-ahead run back on the board with a sacrifice fly to right.
"I saw fastball right down the middle and saw the infield in, so I had to get a sac-fly to get the runner home," said Murphy, who went 1-for-3 with two RBI. "That was the most effective way to do it."
Mason Trubey stung a grounder to shortstop, but the throw to first was high and mishandled by the first basemen to allow two more runs to come home for a 3-run lead and silence the Lancers bench after the tying home run seemed to energize the home dugout.
"When you grab momentum like that you have to finish it off," said Malden Catholic head coach Steve Frecker.
Joe St. Hilaire closed things out with a 1-2-3 inning for the victory. Kelley was charged with three earned runs on five hits with four strikeouts and three walks in seven innings of work.
Lancers' Lefty Sharp Early:
For three-plus innings it looked like the Lions wouldn't be able to touch Joe Velozo.
The Lancers lengthy junior lefty was hitting both corners with his fastball and challenging right-handed hitters inside to burn through the first 10 hitters of the game. He struck out six in the process — including back-to-back on six pitches to start things.
The second look for the Lions' heart of the lineup was a little bit different. The Lions stung three straight hits in the top of the fourth to grab a run, and Mike Rosa tacked on another run with a sac-fly to right for a 2-1 lead.
"We were just looking to stay back on his ball," said Murphy. "He's a good pitcher."
"He was dominating," added O'Keefe. "The first time around we tried to muscle up a little bit and swing harder instead of staying within ourselves and try to shoot the ball the other way."
Velozo was tagged for three runs on four hits in 6.1 innings with eight strikeouts.