Boston High School:

Mike Donato
April, 2, 2014
Apr 2
10:10
PM ET
By
John McGuirk
| ESPNBoston.com
SPRINGFIELD, Mass. -- Mike Donato is right. The sound is different.
During a recent batting practice inside spacious Springfield Central gymnasium, the sound of Isan Diaz's bat making contact with the baseball echoed loudly across the walls. The sound, so definitive, told you immediately who was at bat.
Even at an early age, Diaz could always hit a baseball. Now, as the senior standout shortstop of this talented Golden Eagles team, he is hitting the ball with tremendous authority and power.
All of his swings connect flush on the bat's sweet spot. No matter the pitch, Diaz can hit it.
"When he's in the batting cage, the sound of the ball coming off his bat sounds so much different than anyone else's," said Donato, now in his third season as Central's head coach. "Just solid contact every time through."
Special, special talent
Diaz has already established himself as the top all-around high school player in Massachusetts. Baseball America ranks him the 55th best prospect in the nation. Most expect Diaz to be drafted in the early rounds of June's MLB Draft. He has already accepted a scholarship to play at Vanderbilt University next season. Depending upon where he is selected in the draft will determine which road he will pursue.
"I really haven't gotten all that deep into the draft," said Diaz. "I don't care where I go. But if I did have a choice, I would like to go to a team like the Houston Astros or Miami Marlins because I think I would have a quicker transition up through the ranks. Teams like the Red Sox, Yankees and Rangers always seem to have plenty of prospects and good talent in their farm systems.
[+] Enlarge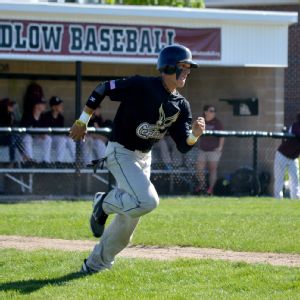 Brendan Hall/ESPNSpringfield Central shortstop Isan Diaz says he will likely honor his commitment to Vanderbilt if he's not taken in the first five rounds of June's MLB Draft.
"You want to go somewhere and play for a team where you can move up through the levels at a reasonable pace. I know I can play. I've seen a lot of good pitching over the last couple of years wherever I have gone. I have been able to recognize pitches coming out of the pitcher's hand right away. I feel that is the only way you are going to know how to hit successfully."
Asked what it would take for him to hold onto his scholarship and play at Vanderbilt, Diaz says he would most likely go that route if he is not selected in the first five rounds.
The recognition of Diaz's talent took center stage last year after partaking in several off-season tournaments. That included the well-established Area Code Games in Long Beach, Calif., and Perfect Game World Showcase in Ft. Myers, Fla., where he earned Second Team All-American honors. At Central, he is considered the most feared by opposing teams who often times have second thoughts whether or not to pitch to him or walk him intentionally.
Yet with fear also comes respect, in regards to how Diaz plays the game.
"Isan is an extremely talented player, whom we have a lot of respect for," said Springfield Cathedral head coach Pat Moriarty. "He does not give any at bats away and is a very good defensive player also. He truly respects the game of baseball."
Last season the 6-foot, 180-pound Diaz earned ESPN Boston All-State honors after batting .435, driving in 23 runs and belting three home runs in helping the Golden Eagles win the Valley Wheel League title. However, Central's postseason tournament run ended all to abruptly after falling to Northampton (a team it defeated twice during the regular season) in the opening round.
This year, Diaz and company have made a solemn vow to get back to the postseason and stay a little longer this time out. It all begins on Friday when the Golden Eagles travel to Amherst.
"Most of us now know what we did wrong last year both mentally and physically," Diaz said. "This year I feel there is more of an awareness of how to fix those mistakes during a game. We should see a big change in regards to all of us playing more like a unit instead of playing for ourselves."
Last season, the Golden Eagles started out the season at 1-4 before turning it on midway through, winning 9 of their next 11 games. Besides Diaz there is enough talent on this club for them to make a serious run, not only for a Division 1 Western Mass. title, but perhaps beyond.
Even though Diaz appears to have a bright future ahead of him, he says his first order of business remains with his high school team. Among Central's other standouts include second baseman Ju'an Williams, outfielder Eddie Acevedo and pitchers Sam and Seth Allen.
"I think we can win a title here," said Williams, who plans to attend Dean College next year and play football. "We just need to put the time in and continue to work hard. We have the talent."
The strength of Diaz and Williams covering the middle of the diamond is certainly a huge asset. Few, if any balls, get past them which, in turn, bodes great confidence in the pitching staff as to not being afraid to throw pitches down the middle of the plate.
"I feel our two guys up the middle can compete with anybody and I feel positive in saying that," assistant coach Peter Hall said. "Both are simply phenomenal. With Isan, the hype is there but he still continues to go out and work hard everyday. Every time he does something spectacular I just look over at Mike and say 'Oh my God.' You just get blown away by what he can do."
Everyone knew Diaz could hit, but early in his Central career his defensive skills were lacking. Both Donato and Hall worked exclusively on improving his footwork, balance, throwing skills and other intangibles in an effort to eliminate bad habits. Because of that, Diaz has emerged into a first-rate defensive specialist.
"As a sophomore I knew right away that he was going to be special," said Donato. "But in the field he had a lot of things to work on and that sort of worked to our advantage as coaches because we told him yes he could hit with anybody but at the same time if he wanted to play shortstop at the next level he couldn't be making 20 errors over the course of a season. We saw a huge change in his defensive skills last year."
Leading by example
Born in Puerto Rico, Diaz moved to Springfield with his family at the age of four. Prior to attending Central as a sophomore, Diaz attended Renaissance School in Springfield before deciding to transfer and play for a program that would give him more notoriety.
In his three years with the Golden Eagles, Diaz has attained the utmost admiration from his teammates in regards to how he handles himself both on the field and in the classroom. He is the first to hand out positive advice and support to a fellow teammate.
"I've learned a lot of things from him over the years," Williams said. "Not only is Isan an awesome player, but he is a pretty good coach too. Wherever he has gone to play, he always brings some information back with him that he has learned and then passes it along to the rest of the team so that it helps all of us."
Says Hall, "The one thing I tried to do was to get him to slow the game down. On defense, he was always trying to do a lot of things on the run and tried to make the pretty play all the time. We worked a lot on it and I think by having him slowing the game down and developing confidence in his footwork is what has really helped him improve greatly as a shortstop."
Having watched Diaz play in several AAU-sponsored events as a member of the New England Ruffnecks and seeing his talents shine bright during the Perfect Game World Showcase and Area Code Games, it was enough for Vanderbilt head coach Tim Corbin to offer him a scholarship last November.
If Diaz opts to head down to Nashville next fall, he will join up with some other Massachusetts-based players currently there including Tyler Beede (Auburn/Lawrence Academy), Rhett Wiseman (BB&N), Adam Ravenelle (Lincoln-Sudbury) and Ben Bowden (Lynn English).
Donato, who played his college baseball at UMass-Amherst and was an All-Atlantic 10 First Team selection and team captain, understands the nuisances of playing collegiately at the Division 1 level, and has mentored Diaz as to what to expect.
"The difference between schools like Vanderbilt and UMass is their lineup is much deeper, their best player is better than our best player and their pitchers are better," he said. "But that doesn't mean a guy who stands out here can't do the same at Vanderbilt. There have been a few players from the northeast who have gone down south to play and have gotten drafted and have been successful so I think Isan can certainly do it as well."
But he only thing on Diaz's mind at this point is the here and now. Like any senior, he wants to finish his high school career with a bang. Yes, the Golden Eagles have the potential to wreak some havoc in their quest to win a state title but the road will not be easy facing the likes of area powers Cathedral, Amherst, Westfield, East Longmeadow and defending WMass champ Agawam.
"I feel like every team that we play out here is pretty-much equal," said Seth Smith, a junior lefty. "You need to go into every game with the same mentality and take no one lightly."
Adds Donato, "Expectations from our stand point is we want to be the best but you need to beat the best. Last year we did a lot of beating ourselves especially early in the year before we started to get hot. This year our expectations as a team are very high. I know we can do it and our kids know they can do it. But we also know nothing is going to be handed to us. We need to go out and earn it."
May, 8, 2013
5/08/13
5:04
PM ET
By
Ben Larsen
| ESPNBoston.com
When Isan Diaz was born, his father vowed to turn him into an elite baseball player.

You see, when the Springfield Central junior shortstop was born, Raul Diaz left Wallace (Ala.) Community College --- a powerhouse in southern junior collegiate circuits --- where he, himself, was a star shortstop and the focus of professional scouts.

All these years later, Raul's vow is still holding true. His son is one of the top players in Western Massachusetts and among the fastest rising juniors in the state.

"He left a little too early," Isan Diaz said. "From there, he vowed to help make me into an amazing ball player. I've loved the game forever."

That love and passion for the game is seen clearly on the field --- and in the scorebook.

Diaz burst onto the scene last year with a fantastic sophomore season that earned him a spot among the top players in Western Massachusetts. He was named to The Republican's first team All-Scholastic and picked as a Super 7 selection this spring --- a lofty preseason designation.

As a sophomore, he hit .344 with three home runs, only striking out six times all year. His presence in the No. 3 hole in the Golden Eagles' lineup and slick fielding helped power Central to a surprising upset of top-seeded Cathedral in last year's sectional tournament. The Cinderella-type run nearly extended with a tough loss to eventual champion Westfield in the semifinals.

This year, Diaz expects his team to go even farther.

"I expect we can win Western Mass. That's what we're aiming for," he said. "We've seen what we're up against and know what we're dealing with. Last year just made us hungry."

The Golden Eagles are 7-6 and currently on the "up" portion of the roller coaster ride head coach Mike Donato calls the season. Winner of its last three games, it's been a year full of streaks for Central.

***

The season opened on a tough streak for Central and for Diaz. The returning All-Scholastic and the key to the Golden Eagles' lineup faced a five-game suspension for academic ineligibility. He had failed one class and his grade point average dropped below the required minimum.

Central, a sleeper pick to make noise at the Division 1 level, started the season 1-4.

"I'm not going to lie," Diaz said. "I was very upset at myself. I didn't think that would come upon me. I didn't think I'd get to that level and hurt my team."

Diaz took the hit well and showed a growth in mental maturity, according to his coach.

"Those five games mattered so much to him," said Donato, a former player at UMass and a second-year head coach for Central. "Since he's come back, he's done what he's supposed to so he won't get baseball taken away from him again."

Donato has seen a major improvement in Diaz's leadership skills. Always a force at the plate and on the field, Diaz seems to have made a jump mentally.

"I talked with my coaches and principals a lot. They said that it didn't have to take me out of the game completely," he said. "To see my teammates play and lose and to know I could have been a big factor in the game really bothered me."

Present at practices throughout his suspension, Diaz apologized to his teammates and vowed to make amends.

"I knew I was the leader," he said. "I told them all that even though I wasn't on the field, I was still there with them. I apologized for my lack of focus and told them I'd help us all pull it together."

Upon Diaz's return, Central went on a tear. The Eagles won three straight, including wins over perennial contenders Cathedral and Westfield. Most recently, the Golden Eagles have won three straight and are three wins away --- with seven games remaining and a favorable schedule --- from a tournament berth.

"We're trying to win Western Mass.," Diaz said. "From losing in the semfinals last year, we've been motivated since. We want to come back stronger and win it all."

***

The Isan Diaz story started three years ago. He was an eighth grader at Springfield's Renaissance Academy and showed plenty of promise.

In two seasons at Division 3 Renaissance, Diaz collected 40 hits, 24 RBI and three homers. He was told by coaches that he should consider looking at transferring to a different school, in order to gain maximum exposure in hopes of landing a scholarship to play at the collegiate level.

Diaz applied to Suffield Academy, but was too late in the application process to receive financial aid. He applied to Cathedral, but all financial aid went to the students impacted by the 2011 tornado. He was urged to try again with Cathedral but would have been forced to sit out a year, according to the MIAA's transfer rules. That wasn't an option.

"I talked with my Dad and said there's no way missing baseball for a year was an option," he said.

It turned out to be a blessing in disguise.

Diaz landed at Central and instantly became a force. He played so well last year that he was noticed by a coach in the New England Ruffnecks organization. Last summer, Diaz began playing for the Ruffnecks and enjoyed the 'time of his life' traveling the country and facing superior competition.

"I knew going to Central was the right decision," Diaz said. "If I didn't go there, I wouldn't have been able to play in front of the right people and wouldn't have had the opportunity to play with the Ruffnecks."

***

The opportunity, of course, is key for Diaz and his scholarship prospects. The more eyes that see him, the better his chances of playing Division 1 college baseball become.

Diaz isn't afraid of hard work. He's also not comfortable with his skills. He admits that he's best at the plate. A line drive hitter, Diaz is learning to become more patient at the dish. He also knows that becoming stronger is crucial to becoming the best player he can be.

The 5-foot-10, 172-pound Diaz is hard at work improving his lower half with the hopes of remaining deadly at the plate and even lighter, swifter and more flexible on the basepaths and in the field.

"I'm definitely not as fast as I need to be," he said. "I'm working on my lower body and want to get faster and more flexible to be able to move better out at shortstop."

For Diaz, the opportunities are there. The hard work is to come and the vow --- made nearly 17 years ago --- is still in place.