Boston High School:

Mike Douglas
May, 30, 2012
5/30/12
1:24
AM ET
By
Bruce Lerch
| ESPNBoston.com


MEDFIELD, Mass. - It took a little while for the Medfield boys lacrosse team to get going but once they did, there was no stopping them.

In an atypical preliminary round MIAA tournament matchup, the winners of the last Division 2 state championships squared off Tuesday at Medfield High School. At the end of a long, hot afternoon, it was the winner of the last two titles that will move on to try for another trophy.

Cal Given and Andrew Melvin each had three goals and an assist, Conor Roddy added goal and four assists and No. 6 Medfield used a 5-0 run in the third quarter to pull away from No. 27 Walpole for a 12-4 victory.

"It's always good to get started after Memorial Day," said Medfield coach Mike Douglas. "You're kind of out of you're routine and you play on that first Tuesday you try to get in a rhythm early in the game. I felt like we were getting shots all over the place but we weren't finishing and we weren't hitting the net. We kept talking to them, telling them to keep shooting. It's similar to basketball - if you keep putting shots up eventually they are going to start falling and they did."

Medfield (15-4) built a 3-1 lead at the half with two scores from Given and another from long-stick defender Ben Cox, while Bryan Rockwood had the lone tally for the Rebels (7-12). Walpole's sophomore goalie Andrew Blood played a major role in keeping the score close, making nine of 16 saves over the first two frames.

Then Medfield opened the third quarter with a goal from another defenseman, Tommy Conlon, and that seemed to be spark the team needed. Conlon set up Melvin for the Warriors next tally, then Roddy fed both Matt Crowell and Melvin to push their lead to 7-1.

"The defense kind of picked them up a little bit with Ben Cox scoring a goal and Tommy Conlon scoring a goal and getting an assist," praised Douglas. "That kind of picked the offense up, got the sideline going and got a little energy going. Obviously the offense wants to show them what they can do and why they're out there after that. I think the defense kind of carried us for a while there and the offense in the second half got some transition and some easy looks and that led to us getting into a rhythm and running our offense."

Walpole got two back on scores by Hunter Nemec and Seamus Ford, but with Medfield FOGO Clay Richard controlling the faceoff X, the Warriors reeled four of the last five to close it out.

ROUNDING INTO FORM
On April 18, Conor Roddy took a hard hit after scoring a goal against Duxbury that resulted in a concussion that forced him to miss several weeks of games. The senior was able to get back to action toward the end of the season and looks like he is getting back to the form that made him one of the most dangerous attackmen in the state over the past two seasons.

Roddy played the role of facilitator against Walpole with four assists as the Warriors looked to get him touches and let him distribute the ball to his teammates. He set up Given's first goal seconds after an extra-man opportunity had expired, then made a beautiful pass to get Given an easy one-timer for his second score. Then in the third, Roddy assisted on back to back goals by Crowell and Melvin.

"Being back with them is great," Roddy said. "I think Cal has like a 90 percent shooting percentage, he hits everything you give to him. Melvin too. He even dodged too. Its great because they take a lot of (pressure) off. Even when I dodge and get doubled, I know if I hit them they're usually always open. They find great places to go and they always finish. Cal's got a great shot, Andrew's got a great shot and they both know where to go which helps out a lot."

DEFENSE SPARKS THE OFFENSE
One thing the Warriors have always been able to do is play defense. One need look no further than about 90 minutes to the west to see how former Medfield standout Jake Smith is doing at the University of Massachusetts for proof of that.

But for whatever reason, there isn't same kind of buzz that normally surrounds the Medfield D this year. Certainly doesn't take more than a quick look at the field to see Ben Cox, Tommy Conlon, Reece Steever and Connor Davis causing turnovers and disrupting clears.

And of course on this day, getting involved in the offense. Cox had the only goal of the second quarter and Conlon had a goal and an assist to start the third. Those goals brought a needed energy to the Medfield sideline and and really jumpstarted the second half surge.

"I don't know where that came from," joked Conlon when asked about his goal. "I was looking to dish it to one of the attackmen but no one was picking me up. Earlier in the week I had scored a couple of goals so I just decided to just go for the net and it went in."

Added Cox on his own score, "I picked up a ground ball at the midline. I wanted to originally give it to an attackman and they knocked it down. There was a scrum in front and they thought I was going to go back to play D but I wanted a goal so I just tossed it in."
May, 6, 2012
5/06/12
11:16
PM ET
By
Bruce Lerch
| ESPNBoston.com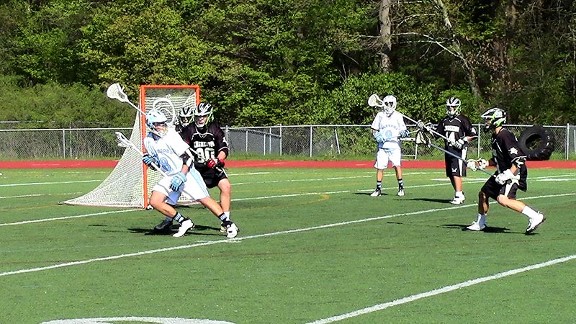 Bruce LerchPlaying without some key starters due to injury didn't stop No. 10 Medfield from taking a 12-7 win over No. 25 Longmeadow.
MEDFIELD, Mass. -- The noticeable glare emanating from the Medfield sideline during the second half of Sunday's nonleague matchup with Western Mass. power Longmeadow wasn't so much from the sun as it was from the smiles on the faces of Warriors coaches Mike Douglas and John Isaf.
Like many other teams, Medfield has suffered from the loss of several starters due to injury, most notably top scorers Conor Roddy (concussion) and Matt Crowell (knee). What the coaches, players and fans saw on a gorgeous Sunday afternoon should give them great optimism in regard to the remainder of the Warriors season.
Andrew Melvin led the offense with two goals and three assists, Chris Diana, Cal Given and Matt Ruzzo each scored twice and No. 10 Medfield used a 6-0 run in the second half to pull away from the No. 25 Lancers for a 12-7 victory at Medfield High School.
With Roddy and Crowell on the shelf for the time being, the Warriors (9-3) have been looking for some of their younger players to step up and help fill those voids. Sophomores Tyler Hagan, Jack Isaf and Matt Cahill each had scores and helped do exactly that.
"It was nice to see some of the younger guys step up," Douglas admitted. "It's a tough spot. You're playing for a good team and you've got sophomore stepping in that are used to being role players or secondary players and there's a learning curve there."
"If those guys can continue to build off this, when we get our big guns back, we're going to be much stronger team overall," he continued. "Hopefully, this will benefit us down the road."
The two teams traded goals back and forth in the first half with neither side able to get more than a one-goal lead. Dave Parsons potted a critical goal with just one second left in the first quarter that pulled Medfield back to a 3-3 tie.
Late goals proved big for the Warriors, who scored in the final minute of each frame. Given got one with 52 seconds left in the first half to make it a 5-5 game, and the Warriors retired to the sideline determined to start finishing plays they felt they had left out there for the taking.
"We felt like in the first half we beat ourselves a lot. We left a lot of plays on the field that we should have finished off," Douglas said. "We felt like we were playing well, but we weren't finishing plays. Once we got a couple goals in a row we thought we could push the game out of reach."
Although the Lancers opened the third with a snipe by John Mentor (two goals, assist), Medfield finally put together spurt it was looking for. With Clay Richard turning in another dominant performance on faceoffs (14-for-19), the Warriors started cashing in on those possessions.
Given got Medfield back to even and a minute later, Chris Diana ripped a laser through for the go-ahead goal. That started a string of six straight tallies by the Warriors with Isaf, Ruzzo, Cahill and Diana again closing out the run.
Frankie Elder potted his second for Longmeadow to stop the bleeding, but Medfield was able to hold the Lancers off and added a final tally by Ruzzo to close things out.
"We've struggled a little bit against better teams this year and in the last couple of games we've had with Wellesley and Dover-Sherborn and it was good for some of these young guys to step up," Douglas said. "That's something we hope that these guys can build off of - being able to have some success in an important spot against a really good team."
May, 4, 2012
5/04/12
2:28
AM ET
By
Matt Noonan
| ESPNBoston.com
MEDFIELD, Mass. -- No. 4 Wellesley lacrosse relied on its second-half transition, producing eight goals after the half en route to a 13-5 win over Division 2 rival Medfield.

While securing their 10th win of the season on Thursday, the Raiders defeated the Warriors for the second consecutive year in the regular season.

Senior Peter Crane, who paced the Raiders with four tallies, jump started Wellesley's third-quarter attack with a strike at 9:11, which was followed up by an additional tally from senior netminder Connor Darcey.

"I think it was pretty much a team effort," Crane said. "Connor makes a lot of saves, and right away he picks his head up, and we get a lot of guys to break open, even poles, and so they'll break off to the midline and the other team usually won't be ready for that, so they'll get the ball. On a good fastbreak, we usually get a lot of fast breaks a game, and we were just executing them today and finishing."

"[The transitions] were very key," added Darcey. "In practice, all we work on is shot, save or loose ball, we get it out right away, so it's just off a ground ball you move it and that's basically what our team [exhibits]."

The Warriors earned their only lead of the contest at 8:43 in the first frame when senior David Parsons collected a pass from junior Matt Ruzzo before he whipped the ball past Darcey for the score.

The Raiders evened the score a minute later when senior Adam Horelick (2G) rifled a shot past senior goaltender Dougie Nelson on the man-up, which provided Wellesley with all the momentum for the remainder of the contest.

Senior Oliver Saffery (3G) sophomore John Caraviello and Crane each tallied one goal in the second quarter, which gave Wellesley a 5-3 lead at the break, which eventually blossomed into an eight-goal victory.

"Obviously, we didn't play well," Medfield coach Mike Douglas said. "A lot of unforced turnovers, [and] all the little things hurt us, [such as] ground balls, extra possessions, which led to extra goals, and didn't execute on 'man up,' didn't do a lot of things well."

A TRUE RIVALRY GAME
The teams combined for 13 penalties, which resulted in four man-up goals, and was indicative of the teams' recent history.

"They probably had more penalties than we did," Douglas said. "It's a rivalry game. They beat us during the regular season, we beat them in the tournament, I mean it's a rivalry game, [and] it's game that both teams get up for and that's going to happen."

Medfield and Wellesley tangled twice last season, once during the regular season and once in the tournament. The Warriors defeated the Raiders, 7-5 in the D2 Eastern Mass. quarterfinals, so this particular match had a certain meaning to Crane and Saffery.

"We all know that what counts is the playoffs, but it was nice to definitely get one under our belt against Medfield," Crane said.

"This is always a big game for us, it's always a benchmark game of the season," Saffery added. "[Our senior class] hasn't wont on this field in the four years since we've been on the team, so we really wanted to come out tonight, send a message. We worked hard, everyone felt like we played a big game, and [we were] emotionally up, and got the job done."

PHYSICAL PLAY HAS TOLL
Aside from penalties, both teams sustained key injuries in the physical bout.

Medfield's Dougie Nelson endured a thumb injury late in the fourth quarter, and was replaced during the final minutes by sophomore Robert Treiber.

Meanwhile, Horelick sustained a concussion late in the second quarter after he notched his second strike of the contest.

"I'm very disappointed Adam Horelick took a shot to the head after he scores a goal," Wellesley head coach Rocky Batty said. "That's got to be taken out of the game. The referees need to take control, coaches need to make sure they don't do that [going forward]."

DARCEY LIGHTS IT UP
It's not too often that fans witness a team's goaltender scoring a goal. Although, against Medfield's midfield and defense, Darcey collected a pass following a dead ball at the midfield and then dodged his way through the Warriors' zone to net a goal at 7:13 in the third quarter.

"It was basically just off a dead ball, and I saw the attack crowd [around] the midfield line, so I just went up to midfield, caught it, other [defensemen] pushed out, basically the same thing like last year, they all pushed out during slide and I just let it go," he said. "I've been shooting a lot in practice, so I was ready for it."

Darcey, who has now recorded two goals against Medfield, explained that this particular strike wasn't has exciting as the one he scored against the Warriors in Wellesley last season.

"[My last goal] was at home, so that was pretty exciting, and that was definitely a closer game. That was definitely more exciting, but when I score, I find it pretty exciting, it's nice."