Boston High School:

Mike Dunlap
November, 10, 2012
11/10/12
1:55
AM ET
By
Chris Bradley
| ESPNBoston.com


NATICK, Mass. -- One week after the most disappointing defensive performance of its season, Natick made certain it wouldn't be fooled twice in a row, beating No. 5 Walpole, 21-14, to gain Bay State Herget supremacy.

The No. 21 Redhawks were coming off a 42-34 loss to Wellesley, a game that many on the Natick sideline would admit was overlooked, mainly due to the excitement of players in leading up to the showdown with rival Walpole.

Walpole's defense has been one of the state's very best this season, especially considering that coming in, the Rebels hadn't given up a point since their Sept. 28 game against Milton, a game they won 34-3. Even despite Natick quarterback Troy Flutie leading three scoring drives for the Red Hawks against Walpole's stingy defense, Natick's own defensive performance was the story, leading them to a win in a game where most considered them to be the underdog.

"Coming into this game we knew we had to shut them down defensively in order to pick up a win," said linebacker Mike Dunlap. "We knew they were a little bit bigger than us, but we just tried to play as tough as we could on D."

Play tough they did, forcing two fumbles and an interception. A key play early in the first quarter, pinning Walpole's punter at his own 25-yard line before he could even attempt the kick, may bave been the difference-maker early on because of the much-needed momentum swing.

Natick immediately took over possession deep into Walpole territory, and seconds later Flutie threw a 25-yard touchdown pass to tie the game at 7-7, a score that proved to give the Red Hawks confidence throughout the game, even when at times it appeared things weren't going their way.

"Our guys didn't quit, they kept scratching and clawing, and [Walpole] got that [touchdown] in the second half that we were very upset about, we thought we had a turnover [on the previous play]," head coach Mark Mortarelli said. "We could have folded then, but we didn't, we just kept playing. I couldn't be more proud of these guys."

The surprising loss to Wellesley motivated Natick to come back this week and play a complete game, but senior Jack Lowell said being the underdog against Walpole provided even more motivation for the Red Hawks to come out and show that the Wellesley loss was an isolated incident.

"Very few people picked us to win this game, and that motivated us to come out and play even harder," Lowell said.

Flutie, most well-known as Natick's star quarterback and playmaker offensively, got in on the act in the second half when the Redhawks needed defensive stops. He stepped up with a broken up pass in the middle of the fourth quarter that looked as if it would be a sureshot big gain for Walpole, and then he intercepted a tipped pass on Walpole's next possession.

"We really look to Troy to make plays, he's a leader for us. He threw that interception late in the game but then he was right there on defense to hold [Walpole] back," Lowell said.

Knocking off a previously undefeated team may have been exactly what Natick needed, repairing their confidence after the loss to Wellesley and proving that they are legitimate Super Bowl contenders, thanks to their stellar defensive effort.

"I could tell our guys would be ready to play," Mortarelli said, "Obviously you can't predict a win or a loss, but I knew we'd be ready to play and they disappoint at all. Every single guy on the roster did something to help us win this game."
November, 8, 2012
11/08/12
4:25
PM ET
NATICK, Mass. -- It's finally here.

The much-anticipated Bay State Herget clash between rivals Walpole and Natick is here and we've got you covered in this week's Massachusetts Army National Guard Game of the Week preview.

Editors Scott Barboza and Brendan Hall break down all of the week's action in addition to interviews with the Red Hawks' Brian and Mike Dunlap, quarterback Troy Flutie and head coach Mark Mortarelli.

A reminder to come by our ESPNBoston.com tent at Friday's game (7 p.m.) at Natick where we'll have giveaways and more, along with that from our friends at the Mass. Army National Guard.

(Video produced by Greg Story)


October, 12, 2012
10/12/12
2:49
AM ET
NO. 9 SPRINGFIELD CENTRAL (4-1) AT NO. 16 LONGMEADOW (4-1)

The Skinny: This battle between the two top teams in Western Mass. should be must-see material. Central snapped Longmeadow's 52-game league win streak last October in thrilling fashion, 21-20, but took one on the chin to the Lancers in the rematch, the Division 1 West Super Bowl at Gillette Stadium. Central will be without quarterback Cody Williams in this one, while 'Meadow has looked sharp with Frankie Elder moving back to his natural position of tailback.

Scott Barboza: Picking with tradition here. Longmeadow, 26-21.

Brendan Hall: Speed is the name of the game in this one, and the Eagles tout too much for Longmeadow to harness. But expect the Lancers to play ball control in this one. Central, 28-25.

NO. 1 BARNSTABLE (5-0) AT DARTMOUTH (2-3)

The Skinny: After an emotionally-charged upset of Everett on September 28, Barnstable suffered a hiccup last weekend, nearly falling upset to New Bedford before Tedaro France pulled them through. In a three-team Old Colony League, there can be no hiccups, and if the Red Raiders come out sloppy again, something tells us Dartmouth could throw a haymaker.

Barboza: I look for the Red Raider to get the vertical passing game going early and often. Barnstable, 31-17.

Hall: I'll never count out Dartmouth as long as Rick White is running the show over there. How does that sound? Barnstable, 21-14.

PINKERTON ACADEMY (N.H.) (5-1) AT NO. 8 BROCKTON (3-2)

The Skinny: We don't know what to think going into this one. Last season, the Boxers traveled north of the border and delivered a 21-14 win over heavily-favored Pinkerton, en route to a 5-6 season. This year, though, the Astros have a breakout campaign on their hands with junior running back Manny Latimore. It will also be interesting to see how the Boxers respond without Augie Roberts under center in this one, but Micah Morel has done an adequate job so far. Brockton has won seven of the last eight meetings headed into this one.

Barboza: Astros get thrown for a loop like George Jetson on the space treadmill. Brockton, 28-17.

Hall: I just can't get 2011's result out of my head, and that's not to be taken as a shot against the Astros' 2012 squad. It's just Brockton has had their number for some time, and always finds a way to win. Brockton, 17-10.

NO. 2 EVERETT (4-1) AT XAVERIAN (1-4)

The Skinny: One team (Everett) looked sloppy in a 51-30 win. The other (Xaverian) showed encouraging signs in a 20-16 loss. Something's got to give, and while picking Everett in this one sounds like a sure thing, one has to wonder if the Hawks are starting to turn the corner and figure this out at just the right time.

Barboza: BHall, duck and hide time? Xaverian, 34-31.

Hall: No, you may not have my mailing address. Xaverian, 13-10.

NO. 15 ST. JOHN'S OF SHREWSBURY (4-1) AT NO. 3 ST. JOHN'S PREP (4-1)

The Skinny: Few teams have been as strong on the ground so far as St. John's Prep, with its dynamic duo of senior Alex Moore and junior Jonathan Thomas, and the Eagles have begun to open the playbook the last few weeks. St. John's of Shrewsbury, on the other hand, is coming off a disappointing loss to its rival just a half-mile down Route 140, Shrewsbury High. But not just any loss -- a 51-45 shootout loss. Can the Pioneers rebound for an upset of Prep, or will they fall victim to a strong run game again?

Barboza: There will be running holes to be had. Prep, 45-41.

Hall: If you can run on this Shrewsbury squad, you can do a lot of things, and Prep can certainly move the ball on the ground. But the Pioneers will make this interesting with its hyper uptempo pace. Prep, 38-35.

SHARON (5-0) AT NO. 11 KING PHILIP (5-0)

The Skinny: What's more surprising: the fact that the Eagles are off to their first 5-0 start since 1998 or that they're 9-4 in their last 13 games dating back to last season? Either way you slice it, Sharon isn't to be trifled with anymore. On the other hand, KP's fast start isn't a surprise, but we haven't really seen what the Warriors are capable of as they're just getting started against their Hockomock League schedule. This should be a good measuring stick for both squads.

Barboza: Either way, somebody loses. How about that for a hot sports take? KP, 20-7.

Hall: Warriors will win out in this one, but how does the old Pink Floyd axiom go? Can't have any pudding if you don't eat your meat. KP, 28-10.

NO. 17 BRIDGEWATER-RAYNHAM (3-2) AT LA SALLE ACADEMY, R.I. (4-1)

The Skinny: The Rams' lone loss of the season came against an MIAA foe (North Attleborough) in Week 1 and have been terrorizing the Ocean State ever since. An underrated Trojans' secondary will have to endure against the big arm of La Salle quarterback Anthony Francis. After getting run over to the tune of 228 yards by St. John's Prep's Alex Moore, B-R's defense will look to bounce back against another of New England's top backs (Josh Morris) with a big day up front from defensive ends Kevin Johnston and Dan Noviello.

Barboza: I look for a closer game in this year's meeting between the club, but the same result. B-R, 28-20.

Hall: After seeing the way North dominated La Salle, I'm confident in saying the Trojans can win the battle at the line of scrimmage. That will be the difference here. B-R, 20-7.

NORTH ATTLEBOROUGH (3-2) AT NO. 23 STOUGHTON (5-0)

The Skinny: The Red Rocketeers enter this week desperate to avoid falling to .500 and in need of some offensive spark. North has scrounged up just 13 points in back-to-back losses to Foxborough and Franklin and were shut out against the Warriors. Meanwhile, the Black Knights received a highlight offensive performance from Marcus Middleton in last week's emotional 20-0 blanking of Foxborough, a game dedicated to fallen teammate David Wade.

Barboza: I truly think there's something special brewing in Stoughton this year. Stoughton, 13-7.

Hall: Red Rocketeers really need a healthy Alex Jette, more than ever, to right this ship. Stoughton, 25-13.

NO. 12 NATICK (5-0) AT NO. 10 WEYMOUTH (5-0)

The Skinny: Our Game of the Week for Week 6 features two unbeaten squads vying for playoff spots in their respective divisions in the Bay State Conference. Weymouth's offense has evolved through the weeks, with multi-dimensional athlete David Harrison getting snaps under center. The Red Hawks enter Friday's action allowing an average of six points per game on defense, led by Mike Abbruzzese and Mike Dunlap. The Wildcat defense, led by senior captain Sean Murphy will hope to slow down a potent Natick passing attack, but running back Nick Lee is also a force.

Barboza: I think this game will mirror Weymouth's earlier battle with Needham, in terms of complexion. It'll be a different result. Natick, 34-28.

Hall: Wondering if we'll see a combined 700 yards of offense or more in this one. Weymouth, 40-34.
August, 29, 2012
8/29/12
7:32
PM ET
By
Brendan Hall
| ESPNBoston.com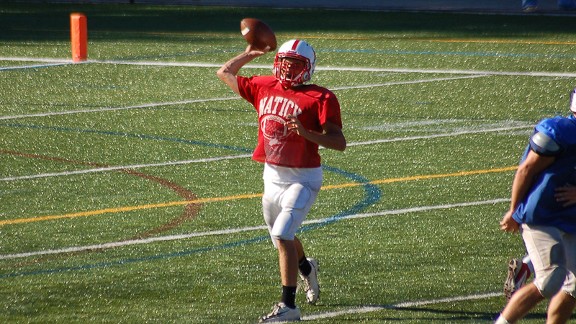 Brendan Hall/ESPNBoston.comNatick's Troy Flutie connected with top target Brian Dunlap for two scores against Leominster.
LEOMINSTER, Mass. -- Thoughts and observations from this afternoon's scrimmage at Doyle Field between host No. 7 Leominster and No. 13 Natick:
Air Raid
: In three series of varsity on varsity, each offense reached the end zone three times, all of them coming through the air, giving the scrimmage an almost Arena League feel at times. Five of the scores were of 45 yards or more; the other score, a 25-yard strike from Natick's Troy Flutie to Brian Dunlap, was preceded by a 45-yard bomb to Miguel Rodriguez, in which the receiver was wide open through broken coverage but had to stop and get beneath the underthrown ball.
Where to start? There are a few things to take out of this aerial assault.
First, it should be noted that five regular Natick starters were out to injury, including junior wideout Alex Hilger, and the Red Hawks showed some rust early as a result. They'll be going to a no-huddle, four-receiver look once again, using trips and double-slot formations designed to get their top playmakers in space and open up the zone read game with Flutie and returning 1,000-yard rusher Nick Lee. Making it all flow evenly is Dunlap, only a sophomore but already considered one of the state's best route-runners.
Dunlap scored twice for the Red Hawks, once on the aforementioned 25-yard strike to the near left pylon, and again on a 70-yard bubble screen. Although Flutie gave Dunlap a good lead on his throw, Natick's perimeter blocking wasn't crisp in setting up the screen -- but Dunlap blew by everyone anyways.
As a freshman last season, the 6-foot Dunlap caught 69 balls for 1,172 yards and 14 touchdowns, all best in the Bay State Conference. With plays like that, he could be in for another big season.
"He's just so precise on his routes," Natick head coach Mark Mortarelli said. "He seems to always make the right cuts. His work ethic is unbelievable. He steadily improves just because of how hard he works. He can't help but get better really."
At the other end, the connection between Leominster quarterback Garrett DelleChiaie and junior receiver Neil O'Connor will be worth paying attention to, as the pair clicked for two scores. The first came on a middle screen, in which O'Connor followed the screen up the right hashmark then cut back to the middle for a 58-yard scamper. On the second touchdown, O'Connor ran a post down the left seam, and took advantage after a cornerback crashed on a wheel route the other way for a 45-yard strike.
The Blue Devils present a more traditional offensive look, alternating between the I Formation and shotgun formations with three or four-receiver sets, but O'Connor will be a centerpiece of this look.
"We're working him at some receiver," Leominster head coach Dave Palazzi said. "They [Natick] had some breakdowns [in coverage], so he was wide open, but he had good run after the catch, and that's what we want out of him."
Growing Pains:
Leominster graduated nine starters on defense, returning just O'Connor and junior linebacker Jason Valera from last year's Division 1 Super Bowl Champion squad. The pass coverage is still working out the kinks -- they gave up gains of 50, 65 and 70, two of them for scores -- but there were also some positives. On Natick's third play from scrimmage, junior James Gurley broke for the left sideline and jumped a downfield route for a diving interception. In Natick's next offensive series, O'Connor closed on a wide-open receiver and used his fingertips to break up a would-be touchdown strike over the deep middle.
On the offensive line, Leominster figures to average about 210 pounds across, lighter in comparison to some of the state's other top squads, and they were beaten at times in pass protection.
"We haven't gone over a lot of our pass schemes, as far as passes are concerned," Palazzi said. "So that stuff we'll go over more and more tomorrow and Friday. But you've got to block people. It was 'run for your life' last year for Garrett against Everett [in Week 1], it really was, and we can't have that. We've got to fix that."
Applying pressure
: On the other side of that, Mortarelli was pleased with how his front seven set the edge defensively. Mike Dunlap and Justin Montgomery brought pressure from the outside linebacker spots, while defensive end Ross Braymon gave the Leominster's line a good run in the third series, beating the left tackle for a sack and a hurry in consecutive plays.
"We tackled better than we have, so I'm excited about that," Mortarelli said. "But still, the big plays, that's what sticks with me, is how we gave up those three big plays."
August, 27, 2012
8/27/12
9:11
AM ET
By
Tom Layman
| ESPNBoston.com
Natick installed a fast-paced, no-huddle spread offense to its repertoire last season with quarterback Troy Flutie calling the shots.

The results -— 31.4 points per game and an 8-3 record —- turned out to be pretty good, and this season the Red Hawks are hoping that a playoff birth comes with the successes of the offensive production in year two.

"Last year was the first year we went with the no-huddle spread and we are putting in some new wrinkles (this year)," said Natick head coach Mark Mortarelli. "Now it's kind of adding to it and tweaking to make sure we are utilizing our strengths and keeping teams off-balanced."

Flutie's lineage (he is the son of former Boston College great Darren) is no new story in the football-rich community of Natick, and his sophomore season did more than enough to make sure the production matched the namesake.

Flutie completed 62.4 percent of his throws and threw for 2,018 yards, with 21 touchdowns and 10 interceptions. The dual-threat quarterback was also the most productive runner on the ground for the Red and Blue as he rushed for 1,100 yards with 11 scores. He overcame an ankle injury late in the season to throw for nearly 400 yards on Thanksgiving Day in a losing effort against Framningham, and Mortarelli is looking for a major contribution from his quarterback again this season.

"He's got such a great mind for the game," said Mortarelli. "We really put a lot on his shoulders. We let him make adjustments at the line of scrimmage and we give him a lot of packages with what to look for, and he makes the call on what play to run. He's very good at it and he has the natural ability to get us into the play we want and he's a dual threat."

Flutie has the ability to make plays out of the pocket with his legs when the pocket breaks down, but Mortarelli has no issues harnessing his quarterback like so many coaches face when they have an athletic quarterback running the show.

The running weapon is just that, another weapon for other coaches to worry about.

"If he has to he certainly can, but Troy is a pocket passer," said Mortarelli. "He is so accurate and he knows where to put the ball. He wants to throw it first. If he has to pull it and run it he will. But I think he will give defenses some nightmares when he does that."

Of course Flutie can't do everything alone, and he has two complimentary pieces on the outside to make up what looks to be one of the most dangerous, and complete, passing attacks in the Bay State Conference. Brian Dunlap and Alex Hilger are both threats on the outside and they make up part of the young offensive nucleus with Flutie.

Dunlap may have surprised many with his 69 catch, 1172-yard, 14-touchdown freshman campaign a year ago. But he's no longer sneaking up on anyone.

"He won't surprise anybody that's for sure," said Mortarelli. "We are expecting him to be double covered and we have to move him around a little bit in different spots and keep people guessing to where he is going to be.

"He works unbelievably hard and he's a great student. Every little thing we do in practice he does well...He doesn't have to say much and the other kids respect how he works. He's a gifted athlete, but he does everything that a coach can want."

Hilger is a 6-foot, 2-inch wideout, and Nick Lee -- who rushed for the 1,035 yards with 10 scores last year -- adds a between-the-tackles caliber of runner out of the spread to keep opposing defenses honest.

The Red Hawks ripped off seven wins in a row before last season losses to Walpole, which was by a field goal in the final seconds of the game, and Framingham to ultimately miss a playoff spot. Mortarelli sees a hungry group, and the offense will be a huge key towards erasing those bad feelings of last year.

"Certainly that loss on Thanksgiving is sticking with us," Mortarelli said. "Our seniors talk about it every practice and evertime we worke out. We have a great group of leaders, seniors, juniors and some sophomores. That should help us down the stretch."

NATICK AT A GLANCE
2011: 8-3 (7-3 Bay State Herget)
Coach: Mark Mortarelli (Third season, 14-8)
Strengths: Returning skill players.
Weaknesses: Experience on offensive and defensive line.
Key Returnees: Troy Flutie, Jr. QB, 6-0, 160 lbs; Brian Dunlap, Soph. WR, 5-11, 175 lbs; Alex Hilger, Jr. WR, 6-2, 165 lbs; Nick Lee, Sr. RB, 5-10, 190 lbs.; Bobby Beausoleil, Sr. OT/DT, 6-0, 285 lbs.; Lee Grismer, Jr. OL/DL, 6-0, 240 lbs.; Mike Dunlap, Sr. LB, 6-0, 190 lbs.; Jack Lowell, Sr. LB, 5-10, 190 lbs.; Zack Hilger, Sr. LB, 5-11, 190 lbs.
Outlook: Looking around the Bay State Conference it seems as if Natick is one of the only teams who didn't lose a major piece in the skill-position department. Troy Flutie will be Troy Flutie if he can stay healthy this year, and it's going to be tough for teams to match up with Brian Dunlap on every snap. The big question comes on the line, according to head coach Mark Mortarelli. There isn't much experience on both sides of the ball, but they do have two good building blocks in Bobby Beausoleil and Lee Grismer. The linebacking core is back with three senior captains in Mike Dunlap, Jack Lowell and Hilger. The offense will get most of the press, but if the defense can stay away from the big outputs by opponents then we could be looking at a Walpole-Natick showdown for league bragging rights until the end of the season.