Boston High School:

Mike Lyons
September, 3, 2011
9/03/11
4:43
PM ET
By
Brendan Hall
| ESPNBoston.com
WEST ROXBURY, Mass. -- The cupboard is never bare on Baker Street. But the hardware always seems to be out of reach.

For years, talent has been roaming the gridiron at Catholic Memorial School, going back 10 years ago to the days of head coach Dennis Golden and former Boston College running back L.V. Whitworth. But it's been a while since the Knights have grabbed at least a piece of the Catholic Conference title, and even longer since their last postseason appearance (1978, a 13-8 win over Chelmsford in the Division II Super Bowl).

This year, the stage is no different. The Knights feature four senior captains committed to BCS conference schools in quarterback A.J. Doyle (NC State), linebacker Camren Williams (Penn State), athlete Armani Reeves (Penn State) and defensive back Donovan Henry (Boston College); but just two Catholic Conference wins in two seasons to show for it, going 10-10 overall during that same stretch.

Last season, the Knights started off 4-1 (and were a last-second Longmeadow field goal from 5-0) before dropping their final four contests, allowing an average of 31 points per game over that span.

"I think because we haven't won the Catholic Conference in God knows how long, we're keeping [ourselves] level-headed," Reeves said. "I know me, Cam, A.J. and Dunny [Henry] get all the exposure, but it's all a team sport. And we can't win it by ourselves. So, if we keep the team in it, make sure they're working their butts off in practice, work hard every game, we'll be fine.

"I think it's mostly getting everyone to focus on their technique, making sure they know it's a team sport. We all need to do it together."

It's enough that the amicable Reeves, usually an articulate and polite interview, says he hasn't been returning as many phone calls from the scouting services with their routine check-ins.

"I don't really wanna say I'm trying to make everything about me," he said. "Because that's not what I'm trying to do. I'm trying to make it about the team. So, all these guys are calling me and everything, and they'll be alright for now. I'll call them every once in a while, tell them how the game went. But for now, it's me and my team, and the focus is on winning this championship."

Unlike fellow Catholic Conference powers BC High, St. John's Prep and Xaverian -- schools known to cycle as many as four-dozen players in their two-deep rotation -- the Knights lack depth. So Reeves, one of New England's most elusive threats with legitimate 4.4 burners, figures to shoulder a good chunk of that burden.

Head coach Alex Campea revealed as much last month when Reeves announced his decision to commit to Penn State, telling ESPNBoston.com at the time, "I'm going to play him in every conceivable fashion that we can get him on the field and help CM win some football games."

The 5-foot-10, 190-pounder is predicted to push for playing time early in his career in Happy Valley, and for the most part the hype is justified. He was named to ESPNBoston's inaugural MIAA All-State Team a year ago, racking up more than 1,200 all-purpose yards and scoring 16 times in four different ways -- rushing, receiving, returning punts and kicks.

Doyle showed much-improved footwork to accompany his accurate arm, while Williams has shown a cerebral ability with his improved physique at middle linebacker. But if the Knights are going to survive the late-season buzzsaw this time around -- their final four games are against No. 12 St. John's Prep, No. 5 Brockton, No. 7 Xaverian and No. 3 BC High -- they are going to have to not only find a way to finish drives, but make a few stops.

Run defense was the Achilles heel last season. The Knights allowed 13 rushing touchdowns in that four-game season-ending skid, and in each game the opponent's feature back accumulated over 150 yards on the ground -- most notably, BC High's Preston Cooper went off for 228 on Thanksgiving.

Size has never been an issue, and they'll be big up front once again between seniors Tyler Loring (6-4, 270 lbs), Jon Schneider (6-4, 250 lbs) and Mike Lyons (6-1, 260 lbs). Those same guys will be counted on in the running game, too, making holes for Reeves. Junior Peter Ngobidi, perhaps the Knights' next breakout star, figures to be a dangerous pass-rushing threat at defensive end, standing 6-foot-2 and 215 pounds.

And then maybe, just maybe, the pressure will subside.

CATHOLIC MEMORIAL AT A GLANCE

Coach: Alex Campea (7th year, 79-61)
Last year: 5-5
Key Returnees: A.J. Doyle, Sr. QB, 6-3, 225 lbs; Armani Reeves, Sr. ATH/DB, 5-10, 180 lbs; Camren Williams, Sr. LB, 6-1, 210 lbs; Donovan Henry, Sr. RB/DB; Tyler Loring, Sr. OL/DL, 6-4, 270 lbs; Peter Ngobidi, Jr. RB/DE, 6-2, 215 lbs; Jon Schneider, Sr. OL/DL, 6-4, 250 lbs; Mike Lyons, Sr. OL/DL, 6-1, 260 lbs; Josh Charles, Sr. WR/DB, 6-1, 175 lbs; Kevin Bletzer, Soph. LB, 5-11, 180 lbs; Eddie Murray, Sr. TE/DE, 6-1, 190 lbs; Garrett Ewanouski, Sr. LB, 5-10, 180 lbs; William Earl, Sr. RB/DB, 5-6, 170 lbs
Strengths: Speed, skill positions, experience
Weaknesses: Line, kicking game.
Outlook: After building considerable hype in the past two preseasons, 2011 is make or break for the Knights. Skill positions have never been an issue for the Knights -- instead, it's the run defense that has been its Achilles heel. More specifically, the Knights allowed 13 rushing touchdowns over their four-game losing skid to end the season, and in each game the opponent's feature back went off for 15 yards or more. Loring, a Norton native who could be the fifth D1 commit for CM, figures to be the foundation for improvement. "I think the line will be fine," head coach Alex Campea said. "I think we have some players there, they just need to be consistent." The Knights ooze athleticism in the secondary between Reeves, Henry and Josh Charles, and Williams has shown improved physique and leadership skills as middle linebacker. Some are predicting a breakout year for Ngobidi, who showed signs of such late last season amid the skid. Doyle, an NC State commit, is live in the pocket, and showed improved footwork in Saturday's scrimmage with No. 2 Duxbury. Overall, this is a team that appears to have learned its lesson from last season's collapse, but will that be enough to knock off BC High, Xaverian and St. John's Prep?
September, 3, 2011
9/03/11
3:16
PM ET
By
Brendan Hall
| ESPNBoston.com
DUXBURY, Mass. -- In a battle of two teams in the top five of ESPNBoston's preseason poll, No. 4 Catholic Memorial traveled to No. 2 Duxbury this morning in a highly-anticipated game scrimmage.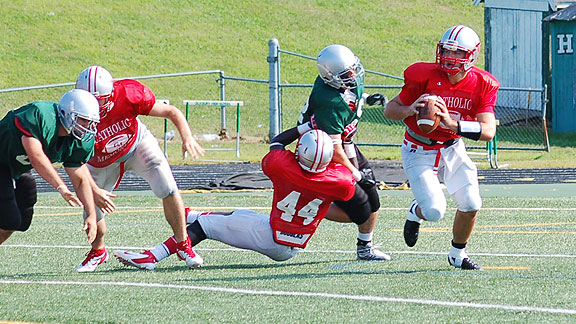 Brendan Hall/ESPNBoston.comDuxbury's pass rush forced CM quarterback A.J. Doyle to make decisions on the fly at times.
By virtue of two quick scores, CM took the first quarter. First, Penn State-bound middle linebacker Camren Williams intercepted a bullet over the middle, taking it 60 yards to the house. The ensuing kickoff was misplayed by Duxbury, giving the Knights the ball again at the Duxbury 30. CM marched down the field, aided by a late hit call on Penn State-bound athlete Armani Reeves; 6-foot-2, 215-pound junior Peter Ngobidi punched it in on a dive from two yards out.
Early on, perhaps in part to communication errors, Duxbury's offense was working out kinks. But as the game progressed, things loosened up. The Green Dragons notched their only score in the third quarter, when Andrew Buron took an eight-yard hitch route, shook his man in single coverage and scampered 40 yards down the left sideline.
Overall, it was an evenly-played matchup, with neither team able to get much of a drive going over the final three quarters.
"We're only replacing two starters on defense," Duxbury head coach Dave Maimaron said. "[But] you can tell that our offense isn't nearly where it needs to be in getting ready for B-R next Friday. So we have a lot of work to do on the offensive side of the ball. We're just not executing. We made some mental errors. That's a little frustrating right now."
Said CM head coach Alex Campea, "Overall, we did OK, I guess that's what I'm going to say. We did some good things at good times, other times we didn't. Consistency is a thing you look for through the entire season, and right now we don't have that."
Some other thoughts from the scrimmage:
-- The amount of talent in Duxbury's lacrosse program, and how many of those Division 1 recruits are an impact in football, is one of the reasons we've been so high on the Dragons this preseason. The Dragons return nine starters on defense, including Reilly Naton (Yale) and James Burke (Penn State) at the two safety spots, and linebackers Henry Buonagurio (Drexel) Seamus Connelly (Duke) and Max Randall (Dartmouth).
From that, the Dragons boast speed all over the field, and from that run an aggressive scheme out of a 3-4 base that isn't afraid to throw an array of blitzes.
But perhaps the athletic talent is most evident in Duxbury's pass coverage. In the Division 2A Super Bowl championship season a year ago, this unit combined for 16 interceptions, led by Naton with five. That lockdown coverage was on display again this morning, forcing CM's NC State bound quarterback A.J. Doyle into some second-guessing.
Said Reeves of the Dragons defense: "It was a really good test. You know, they brought a lot blitzes, mixed a lot of [Cover] 2's and 3's in there, Cover 6's, so it was a really good test of A.J., getting a lot of looks out there. It was really good for the wide receivers, to see where the holes open up in the zones."
-- In turn, the pass coverage bought some time for the speedy edge rushers, who forced Doyle to sometimes make decisions with his feet. Between Connelly Brody Zisko and Henry Narlee (two sacks), the Dragons got consistent pressure from the outside.
"We have a bunch of athletes on our defense who can get to the quarterback," Maimaron said. "We try to put on as much pressure as we can from various spots. The defense kept us in that scrimmage today."
-- On a defense full of speed, Williams is hardly the fastest. But he took charge of the defense and showed why Reeves calls him "the backbone", making all the right calls, and demonstrated a great nose for the ball, taking good angles in pursuit and coming up with two interceptions. His first, as discussed above, was a laser over the middle that he snagged away from a receiver running a shallow drag route, jumping in front. His second came on a tipped pass deep down the left side of the field.
"[He's been] terrific. He's making plays all over the field," Campea said. "I mean, he's a terrific player, he's a terrific leader, he sees the whole field and makes plays happen."
Said Maimaron, "Their linebackers are phenomenal. That Williams kid is an amazing player, he's tough to block. We just have to get better and be able to execute."
-- CM's Boston College-bound running back/defensive back Donovan Henry was not at this morning's scrimmage, as he was attending to the wedding of a family wedding.
-- By now, Catholic Memorial's "Big Four" of Doyle, Williams, Reeves and Henry are household names in the Northeast, as are the Dragons' many athletes, including quarterback Matt O'Keefe (a Johns Hopkins lacrosse commit) and wideout Don Webber (an Ivy League recruit). But keep an eye out for 5-foot-7 sophomore speedster Khai Perry, a fire hydrant who will get reps at running back and returner. The left side of the offensive line will be in focus, too, with bulky junior left tackle Rob Kosharek (6-foot-6, 250 lbs) and senior guard Gordon Acha (6-foot-4, 255 lbs).
Some of CM's lesser-known athletes look to be in for big things this fall, including wideout/cornerback Josh Charles, running back Eddie Murray, and linebackers Kevin Bletzer and Garrett Ewanouski. On the line, 6-foot-4 tackle Tyler Loring is getting a good share of Division 1 looks, while John Schneider and Mike Lyons will also turn some heads. Ngobidi is a Division 1 prospect at defensive end, and will split time on defense in both two-point and three-point stances.